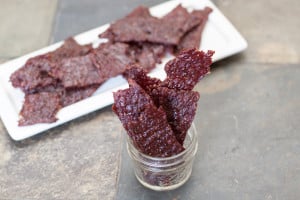 We made it! Year one of our marriage down. It was so amazing, but at the same time really hard at times and certainly not without its challenges. Therefore, to celebrate, we decided to do something similar: climb a mountain. 😉
South Sister, also known as Charity, is the 3rd tallest mountain in Oregon at 10,358 ft, and one of the only mountains that can be summited without any technical gear. The trail itself is 6.2 miles up with an elevation gain of 4,900 ft. It's hard. It's beautiful. And it was so. much. freaking. fun.
I had a permi-grin on my face the entire time. Seriously, the best way to celebrate our first year. We had such an amazing weekend in Central Oregon.
Before we left for our anniversary weekend, our awesome friends Mona and Tony sent us this incredible anniversary gift! I KNOW. They are amazing and they totally spoil us! I cannot tell you how freakin excited I am about these. There are a gazillion things I have in mind to make with these bad boys. Jerky, fruit roll ups, chips, dog treats, homemade cup o noddles... oh yeah. The possibilities are just endless and we are soooo excited!! But first and most exciting, we had to make jerky.
Jerky gun. Hands down the coolest kitchen gadget we own now.
So now that we have all the equipment, the actual jerky making process is super duper easy. This will probably be the only time you'll see me use a pre-packaged spice pack, I would totally rather make my own, but since the Jerky Gun came with a cure and a seasoning that I wasn't just going to throw away, I decided to use it for our inaugural jerky.
So I mixed it with 3 lbs of a lean ground beef.
And then into the jerky gun to squeeze it out into jerky shaped strips right on to the dehydrator trays. So stinkin' easy.
Aw yea.
13 hours later (the huge gaping hole is where I taste tested a piece. Ok two pieces. Or 2 1/2 pieces)....
Jerky! Salty, smoky, chewy jerky. SO exciting / dangerous. Now instead of spending a fortune on good jerky from the store, we can just make our own for a our next big hike! 3 lbs of ground beef made a LOT of jerky. Once I finish making a few other things, Mona and Tony will be getting quite the care package! Oh! And since it's been weeks since the last time I stopped by at Angie's Fiesta Friday, it's time I did, with jerky in tow! Happy Friday, All!
Homemade Beef Jerky
1 lb of lean ground beef
cure / seasoning (can buy packaged or make your own like Alton Brown)
Food Dehydrator & Jerky Gun
Mix cure and seasoning into ground beef well. Fit jerky gun with desired nozzle and fill with ground beef. "Shoot" jerky strips right onto food dehydrator trays. Dehydrate at 160 degrees for 12-14 hours.
Serve and enjoy!