You may be familiar with baked tacos, but let me introduce you to our easy Baked Flautas de Pollo (Chicken Flautas) recipe! Like a love child between a taquito and a burrito, these flautas are a healthier baked version of the Mexican classic with a little sneaky added nutrition!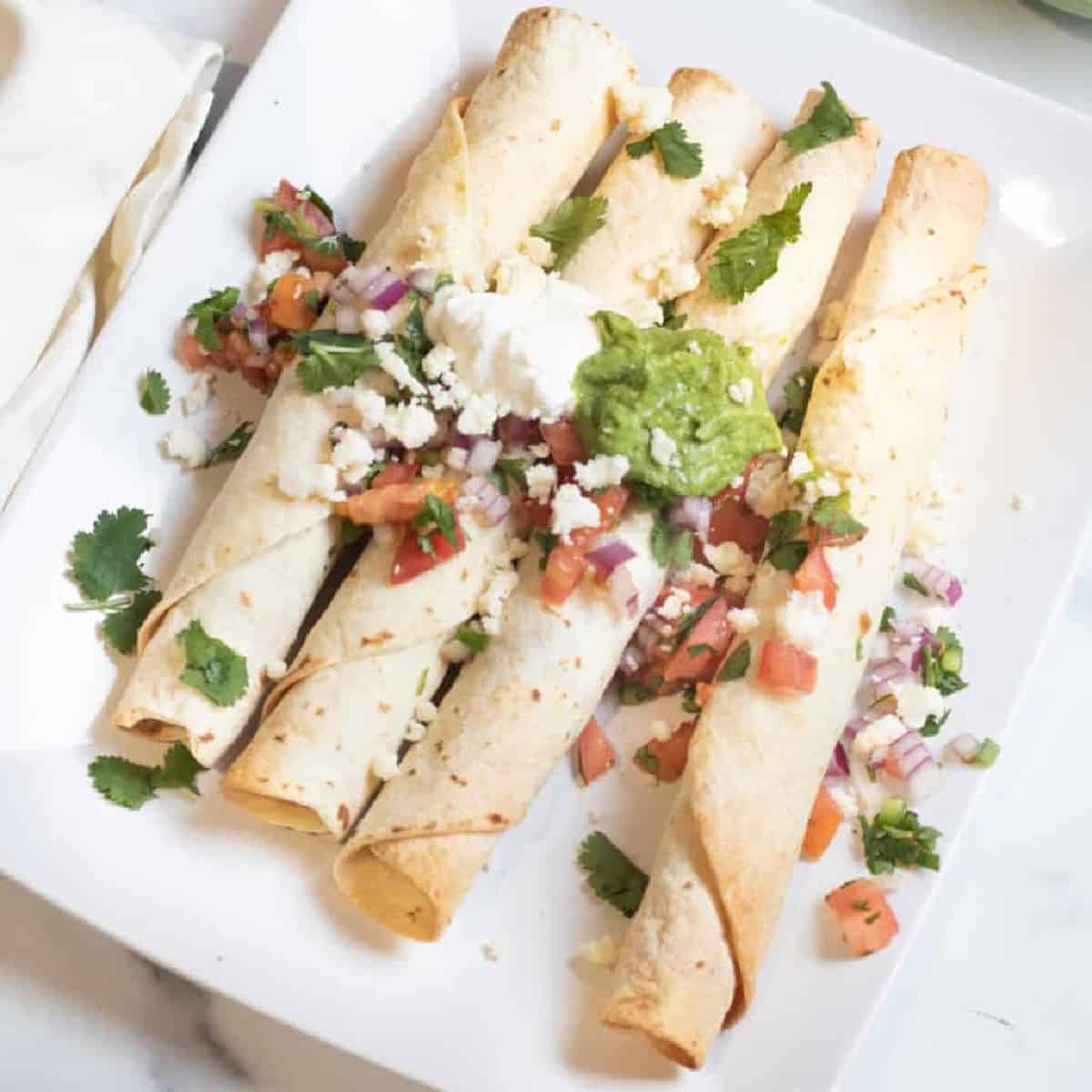 We are obsessed with our latest and greatest, these Easy Baked Flautas de Pollo! Picture this, combine a chicken and bean burrito with a taquito and then some of our signature SFS added nutrition. Boom. You have a flautas recipe with some sneakily added spinach (that the kids don't even notice) that are baked to make them even healthier, but still have all the flavor and crunch you'd want from a traditional flauta.
What is a Flauta?
A Flauta is a tortilla filled with meat or beans and then wrapped up tightly and fried crispy. We bake ours to still get that nice crispy shell in a healthier way, but this recipe also has instructions on how to pan-fry them.
Now I know what you're thinking, "Isn't that a taquito?" The answer is NO. Despite what other flauta recipes out there claim, a truly authentic flauta is different than a taquito in one way: the tortilla. And while some recipes claim "same difference," that is not the case for an authentic flauta.
Flauta translates to "flute" in Spanish while Taquito translates to "little taco." Therefore, a traditional flauta is large and long, like a flute, and uses the larger burrito style flour tortilla, while a taquito is made of what tacos are made of, smaller corn tortillas, and therefore are much smaller in size. Otherwise, both are essentially the same as their fillings can be the same and they are wrapped tightly and then fried, but the kind of tortilla, and therefore the size, is a small but very important distinction.
With that all said, now that we are on the crisped-up stuffed and rolled tortilla, stay tuned for some future taquito recipes with our homemade corn tortillas!
Ingredients Needed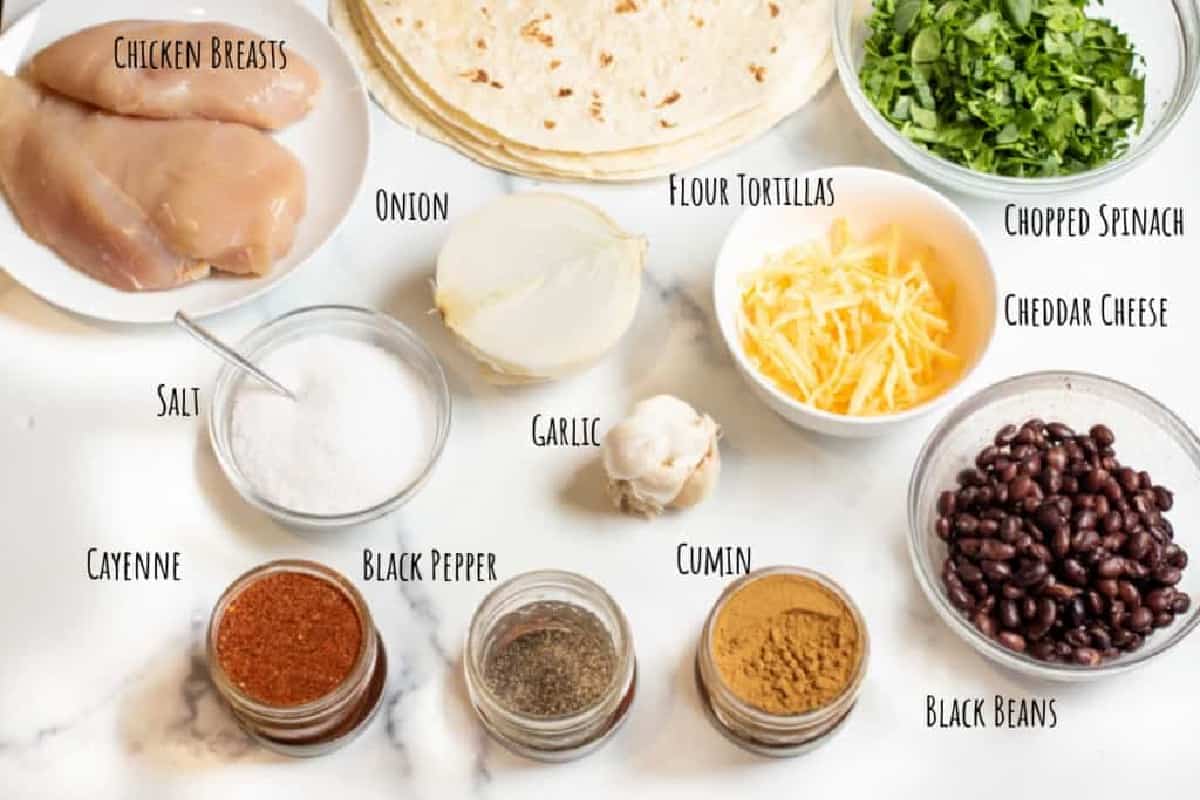 Flour Tortillas - The key to making these flautas vs. taquitos. Have you made your own Homemade Flour Tortillas, yet? They're so easy! But also, obviously add as much from scratch flair as you'd like and a store bought large flour tortillas work great, too!
Chicken - We prefer a chicken breast for this recipe but you can use a thigh or a bone-in cut, too. Whatever you want to take the time to shred. This recipe is also great with some leftover shredded chicken, too!
Black Beans - To make each of these flautas de pollo a nice complete package of nutrition, we put in some black beans, too. Feel free to use whatever kind of bean you have, or prefer, though.
Spinach - We love us some spinach around here - especially when we can sneak it into a dish that our kids will devour and not even realize there's spinach in there!
Cheddar Cheese - The standard in our house is a sharp cheddar cheese, but you could use a mild or any other kind of melty cheese you'd like.
Garlic and Onion - This is to go into the pot to flavor the chicken while it cooks.
Spices - Cumin, a pinch of cayenne for heat, and then of course salt and pepper.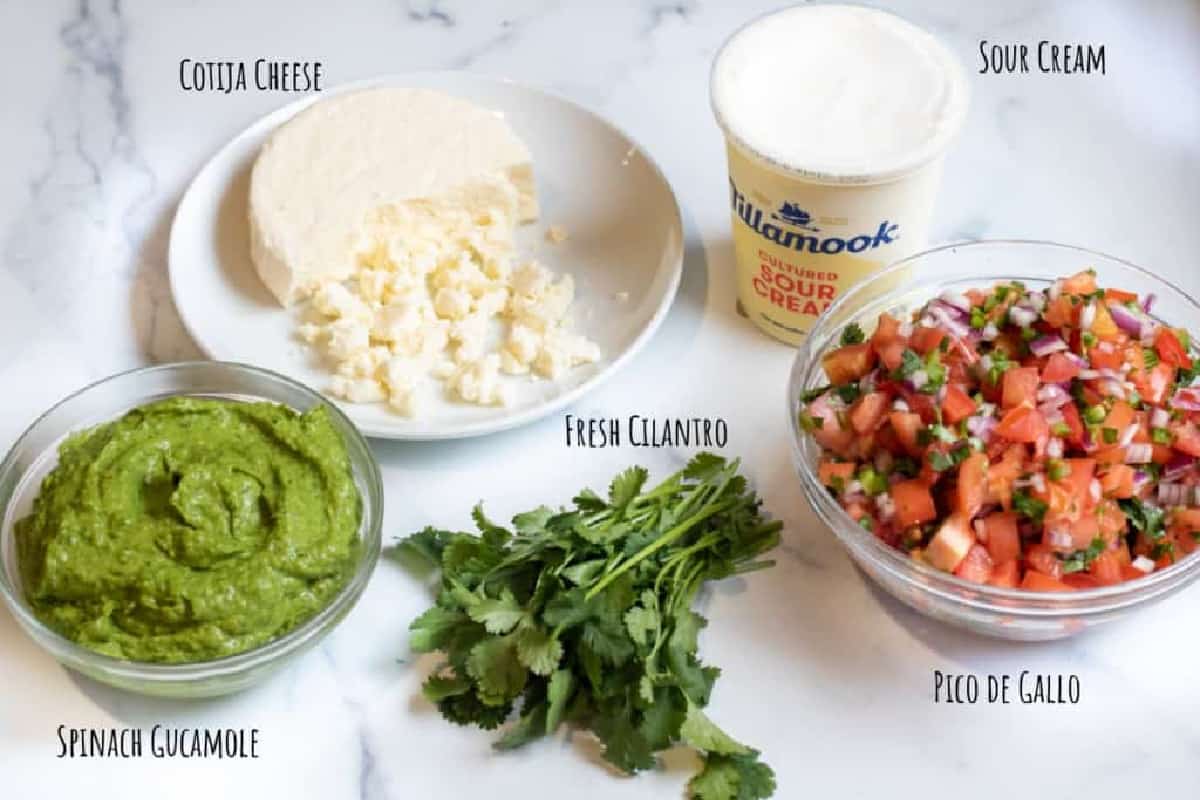 Then, once your chicken flautas are assembled, the final touch is what they're served with. Here are our favorites!
Spinach Gucamole - Did I mention we love spinach around here? Plus, truly, you cannot taste it in there!
Cotija Cheese - You should be able to find this crumbly delicious Mexican cheese in your grocery store's cheese section. But if you can't any other crumbly salty cheese is a great addition.
Pico de Gallo - There's usually always a batch of homemade pico in our fridge! It's so incredibly fast and easy to make and so so much better than store bought.
Sour Cream - Sour cream with a little guac spread on these flautas de pollo? >chefs kiss<
Fresh Cilantro - But of course, if cilantro's not your thing, no problemo to omit.
Step-by-Step Instructions
These baked chicken flautas are super simple to make and a majority of the time, totally hands-off.
Cook Chicken
Shred and Make Filling
Roll
Bake!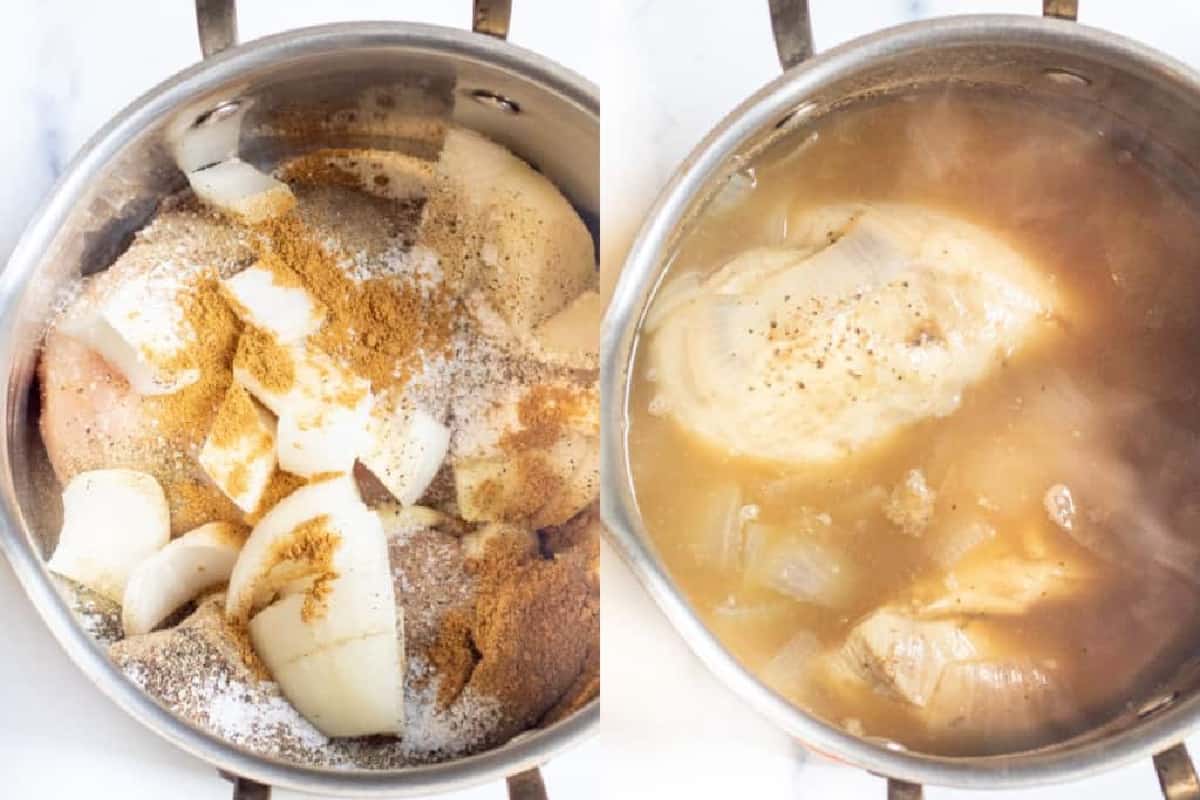 Cook the Chicken
Have some leftover shredded chicken? Great! Then you can just skip to the next step, but otherwise, to prepare the chicken, just boil it in some flavor goodness for about 20 minutes until it's fully cooked and ready to be shredded.
Pro Tip: Save that cooking liquid to make some rice or quinoa with it!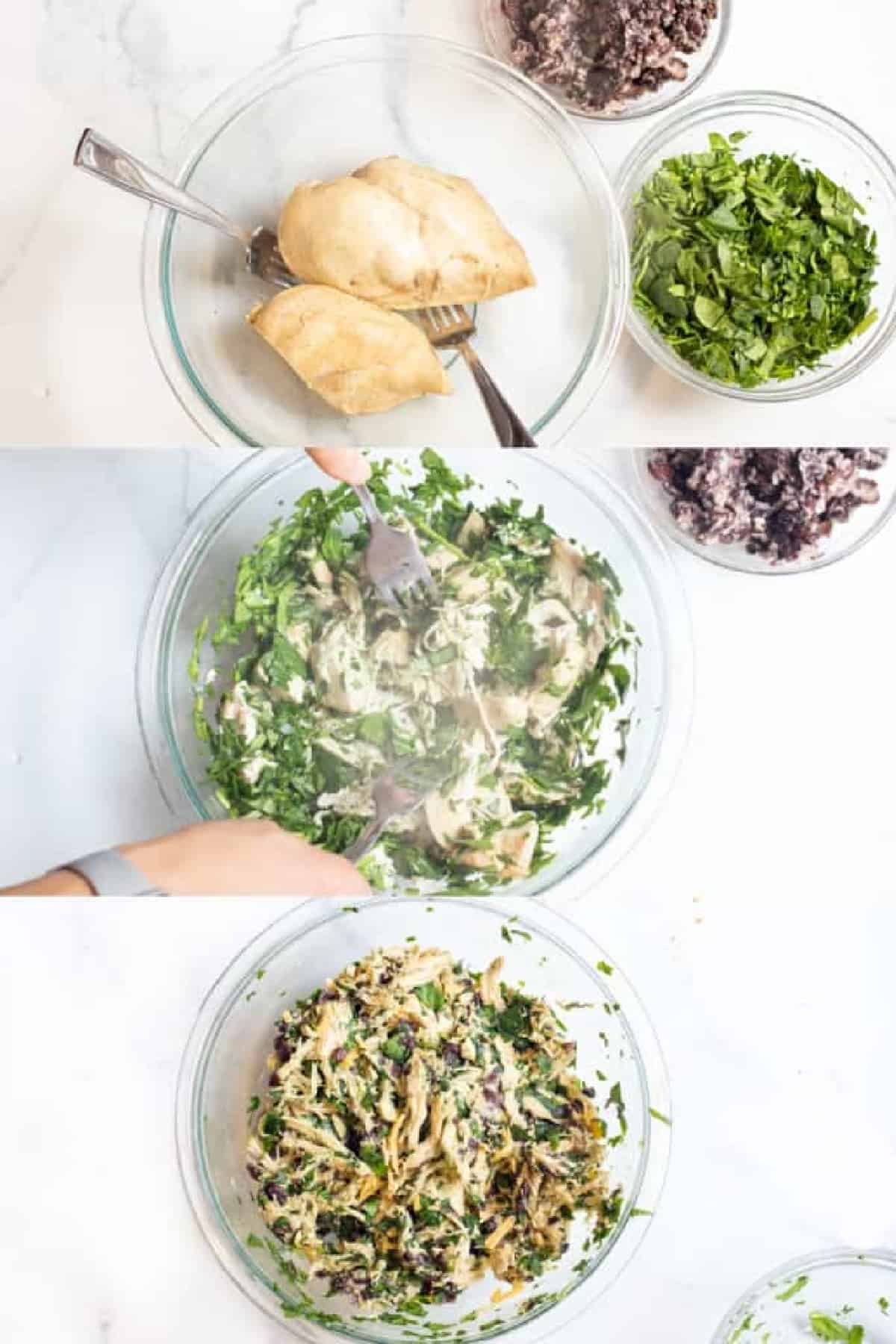 Make the Filling
Give that chicken a little shred and then add the spinach, beans (that have been given a little smash), cheese, and spices. The heat from the chicken will help wilt the spinach and melt that cheese into one delicious, flavorful flautas de pollo filling!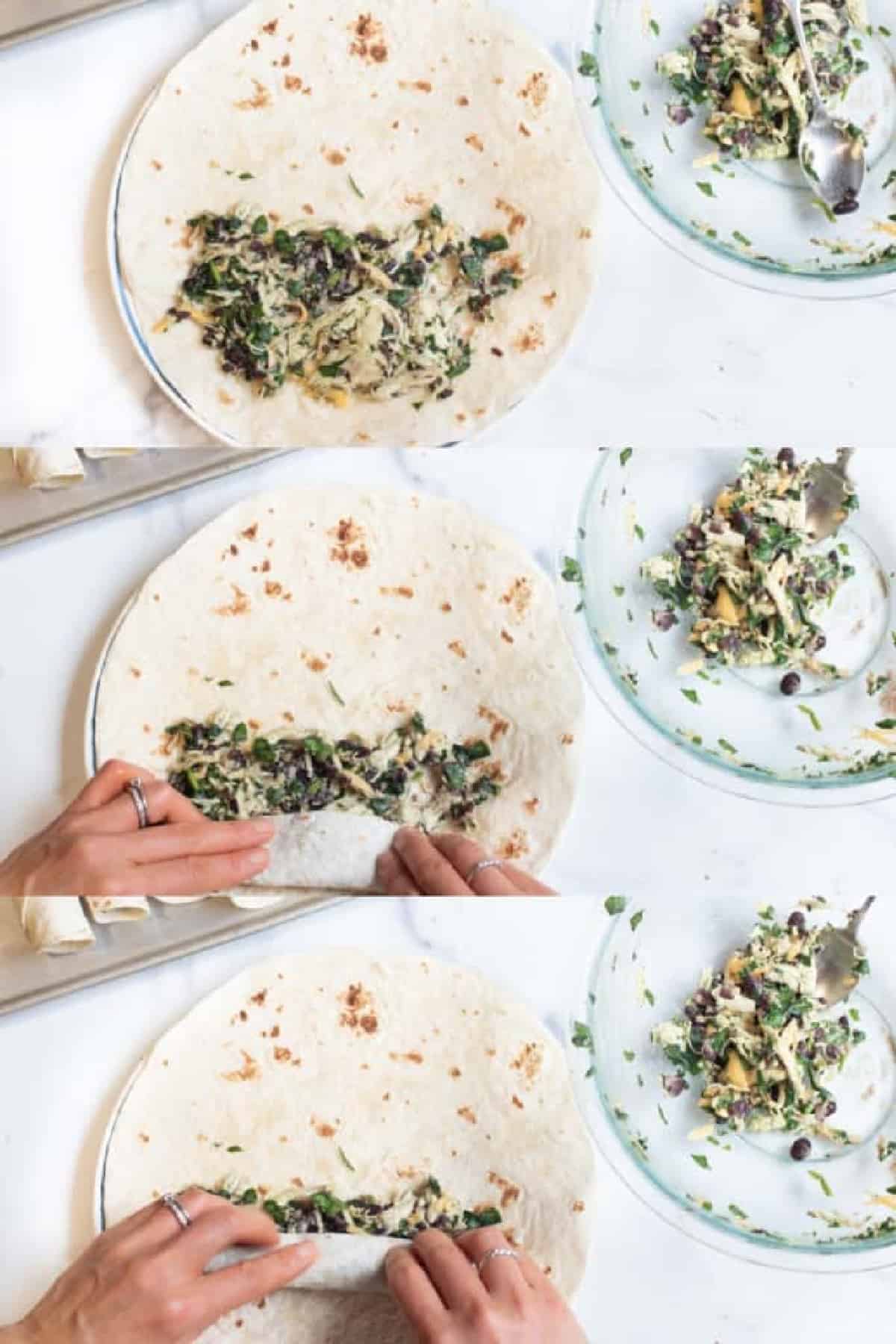 Roll
The "hardest" part of this baked flautas recipe? Rolling the flautas. Spoiler, it's not hard!
Flauta Rolling Tips
Use soft tortillas. Make sure that your tortillas are nice and pliable and soft. If using store bought tortillas, most come incredibly soft and easy to roll. But if you're using some homemade flour tortillas that you may have to soften them up a bit. You can do this by putting them on a plate and wrapping them in a damp paper towel and microwaving them for just about 20 seconds.
Spread a thin layer on the bottom half. Not only will this ensure that you have filling throughout your flauta, but rolling the tortilla onto the filling will help keep them together, too.
Roll tightly. Fold up the bottom of your tortilla up about 2 inches, then tightly roll it for the rest of the tortilla. You'll roll on your filling for a couple of rolls, but then you'll roll the rest out on the other half of the tortilla.
Plate seam side down. This will help keep them together while they bake.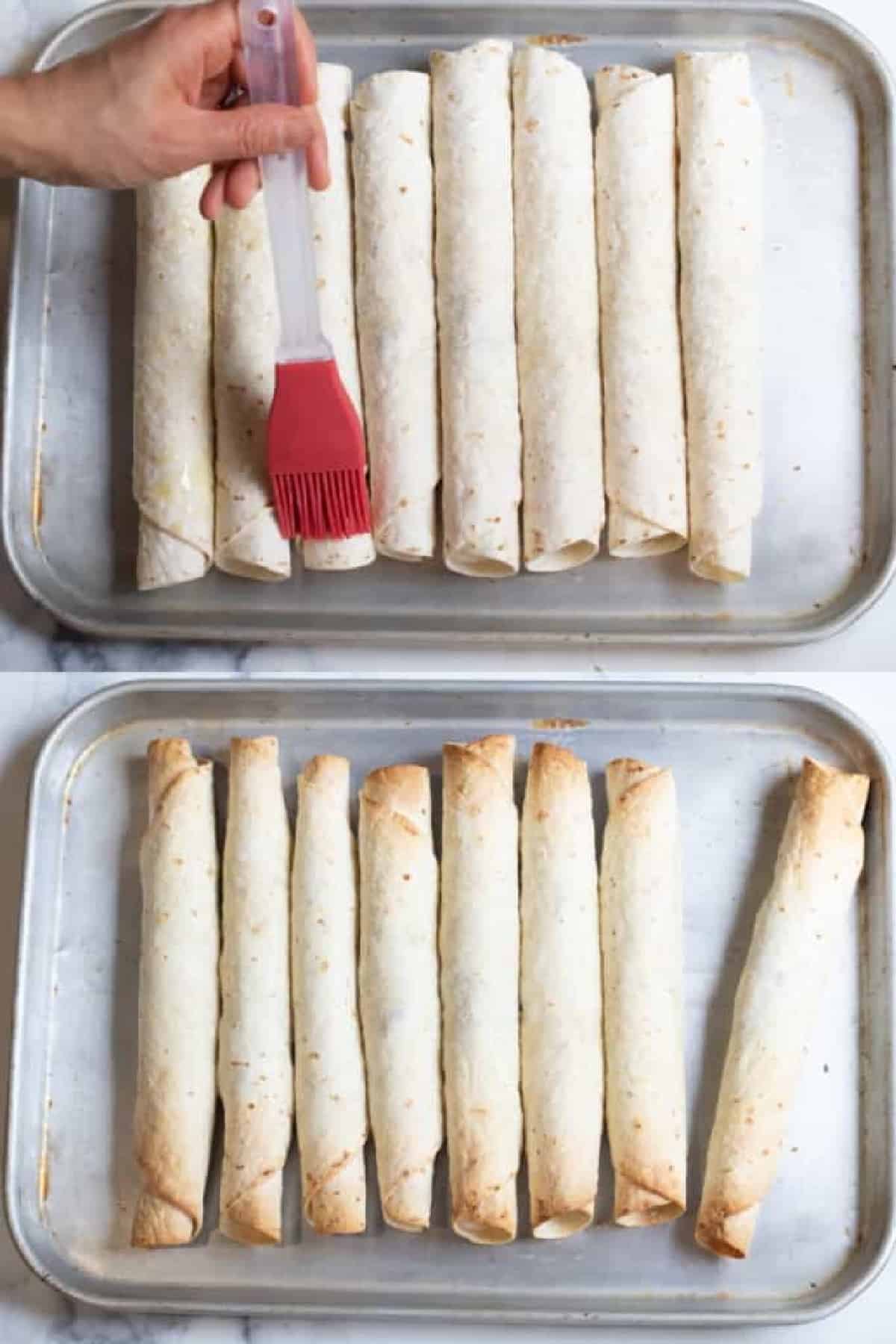 Bake!
Add those tightly rolled flautas to a baking sheet, and then give them a little brush with some olive oil to help crisp up the outside. Then all you need is 20 minutes for perfectly crispy "flutes" filled with a delicious (and deceivingly healthy) chicken filling!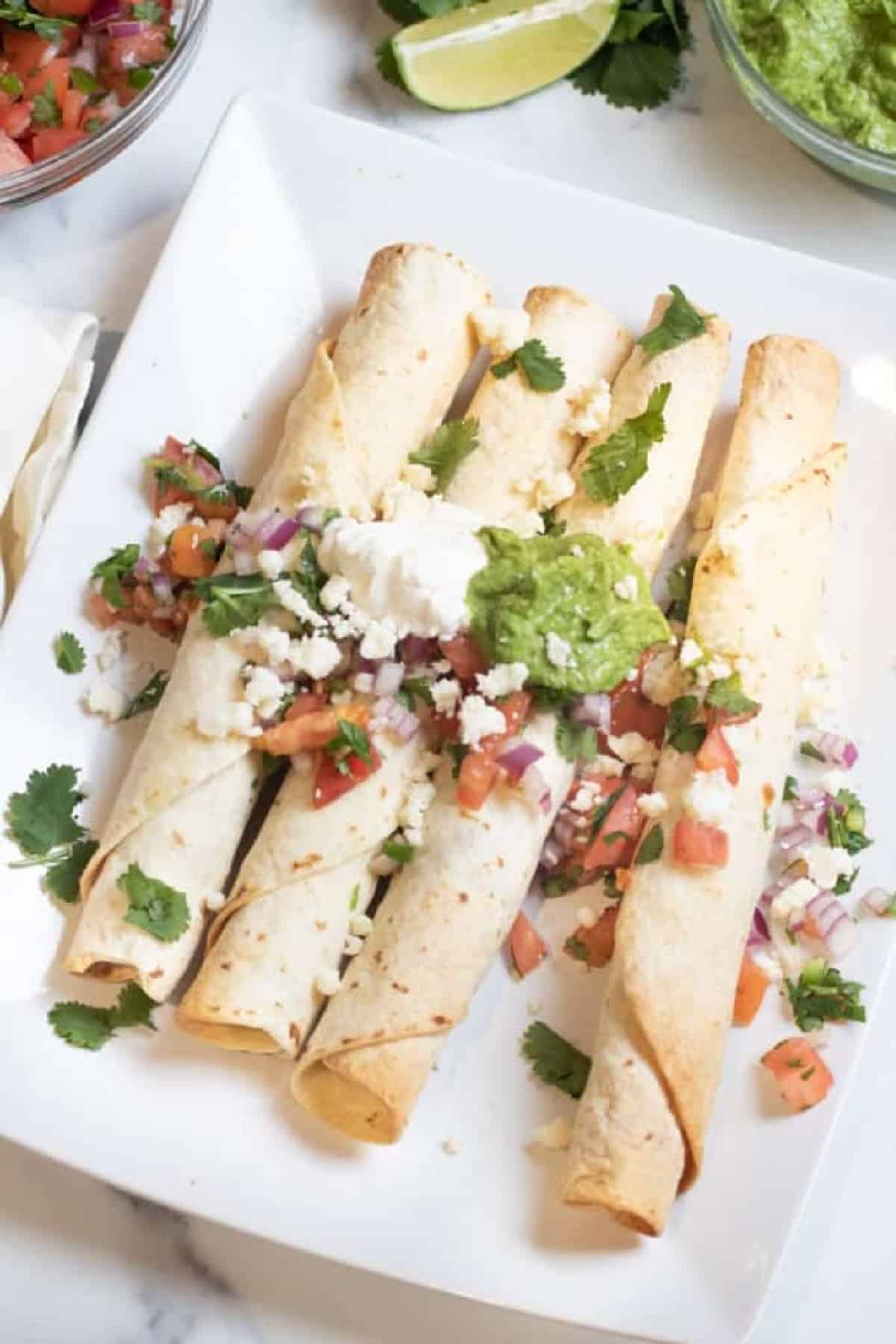 Easy Baked Flautas de Pollo! Crispy, chicken, bean, cheese, and (hidden!) spinach. Topped with some crumbled cotija cheese and your favorite pico de gallo and guacamole with a sprinkle of some fresh cilantro, and you have the perfect dish to serve as an appetizer (hello new favorite Football watchin' snack!), or as a meal!
If you liked these, then you'll also love our 15 Minute Black Bean and Spinach Burritos!
Serve it With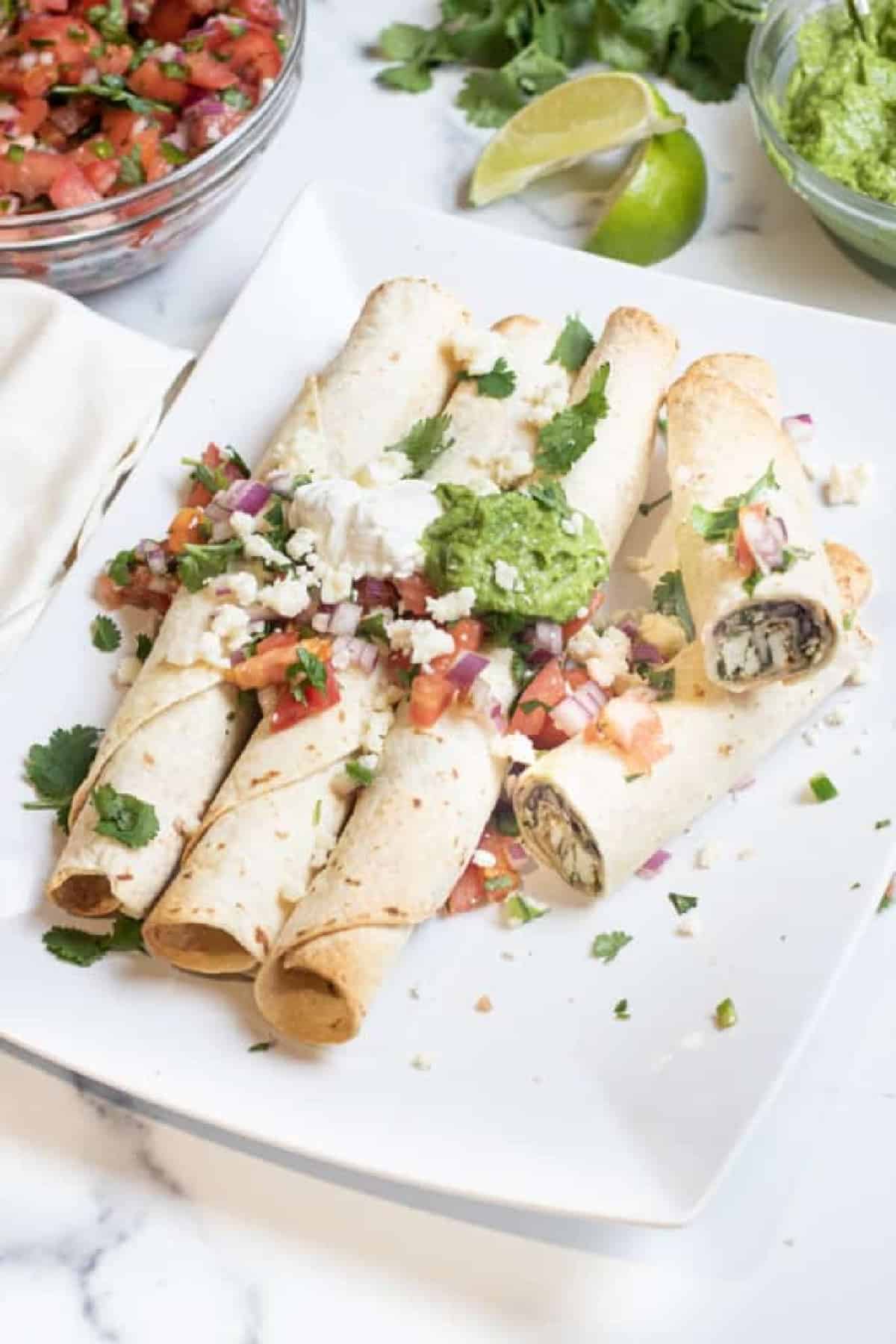 How to Freeze Flautas
These chicken flautas are perfect for meal prepping and the freezer!
Freeze before baking:
Just assemble, but before baking, pop your tray into the freezer flash freeze them 1-2 hours. This will help them stay wrapped for you to then store them in an airtight container or freezer safe bag for up to 3-4 months.
To bake: Brush with oil and then bake for 20 minute at 400 degrees.
Freeze after baked:
Let them cool completely (don't top with anything creamy or cheesy) and then store in an airtight container or freezer safe bag for
To reheat: Use a microwave, toaster oven, or oven to reheat. An oven is best to get that crisp texture back.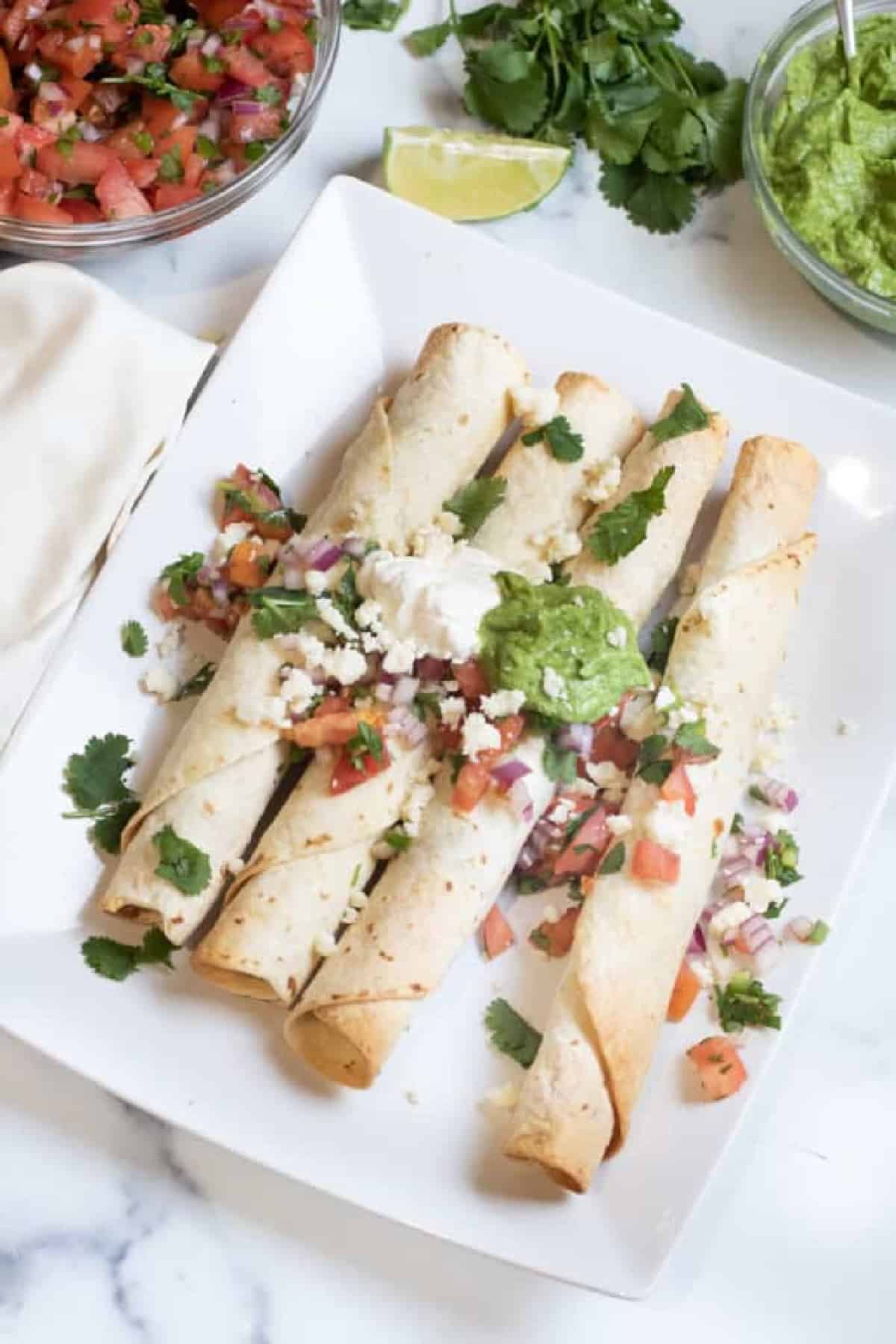 Customize!
This recipe is totally customizable, too! Add any of your favorites, ours include:
Enjoy! As always, if you make this recipe or any of my others, I love to hear what you think! Leave a comment below, email me, or you can find me on Facebook, Instagram, and Pinterest!
If you want to see more, be sure to sign up for my 5 Easy Ways to Start Cooking From Scratch!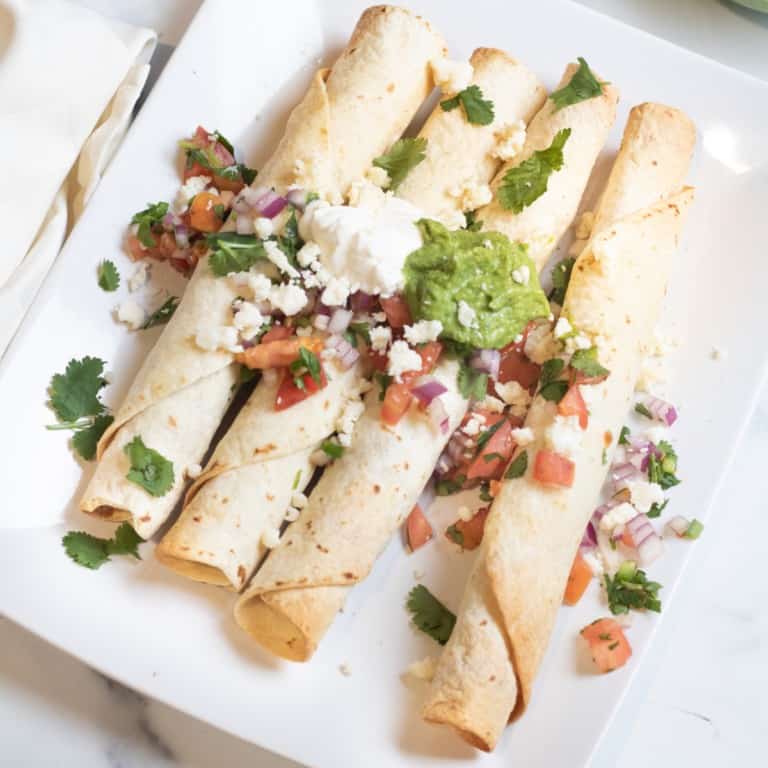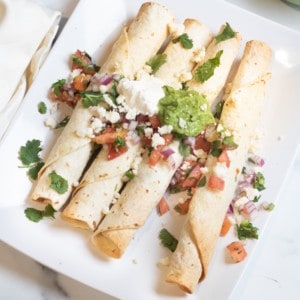 Baked Flautas de Pollo
Baked to be healthier and with some sneaky nutrition, they're the perfect appetizer or snack!
Print
Pin
Rate
Ingredients
Boiled Chicken
1

lb

chicken breasts

1/2

white onion

4

garlic cloves

2

teaspoons

salt

2

teaspoons

cumin

1

teaspoon

pepper
Flauta Filling
2

cups

fresh spinach

packed, about 2.5 oz

1

cup

shredded cheddar cheese

1 1/2

cup

black beans

canned or cooked (this is approximately 1 can)

1

teaspoon

cumin

1/2

teaspoon

salt

pinch

cayanne

1 1/2

cups

cheddar cheese

shredded
Flautas
1

tablespoon

olive oil

sour cream

fresh cilantro
Instructions
Cook the Chicken
Add all ingredients for boiled chicken to a 2-3 quart pot. Fill with water so that it's at least 2 inches over the top of the chicken. Turn to high and bring to a boil and boil for 20 minutes.
Prepare Flauta Filling
Meanwhile, prep beans by measuring out 1.5 cups of black beans and adding to a small bowl. Give a quick mash with a fork or potato masher.

If using canned, give beans a quick rinse and add to the bowl without being too strict on draining all of the liquid out before adding to a bowl, add a little to soften the beans a touch.

Once the chicken is done, pre-heat oven to 400 degrees and set a baking sheet aside.

In a medium sized bowl, add the chicken and using two forks, shred. Add the shredded spinach, beans, cheese, cumin, salt, and a pinch of cayenne and mix, the spinach should start to wilt from the heat of the chicken and cheese melt.
Roll Flautas
Prepare your tortillas. If they're not soft and pliable enough to roll, add them to a plate and wrap in a damp paper towel. Microwave for about 20-30 seconds to soften.

Add about 1/2 cup of filling to the lower half of a tortilla and spread it out in an even layer, covering most of the bottom half.

Fold up the bottom of the tortilla about 2 inches, and then tightly roll into a long thin flute-like shaped flauta.

Note: You will roll over the filling for the first few rolls - this will help keep it all together.

Place rolled flautas seam side down on the baking sheet. Add 1 tablespoon of oil to a small bowl and use a pastry brush to brush the top of flautas with a thin layer of oil.

Add to center rack in the oven and bake for 20-25 minutes, until the ends are lightly browned.

Serve with pico de gallo, gucamole, sour cream, and fresh cilantro and enjoy!
Notes
Storage
Fridge: Baked flautas will last in the fridge for up to 3 days.
Freezer: Add rolled flautas to the baking sheet, and then flash freeze for 1-2 hrs. Then add to a freezer-safe bag or container and freeze unbaked or baked flautas for 3-4 months.
Substitutions
Chicken: This recipe is a great way to use up some leftover shredded chicken! You can also increase the amount of beans you use and
Beans: Use your favorite!
Spinach: You can substitute about 1/2 cup of thawed frozen for fresh.
Cheese: Use your favorite cheddar or substitute for a queso fresco, monterey jack, or mozzarella. We recommend using a nice melty cheese for the inside of the flauta and a crumbly salty cheese to top with.
Frying Instructions
Instead of baking, you can also pan fry these chicken flautas. Pan fry by adding about 1/4 cup of vegetable oil to a wide sauté pan and heat over medium. Secure the flautas with a toothpick and add seam-side down to the hot pan and oil. Fry for about 3 minutes on each side or until filling is warm and exterior is browned and crispy.
Nutrition
Calories:
266
kcal
|
Carbohydrates:
23
g
|
Protein:
20
g
|
Fat:
10
g
|
Saturated Fat:
4
g
|
Polyunsaturated Fat:
1
g
|
Monounsaturated Fat:
4
g
|
Trans Fat:
1
g
|
Cholesterol:
51
mg
|
Sodium:
1094
mg
|
Potassium:
421
mg
|
Fiber:
3
g
|
Sugar:
2
g
|
Vitamin A:
874
IU
|
Vitamin C:
4
mg
|
Calcium:
163
mg
|
Iron:
3
mg