People often ask me how we spend so much time cooking from scratch at home, especially during the week. The answer: we don't. The term 'cooking from scratch' seems to come with an idea of slaving away in the kitchen and that it's super time consuming that no normal person has time for. And yes, some of it is time consuming. But trust me, we're pretty normal people with full time jobs and lives that don't allow us time to slave away in the kitchen every day. So I'll let you in on a secret: cooking from scratch can be super easy and can fit into super busy lives. I know! Amazing! This baked chicken, for example. It's from scratch, delicious, super easy, ad it's pretty much our go-to weeknight dinner.
Seriously. Less than 5 minutes to prep. Just chicken thighs (with the skin on, it'll ensure nice juicy chicken) into a baking dish, sprinkled with salt and pepper, a drizzle of oil (although it's really not needed), and then whatever herbs and spices you want. This night, I had fresh rosemary and shallots. In. That's it!
Baked for about 45-50 minutes at 400°. Done. Ok, obviously the rosemary doesn't stay so green and fresh after 50 minutes in the oven- I took some artist license in removing the baked (ugly) rosemary and adding a few sprigs of fresh rosemary solely for photo purposes.
For sides, sometimes I throw a couple of potatoes in the oven to bake too, or some veggies in the pan, or just an easy green salad. Operative words: Super easy. And even though it takes 45-50 minutes to cook, it's left alone in the oven to do it's own thing. Which means 45-50 minutes for laundry, cleaning, paying bills, and all those other 'life' things that get in the way of slaving away in a kitchen all night "cooking from scratch." 😉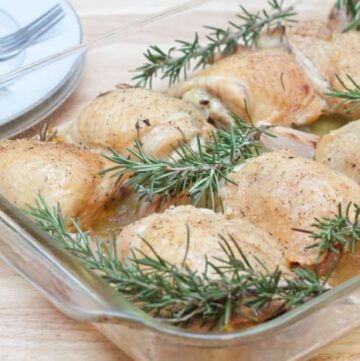 Ingredients
Chicken thighs

or whatever on the bone cut you have

4-5

sprigs for fresh rosemary

2

shallots

salt and pepper

1

tablespoon

of olive oil

optional
Instructions
Pre-heat oven to 400º. Cut shallots in half. In a large baking dish, add chicken. Sprinkle with salt and pepper and drizzle with olive oil. Add shallots to pan and top with rosemary.

Bake for 45-50 minutes or until juice run clear.