These Broccoli Cheddar Quinoa Bars are toddler tested and loved and are filled with tons of broccoli and protein, fiber rich quinoa so they're Mom approved, too!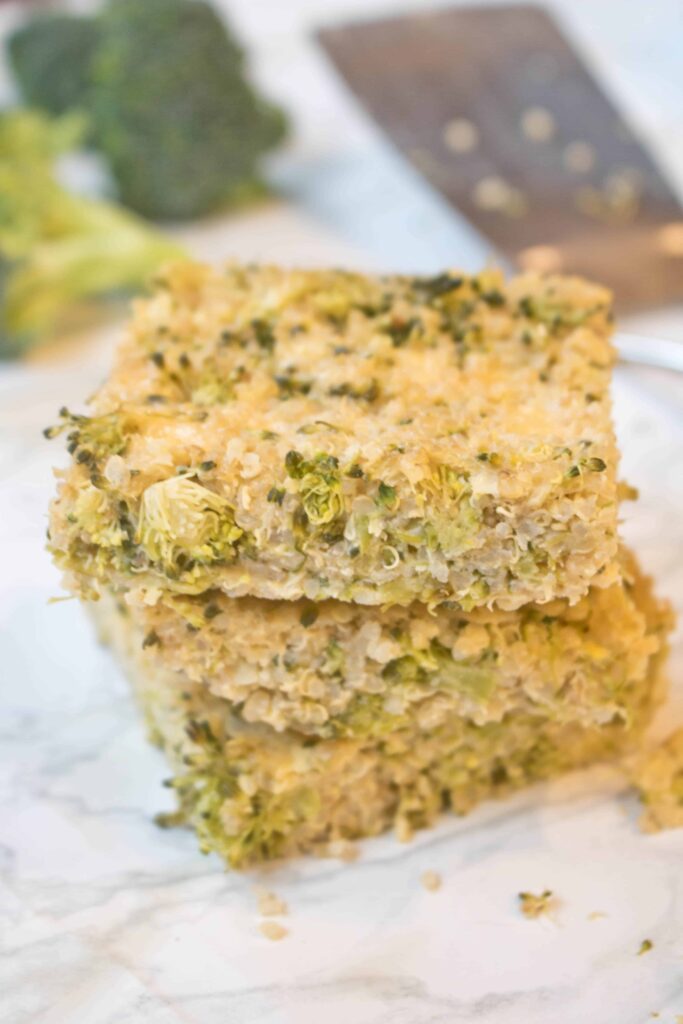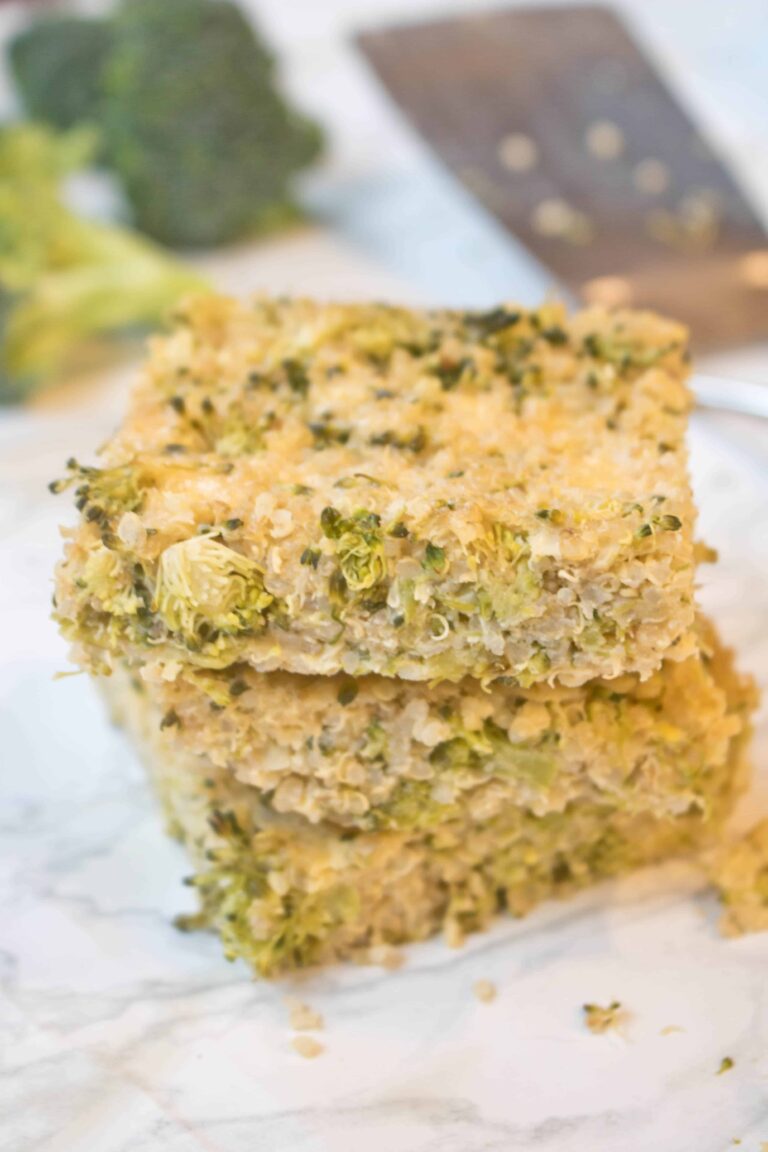 I have been meaning to post this recipe for you guys for months because it's one of my favorite snacks to make for M. Not only is it incredibly healthy (hello broccoli and quinoa), but they are super tasty, too (hellooooo cheddar)! And when I say tasty, I don't mean to just my little vegetable loving toddler, but these Broccoli Cheddar Quinoa Bars have been loved by even super picky toddler palettes!
For M's Halloween party at her daycare, I was totally that mom. Ok, ok, I admit, I'm always that mom which I'm reminded of every morning when I drop off M with her avocado toast and spinach scrambled eggs for breakfast while the other kiddos are eating cereal and sweet treats. But for Halloween, I was that mom that brought these Broccoli Cheddar Quinoa Bars as a treat to share with her class. And when I dropped them off and gave the list of ingredients to her teacher, she gave me an "Uh... ok. I hope the kids eat them..." Ouch. So I left feeling like I was a total mom fail by dooming my poor child to be that kid of the totally uncool mom who doesn't send chocolate. Until I picked M up later that day and the same teacher RAVED about how good the bars were and how all the kids LOVED them and the moms were asking for the recipe! Healthy Mom win!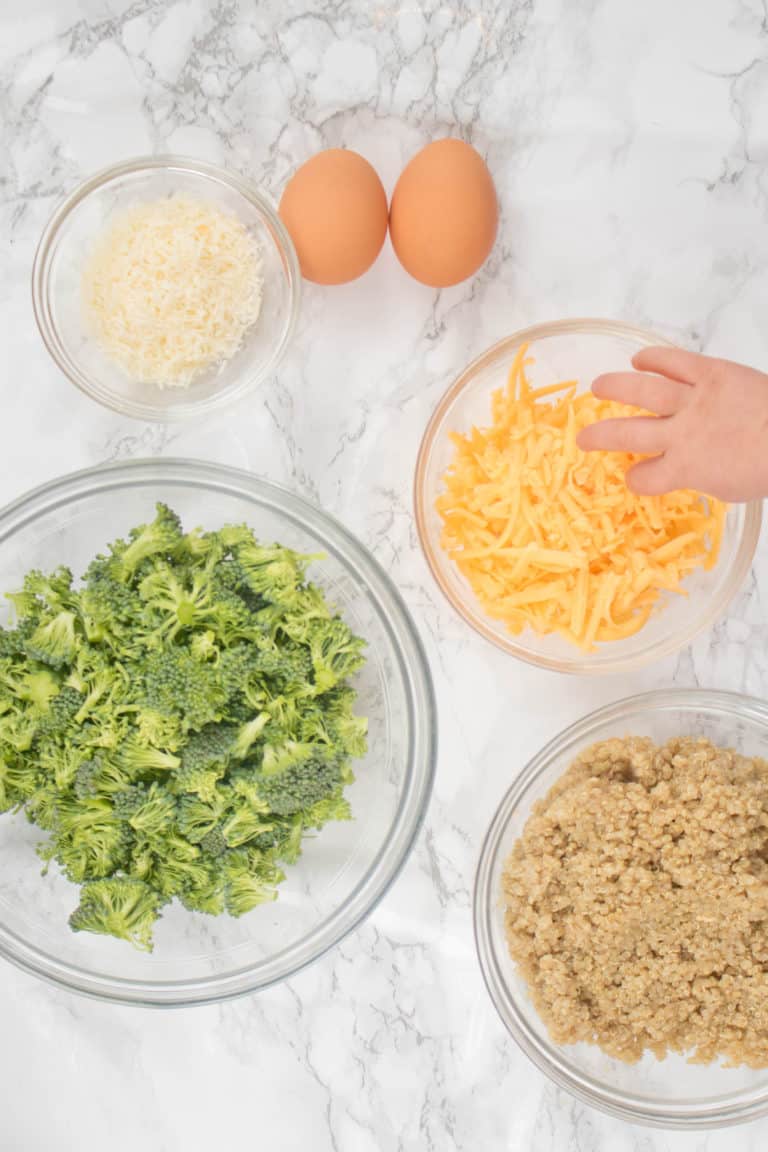 M already knew that these were a winner and she loves to help make them, too! By help, of course I mean be the official cheese taste tester 😉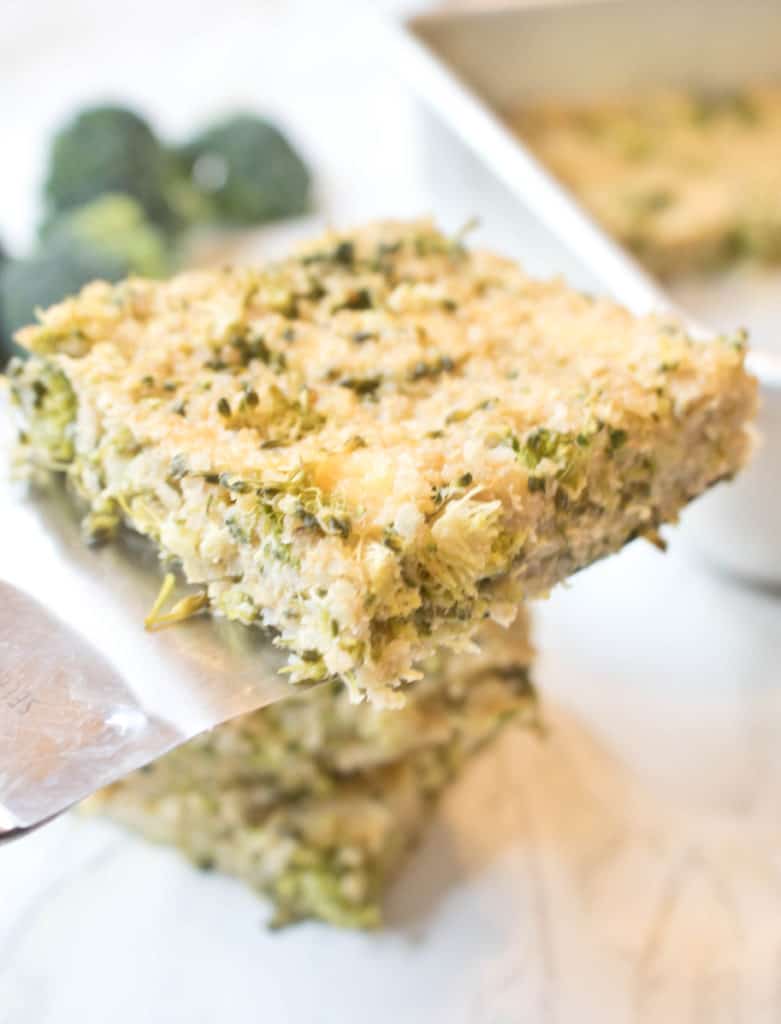 They're great served as a meal (I'll often pack them for lunch with fruit for M), or I'll cut the bigger bars in half for a quick healthy snack- for M or I!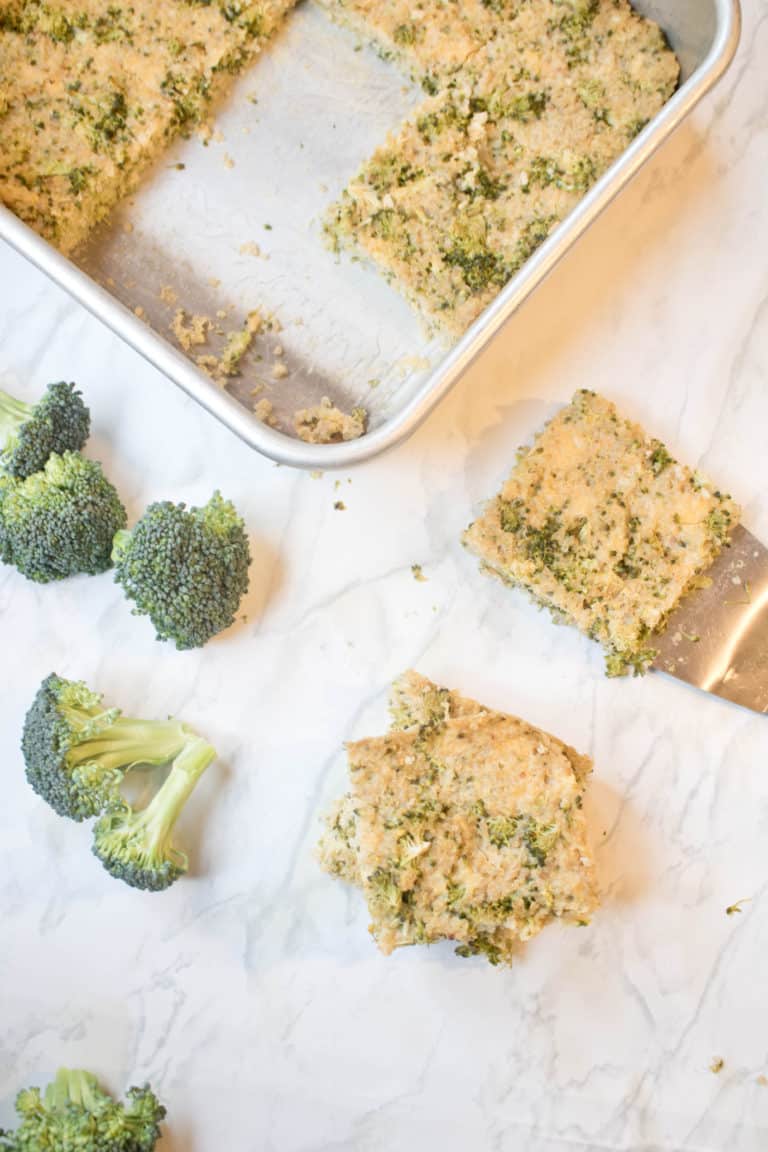 Again, we're really fortunate in that we don't have to "hide" veggies from M. The only ones we've come across that she doesn't like are green peppers, everything else she happily eats. But for moms that are looking for ways to sneak those greens into a cheesy snack, this is the perfect way. Especially since you're also getting in all the fiber, iron, magnesium, and protein from the quinoa!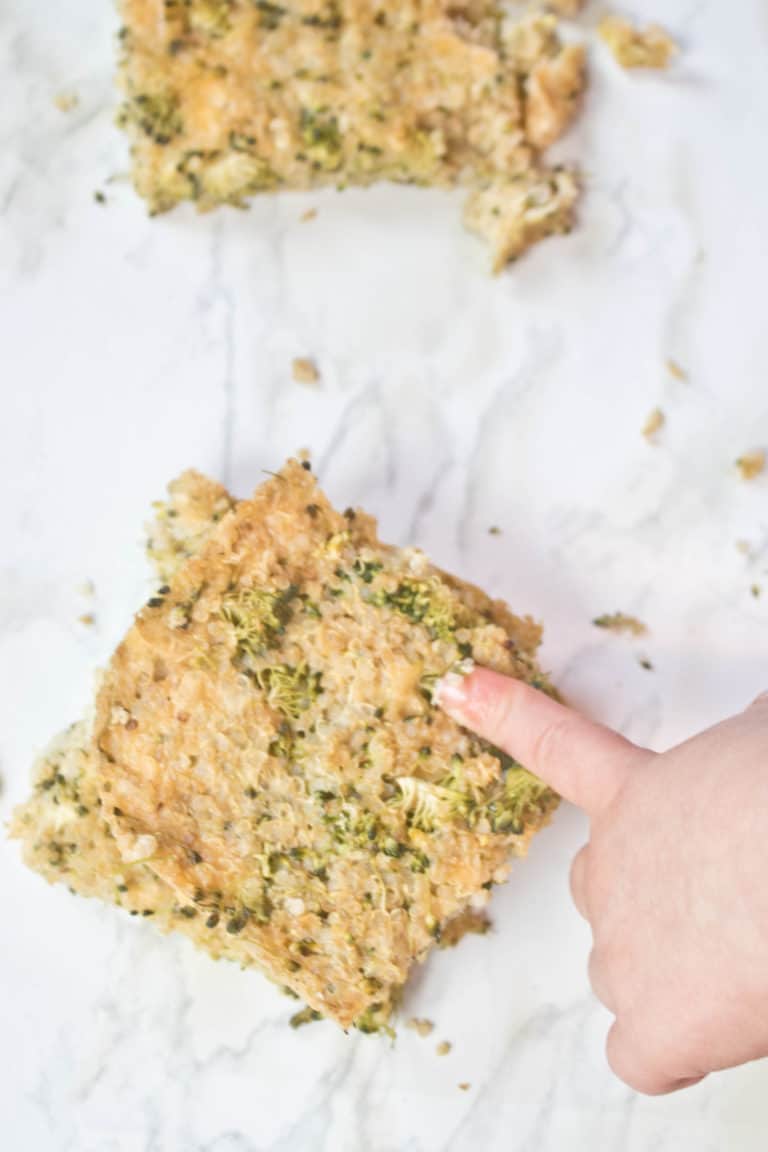 While taking photos M claimed her bars. She, and I, happily had them for lunch!
I hope you moms, dads, grandmas, grandpas, aunties, uncles, and other caretakers or loved ones of little ones try these! If you do, be sure to let me know on Facebook, Instagram, or Twitter! Also, be on the lookout for mom and toddler approved, nutritious snacks and meals!
Other Healthy Toddler Friendly Snacks
Healthy Raspberry Chocolate Chip Muffins
Oatmeal Quinoa Chocolate Chip Cookies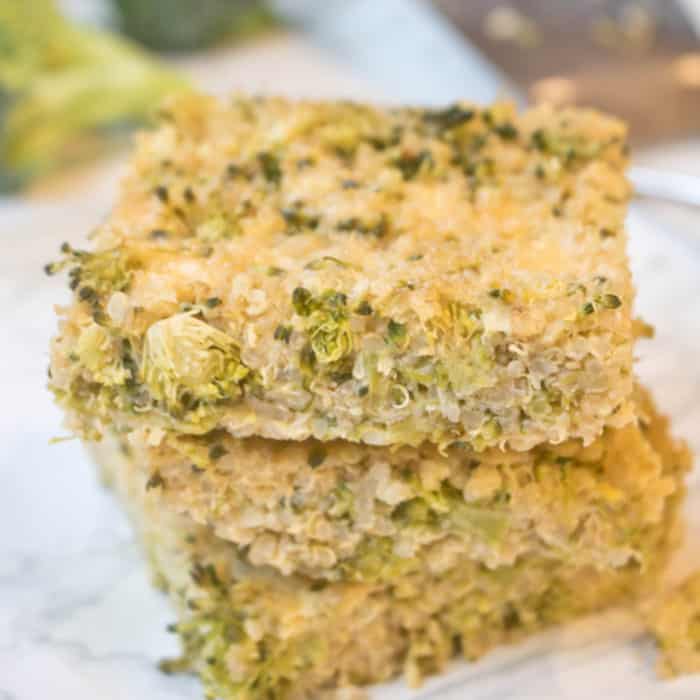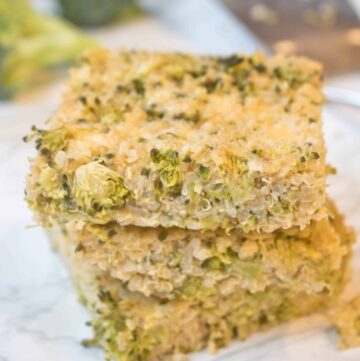 Broccoli Cheddar Quinoa Bars
Taste AND nutrition to make these toddler loved and Mom approved.

Print
Pin
Rate
Ingredients
2 1/2

cups

cooked quinoa

for an extra savory taste, cook your quinoa which a stock, chicken or vegetable

3

cups

chopped broccoli - just the head

if buying crowns in grocery store, this was approximately 3/4 lb worth of full crowns

2

eggs, whisked

1

cup

shredded sharp cheddar

1/4

cup

shredded romano

or Parmesan!

pinch

koser

salt
Instructions
Pre-heat oven to 350 degrees.

Add the quinoa, broccoli, cheddar, romano and salt to a large bowl. Mix well.

Add the whisked egg and mix everything together so it's all coated with egg.

Grease an 8X8 square baking pan and add mixture to pan and smooth with a spatula into a smooth layer.

Bake for 40-45 minutes until the edges begin to brown. Remove from oven and cool completely, then cut into squares and serve!

Store in an airtight container in fridge for 4-5 days.