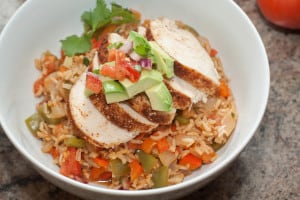 Mmm burritos. They're a food group to my husband. And lately, I have not been able to get enough of them myself! Our recent Crock Pot Chicken Carnitas Tacos made me realize that we needed to branch out of our normal taco/burrito scene. Don't get me wrong, I love a good ol' homemade flour tortilla with all the traditional fixings. But we needed something different. And I realized we didn't have our usual stock pile of flour tortillas in our freezer, so a delicious burrito bowl it was!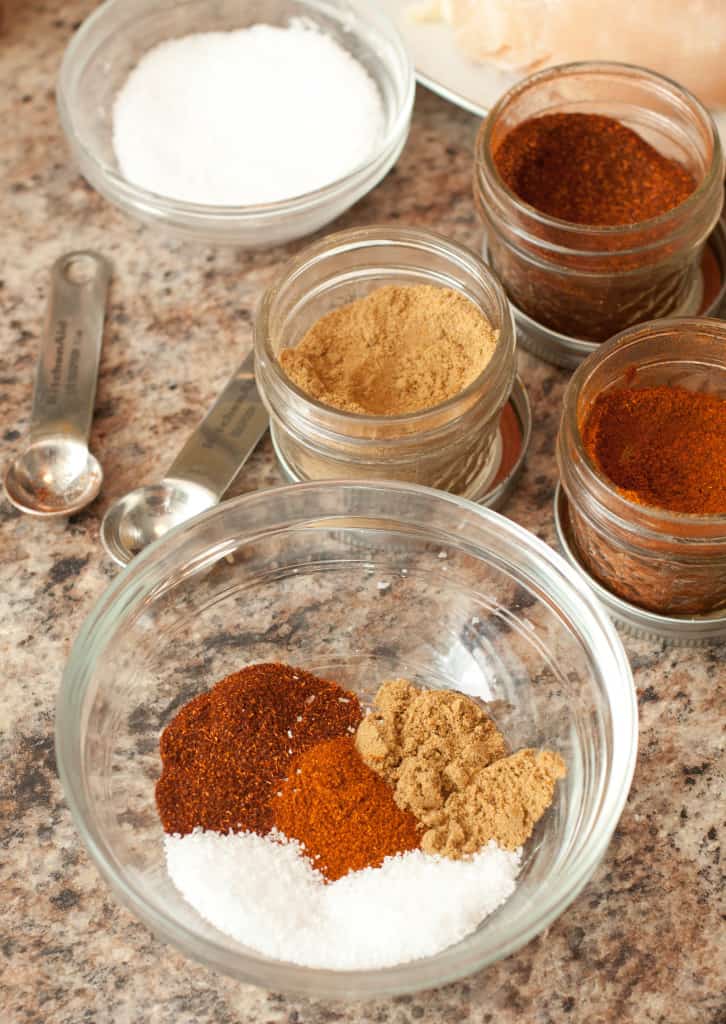 First, the seasoning for the chicken. You can totally adjust these seasonings to your taste; we like it spicy, which is what these seasoning blend turned out to be. Equal parts cumin, chili powder, smoked paprika, and salt. I used a teaspoon of each, which was quite a bit even for the 5 massive chicken breasts we had (I am blessed with a husband who will happily eat leftovers for lunches for days on end, so I always make big dinners for lunches the following days).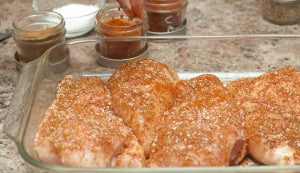 Generously coated on the chicken and popped into the oven at 400 degrees for about 40 minutes. Again, these guys were large – I would cook normal sized breasts for 25-30 minutes, but after a check, these guys still needed some time.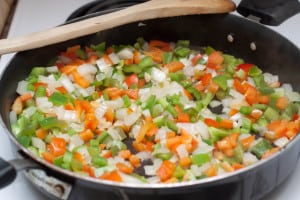 While they cooked, I added some garlic, onion, and diced red and green peppers to a pan to saute for the 'fajita' portion of the bowl.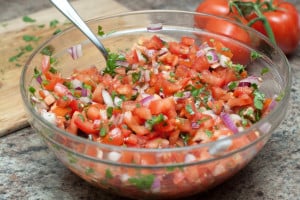 And then of course we can have any tacos / burritos / fajita bowls without some fresh homemade pico de gallo. I always make a huge batch of pico so we have plenty left over – I add it to salads and use it as a dip with crackers or baguette slices, or even just by itself with a little melted cheese on top. Mmm.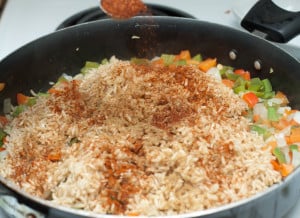 Before I even started the chicken, I put on some brown basmati rice to cook. You can use any type of rice with this, but basmati is our favorite rice and usually the only one (besides sushi rice) that's always in our house. Once the rice was done, I added it to the pan with the peppers and onions, and then added more of the same seasonings I used for the chicken.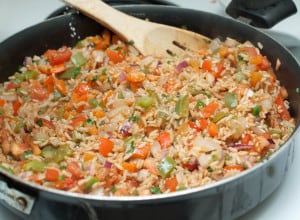 Gave it a good mix, added about a cup of the fresh pico de gallo to the pan, and then adjusted seasonings to our liking (usually that means adding more salt),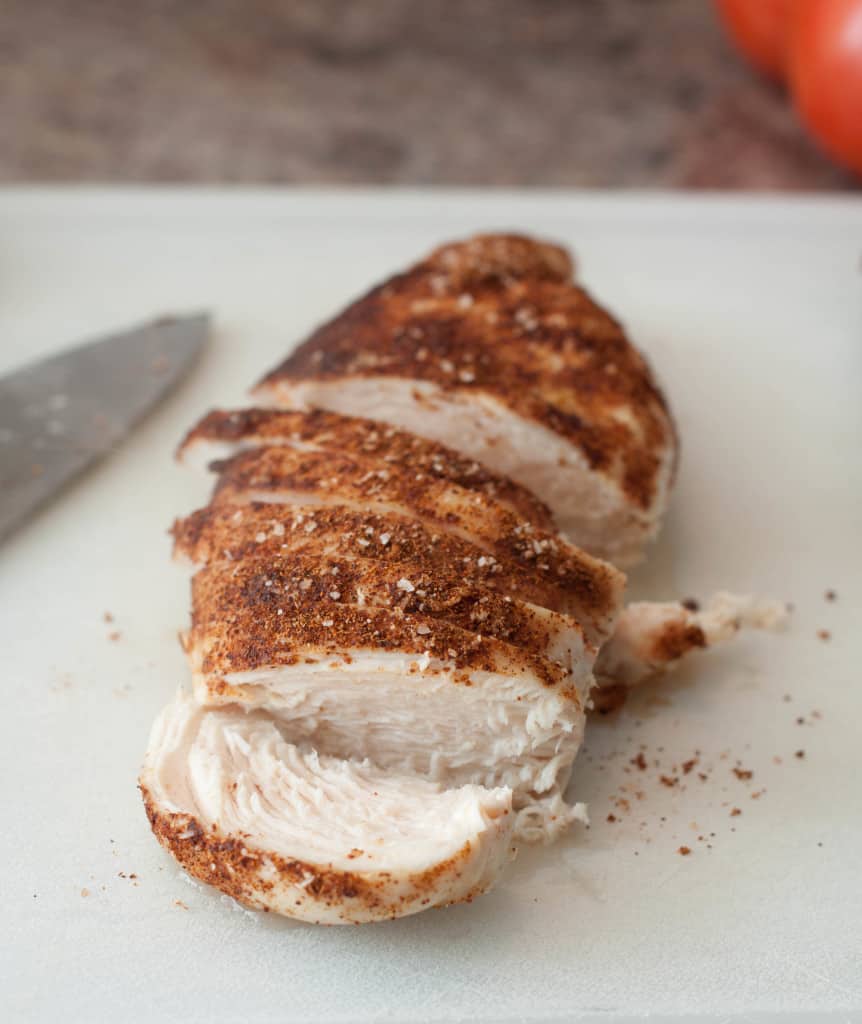 and by that time the chicken was done and ready to be sliced,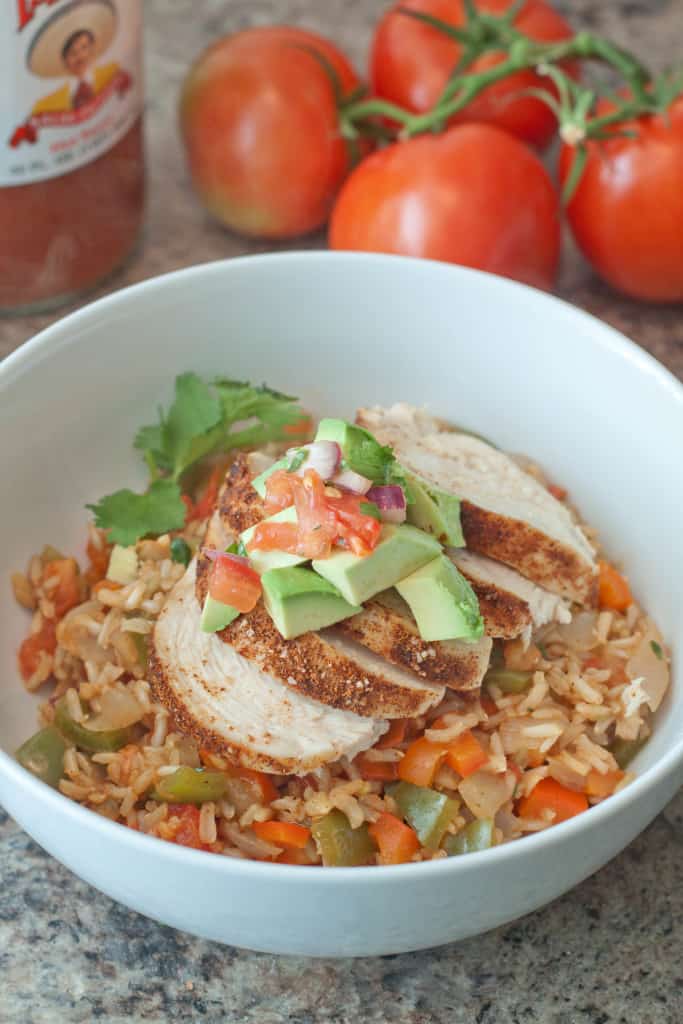 and ready to be added to the fajita rice and then topped with some fresh avocado and a touch more pico, 'cause, why not. I elected to keep this burrito bowl pretty healthy (as we're rapidly approaching the Christmas season and all of it's goodies). But if you want to go true burrito you can add some black beans, some cheddar cheese, and even maybe some crushed tortilla chips!
Chicken Fajita Burrito Bowl
2015-12-07 18:52:58
Skip the tortilla and put all the burrito delicious in a bowl!
Burrito Bowl
4 Boneless Chicken Breasts
1 1/2 teaspoon chili powder
1 1/2 teaspoon smoked paprika
1 1/2 teaspoon cumin
1 1/2 teaspoon salt
1 red bell pepper, diced
1 green bell pepper, diced
1 white onion
4 garlic cloves
1 1/2 cup pico de gallo
3 cups cooked brown basmati rice
1 ripe avocado
1 tablespoon of olive oil
fresh cilantro for garnish
Pico De Gallo
6 roma tomatoes, diced
1/2 small red onion diced
1/2 jalapeno diced
1 teaspoon salt
juice from one lime
1 bunch of cilantro
hot sauce to taste
Instructions
Pre-heat oven to 400 degrees.
Put on rice to cook.
Mix together 1 teaspoon of: cumin, chili powder, paprika, salt. Season both sides of the chicken with seasoning and bake in oven for 20-40 minutes, until chicken is fully cooked*
Meanwhile, heat olive oil in a deep saute pan and then add garlic and onions. Cook for 2-3 minutes until fragrant and then add peppers and add 1/2 teaspoon of salt. Cook on medium to high heat, stirring often for about 15 minutes.
Make pico by add tomatoes, onion, jalapeno, and cilantro to a bowl. Mix well. Add salt, and then squeeze lime juice over salt and mix again. Add hot sauce to taste.
When rice is done and peppers are cooked through, add rice to saute pan with peppers and onion. Turn heat down to medium. Then add 1/2 teaspoon of: cumin, paprika, and chili powder. Mix well. Add 1 1/2 cups of pico de gallo and mix well again. Taste and adjust seasonings to liking. Add hot sauce if it needs a bit more kick.
When chicken is done, slice (or chop dependent upon preference) and set aside.
Add rice and peppers to a bowl** and top with sliced or diced chicken and top with more pico and fresh avocado.
Enjoy!
Notes
*Size of the chicken breast will determine cook time. If ever unsure if chicken is cooked, test with meat thermometer- it should be at least 165 degrees.
** Add shredded cheese or black beans or crushed tortilla chips or anything else you'd have in a burrito!
Adapted from Mantitlement
Served From Scratch https://www.servedfromscratch.com/