Skip the tube from the grocery store and make your own Crescent Rolls From Scratch and impress your dinner guests!
I am still absolutely shocked at how quickly this year went by! But I love that every year gets to end with all the wonderful holiday celebrations! The decorations, the feasts, the treats, the lights, the one time of year when the fun mail outweighs the junk mail! And of course, all of the love and celebration with families and friends near and far. The next couple of days my shopping, prep, and cooking lists are just nuts, and I love it. Among the craziness, I was able to do a test run of these Crescent Rolls From Scratch. I've been wanting to make for a holiday meal for awhile now because, I'm not going to lie, they used to be one of my favorite parts of the holidays. Soft, steamy, buttery delicious rolls. The perfect addition to any holiday meal. So of course, I had to learn how to make them from scratch.
As I had expected, pretty simple ingredients: flour, butter, milk, eggs, salt, and yeast.
I let the yeast activate first in the bottom of my mixer, then added the flour, an egg, and a tablespoon of butter and mixed until well combined and smooth.
Then kneaded it out a bit more until it formed a smooth-(ish, I don't think I kneaded it enough...), ball.
After about 30 minutes in the fridge, I rolled the dough out into a large rectangle and spread 8 tablespoons of nicely softened butter evenly onto it. The secret to it's delicious buttery-ness...
Then, I folded it up like a letter. 1/3 up and then the other 1/3 on top.
This guy then went on to a baking sheet, covered in plastic wrap, and into the freezer for about 10 minutes. After the 10 minutes, I rolled it out again into a large rectangle and folded it like a letter again. Then 10 more minutes in the freezer. Then another roll out in a rectangle, fold, and freeze.
After the 3rd freeze, I rolled out the dough, cut it in half, and then cut out 16 rectangles,
and rolled these guys, wide side of the triangle up, into little crescents.
On to a baking sheet, then covered lightly with a towel, I let these little guys rise for about an hour. 30 minutes if you keep your house warmer than we do. Our thermostat is usually just under 60 degrees, which is great for our heating costs, but terrible for dough rising...
Once they were nice and plump, they were ready for an egg wash. This is what will give it the lovely golden crust. Although after my rolls were baked, I realized that I was a little too stingy on the egg wash. Next time, I'll make sure they're lathered up with the wash for ultimate golden crispiness.
Baked in the oven at 400º for about 10-12 minutes and my little rolls were done! See what I mean about the egg wash? Also, I would have rolled out my little triangles too so that they were thinner and so I'd get a tighter roll. All notes to myself for next time.
Despite the little tweaks for my next holiday batch, these Crescent Rolls From Scratch were pretty darn good. Best straight out of the oven, of course, but they were nice and soft and flaky.
A good amount of airiness to make them nice and light. In texture, certainly not in calories with the 1/2 cup of butter in them... which is the best part!
Are they as good as the Pillsbury Crescent Rolls my mom used to make at holidays? Nope, they're not. But these Crescent Rolls From Scratch are pretty darn close. And with a few tweaks here and there, they'll get there! And now that I have this dough recipe, I can't wait to make use it over and over again for things like garlic knots, stuffed crescent rolls, baked brie... and all of the other deliciousness that can be made with a pre-made crescent roll dough!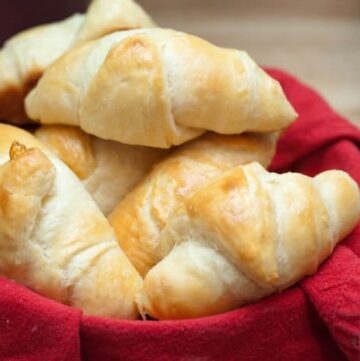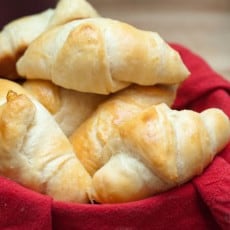 Crescent Rolls from Scratch
Everyone's favorite buttery rolls from Scratch!
Print
Pin
Rate
Ingredients
1/4

cup

very warm water

2 1/4

teaspoons

active dry yeast

one packet

2

teaspoons

granulated sugar

3/4

cup

warm milk

1

egg

1

tablespoon

unsalted butter

melted or softened

1

teaspoon

salt

3

cups

all-purpose flour

plus more for rolling

8

tablespoons

salted butter

softened for spreading

1

egg

beaten and or melted butter, for brushing
Instructions
In the bowl of a stand mixer or large glass bowl, combine the warm water, yeast and sugar. Mix until combined. Let the mixture sit for about five minutes until it's foamy and activated.

Once the yeast has proofed, add the warm milk, egg, butter, salt and flour. Using a dough hook, knead the dough on medium-high speed for about five minutes until dough is smooth and elastic. It will seem sticky at first, but keep mixing and it will become smooth.

Remove the dough from the bowl and place on a floured work surface. Knead the dough into a smooth ball. Grease the bowl that you mixed the dough in and set the dough back in the bowl. Cover the bowl with plastic wrap and place in the fridge for 30 minutes.

After 30 minutes, remove dough from fridge and roll out on a lightly floured surface to a large rectangle that's about 1/4 inch thick. Spread the softened butter all over dough, leaving an inch around the sides of the rectangle, being careful not to break through dough with butter.

Fold one half of the rectangle towards the center and fold the other half over as well on top of the first layer so you have three dough layers, cover with plastic wrap and place in freezer for 10 minutes.

Roll out dough again to a long rectangle (being careful of the butter—roll gently) and fold dough again into thirds like a book. Place back in freezer for 10 more minutes. Repeat this process two more times for a total of three folds (and 30 minutes in the freezer)

After the three folds, you can either proceed with the directions or you can wrap your dough tightly with plastic wrap and place in the fridge overnight or up to three days.

To proceed, using a lightly floured work surface, roll the dough out into a rectangle about 1/4 inch thick. Using a pizza cutter or sharp knife cut the dough in half lengthwise, and then cut the dough into triangles. Using both hands, roll the crescent up. Place on a baking sheet about 2-3 inches apart, cover with a towel and set in a warm place to rise for 30 minutes to 1 hour.Meanwhile, position a rack in the middle of the oven and preheat to 400 degrees F. Before baking, brush each crescent with the beaten egg wash. Bake rolls for 10-12 minutes or until lightly golden brown. If desired brush with melted butter.