Crock Pot Chicken Chow Mein can be made right at home! It's so much easier (and cheaper) than getting take out but just as delicious!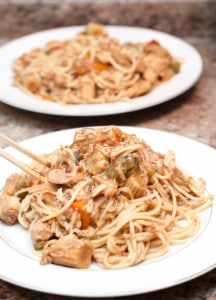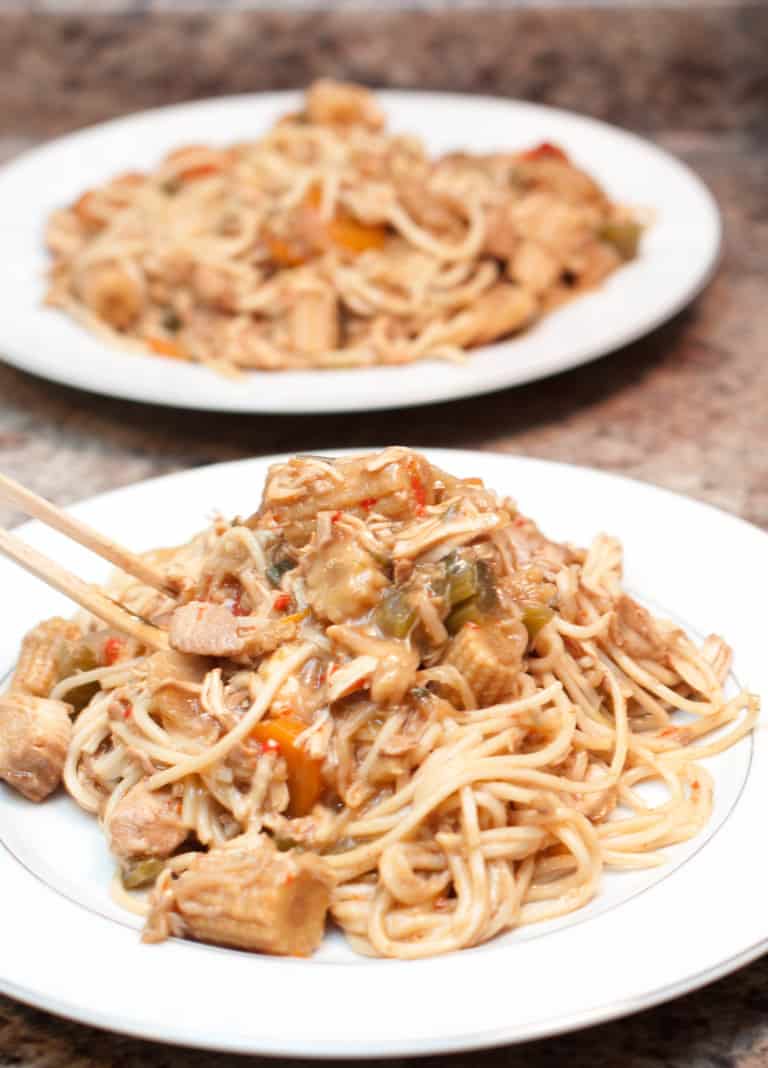 Yes. You heard me. Crock Pot Chicken Chow Mein! It's like getting take out, but better! Why? Because it's just as easy. Plus, at home, pants are optional.
The hubster and I are not big take out people (in case you couldn't already tell) and I don't usually eat a lot of Chinese food, except Dim Sum. But this week, I was bored with our dinners. We both have been busy, and lazy (ok mostly lazy), and have just been making a ton of baked chicken. And by a ton, I mean we've had it every night for the last 3 nights. We needed a change, a big change. And making Chow Mein in my crock pot has been on my must make list for a loonnggg time, especially after the huge success Chicken Pho was in our crock pot.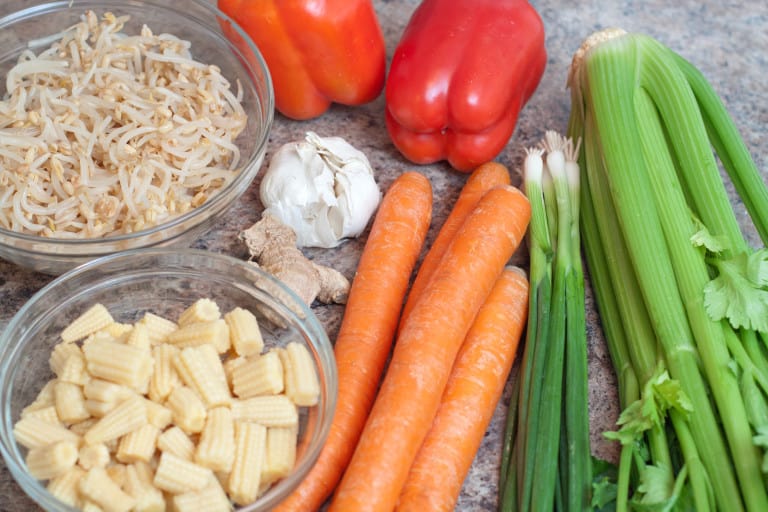 So I dusted off the crock pot and prepped a ton of fresh veggies. Ok, the baby corn, bean sprouts, and water chestnuts (not pictured), came from cans. Normally, I'm like booooo canned goods - go fresh! Except when you can't find said veggies fresh in the one store you're willing to go to. Did I mention the laziness?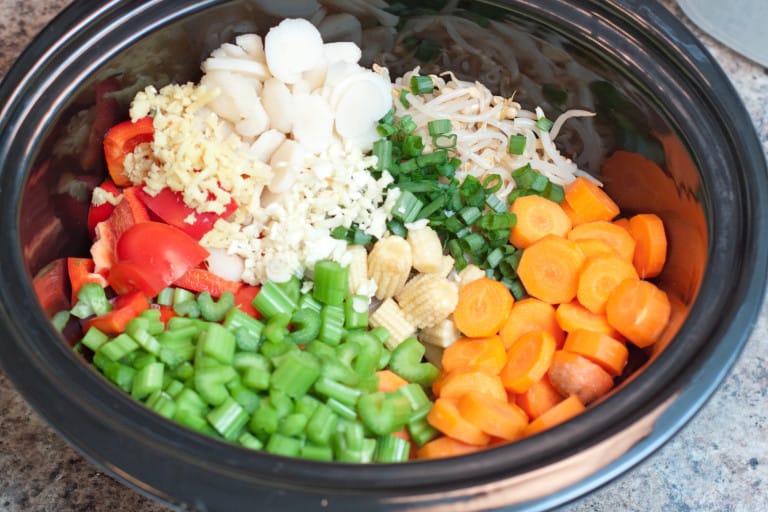 The night before I just chopped all the veggies and tossed them in the crock pot,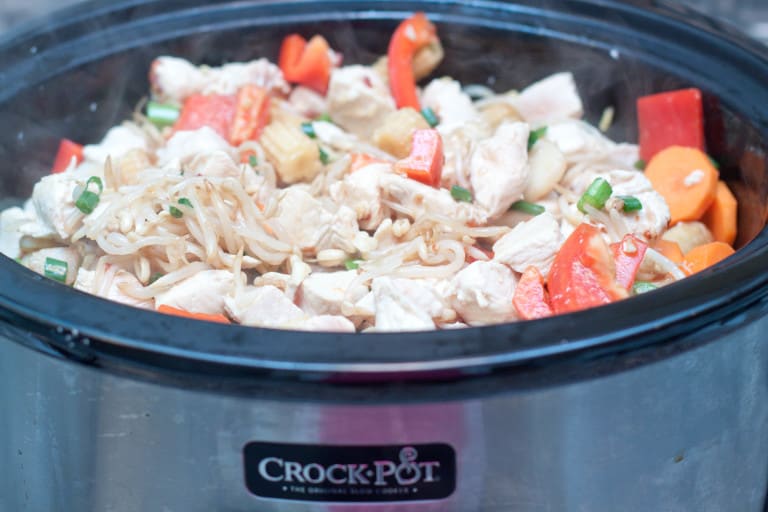 then the next morning added the browned chicken, homemade chicken stock some chili paste, and soy sauce and left it to cook all day while we were at work.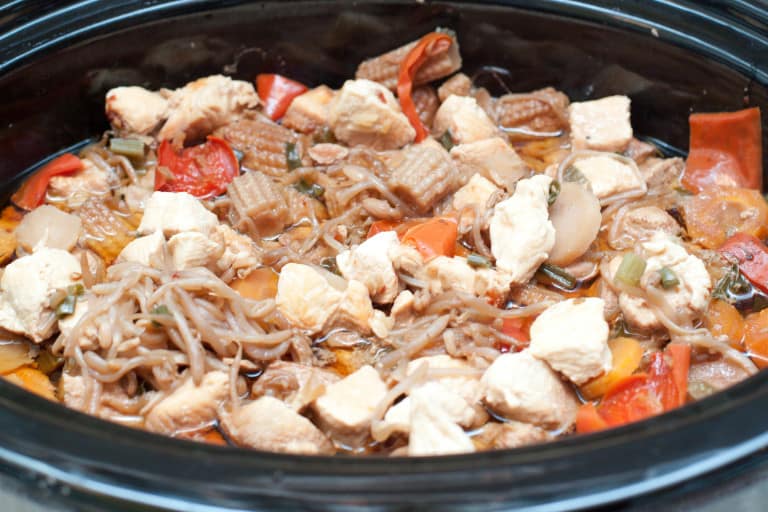 That evening, I came home to a delicious smelling house.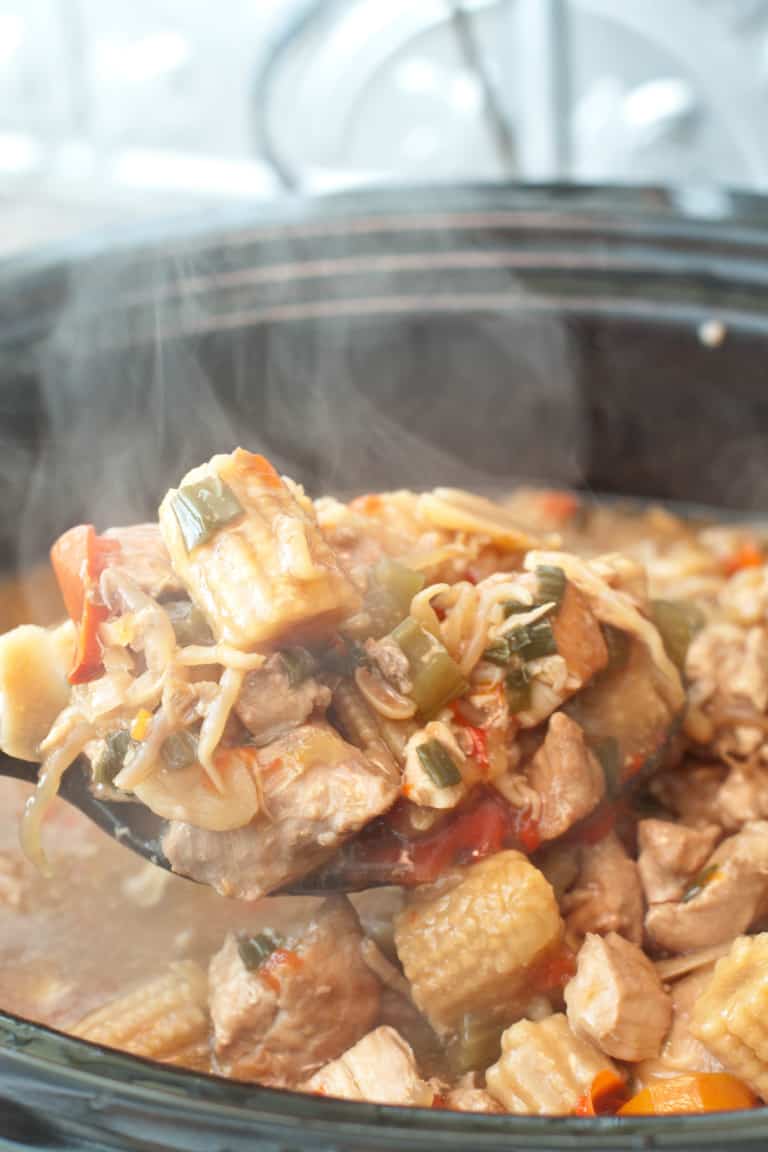 And a whole crock pot full of amazingness.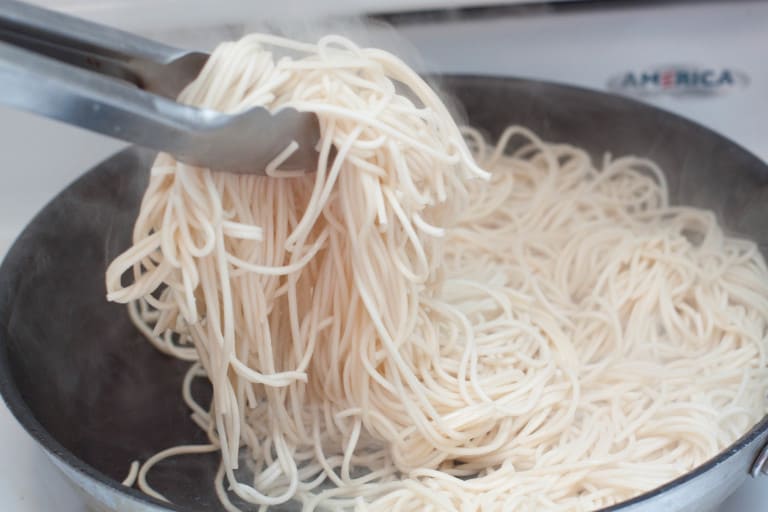 The final touch, I cooked some chow mein noodles (also on my list to make from scratch), and then gave them a quick fry in a little bit of sesame oil before adding them to the rest of the crock pot. I only fried mine for a few minutes, but I think next time I'll fry for longer to get even more texture and color on the noodles.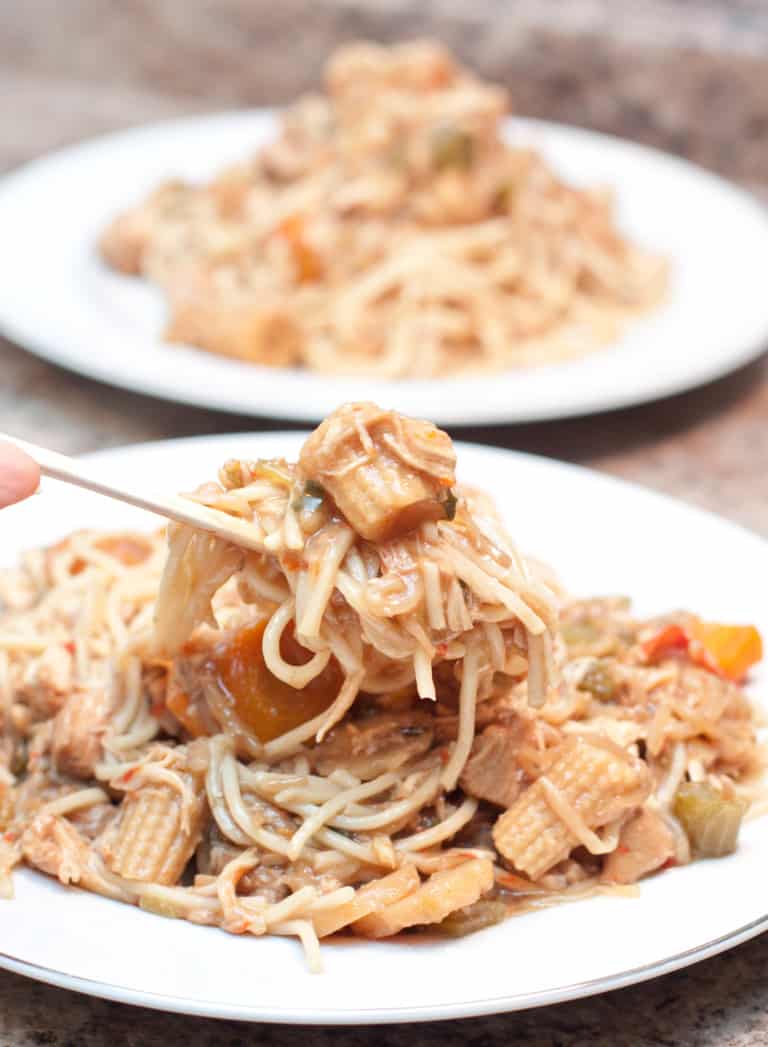 Even still, this Chicken Chow Mein is Spot. On. It was exactly what I was hoping it would be. And even better, I knew exactly what was in it.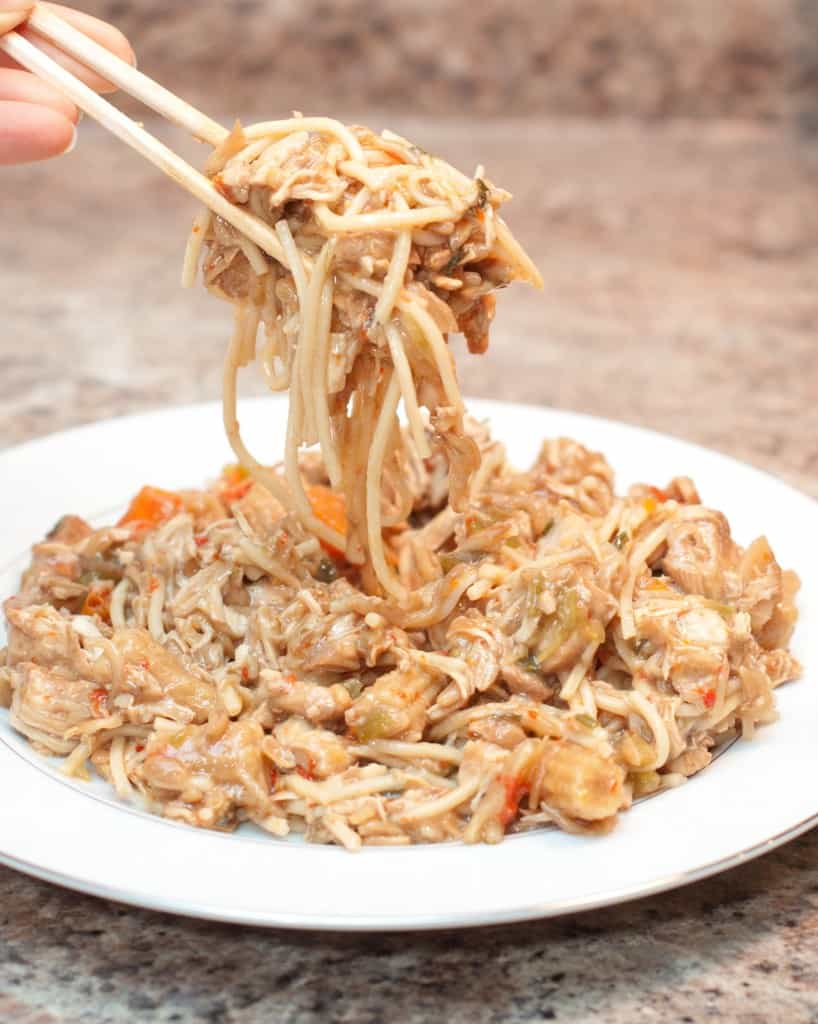 Crock Pot Chicken Chow Mein: The ultimate crock pot weeknight dinner win!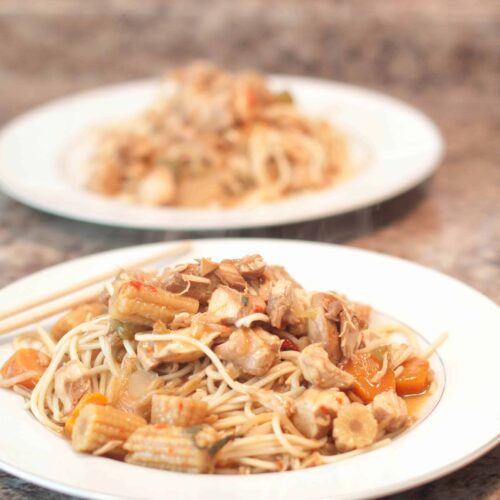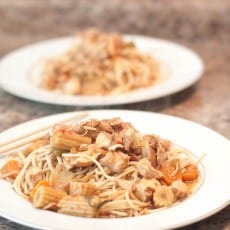 Crock Pot Chicken Chow Mein
Delicious Chow Mein take out made at home while you work!
Print
Pin
Rate
Ingredients
3

lbs

boneless chicken breasts - cubed

24

oz

of bean sprouts

2 cans

24

oz

of cut baby corn

2 cans

8

oz

water chestnuts

1 can

1

fresh red pepper - chopped

6

stalks of celery - chopped

2

extra large carrots - chopped

1

bunch of green onions - chopped

2

inch

piece of fresh ginger - peeled and minced

3

large cloves of fresh garlic - minced

2

cups

of chicken broth*

2/3

cup

soy sauce

1-2

teaspoons

chili paste

1

tablespoon

of olive oil

1/2

cup

of cornstarch

2/3

cup

of water

2

packages of chow mein noodles

1

tablespoon

sesame oil or vegetable oil
Instructions
Heat oil in saute pan and brown chicken.

Add chicken to the crock pot and then add veggies, ginger, garlic, and mix.

Add chicken broth, chili paste, and soy sauce and mix.

Cover and cook on LOW for 6-8 hrs.

Mix the cornstarch and water in a small bowl until cornstarch is dissolved and smooth. Then turn slow cooker to HIGH and mix cornstarch with liquid in crock pot and cook for 20-30 minutes until liquid thickens. Keep cover slightly open to let steam escape.

Meanwhile, cook chow mein noodles as directed on package, just a minute less than directed so they are al dente. Drain well.

In a large skillet or wok, heat 1 tablespoon of sesame oil on medium/high. Toss noodles into hot skillet or wok and cook on high for 2-3 minutes. You'll hear it sizzle as the noodles get a nice slightly crispy coating.

Add noodles to to crock pot, mix, and serve!
Notes
* To make your OWN chicken broth: http://servedfromscratch.com/more-chicken-stock/ This for a large 6-7 quart crock pot. The recipe can be easily halved for smaller crocks. 6h 30m