Our Dutch Oven Chicken and Dumplings Soup is a hearty, comforting classic! This creamy flavorful soup is packed with chicken and vegetables with fluffy dumplings for an easy chicken and dumplings meal the whole family will love.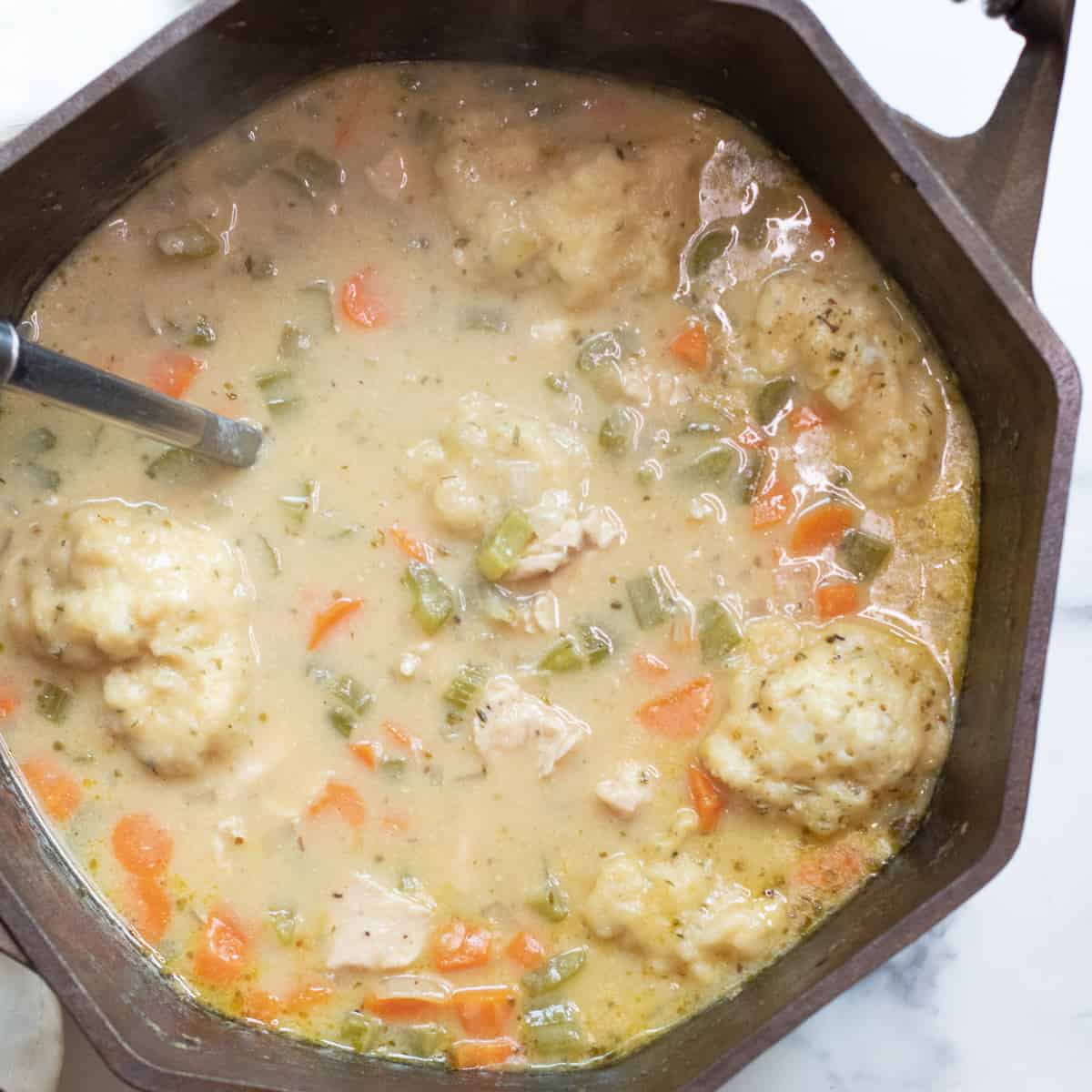 Let me introduce you to our new, on repeat, deliciously creamy dreamy cold weather meal. Our easy Dutch Oven Chicken and Dumplings Soup. This easy chicken and dumplings recipe is one that my husband has been asking for for a long time now, and I've finally delivered! He is now a happy happy husband and my kiddos have declared this is one of their new favorite soups!
You'll love this chicken dumpling soup because it's simple to make with super easy homemade dumplings, it's packed full of flavor (thanks to some of our favorite soup seasonings), and it's creamy without adding any cream! Plus, anytime my kids inhale a soup that's packed full of veggies, is a major win.
Ingredients Needed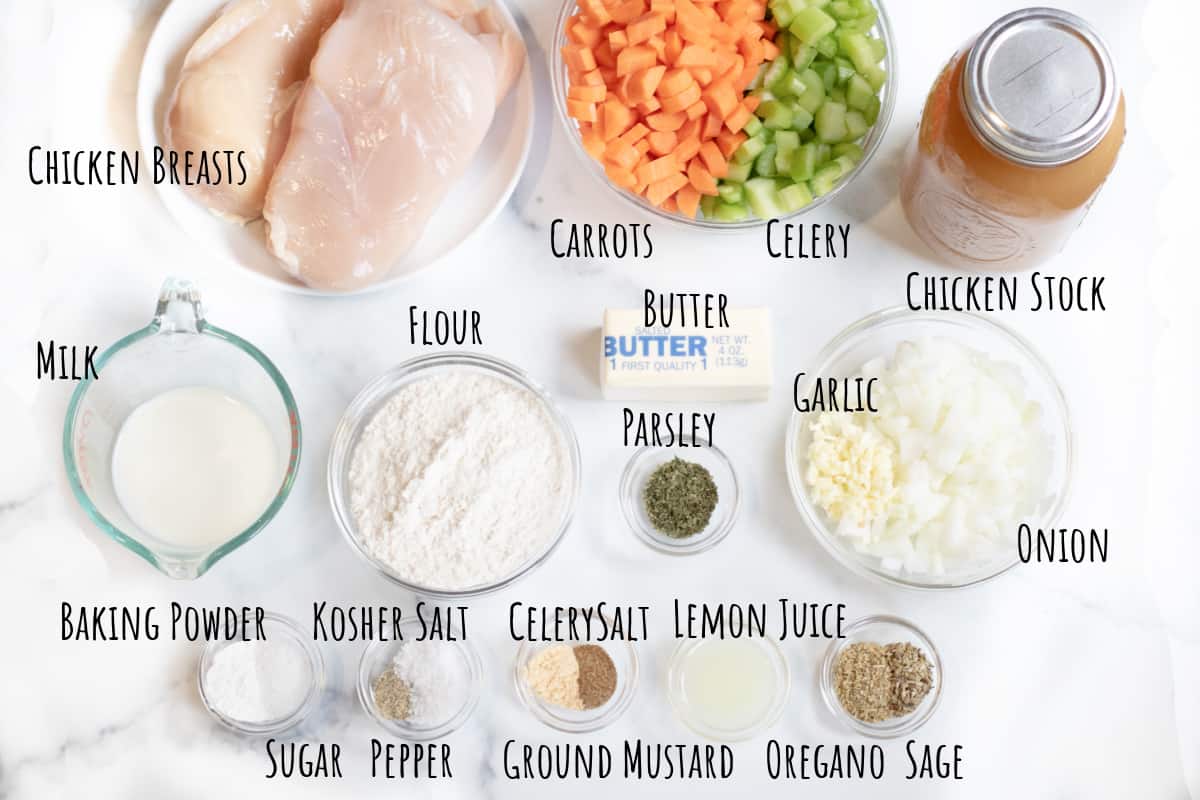 Chicken - We love chicken breasts for this recipe, but you can also use some chicken thighs, too!
Salt and Pepper - Always season your chicken before cooking!
Veggies - Carrots, Celery, Onion, and Garlic - similar to the French flavor base, mirepoix, or Italian sofrito, although both use a greater ratio of onion to carrots and celery.
Butter and Flour - To create a roux to help thicken the soup.
Seasonings - Parsley (for the biscuits), Sage, and two of my favorite soup spice additions: Ground Mustard and Celery Salt.
Milk - Just a little to help make it creamy. We always have 2% on hand, but you could also use 1% or whole.
Flour, Butter, Baking Soda, Sugar - For the homemade dumplings!
Chicken Stock - Have you made your own, yet?
Lemon Juice - This adds just the right amount of acidity to tie it all together!
Using a Dutch Oven
Do you have to use a Dutch Oven for this recipe? Definitely not, but you should at least use a large heavy-bottomed pan. A Dutch Oven is best for this recipe (and most soups) because it allows you to sear the meat, saute the veggies, and then because of the cast iron construction, it not only evenly distributes the heat, but it also maintains and holds heat well for simmering.
While many are familiar with a famous enameled Dutch Oven, our friends over at Finex recently gifted us with their gorgeous stone-polished 7-quart Dutch Oven, which has a perfectly seasoned cast iron cooking surface, angled pour spouts, and just an absolutely gorgeous, distinguishable design. It's a stunner to serve in and a dream to cook with!
Easy to Make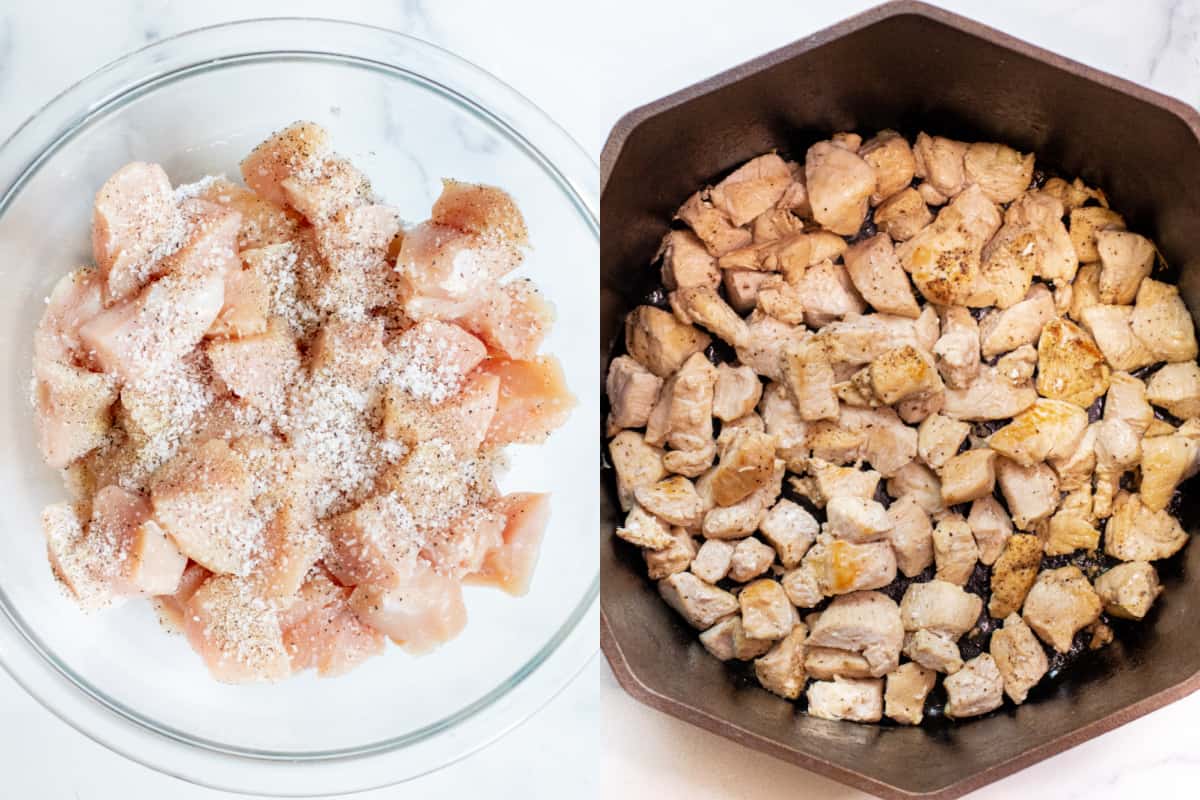 Season and Sear
The first step to this chicken and dumplings soup is to season your cubed chicken with salt and pepper and then sear. While you can cook the chicken right in the soup, searing chicken first brings out so much extra flavor and it also renders some of the fat from the meat which creates a depth of flavor to the whole soup.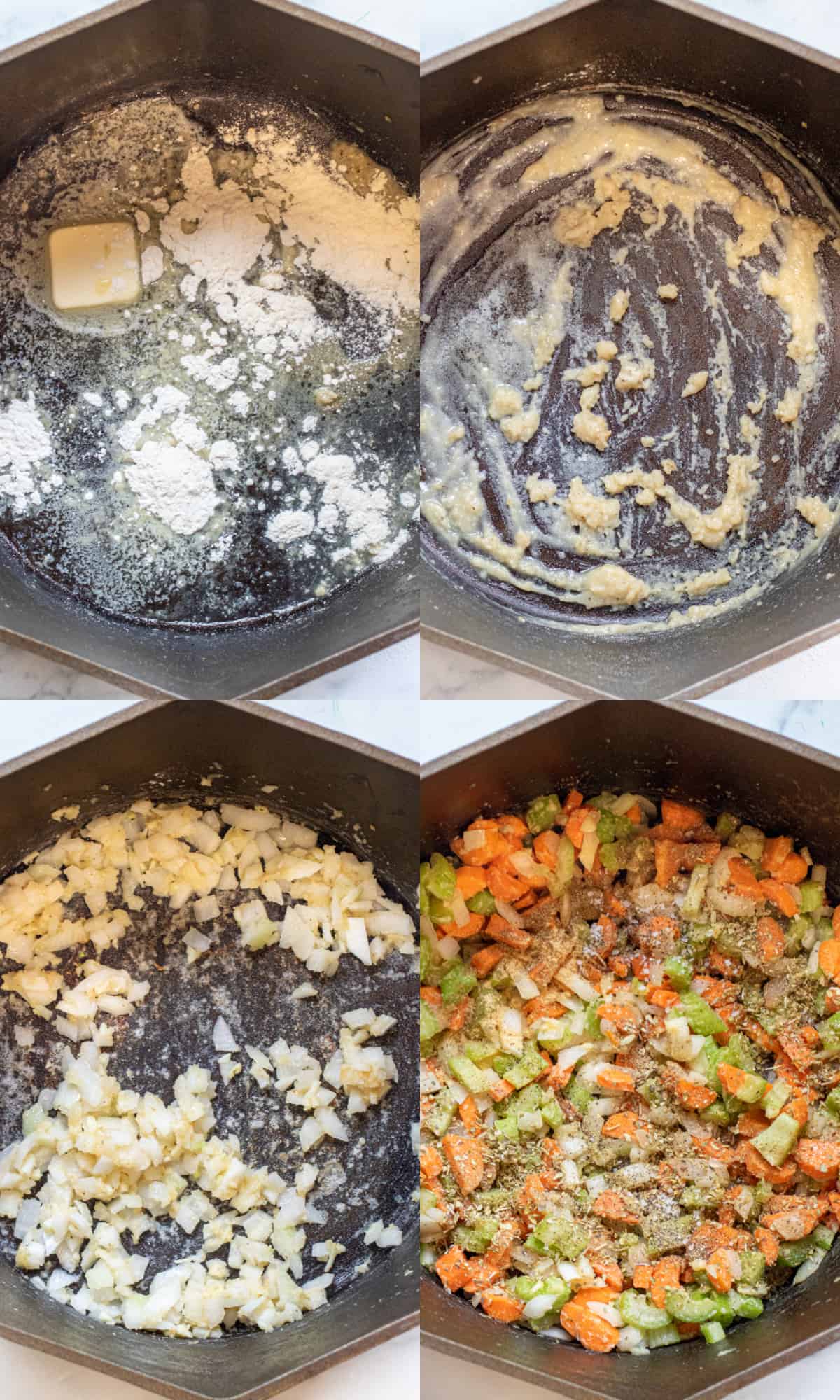 Create Roux and Add Veggies
The next step to develop depth and flavor. The roux will help thicken the sauce, and the combination of onion, celery, and carrots is a classic base for some of the best soups.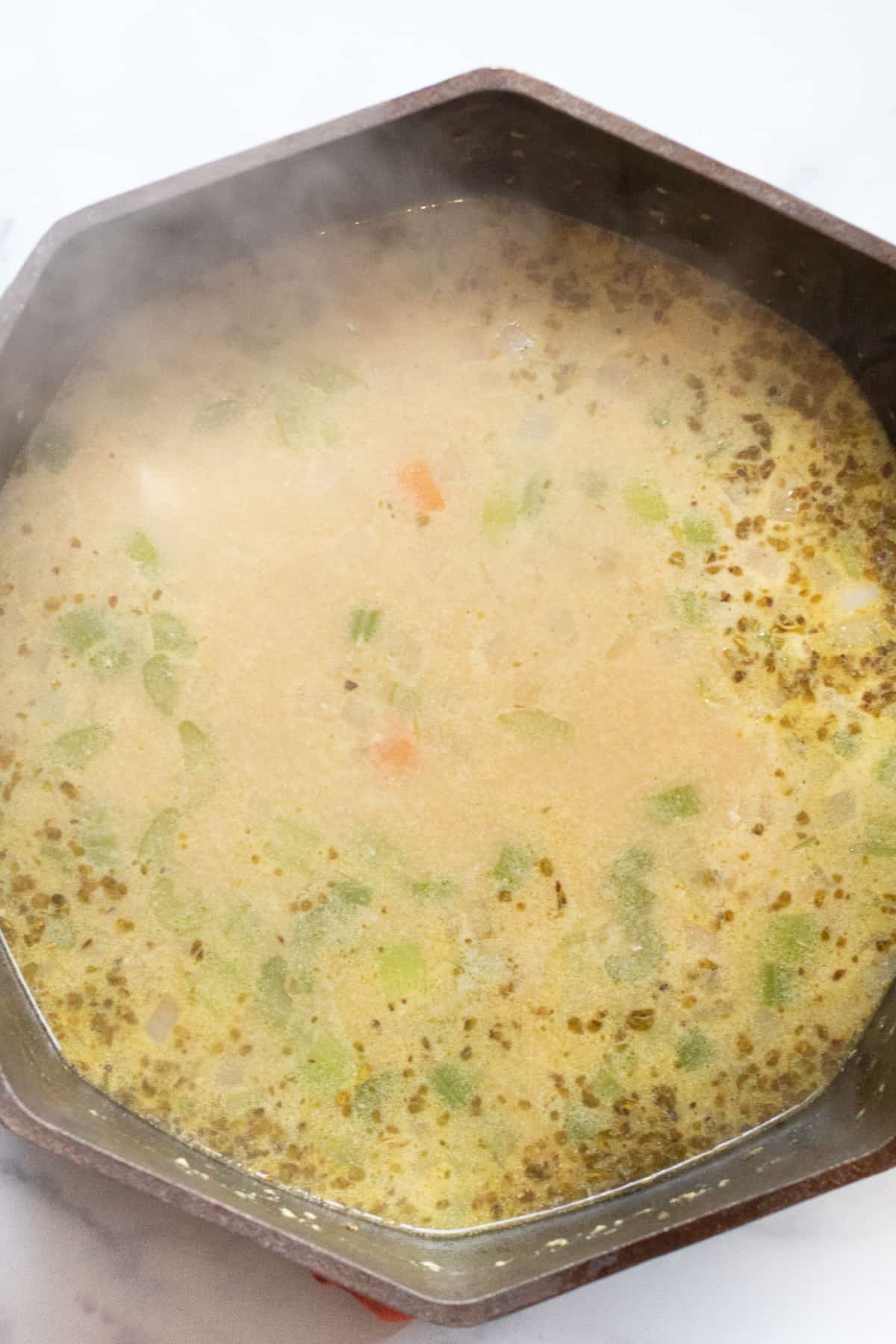 Add Stock and Milk
After sauteing veggies for a few minutes, slowly add the chicken stock (being sure to scrape up any brown bits of flavor off of the bottom of your dutch oven) and mix to incorporate that roux to thicken your soup. Return the chicken to the pot and then bring it to a boil and simmer.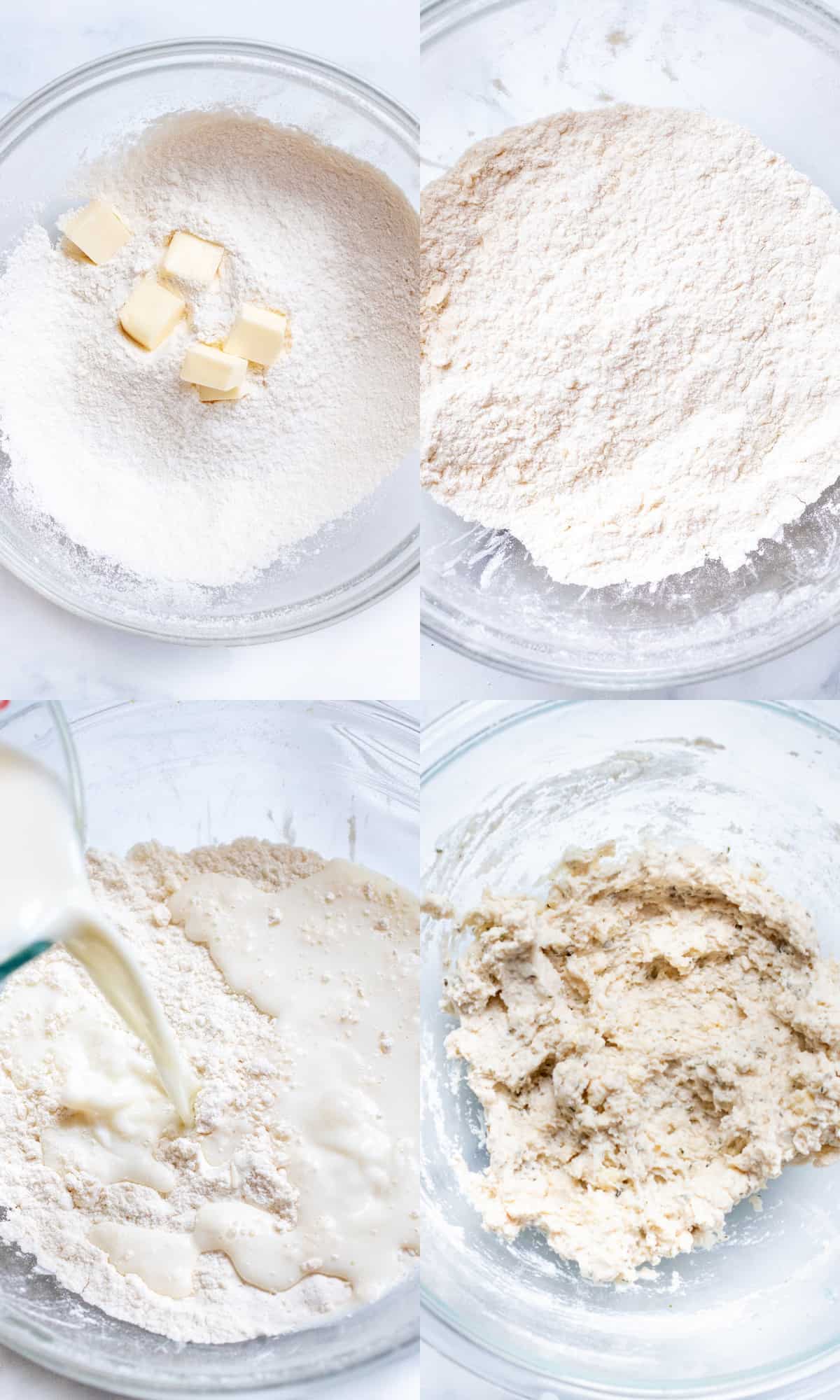 Create Dumpling Dough
While your soup is simmering, now you can create the super easy dumplings portion of this easy chicken and dumplings soup. Sifted four and baking powder, cut in cold butter, add parsley, and milk, and mix into an easy dough. Easy peasy!
What's the Difference Between Dumplings and Biscuits?
Ever wonder why a recipe is called chicken and biscuits vs. chicken and dumplings? While the ingredients of each may be very similar or the same, there's one big distinction between the two. Very simply, Biscuits are baked while Dumplings are steamed and cooked in a hot liquid (like soup). Your classic baked biscuit will have a flaky texture, while a steamed dumpling will have a light fluffy starchy texture with a velvety outside.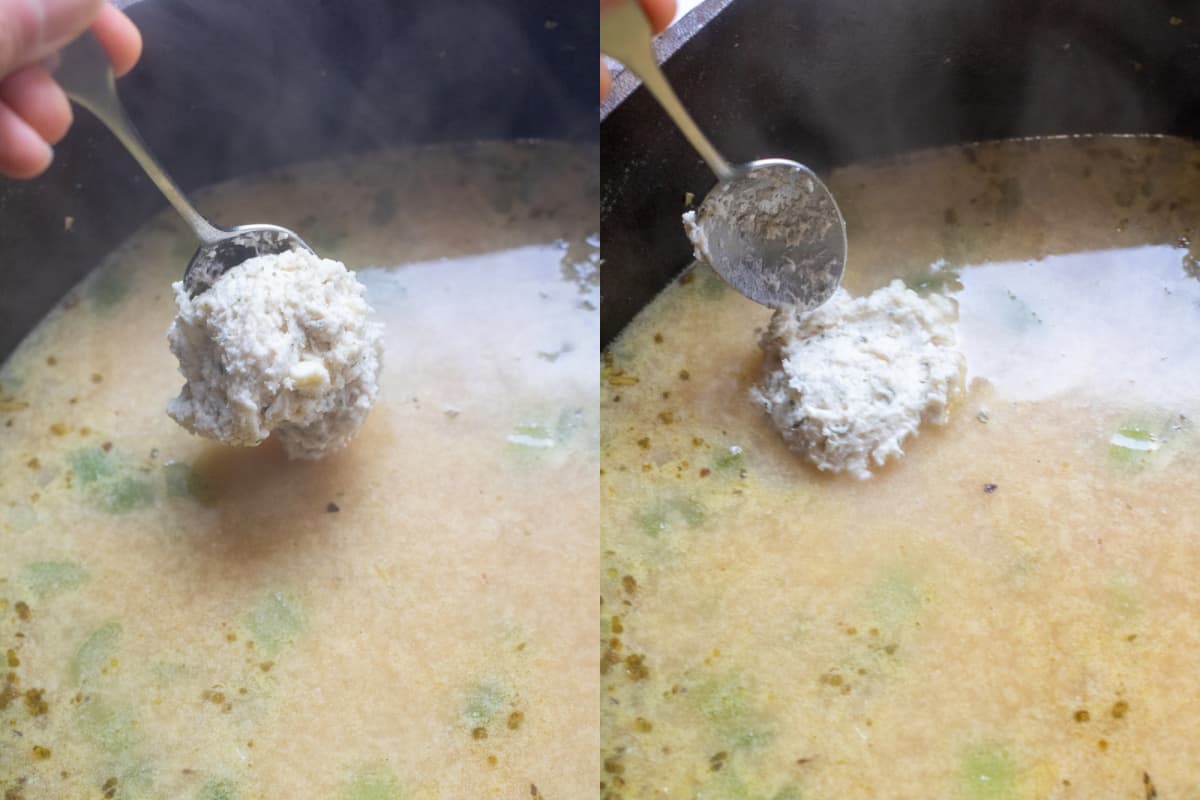 Add the Dumplings
The last step to this easy Dutch Oven Chicken and Dumplings Soup - the dumplings! Spoon it into your simmering soup, cover that Dutch Oven, and let them finish cooking in the soup to fluffy perfection! One of the best parts of chicken and dumplings is that while the dumplings cook, the starch from the dumpling dough also helps thicken the soup!
Tips for Fluffy Dumplings
Sift the flour
Do you have to? No, you don't have to, but it truly does make for the fluffiest dumplings. What does sifting flour do? Well, it makes all of the flour the same consistency, breaking up any lumps in the flour and it also aerates the flour which will help make nice fluffy dumplings.
Add just a touch of sugar
These are savory dumplings, but by adding just a little touch of sugar, it will help the dumplings retain their moisture and will help ensure nice tender dumplings.
Cut in cold butter
By cutting butter into your flour you're ensuring the butter is well incorporated into all of the dough. If you use melted butter, this doesn't as evenly incorporate the butter and will create an uneven clumpy dough.
Do I have to use a Pastry Cutter?
While this is a great tool to keep in your kitchen, it's not totally necessary. You can cut butter into the flour with a food processor, forks, or even just with you hands.
Prep ahead!
You can prepare these dumplings ahead and store them in the freezer. See recipe notes.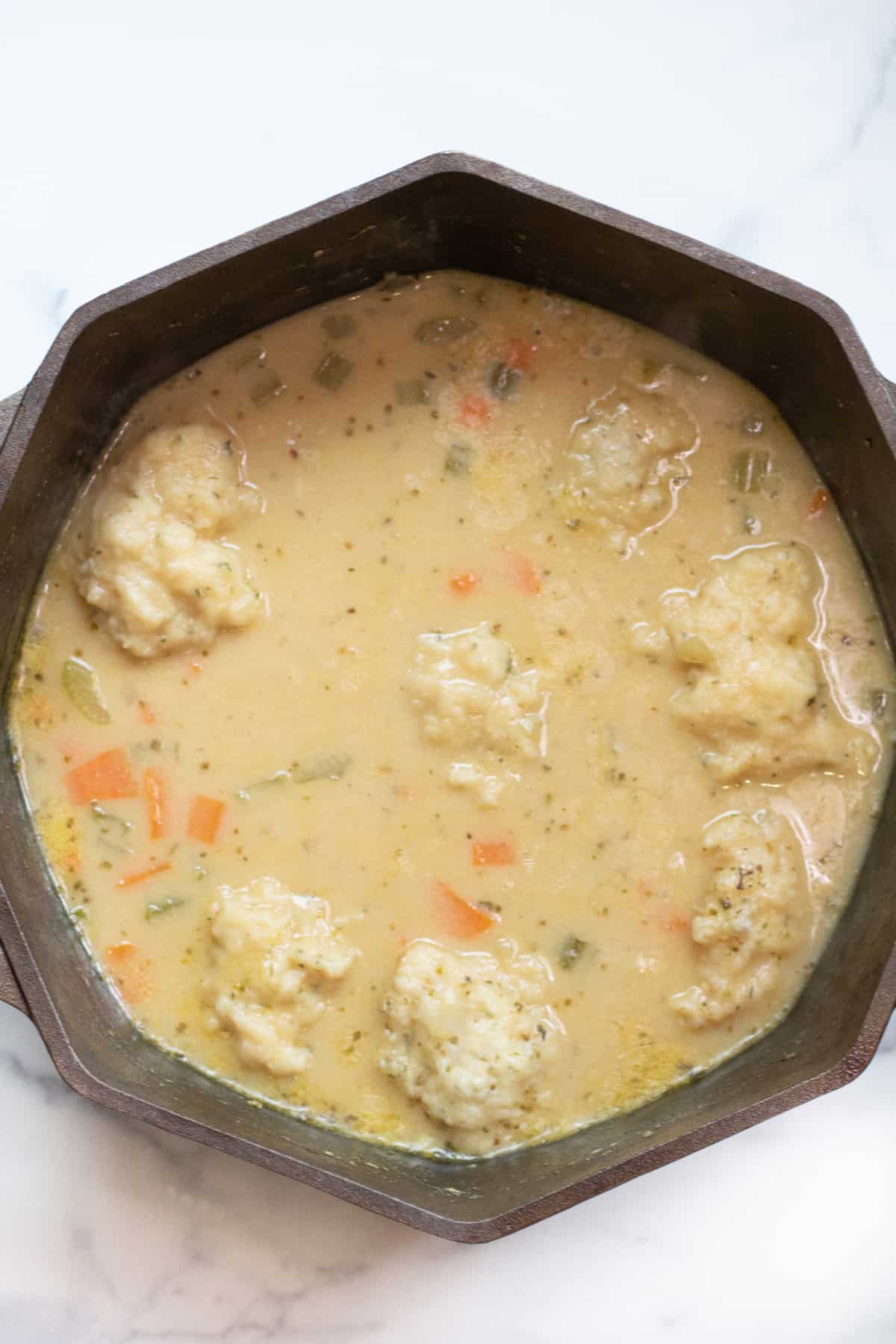 Simmer to Finish Cooking
Let those dumplings simmer and finish cooking in the broth while simultaneously thickening the broth more while they cook! When it's done, you'll have a thick and creamy soup with perfectly fluffy dumplings!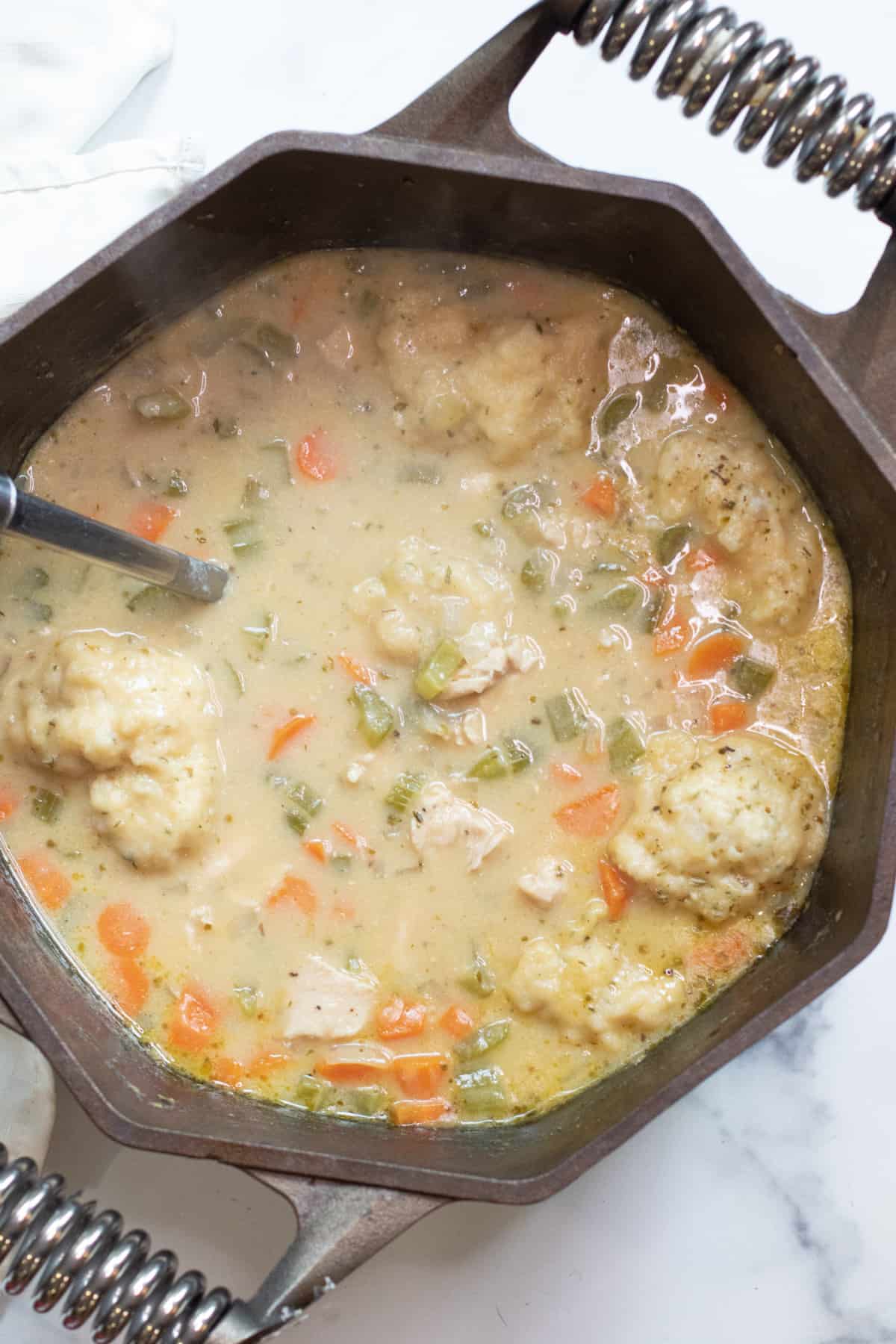 Dutch Oven Chicken and Dumplings Soup in our gorgeous Finex!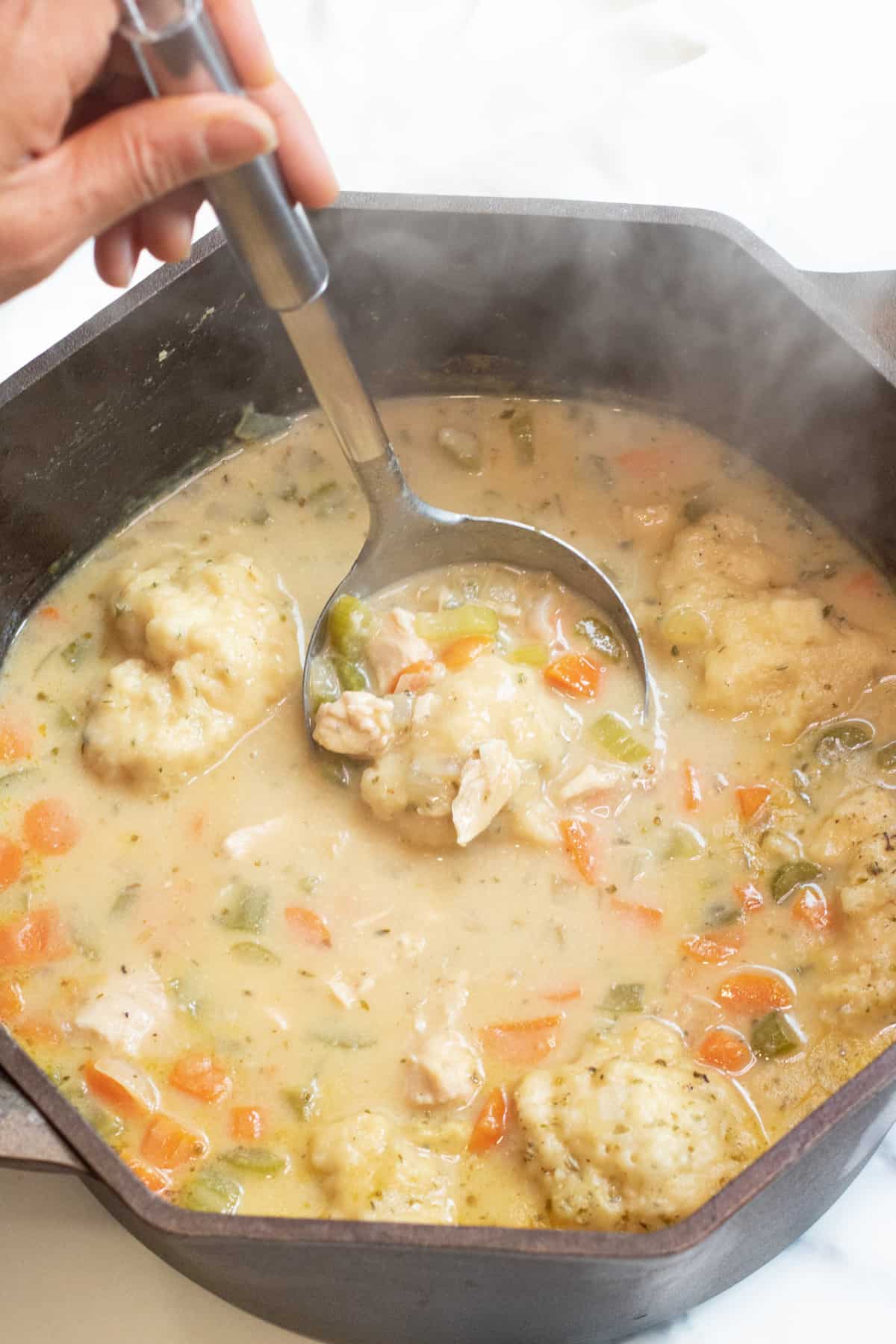 An easy chicken and dumplings soup that's the perfectly cold weather meal that's cozy and comforting but still packed full of veggies and a creamy soup without any cream.
Other Comforting Soups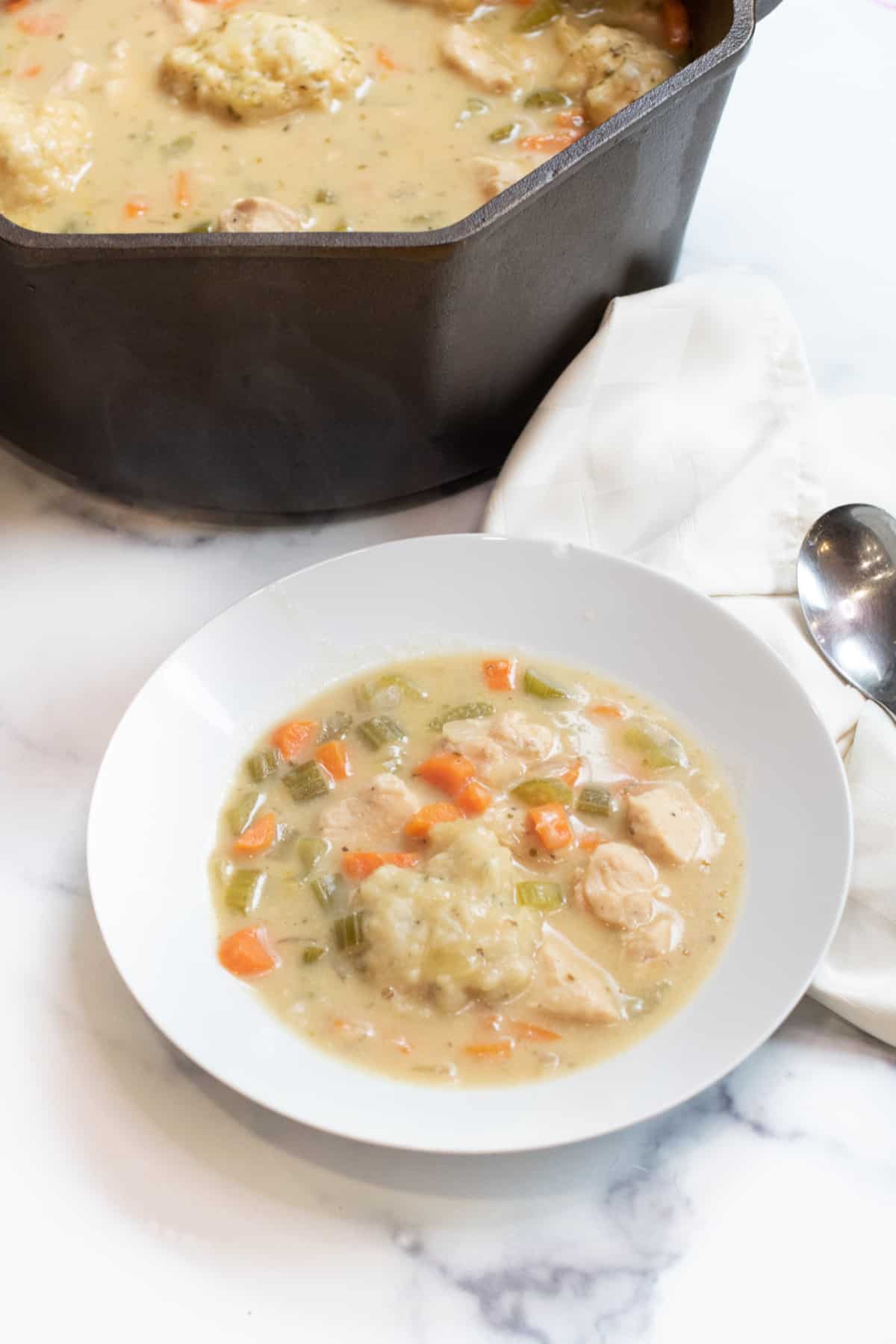 Enjoy! As always, if you make this recipe or any of my others, I love to hear what you think! Leave a comment below, email me, or you can find me on Facebook, Instagram, and Pinterest!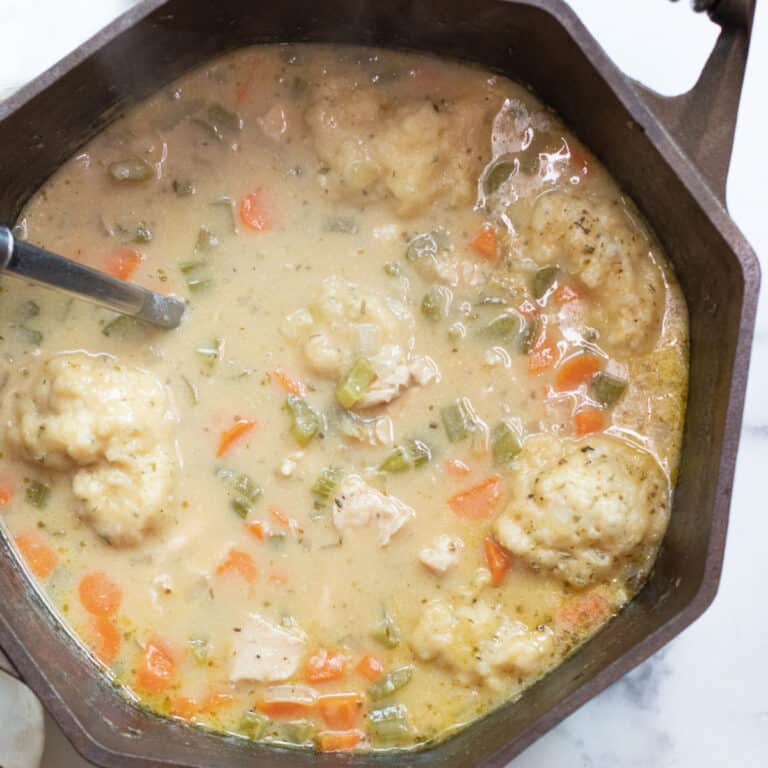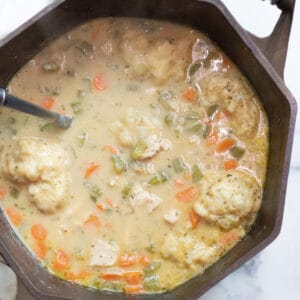 Dutch Oven Chicken and Dumplings Soup
A cozy chicken and dumplings classic in a comforting soup!
Print
Pin
Rate
Ingredients
2

lbs

chicken breast

cubed

1 1/2

teaspoons

kosher salt

3/4

teaspoon

ground black pepper

divided

3

tablespoons

salted butter

divided

2

tablespoons

flour

1/2

large

white onion

diced, about 1 cup

3

cloves

garlic

about 1 tablespoon

2

cups

celery

chopped, about 4 stalks

2

cups

carrot

chopped, about 4 medium sized carrots

1

teaspoon

dried oregano

1

teasspoon

dried sage

3/4

teaspoon

ground mustard

1/2

teaspoon

celery salt

6

cups

chicken stock

1

cup

milk

2% or whole

1

tablespoon

lemon juice
Dumplings
1

cup

all purpose flour

140 grams

1 1/2

teaspoon

baking powder

8 grams

1/2

cup

milk

2

tablespoons

salted butter

cold

1

teaspoon

kosher salt

8 grams

1

teaspoon

dried parsley
Instructions
Add cubed chicken to a medium-sized bowl and season with 1 1/2 teaspoons of kosher salt and 1/2 teaspoon of black pepper. Mix to coat.

Melt 1 tablespoon of butter in a dutch oven over medium-high heat and add chicken and sear on one side for 5-6 minutes. Stir and sear on the other side for another 5 minutes. Remove from pan and set aside.

Turn the heat down to medium and add 2 tablespoons of butter to melt. While it melts, use a spoon to scrape up some of the browned bits (flavor) off of the bottom of the pan. Add 2 tablespoons of flour and whisk to create a roux. Whisk continuously until a roux is formed.

Add the onion and garlic and coat with roux, saute for about 1-2 minutes stirring often. Add celery, carrots, celery salt, ground mustard, sage, oregano, and 1/4 teaspoon of black pepper and saute for another 2-3 minutes.

Turn heat up to medium high and slowly add chicken stock, mixing as you add and scraping up any browned bits on the bottom of the pan while adding. Once all of the stock is added, add 1 cup of milk.

Return chicken to the dutch oven and bring to a boil and then reduce to a simmer. Add lemon juice. Let simmer for 10 minutes.

Meanwhile, sift flour and baking soda into a medium-sized bowl. Add salt and mix. Add cubed cold 2 tablespoons of butter and use a pastry cutter to cut butter into flour until it's all incorporated and you have a crumbly mixture.

Add dried parsley and mix, then add milk and mix until a sticky dough / batter is formed. Set aside while soup is simmering.

After 10 minutes of simmering, turn the heat back up to a gentle boil. Spray a spoon or dough scooper with oil (optional but will help reduce dough from sticking) and then gather scoops of dough and gently drop them into the soup. Repeat, giving some space between until all of the dough has been used, about 6-8 dumplings.

Cover and let boil for another 15 miutes to let the dumplings cook and soup thicken.

After 15 minutes, reduce heat, serve and enjoy!
Notes
Storage
Fridge: Store in an airtight container for up to 3 days in the fridge.
Freezer: Store in the freezer for up to 3 months, although the dumplings already cooked, don't hold up as well. If you plan to freeze, we suggest making a double batch of dumplings and freezing them uncooked and then you can add them to the thawed soup.
Make Dumplings in Advance
These dumplings are great to make in advance. Mix dough and then scoop out onto a parchment-lined baking sheet and flash freeze (freeze for at least 1 hr). Add frozen dumplings to an airtight container, with parchment paper between layers.
To Cook From Frozen: Thaw in the fridge overnight and then add to the simmering soup and cook for 10-15 minutes.
Substitutions
Chicken: Cubed chicken thighs can be used in place of chicken breasts and you can also use whole chicken breasts if you prefer a shredded chicken in your soup. Sear the whole breasts and add to the soup at the same time, just remove from the dutch oven, shred the chicken and return to the pot before adding the dumplings. This is also great with some leftover turkey or leftover chicken. 2 lbs of raw chicken is about 4 1/2 cups of cooked chicken. Add the precooked chicken during the first simmer before adding the dumplings.
Onion: White is our favorite but yellow is a great choice, too.
Stock: Use your favorite! Chicken, vegetable, or even turkey if using leftover turkey meat.
Herbs: You can substitute fresh sage, oregano, and parsley by using the scale of 1 tablespoon of fresh for 1 teaspoon of dried.
Nutrition
Calories:
498
kcal
|
Carbohydrates:
37
g
|
Protein:
44
g
|
Fat:
19
g
|
Saturated Fat:
9
g
|
Polyunsaturated Fat:
2
g
|
Monounsaturated Fat:
6
g
|
Trans Fat:
0.4
g
|
Cholesterol:
136
mg
|
Sodium:
1943
mg
|
Potassium:
1194
mg
|
Fiber:
3
g
|
Sugar:
10
g
|
Vitamin A:
7740
IU
|
Vitamin C:
8
mg
|
Calcium:
199
mg
|
Iron:
3
mg