Fresh Ricotta and Spinach Stuffed Chicken is a dinner that will taste like you slaved in the kitchen all day but is easy enough for a weeknight.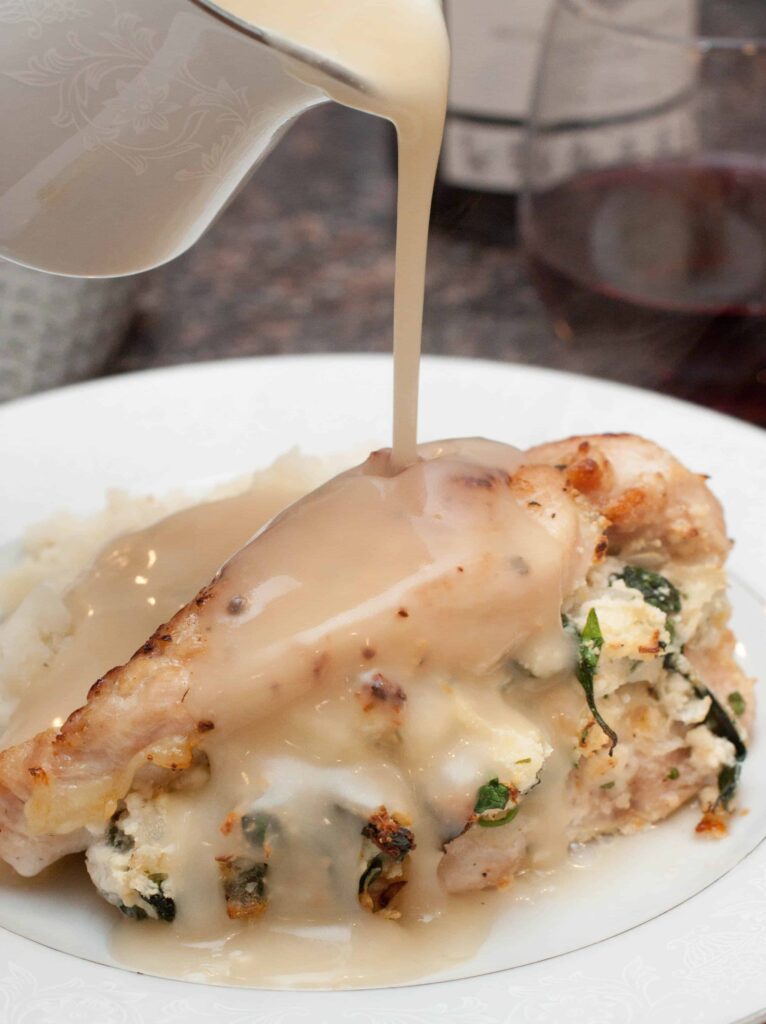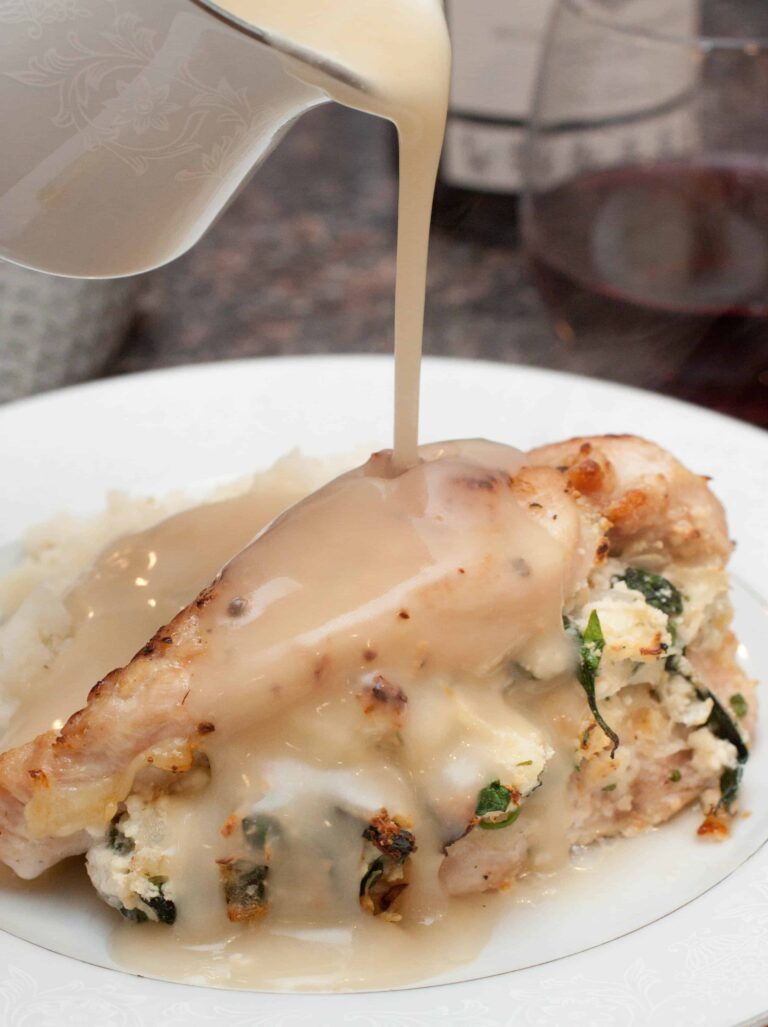 Fresh Ricotta and Spinach Stuffed Chicken, it just sounds like it took a lot of time, doesn't it? Oh yes, you can tell your guest or loved one. Yes, it took alllll day and it was so complicated and it took so much work. Yup, slaved away in the kitchen all day. Yes, that's what you can tell them, when really, shhhhh.... It's way easier that you'd think! But they don't have to know that!
Ingredients Needed
Fresh, simple ingredients. That's all you need for a delicious meal.
Chicken Breasts - Boneless and nice and thick because you're going to butterfly them to stuff them.
Fresh Ricotta Cheese - Have you made your own Ricotta Cheese From Scratch, yet? It's so much easier than you think, and it makes plenty to use for a ton of recipes - this one is always on my list when I make a fresh batch!
Parmesan Cheese - This hard nutty cheese adds a nice additional flavor to the filling
Fresh Spinach - As with most recipes, we prefer fresh, but you can absolutely use frozen spinach, too.
Garlic and Onion - Staples in our recipes!
Salt, Pepper, Olive Oil, and Fresh Parsley - You could also use dried parsley.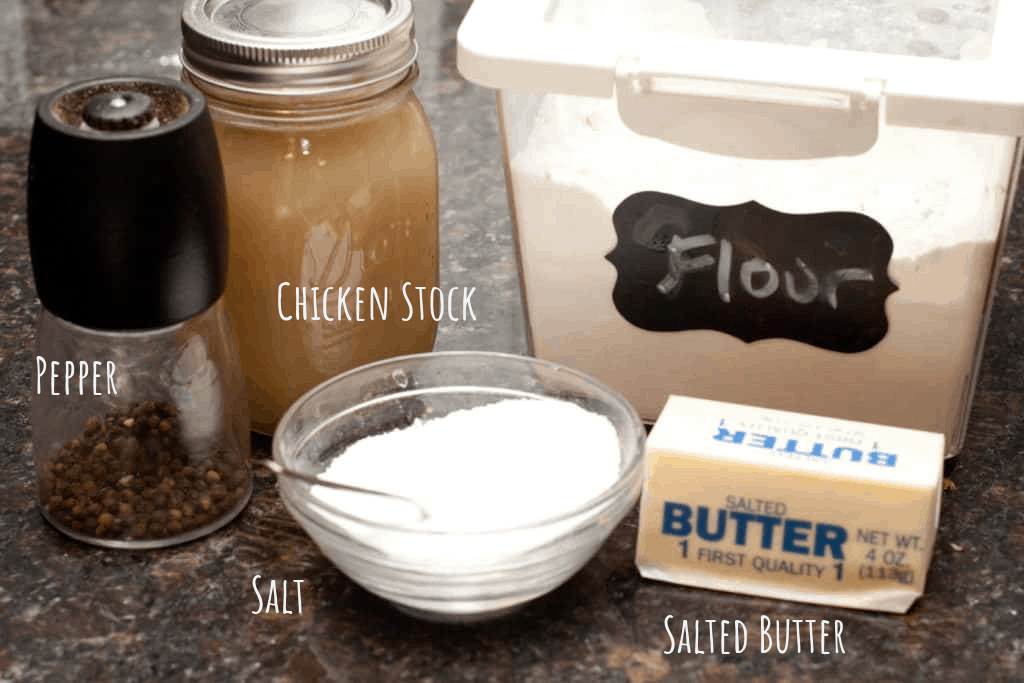 Then the gravy. Because a gravy ties it all together, and also, it's so easy to make with very simple ingredients.
Butter and Flour - To make your roux. Your roux is what will thicken your gravy.
Chicken Stock - The base of your gravy. Have you made your own Chicken Stock, yet?
Salt and Pepper
Step-by-Step Instructions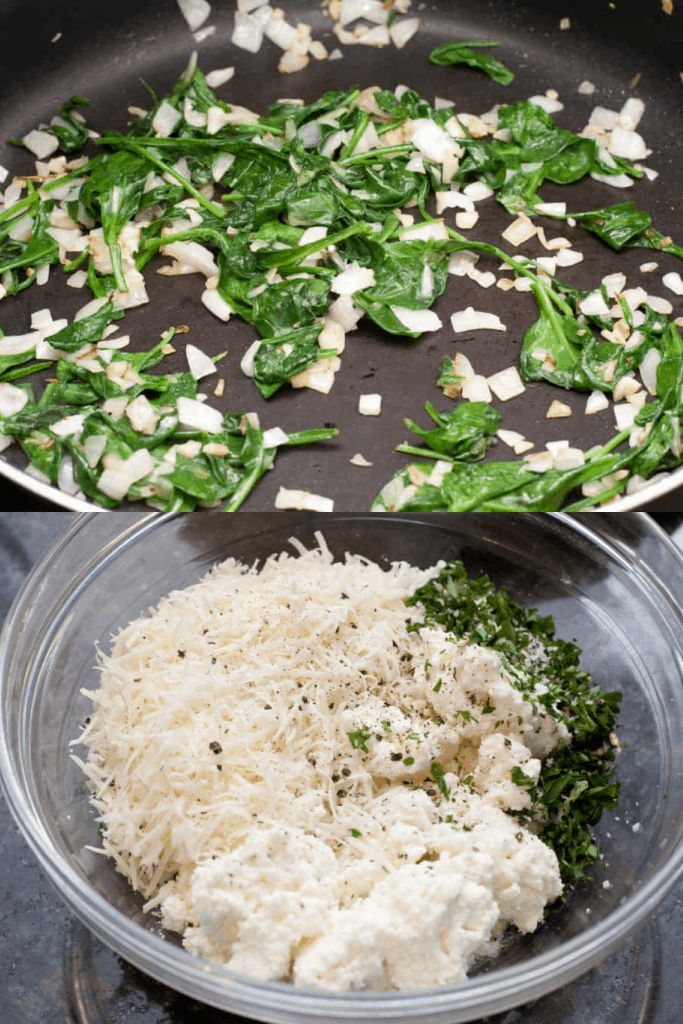 Step 1: Sauté the garlic, onion, and spinach in olive oil. If using frozen spinach, no need to sauté the spinach, but you do want to cook the garlic and onion.
Step 2: Meanwhile, mix the cheeses, salt, pepper, and parsley. When the spinach has cooled, then that is mixed in as well.
Step 3: Butterfly the chicken breasts to prepare them to be stuffed.
How to Stuff a Chicken Brest
The best way to stuff a chicken breast is to butterfly it. Butterflying a chicken breast means cutting it in half, but without slicing it all of the way through. Basically so that when you're done and open it up, the breasts resembled a 'butterfly' shape.
How to Butterfly Chicken: The first thing is you need to make sure you have a sharp knife. The knife of choice in our kitchen are Shun Knives. But you want to make sure that your knife is a good one in order to get a clean cut for your butterfly.
Once you have your knife, hold the top of the breast with your hand, then slice with your sharp knife horizontally, starting at the thickest end, cutting the chicken breast in half, ensuring that you don't slice all of the way, and leave at least a half an inch from the other side to keep the breasts intact. If done well, you should be able to open up the chicken like a book, and both sides should be relatively even thickness. If not, then you can cover each side with some plastic wrap and use a meat mallet to flat them to an even thickness.
Assemble the Chicken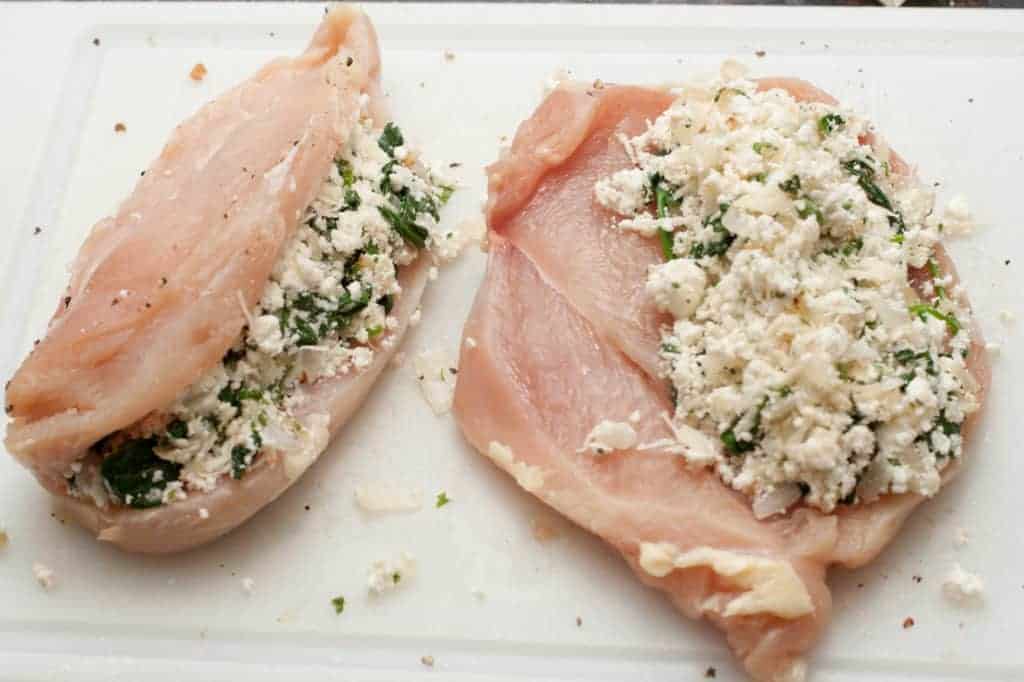 Once you've butterflied your chicken, then it's ready to stuff! Add your stuffing to half of the butterflied chicken and then fold the other half of the chicken over.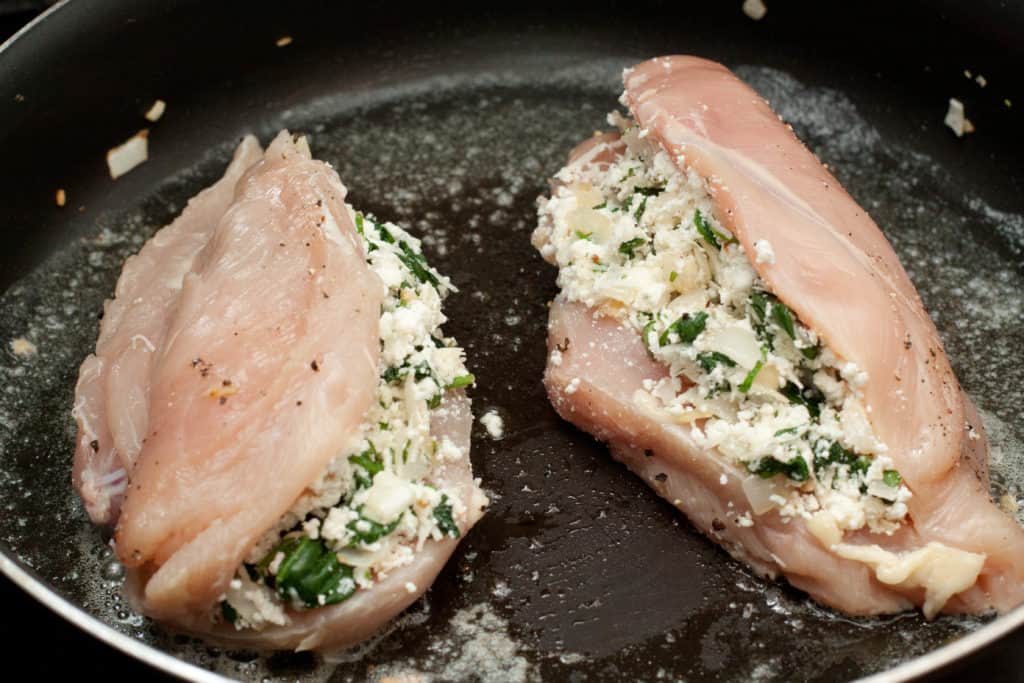 This recipe calls for a lot of filling because when I say Fresh Ricotta and Spinach Stuffed Chicken, the emphasis is on stuffed. You need some good sized chicken breasts for this to be able to handle all that stuffed goodness. Once they're stuffed, they get a quick sear in some butter before they're finished in the oven.
Some good tongs will help you with being able to sear these and keep your stuffing inside the chicken. To flip your chicken, use your tongs to pick up the chicken perpendicular to the cut in the chicken so that your tongs are holding your stuffing in.
While the chicken finishes in the oven, then you can whip up your gravy from scratch. It's just as easy as opening one of those gravy packet things, but without all the added junk.
How to Make Gravy From Scratch
Making your own gravy from scratch is just about as easy it is to open a packet.
Melt butter
Add flour to create roux.
While whisking slowly add chicken stock to roux.
Let it all simmer for a few minutes until it's the thickness you'd like, and done!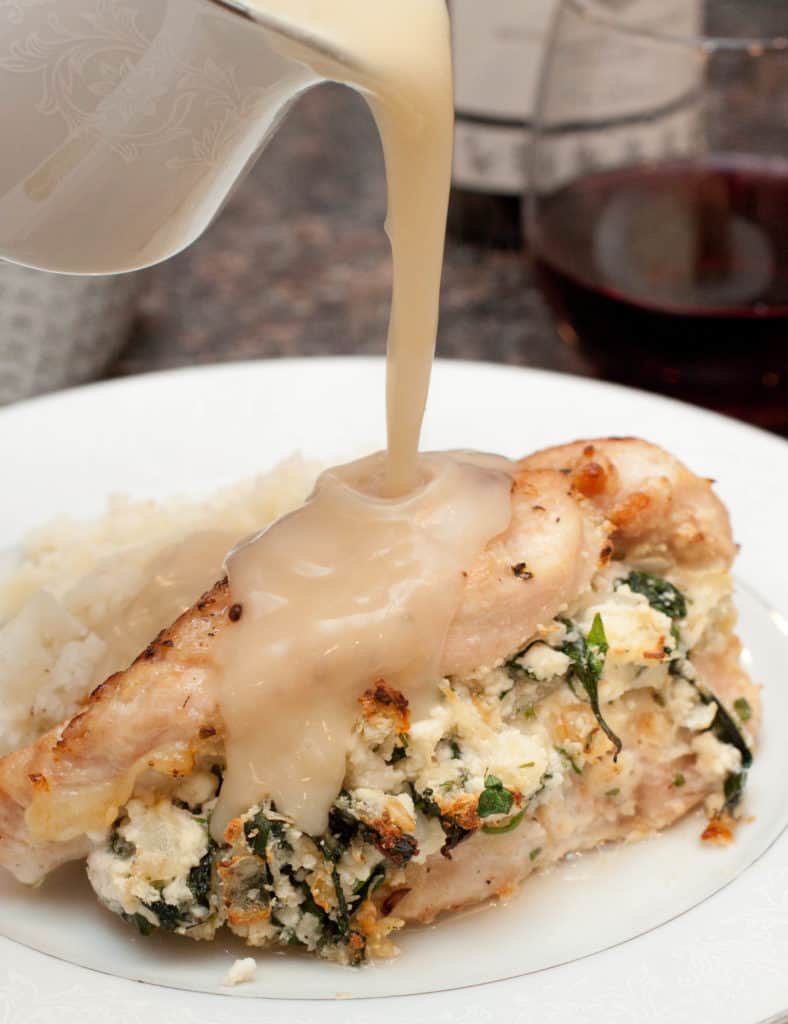 Once your chicken is done in the oven, then it's ready to be plated and doused with your homemade gravy!
Make some simple mashed potatoes or even some easy stuffing with our Copycat Boxed Stuffing Mix and Fresh Ricotta and Spinach Stuffed Chicken dinner is done. Fresh ricotta cheese. Fresh spinach. Stuffed into a juicy chicken breast and smothered in a homemade gravy. Surprisingly easy, but not surprisingly delicious.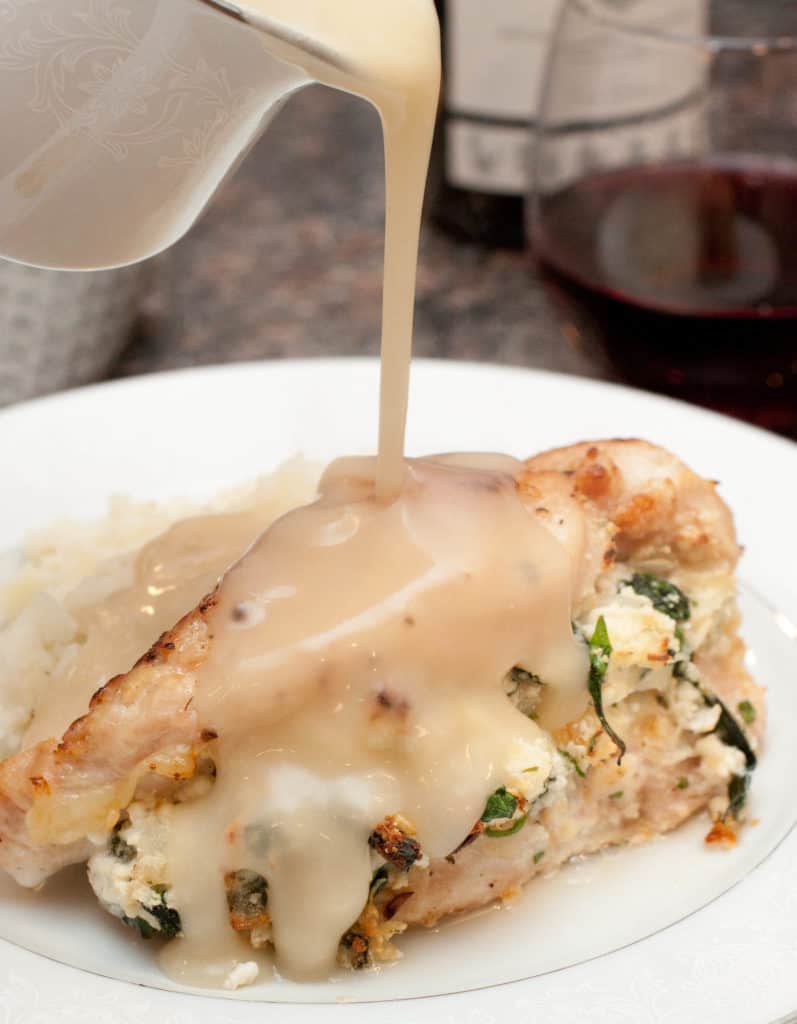 So grab a friend or loved one, open a bottle of wine, and enjoy this dinner, conversations, and laughs and create some happy memories around this dish!
Other Ways to use Fresh Ricotta
Enjoy! As always, if you make this recipe or any of my others, I love to hear what you think! Leave a comment below, email me, or you can find me on Facebook, Instagram, and Pinterest!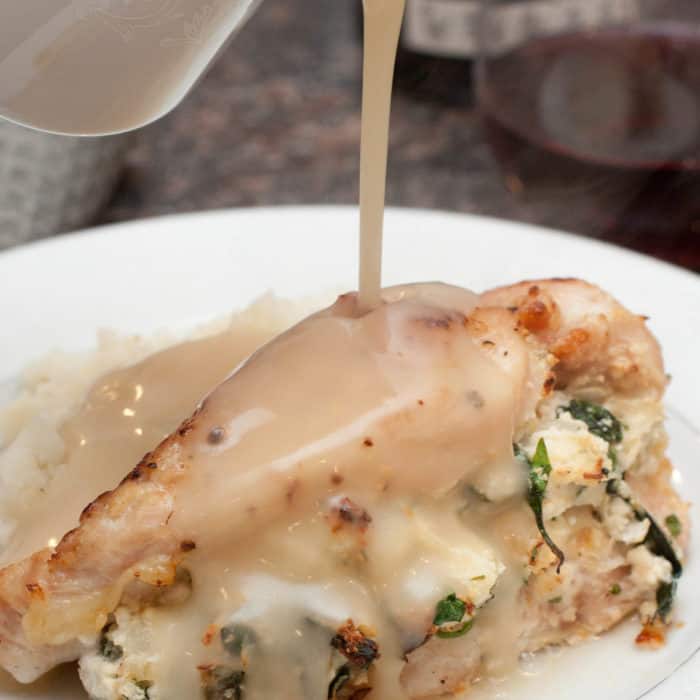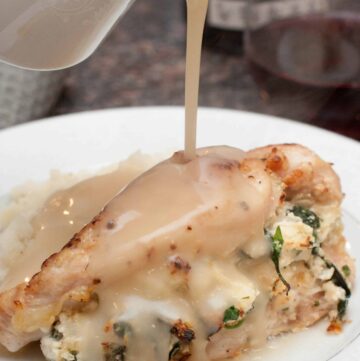 Fresh Ricotta and Spinach Stuffed Chicken
Fresh Ricotta and Spinach Stuffed Chicken is a dinner that will taste like you slaved in the kitchen all day but is easy enough for a weeknight.
Print
Pin
Rate
Ingredients
Stuffed Chicken:
2

Large chicken breasts

3/4

cup

Ricotta cheese

1/3 - 1/2

cup

Parmesan cheese

grated

1

tablespoon

Fresh parsley

minced

2

cups

Fresh baby spinach

packed

1/2

tablespoon

olive oil

3

cloves

Garlic

minced

1/2

White onion

minced

1/2

teaspoon

kosher salt + more for seasoning

1/2

teaspoon

fresh ground pepper + more for seasoning

1

tablespoon

salted butter
Gravy:
2

cups

Chicken stock

slightly warmed or at least room temp

2

tablespoons

Salted butter

1/8

cup

All purpose flour

Pinch

Salt
Instructions
Pre-heat oven to 350 degrees.

Heat olive oil in a large sauté pan. Add onion and sauté for a 3-4 minutes and then add garlic and sauté for another minute until garlic is fragrant and onions are translucent.

Add spinach, turn often and cook until spinach is wilted, approximately 2-3 minutes. Remove from pan and set aside to cool.

Add ricotta cheese, Parmesan cheese, parsley, salt and pepper to a medium sized bowl. When spinach is cooled, add to bowl and mix well.

Butterfly chicken by holding one hand on breasts and use a very sharp knife, starting at thickest part of the chicken and slowly slice the chicken through, until about 1/2 inch from the other end, being sure to keep the breast intact.

Open butterflied chickens and season each side with salt and pepper. Spoon cheese and spinach mixture onto half of the butterflied breast. Gently fold other half of the chicken breast over the cheese mixture and gently press to close.

Melt butter on low medium in the same saute pan used for spinach.

Turn heat up to medium high and with tongs holding the chicken breasts together so the stuffing doesn't spill out, gently lift the stuffed chicken and place into hot pan. Sear on one side for 3 minutes, then gently flip with tongs to sear the other side.

Place pan into the oven and finish cooking the chicken for 35-40 minutes or until the chicken reaches an internal temperature of 165° F.

While chicken finishes in the oven, in a medium sauce pan over medium low heat, add butter and flour for gravy. Whisk constantly to form a roux. Slowly add the stock, continuously whisking.

Once all of the stock is added to the gravy, add salt and continue cooking to reduce the gravy to desired thickness.

When chicken is finished cooking, remove from oven, plate and serve with hot gravy.

Serve with your favorite mashed potatoes, stuffing, or veggies.
Nutrition
Calories:
904
kcal
|
Carbohydrates:
24
g
|
Protein:
82
g
|
Fat:
52
g
|
Saturated Fat:
28
g
|
Trans Fat:
1
g
|
Cholesterol:
272
mg
|
Sodium:
2109
mg
|
Potassium:
1480
mg
|
Fiber:
2
g
|
Sugar:
6
g
|
Vitamin A:
4321
IU
|
Vitamin C:
18
mg
|
Calcium:
759
mg
|
Iron:
4
mg