Fresh homemade ricotta cheese inside fresh rolled pasta for the most delicious Fresh Ricotta Ravioli you'll ever eat.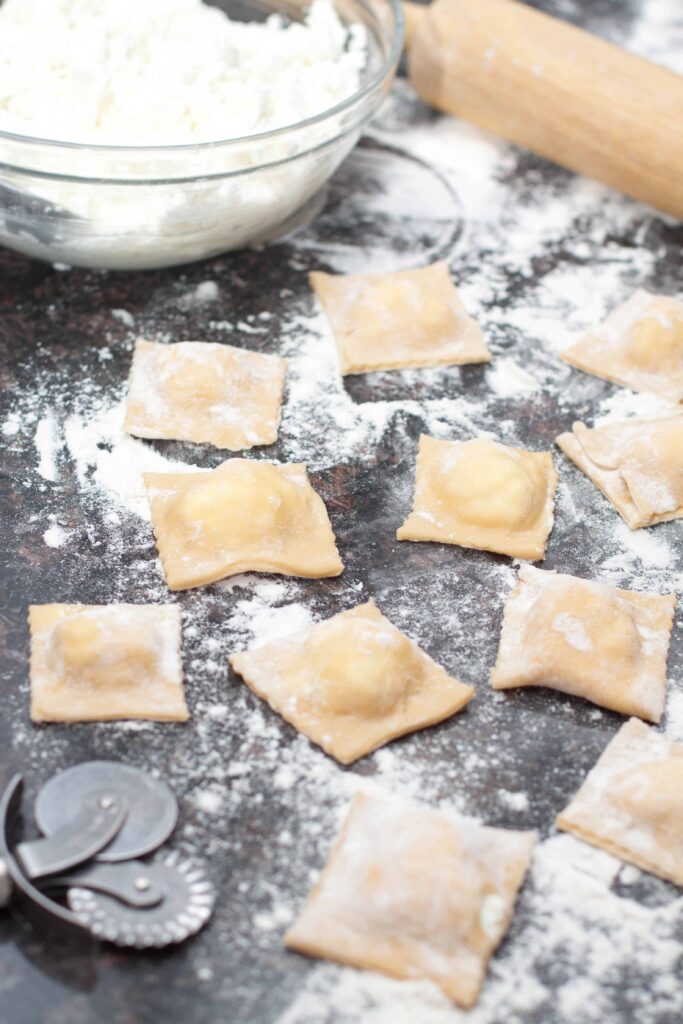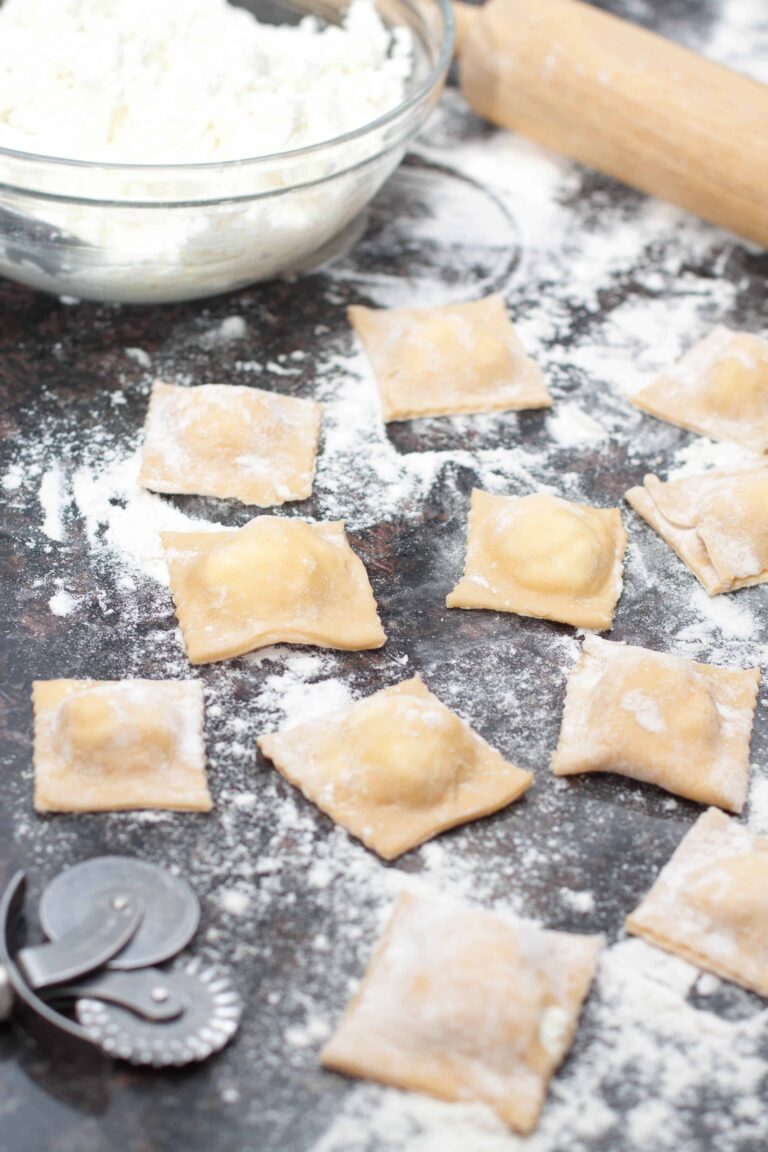 Is there anything better than fresh pasta? How about fresh homemade cheese? Yes, yes there is, Fresh Ricotta Ravioli From Scratch!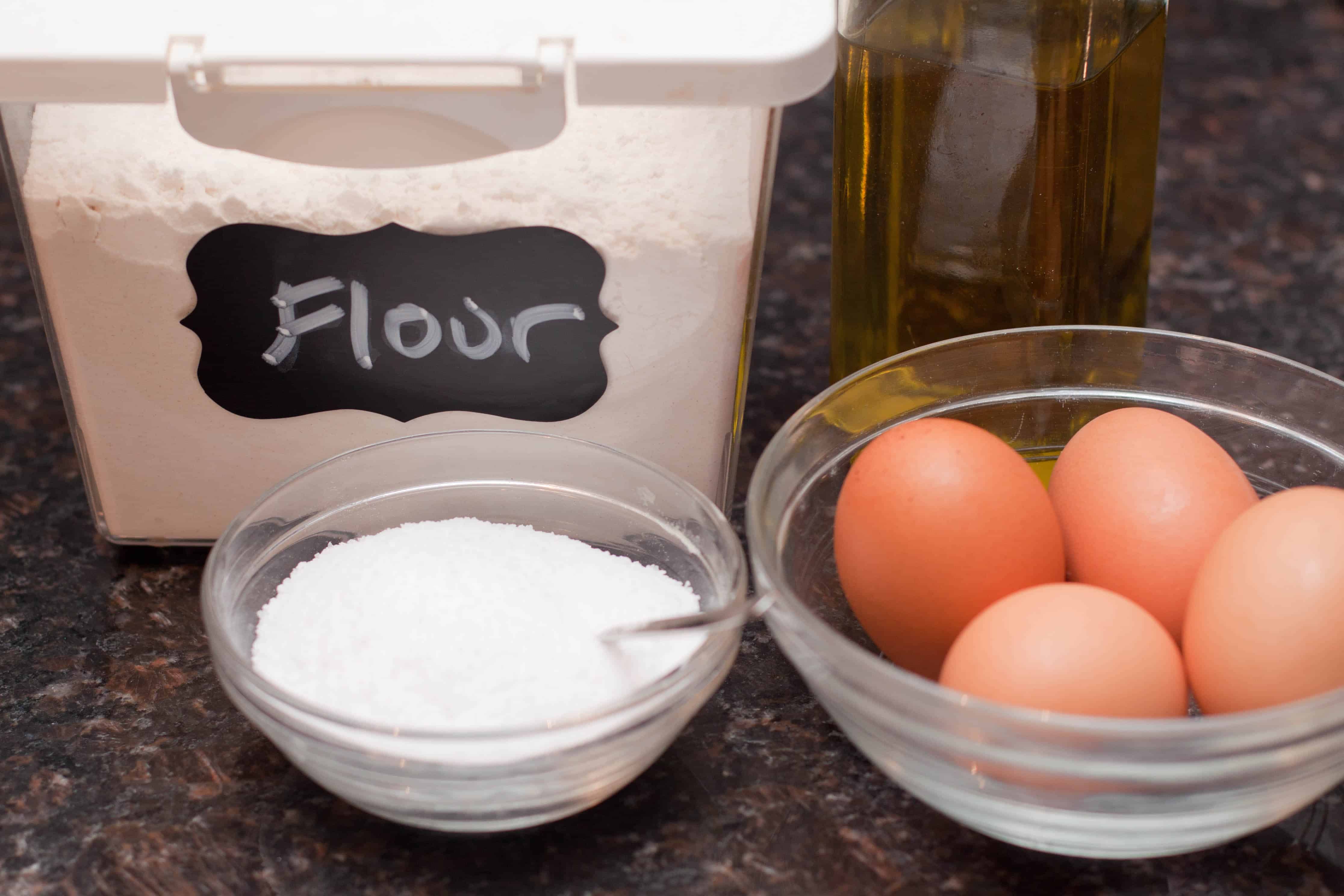 Once you have some fresh Ricotta Cheese from scratch, then making fresh pasta is much easier than you think. It's a labor of love, but it is so worth it. Making the dough is super simple, especially if you have a stand mixer. I used to be a pasta dough purist and felt as if it was sacrilege to make pasta dough by any other means than by hand. Then reality hit (by means of a tiny human) and my Kitchen Aid is now one of my (many) best friends.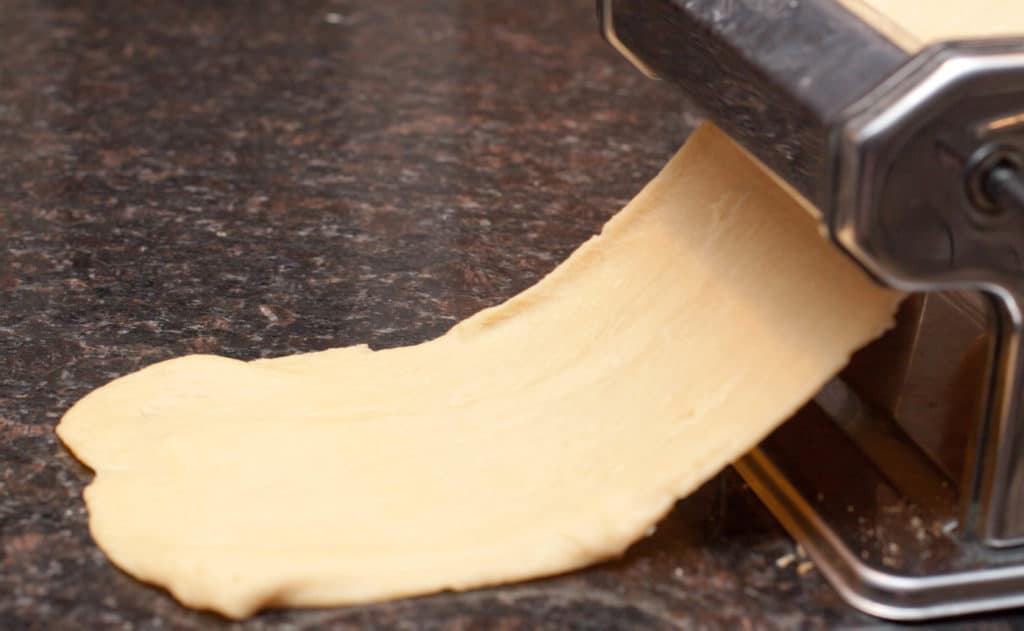 So it's just an easy mix in the Kitchen Aid and then some kneading and resting of the dough. Then a pasta roller is key for the "easier than you think" part of it making the pasta. And although the Kitchen Aid attachment is pretty amazing, you can also get a counter top one for really affordably, like this one.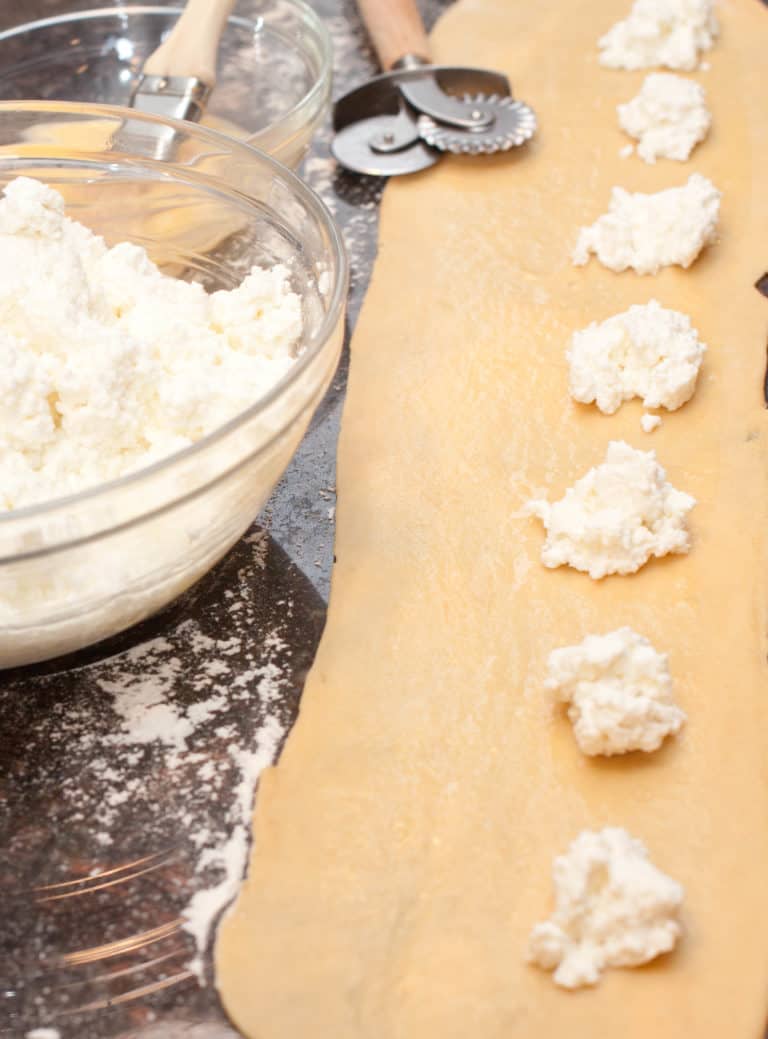 Then, one sheet at a time, add small tablespoons of fresh ricotta.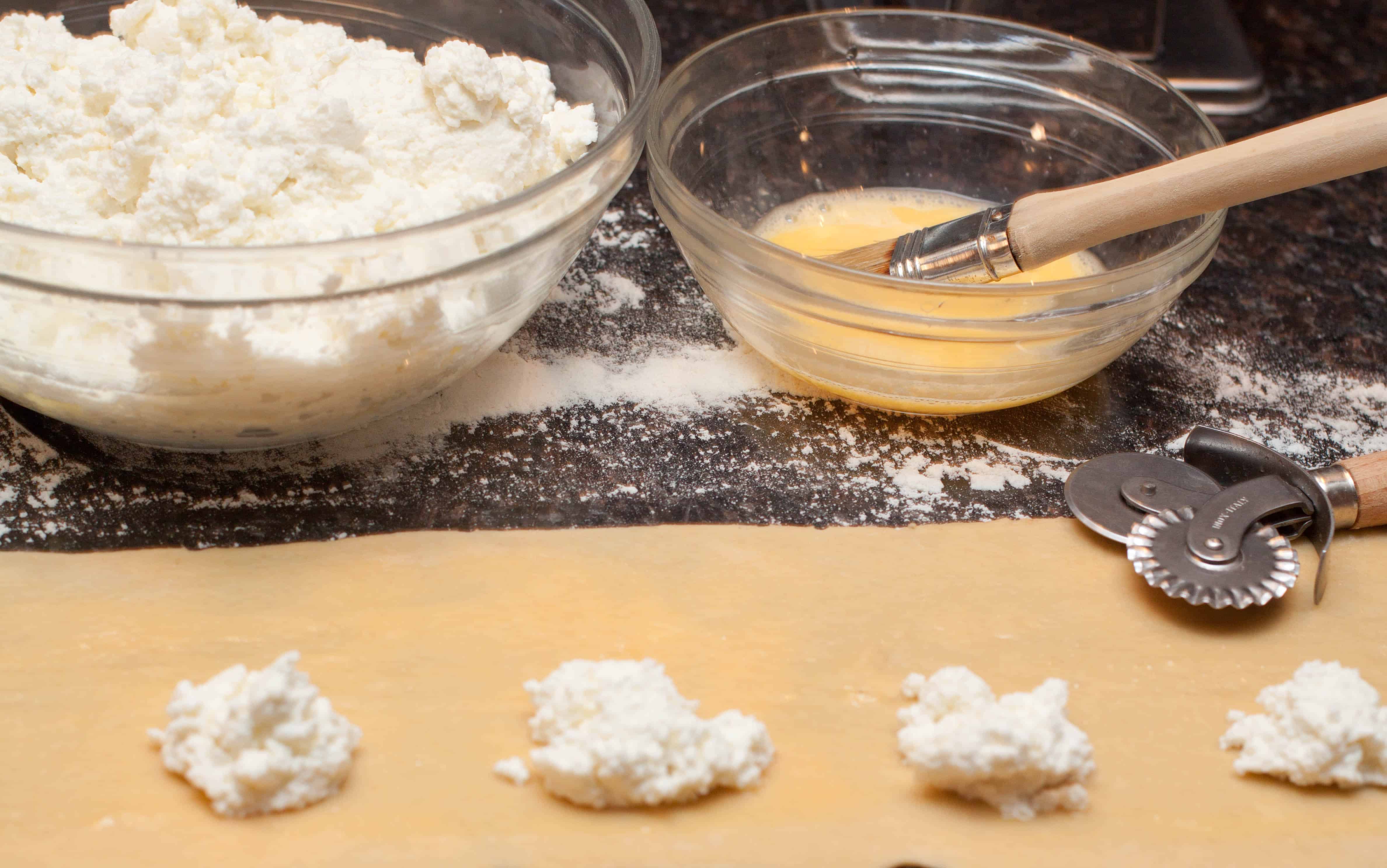 and on the other half of the sheet, an egg wash to help everything stick together.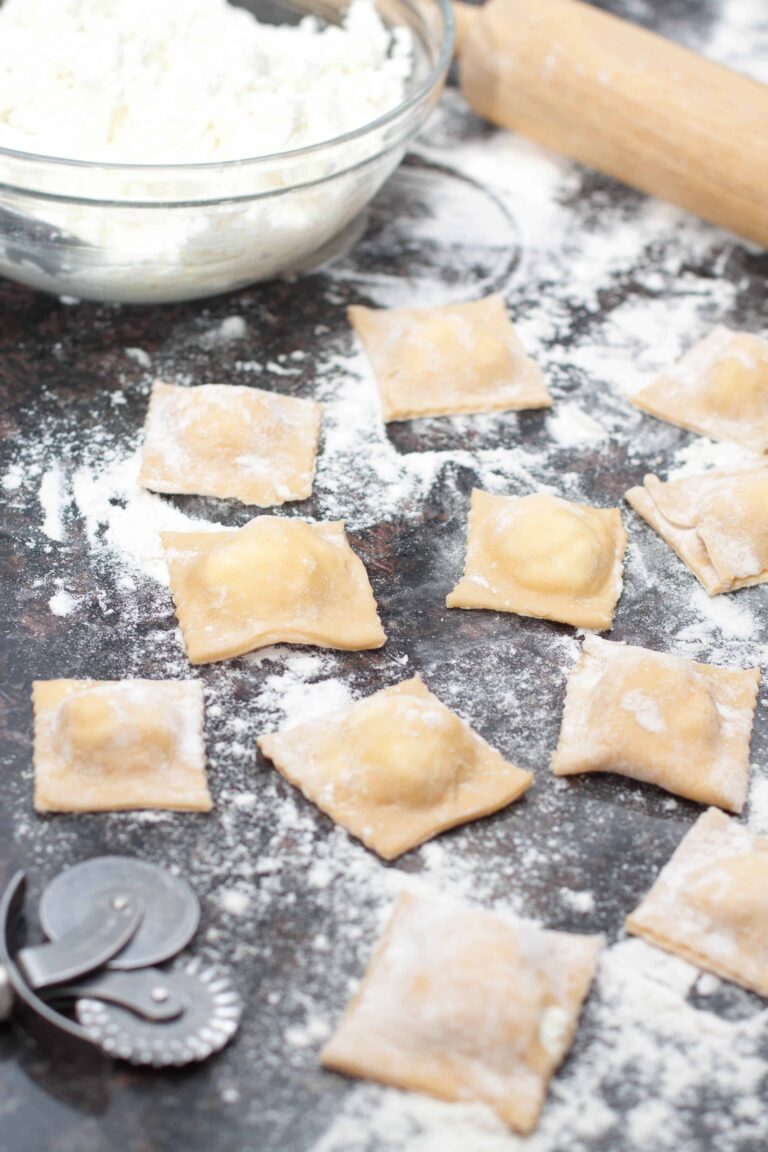 Folded over and pressed gently around the little mounds of ricotta then cut with a pasta wheel into squares. Fresh Ricotta Ravioli From Scratch!
From here they can be frozen to be cooked later or cooked immediately.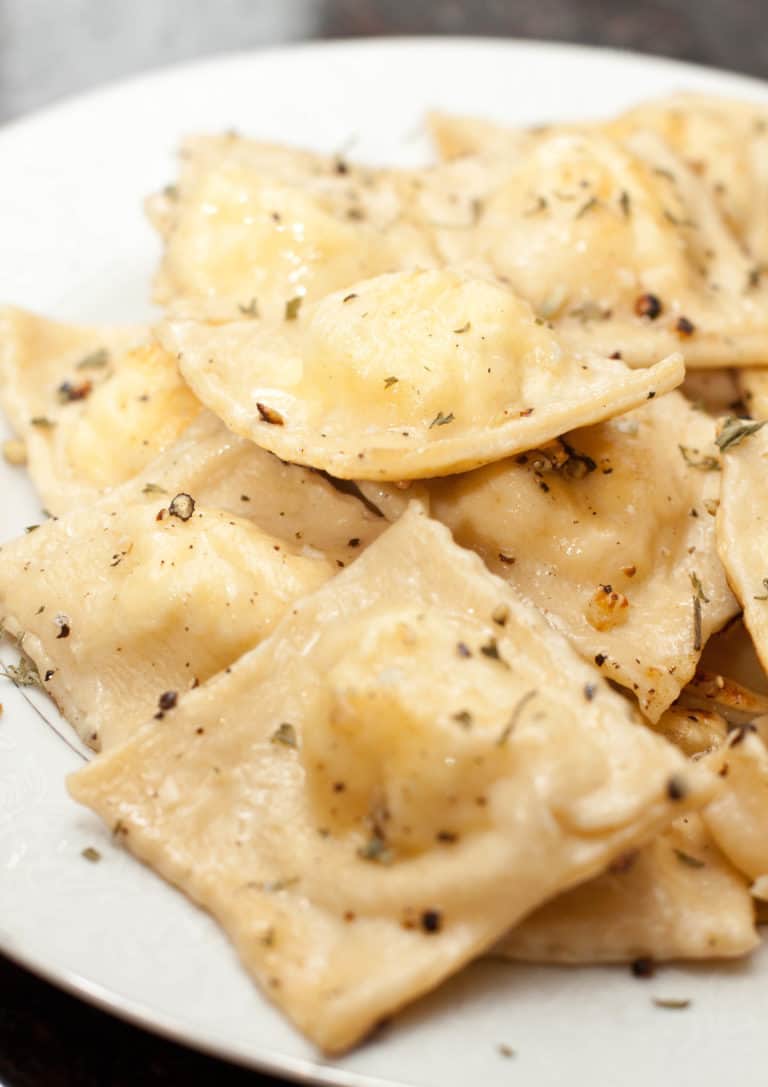 I chose to cook these little guys in boiling water then fried in garlic and butter. Because the only thing better than Fresh Ricotta Ravioli From Scratch is pan fried Fresh Ricotta Ravioli in garlic and butter!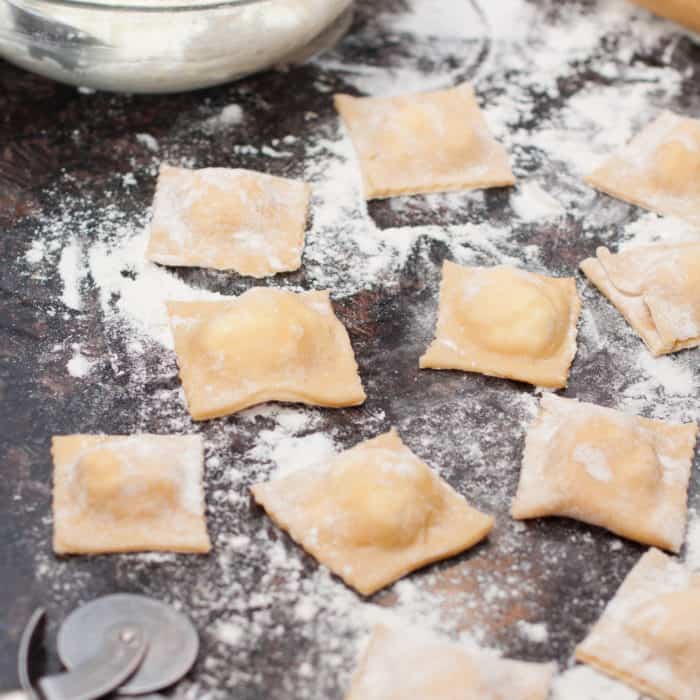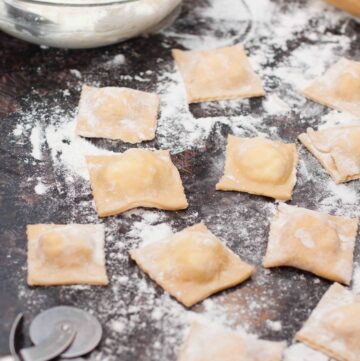 Fresh Ricotta Ravioli From Scratch
Fresh homemade ricotta cheese inside fresh rolled pasta for the most delicious Fresh Ricotta Ravioli you'll ever eat.
Print
Pin
Rate
Ingredients
Fresh Ricotta Ravioli
2

cups

all purpose flour

1

teaspoon

salt

1

tablespoons

extra virgin olive oil

3

eggs + 1 for an egg wash

1 1/2

cups

fresh ricotta cheese

or low moisture ricotta
Butter and Garlic Ricotta Ravioli
2

tablespoons

butter

4

cloves

garlic

minced
Instructions
In an electric mixer add the flour and salt and give a quick mix with the dough hook. Add the eggs one at a time and continue to mix. While the mixer is running drizzle in 1 tablespoon of oil and continue mixing until the dough forms a ball.

On a floured surface knead the dough for 5-10 minutes until the dough is elastic and smooth. Form dough into a ball and wrap in plastic wrap and let sit for 30 minutes at room temperature.

After the dough has rested, cut it in half and keep one covered in plastic while you roll out the first. Flour your work surface and then form the dough into a rectangle and roll it through the widest setting on your pasta roller a couple of times. Gradually lower the setting and slowly roll the dough through in long sheets. Roll until about 1/4 - 1/8 inch thick (**I vary the width of the dough on how I'm going to cook the ravioli, see note).

Flour your surface and gently lay the sheet of pasta down. Beat the egg in a small bowl for an egg wash.

Drop scant tablespoons of fresh ricotta cheese 2 inches apart along bottom half of the sheet of pasta. Brush the top of the sheet with egg wash and then gently fold over the filling like a blanket.

With your fingers, gently press around each mound of filling to get any little air pockets out.

With a pasta cutter, cut each mound into squares and with a fork or your fingers press around the edges to ensure they are sealed.

Line ravioli on a floured baking sheet to finish 2nd half the dough.

Freeze on baking sheet and then transfer to freezer bags or cook immediately.

Butter and Garlic Ricotta Ravioli

Bring a large pot of salted water to a boil. Once the pot boil, heat a large saute pan to medium low and add butter and garlic.

Add ravioli 6-10 at a time (whatever doesn't over crowd your pot) to the boiling water. When they float to the top, they're done, about 3-4 minutes.

Gently lift from water with a slotted spoon and then add to a saute pan with butter and garlic and pan fry them until they begin to brown slightly.

Serve immediately.