I call this breakfast, "I'm-a-total-emotional-mess-but-I-need-to-make-a-delicious-breakfast-to-bring-myself-back-to-the-real-world- breakfast." Our four legged son is in the doggy ER as they try to figure out what's wrong and my husband is gone camping on a bachelor party. I have a house full of kale and champagne that was supposed to go with me to a bachelorette weekend, but my poor boy's health took precedent. But, despite it all, girls gotta eat. And when life get's tough, you make yourself a kick ass breakfast.So I cleaned some kale,
julienned some basil,
Sautéed the kale with onions and lots of garlic,
then topped a slice of toasted homemade sourdough bread with the kale, basil, and a couple of poached eggs. On top, instead of making a hollandaise sauce, I had in my weekend cooler some Tahini Lemon Dressing I had made for the kale salad I had as a part of tonight's dinner.
I don't want to brag, but ohmygod this is hands down the best breakfast I have ever made. Seriously. For reals.
See?
Whoa yum. The garlicy kale on the crunchy toast with a hint of basil and the perfectly poached runny egg topped with a lemon tahini dressing? Perfection.
I'm less of a mess now. Even better, as I was waiting for my bread to toast, I received a package at our door.
My girl Mona, one of my bridesmaids, one of the best friends a girl could ask for, sent us this amazing gift to cheer me up after being there for me through a separate but also very recent rough patch. Amazing.
That, plus this delicious breakfast, an amazing way to turn a rough day/week right around!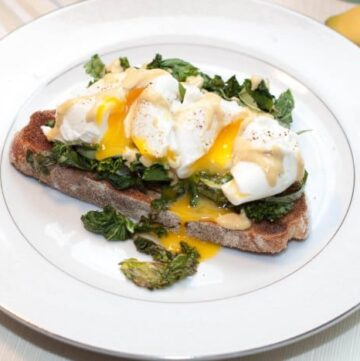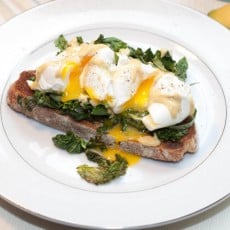 Ingredients
Tahini Dressing

1/4

cup

homemade Tahini

2

garlic cloves

1/2

cup

of fresh lemon juice

about 2 lemons

1/4

cup

nutritional yeast or a bit more

to taste

2-4

tbsp

Extra virgin olive oil

to taste

1

tsp

kosher salt + freshly ground black pepper

or to taste

3

tbsp

water

or as needed

Toast and Eggs

2

cups

of cleaned / ripped kale

very loosely packed

3

garlic cloves minced

1/2

a small white onion diced

2

eggs

1

tablespoon

of white vinegar

1

slice

of sourdough bread toasted

5-6

basil leaves julienned

olive oil

salt and pepper to taste
Instructions
In a food processor, add all ingredients except water and process until smooth. Add water while blending to get desired consistency. Makes just under 1 cup.

Heat olive oil in saute pan and add garlic and onion on medium. Saute for 2 minutes and then add kale and saute until kale is cooked through a wilted, salt and pepper to taste.

Bring a small pot of water to boil and add white vinegar. When it has reached a boil, drop in eggs and then turn heat down to simmer. Let simmer for 4 minutes.

Toast bread and then top with kale and onions, basil, and carefully place eggs on top. Add fresh cracked black pepper to top of eggs and then drizzle the tahini lemon dressing on top.

Serve and enjoy!