Worried about a mayo based potato salad in the summer heat? Then a tangy, bacon filled German Potato Salad is perfect for your outdoor gathering!
You know what's a great idea? Having a mid-week dinner party with your little-big brothers and their new girlfriends whom you love (which is a first). You know what's not a great idea? Doing said party when Portland hits 100+ degrees. Oh and the hottest part of the day here is about 6:00 pm. Luckily, my awesome friend Mona gave us a wine fridge for our wedding so I turned that baby way down for some ice cold vermentino while we sweated through dinner. Honestly, give me a glass of a cold crisp white wine, good food, and good company, I don't care how hot it is, I'm a happy happy girl.
The menu we'd planned a few days earlier was Cornell Chicken with Gail's (my mother in law) German Potato Salad. We were able to let the Cornell Chicken marinade for 2 full days (yummm), and I left work a little early to whip up some bruschetta on some baguettes had baked earlier in the day. Since we knew it was going to be hot (a few days before it was 'only' supposed to be in the low 90's), I knew we couldn't do a mayo based potato salad, so Gail's salad was perfect as it's has a nice sweet and sour vinegar base. Super simple, super tasty, and a perfect summer potato salad for some al fresco dining on a hot night! It was a wonderful evening with our happy little-big brothers and their new ladies, outside on our new patio dining set, eating, drinking, and chatting late until the night. When the sun went down, we pulled out some candles and sake. I may have been a little late to work the next morning because we didn't even start dishes until after midnight, but it was totally worth it. Yay summer!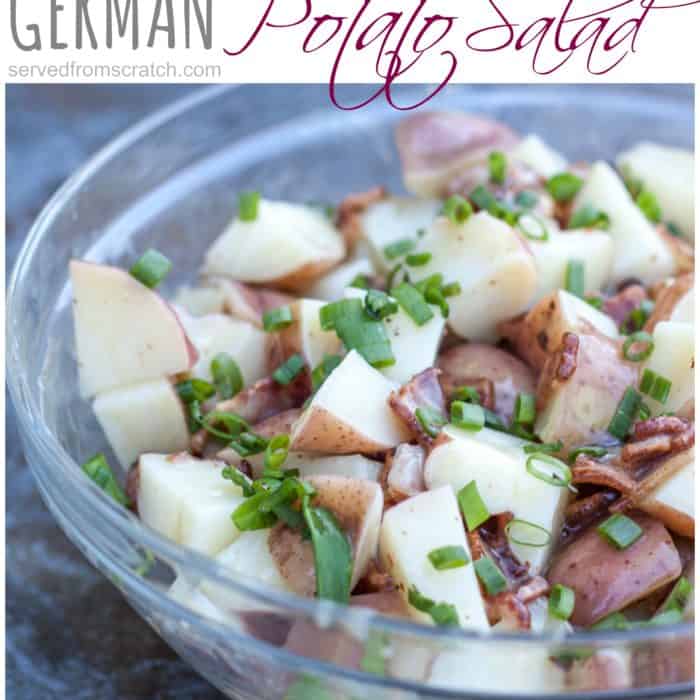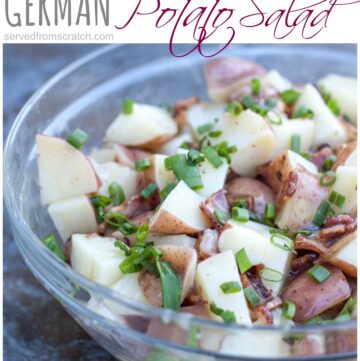 Ingredients
6-8

red potatoes

1

lb

of bacon cut into 1" pieces

2

cups

of water

divided

1

cups

of white vinegar

3 - 4

tablespoons

of cornstarch

4

sliced chives

1 - 2

tablespoons

of sugar

salt and pepper to taste
Instructions
Quarter the potatoes and boil until tender.

Add cut bacon to a saute pan and cook until crispy. Drain 1/2 - 3/4 of the grease out of the pan. Be sure there's still some left, at least a couple of tablespoons. Add 1 cup of water, the vinegar, and sugar. Heat on low and let simmer. The sugar amount is to personal preference. I usually start with about 1/2 a tablespoon then add more slowly until I get a sweet / sour flavor I like. Add salt and pepper to taste. Turn up the heat and bring to a boil.

While the sauce is cooking, in a small bowl add 1 cup of cold water and then mix with 3 - 4 tablespoons of cornstarch (don't use hot or warm water as it will expand before you are ready to use it). Mix with your fingers until it feels smooth and silky.

When the sauce comes to slow boil, restir the cornstarch and slowly pour it into the hot sauce while using a whisk to briskly mix it in and not create lumps. Keep adding the cornstarch until the sauce thickens (until about a little thinner than the consistency of a beef gravy). Be sure to add it slowly so the sauce thickens slowly. If you add it all at once, you'll have a sweet and sour pudding.

Remove from heat and add warm potatoes to the sauce a little at a time and gently toss to coat. Add sliced chives and mix. Serve immediately while hot, or refrigerate and serve cold.