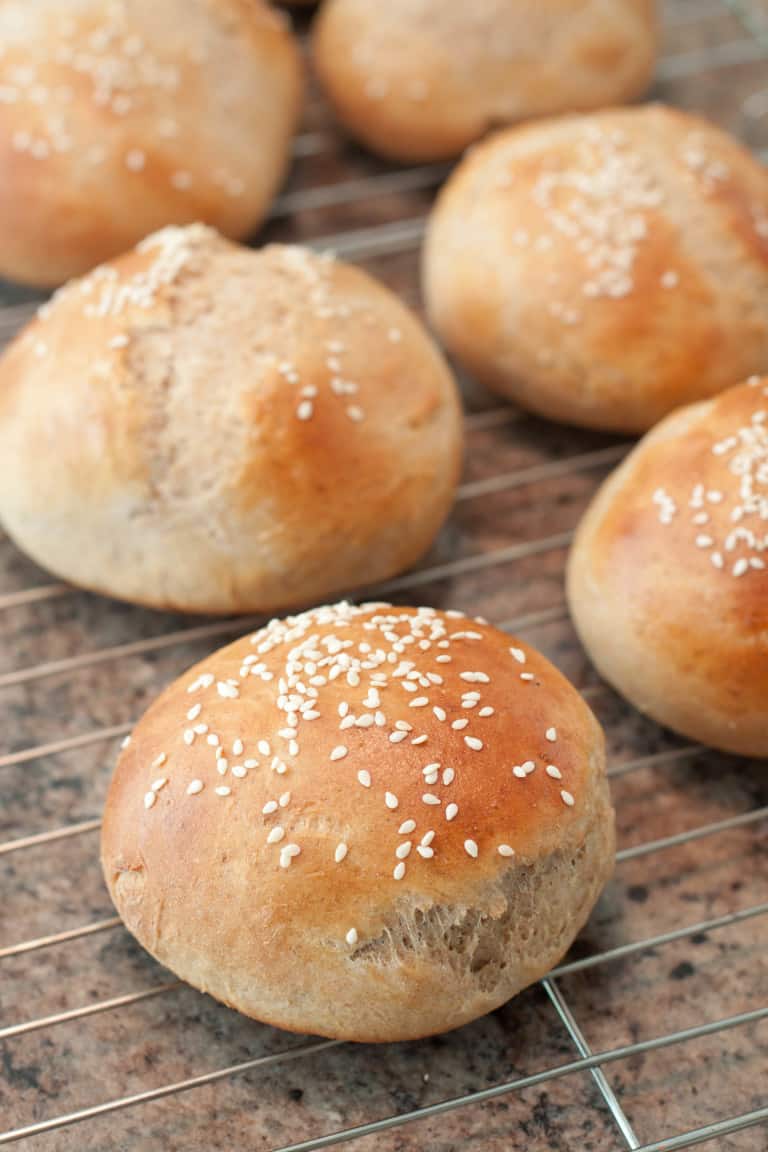 We've got From Scratch Hamburger Buns in the oven annndd a little Baby Bun in the oven! Whooo! Baby K is coming our way the beginning of June 2016!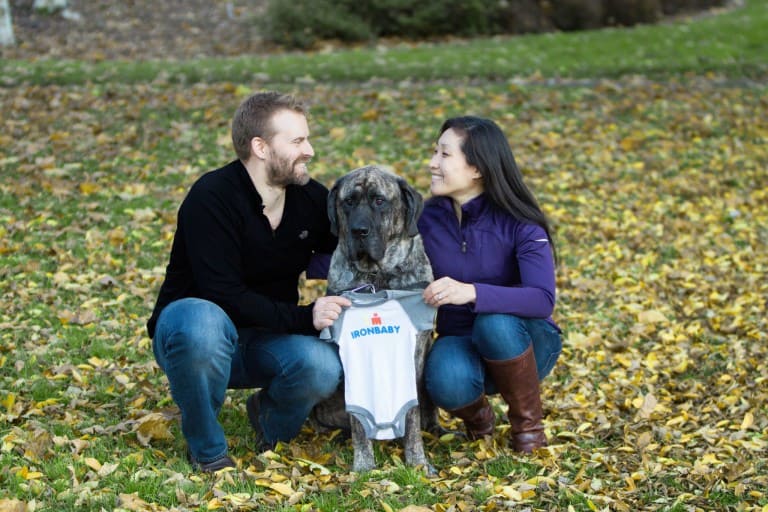 We're all extremely excited, even Nigel, despite the not so enthused look on his face. Ha. This was mainly his "Why are we in a park but I'm not allowed to play?!" look. I'm so excited to eventually bring you a Baby Food From Scratch section of the blog! Ok, well first it'll probably be a Meals From Scratch When You've Discovered a New Level of Exhaustion From Being Up with a Newborn 24/7 section 😉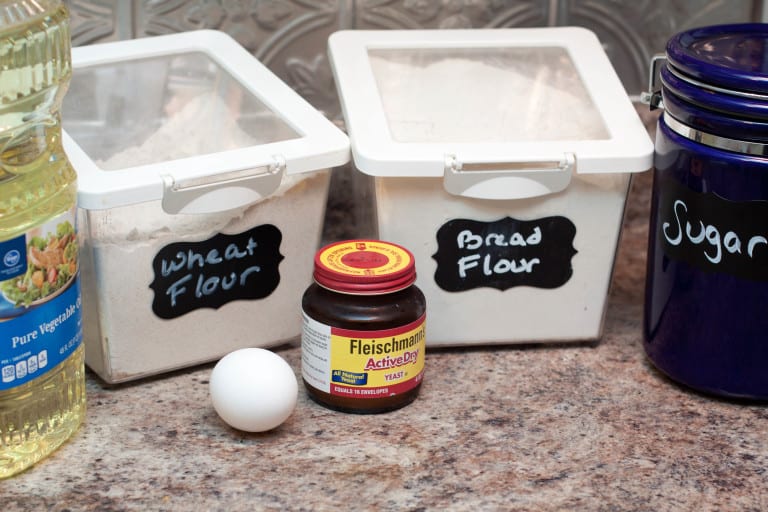 Ok, back to the real buns. The real simple buns, that is. 30 minutes. That's all it took!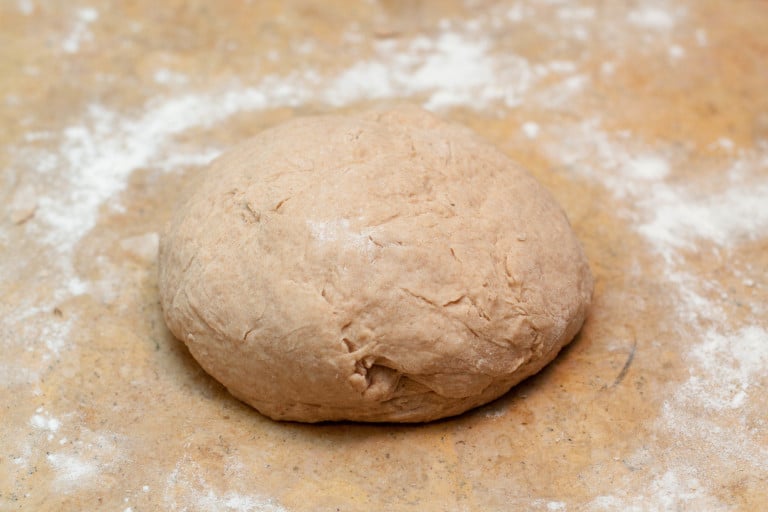 The dough itself was really easy. Just activating the yeast by adding in some warm water and the sugar, some salt, an eggs, and oil. Then a mix of the flours. I used a mix of whole wheat flour and bread flour to make them a little healthier. But with the whole wheat flour it does make them a tad denser too. For a lighter bun, I'd use just all bread flour. Mixed together and then kneaded on a floured surface for about 5 minutes.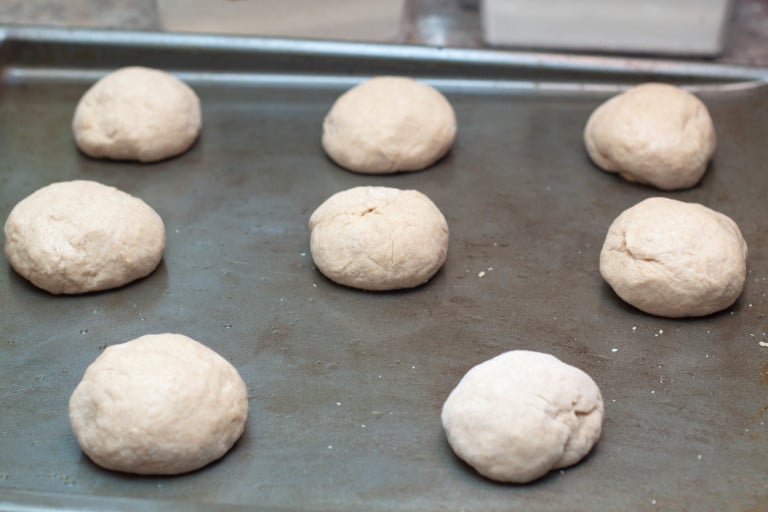 Then separated into 8 equal parts and rolled into little balls,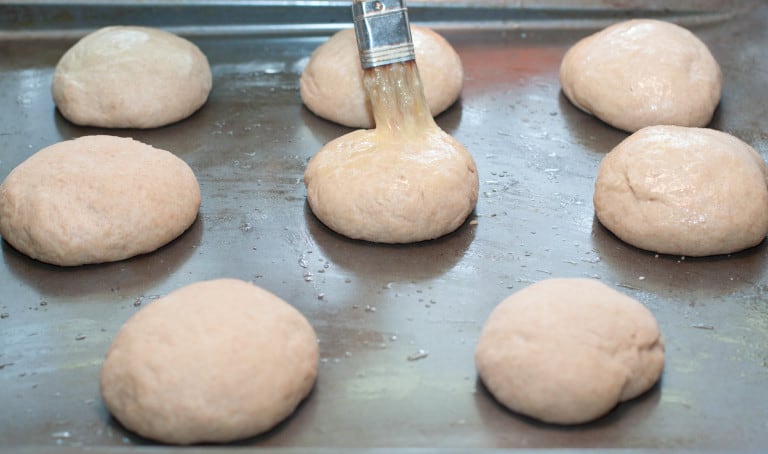 covered and let to rest for 15-20 minutes so they rise. Then a generous egg wash (to give it that nice golden top),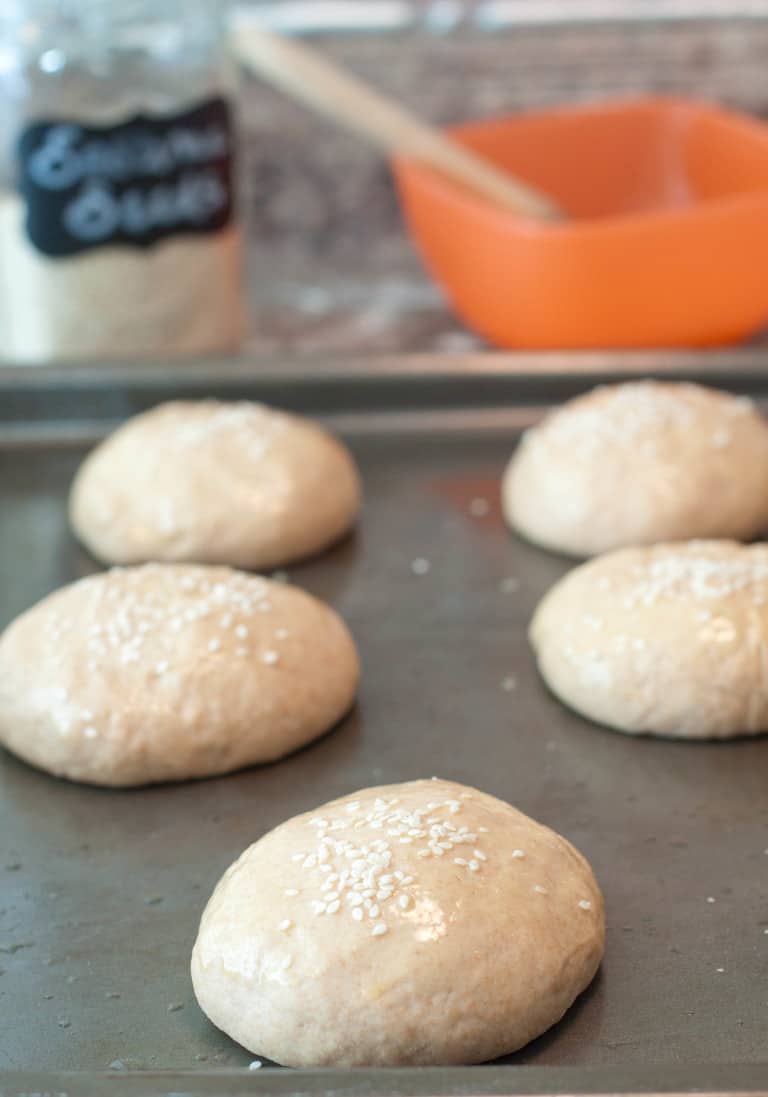 and some sesame seeds on top! Or poppy seeds, or dried onion, or both, or go nuts and add all 3!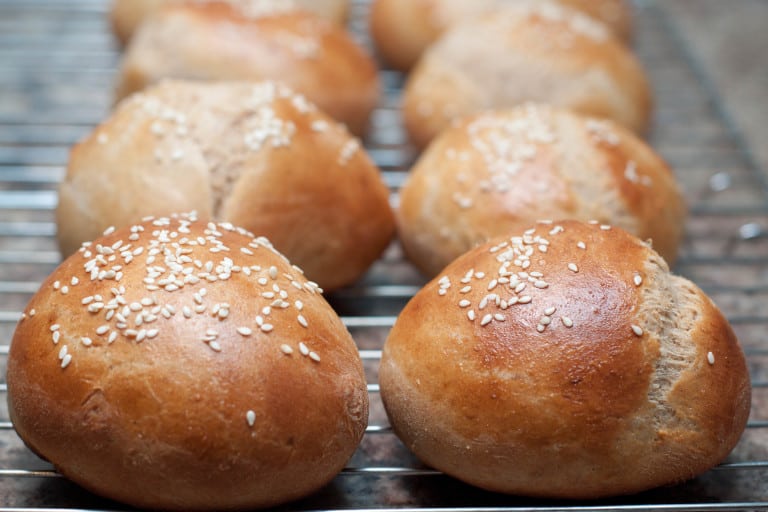 Into the oven for 10 minutes and you're in hamburger bun business!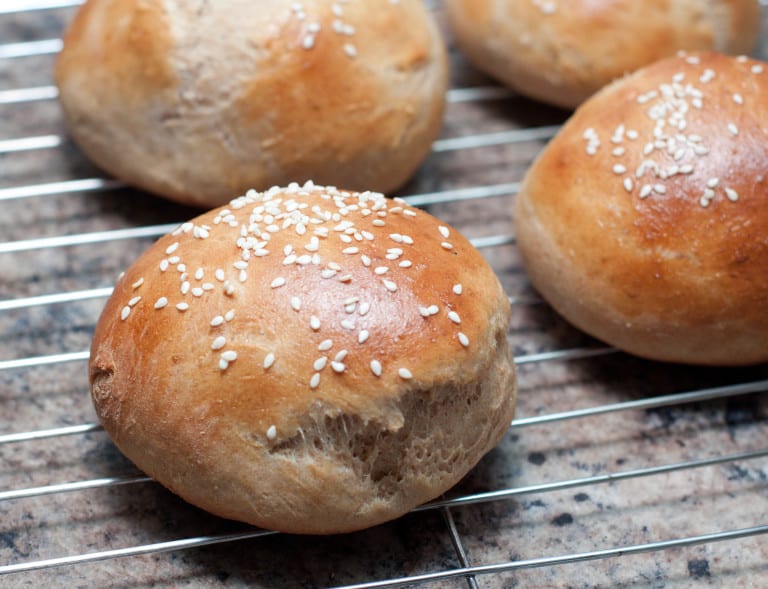 These guys are just begging for a big juicy burger. Or some eggs and sausage for a breakfast sandwich. Or some grilled chicken and cheese for lunch sandwich! Or just some butter when they're fresh out of the oven... mmm. Did I mention I'm preggo and now I spend even more time thinking about food? Good thing these freeze well - they'll be in my freezer just waiting to be warmed up for whichever craving hits next! 😉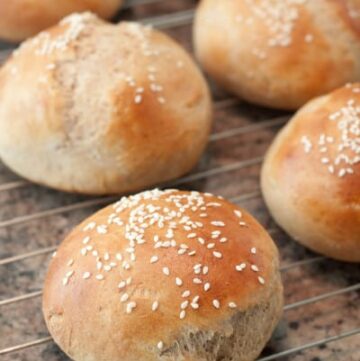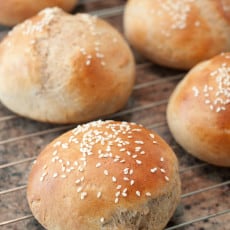 Hamburger Buns From Scratch
Homemade Hamburger Buns in just 40 minutes!
Print
Pin
Rate
Ingredients
2

tablespoons

active dry yeast

1

cup

warm water

3

tablespoons

vegetable oil

3

tablespoons

sugar

1

egg

beaten

1

teaspoon

salt

2

cup

whole wheat flour

1

cups

bread flour

1

egg beaten

for egg wash

1/4

cup

of sesame seeds for sprinkling on top*
Instructions
Pre-heat oven to 425 degrees.

In a large bowl, activate yeast by adding it to warm water and add oil and sugar and let stand for 5 minutes.

Stir in the egg and salt.

Add the whole wheat flour and mix well. Then gradually add the last cup of bread flour until a soft dough forms. If it's still very sticky, add a bit more flour until it's nice and soft.

Turn onto a floured surface and knead until smooth and elastic, 3-5 minutes.

Divide the dough into 8 equal pieces and shape each into a ball.

Place 3 inches apart on lightly greased baking sheets. Cover and let rise for 15-20 minutes.

Brush each bun with egg and then sprinkle on sesame seeds or toppings of choice.

Bake buns for 7-10 minutes or until golden brown. Let cool on wire rack.
Notes
*Or poppy seeds, dried onion flakes, whatever you'd like!