This homemade Healthy Blueberry Muffins recipe is unlike your normal muffin recipe! These muffins are not only super fast and easy to make, but they have less sugar, not too many oats, no bananas, packed with fresh blueberries, are soft and fluffy, and full of a ton of flavor, thanks to my favorite secret ingredient!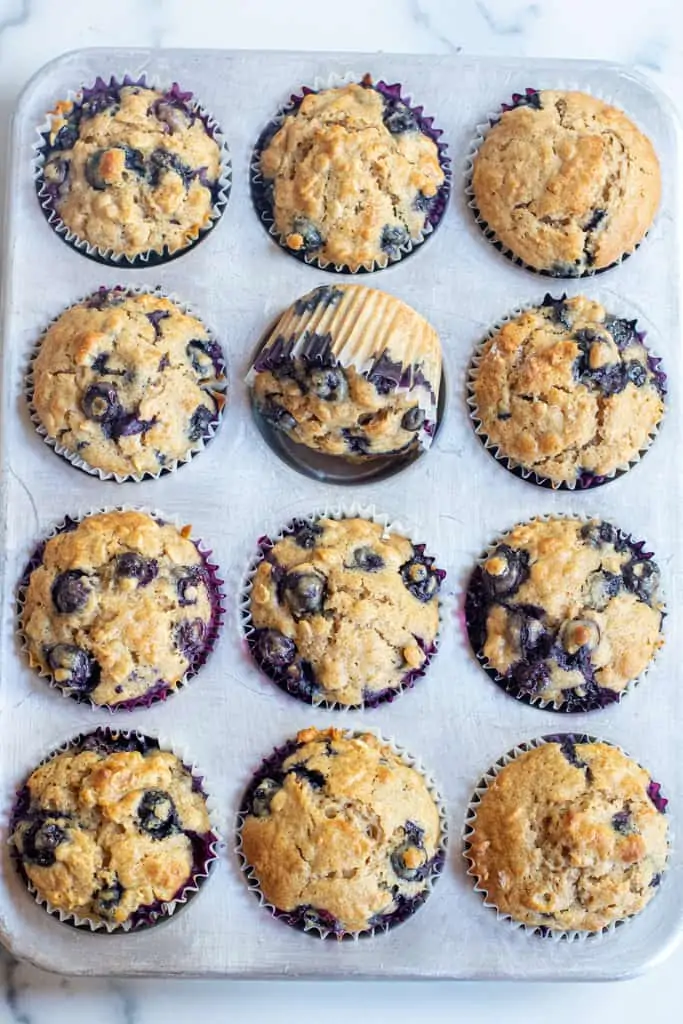 I know, I know. There are a gazillion blueberry muffin recipes out there. But in our house, while we certainly like having a cupcake for breakfast, we want our muffins to be healthier, but still flavorful and with a light fluffy center. Which is exactly what our Healthy Blueberry Muffins are!
We adore these homemade muffins because they feel like they're a happy medium between a muffin that tastes like it's just missing some frosting and a dense uber-healthy whole wheat oat muffin. Plus, they're a banana-free muffin that is still light on the inside, but with less fat, more nutrition, and a ton of flavor thanks to our little twist!
Ingredients Needed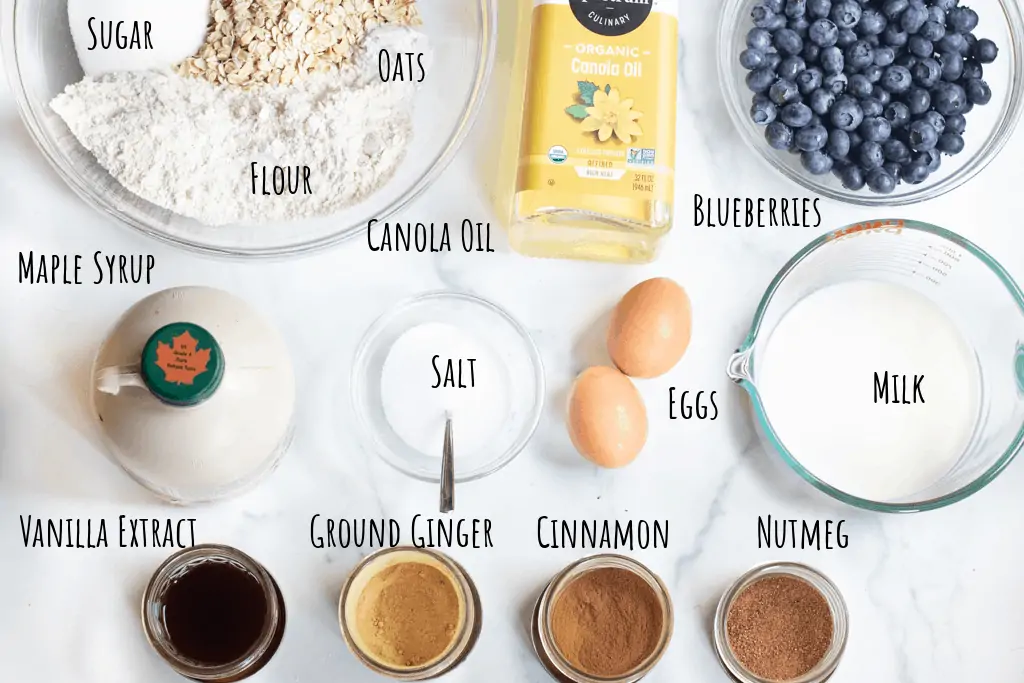 While this is a pretty standard muffin recipe, a couple of things we do a little bit differently.
Oats: These are far from an oat muffin. We add just enough to add a hint of oat flavor (and the nutrition), but they're definitely not a full oat-based muffin.
Sugar: These muffins don't lack any sweetness, but we like to cut the refined sugar and also use a natural sweetener, and to pair with blueberries, maple syrup is our favorite, but you could also use honey. We love the kiss of maple flavor using maple syrup adds, though.
Fat: While most of our healthy muffins are pretty low in fat, fat is absolutely essential to creating that soft texture because they weaken the gluten bonds. This is what helps makes that great fluffy texture of a great muffin - and also why most muffins are like cupcakes. We love canola oil for this recipe. We've made it with butter but we think that they're actually softer with oil. You could also use vegetable oil or another neutral-flavored oil.
Spice: Now here is where I think these muffins stand apart from all of the other blueberry muffin recipes out there - the flavor! Cinnamon, Nutmeg, and most importantly, Ginger pack such amazing flavor with the subtle maple.
Easy to Make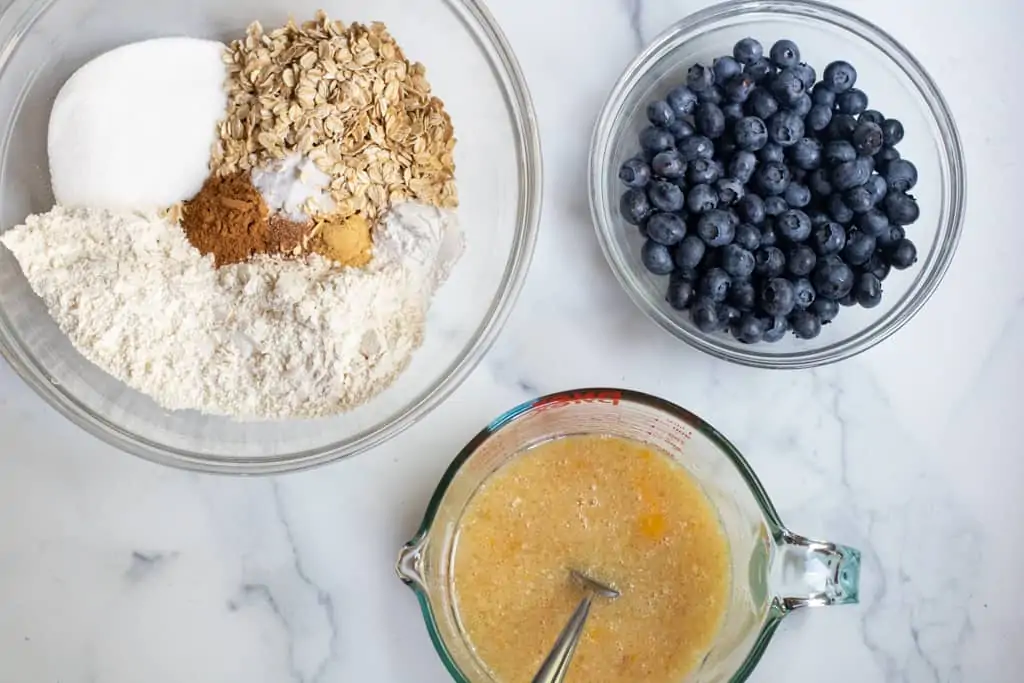 Another reason why we absolutely love this recipe: it's so easy to make! Almost a single bowl recipe, but honestly, I just love our large Pyrek spouted measuring cup, it makes life easier in so many ways, including being the perfect vessel for our egg and wet ingredients to then just pour 'em right into the dry ingredients.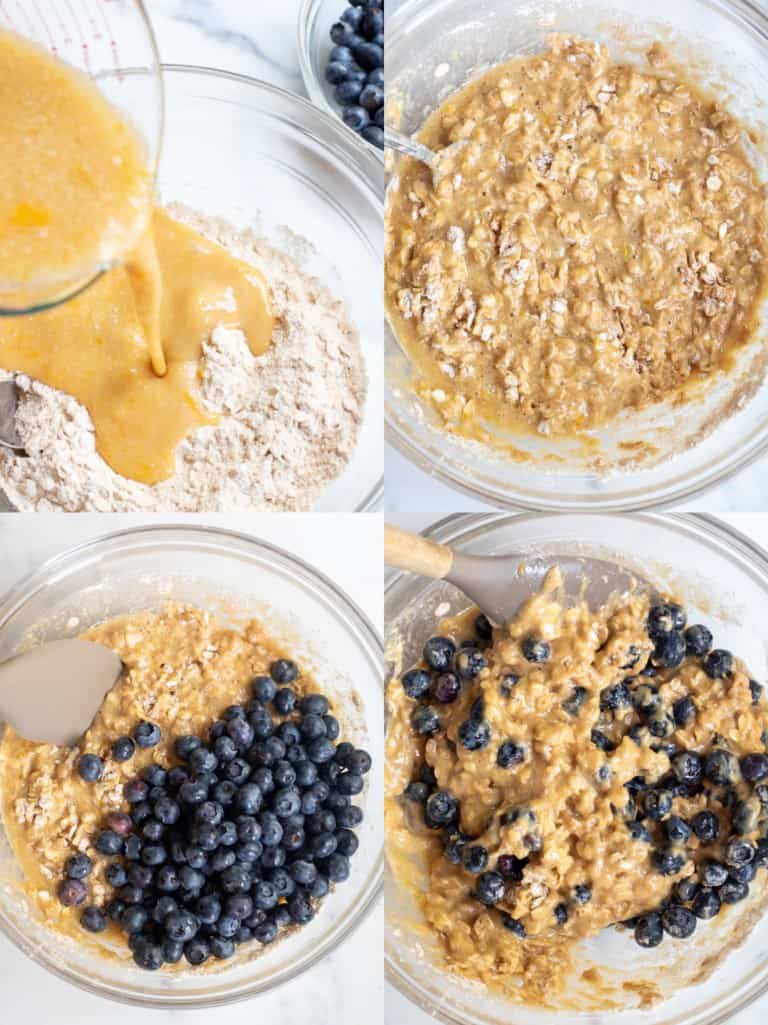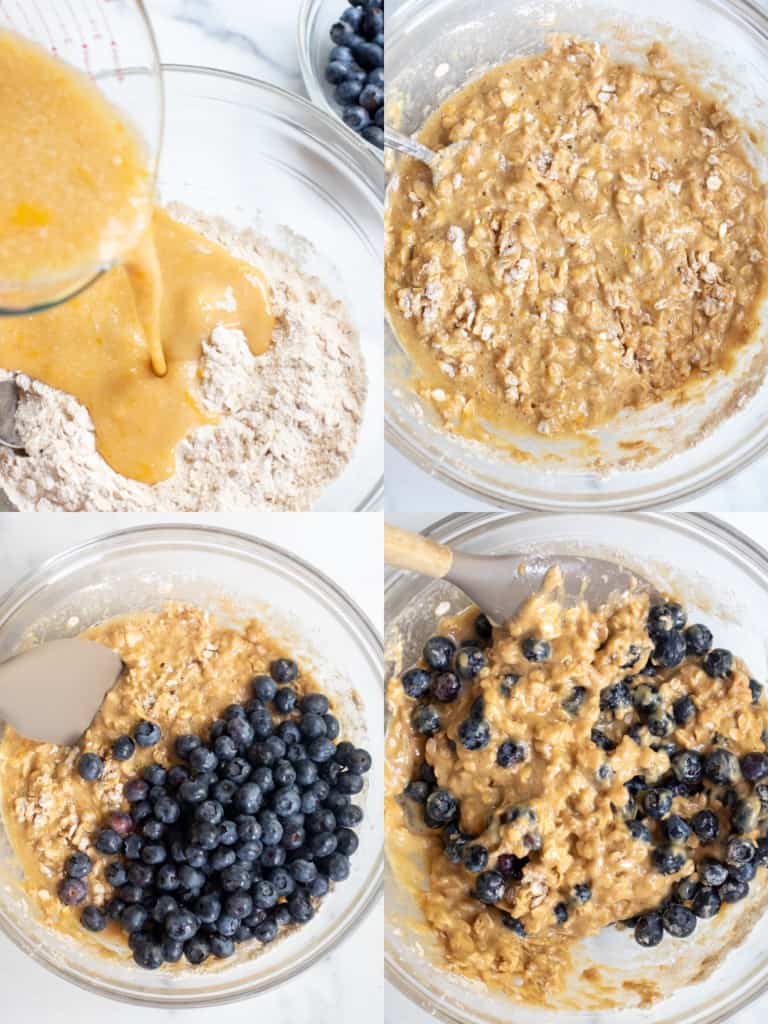 These health homemade muffins are easy as,
Mix the dry ingredients.
Add the wet ingredients (but not too much!).
Fold in the fresh blueberries.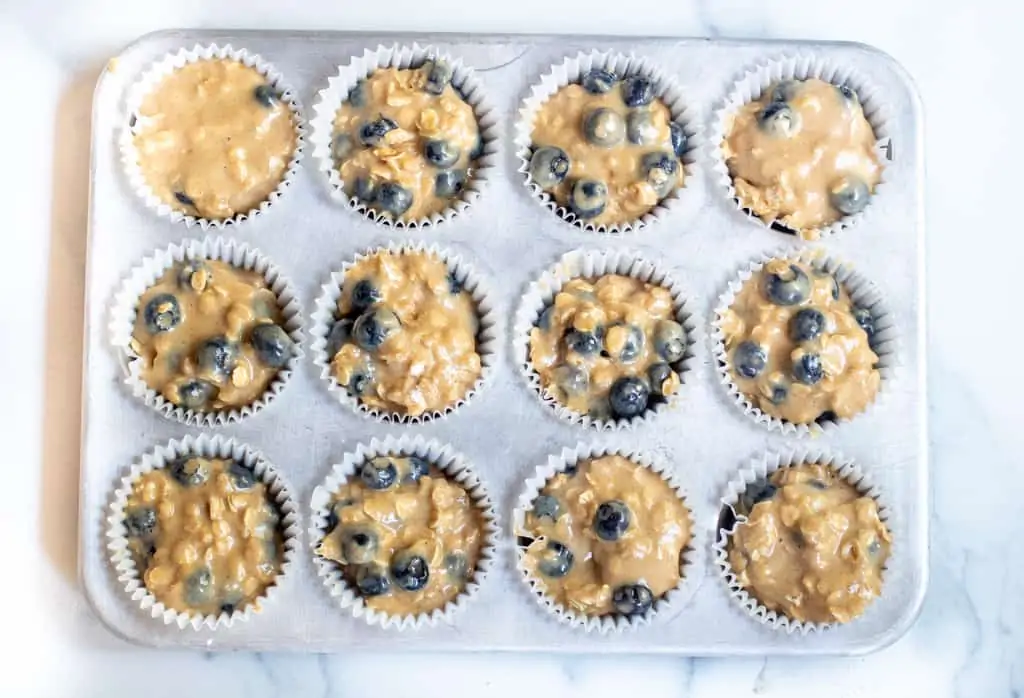 4. Fill muffin tins, to the top!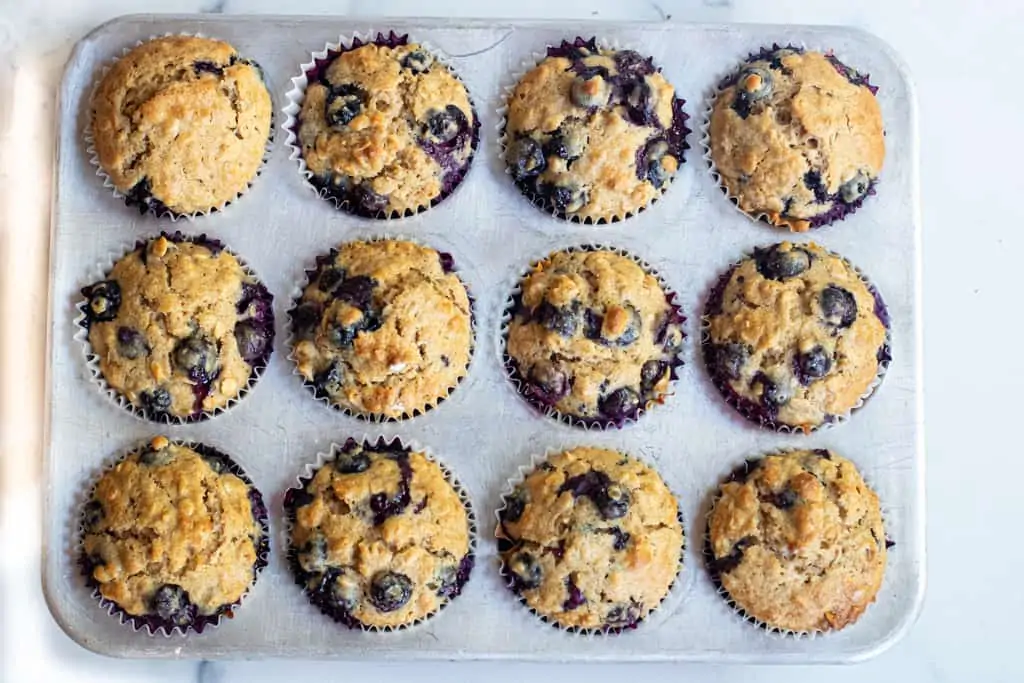 Baked to golden but soft fluffy perfection!
Muffin Making Tips
Don't Over Mix the Batter: This is probably the #1 tip for when you're making muffins. This method is the opposite of the creaming method, which is when you beat (cream) your fat (butter) with sugar. Instead, with the Muffin Method, you're just mixing your wet ingredients into your dry, but only just enough to coat all of the dry ingredients. You don't want a super smooth batter, a rough batter with lumps or streaks is a-okay. This will help ensure a moist, soft center. If you have a muffin that's hard and dry, most likely that means you've overmixed your batter.
Fill the Muffin Cups: Don't be shy! Fill those muffin cups! While many recipes say to fill 3/4 of the way, this recipe is for big, beautiful muffin-topped muffins, and this recipe is perfect for 12 perfectly full muffin cups!
Bake at High Heat: This is essential for the muffins to fully rise and give them their height. Because there's nothing worse than a muffin without a muffin top. Right, Elaine?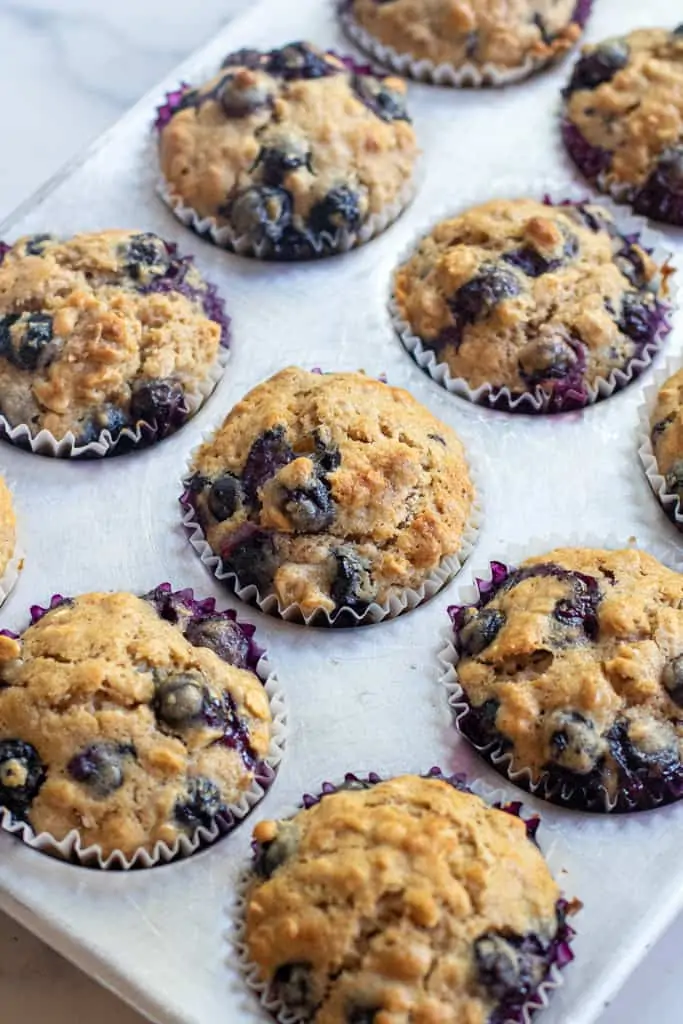 This is a homemade muffins recipe that's sure to make blueberry-packed, big, beautiful, Healthy Blueberry Muffins!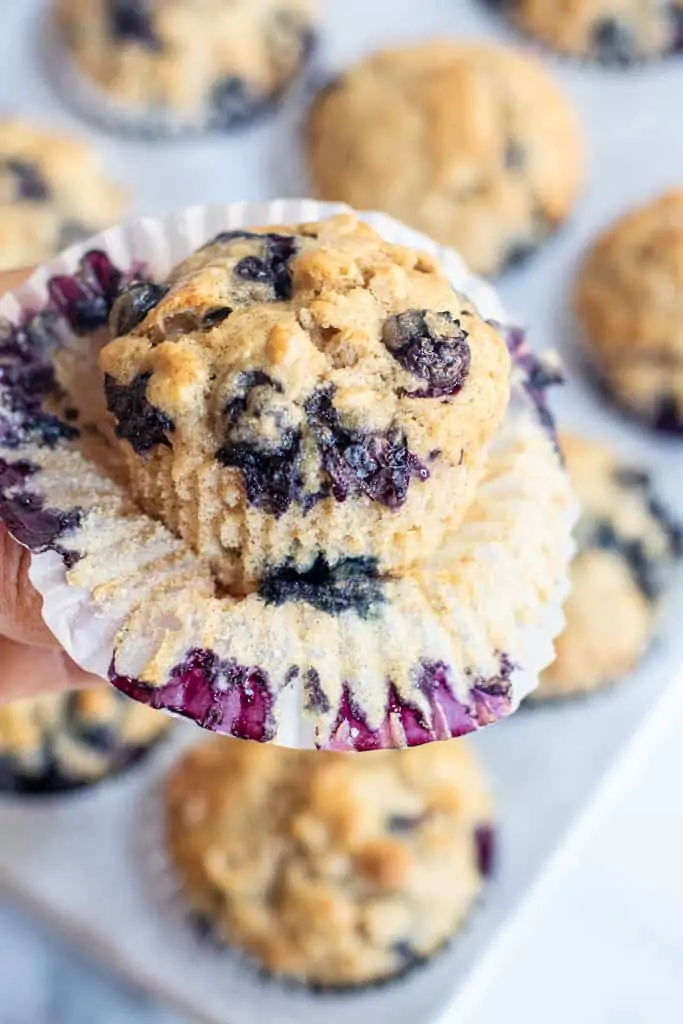 I mean is there anything worse than a muffin that doesn't have enough of the fruit you were promised?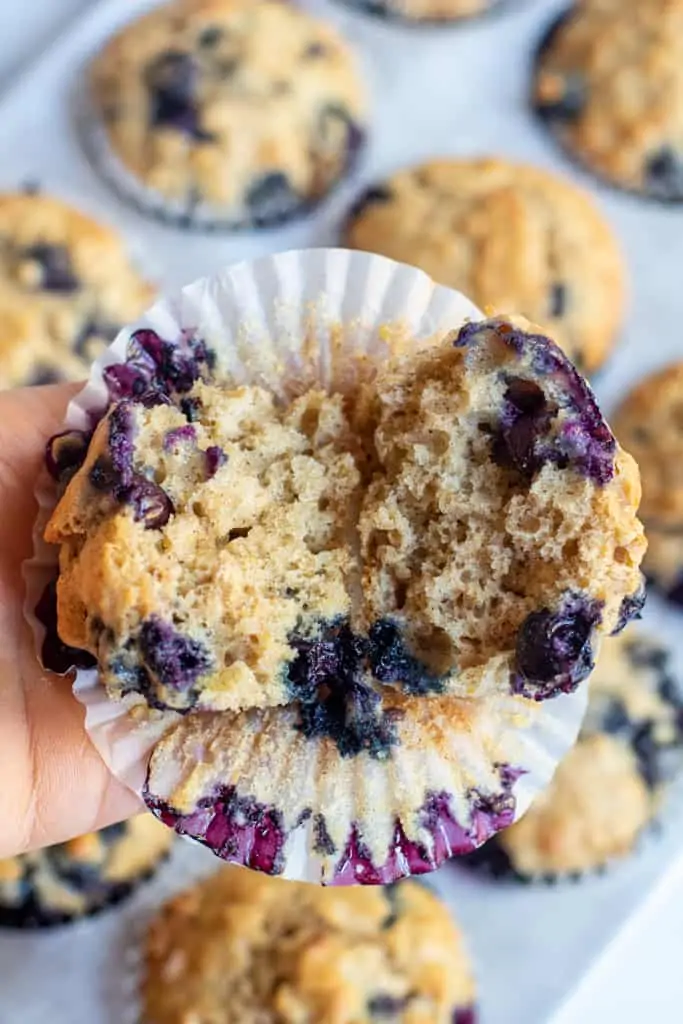 Only if it's super dense and hard, which trust me, these muffins definitely are not! These healthy muffins are light on refined sugar and fat, healthy, but also still light without overpowering oats.
Other Muffin Recipes
FAQs
Can I use frozen blueberries?
Of course! No need to thaw. Just toss 'em in frozen.
Can I use butter instead of oil?
Of course! We've made them with both butter and oil, but we love them with both, but just a touch more with the oil.
How do I store them?
Keep these babies out of the fridge as it'll change their texture. Instead, you can leave them on your cooling rack for up to 24 hrs with just a paper towel over them. After that, store them in a plastic bag or container by first lining it with a paper towel, then putting a single layer of muffins down before topping them with another paper towel. The paper towel will help prevent sogginess.
Can I freeze these muffins?
Definitely. Up to 3 months and then just defrost in the fridge or reheat in the oven or pop in the microwave for a great grab-n-go breakfast!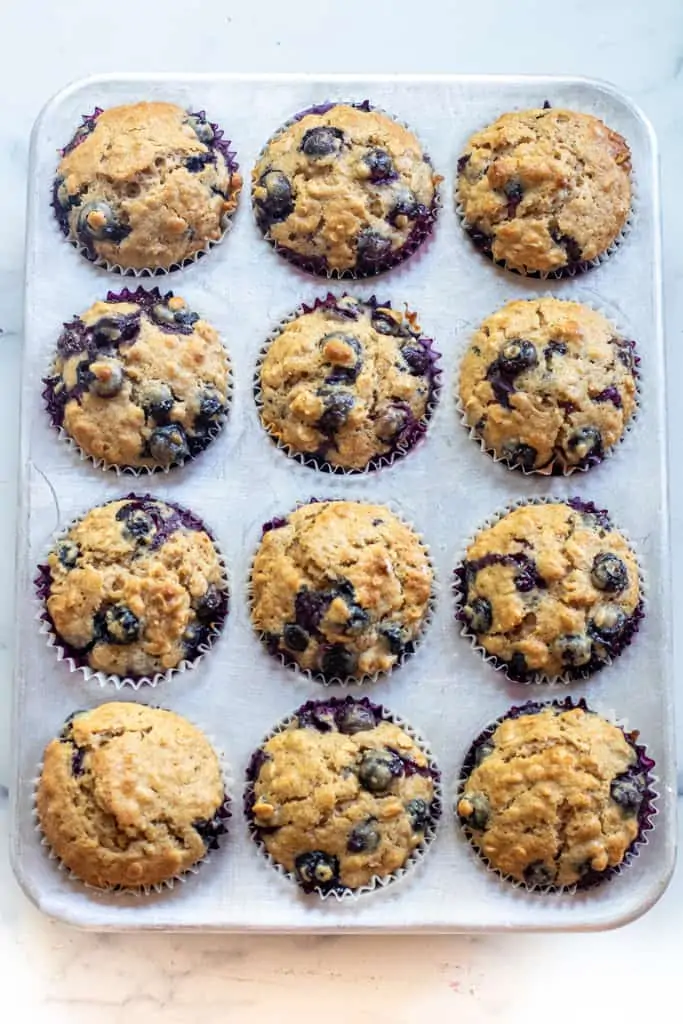 Still have a ton of blueberries? Try out Blueberry Jam Without Pectin, next!
Enjoy! As always, if you make this recipe or any of my others, I love to hear what you think! Leave a comment below, email me, or you can find me on Facebook, Instagram, and Pinterest!
If you want to see more, be sure to sign up for my 5 Easy Ways to Start Cooking From Scratch!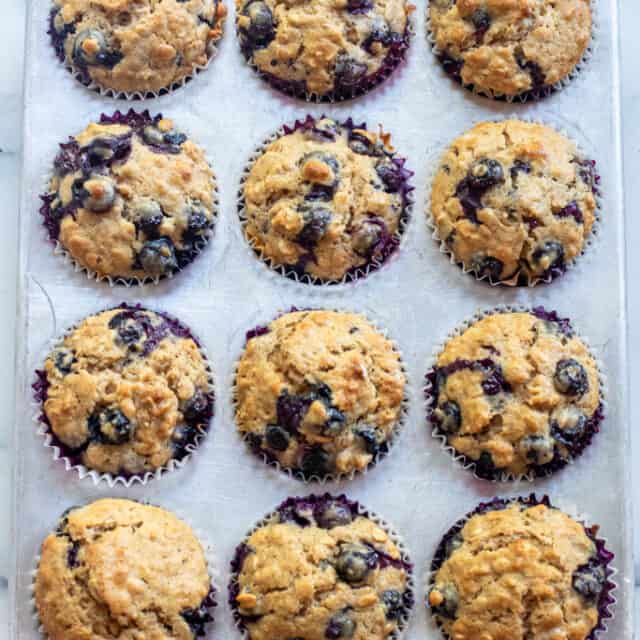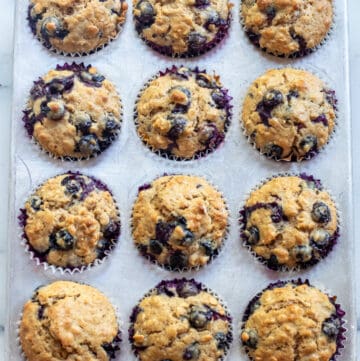 Healthy Blueberry Muffins
A classic but packed full of extra blueberries and made with less fat and added sugar.
Print
Pin
Rate
Ingredients
1 1/2

cups

all purpose flour

1

cup

oats

1/3

cup

granulated sugar

2

teaspoons

baking powder

1/2

teaspoon

salt

1

teaspoons

ground cinnamon

1/2

teaspoon

ground ginger

pinch

nutmeg

2

eggs

1

teaspoons

vanilla extract

1/2

cup

milk

1/3

cup

canola oil

1/3

cup

maple syrup

2

cups

fresh blueberries
Instructions
Pre-heat oven to 400 degrees and line 12 muffin tin with liners.

In a large bowl, mix flour, oats, sugar, baking powder, salt, cinnamon, ginger, and nutmeg.

In an at least 4 cup pyrek with a pour spout (or medium sized bowl), whisk eggs and then add milk, oil, maple syrup, and vanilla extract.

Slowly add the wet ingredients to the dry. Gently mix, just until just combined. Be sure that it's not over mixed, it's ok if there are steaks.

Gently fold in blueberries.

With an ice cream scoop or spoon, fill muffin liners with batter.

Bake for 25-30 minutes, until knife pulls clean when put in center.
Notes
Substitutions:
Oil - Use another neutral-flavored oil like vegetable, or use melted (and cooled) butter.
Flour - Make them gluten-free by using gluten-free flour and oats.
Oats - Swap them out for all flour, if you don't have them.
Berries - Blueberries are our favorite for this recipe because of the ginger, but cherries are also a great substitution!
Storing:
Muffins are ok to stay out on your cooling rack with just a paper towel on top of them for 24 hrs. For longer, line a plastic bag or storage container with a paper towel and add muffins, store in just one single layer. Then top with a paper towel. Store on the counter for up to 4 days. Add to a freezer-safe container and freeze for up to 3 months, again in just a single layer.
Nutrition
Calories:
216
kcal
|
Carbohydrates:
33
g
|
Protein:
4
g
|
Fat:
8
g
|
Saturated Fat:
1
g
|
Polyunsaturated Fat:
2
g
|
Monounsaturated Fat:
4
g
|
Trans Fat:
1
g
|
Cholesterol:
28
mg
|
Sodium:
184
mg
|
Potassium:
106
mg
|
Fiber:
2
g
|
Sugar:
14
g
|
Vitamin A:
70
IU
|
Vitamin C:
2
mg
|
Calcium:
74
mg
|
Iron:
1
mg