This Healthy Chicken Leek and Potato Bake is an easy baked chicken recipe! Packed full of leeks and potatoes, this dinner is just prep it and forget it while everything bakes in the oven for dinner that's healthy, flavorful, and gluten-free!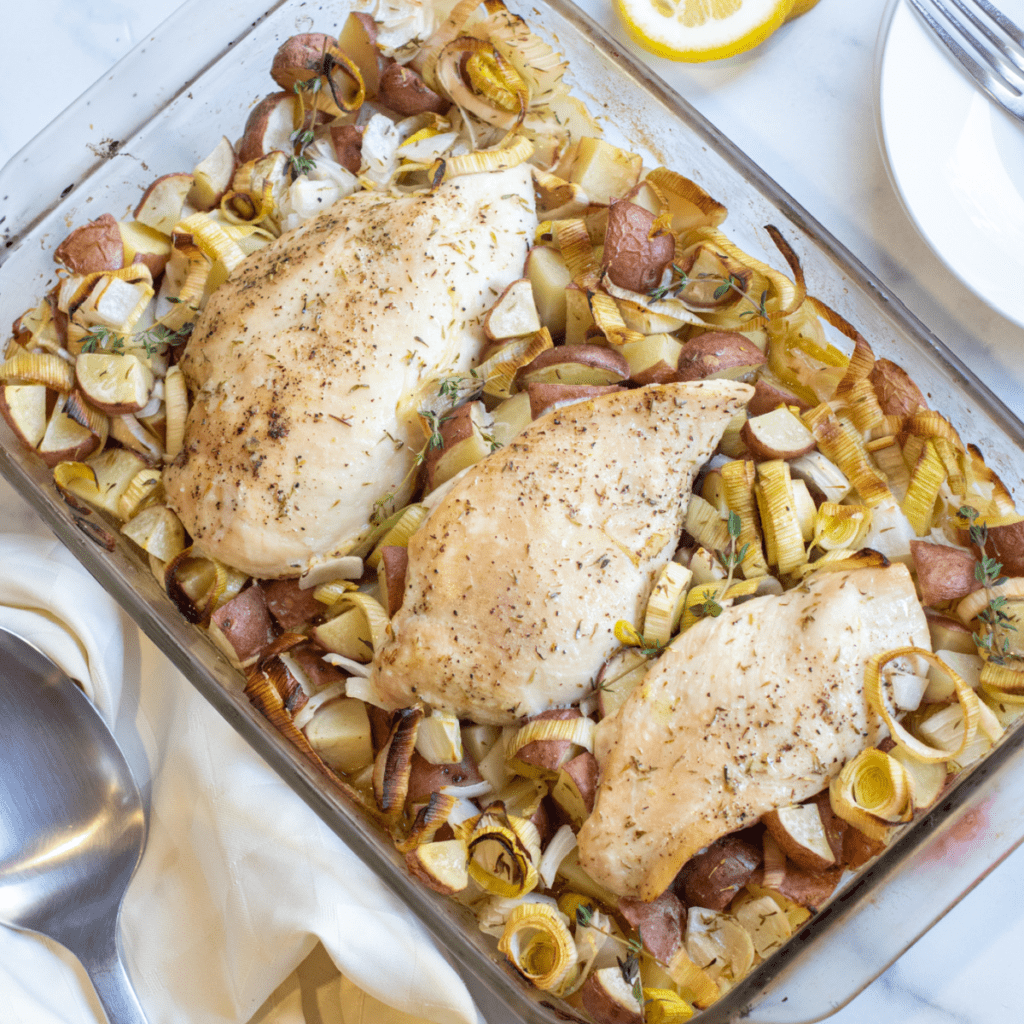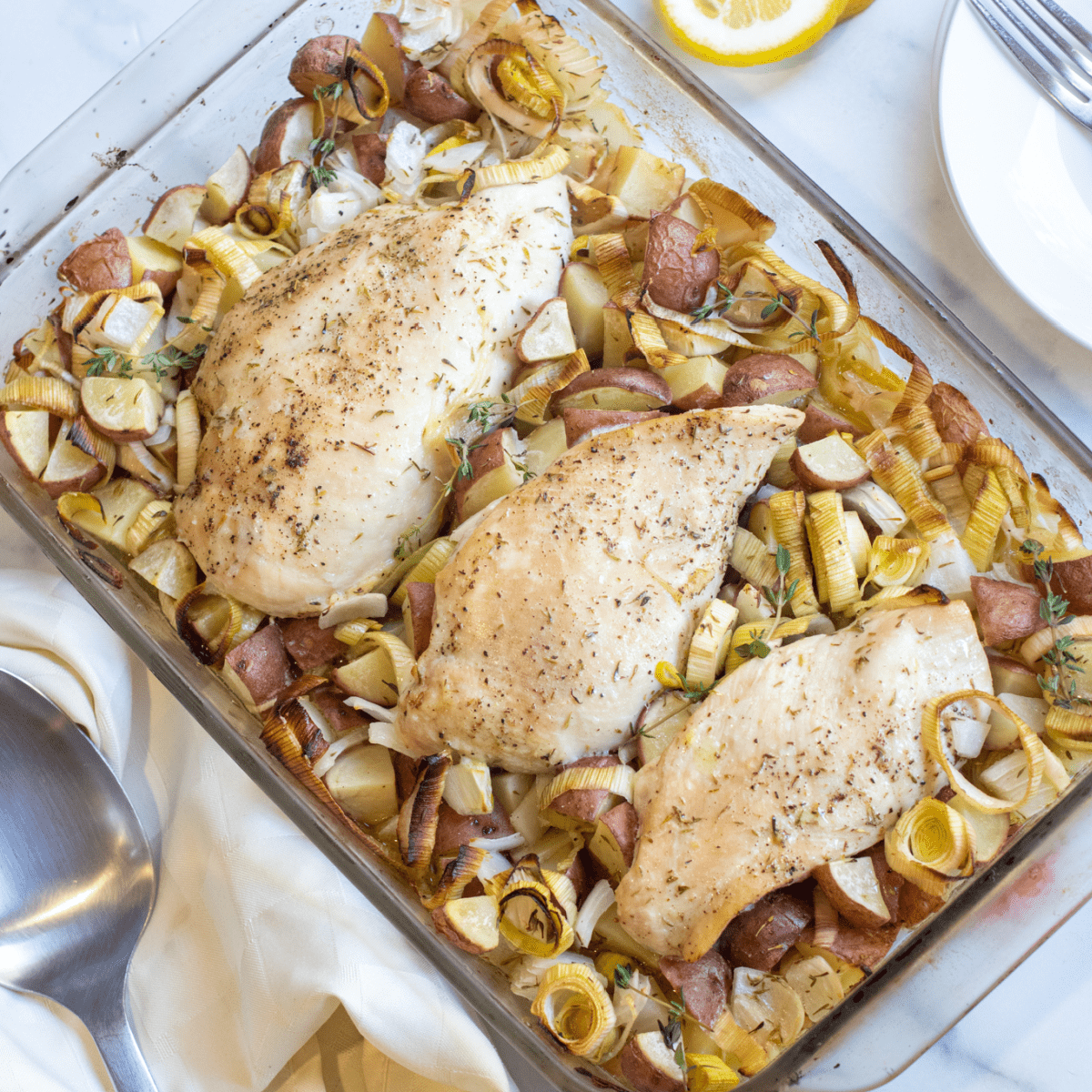 Anyone else love a low-maintenance dinner? One that takes easy simple prep and then you just pop it all in the oven and let it do its thing? Same. That's exactly what this Healthy Chicken Leek and Potato Bake is! Baked chicken with fresh leeks and potatoes in a light, but flavorful lemon thyme vinaigrette. A gluten-free baked chicken dinner that's takes some time to cook, but a set it and forget kind of a meal.
Ingredients Needed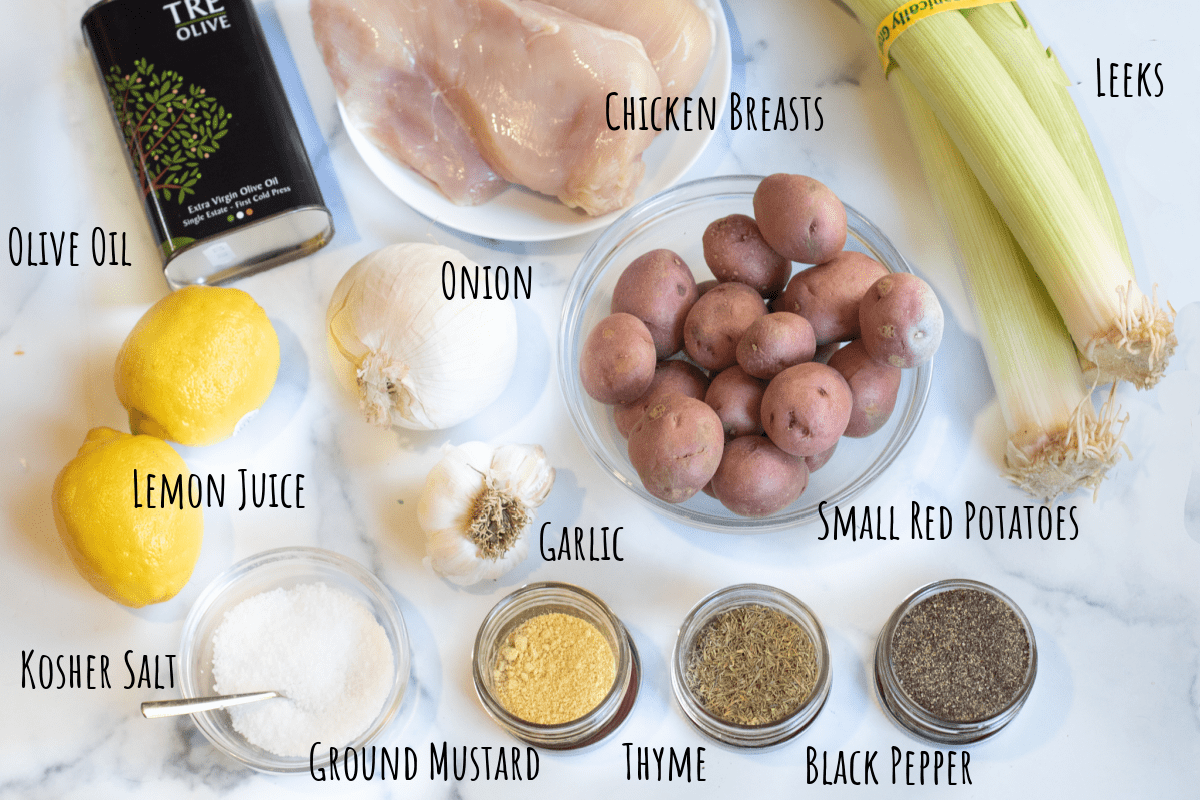 Chicken - We love chicken breasts for this recipe. Bone-in thighs would also work for this cook time, but boneless thighs will cook faster than the potatoes.
Leeks - Everytime I cook with leeks I realize that we don't cook with them enough! Their sweet oniony flavor pairs perfectly with chicken, potatoes, and thyme!
Onion and Garlic- More allums! Because leeks, garlic, and onions together is just delicious. We use white onion because that's our favorite, but you could also use a sweet yellow, too.
Potatoes - Our favortie for this are small red potatoes, but any potato would be great. Just be sure to cut them up small, about 1-1/2 inches to ensure they're all well cooked through.
Spices - Salt and pepper, of course, but then also plenty of thyme and just a little ground mustard, which is such a complimentary flavor to not only leeks, but also thyme!
Step-by-Step Instructions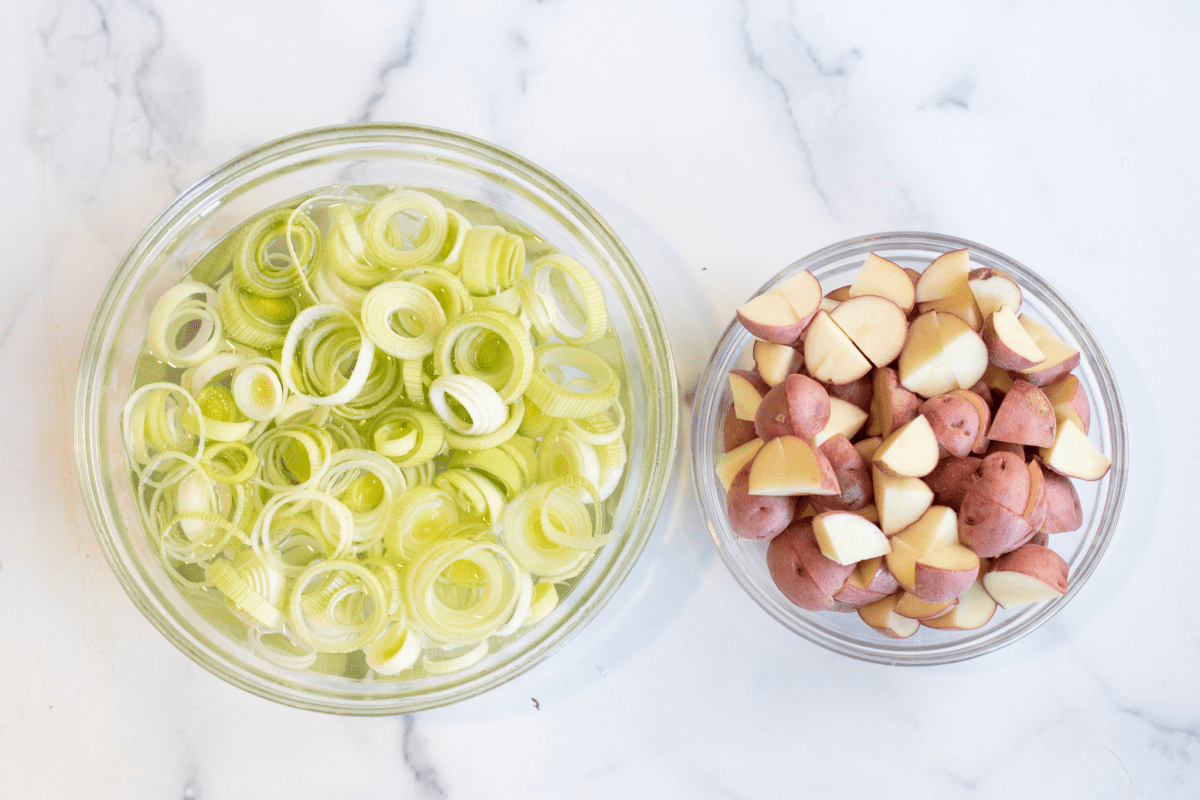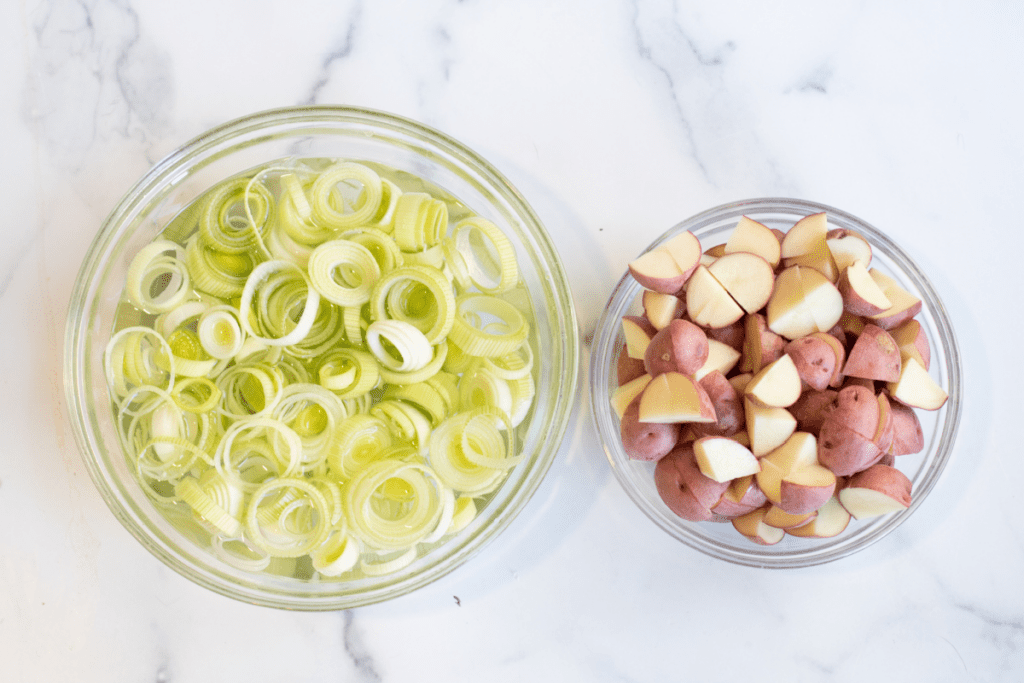 Always clean your leeks!
The first step is to get all of the little bits of dirt that can hide out in between the layers of your beautiful leeks. All it takes to do that is to slice off the white and light green parts of the leek and soak them in some water. Meanwhile, you can give your little potatoes a choppity chop.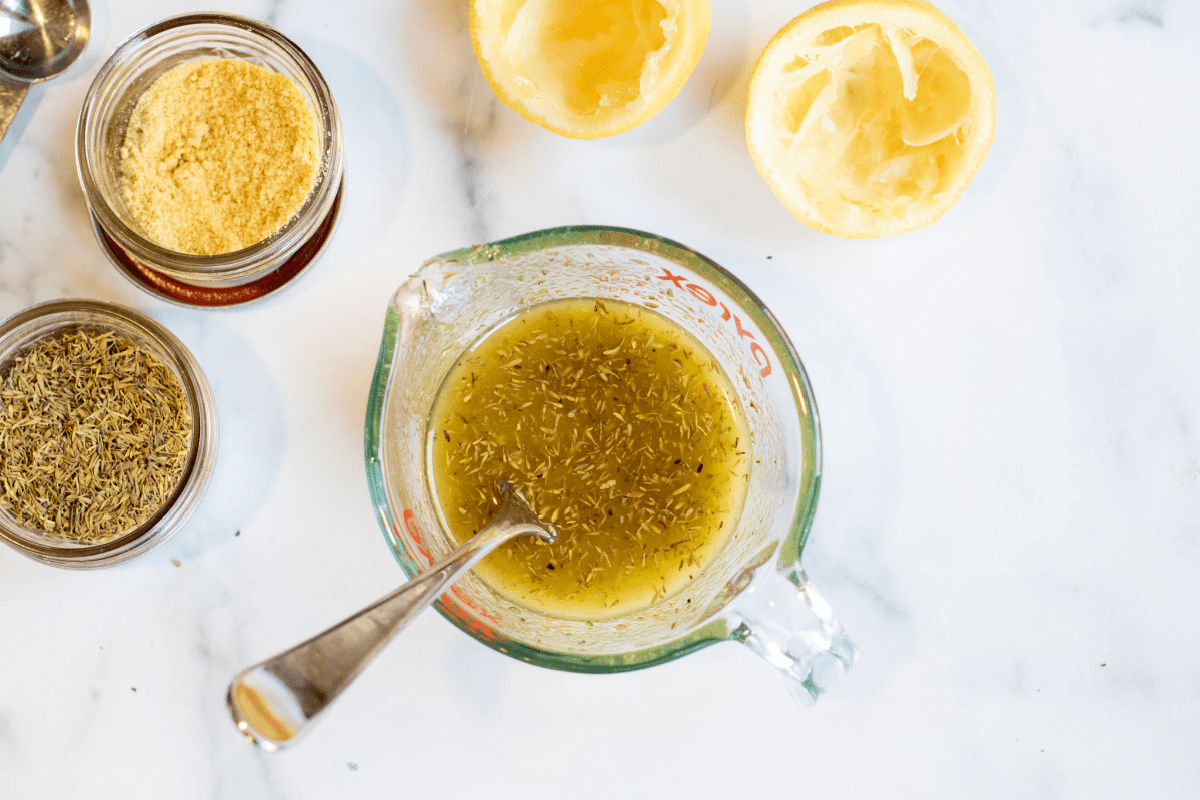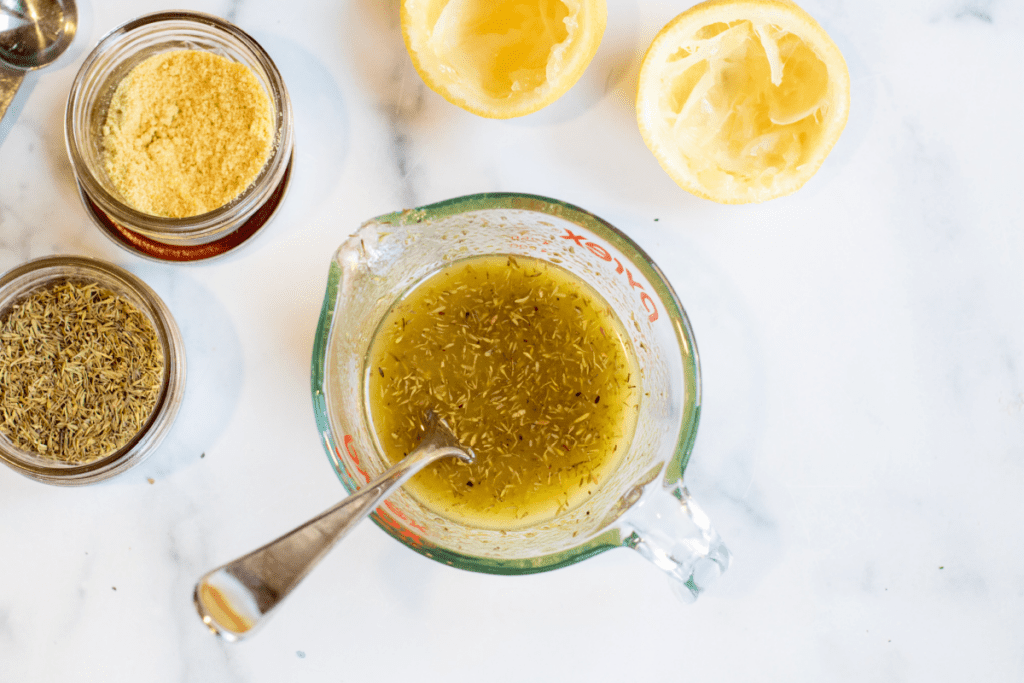 Vinaigrette
This is where all of that fresh, bright flavor comes from that just perfectly highlights all of the components of this healthy chicken bake.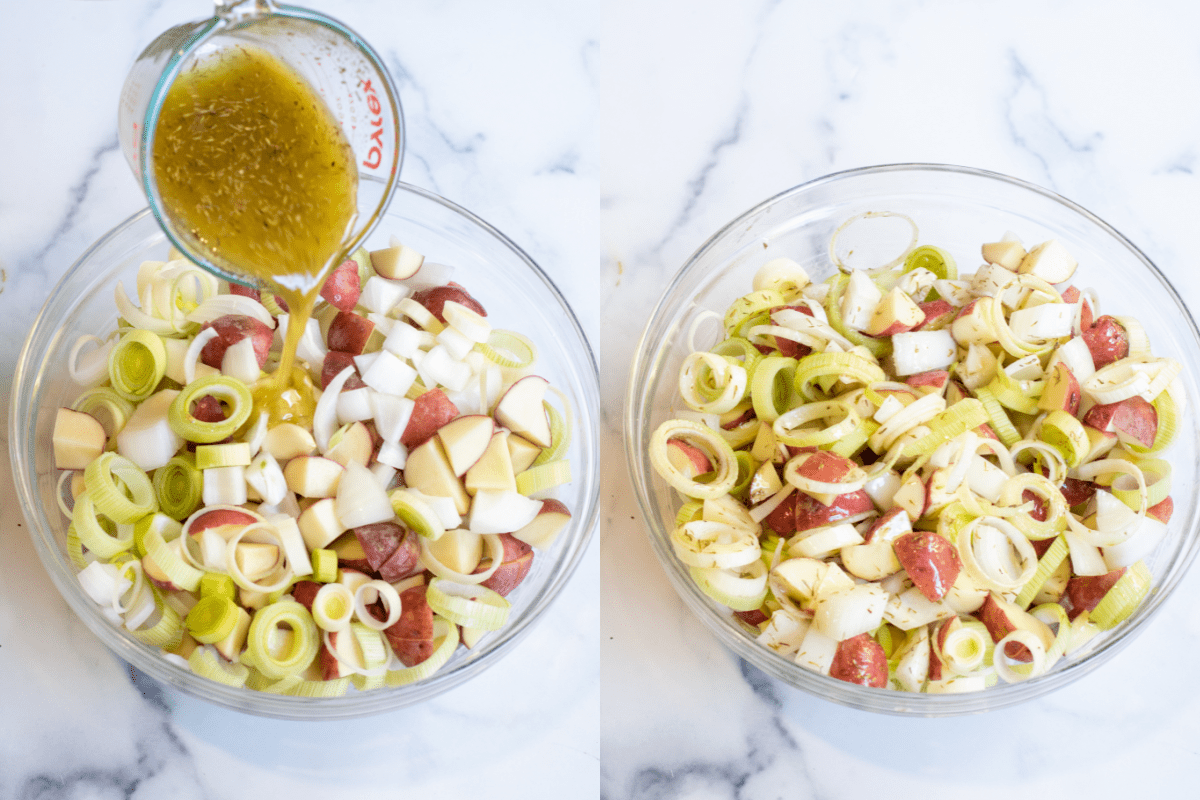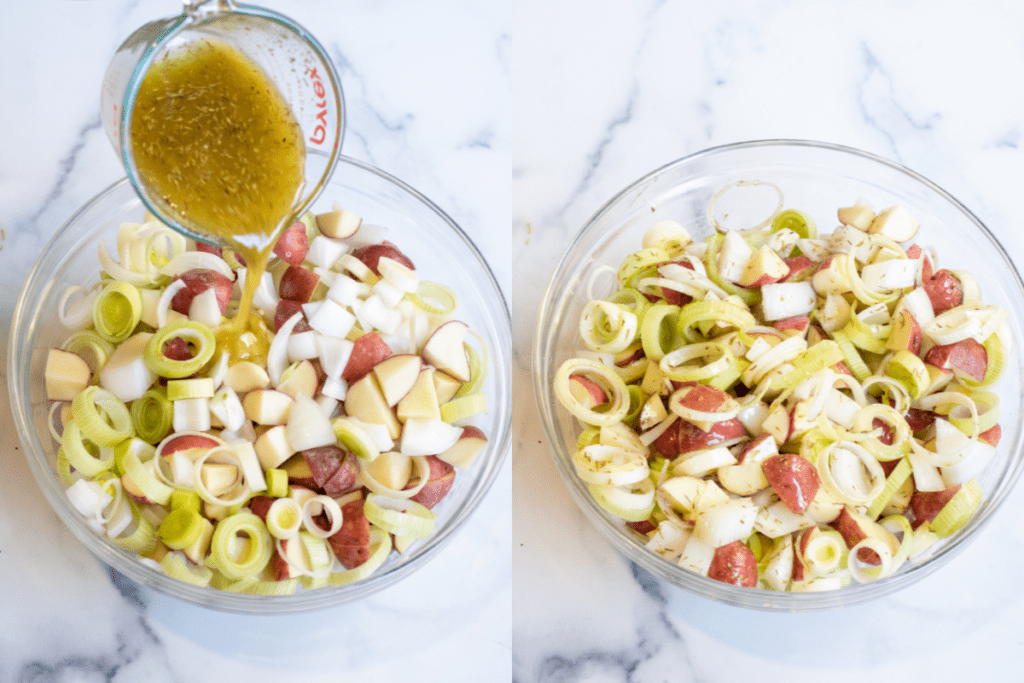 Mix it all Together
Add all of your rinsed leeks, potatoes, garlic, and onion together in a bowl and give it a good mix with the vinairgrette.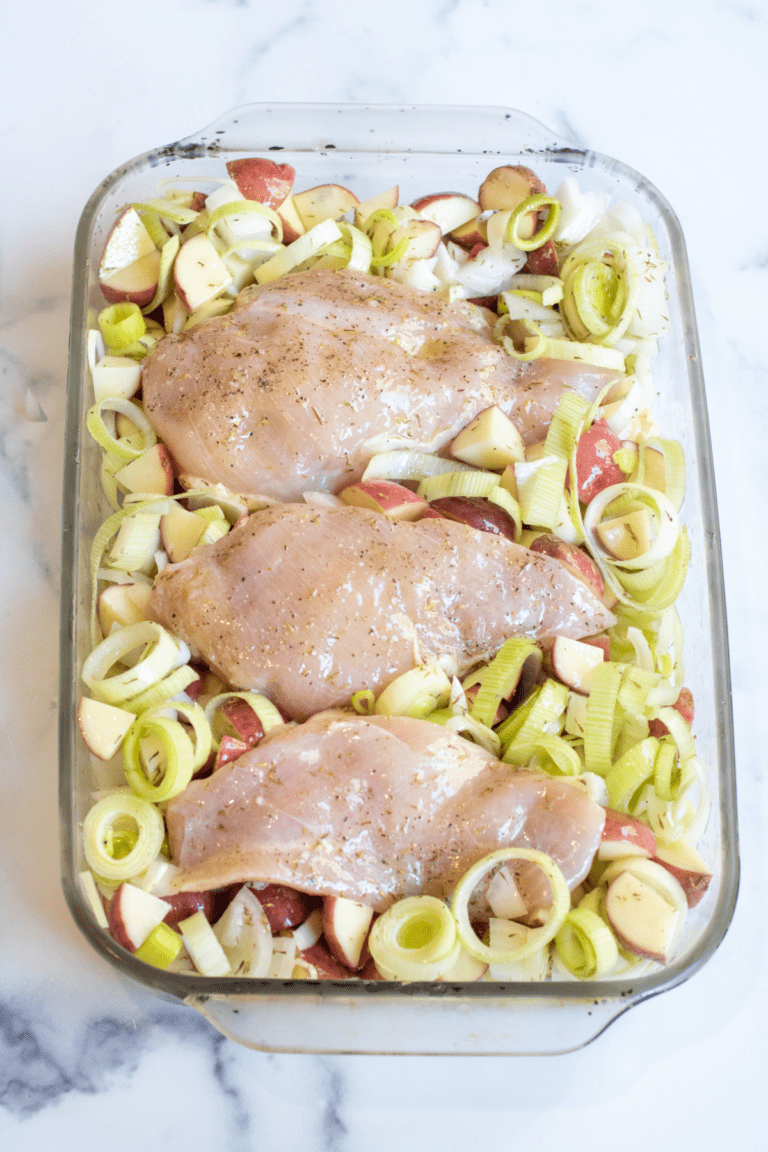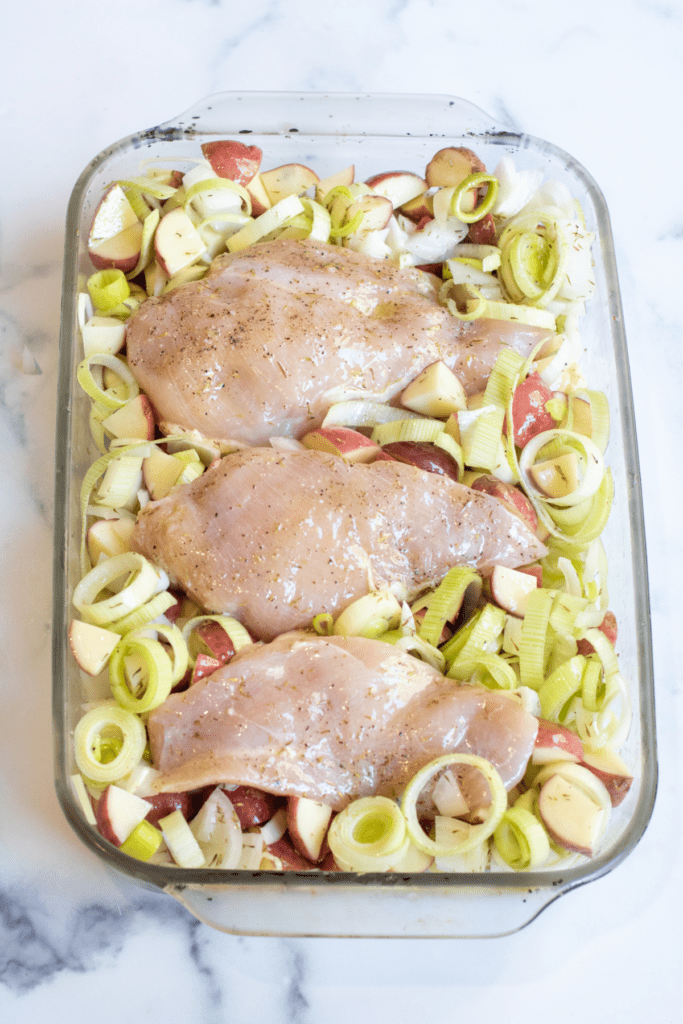 Season Chicken and Add it all to a Baking Dish
Give that chicken a good season and then add it to your baking dish. Make sure that your chicken rests on the bottom of that baking dish, it'll help it cook faster.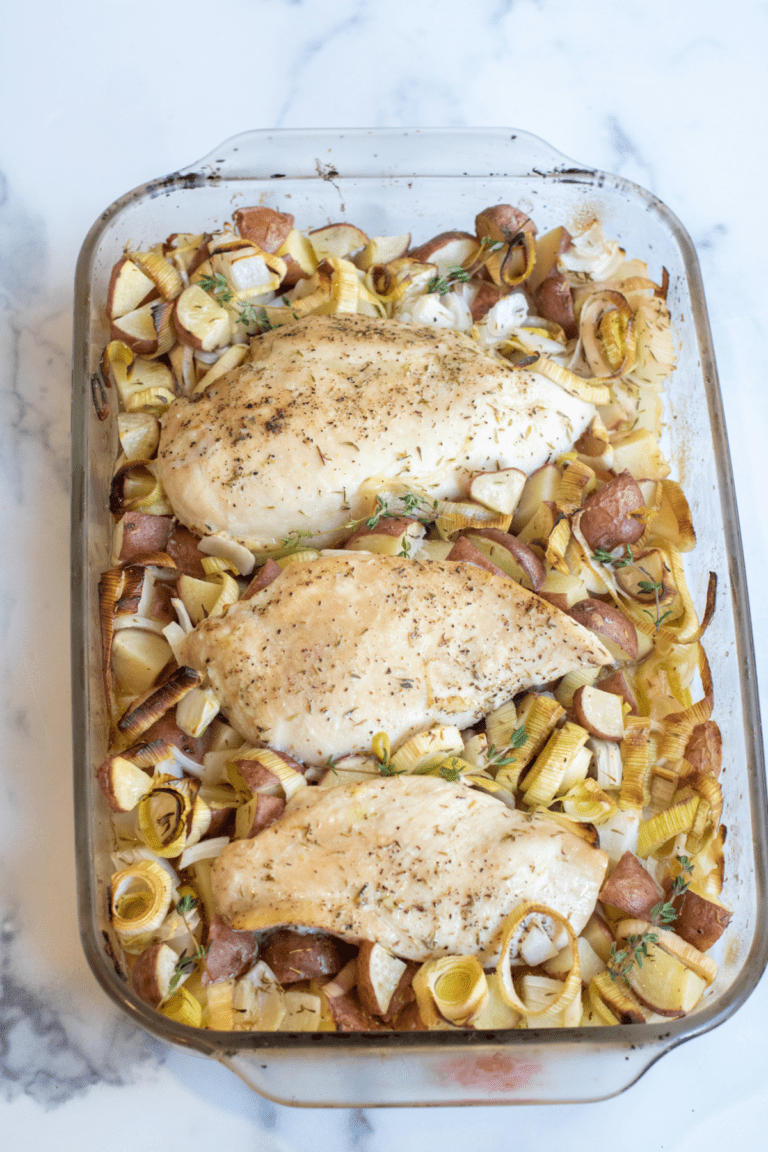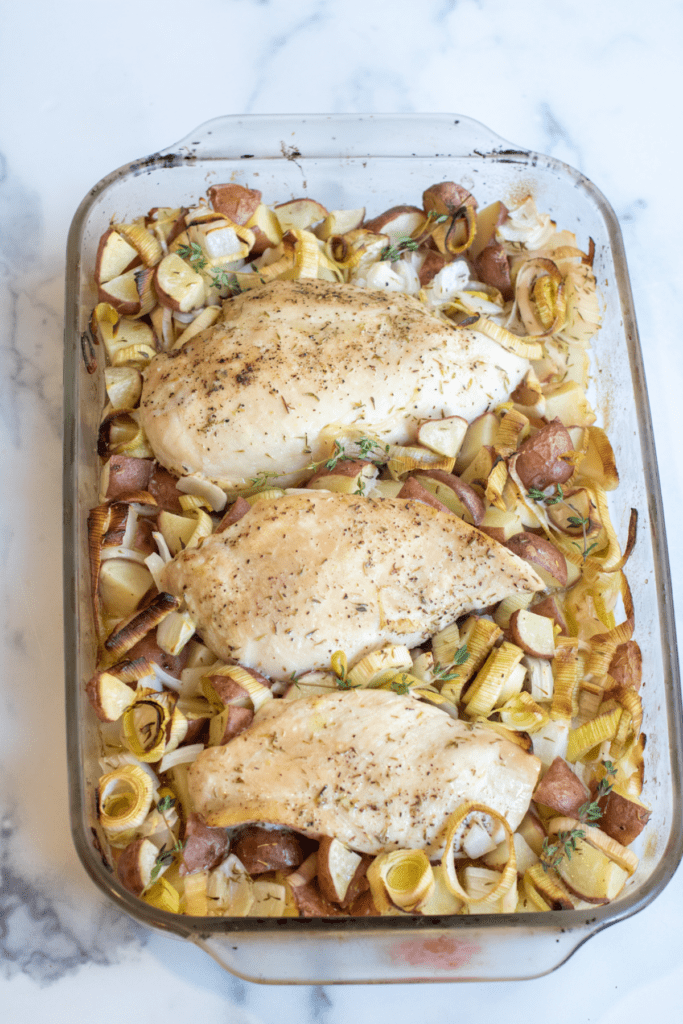 Bake!
Baked for 45-60 minutes (dependent upon the side of your chicken breasts) and you have a light and bright Healthy Chicken Leek and Potato Bake with juicy chicken breasts and leeks and potatoes that are tender and full of spring flavors!
If you love the flavors of leek and potato together, then you have to try our Healthy Leek and Potato Soup! Or another recipe with leeks, our German Potato Salad!
Baking Tips
Cutting Leeks
For cutting leeks, you will want to cut off the root of the leek off and then slice them in rounds just before it starts to turn dark green. All of the white and light green parts of the leeks is the good stuff!
Size of chicken will affect baking time
Have you noticed lately how incredibly large chicken breasts (even organic ones) are getting? Those big breasts are going to take longer, so somtimes we cut them in half for this recipe, which cuts down on the cooking time. To be sure, we always check with our Instant Read Thermometer that the internal temperature of the chicken has reached at least 165 degrees.
Dried vs. Fresh Thyme
Either of course works great. 1 teaspoon of dried thyme = 1 tablespoon of fresh. We prefer to use mostly dried in this recipe because 2 tablespoons of fresh thyme is a lot to clean off of those tiny little twigs!
Keep the potato sizes even
This will also ensure even cooking since there's nothing worse than having a dish where some potatoes are fully cooked and others are not.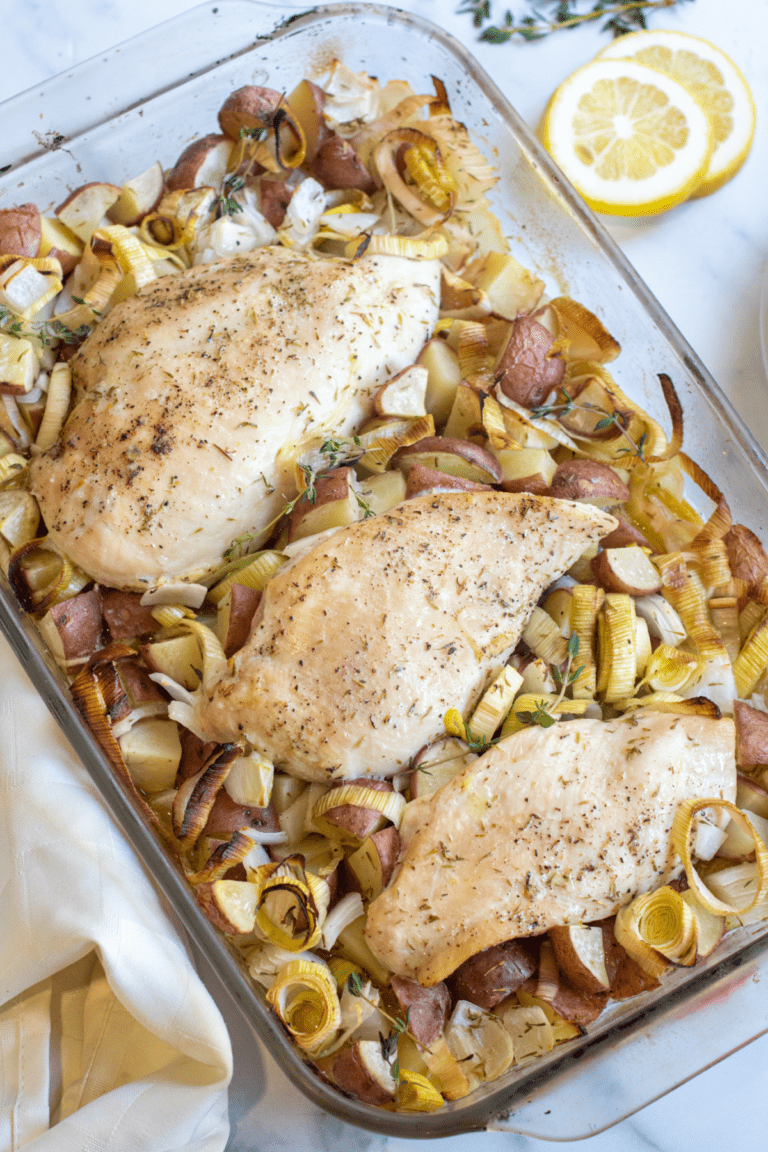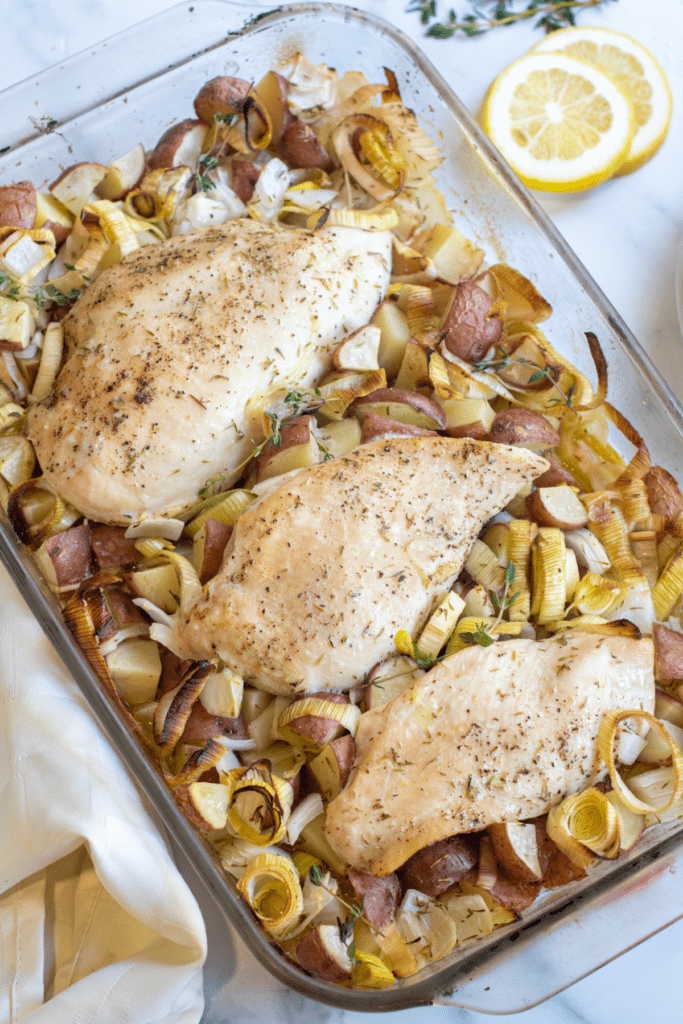 C'mon Spring! We're ready for you and all of your gorgeous produce.
Other Chicken Favorites
Enjoy! As always, if you make this recipe or any of my others, I love to hear what you think! Leave a comment below, email me, or you can find me on Facebook, Instagram, and Pinterest!
If you want to see more, be sure to sign up for my 5 Easy Ways to Start Cooking From Scratch!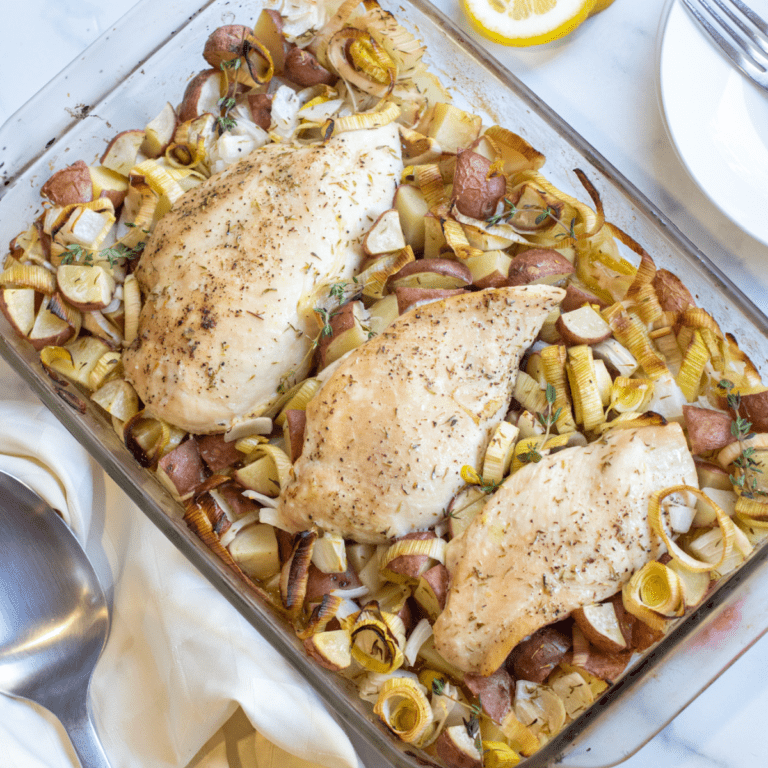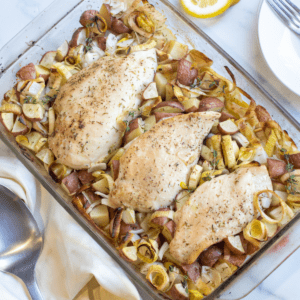 Healthy Chicken Leek and Potato Bake
A healthy baked chicken full of spring flavors!
Print
Pin
Rate
Equipment
9X13 baking dish

or larger
Ingredients
2

lbs

chicken breasts

3

leeks

approximately 4 cups when sliced

1

lb

small red potatoes

1

lg

onion

4

garlic cloves

peeled

1/2

cup

extra virgin olive oil

1/4

cup

lemon juice

3

teaspoons

dried thyme

divided

2 3/4

teaspoons

kosher salt

divided

1 1/4

teaspoon

ground mustard

1/4

teaspoon

ground black pepper
Instructions
Pre-heat oven to 375 degrees.

Remove root from leeks. Slice into thin rounds until just before the dark green part of the leek. Add rounds to a large bowl, pushing rounds out to separate as you add them to a bowl. Fill the bowl with cold water and let leeks soak for 10 minutes.

Meanwhile, chop the small potatoes into quarters (about 1 inch) or evenly sized pieces. Chop the onion and set aside.

Prep the vinaigrette by adding olive oil, lemon juice, 1 3/4 teaspoons of kosher salt, 2 teaspoons of thyme, and ground mustard to a small bowl of small pyrek with a pour spout. Whisk vigerously.

Season both sides of the chicken breasts with 1 teaspoon of kosher salt, 1/4 teaspoon of black pepper, and 1 teaspoon of thyme. Place in baking dish.

Drain leeks. Return to bowl and add potatoes, onions, and peeled garlic cloves. Mix.

Give the vinaigrette another whisk and then drizzle over the bowl and mix well so that all of the leeks and potatoes are coated. Be sure that it all is poured on in case the salt has settled to the bottom of the dish. Add to dish with chicken, surrounding chicken.

Bake for 45 minutes to 1 hour, until the internal temperatue of the chicken reads at least 165 degrees.
Notes
Bake Time
This will be dependent upon the size of your chicken breasts. For very large breasts (that are close to a pound each) slice in half. If using halved breasts, cooking time will likely be closer to only 45 minutes.
Substitutions
Chicken - You can also use bone-in chicken thighs which will take 60-75 minutes to cook through fully. Always be sure to check the internal temperature of your chicken at the thickest part and that it has reached at least 165 degrees.
Potatoes - Use your favorite! Just be sure to cut them into small (about 1 inch) even pieces.
Onion - Use your favorite!
Garlic - Chop or dice if preferred.
Thyme - Use 1 tablespoon of fresh for every 1 teaspoon of dried.
Salt - Substitute 1 1/4 of regular table salt for 1 1/2 teaspoons of kosher salt. Or 3/4 teaspoon of table salt for 1 teaspoon of kosher salt.
Nutrition
Calories:
631
kcal
|
Carbohydrates:
30
g
|
Protein:
52
g
|
Fat:
34
g
|
Saturated Fat:
5
g
|
Polyunsaturated Fat:
4
g
|
Monounsaturated Fat:
22
g
|
Trans Fat:
1
g
|
Cholesterol:
145
mg
|
Sodium:
1897
mg
|
Potassium:
1516
mg
|
Fiber:
4
g
|
Sugar:
5
g
|
Vitamin A:
1219
IU
|
Vitamin C:
28
mg
|
Calcium:
86
mg
|
Iron:
4
mg