Phew. What. A. Weekend. To celebrate the last weekend in my 20's, we went to Vegas. And it was awesome. Between eating at Giada De Laurentiis new restaurant and having front row seats to see the Cirque del Soleil LOVE show at the Mirage, we had a phenomenal time with 10 of our favorite people. It was the perfect way to say goodbye to one decade and welcome another. So while we were there, I (as I always do) perused through the hotel guest room directory. Having been the Assistant GM at a hotel in Vail, CO, I still see / like to notice certain things about hotels. One thing that caught my eye this weekend was the room service menu. And the fact that a bagel, ONE bagel with butter or cream cheese was NINE DOLLARS. Nine! Just ONE! You could buy over a dozen for $9 anywhere else! I found it extremely comical as well as sad. Then I realized, I wanted one. I wanted a bagel. Me, the person who hasn't eaten a bagel in at least the past few years and I don't think since Dan and I have lived together we've ever had them in the house, wanted one. Even though I never buy them, this stupid $9 bagel at the Westgate Hotel in Vegas made me want a freakin' bagel. But I wasn't about to pay $9 for one. Instead, they were the first thing I made when we got home.
Turns out, they're actually kind of easy. They're like making any other delicious bread. First, I mixed 2 cups of water with yeast and sugar.
I let that foam and activate and then I slowly added 4 cups of all purpose flour into the mixer until it all came together. It ended up being half all purpose and about half bread flour because that's what I had and I didn't feel like going to the store.
Then, I took the dough out of the mixing bowl and plopped it onto a floured surface. I added another half a cup of flour and kneaded out the dough, then added another half a cup and kneaded some more until it came together into a slightly stiff dough.
Into a greased bowl and covered, I let the little dough do it's rising thing for an hour. Which ended up turning into more than just one because I left to go to an eye doctor appointment thinking I was all clever and that my dough would rise while I was gone being reminded of how blind I am without my contacts. But then on my way home, because I was so cocky and proud of myself in how productive I was being on my day off, I ended up blowing up a tire and had to get towed to a tire place where I ended up replacing all of my tires because we'd been planning on doing so in January anyway. So, the hour turned into a much more expensive 3 hours…
Once I finally got home from my fiasco of a morning, I punched down the dough and broke off 12 pieces that weighed out to be between 2.5 and 3.5 oz. Then I rolled them out into little logs…
… and did my best at making them into little rings by connecting the two ends of the log. This was harder than it looked and took me an embarrassingly long time to complete, especially given how bad most of my little rings ended up.
See? Pretty bad. Barely resembling bagels, even.
So, I just threw a towel over them to let them do their final rest / kinda rise and hoped that when they were done they'd resemble bagels more.
They didn't.
Oh well. Next, I'd brought a pot of water to boil with a tablespoon of sugar and then started par-boiling the little misshapen bagels.
I flipped them around in the water for about 60 seconds.
Then, for half of them, I dipped the tops of them in some raw sesame seeds.
Just half though. The rest I wanted to be plain.
Then into the oven for about 30 minutes at 400°,
and we had ourselves sesame seed and plain bagels!
Seriously, I cannot remember the last time I had a bagel, but these are so. freaking. good.
Right out of the oven with some butter? Yuuummm. Despite not having the signature bagel hole (oops), they still had the signature slightly sweet, chewy middle with the smooth denser, but still soft outer layer.
They may not look like bagels, but damn do they taste like bagels.
Even better, we have some sesame seed bagels too! A dozen bagels for pennies on the dollar for what you'd spend at any store!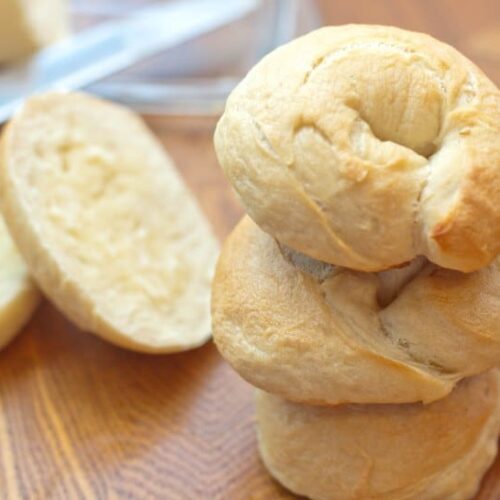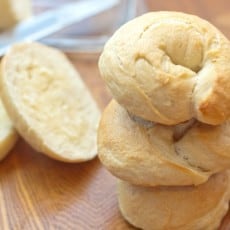 Ingredients
2

cups

warm water

about 110 degrees F

2

1/4-ounce packets active dry yeast

3

tablespoons

granulated sugar

plus 1 tablespoon

5 to 6

cups

all-purpose flour

2

teaspoons

salt

2

teaspoons

vegetable oil

Optional Toppings: sesame seeds

poppy seeds, any of your other favorite bagel toppings
Instructions
Combine the water, yeast, and 3 tablespoons of the sugar in the bowl of an upright mixer fitted with a dough hook. Stir and let stand until foamy, about 5 minutes. Gradually add 4 cups of the flour and the salt, and mix until the mixture comes together.

Add 1 to 1 1/2 cups additional flour 1/2 cup at a time to make a stiff dough, either stirring with the wooden spoon or working with your hands. Turn out onto a lightly floured surface and knead until smooth and no longer sticky, about 5 minutes, adding just as much flour as needed. (Dough should be heavier and stiffer than regular yeast bread dough.)

Grease a large bowl with 1 teaspoon of the oil. Place the dough in the bowl, turning to coat. Cover and let rise in a warm, draft-free spot until almost doubled, about 1 hour.

Remove from the bowl and punch down the dough. Divide into 12 equal pieces, about 2 to 3 ounces each, measuring about 4 inches across. Form each piece of dough into a ball. Roll each ball into a 4 to 6-inch log. Join the ends and place fingers through the hole and roll the ends together. Repeat with the remaining dough. Place on a lightly greased surface, cover with a clean cloth, and let rest until risen but not doubled in a draft-free spot, 20 to 30 minutes.

Preheat the oven to 400 degrees F.

Grease a baking sheet with oil.

In a large, heavy pot, bring a large pot of water and the remaining tablespoon of sugar to a boil. In batches, add the bagels to the water and boil, turning, for 30 seconds to 1 minute. Dip the bagel tops in desired toppings. Flip bagels onto the prepared sheet pan. Bake for 5 minutes, turn over and cook for another 30 to 35 minutes.

Remove from the oven and let cool on a wire rack.