You've made potato pancakes before, but these Leftover Mashed Potato Waffles and Gravy are a new leftover mashed potatoes recipe that'll be sure to give new life to those leftovers! Easy to make and topped with gravy, a new repurposed twist on a classic.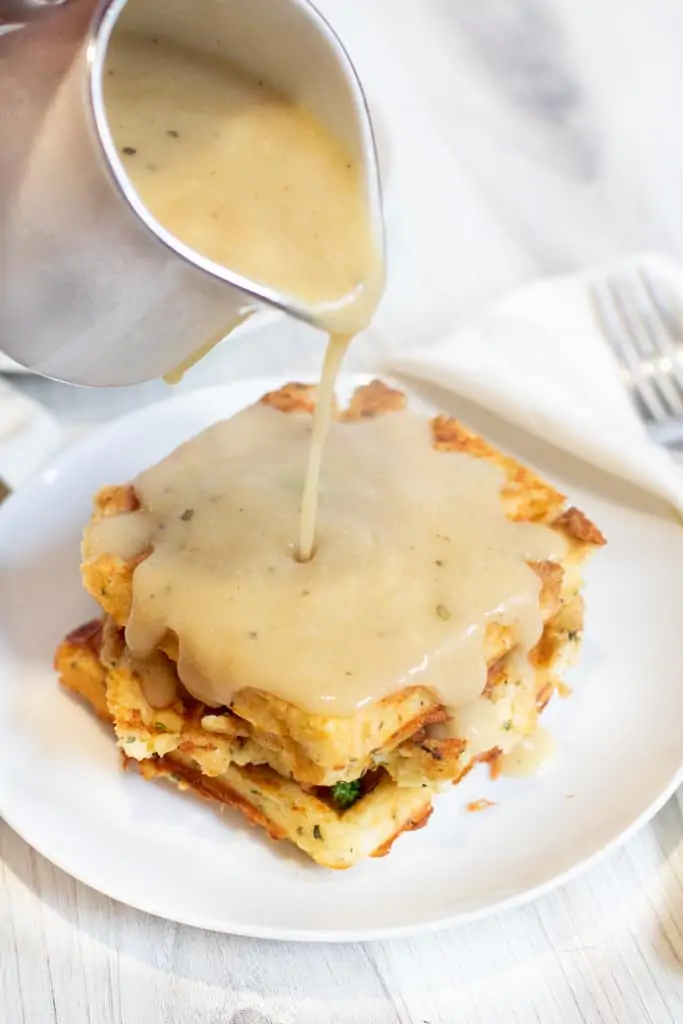 Every year I am just shocked by how quickly the holidays show up. But this year, this year I am getting ready early. Especially for all of those leftovers! Which inspired our latest and greatest recipe using leftover mashed potatoes, these Leftover Mashed Potatoe Waffles with Gravy!
While we definitely love a leftover potato pancake, my girls are downright bored of them. But what do they absolutely love? Waffles. You put anything into a waffle (even Denver Omlettes) and they are there for it! Hence the creation of this leftover potatoes recipe, which is crispy on the outside, soft on the inside, and hello, is there anything better than potatoes topped in gravy? If you have some leftover gravy, great, but if not, I have a recipe for our quick and easy homemade gravy made without drippings!
Ingredients Needed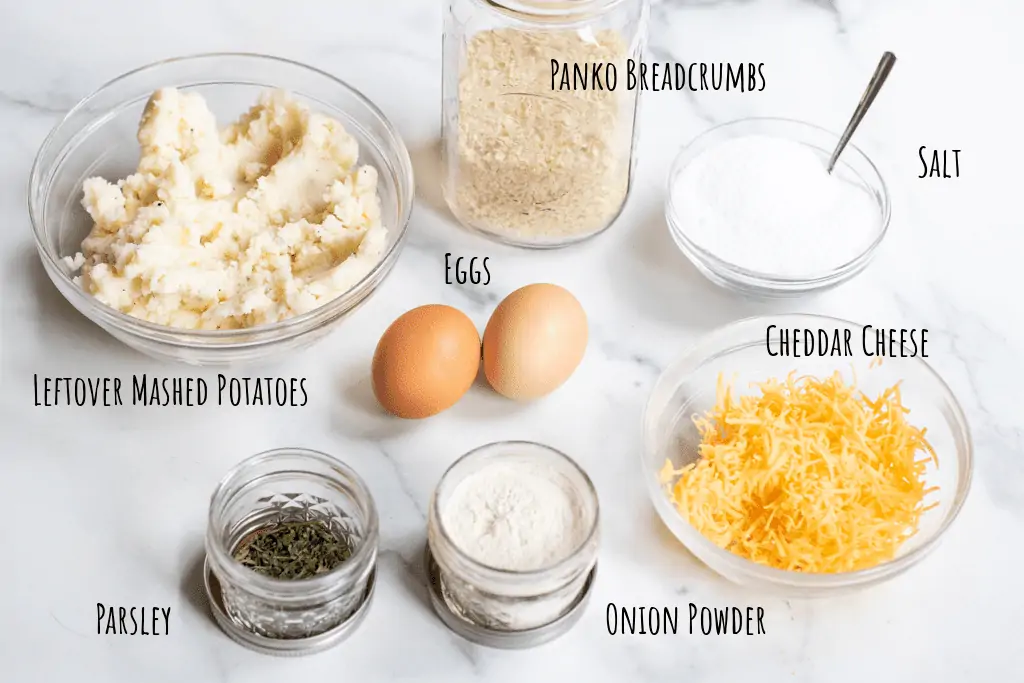 Leftover Mashed Potatoes - Because let's be honest, we all make way more mashed potatoes than we anticpate needing. This leftover mashed potato recipe is perfect for however you make your favore spuds.
Panko Bread Crumbs - Our go-to breadcrumbs (hello chicken tenders and zucchini fritters).
Eggs - Key for binding it all together.
Cheese - We love a good cheddar cheese for this, but whatever cheese you have would be delicious. Also, if your mashed potatoes are already supppperr cheesy, then maybe not needed.
Spices - We love some dried parsley, onion powder, and salt. But totally adjustable. Other great options are garlic powder, pepper, and oregano.
Minutes to Make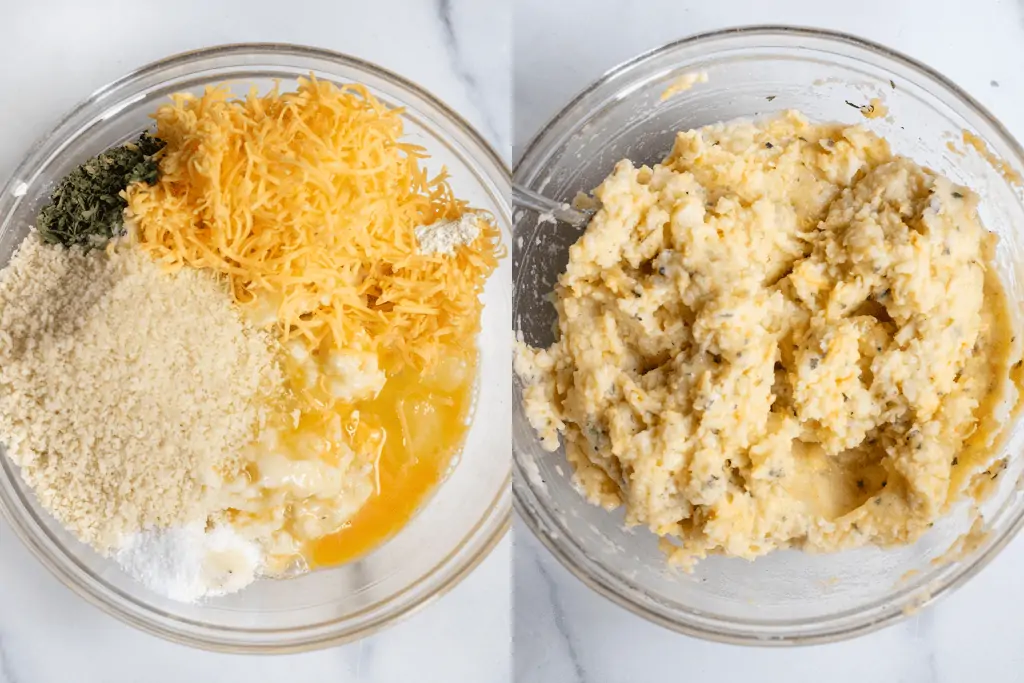 Mix it all. That's it! Add it all to a bowl and mix.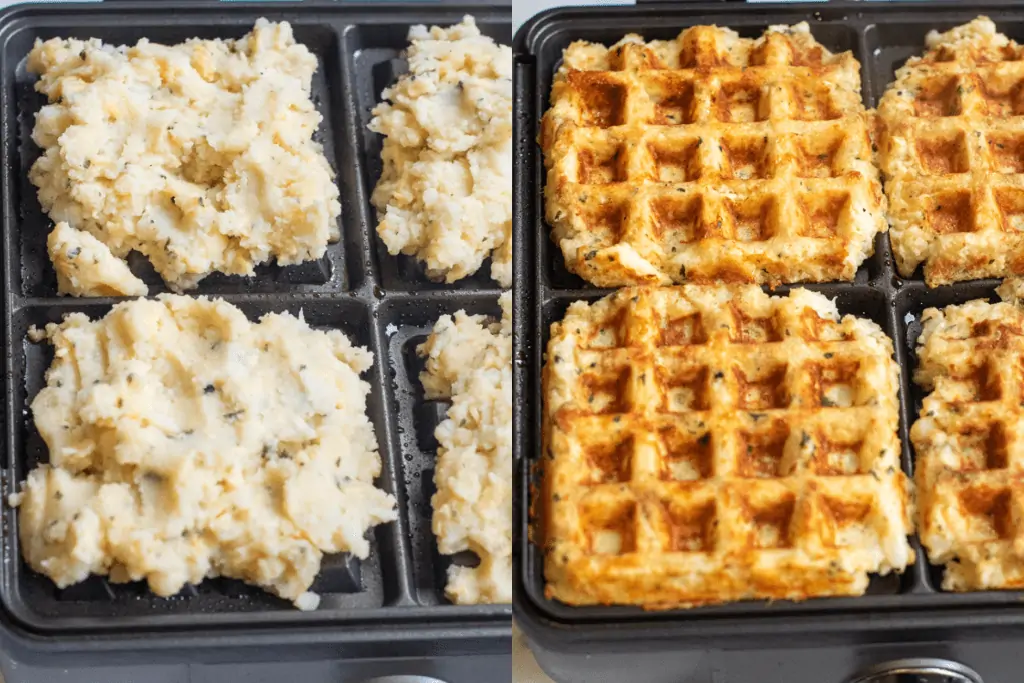 Cook in Waffle Iron until they're a little crispy on the outside and soft on the inside.
Potato Waffle Cooking Tips
Here are some of our cooking tips after all of our leftover mashed potato recipe testing.
Oil your Waffle Iron. So important no matter what you're cooking in it. We love a lil olive oil or butter spray. If you don't already own a misto, you should have one. It's so affordable and makes greasing so much easier but with a higher-quality olive oil, of your choosing, rather than the can you can buy in the store. But of course, your favorite nonstick cooking spray works great.
Spread the Potatoes. Fill those little waffle iron plates with your mashed potatoes. This "batter" is much thicker than a standard waffle batter so you need to do the spreading. Use a spoon to spread it out to the edges.
Don't lift too early! Resist the urge to peek until they're done! Let the little mashies do what they need to do, which is form a crispy crust and soft hot center.
Start the gravy while your waffle iron heats up. When you turn on your waffle iron to heat up, start that gravy. Then it can thicken while the leftover potato waffles cook.
Make the Gravy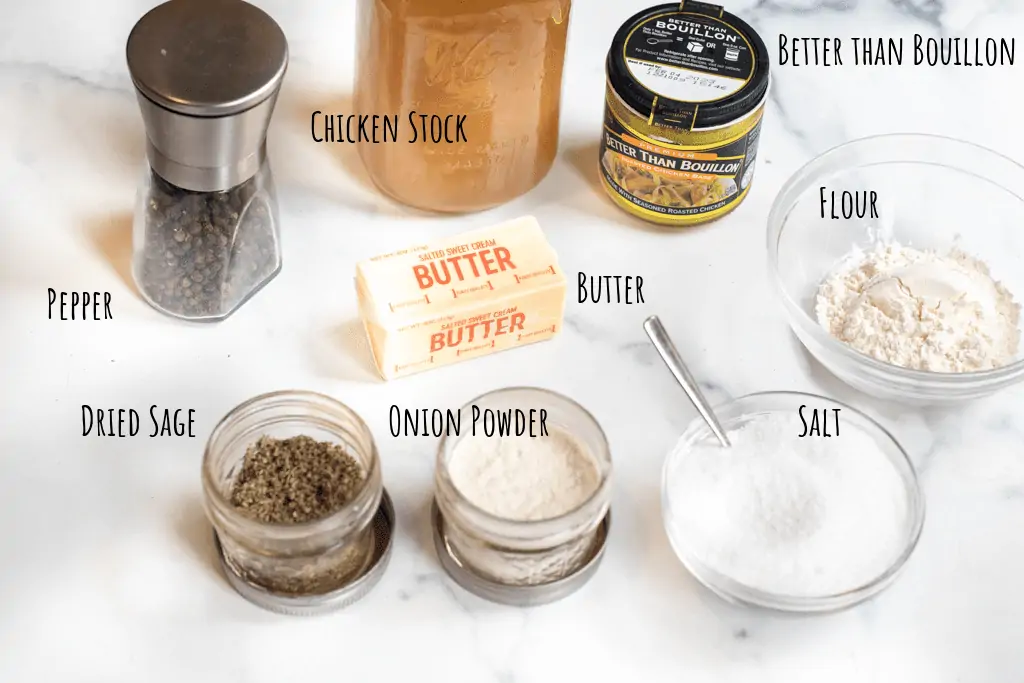 Have some leftover holiday gravy that just needs to be heated up? Perfect. Otherwise, here's how we make a quick and easy, drippings-free gravy.
Butter and Flour - Essential to make that roux which is what will thicken your gravy.
Chicken Stock - Or you could totally use any other stock you have like beef stock or vegetable stock.
Better than Bouillon -Whatever you use for stock, match your bouillon. This adds just the right amount of added flavor.
Spices - Sage, Onion Powder, Salt, and Pepper, which are the holy grail of seasonings for our gravys!
Once you have all of your gravy ingredients, then it's just a matter of makin' that gravy.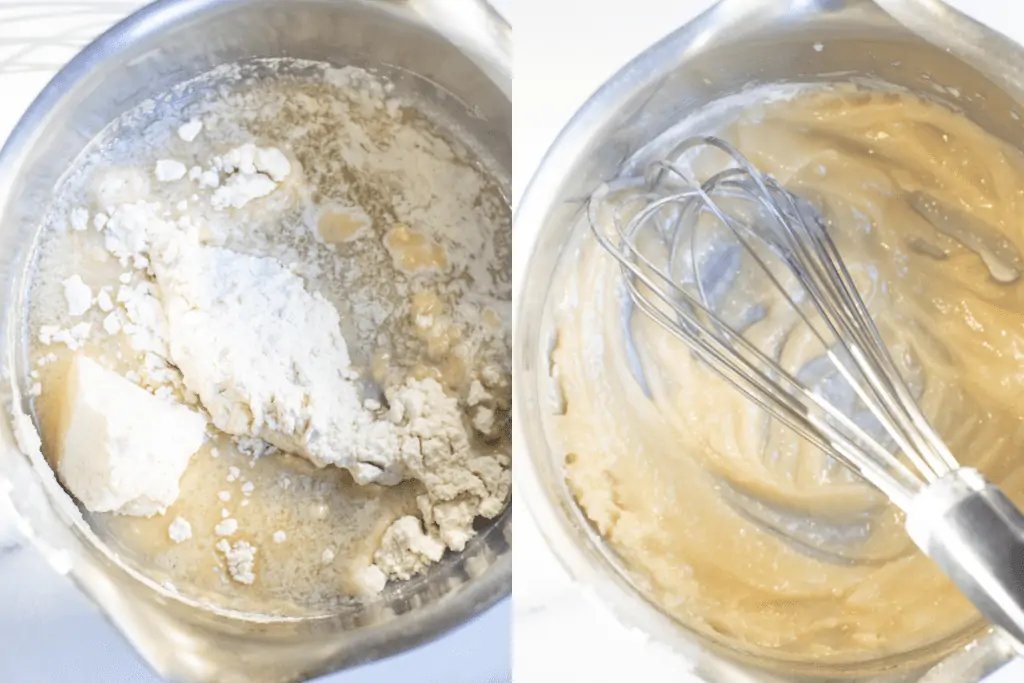 Make the Roux by whisking butter and flour with spices.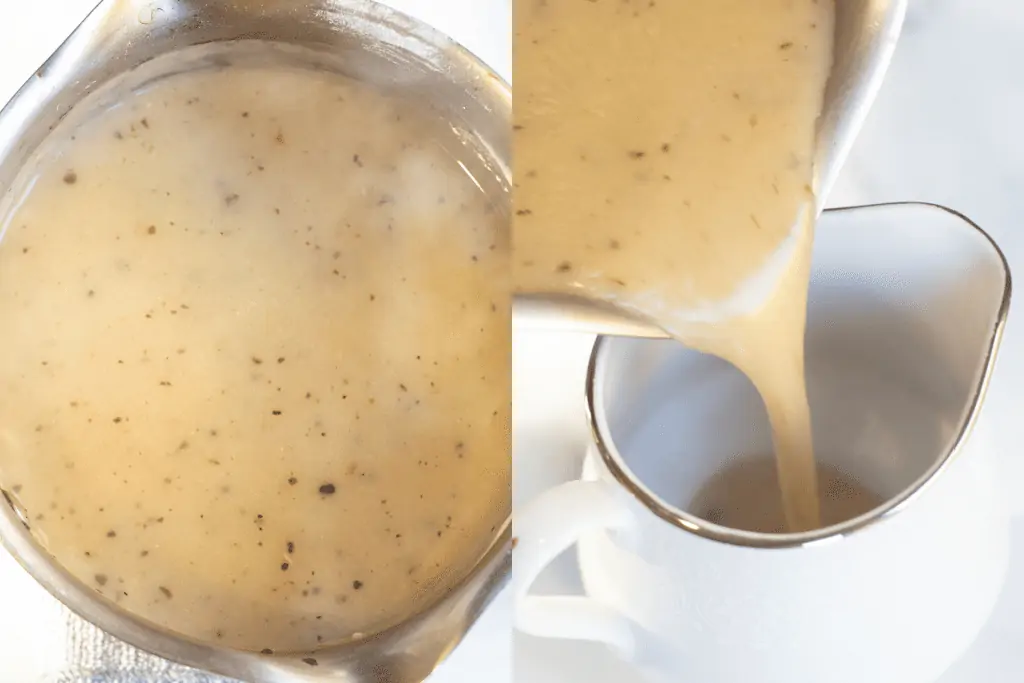 Slowly add the stock. Add that stocky slowly to the roux, whisking it in after each addition.
Let it Thicken. Once the stock is all incorporated, then just let it simmer to thicken. We let it thicken while the potato waffles cook, which is about 9-10 minutes. Stirring every couple of minutes.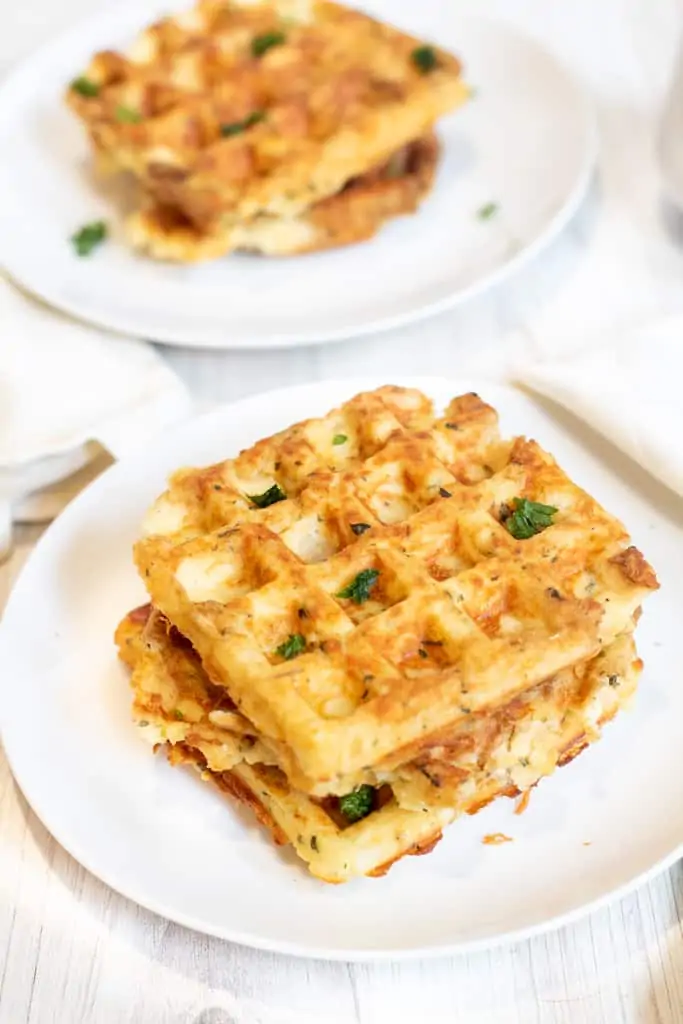 While that gravy is simmering and thickening, your waffles will finish cooking and then they'll be ready to top with gravy! Those little waffle holes are just begging for that gravy!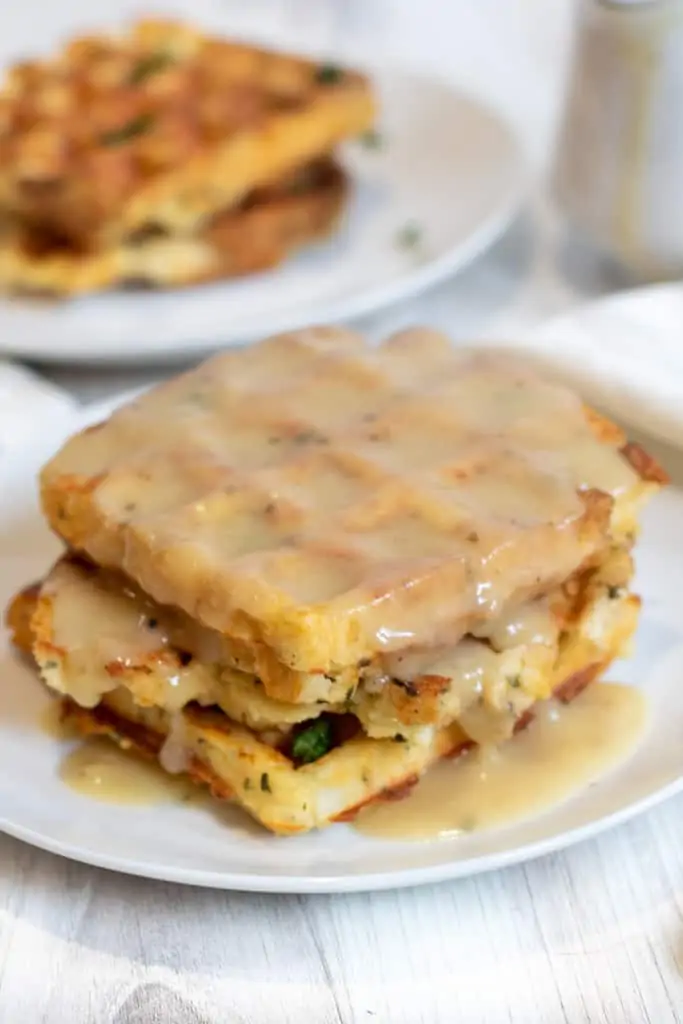 I mean, mashed potatoes and gravy, is there anything better?
This leftover mashed potato recipe is truly one to give those leftovers new life. And obviously not limited to the holidays. In our house, mashed potatoes are a way of life and so we often have leftovers. This has become such a hit in our house, that our girls have started asking that we make mashed potatoes just to make these Leftover Mashed Potatoes with Gravy!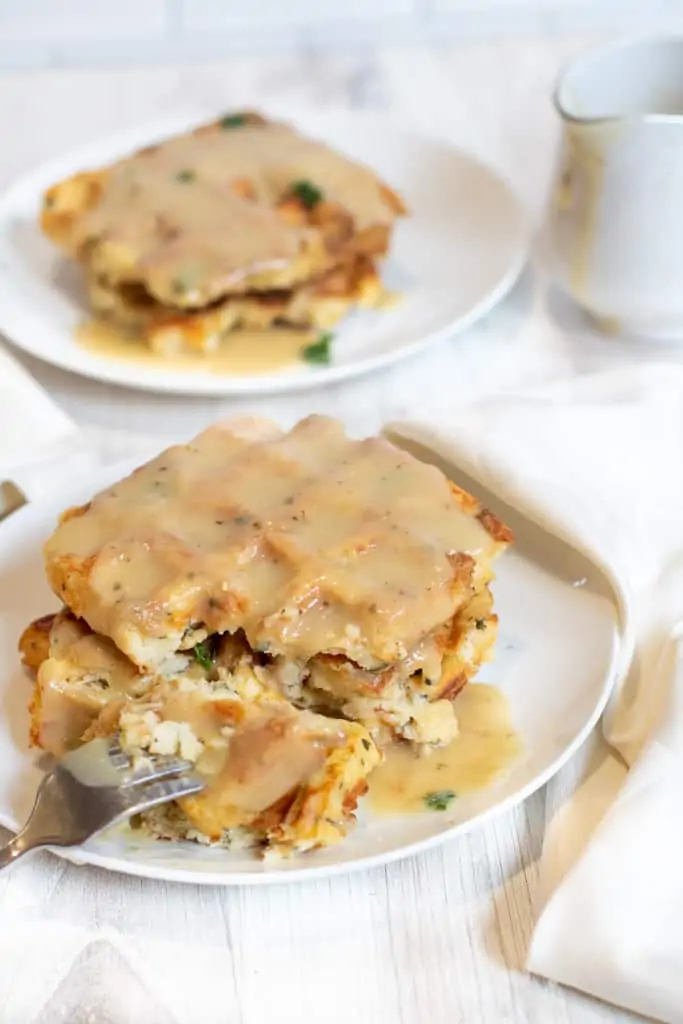 So while I love a lil' leftover turkey and mashed potato sandwich post-Thanksgiving, let me just tell you now, do not sleep on a leftover mashed potato waffle. It can be breakfast. It can be lunch. It can be dinner. These Leftover Mashed Potato Waffles and Gravy are delicious any time of the day!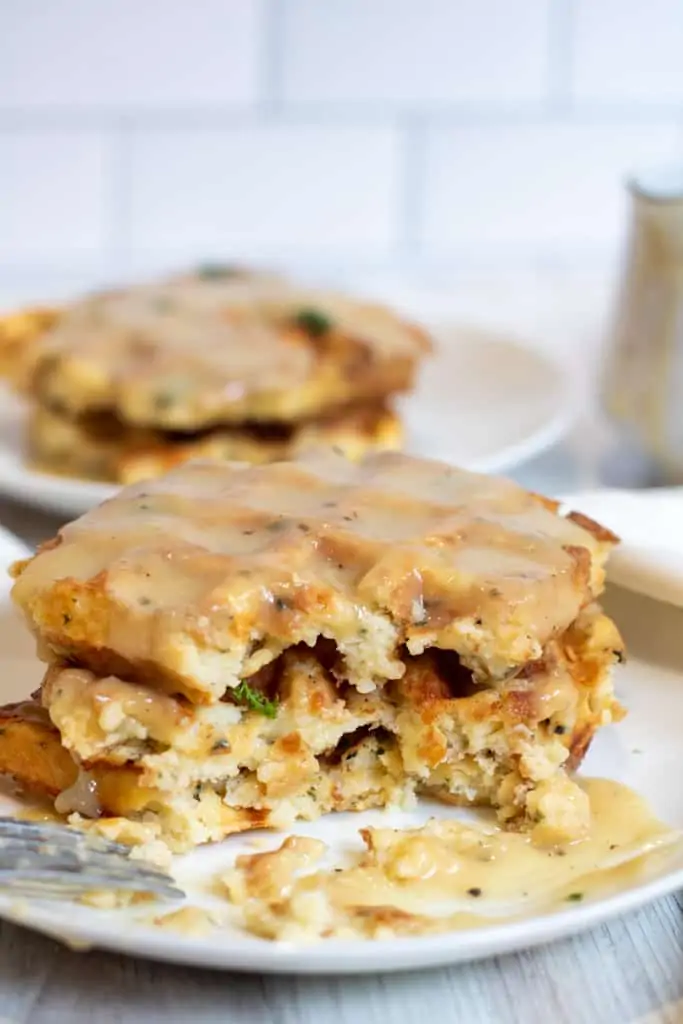 Enjoy! As always, if you make this recipe or any of my others, I love to hear what you think! Leave a comment below, email me, or you can find me on Facebook, Instagram, and Pinterest!
If you want to see more, be sure to sign up for my 5 Easy Ways to Start Cooking From Scratch!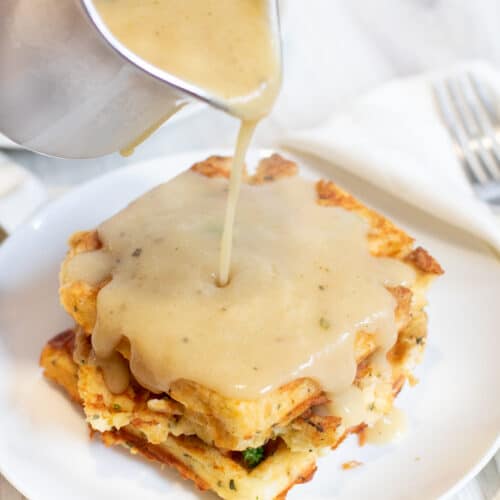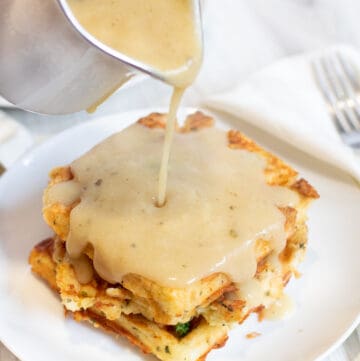 Leftover Mashed Potato Waffles and Gravy
Give new life to those leftover mashed potatoes!
Print
Pin
Rate
Ingredients
2

cups

leftover mashed potatoes

1/2

cup

panko breadcrumbs

2

eggs

1/2

cup

cheddar cheese

shredded

1

teaspoon

dried parsley

1/4

teaspoon

onion powder

1/2

teaspoon

kosher salt

olive oil / butter nonstick spray

fresh parsley

optional
Gravy
1/4

cup

butter

1/4

cup

all purpose flour

1

teaspoon

onion powder

3/4

teaspoon

dried sage

2

cups

stock

chicken, beef, or vegetable

1/2

teaspoon

better than bouillon

1/4

teaspoon

black pepper

pinch

salt
Instructions
In a large bowl, add the mashed potatoes, breadcrumbs, cheese, eggs, parsley, onion powder, and salt. Mix well.

Pre-heat waffle iron to 3 or the medium setting.

Meanwhile (if needed), start the gravy by heating a small sauce pan over mediu heat and add butter, flour, onion powder, salt, pepper, and sage. Use a whisk to combine butter and flour as it melts, to create a roux.

When all the butter is melted and there is a thick roux, slowly add the chicken stock, about a 1/2 a cup at a time, whisking after each addition to fully incorporate. Add the better than bouillon. Turn heat down to medium low and let gravy simmer to thicken.

Once waffle iron is ready, spray / grease the waffle iron plates - top and bottom.

Add large scoops of the mashed potato mixture to the waffle iron. Spread the mixture out to fill the molds and close lid.

Let cook for 9-10 minutes on the medium setting.

When the waffles are done gently remove them from the waffle iron. By this time, your gravy should be done.

Top with fresh parsley and gravy.
Notes
Nutritional values are just an estimate. They will vary based upon how you make your mashed potatoes.
Substitutions:
Breadcrumbs: Use your favorite dried breadcrumbs.
Cheese: Use any that you have! We also love these with gruyere, parmesan, and mozzarella.
Stock: Use chicken, beef, or vegetable.
Better than Bouillon: Use the kind that matches your stock.
Storage:
Refridgerator: Leftover mashed potatoes should
Freezer: Freeze for up to 2 months by first flash-freezing by adding them to a baking sheet in a single layer and freezing for 1-2 hrs before storing them in a freezer-safe bag or container.
Be sure to grease BOTH waffle plates!
Nutrition
Calories:
320
kcal
|
Carbohydrates:
33
g
|
Protein:
11
g
|
Fat:
16
g
|
Saturated Fat:
9
g
|
Polyunsaturated Fat:
1
g
|
Monounsaturated Fat:
5
g
|
Trans Fat:
1
g
|
Cholesterol:
105
mg
|
Sodium:
616
mg
|
Potassium:
428
mg
|
Fiber:
2
g
|
Sugar:
3
g
|
Vitamin A:
499
IU
|
Vitamin C:
20
mg
|
Calcium:
118
mg
|
Iron:
1
mg