These Maple Soy Glazed Chicken Thighs are a fast, easy, and delicious way to serve chicken thighs! The thick sweet and salty glaze will soon become a household favorite!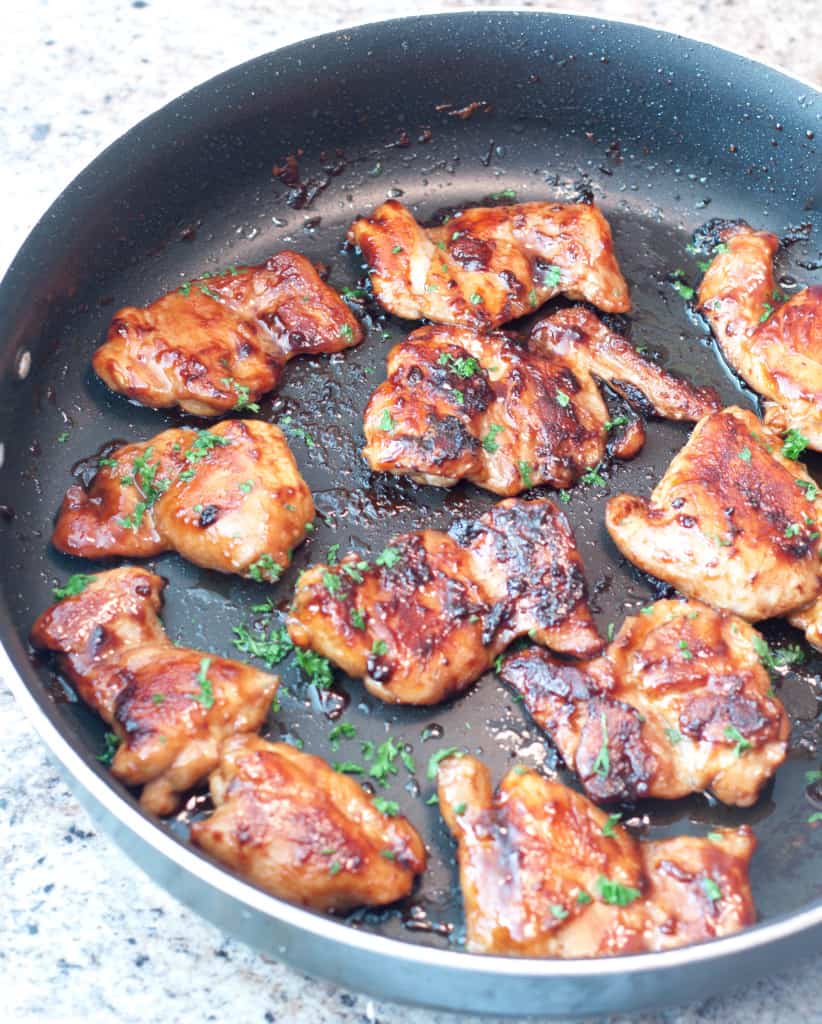 I don't know about you, but we eat a lot of chicken in our house. We bake it, we herb it, we spice it, we grill it, we taco it, we burrito bowl it, we crock pot it, we make it into stock, and we even Phở it. You get the idea. Since it's such a main part of our diets, we're always looking for new, but easy ways to cook it on busy weeknights. Which makes these Maple Soy Glazed Chicken Thighs one of our new favorite recipes!
Ingredients Needed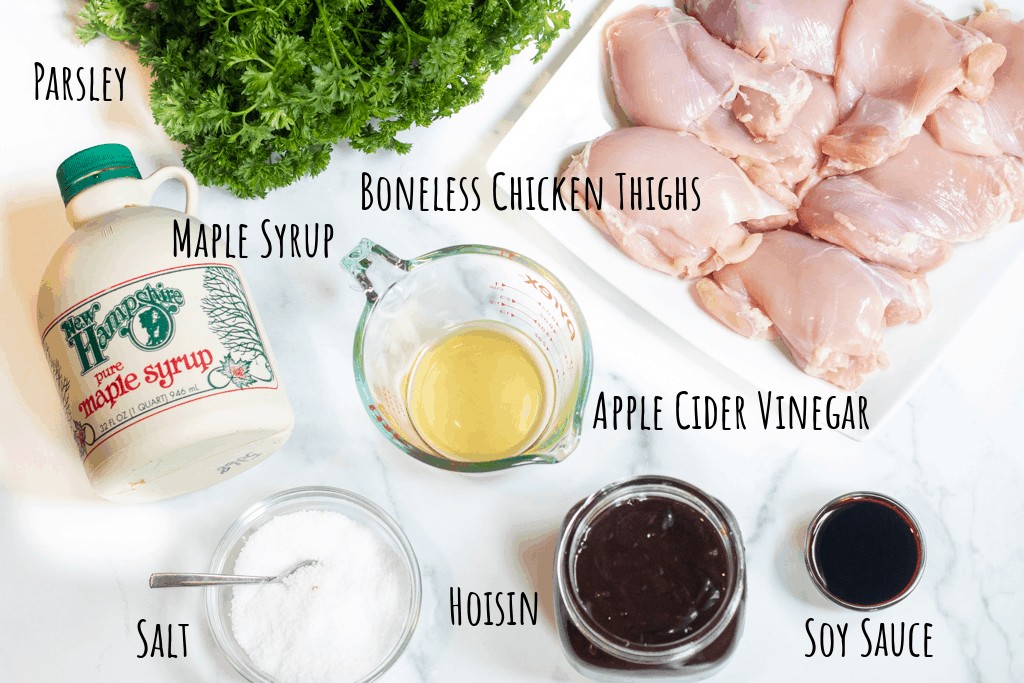 Not only is this recipe easy to make, but I bet you already have everything you need for the sauce in your pantry, already.
Boneless Chicken Thighs - Definitely boneless. Adding a bone changes it completely. You could also use chicken tenders, too. We prefer the dark meat of the thighs.
Maple Syrup - The real stuff! This is the NH maple syrup we always have in our pantry!
Soy Sauce - Regular is what we prefer for this recipe, but you could also use a low sodium if you're watching the salt in your diet.
Hoisin - We love the depth and sweetness that this adds. Have you made your own, yet?
Apple Cider Vinegar - White or even red would work fine for this too, although we love the milder flavor of apple cider vinegar. You could also use an unseasoned rice vinegar, too.
Salt - To season the chicken before cooking.
Olive Oil - To cook the chicken in to start.
Fresh Parsley - To finish with!
Easy to Make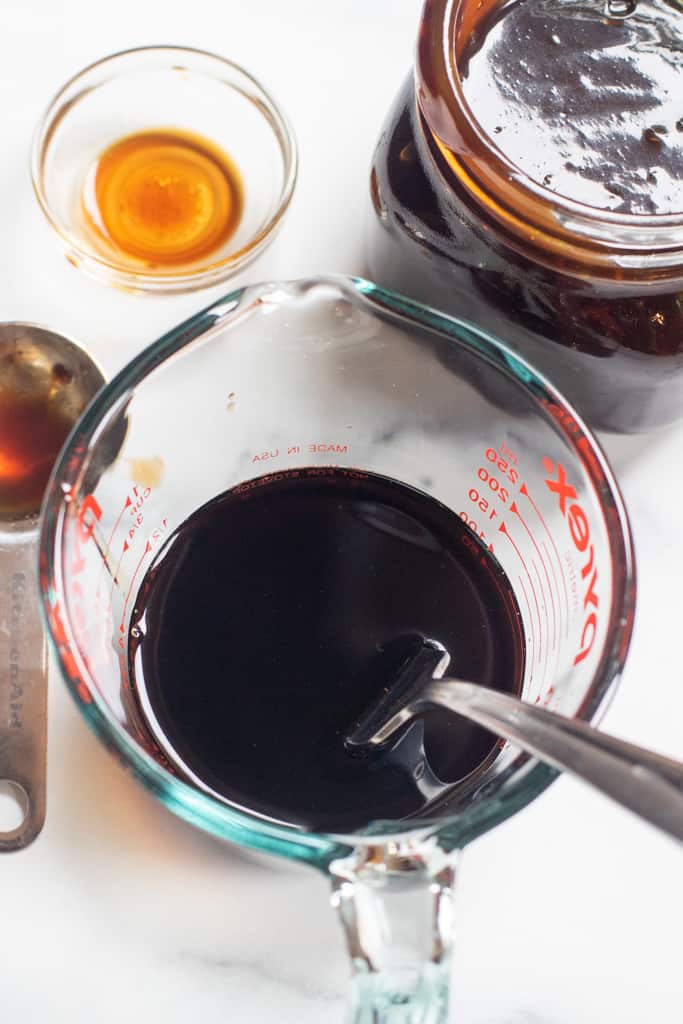 Truly, you don't get much easier than this, 1, 2, 3.
Generously season the chicken.
Prep the sauce.
Cook!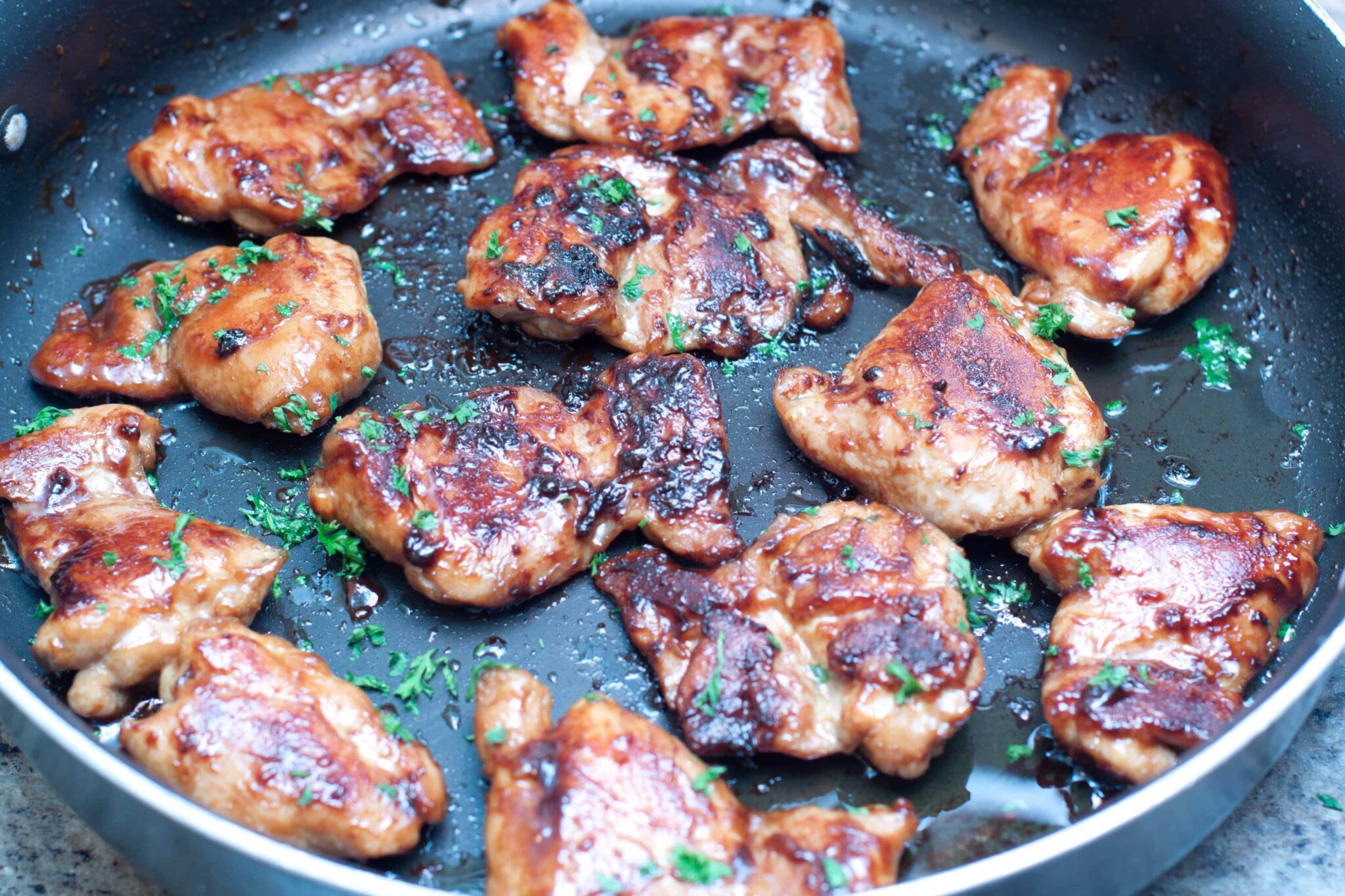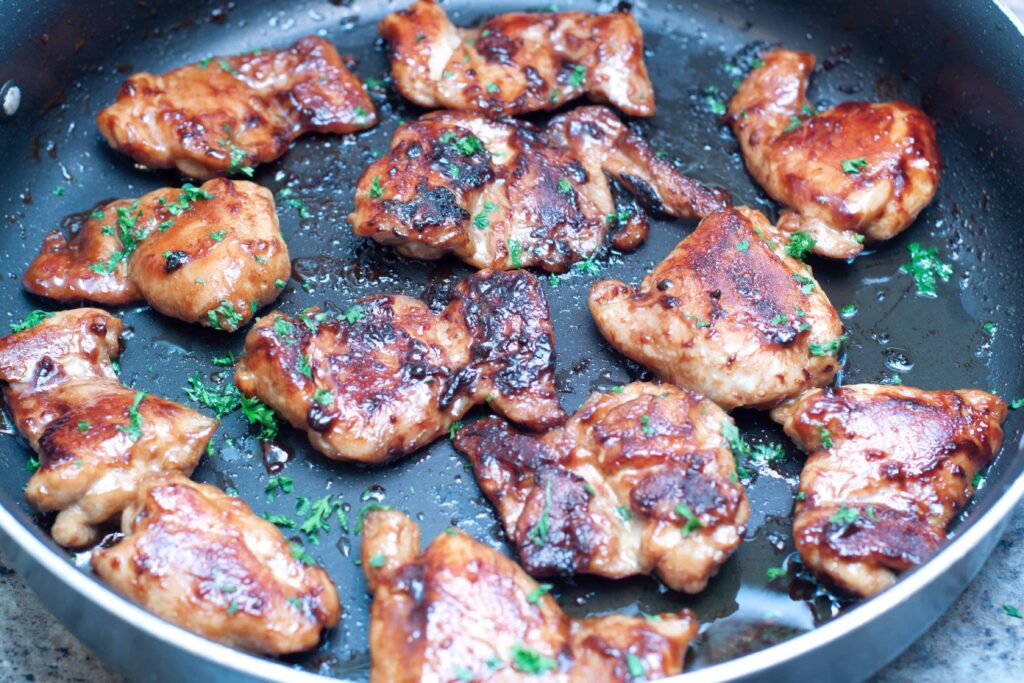 This is one of those recipes when we need dinner on the table fast because from start to finish, this glazed chicken can be done in 20 minutes.
Cooking Tips
Now let me tell you, that glaze, that's truly where it's at. But you have to make sure you keep a few things in mind when cooking to get it just right.
Heat the oil in the pan. Make sure that you coat your pan with the full tablespoon of oil and heat it on medium-high heat. To ensure it's coated, just lift the pan and give that oil and lil' swirl.
Use a non-stick pan. This will help with the initial sear of the chicken and with making sure the glaze sticks more to the chicken than the pan.
Let the sauce cook down. When you first add the sauce to the pan, it will feel like a lot of liquid. But don't worry, keep it at medium-high heat and it will cook down and glaze your chicken!
Don't flip the chicken too much. To get that gorgeous glaze, we recommend starting adding the chicken first to the pan with the smooth (what would be skin side) up. After a few minutes give it a turn, then once more smooth side down while the glaze does its final cook down. That will ensure that your smooth side will get this beautiful glaze.
Let the glaze cook! Keep that heat up to medium-high so that the sauce boils. This is what will cook it down, evaporating the liquid until it's a thick glaze. That's what will cook onto your chicken as the sugars caramelize, start to stick to the bottom of the pan, and onto the chicken.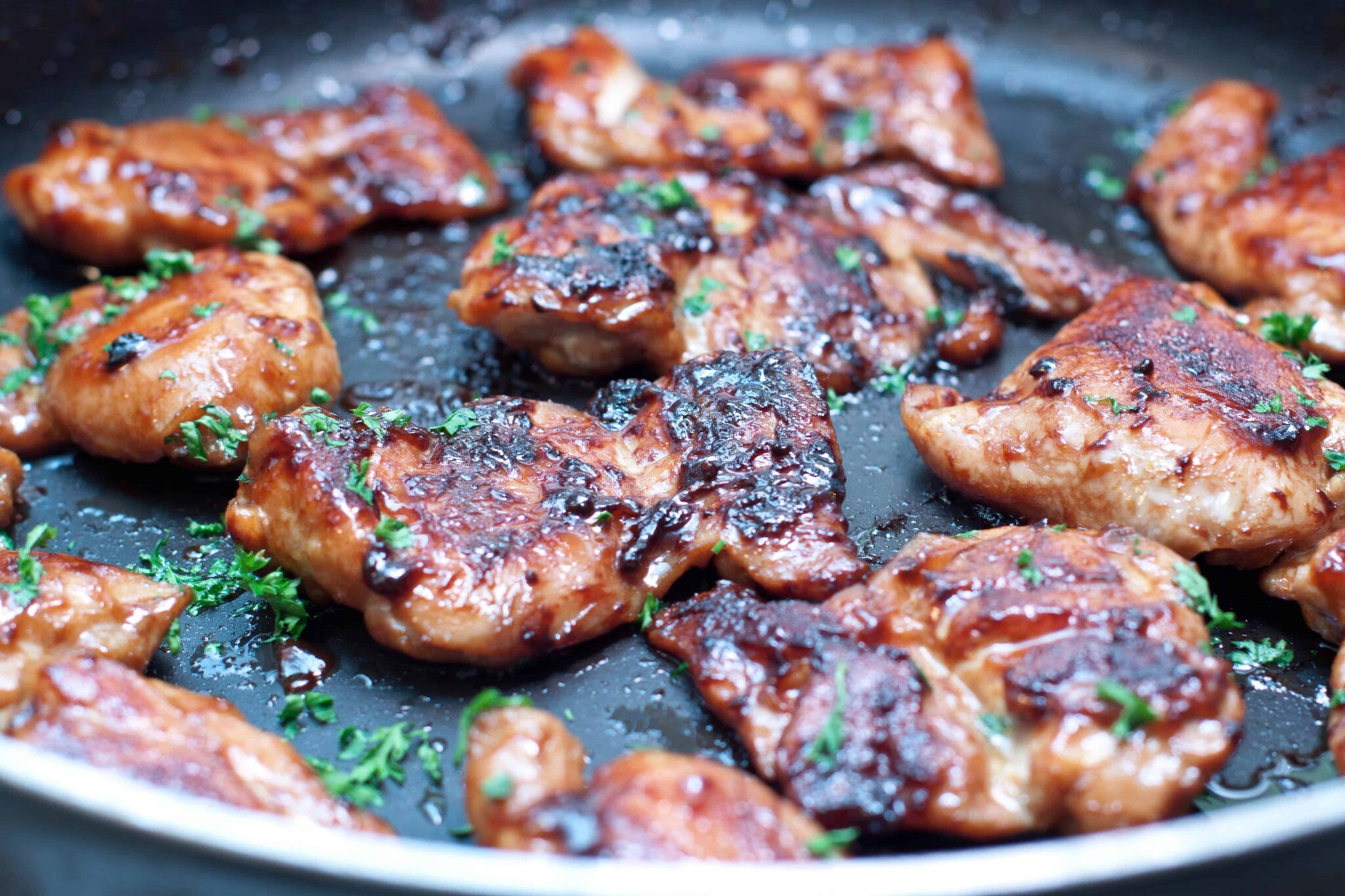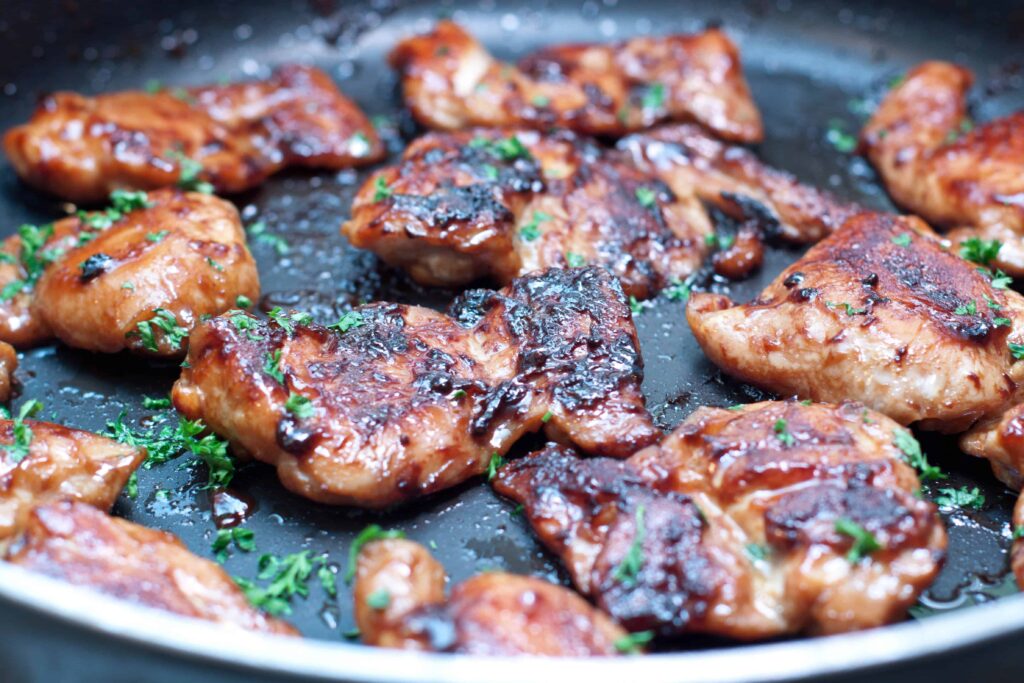 Enjoy!! These Maple Soy Glazed Chicken Thighs have that sweet soy glaze that is packed full of flavor!
Serve it With
Balsamic Spinach and Mushrooms
15 Minute Garlic Fried Noodles
Garlic Gruyere Roasted Asparagus
Crispy Rosemary Garlic Potatoes
Miso Spinach and Mushroom Soba Noodles
Other Favorite Chicken Recipes
15 Minute Garlic Butter Chicken
Mediterranean Grilled Chicken Breasts
This is one of our all-time favorites and a reader favorite! As always, please let me know if you make it and what you think! I love to hear from you on Facebook, Pinterest, and Instagram!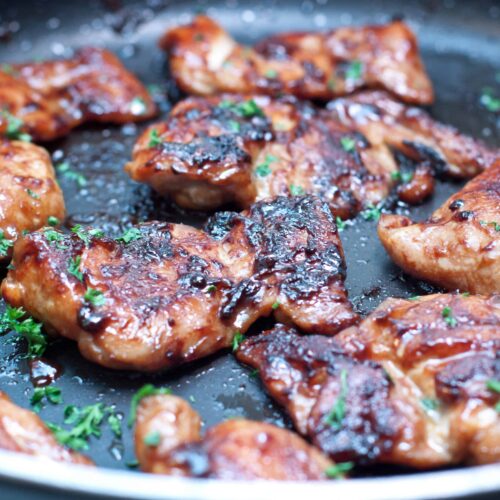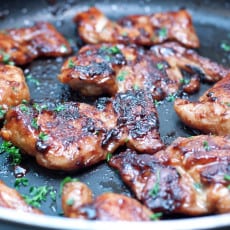 Maple Soy Glazed Chicken Thighs
These Maple Soy Glazed Chicken Thighs are easy, delicious, and different than your regular chicken recipe

Print
Pin
Rate
Ingredients
Instructions
Generously season chicken thighs with salt.

Combine maple syrup, soy, hoisin, and apple cider vinegar in a small bowl or pyrek with pour spout and whisk with fork. Set aside.

Heat olive oil in large skillet on medium high heat. Turn skillet so it's well oiled. Add chicken, smooth (or what would be skin) side up, to sear.

Cook for 2-3 minutes before adding sauce and then flip chicken, smooth side down.

Keep heat at medium-high and let sauce boil, cooking down. Cook for another 2-3 minutes before flipping to smooth side down.

Keep cooking the glaze and chicken until most of the liquid has cooked off. Keep the chicken smooth side down so that the sauce carmalizes to the chicken.

After another about 10 more minutres of cooking, or until the glaze has mostly cooked off and chicken has reached 165 degrees, remove from heat and serve immediately.
Nutrition
Calories:
346
kcal
|
Carbohydrates:
9
g
|
Protein:
45
g
|
Fat:
13
g
|
Saturated Fat:
3
g
|
Polyunsaturated Fat:
3
g
|
Monounsaturated Fat:
6
g
|
Trans Fat:
1
g
|
Cholesterol:
215
mg
|
Sodium:
2766
mg
|
Potassium:
621
mg
|
Fiber:
1
g
|
Sugar:
7
g
|
Vitamin A:
139
IU
|
Vitamin C:
1
mg
|
Calcium:
38
mg
|
Iron:
2
mg