For some strange reason, still unknown to me, I hated fish growing up. With the exception of canned tuna, I refused to eat anything from the sea. It wasn't until I was 20 that I ate salmon for the first time. I know. And the only reason I ate it was because a boy made it for me for dinner and wanting to not appear as a high maintenance, picky eating girl and wanting to impress the guy who just made me dinner, I said, "Oh I looovveee Salmon!" Ha. But after eating the salmon this guy made me, I lDID love it. And I couldn't believe I had missed out on 20 years of eating it! Now, we eat salmon more than we eat red meat. We LOVE fish, and especially salmon. If we lived closer to Seattle, I'd be at the Fish Market everyday!
What we do instead is buy whole salmons at our local store and then break it down ourselves and store it in our freezer. Salmon steaks are our favorite! This night, I wanted to put some of the amazing NH maple syrup my mom sent us to work in this soy ginger glaze.
Super simple. Some soy sauce, sesame oil, and maple syrup...
...whisked together in a shallow baking dish. Ideally more shallow than this one; however, I very gracefully shattered the dish I would have used while making granola bars. Oops.
Then, a little minced garlic and ginger. I love this little garlic twist.
Then, the nice fat steaks into the marinade and topped with the garlic and ginger. Covered and popped in the fridge.
After an hour, I flipped these bad boys so the other size could soak up the soy maple goodness for another hour.
For a side, I decided on some mustard greens. Why mustard greens? Because when I went to the store the spinach looked awful and these beautiful mustard greens were there next to the sad wilting spinach. I've never made mustard greens before, so I of course turned to Alton Brown where I found this delicious sounding lemon sesame mustard greens recipe.
So while my grill master husband cooked the salmon steaks on the grill, I tossed the oil, zest of a lemon, garlic, honey, salt, and lemon juice into a hot pan,
and then sautéed up the washed and chopped mustard greens for about 5 minutes.
Once almost done, I added the red pepper flakes and sesame seeds and by this time the salmon steaks were nearly done.
Um YUM. See that glaze?! It was sooooooooo good.
And the greens? Delicious. So good that my studly husband has requested they become a staple in our house. Done.
Even better, we dined with this absolutely delightful bottle of Grochau Cellars Melon de Bourgogne that our even more delightful friends Ed and Martin brought over to Dan's birthday party. It was super bright with an herb and fruit nose and supple finish that was a lovely pairing with the salmon. The greens... not so much. The red pepper and inherent peppery flavor of mustard greens were not a good match with this fruity wine, but the rich maple and salty soy of the super moist and flaky salmon sure was!
Did I say flaky and moist salmon? Sure did! A super delicious, nutritious, and easy meal!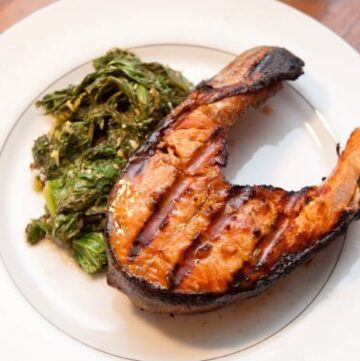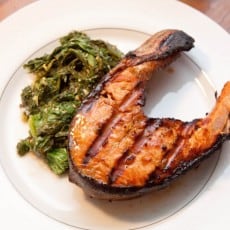 Ingredients
1 to 1 1/4

pounds

stemmed mustard greens

1

tablespoon

olive oil

2

cloves

garlic

minced

1

lemon

zested

2

teaspoons

freshly squeezed lemon juice

1

tablespoon

honey

1 1/2

teaspoons

kosher salt

1/4

teaspoon

freshly ground black pepper

1/2

teaspoon

red pepper flakes

1

tablespoon

sesame seeds
Instructions
Remove any large stems from the greens and wash them thoroughly; do so in a sink with at least 5 inches of water. Moving the leaves around in the water and allowing them to sit for a few minutes to allow the sand or dirt to fall to the bottom of the sink. Once clean, roughly chop the greens. You should have 1 to 1 1/4 pounds finished greens once they are stemmed. (Weigh the greens after stemming, but before washing.)

Heat a large 13 by 11-inch roasting pan set over 2 burners on medium heat. Once hot, add the olive oil. Add the garlic, lemon zest, lemon juice, honey, salt, and pepper and stir to combine. Add the greens and saute for 4 to 5 minutes, tossing continually. Add the red pepper flakes and the sesame seeds. Toss to combine. Adjust seasoning, if needed. Serve immediately.