Parmesan Pepper Brussels Sprouts, tons of Parmesan and loads of pepper for this easy vegetarian side dish.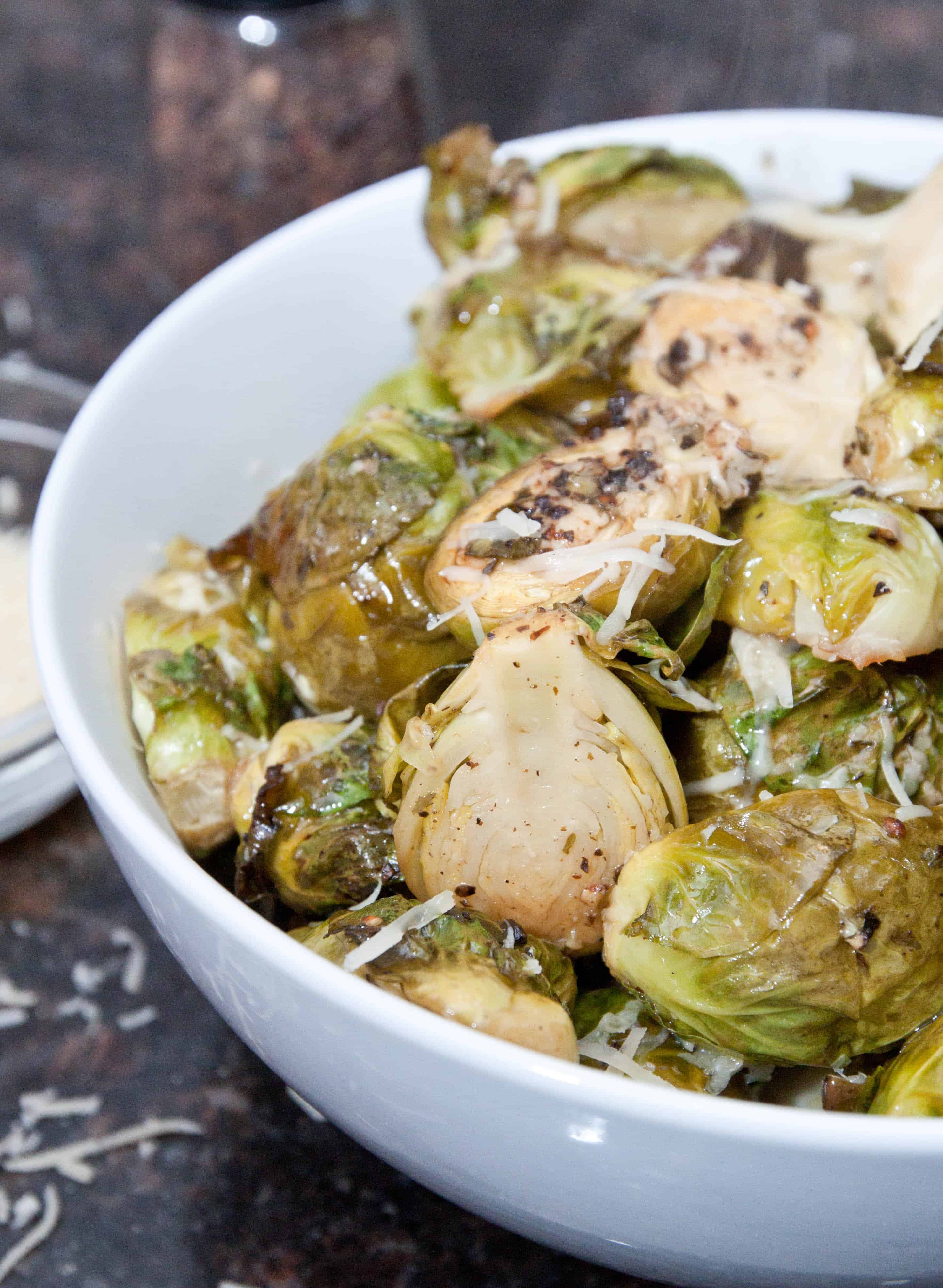 Here's a quicky for you, friends! I'm sure I'm preaching to the choir about the holiday season being crazy busy, so I wont keep you from the shopping, cooking, family entertaining that needs to be done. And neither will these Parmesan Pepper Brussels Sprouts.
I love easy side dishes. Especially ones that are super easy like my Garlic and Gruyere Roasted Asparagus, 10 Minute Garlic Kale, or 15 Minute Garlic Fried Noodles. These guys are just as easy. How easy? So easy that they can be made while juggling washing diapers, bottles, wrapping Christmas presents, and tending to a teething baby while the hubby's out running errands. Cooking from scratch with an almost 7 month old may not be as elaborate as Fresh Gnocchi every night, but it's still totally doable.
AND healthy. Brussels Sprout are one of my favorite veggie side dishes because they 're so packed full of good nutrition!
We paired this with our Mediterranean Grilled Chicken Breasts for a healthy easy dinner. Just what we need to help prepare for all of the holiday treats coming our way soon!

Happy Holidays!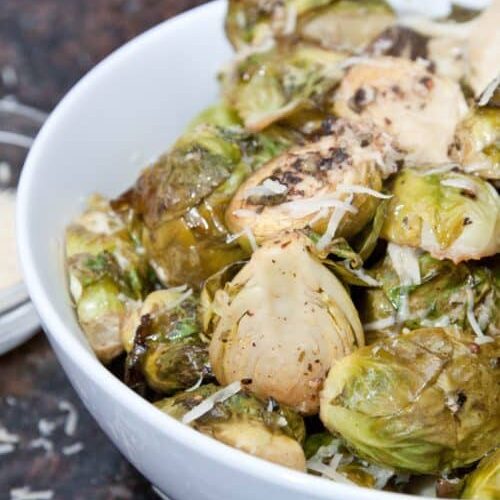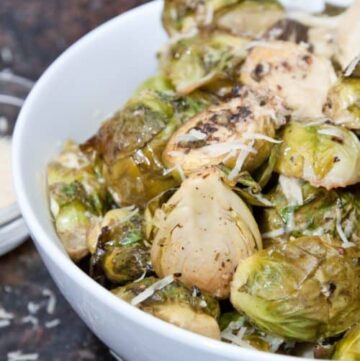 Ingredients
2

lbs

fresh brussels sprouts

halved

1/2 - 3/4

cup

fresh grated Parmesan cheese

1/3

cup

olive oil

1

teaspoon

kosher salt

1

teaspoon

fresh ground black pepper

1/2

teaspoon

dried parsley

Juice from 1 lemon

divided
Instructions
Pre-heat oven to 400 degrees.

Add brussels sprouts to a large baking dish in an even layer.

In a small bowl, whisk together the olive oil, salt, pepper, parsley, and juice from half the lemon. Pour over brussels sprouts and mix.

Bake for 20 minutes then remove from oven and add juice from the other half of the lemon. Mix and then sprinkle Parmesan cheese on top.

Return to oven and finish baking for 20 minutes. Remove from oven and add more cheese if desired. Serve warm.