Whoa. Like seriously whoa. I've just created the most amazing love child of my Peanut Butter Balls and Soft Serve Banana Ice Cream. From scratch Peanut Butter Banana Ice Cream with a homemade chocolate sauce... all vegan friendly. Whoa.
My good friend Stephanie, The Cozy Cook, introduced me to the wonders of homemade banana ice cream a few months ago. My studly husband and I always have bananas in our house; we each eat one for breakfast every single day. And in the summer when it's hot (especially this unseasonably warm Pacific NW summer), those bananas turn sooooo quickly. So my freezer has been full of overripe banana slices.
My freezer was getting stuffed with all these bananas and I was going to make some banana ice cream when I saw our Homemade Peanut Butter... Then I saw the soy French vanilla creamer I had and Bam! It hit me. Peanut Butter Banana Ice Cream. Whoa.
So I threw the frozen banana slices (this container was of 3 bananas), some peanut butter, and just a splash of creamer for added, well, creaminess and a touch of sweetness.
And blended.
Until deliciously rich and creamy.
Meanwhile, I melted a couple of bars of semi-sweet baking chocolate with about a tablespoon of coconut oil to make the perfect chocolate topping to complete the frozen treat suitable for The King... Uh huh huh.
Alone, this ice cream is freakin' delicious and super rich and creamy.
But add some melted chocolate?
And oh my sweet baby Jesus is it good.
Like seriously good. Like the absolute perfect last week of summer (which happened to be in the 90's hence my melting pictures) good. I can't even believe it's Vegan and I can't wait to make it again and share it with our Vegan besties, Alicia and Charles!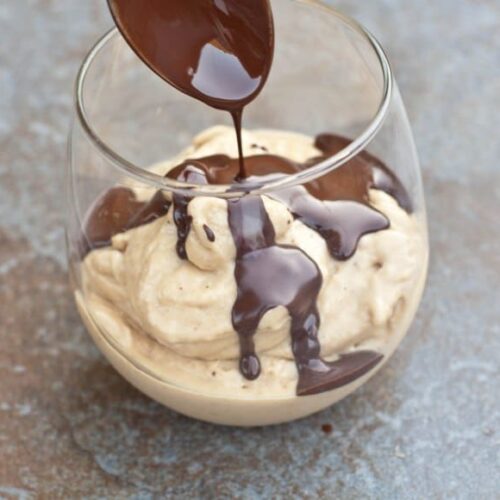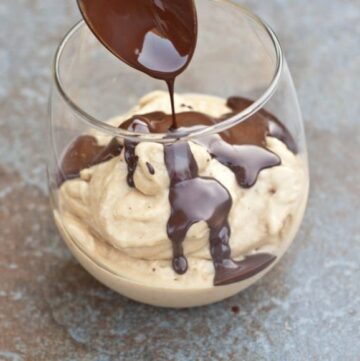 Ingredients
3

frozen bananas

1/4

cup

of 100% natural creamy peanut butter

1

tablespoon

of soy french vanilla creamer

or plain

4

squares of semi sweet bakers chocolate

1

tablespoon

of coconut oil
Instructions
Combine frozen bananas, peanut butter, and creamer in a food processor. Blend until creamy. If it does not have a consistency that is thick enough, add more frozen bananas or transfer to a container and put in freezer, stirring occasionally until desired frozen / creaminess.

In a double boiler, melt chocolate and oil until completely melted.

Serve ice cream in a dish and pour melted chocolate over and enjoy!