I love eggs. So much. It's one of the main reasons why I could never be strictly vegan, I would miss eggs way too much. Sure, I could probably live without meat, but I know I couldn't live without eggs or cheese. One night as I got sucked into the ethers of Pinterest and I saw these Portobellos and eggs and I knew I had to make my own.
On Pinterest there are tons of variations, but I decided to go with just what I had: asiago and thyme, ha (grocery shopping was on my list of to-dos post breakfast).
So first thing's first, I cleaned the Portobellos which involves just a damp paper towel and wiping the mushrooms clean. Washing mushrooms like other veggies, under running water, means you're going to get water-logged mushrooms. Because mushrooms are so porous, to clean them it's best to just wipe them down so they don't end up super soggy.
Then, another way to release some moisture is to broil the mushrooms on their own for a few minutes. With the misto, I lightly sprayed a bit of oil on each side and gave each side a good sprinkle of salt and pepper. Then I broiled them for about 3-4 minutes on each side.
Then, cap side up, I added the shredded asiago cheese,

and cracked an egg into each cap. With the oven turned down to 400 degrees, I popped them back in on the middle rack and let them cook for about 15 minutes until the whites were nice and cooked but the yolk still perfectly runny.
Once out of the oven, a little sprinkle of pepper and some fresh parsley, and omg it looks like the pictures on Pinterest!
I'm such a sucker for a runny yolk. That with the nice "meaty" portobello and the nutty asiago, it was a delicious vegetarian friendly breakfast.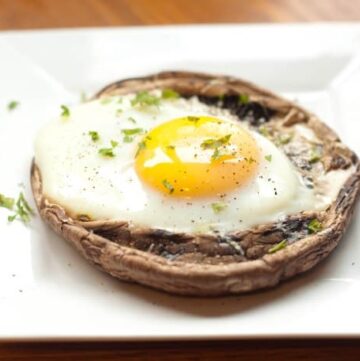 Ingredients
2

Portobello mushrooms

2

eggs

1/2

cup

asiago cheese shredded

1/2

teaspoon

of thyme

1/2

teaspoon

of salt

fresh ground pepper to taste

olive oil - misted

minced fresh parsley to garnish
Instructions
Pre-heat oven to broil and move rack to 2nd to top position.

Clean portobellos by wiping off the dirt with a damp paper towel. Remove stems, mist with a olive oil mister, and sprinkle salt and pepper on each side. Place them on a baking sheet and broil for 3-5 minutes on each side.

Turn oven down to 400 degrees.

Remove portobellos then place the mushrooms cap side down and add shredded cheese and crack open an egg into the well of the portobello. Salt and pepper again and then bake for 15 minutes until egg white are cooked.

Remove from oven, sprinkle with parsley, and serve.