I am sooo excited about these cupcakes. Why? Because they are a special treat I made just for all the amazingly talented and beautiful people over at Angie @ The Novice Gardener's Fiesta Friday #42!! What's Fiesta Friday, you ask? Well it's just an amazing Friday gathering of food bloggers graciously hosted by the lovely and talented Novice Gardener, Angie. It's gotten so big, that Angie, despite being the wonder woman that she is, has asked for a couple of co-hosts to help keep everyone in line. This Fiesta Friday, I'm so stinkin' excited to co-host with my girl Stephanie over @ The Cozy Cook!
In case you missed it, from our Poutine posts and Stephanie's Mini Apple Pies, Steph and I are former middle school besties who reunited almost >cough< 15 >cough< years later through our food blogs!
I can't believe I'm sharing this.
Ok, that's better.
Anyway, in honor of our co-hosting and our middle school love of Mario Kart, I give you these Princess Peach Cobbler Cupcakes. Thanks to miss Angie who totally asked if we'd be making Princess Peach Cupcakes, which reminded Steph and I of our favorite Mario Kart racers! I was alway Princess Peach (despite being an incredible tom-boy in middle school), and Steph was Toad, the mushroom. Amazing stuffed mushrooms from Steph, and these super delicious Princess Peach Cobbler Cupcakes from me. Thanks for the inspiration, Angie!
Now keep in mind, I am not much of a sweets baker. When's the last time I made cupcakes? Not sure. But I was determined to make some delicious peach cupcakes with a cobbler topping and buttercream frosting in fond remembrance of the countless hours we spent playing super Nintendo. First, the cupcakes. Pretty basic ingredients, plus some peaches, of course.
First, a quick mix of the flour, baking soda, baking powder, cinnamon, nutmeg, and ground coriander.
Then, a cream of the butter and sugars and then the addition of the flour mixture.
While it mixed, I threw together the crumble.
Super easy. Butter, sugars, flour, and cinnamon all cut together until crumbly.
Once the batter was done, I folded in some chopped peaches and filled the lined muffin tin cups about half way. Then, generously topped the off with the sugary buttery crumble.
Baked at 350° for 25 min and yummm. Peach cupcakes with a delicious crumbly baked in topping.
Now, the buttercream frosting. Oooh I wish I didn't know what this frosting is made of… We'll just pretend it fat free and totally healthy for you.
Creamed up in the Kitchen Aid and we have some deliciously easy buttercream frosting. Emphasis on the butter. That's why it's so delicious. I mean, but like I said, totally fat/sugar/calorie free. I tried my Meringue Kisses coloring technique with the food coloring along the sides of the pastry bag, but unlike the meringue batter, this frosting was much thicker and didn't pick up the color nearly as nicely. But oh man that frosting… sooo good.
Later, I realized that the delicious crumble I had made would have been so lovely sprinkled on top of that creamy buttery frosting… Next time… next time.
So instead, I used a peach instead 😉
These cupcakes are seriously sooo good. Sweet, sugary, peachy, crumbly, soft delicious cupcake. Fit for a Princess!
Happy Fiesta Friday! Come on by and check it out- not only are there so many great recipe ideas there but the company couldn't be better!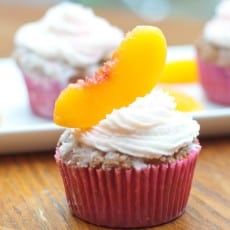 Ingredients
Cupcakes
1 1/2

cups

flour

1 1/4

tsp.

baking powder

1/4

tsp.

baking soda

3/4

tsp.

cinnamon

1/4

tsp.

nutmeg

1/4

tsp.

ground cardamom

1/2

cup

unsalted butter

room temperature

3/4

cup

brown sugar

1/4

cup

sugar

2

eggs

1/2

cup

sour cream

1

tsp.

vanilla

1 1/2

cup

peaches

skins removed, roughly chopped (about 2 medium)
Cobbler
1/4

cup

sugar

1/4

cup

brown sugar

1/3

cup

flour

1

tsp.

cinnamon

1/4

cup

unsalted butter

room temperature
Easy Buttercream Frosting
3

cups

confectioner's sugar

1

cup

butter

1

teaspoon

vanilla extract

1 - 2

tablespoons

heavy whipping cream
Instructions
Preheat the oven to 350 F and line a cupcake pan with liners and set aside.

Whisk together the flour, baking powder, baking soda and spices in a bowl. Beat the butter and sugars in a stand mixer for 1 minute until light and fluffy. Beat in the eggs, sour cream and vanilla until blended. Mix in the flour mixture until just combined. Fold in the peaches.

To make the crumble, mix everything in a bowl with your fingers until the mixture resembles coarse crumbs.

Fill the cupcake liners 1/2 full. Sprinkle each cupcake with about 1 tablespoon. of the crumble mixture. Bake for 25 minutes or until an inserted toothpick comes out clean.

To make the frosting, in a stand mixer, beat the butter and sugar on low until well blended. Increase speed to medium and beat for another 3 minutes.

Add vanilla and cream and continue to beat on medium speed for 1 minute more, adding more cream if needed based on consistency desire.

When cupcakes are done, remove from oven and let completely cool. In a pastry bag or ziplock bag with a corner trimmed off, fill bag with buttercream frosting and decorate top of cupcakes to liking. Top with crumble or peach slices.