It's our eldest, four legged son's birthday! In human years, we'd be taking him to a good drinking base dinner before his buddies took him out to the bars to get loaded. In dog years, we got him a stuffed animal. Convieniently, his birthday is right around Easter (he was born on Easter 3 years ago), and so that means post Easter clearance sales on stuffed bunnies! Don't tell Nigel, but I got his birthday bunny for only $4.
In honor of his birthday (because duh... we totally celebrate our dog's birthday) we had steaks. Also, because the parsley that I "planted" (I dumped a bunch of parsley seeds in a trench and covered them a told them good luck!) in a retaining brick wall in the backyard is out of control, I decided it was time to make chimichurri.
So. Much. Parsley. I have flat leaf and Italian back there. I just grabbed handfuls of each. Seriously. Anyone need parsley? Come take some. Please.
A chop of the parsley in the food processor, and a mince of garlic, and then I added salt, squeezed some lime juice, and then added an extra virgin olive oil and red wine vinegar mixture at the end. This way it keeps the right texture.
Then we cooked up some steaks on the stove. Sacrilege when we have a brand new grill, I know, but we just finished the last of the propane in the tank and we were too lazy / hungry to go fill it. To make up for it, I whipped up quick Parmesan smashed potatoes. Because chessy potatoes makes everything better.
My poor husband, he was drooling as I took these photos. I did my best to keep it quick.
So then he could devour his plate (I did the same to mine). I think I'll bring this to share to get devoured at Angie's Fiesta Friday Lucky #13, too!
Nigel, rarely gets 'human' food, so we just gave him a tiny piece of steak and then mixed in some steak drippings into his normal food. He still devoured his dinner too. Steak for dinner a new bunny to play/snuggle with; a pretty good birthday for our boy, indeed!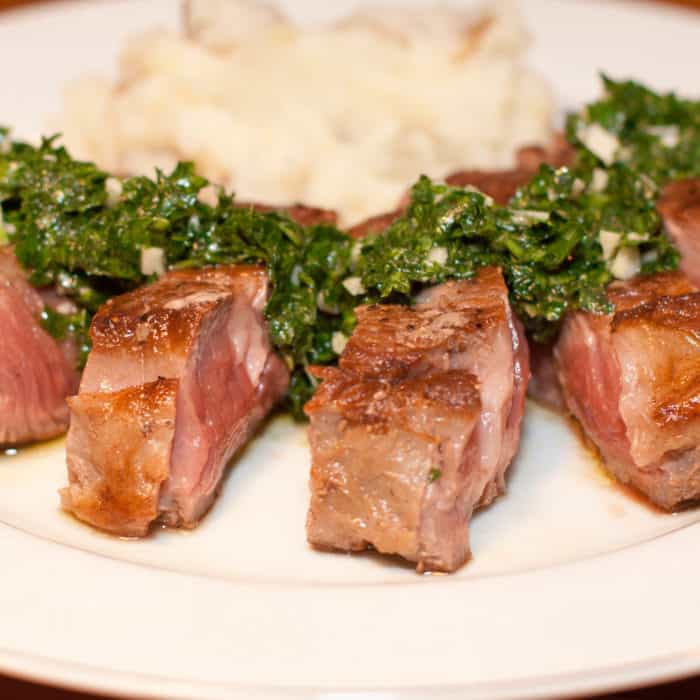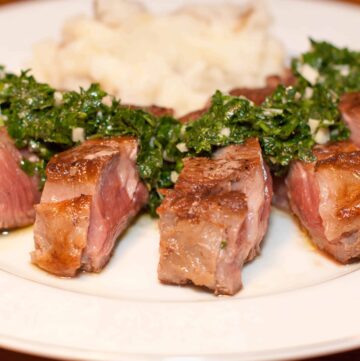 Ingredients
2

cups

of cleaned

pressed parsley

5-6

garlic cloves

Juice from one lime

kosher salt to taste

about a teaspoon

1/2

cup

of extra virgin olive oil

2

tablespoons

of red wine vinegar
Instructions
In a small bowl, mix the oil and vinegar and set aside.

Mince the garlic.

Put the parsley in a food processor and pulse until finely chopped. Remove parsley and mix in medium bowl with garlic. Sprinkle on salt, then squeeze lime over salt in the bowl. Mix.

Mix in the olive oil and vinegar to parsley and garlic.

Serve on top of anything your little heart desires!