I found my new favorite cracker. Not only are they incredibly easy, but soooo healthy. I adore our homemade Wheat Thins, but there is a not so insignificant amount of butter in them. Which is clearly why they are so delicious. Also, clearly not vegan friendly which means not appropriate for our vegan meals with Charles and Alicia. These crackers though are sooo simple and still really flavorful because spelt itself is slightly sweet and nutty. Spelt flour is an ancient whole grain and is packed full of protein and fiber and a good source of niacin, iron, zinc, and even calcium. After making these crackers, I've totally decided to ditch the whole wheat flour and use spelt. Not only is it healthier and more nutritious, but it just tastes better over all. Sold.
Did I mention how easy these crackers are? Just spelt flour, salt, and water. That's it. Mixed together, kneaded a couple of times, then rolled out.
The first time I made these crackers I made it flat bread style. Meaning I just rolled out a sheet, baked it, and then broke it into cracker sized pieces. That's definitely the fastest way to go, but it doesn't always allow for even cooking, ultimate crispiness, and general cracker prettiness. Because let's be honest, cracker prettiness is kind of important. Oh and so is even cooking too, I guess.
So this time I rolled it out, cut it into strips, rolled the strips then even thinner for the ultimate thin crisp, cut them into little squares, poked them with a fork, and lined them on a baking sheet. Much more work, but in my opinion, worth it. Ok, but still not super pretty. My square cutting skills are pretty pathetic.
While the crackers were baking in the oven, I whipped up a olive tapenade. A vegan friendly one buy omitting the anchovies traditionally found in tapenades. Super easy. Olives, capers, garlic, lemon juice, oil, parsley, and pepper all thrown in a food processor,
and blended for just about 15-30 seconds so it was still a little chunky and not completely creamed together. Also, super easy. And uber salty, briney, and tre tasty.
Which is why I didn't add too much salt to the spelt crackers because the tapenade was deliciously salty enough.
The perfect pair. The spelt crackers are nice and nutty and subtly sweet and the tapenade is salty and just the right amount of acidity.
Yum.
And I guess the crackers are too bad, right? They have a certain rustic… charm. Can you see how thin they are? Super duper delightfully crispy, they were. Just the way a cracker should be.
A super healthy, nutritious, and vegan friendly appetizer that won't taste too much like any of those things!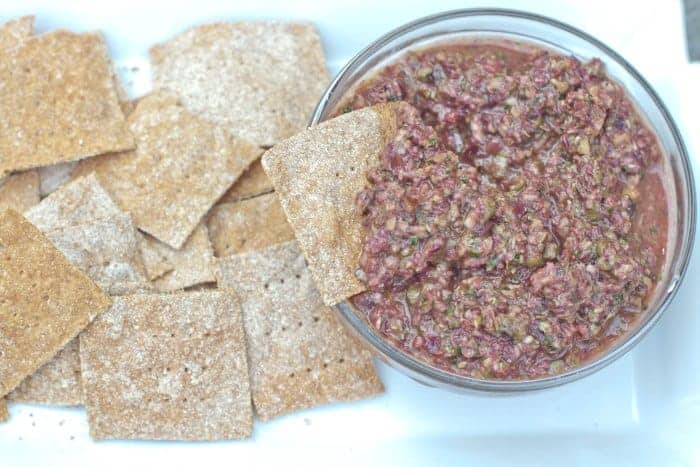 Ingredients
Spelt Crackers

1 1/2

cups

of spelt flour + more for flouring surfaces

1/4

teaspoon

of kosher salt

1/2

cup

of cold water

Tapenade

1

cup

of pitted olives

Any variety really. I used kalamatas from the olive bar at New Seasons, and because I just had a few less than a cup, I tossed in some pitted and marinaded green olives we had in the fridge

2

cloves

of garlic

2

Tbsp

of capers

2

Tbsp

of fresh parsley

chopped

2

Tbsp

lemon juice

2

Tbsp

of a good olive oil

Pepper to taste
Instructions
Spelt Crackers

Preheat oven to 350°. Dissolve salt in water and then add spelt flour. Mix well until a ball forms. Add a touch more water if needed, I did. Just enough so all the flour is incorporated.

Flour a surface you can roll out a large piece of the dough. Add more flour as needed to prevent sticking. With a butter knife, cut the dough into long strips. Give each strip an extra roll so it's super thin. Cut into squares.

Flour a baking sheet and transfer squares to sheet. With a fork, dot the crackers and sprinkle just a touch of salt on top of crackers.

Bake for 20-25 minutes until crackers are slightly browned. Check every 10 minutes to ensure they're not burning.

Tapenade

Toss all ingredients into a food processor and process until chopped and mixed to desired thickness.

Serve with crackers or on a crusty bread.