Perfect for your summertime grilling are these 10 Minute Spicy Grilled Shrimp Skewers! This flavorful marinade is made in minutes and the shrimp grill so fast that they make a delicious appetizer or protein addition to any summertime dish!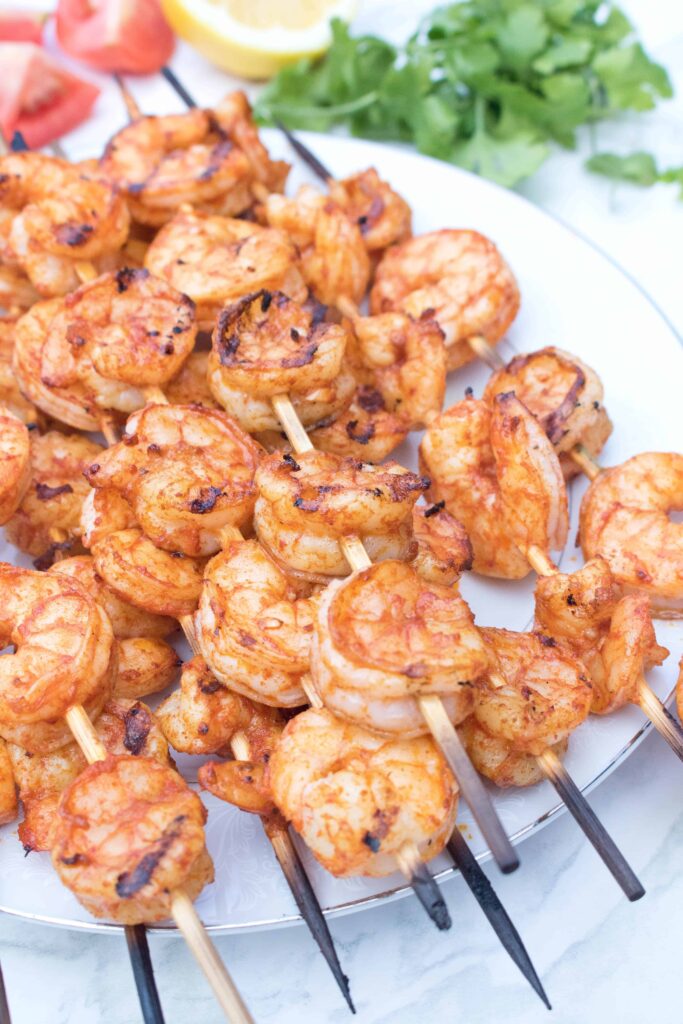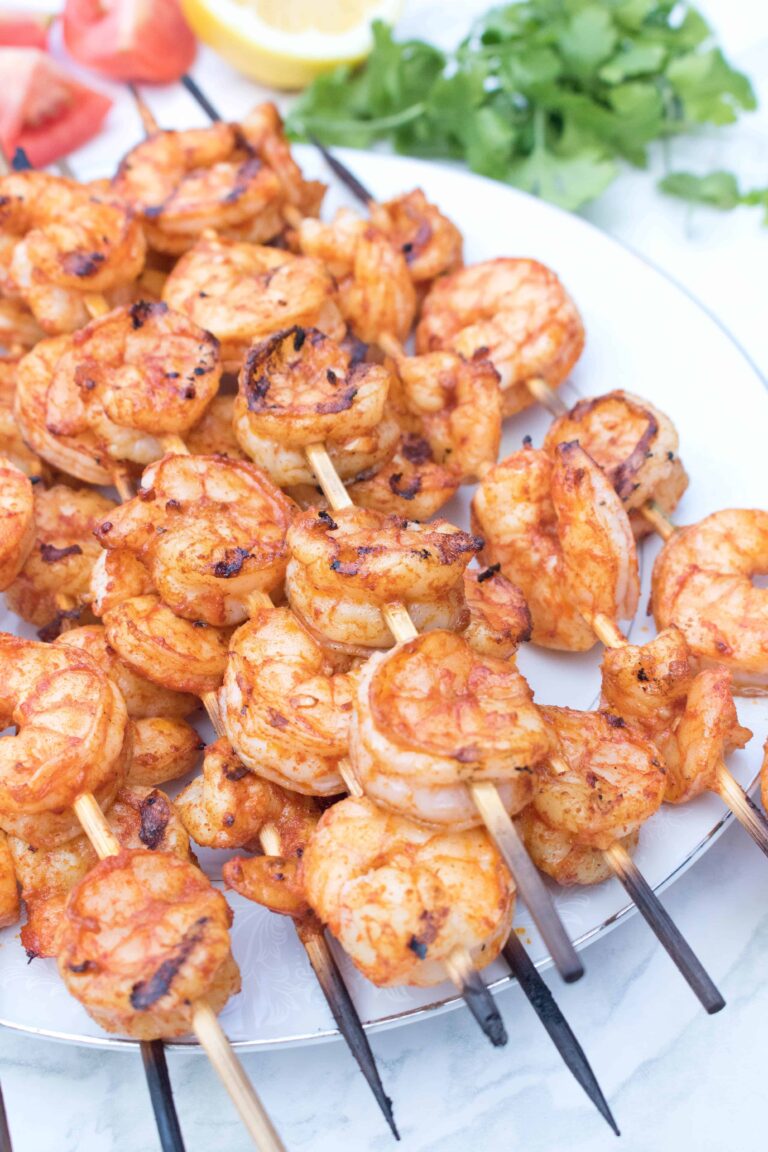 Ahhh sweet sweet summer, I can feel you just around the corner! Which means a majority of our meals are about to be al fresco and right off of the grill! In case you didn't notice, baby K numero dos has wanted all things shrimp. Grilled shrimp, specifically, which means that we had to make a grilled shrimp recipe with a shrimp marinade. These Spicy Grilled Shrimp Skewers made the baby very very happy!
Ingredients Needed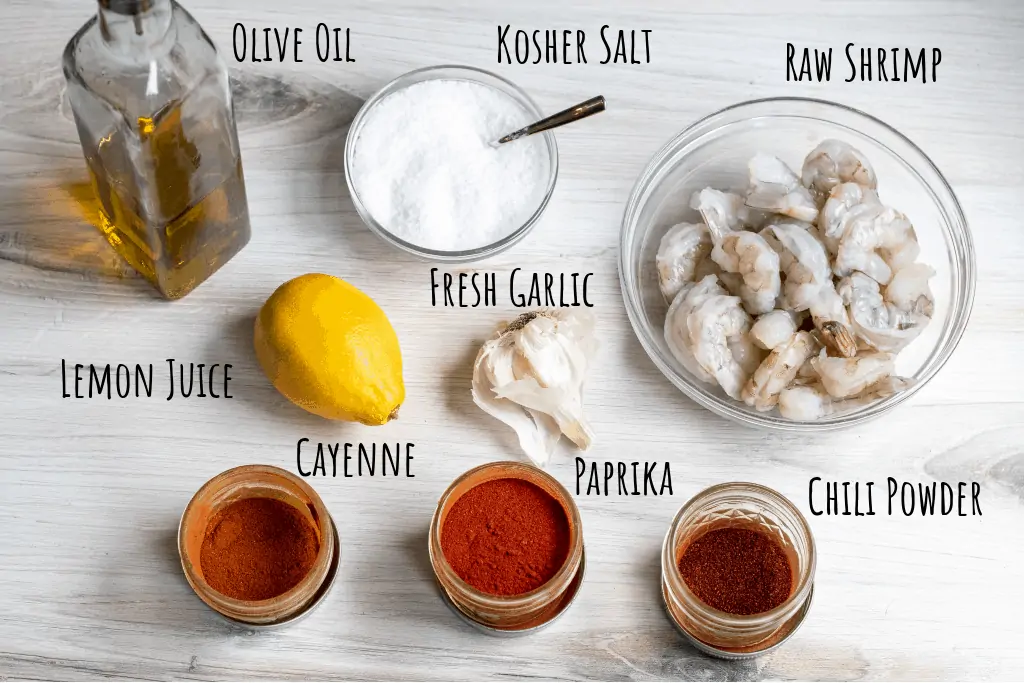 Shrimp - Raw shrimp, shelled and deveined.
Olive Oil - You could also use another neutral flavored oil for this shrimp marinade.
Lemon Juice - Fresh or bottled, whatever you have.
Garlic - Fresh of course is our preferred, but you can also use powder, see recipe notes.
Spices - Paprika, Chili Powder, and Cayenne - for the heat!
Could it get much easier? Especially when it's totally customizable! This grilled shrimp recipe marinade can be adjusted to your heat level! Need it hotter? Just crank up the cayenne!
Raw Shrimp: Fresh or Frozen?
Which to use? Raw fresh or frozen? Well, this is completely up to you! But, if you're going for the most "fresh" then truly, Frozen Uncooked is actually the freshest!
Frozen Uncooked: It seems counterintuitive, however, the frozen uncooked has likely been frozen very close to when it was harvested, which means the time from when they came out of the water to being frozen is very short. This means that they're going to have the freshest flavor.
Fresh from the Seafood Counter: Although this may seem more "fresh" than the bag that's frozen, it's really not! Because every second more that the shrimp is out of the water, it's losing a little bit of it's freshness and shrimp-y flavor. Also, it's likely that this shrimp was previously frozen and then thawed by your supermarket, or they were actually frozen and then thawed for the little ice mound that they're on. This means that if you are buying shrimp from your seafood counter, it's important to use it right away and not re-freeze it.
REALLY Fresh: This means that you're lucky enough to have access to a market like Pike's Place Fish Market in Seattle or another fresh fish market where you know that the shrimp have just come off of the boat!
Easy to Make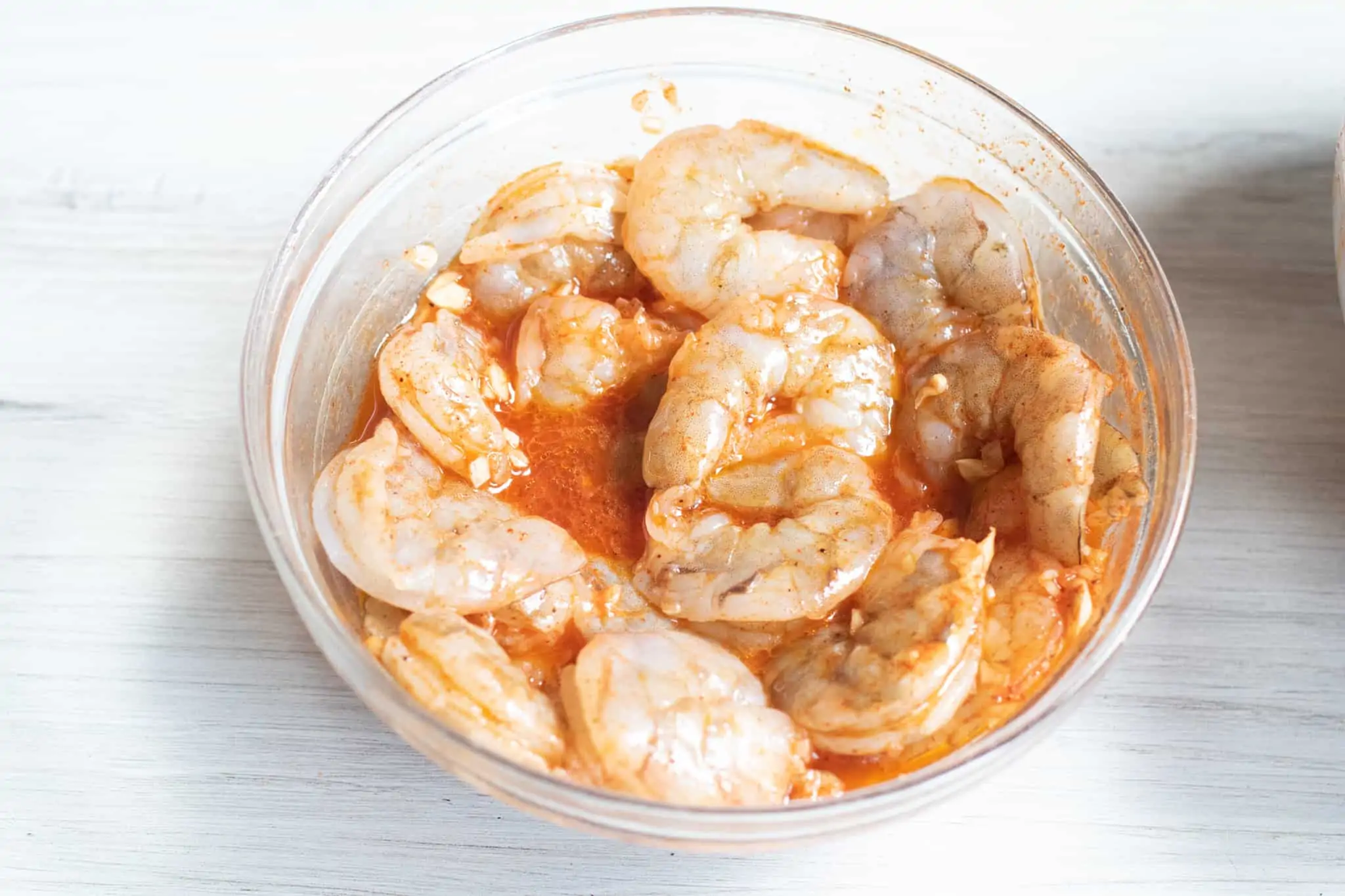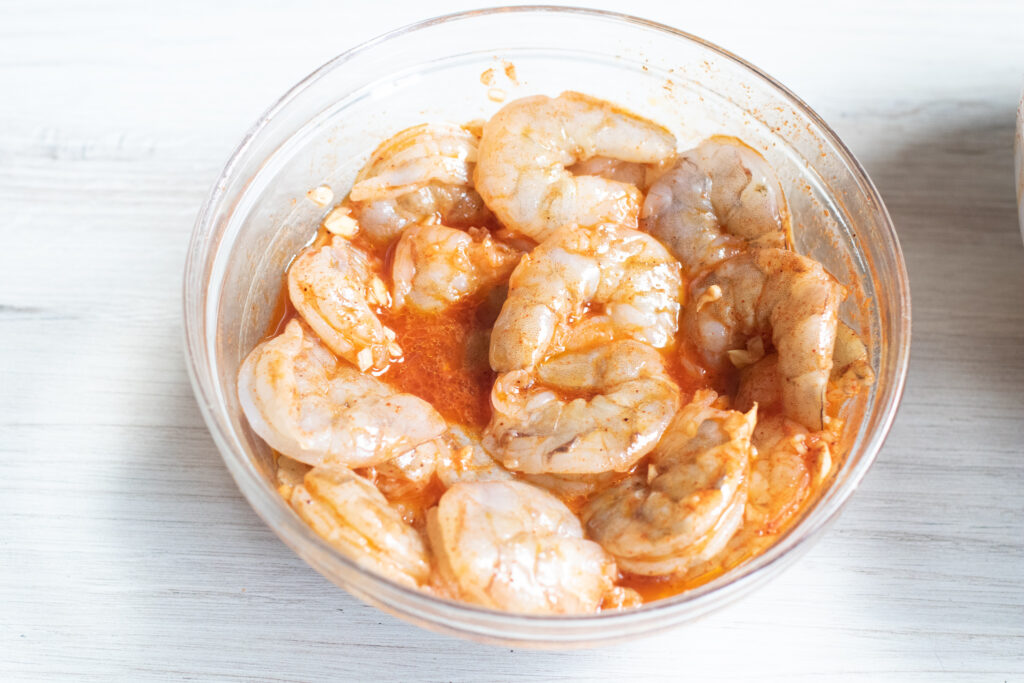 This shrimp marinade recipe really doesn't get much easier.
Step 1: Mix the marinade ingredients together for just a few minutes (that's all that it takes!)
Step 2: Add to the cleaned shrimp.
And it's ready to grill!
Unlike other meats, you don't need to marinate for long. Actually, you want to make sure that you don't marinate it longer that about 15 minutes because otherwise the marinade will start to breakdown the shrimp.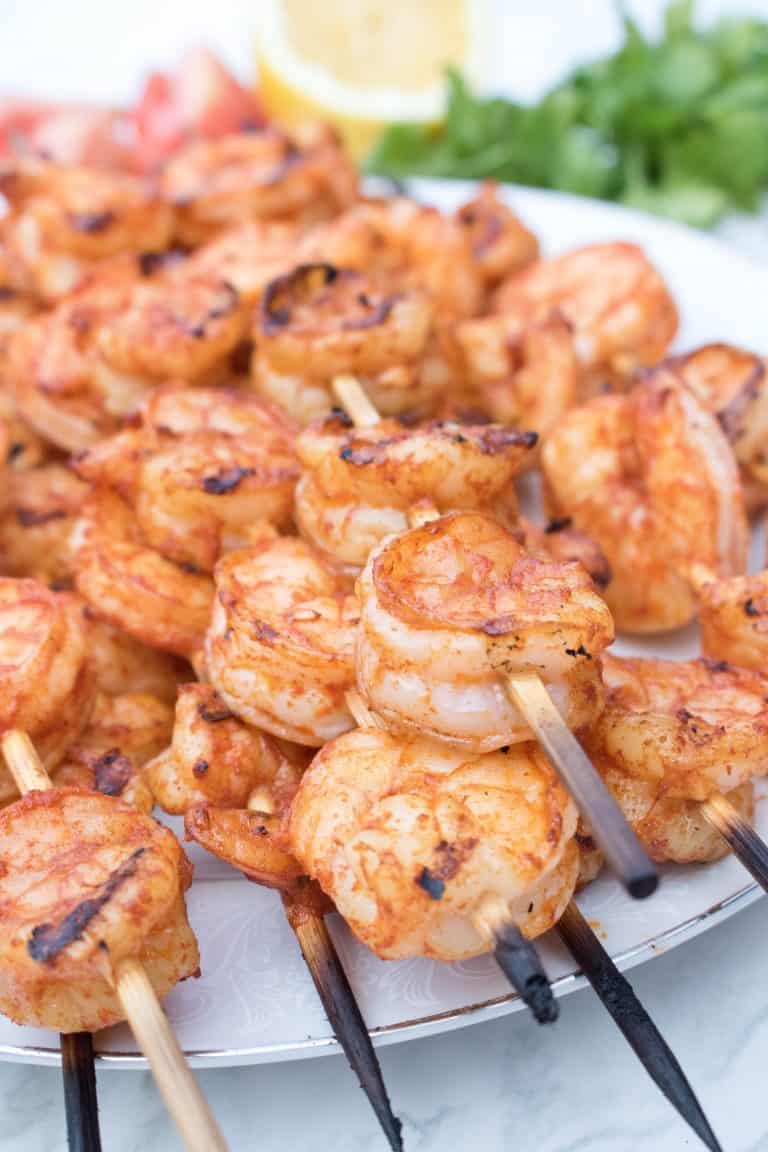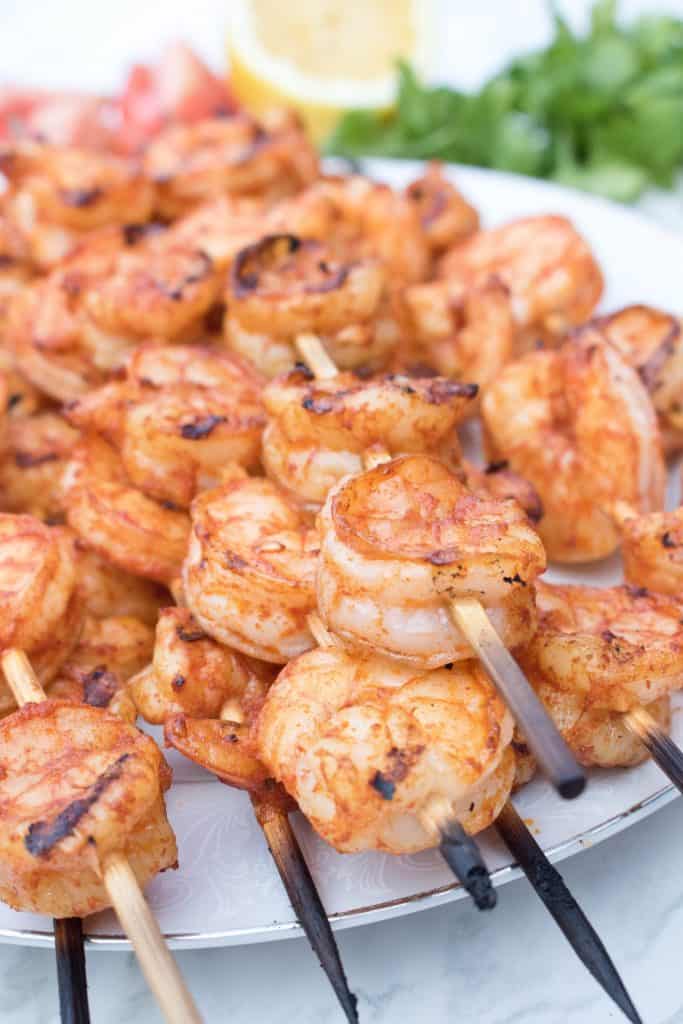 Juicy. Spicy. Super flavorful. This grilled shrimp is perfect for a sunny spring/summer weeknight!
We love it on a salad or even as a topping to a favorite pasta dish!
Serve it On
Craving shrimp as much as I am lately? Then don't forget to check out my Teriyaki Shrimp Salad with Sesame Ginger Vinaigrette, Shrimp Zoodle Scampi, and Sheet Pan Shrimp and Asparagus!
FAQs
How spicy is the shrimp?
With just the pinch of cayenne, it's pretty mild. Add more cayenne to kick up the heat.
Do I use fresh or frozen shrimp?
That's a total preference. We have made both and both are delicious.
Can I make this in advance?
You can make the marinade in advance, but do not marinate for too long. You shouldn't let the shrimp marinate longer than 15 minutes.
Enjoy! As always, if you make this recipe or any of my others, I love to hear what you think! Leave a comment below, email me, or you can find me on Facebook, Instagram, and Pinterest!
If you want to see more, be sure to sign up for my 5 Easy Ways to Start Cooking From Scratch!
Happy grilling, friends!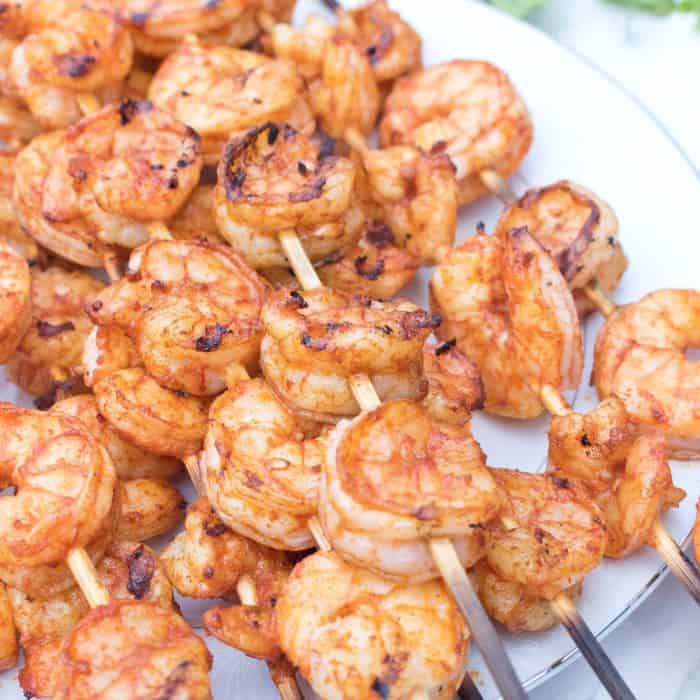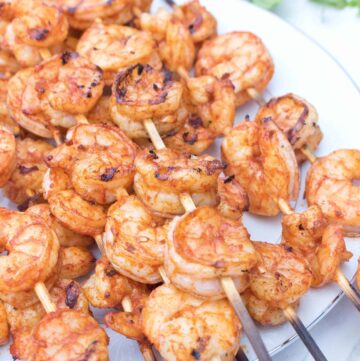 Spicy Grilled Shrimp Skewers
10 min for a super tasty & flavorful grilled shrimp marinade! This Spicy Grilled Shrimp Skewers recipe is perfect for your summer grilling!
Print
Pin
Rate
Ingredients
1

lb

fresh shrimp, deveined and shelled

1/8

cup

olive oil

1/8

cup

lemon juice

4

cloves

fresh garlic, minced

1

teaspoon

paprika

1/4

teaspoon

chili powder

pinch - 1/8

teaspoon

cayenne
Instructions
Pre-heat an outdoor grill or grill pan on stove top on high. If using wooden skewers, fill sink or dish with water and soak skewers.

Add shrimp to a medium sized bowl.

In another small bowl, mix all of the other ingredients.

Add mixture to shrimp and mix well so all the shrimp is coated, let marinate 5 minutes.

Add shrimp to skewers and grill for 90 seconds on each side. Serve immediately!
Nutrition
Calories:
181
kcal
|
Carbohydrates:
2
g
|
Protein:
23
g
|
Fat:
8
g
|
Saturated Fat:
1
g
|
Cholesterol:
286
mg
|
Sodium:
884
mg
|
Potassium:
126
mg
|
Fiber:
1
g
|
Sugar:
1
g
|
Vitamin A:
310
IU
|
Vitamin C:
9
mg
|
Calcium:
172
mg
|
Iron:
3
mg