Cut the added sugar and use those fresh strawberries in a healthy, delicious way with these Strawberry Chia Seed Popsicles! They'll be your new favorite easy, healthy summer treat!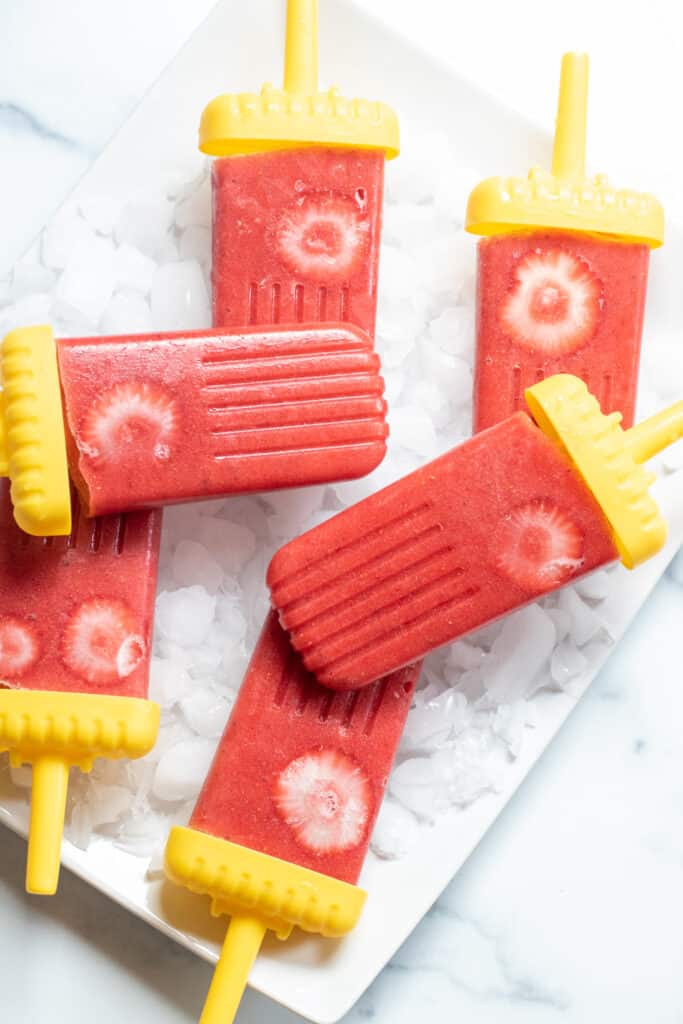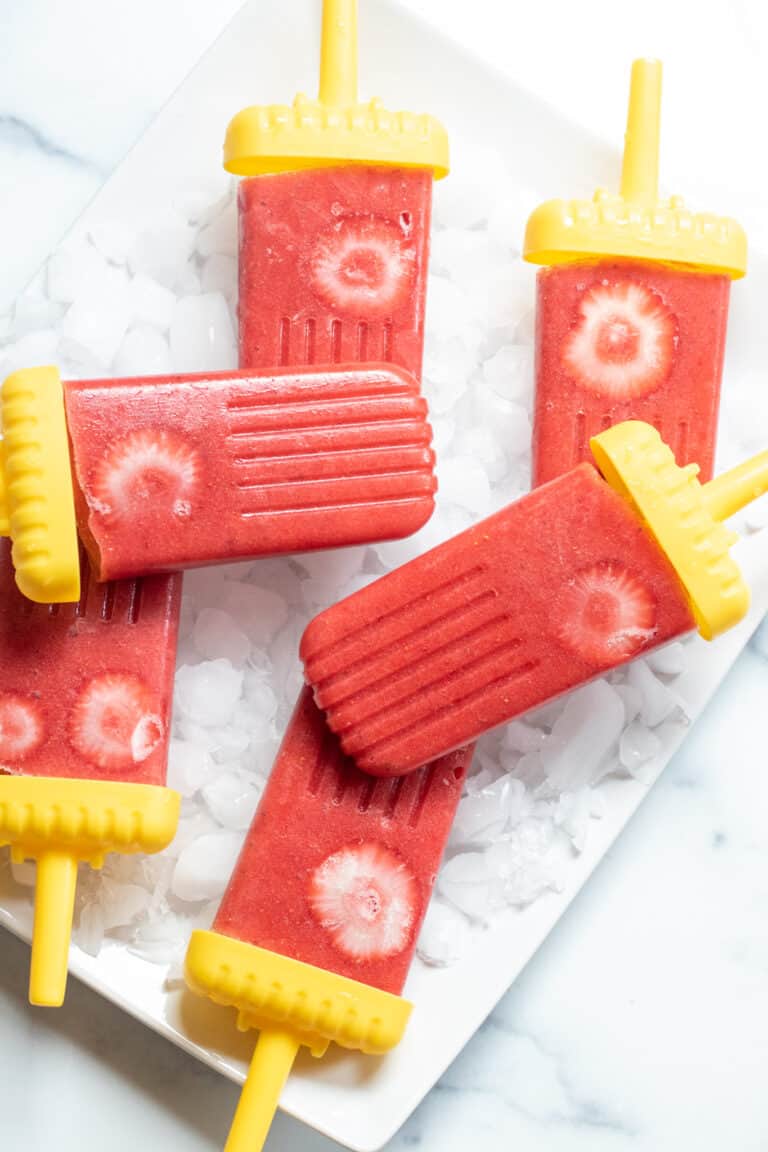 Summer is just around the corner, friends! The first sign for us is always all of the fresh Spring strawberries. We've already had a couple of warm days here, which means (at least in my girls' minds), Popsicles! Playing with their friends outside they've already had their share of otter pops from the neighbors. Which of course means that we had to make our own, healthy, homemade popsicles. Enter these Strawberry Chia Seed Popsicles!
Ingredients Needed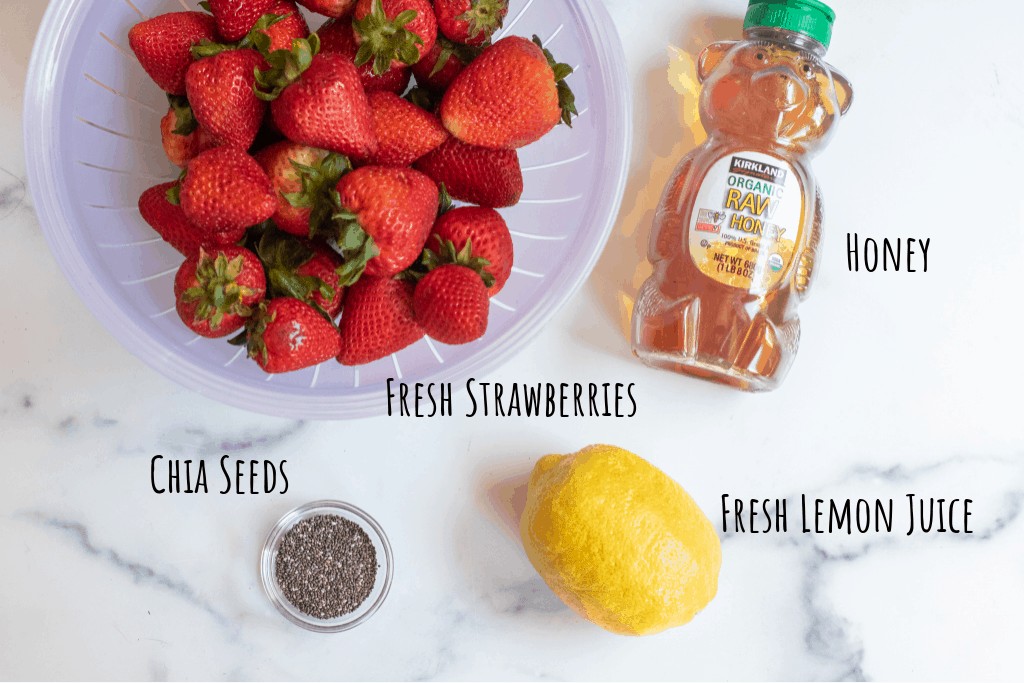 Does it get much easier than 4 ingredients?
Strawberries - Fresh of course are preferred, but frozen work great, too!
Honey - For just a little bit of added sweetness. When you have to compete with otter pops, you need it!
Lemon Juice - Fresh or bottled, whatever you have. Just a touch for a little added acidity.
Chia Seeds - Because it wouldn't be a SFS recipe if we didn't sneak in a superfood!
No chia seeds? No problem. I just like to sneak in a superfood where ever I can, but it's of course totally optional.
Easy to Make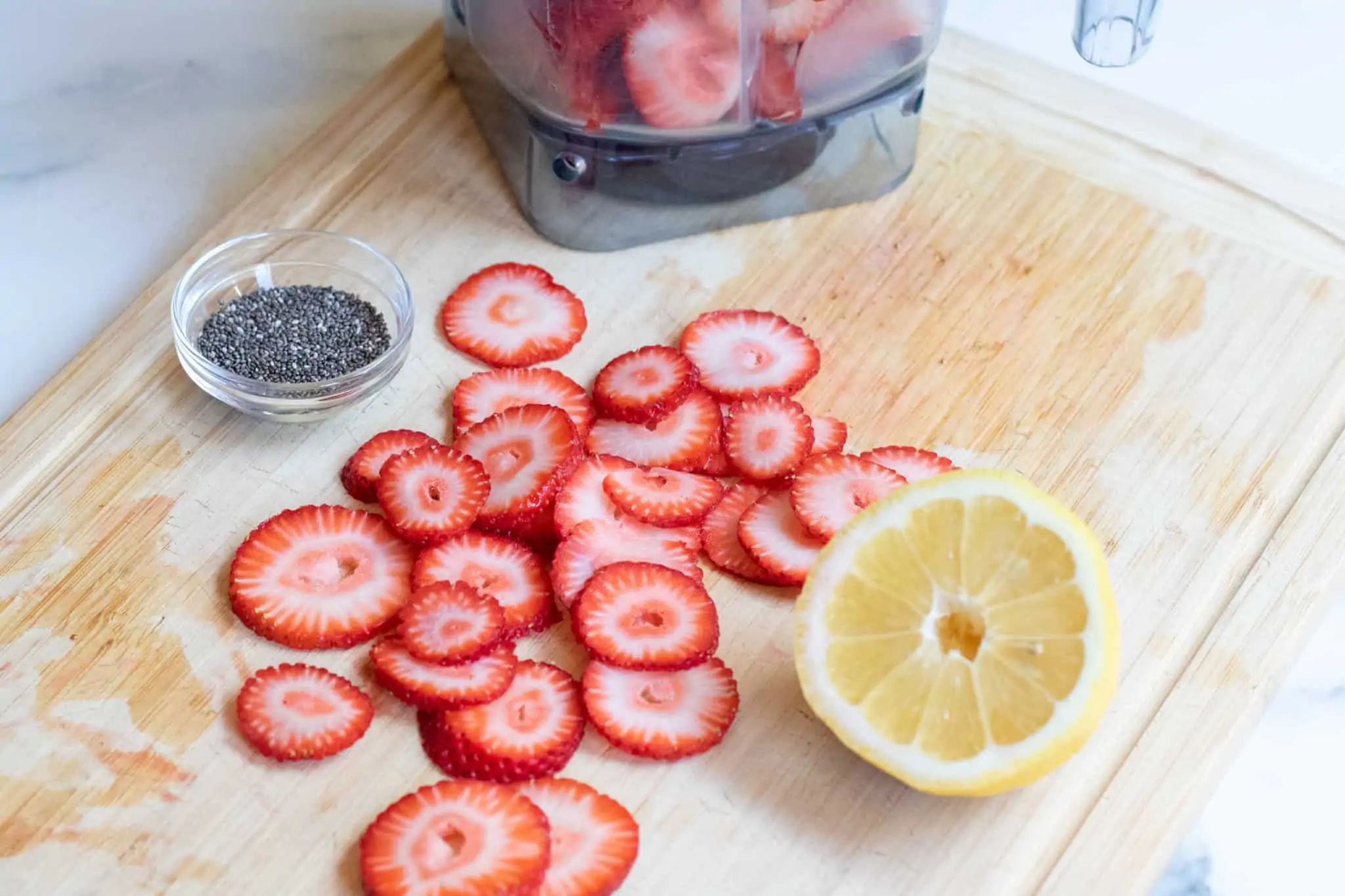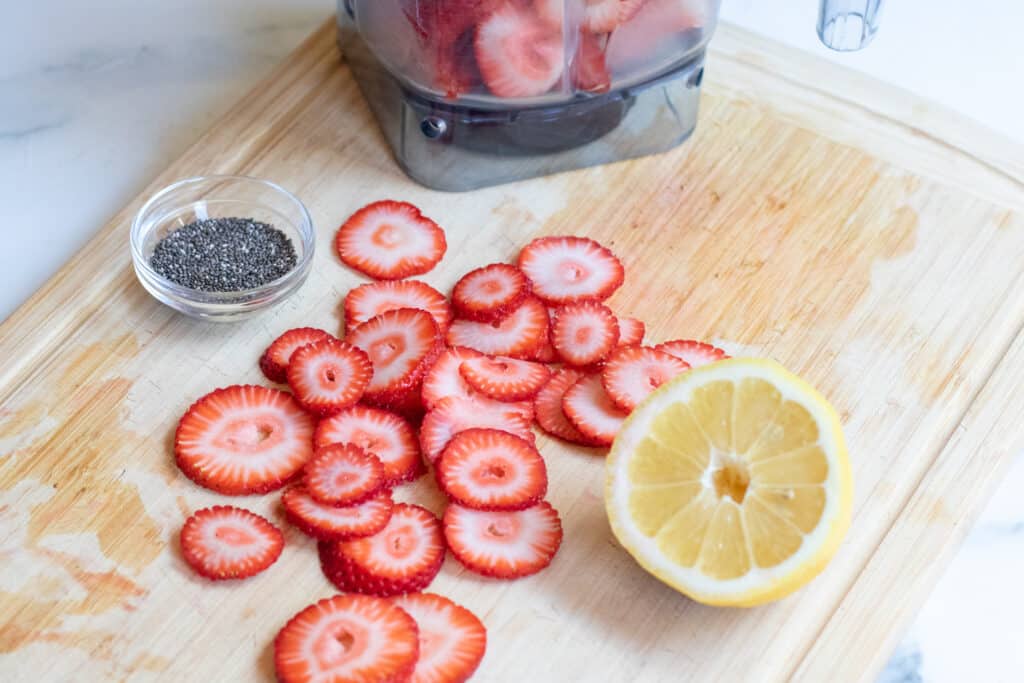 Step 1: Slice a few of the strawberries thinly.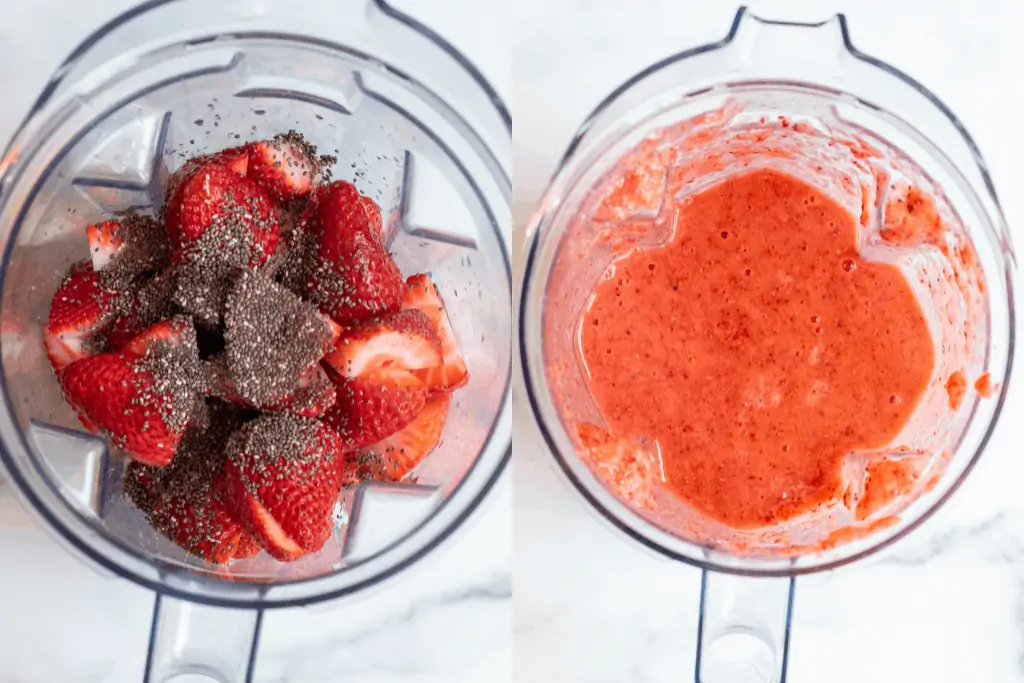 Step 2: Add the rest of the strawberries, honey, lemon juice, and chia seeds to your Vitamix or blender, and blend until smooth!
Honestly, one of our absolute favorite kitchen tools is our Vitamix. It's an investment, but if you make soup, sauces, or want to make your own nut milk, then it's 100% worth the money!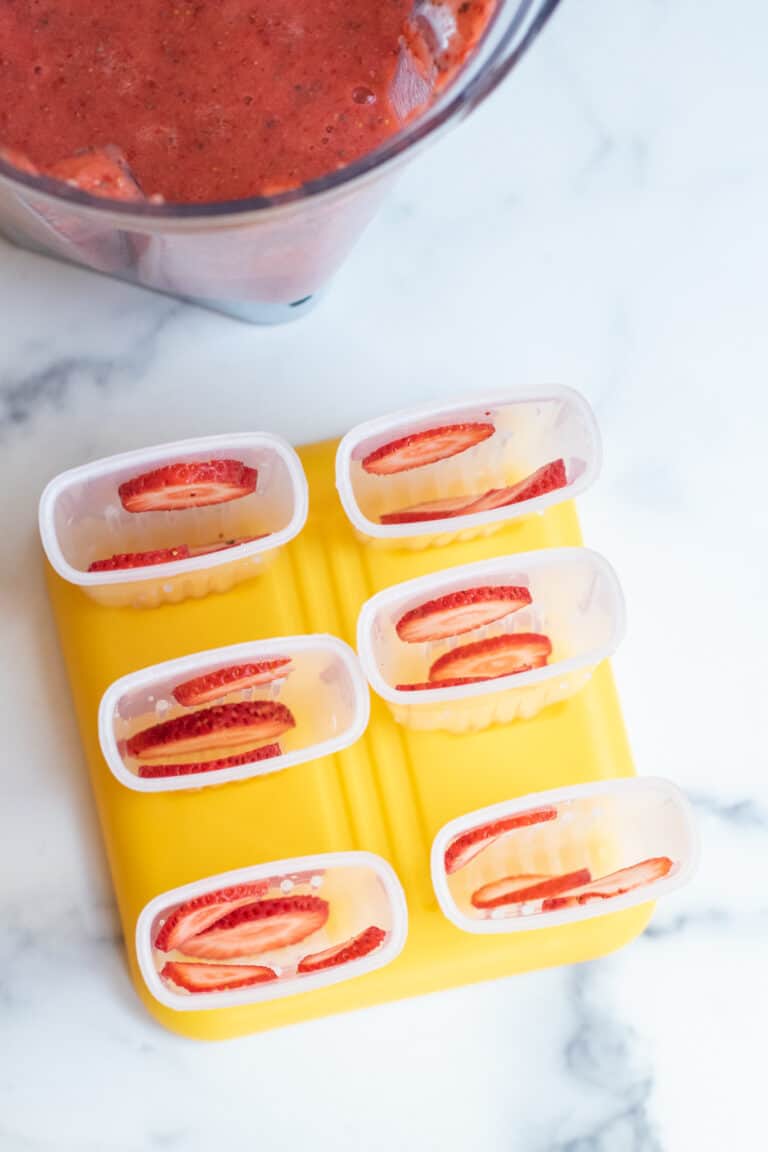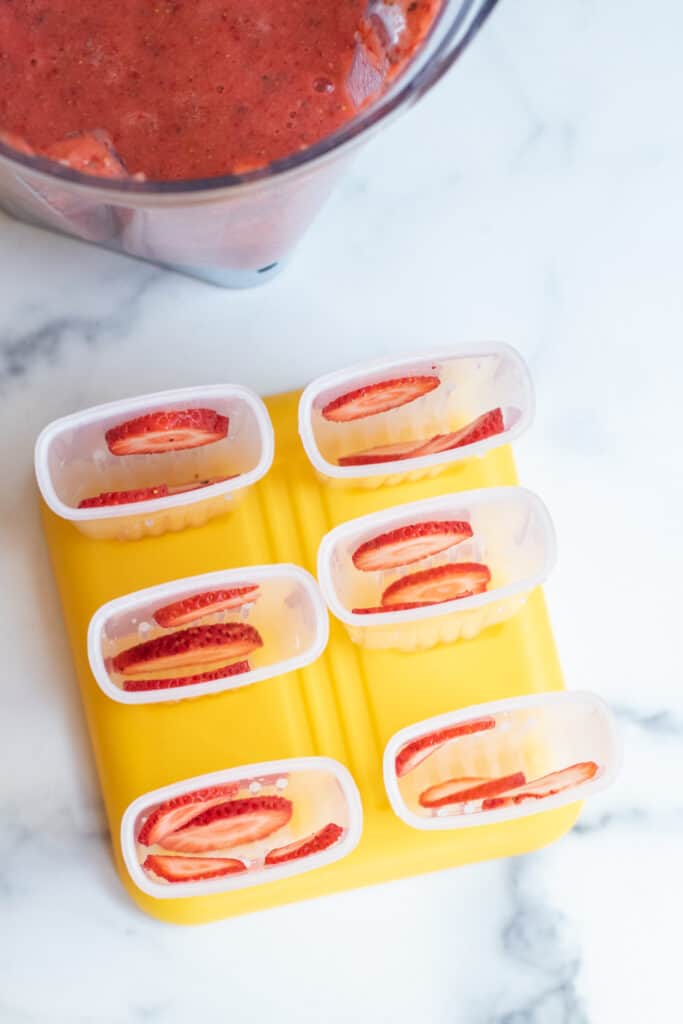 Step 3: Add those slices to the sides of your popsicle molds.
They'll usually stick pretty well. This'll add a fun look to the popsicles! These are the molds that we use: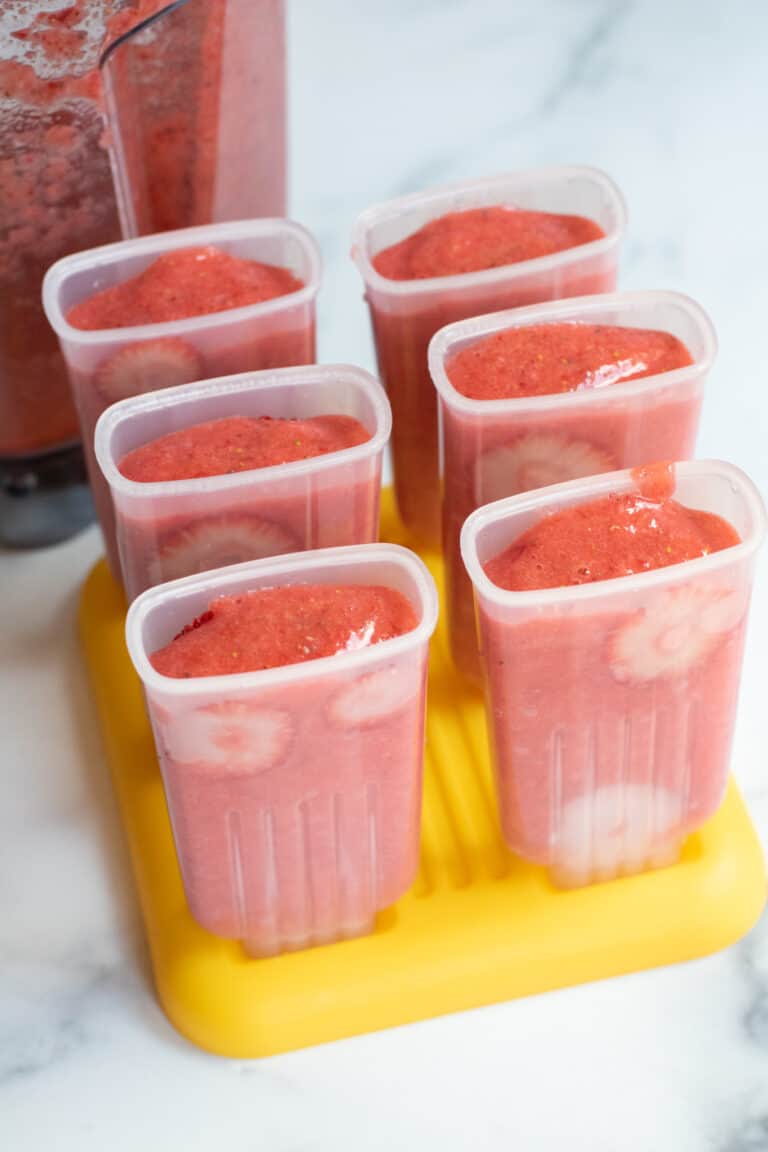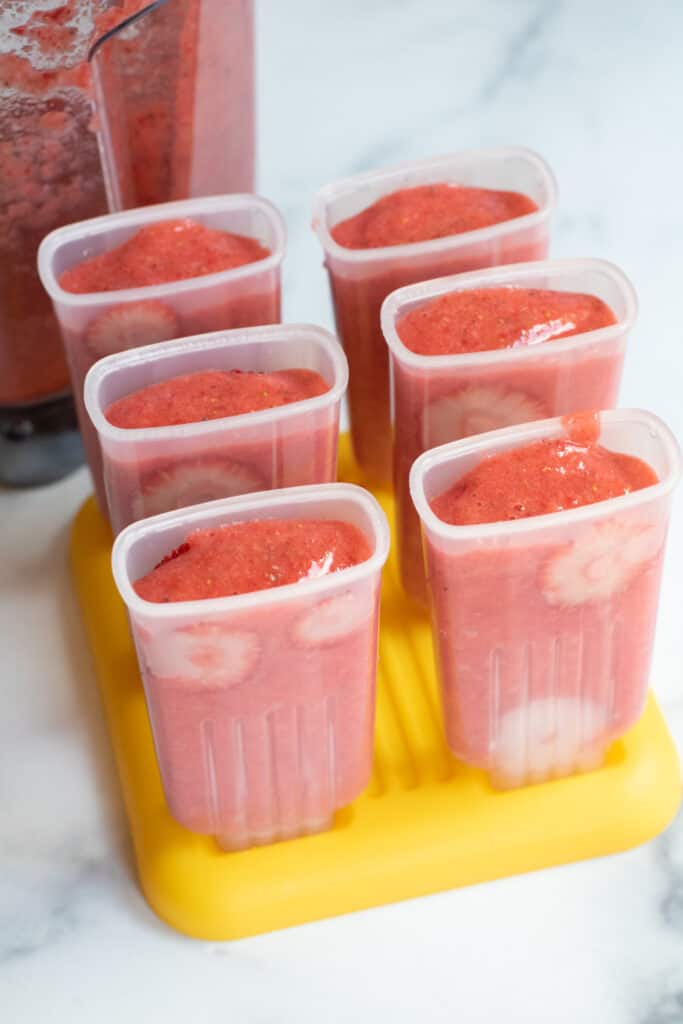 Step 4: Fill your popsicle molds with your strawberry chia seed mixture.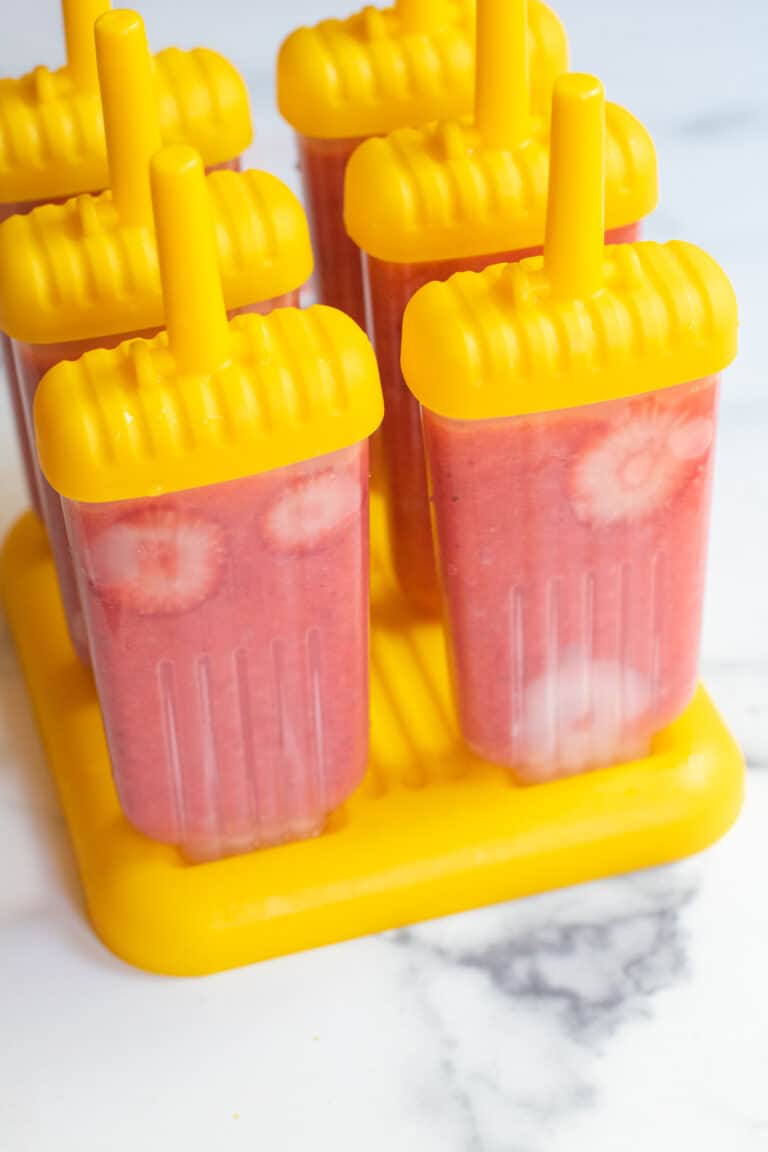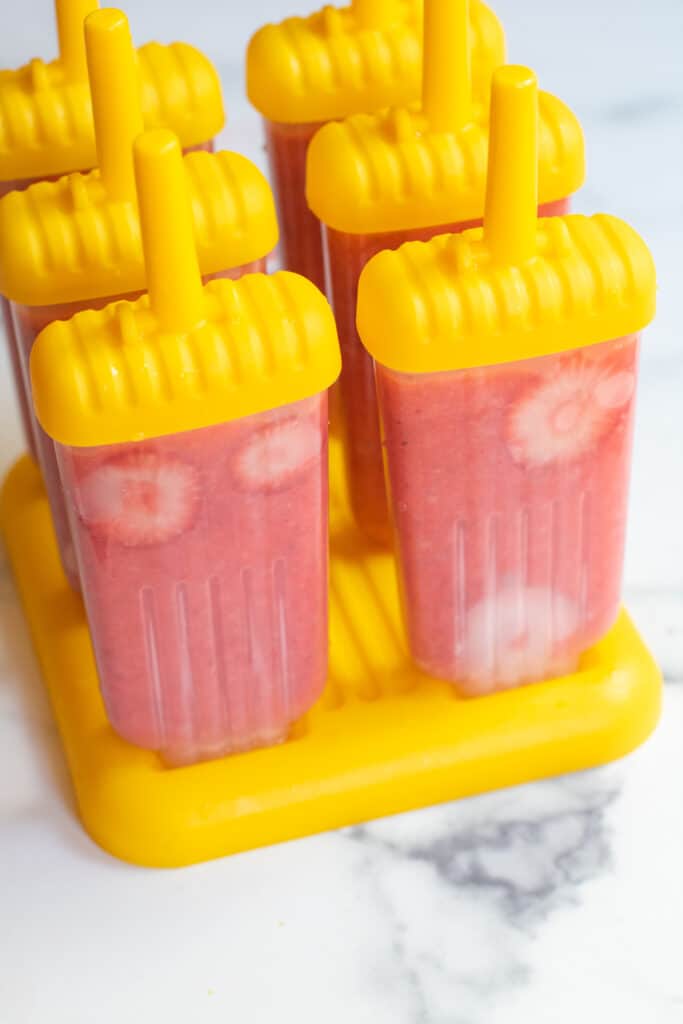 Step 5: Freeze! It takes about 4 hrs to full freeze, but I usually make a batch in the evening and let them set overnight, just to be sure (and to avoid having little ones tugging at me and constantly asking if they're ready yet!).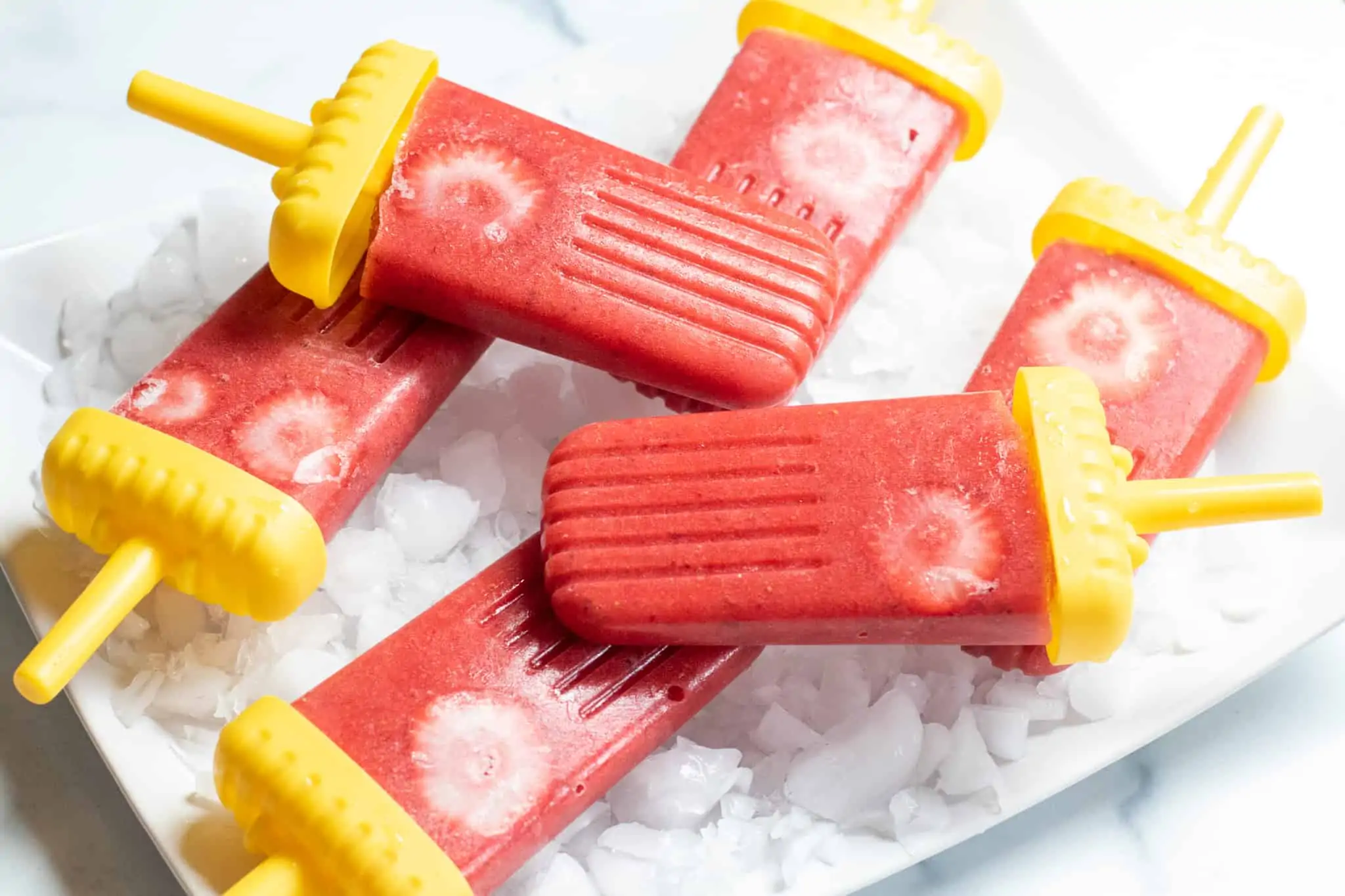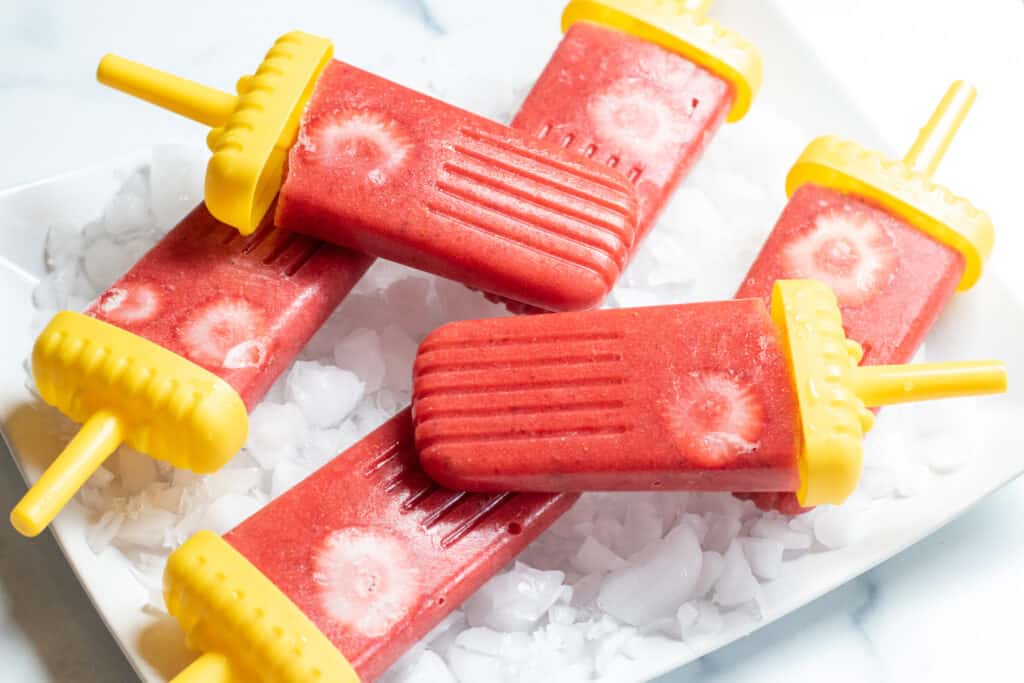 Once they're fully set, then just run the molds under a little warm water to loosen them so you can pull them out.
This was the platter that I served to the kiddos in the neighborhood while they all played outside on a warm day. And it made my Mom heart SO happy to know that not only was it a homemade snack, but also had only natural sugars, AND the superfood chia seeds! Do Homemade Popsicles get any better?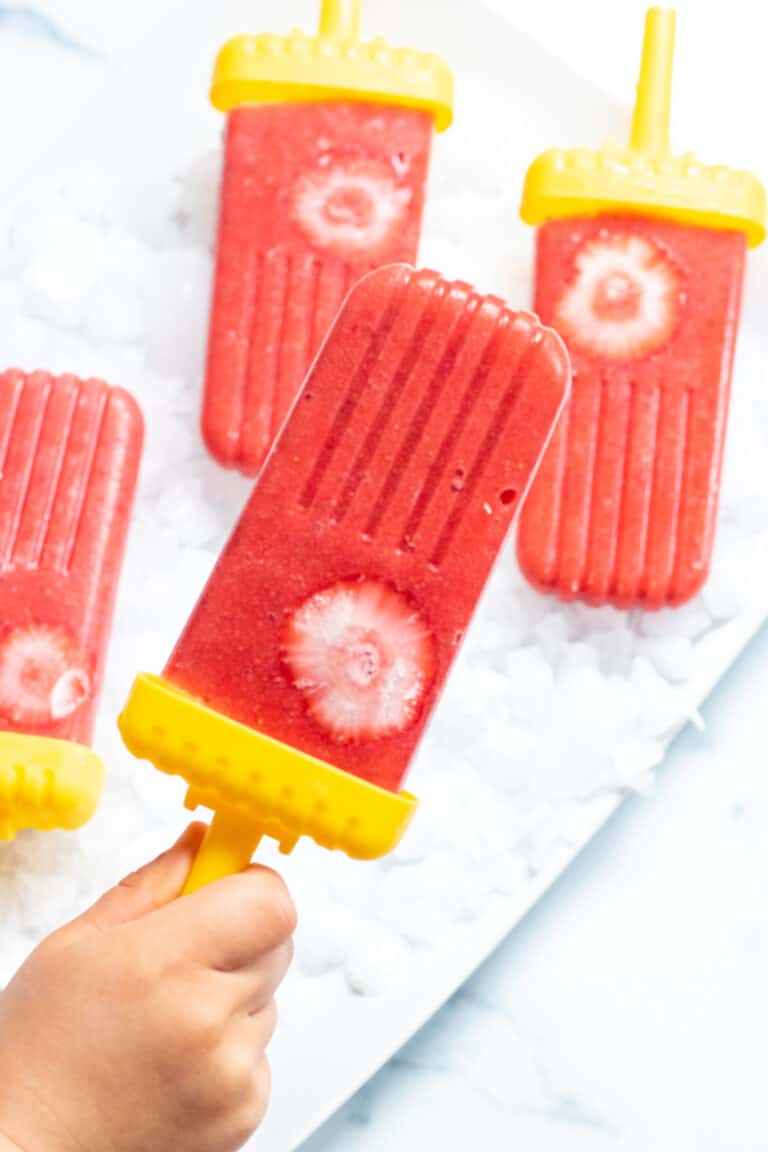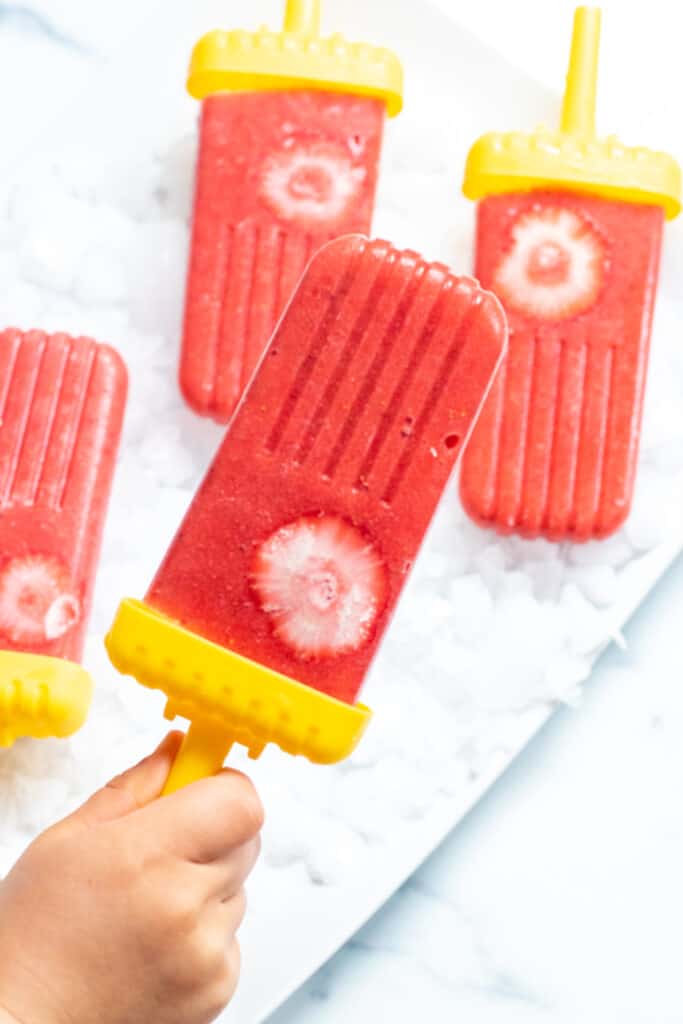 Homemade Strawberry Chia Seed Popsicles! Which passed the ultimate test, kids from ages 3-10 in the neighborhood gave them a double thumbs up - and they had no idea how healthy they are!
Our Other Favorite Strawberry Recipes
Healthy Kid Snacks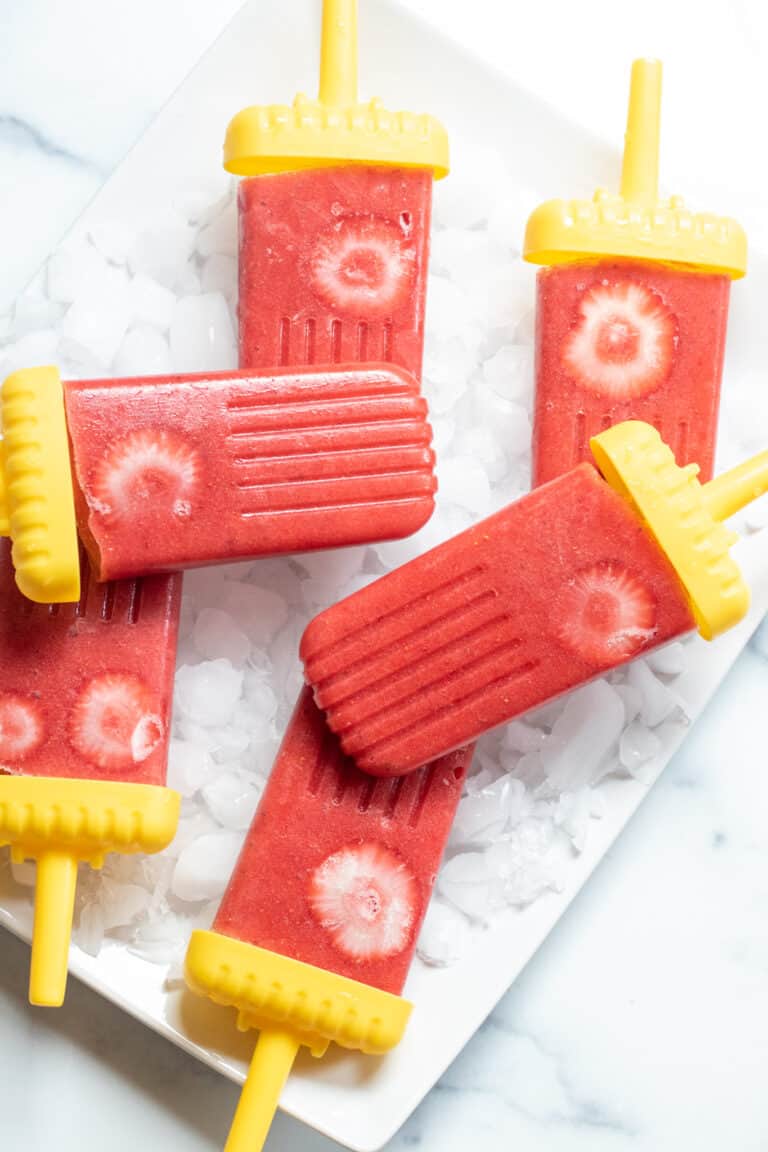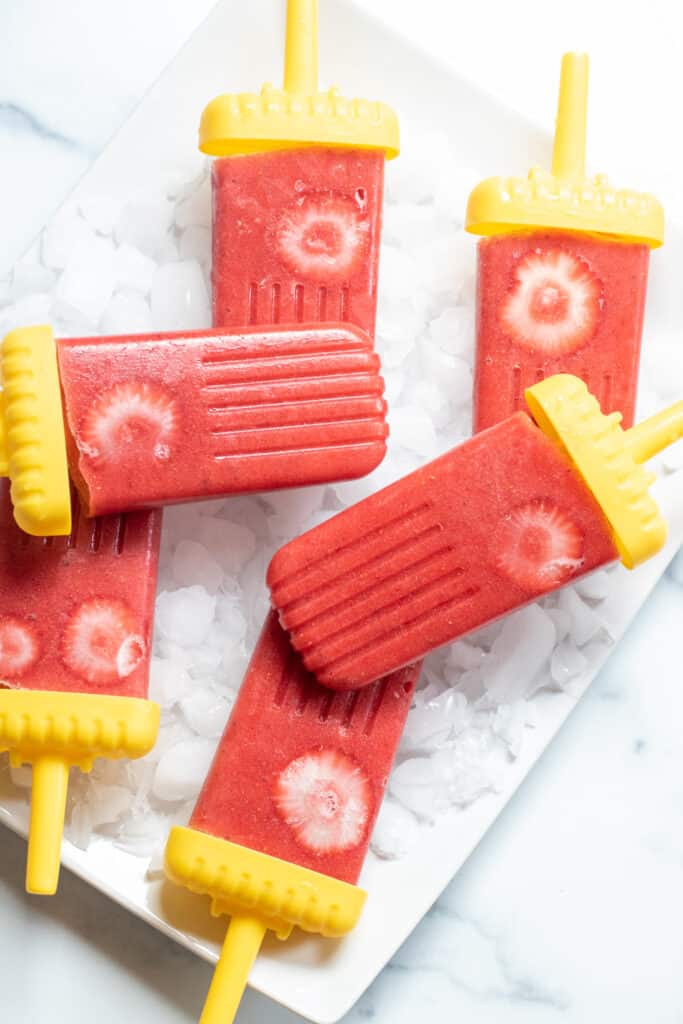 Customize!
Even better, you can literally add any fruit you want to these. We've added:
Kiwis
Mangos
Bananas
Pears
Apples
Oragnes
And a mixture of all over the above! The possibilities are literally endless!
Ahhh summer, which means summer popsicles. Which doesn't have to mean full of sugars and dyes, but instead fresh fruit and natural sugars. A snack that I told my girls they could have every single day if they wanted!
Enjoy! As always, if you make this recipe or any of my others, I love to hear what you think! Leave a comment below, email me, or you can find me on Facebook, Instagram, and Pinterest!
If you want to see more, be sure to sign up for my 5 Easy Ways to Start Cooking From Scratch!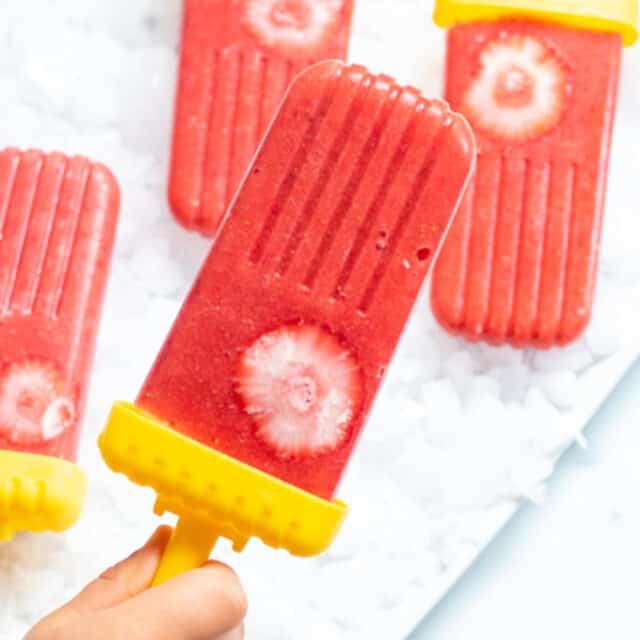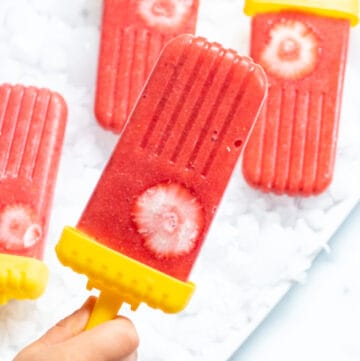 Strawberry Chia Seed Popsicles
Cut the added sugar and use those fresh strawberries in a healthy, delicious way with these Strawberry Chia Seed Popsicles! They'll be your new favorite easy, healthy summer treat!
Print
Pin
Rate
Ingredients
1 3/4

lbs

fresh strawberries

2-3 set aside

1-2

tablespoons

honey

1

tablespoon

chia seeds

juice

half a lemon

approxmiately 2 teaspoons
Instructions
Add all strawberries (except 2-3), honey, chia seeds, and lemon juice to a blender or vitamix and blend until smooth.

Slice 2-3 strawberries in thin slices and add to sides of molds.

Add blended strawberry mixture to molds.

Freeze for at least 4 hrs.

Run under warm water until pops loosen to remove from molds.
Nutrition
Calories:
63
kcal
|
Carbohydrates:
14
g
|
Protein:
1
g
|
Fat:
1
g
|
Saturated Fat:
1
g
|
Trans Fat:
1
g
|
Sodium:
2
mg
|
Potassium:
212
mg
|
Fiber:
3
g
|
Sugar:
9
g
|
Vitamin A:
17
IU
|
Vitamin C:
78
mg
|
Calcium:
34
mg
|
Iron:
1
mg