This Sweet Potato Turkey Skillet is fast, easy to make, and packed full of vegetables for a super healthy one pan dinner perfect for Fall!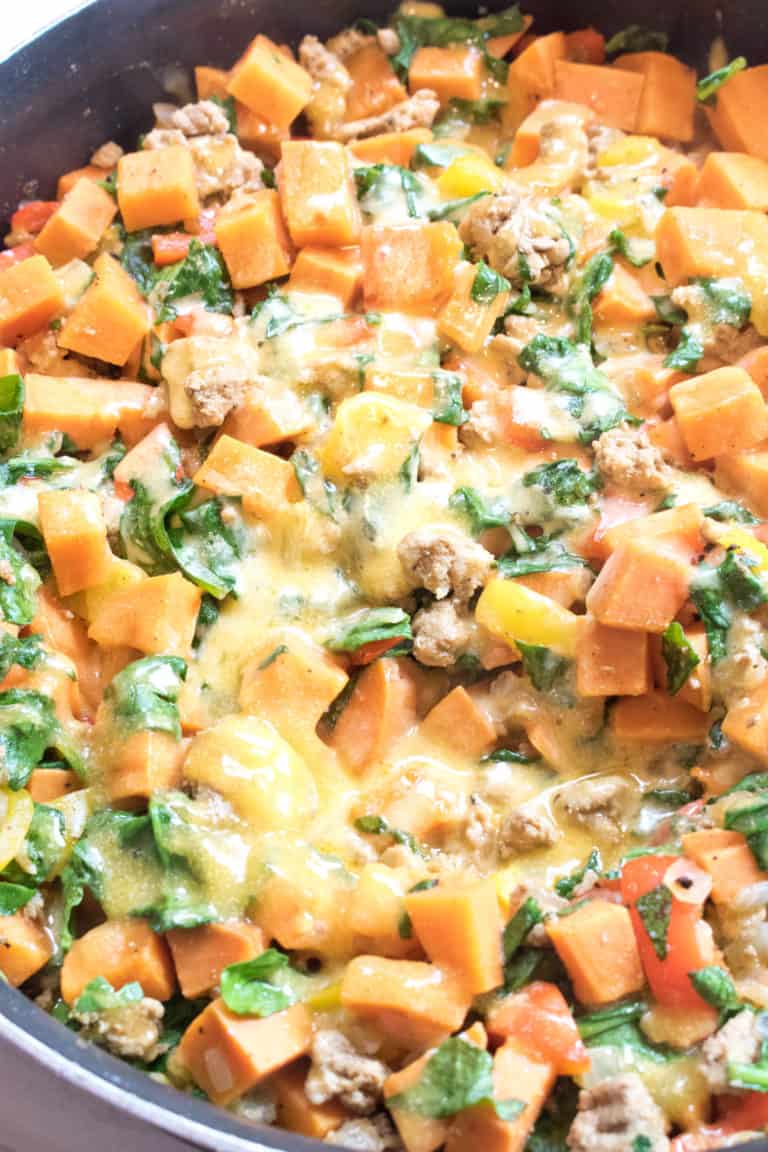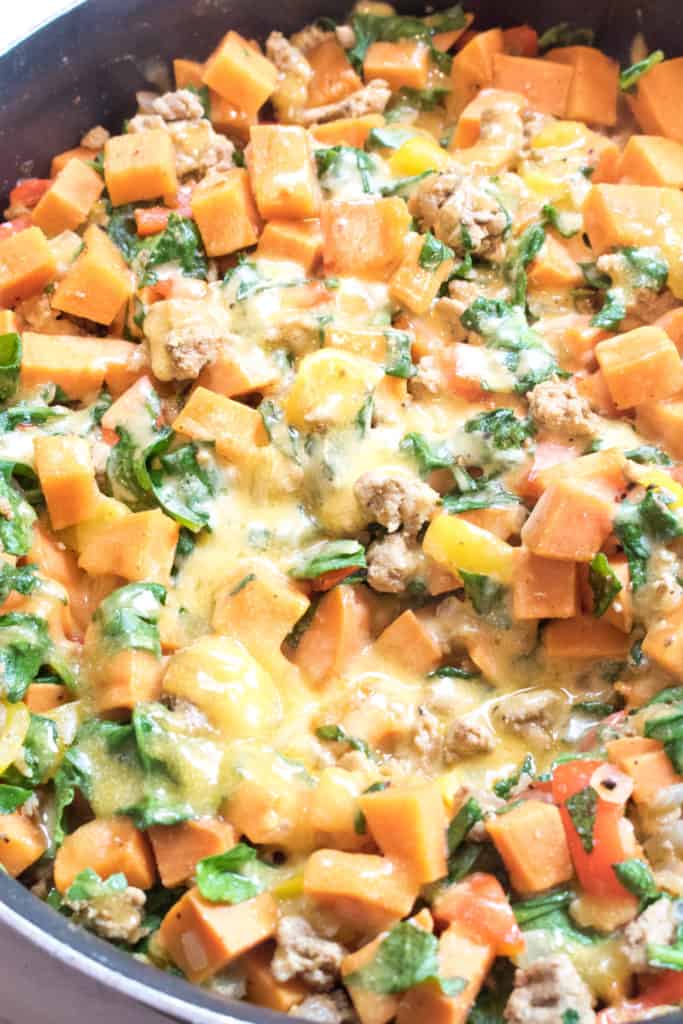 Oh heeeey! Guys. It has been a crazy month. Between glamping on the coast for my husband's 40th, plus a whirlwind trip to New England to help pack my mom for her to move out here to Oregon, and then help her get set up in her new home, we've been bus-ay. And as amazing as it's all been, we were on vacation mode for a lonnnggg time and to say we all missed our from scratch, whole foods diets is a major understatement. Enter, this Sweet Potato Turkey Skillet which has been a super quick and easy meal that has been clutch during the craziness of getting home and trying to get back into our routines.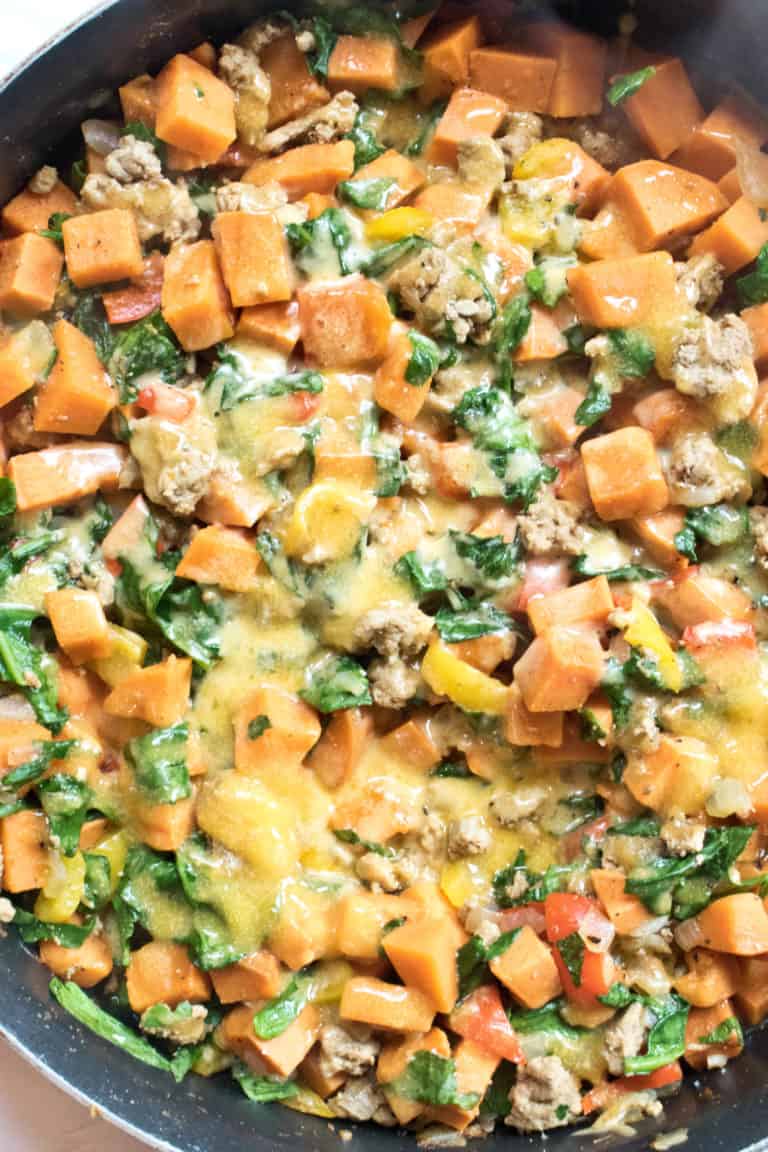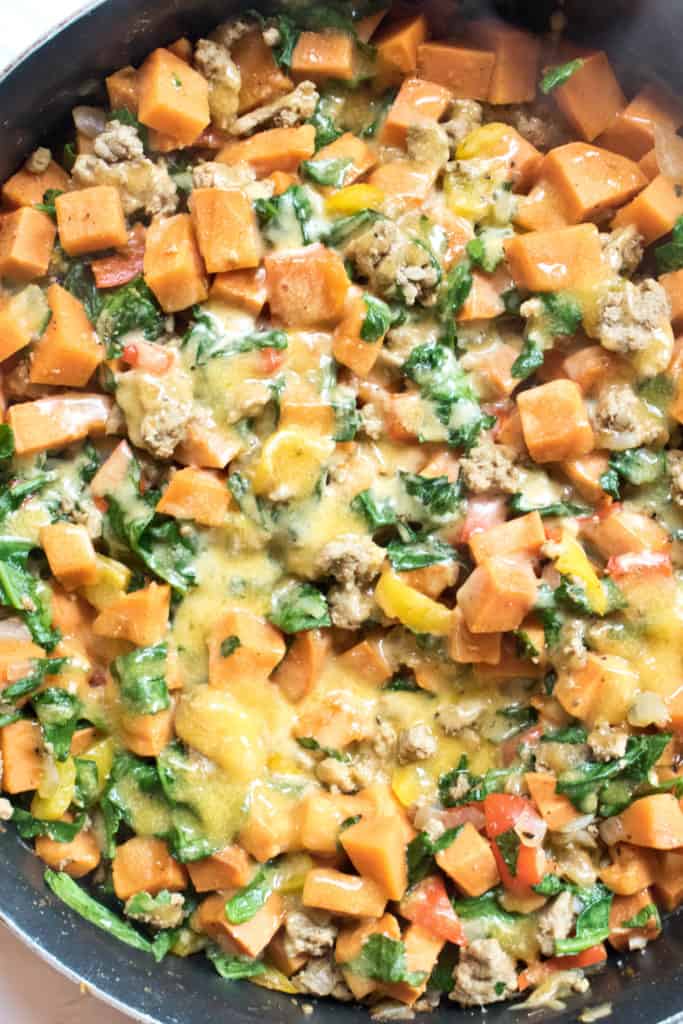 Now if ever there was a measure the success of a dinner, I think I found it with my three year old. Not only did she tell me multiple times throughout dinner how much she liked it, but the next morning (nearly a culinary lifetime for a 3 year old), she said to me, "Mama, I really liked last night's dinner. Can I have it for lunch?" Ahhhhh does it get any cuter, sweeter, or oh my god I stinkin' love you soooo much?! It doesn't. Fleeting as it may have been before she demanded help to brush her hair then screamed bloody murder because I was touching her... a dinner win, nonetheless.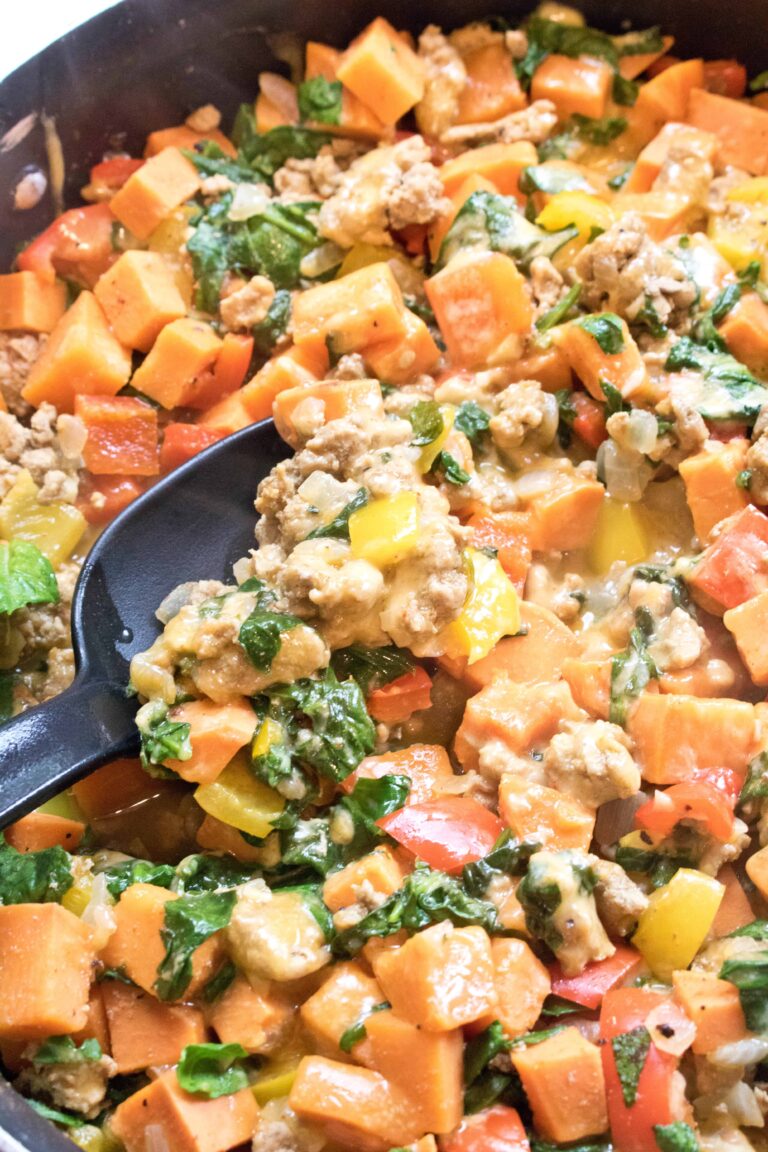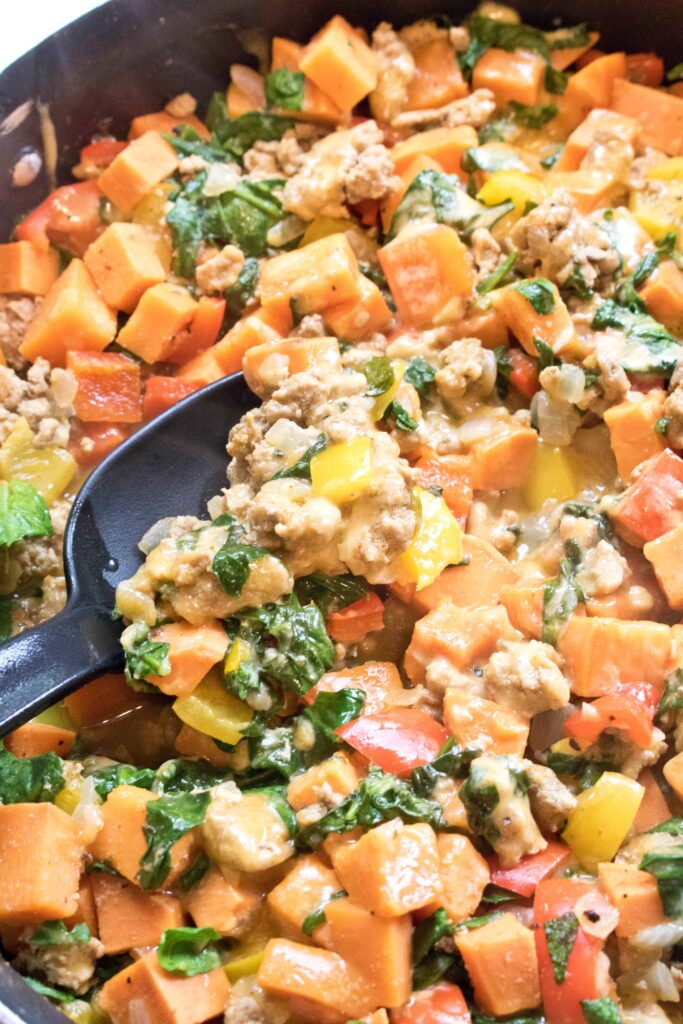 Because it was such a win and healthy and easy and one pan, we've made it a few times since we've been back with different veggies (mushrooms and zucchini) and with different cheeses (Pecorino Romano and Parmesan). It's totally customizable to whatever's in your pantry or fridge! I personally liked it with Romano, but the version that M liked the most was the one with cheddar.
Any way you make it, it's one pan and done in under 30 minutes so it's exactly what we need in our even crazier than normal schedules these days. Looking for more one pan inspiration? Some of our other favorites: One Pan Cabbage and Kielbasa, One Pot Cheesy Keilbasa, Broccoli, and Rice, Cauliflower Shrimp Fried "Rice", Sheet Pan Shrimp and Asparagus.
Enjoy!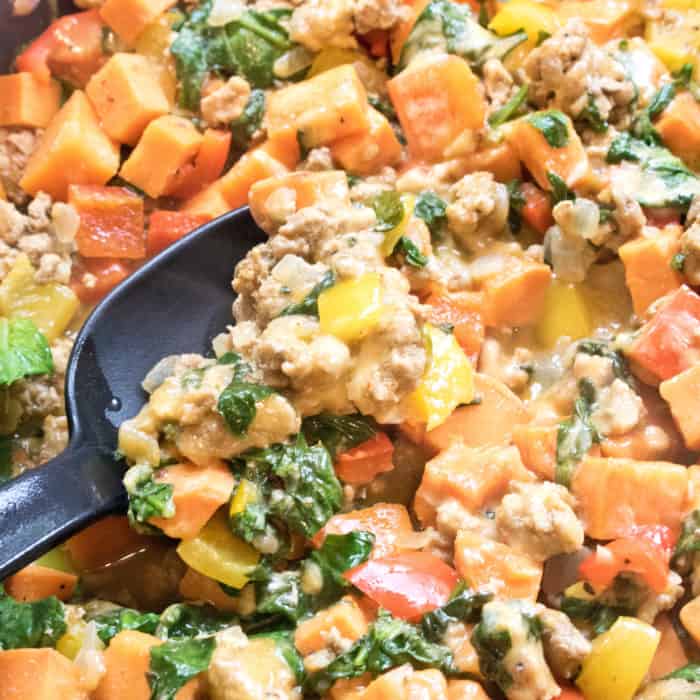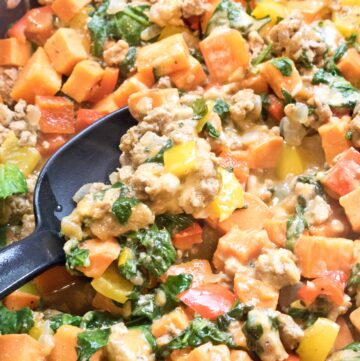 Sweet Potato Turkey Skillet
This Sweet Potato Turkey Skillet is fast, easy to make, and packed full of vegetables for a super healthy one pan dinner perfect for Fall!
Print
Pin
Rate
Ingredients
2

lg

sweet potatoes, diced into 1 inch cubes

approx 4 cups

1

small

white onion, diced

3-4

cloves

garlic, minced

1

lb

ground turkey

2

tablespoons

cumin

1/4

teaspoons

kosher salt

1/2

teaspoon

chili powder

1

yellow bell pepper, chopped

1

orange bell pepper, chopped

1

cup

chicken stock

1

cup

cheddar cheese, grated

or any other cheese!

4

cups

fresh spinach, chopped
Instructions
In a large saute pan on medium, saute garlic and onion until onion is translusent, approximately 3 minutes.

Add turkey and breaking it up as it cooks. Cook for approximately 5 minutes. Add cumin, chili powder, salt, and pepper and mix well.

Add peppers and saute for another 3 minutes then add sweet potato and chicken stock. Cover and let cook until sweet potato is tender, 6 - 8 minutes.

Add spinach and mix as it cooks down until it's just begun to wilt. Sprinkle cheese on top and cover and let melt for another minute. Serve immediately!