Best. I know, that's a pretty big statement but trust me, it is. Ok why trust me, when I can tell you it's one of Chef Marcus Samuelsson's favorite ways to serve kale. It's ok, trust him instead, I would!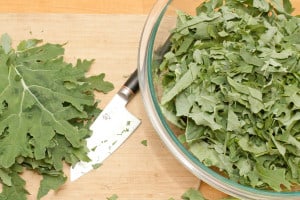 My favorite part about this salad is that I just went out to my backyard and picked a huge bunch of White Russian Kale to use for it. From Scratch Kale! Except with said kale I also might have scared the dog when I screamed at a couple of spiders that crawled out on me while I cleaned it… proving everything has a cost, even home grown kale.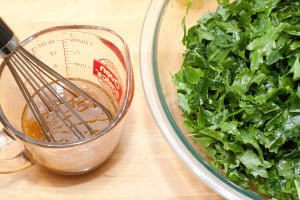 Once the eight legged stowaways were gone, I gave the kale a nice shred then added a couple of tablespoons of apple cider vinegar, olive oil, and a teaspoon of salt and massaged it in. Why "massaged"? 'Cause you really do have to use your hands to mix in all in. It's what will A. take away some of the kale's inherent bitterness, and B. give it that beautiful bright green glistening color. I let it set in the bowl while I whisked up the dressing,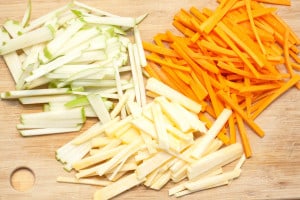 and julienned a carrot, half a rutabaga, and a small green apple.
Then I added the veggies to the kale, poured on the delicious dressing,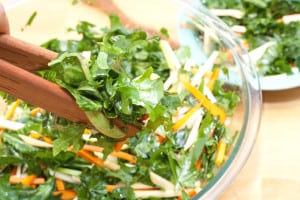 gave it all a good mix,
served it up,

and thoroughly enjoyed. Seriously, the best kale salad I've ever made. For my training husband, I added some simple grilled chicken on top for some added protein. For me, this salad alone was perfect. The flavors are so amazing together and yet so fast and easy to make. Kale salad win!
The BEST Kale Salad
2015-06-23 03:22:11
Massaged kale with root vegetables and green apple
Ingredients
2 pounds kale, stemmed and leaves thinly sliced
2 tablespoons apple cider vinegar
1/4 cup plus 2 tablespoons extra-virgin olive oil
Kosher salt
1/4 cup fresh lemon juice
1 tablespoon soy sauce
1 tablespoon agave syrup
Pepper
1 large carrot, julienned
1 Granny Smith apple, peeled and julienned
1 cup peeled and julienned rutabaga
Instructions
Add the kale to a large bowl and add the vinegar, 2 tablespoons of the olive oil and 1 teaspoon of salt. Massage oil, vinegar, and salt into kale. Let stand at room temperature for 30 minutes.
Meanwhile, in a medium bowl, whisk the lemon juice, soy sauce, agave syrup and remaining 1/4 cup of olive oil. Season with salt and pepper.
Add the carrot, apple, and rutabaga to the kale. Add the dressing and toss. Season with salt and pepper and serve.
Notes
The salad makes a great base for any grilled protein you'd like to add!
Make it ahead: This salad can be made ahead and refrigerated overnight
Adapted from Marcus Samuelsson
Served From Scratch https://www.servedfromscratch.com/