Making your own Vanilla Extract from scratch at home is a much more affordable option and with only two ingredients, it couldn't be any easier!
You know what's incredibly, ridiculously, affordably easy? Vanilla Extract from scratch. A really good, organic pure vanilla extract is not cheap and we just made about half a pint of pure vanilla extract for... ok I have no idea how much exactly, but it was a hell of a lot cheaper than buying that much in the store, that's for sure. Oh, and bonus? We have a lot of Stoli vodka left over. Can you say extra dirty vodka martini?
This was seriously so simple. Oh, and pro-tip, by vanilla beans in bulk. Those stupid jars of the organic viles that have 2 beans that's like $11 dollars- rip. OFF. New Seasons sells vanilla beans in their bulk section for $1.50 a bean. ! I know. I was so excited when I found that out / pissed that I just spent $11 on two stinkin beans. Oh well.
So all you need to do to just slice the beans open (you could chop them up too, I guess, but I liked the look of the full beans in the jar), and just add vodka. Then, let it sit in a cool dark place for about at least 6 weeks and bam! Vanilla Extract from scratch!
Seriously. Can Vanilla Extract from scratch get any easier? Nope. Happy baking!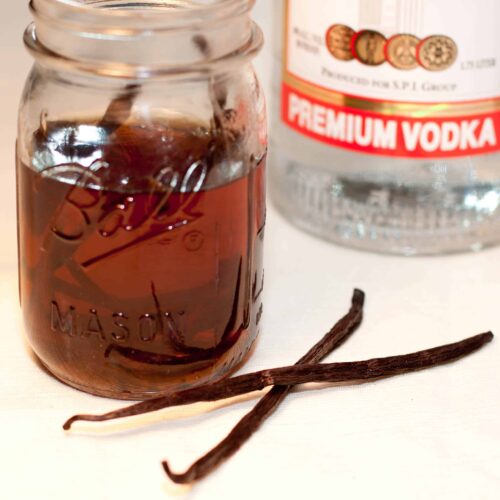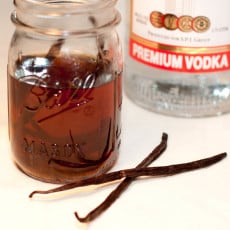 Vanilla Extract from Scratch
Making your own Vanilla Extract from Scratch is cheaper and easier than you think!
Print
Pin
Rate
Instructions
Slice open vanilla beans lengthwise (or cut into pieces to fit in jar) and place in jar. Pour vodka in over beans, cover, and let sit for at least 6 weeks. Give it a little shake every once in awhile.

Strain if you prefer, or leave pods and beans in jar to continue infusing.