Baked Parmesan Steak Fries are a healthy and delicious alternative for that French Fry craving!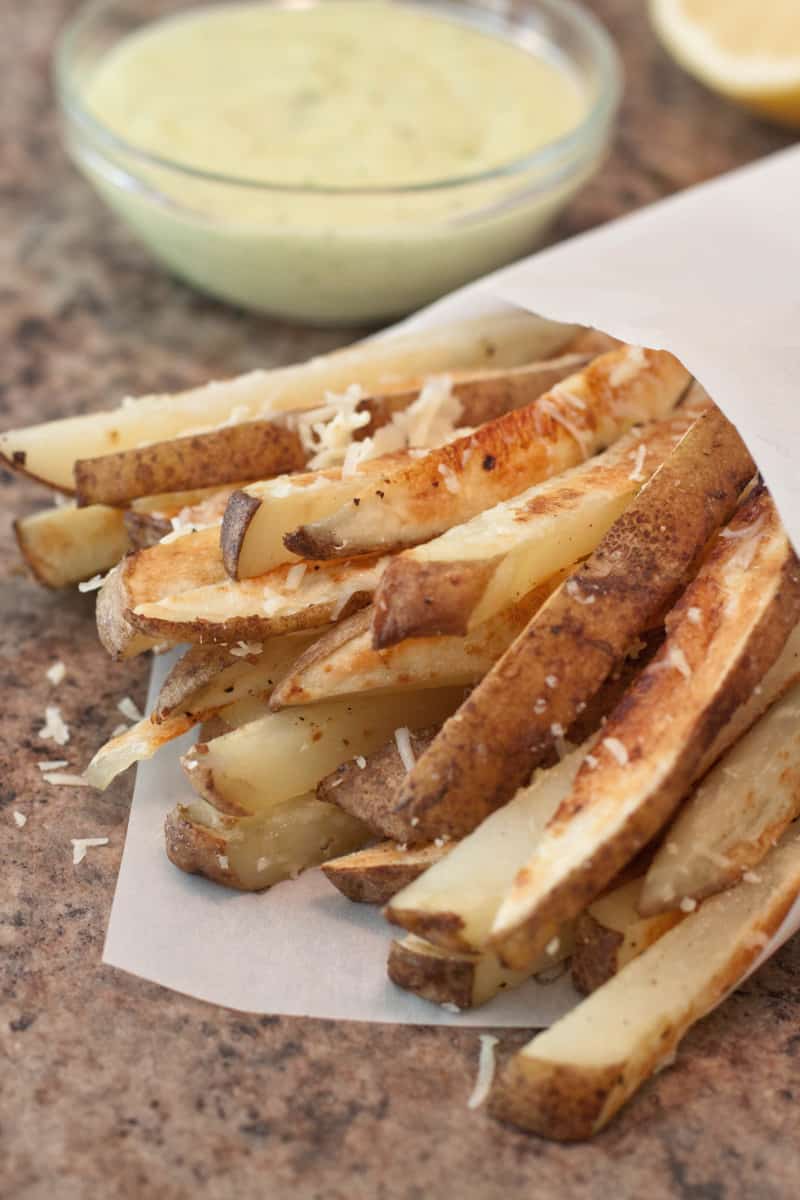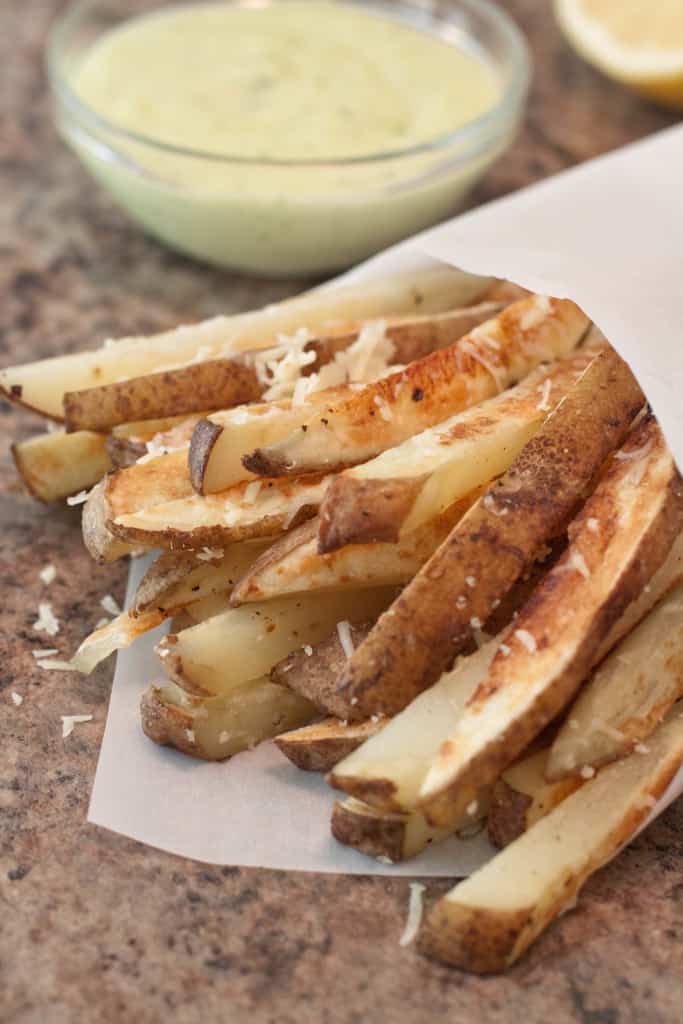 Some days just require French fries. You know those days? Those long, stressful, busy days where you just want some good old comfort food to give you a big ol' hug? Yup. Those kind of days require fries like these Baked Parmesan Steak Fries.
Did you know how easy homemade French fries are? They're so much easier to make than you may think!
Ingredients Needed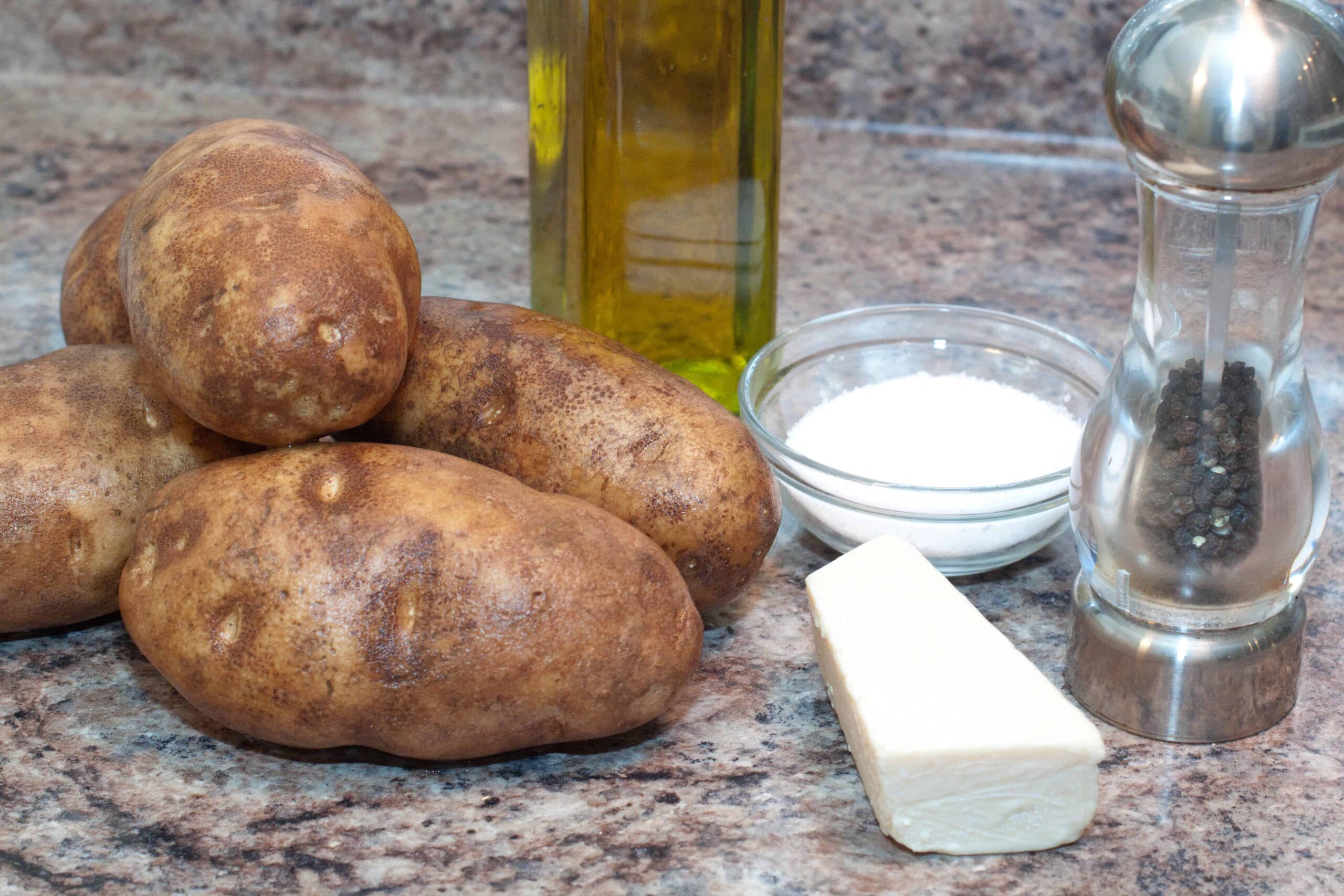 Homemade French fries are actually really easy and simple. Totally worth the effort when you're having one of those days.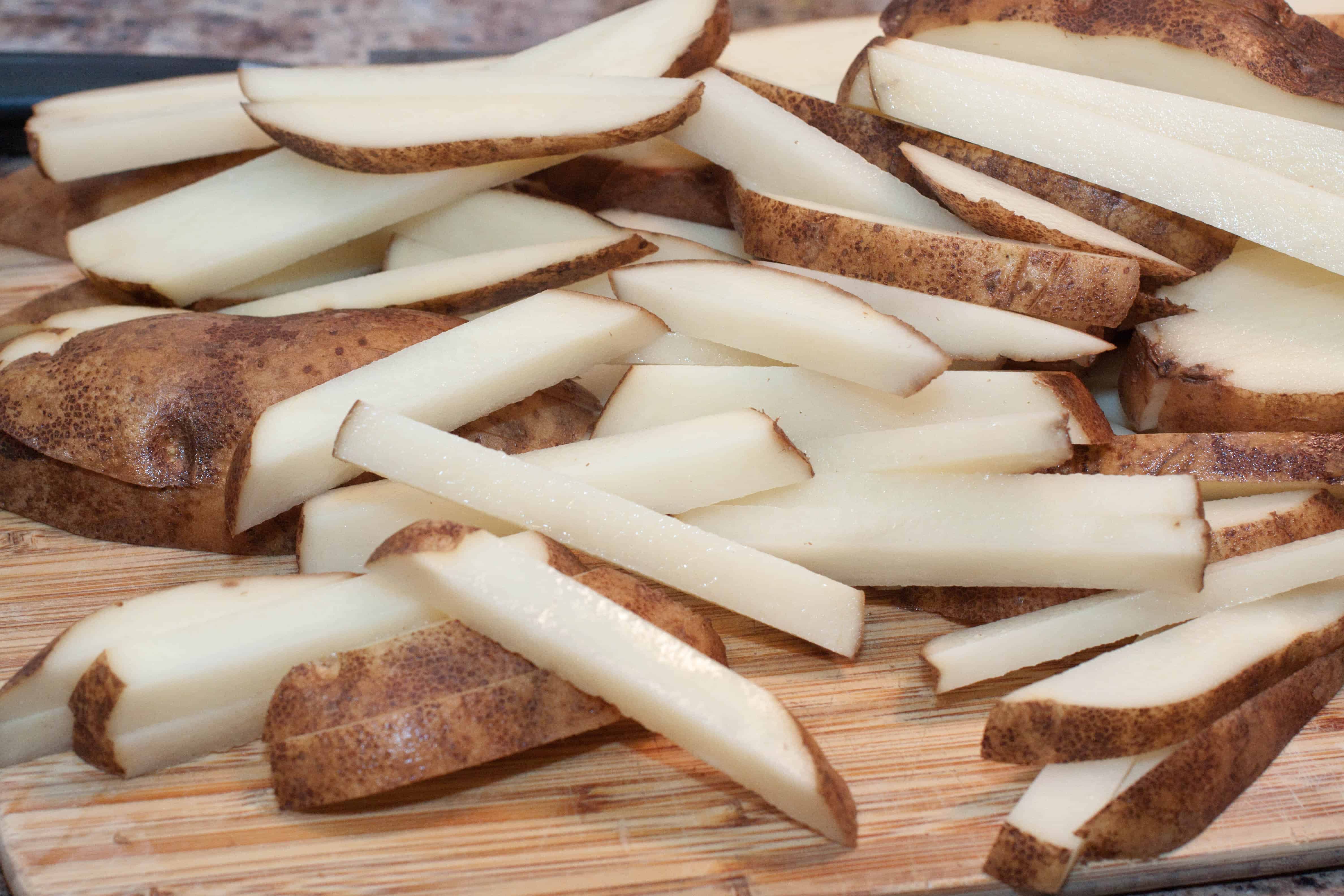 In this household, we bake our french fries. Which sometimes I'll slice up the taters nice and thin enough to get oven crispy fries, but this particular day, I was in a steak fry kind of a mood.
So I sliced up the spuds on the thicker side. Oh and I didn't bother peeling them. Just a good wash. Plus, the skins actually have fiber and added nutrients and can help lock in nutrients of the flesh of the potato. Because they're thicker, I gave them a little par boil before going into the oven, too. Then added some olive oil, salt, and pepper,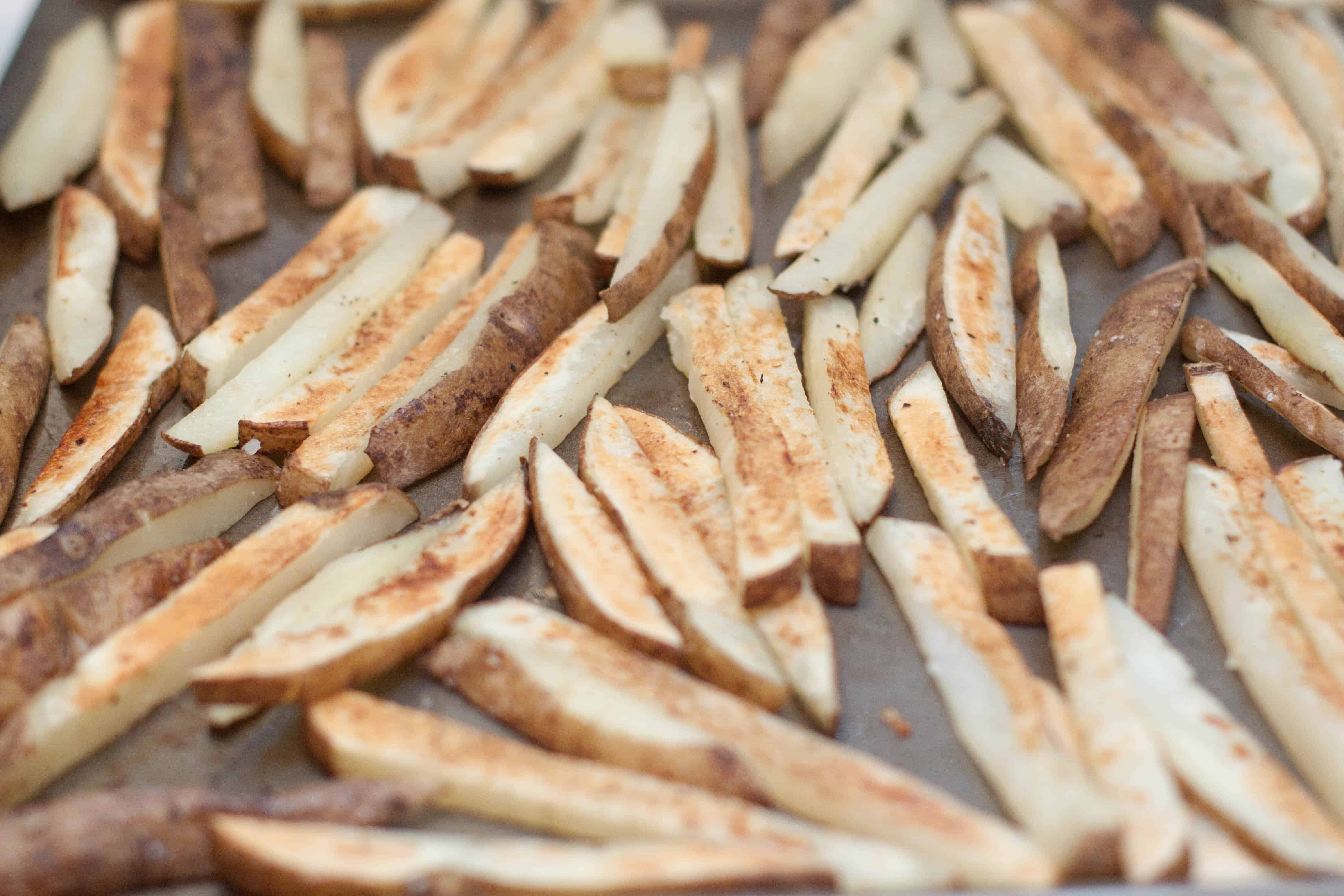 and baked in a 400 degree oven for 15 minutes on one side, then a flip on the other side for more browning.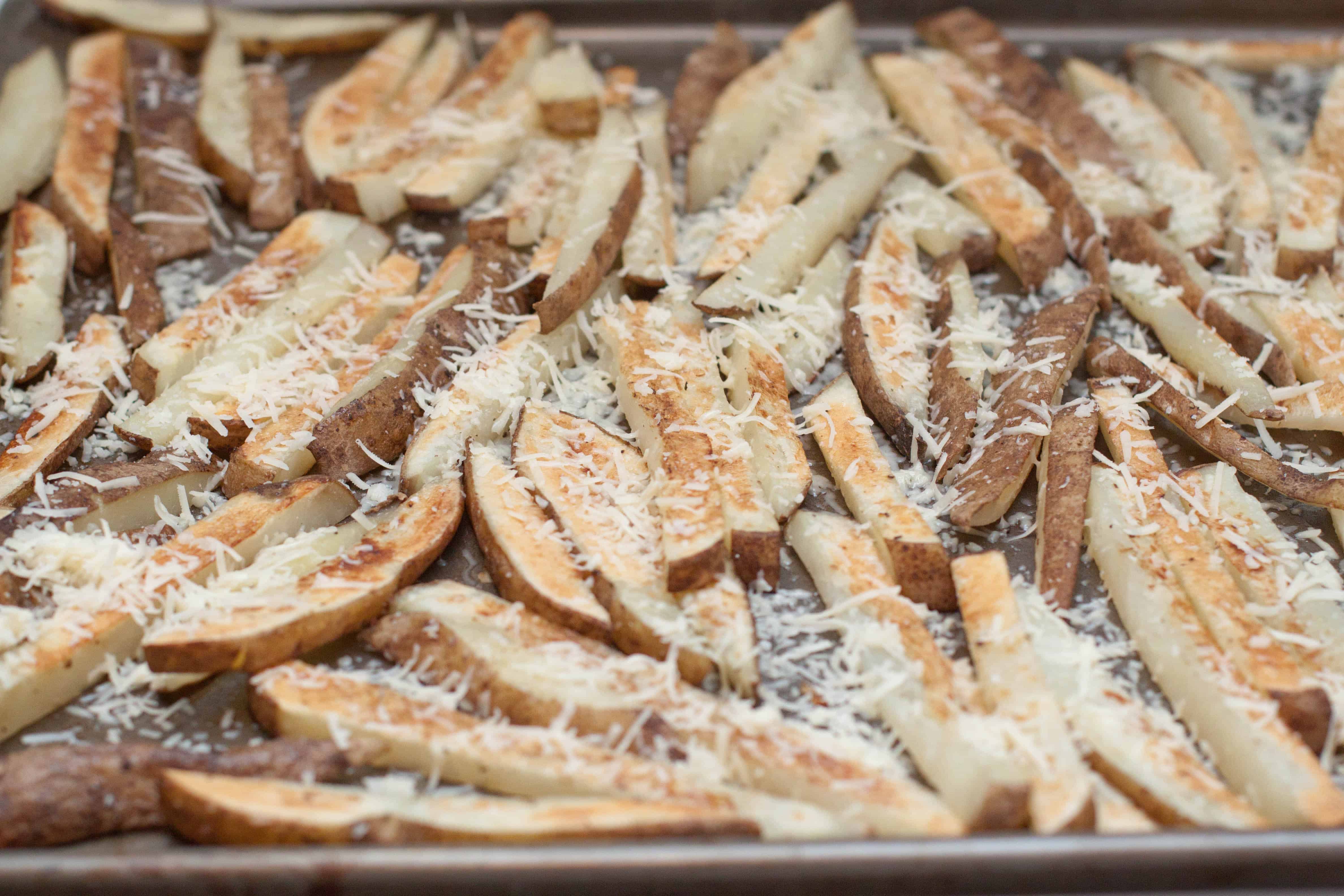 Once they were done, the final touch: a generous helping of fresh grated Parmesan cheese on top of the hot spuds.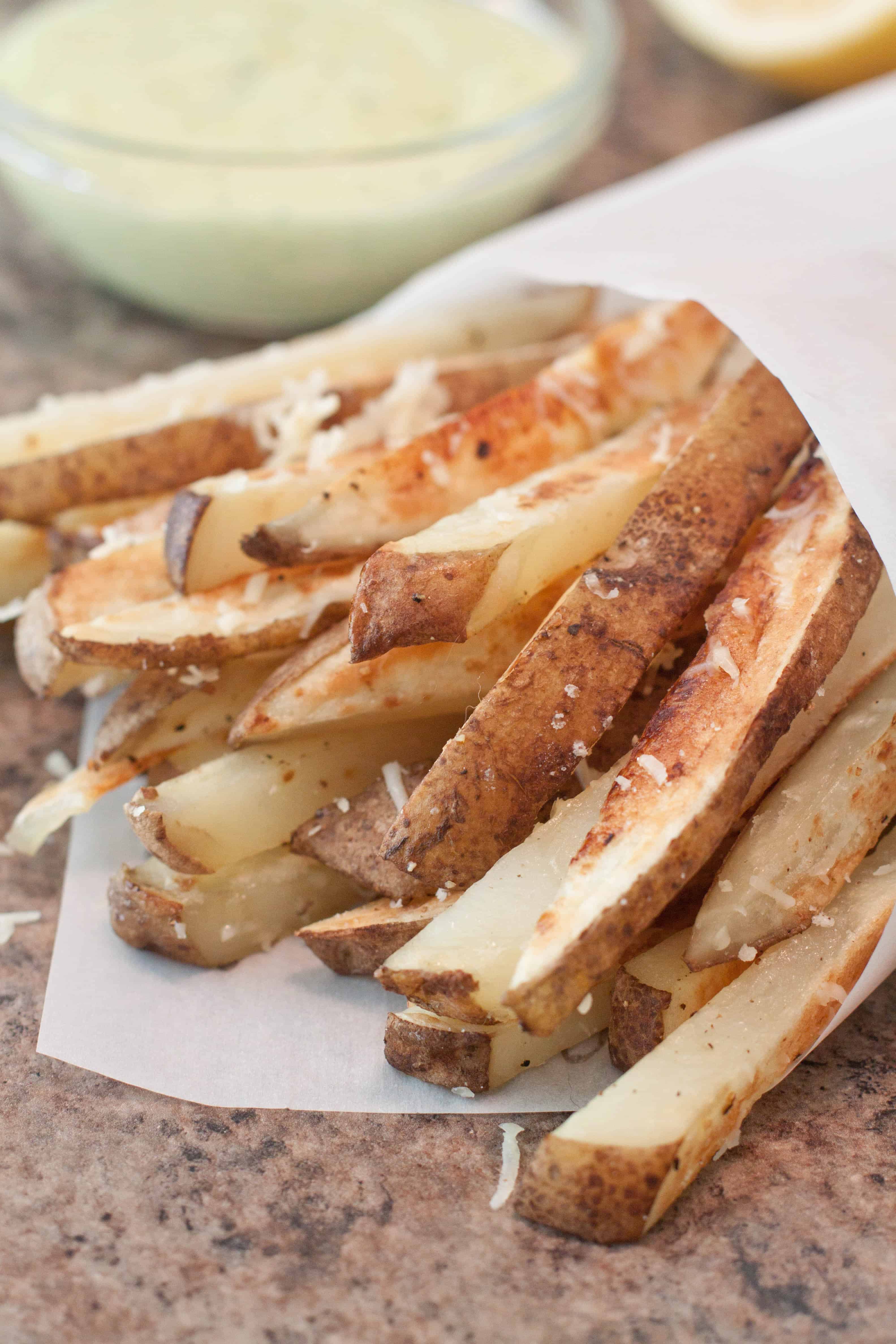 Boom. Baked Parmesan Steak Fries.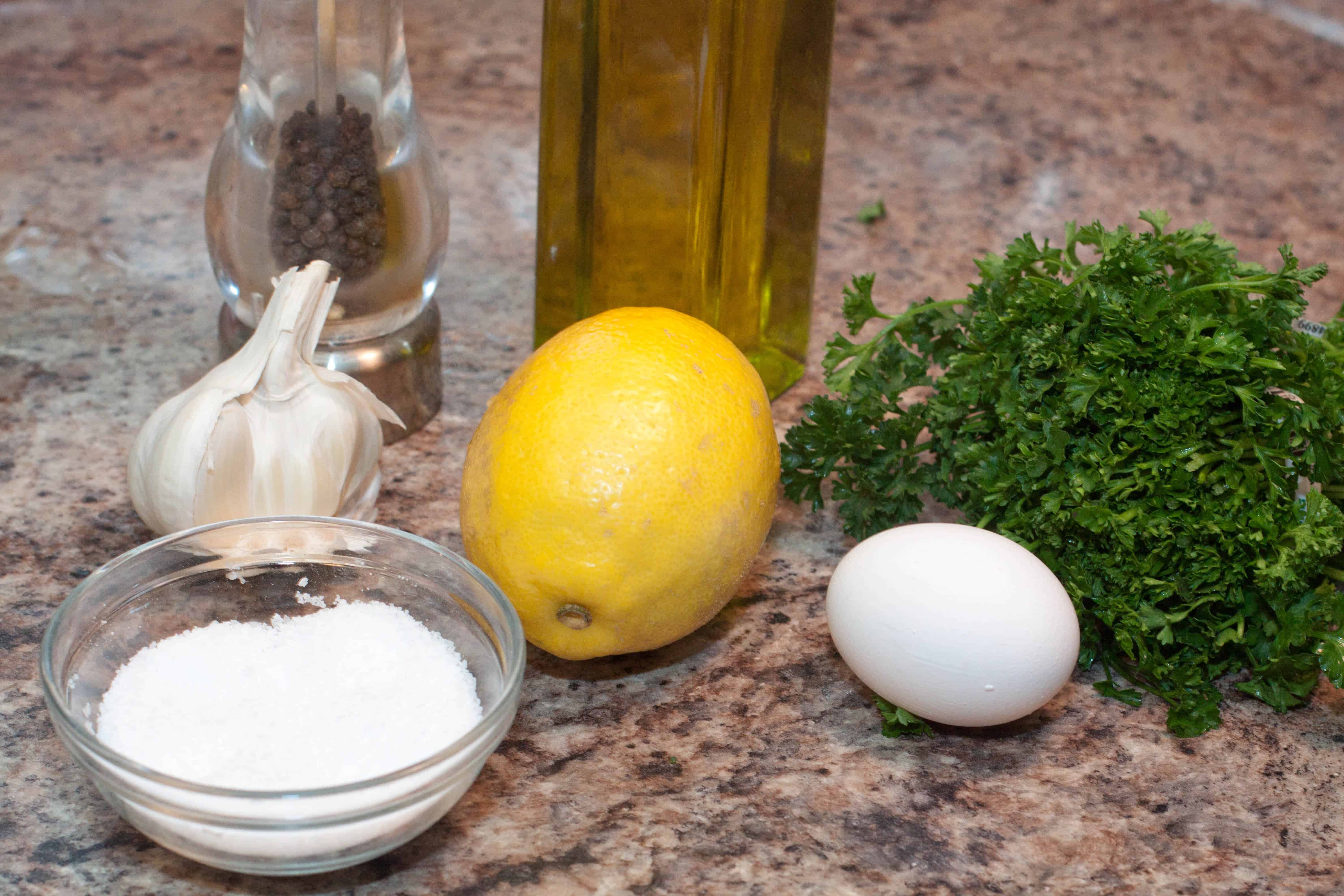 While the fries were baking, I whipped up a quick Garlic Aioli dipping sauce for them.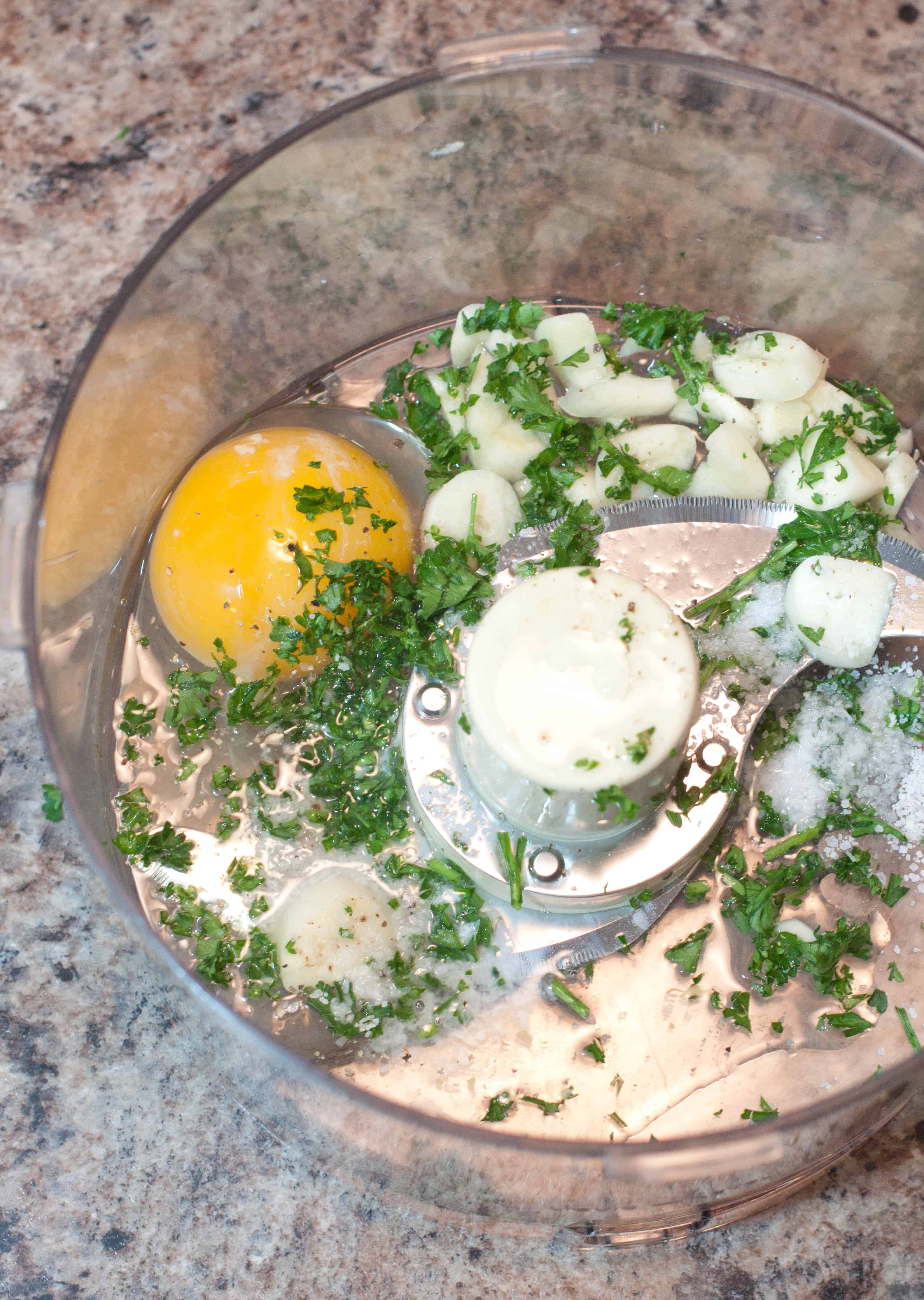 Which is super easy. Just toss everything but the oil in a food processor and blend.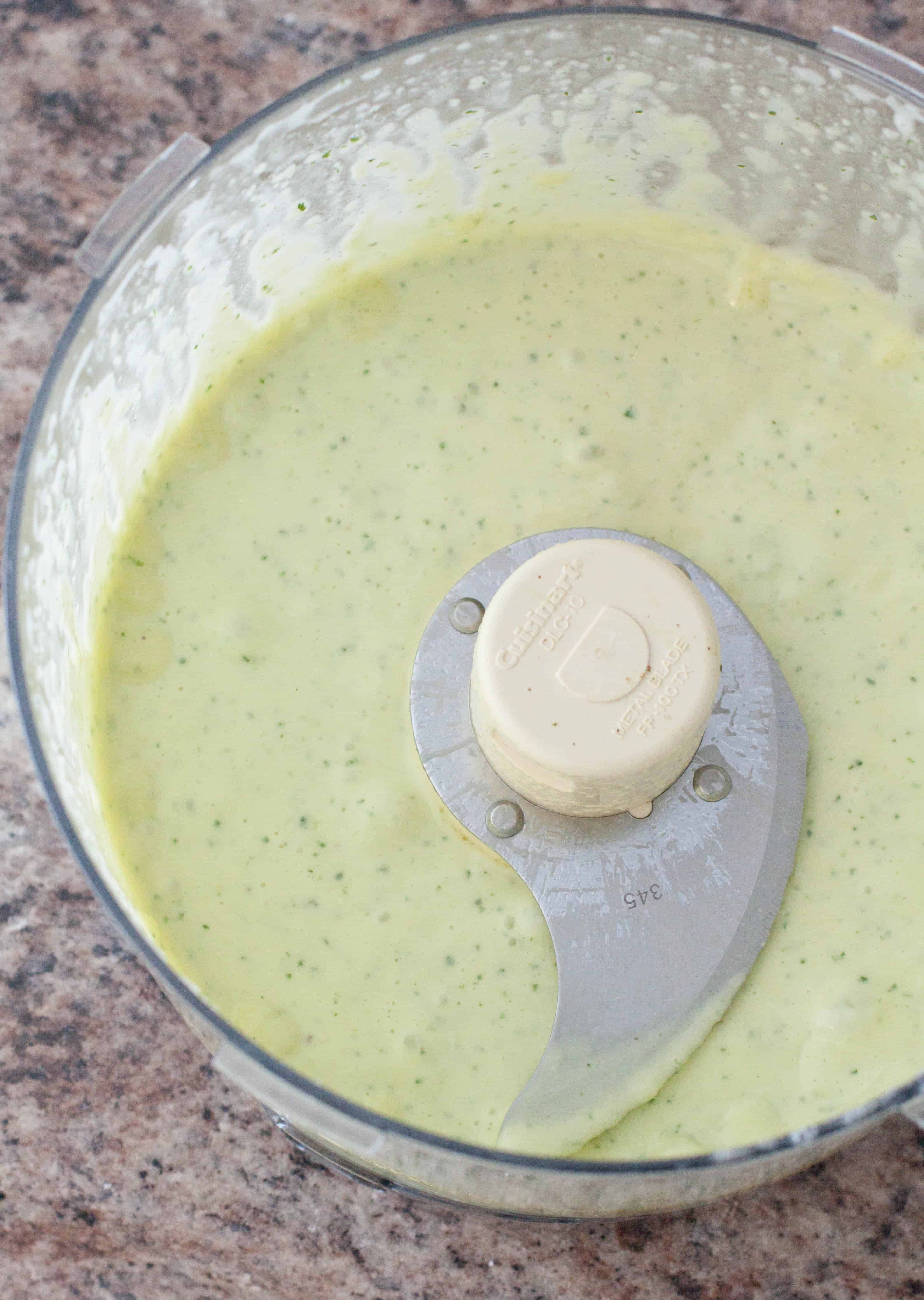 and while it's still blending, a sloooowww addition of the oil to let it all emulsify into a delicious creamy dip.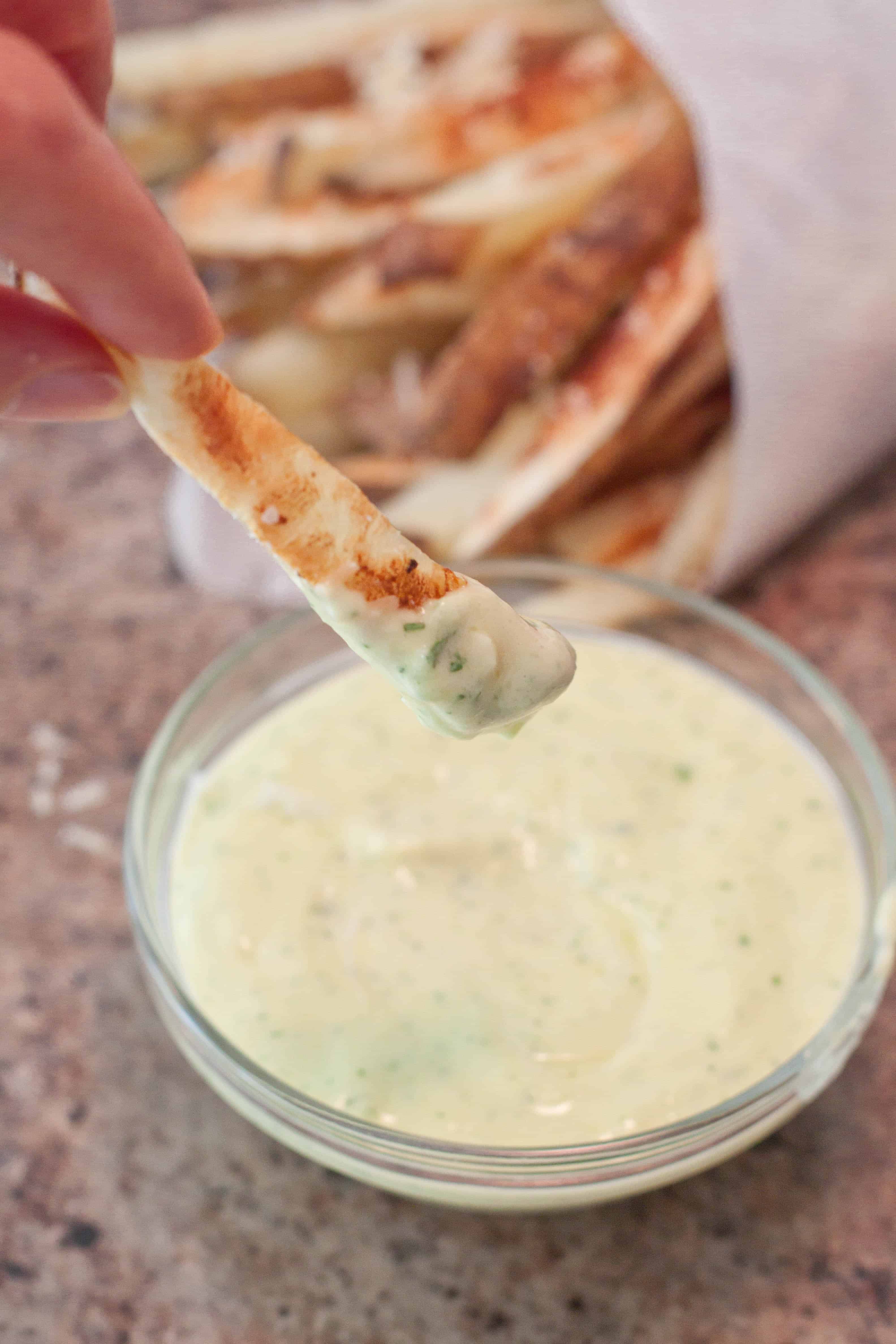 Perfect for some Baked Parmesan Steak Fries!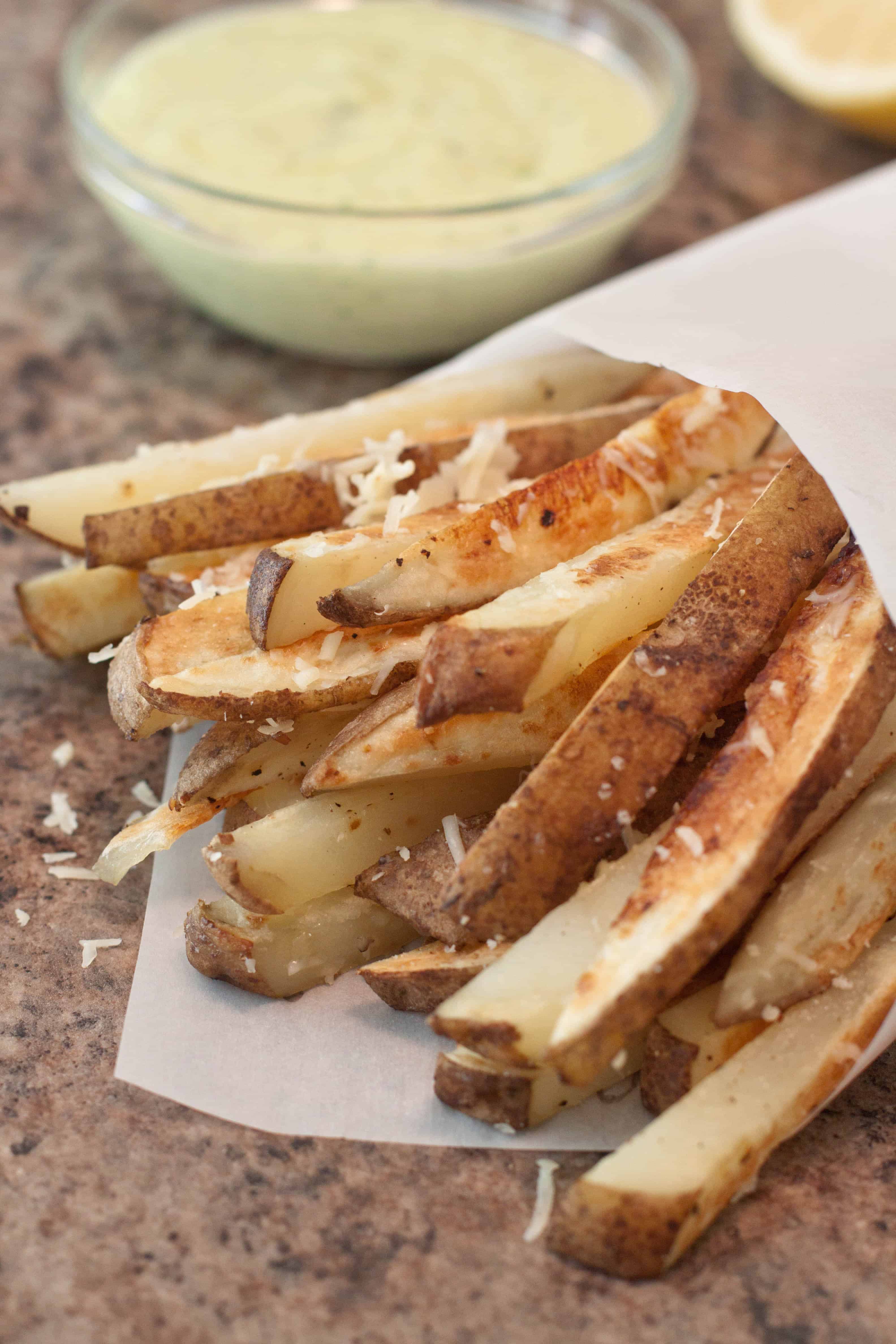 Not a fan of aiolis? No problem, whip up some 5 minute Homemade Ketchup to dunk those fries in. Whatever you dipping sauce of choice, some days, you just need fries for dinner 😉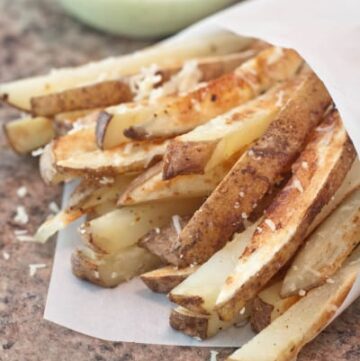 Baked Parmesan Steak Fries with Garlic Aioli Dipping Sauce
Hearty, cheesy, homemade steak fries with a garlic aioli dipping sauce!
Print
Pin
Rate
Ingredients
Parmesan Fries
5

russet potatoes

3/4

cup

of finely grated Parmesan cheese

1/8

cup

of olive oil

1

teaspoon

salt

pepper to taste
Garlic Aioli
1

large egg

3

cloves

of garlic

chopped

1

tablespoon

fresh squeezed lemon juice

1

tablespoon

of fresh parsley

chopped

1/2

teaspoon

salt

fresh ground pepper

1/2

cup

olive oil
Instructions
Parmesan Fries
Scrub you spuds clean and then slice them into 1/2 inch to 3/4 inch thick slices.

Pre-heat oven to 400 degrees.

Add potatoes to a large pot and fill with cold water. Bring that pot slowly to boil and then let the potatoes simmer until they're tender to a fork, but not quite done.

Drain potatoes well and in a large bowl add oil, salt, and pepper. Mix well.

On a large baking sheet, line potatoes in a single layer and bake in the center rack.

After 15 minutes, remove from oven and turn potatoes for even browning. Return to oven for another 10-15 minutes.

Remove sheet from oven and sprinkle Parmesan cheese on top of hot potatoes. Let melt and then serve and enjoy!
Garlic Aioli
Add egg, salt, parsley, and a few turns of the pepper grinder to a food processor. Blend until combined and then while processor is still running, very slowly add the olive oil in a slow but steady stream until it has formed a thick emulsion.

Serve with fries and enjoy!