Put your slow cooker to work by slow-cooking some chicken in an acidic, flavorful sauce to create some crispy carnitas chicken for an easy weeknight meal of Crock Pot Chicken Carnitas Tacos!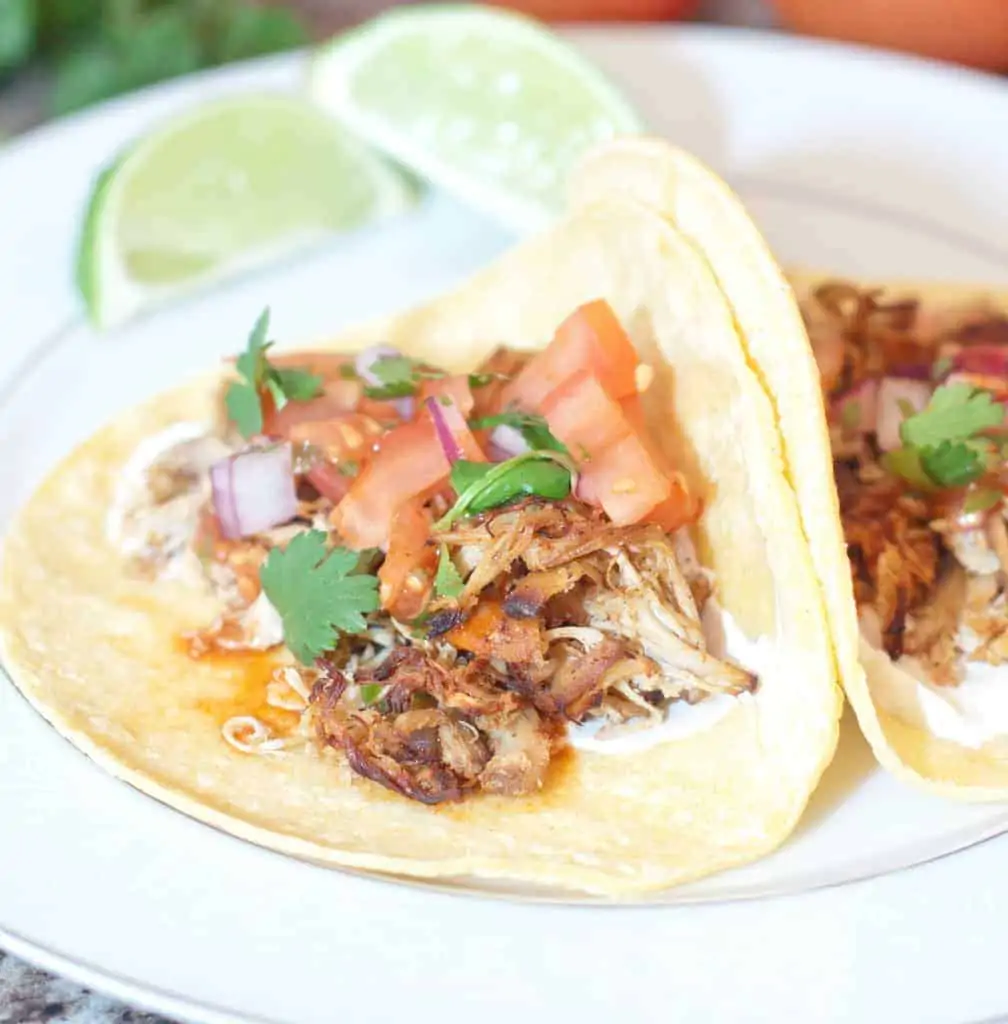 Ok, I know Turkey day is just right around the corner, so who's thinking about tacos? The answer, my husband. Any day that ends in Y is Taco Day for him. He could seriously eat tacos/burritos every single day and be happy about it. I even tried calling his 'bluff' on that statement and made a batch of Homemade Flour Tortillas and then made him burritos for 7 days straight for dinner. And by the end of it, he was sad we were out of tortillas. Welcome, our Crock Pot Chicken Carnitas Tacos!
We love this recipe because what's not to love when your trusty Crock Pot does all of the work for you? Two things that we absolutely love? Tacos and Crock Pot meals!
What is Carnitas?
"Carnitas" is Spanish translates to "little meats." Traditionally, it refers to a cut of pork and is cooked by simmering it in fat for hours until it's pull-apart tender.
What makes carnitas different that another kind of slow-cooked pulled pork is that carnitas are crispy thanks to the fact that after initially cooked, the meat is then fried, giving it an additional crispy, slightly caramelized texture.
Chicken Carnitas, are cooked in the exact same way as traditional pork carnitas, right down to the final crisp. You could absolutely replace the chicken in this recipe for pork for an equally delicious taco!
Ingredients Needed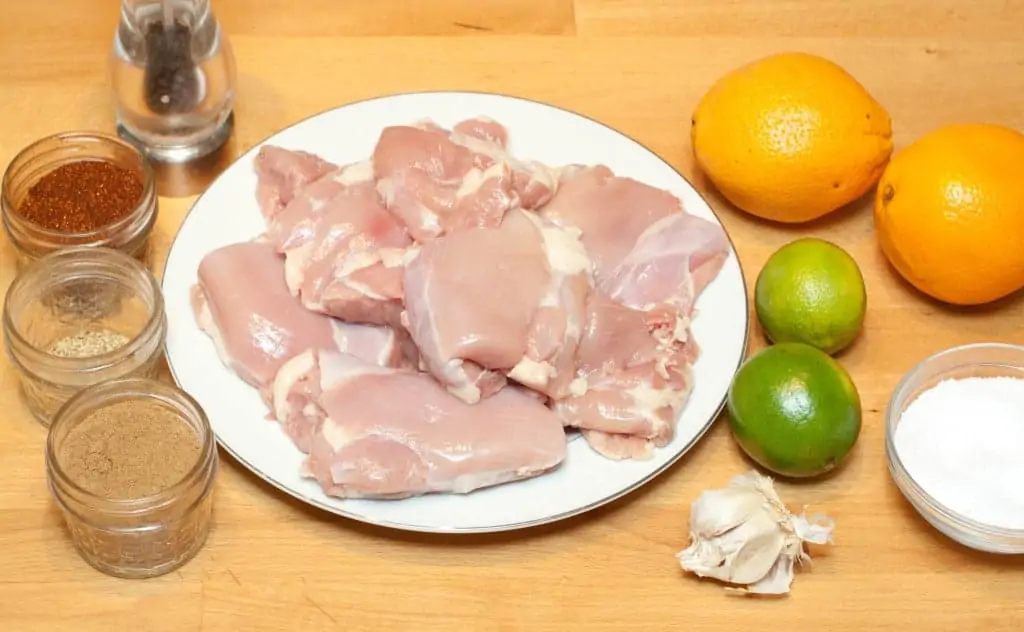 These Crock Pot Chicken Carnita Tacos are made up of super simple ingredients, the fresher the better!
Chicken - We love the dark meat from boneless chicken thighs for this recipe. You could also use chicken breasts or pork.
Spices - To bring out all of those Mexican flavors, we use cumin and chili powder, plus a little savory oregano.
Citris - The acidity or orange juice plus lime gives this sauce it's flavor, helps break down the meat, and aids in the final caramelization and crisp!
Oil - We use olive oil as the fat for this recipe, but you could also use butter.
Easy to Make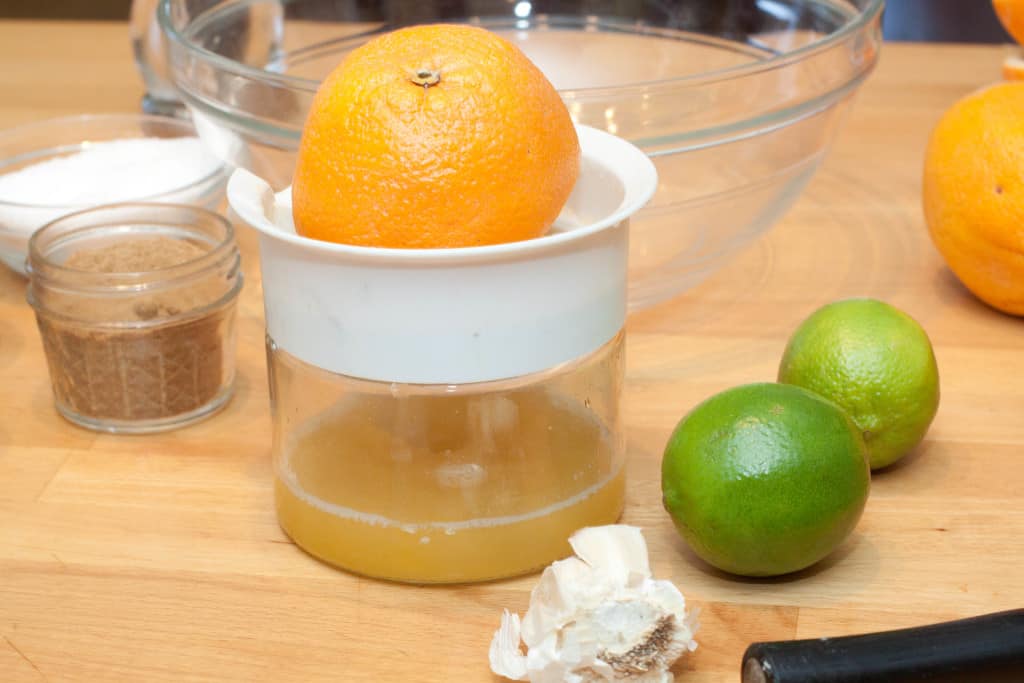 As with most Crock Pot meals, easy is the name of the game for this one.
Step 1: Prepare the juice.
We love fresh-squeezed OJ (thanks to our little handy dandy juicer), but bottled is of course totally fine.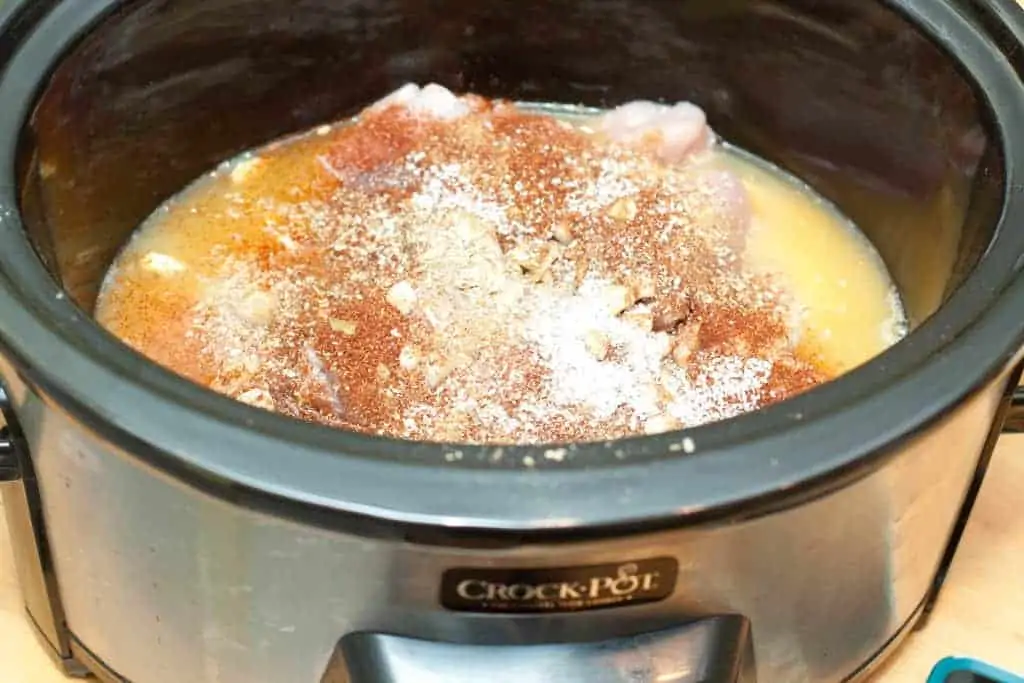 Step 2: Add the chicken to the Crock Pot with the juice and oil, then top with spices and let it do its thing!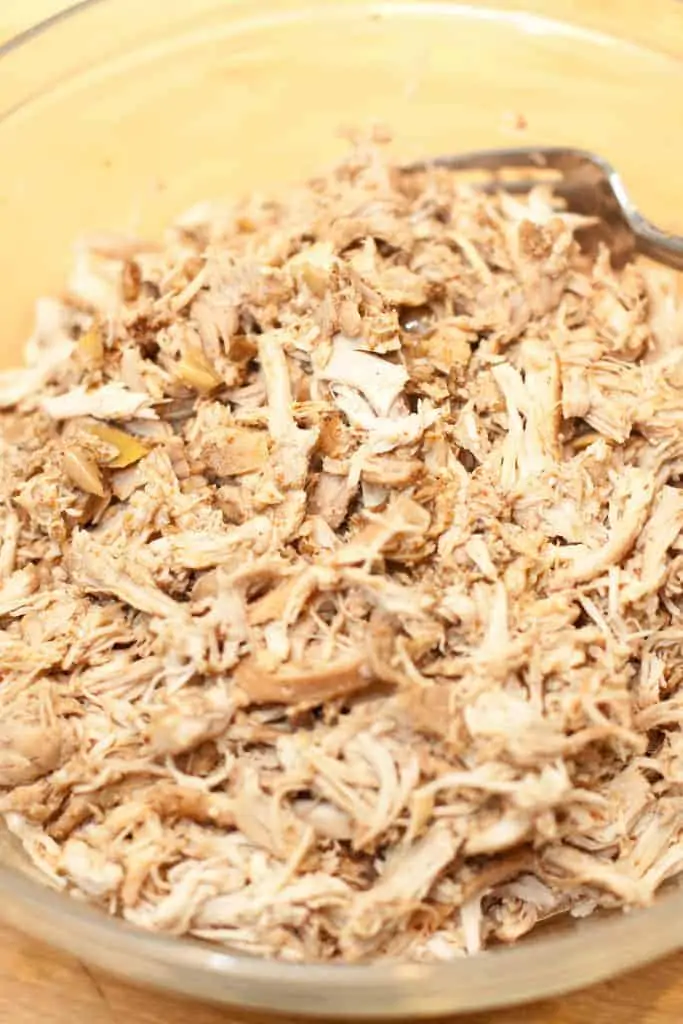 Step 3: Once cooked, remove from sauce and shred in a bowl.
It should be nice and tender and easy to pull apart with a couple of forks.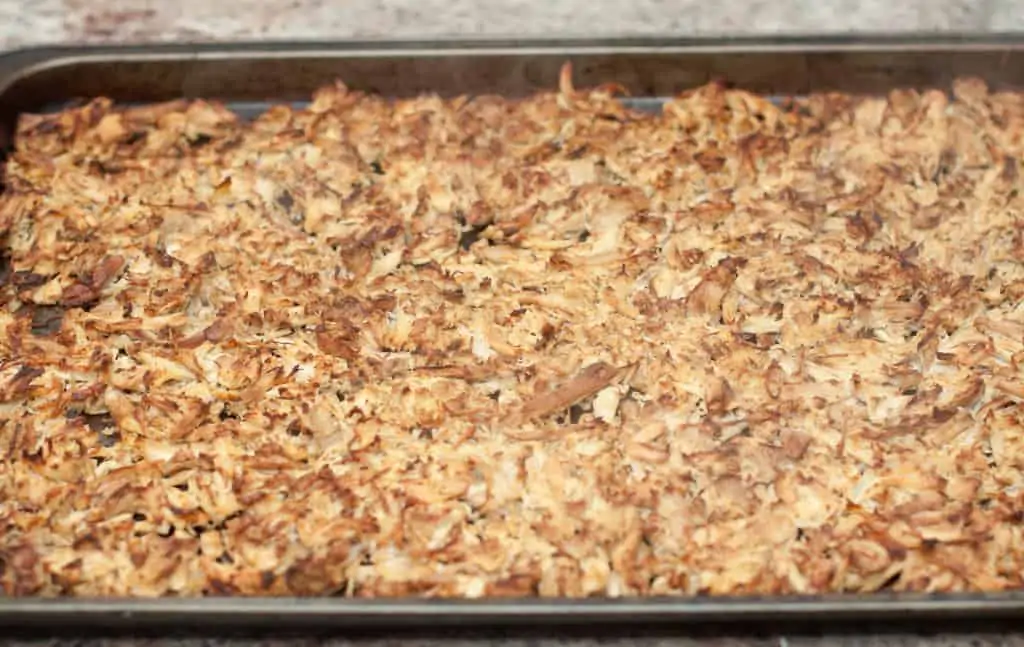 Step 4: The final step and the key to making this carnitas style, add that shredded chicken to a baking sheet, top it with some of the leftover liquid from the Crock Pot, and broil for just a couple of minutes to crisp and caramelize up!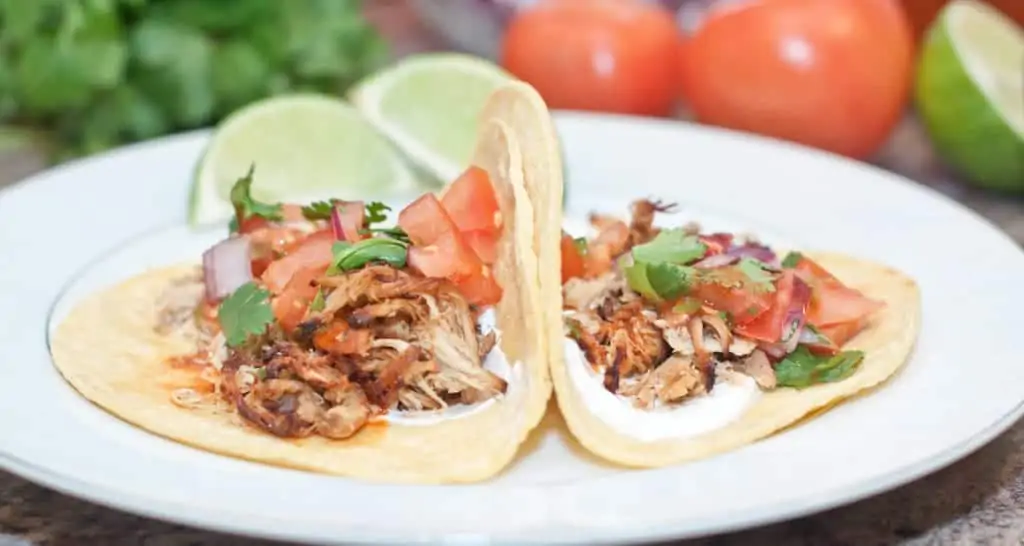 Crock Pot Chicken Carnitas Tacos, done!
Ready for taco assembly! Or, to eat straight from the pan like I am totally guilty of doing.
To Assemble Your Tacos
Add some From Scratch Flair for your tacos with our homemade favorites!
Or be a carnitas purist and just add the chicken and a little extra Crock Pot sauce to your favorite tortilla!
Enjoy! As always, if you make this recipe or any of my others, I love to hear what you think! Leave a comment below, email me, or you can find me on Facebook, Instagram, and Pinterest!
If you want to see more, be sure to sign up for my 5 Easy Ways to Start Cooking From Scratch!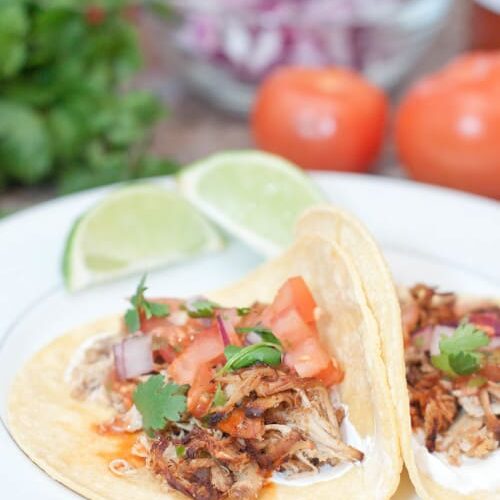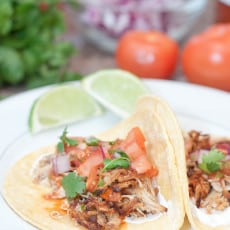 Crock Pot Chicken Carnitas Tacos
Crock Pot Chicken Carnitas Tacos are your ultimate taco Tuesday meal thanks to the weeknight ease of your trusty Crock Pot!
Print
Pin
Rate
Ingredients
1 1/2

pounds

boneless and skinless chicken thighs

Juice from 2 oranges

about 3/4 cup orange juice

Juice from 2 limes

about 1/4 cup lime juice

2

tablespoons

olive oil

or butter

4

cloves

garlic

roughly chopped

1

tablespoon

chili powder

2

teaspoons

cumin

1

teaspoon

oregano

1/2

teaspoon

salt

1/2

teaspoon

pepper

6

corn tortillas

Sour Cream
Instructions
Juice oranges and limes and add olive oil to juice and mix.

Add the chicken to the Crock Pot and add juice and oil. Top with garlic, chili powder, cumin, oregano, salt and pepper and cook on low until tender, about 6-8 hours, or on high for 3-4 hours.

Once chicken is done, pre-heat the oven to broil and move a rack to the top slot.

Remove chicken from Crock Pot and place in a medium sized bowl. Use two forks to shred. Reserve about 3/4 cup of the sauce from cooking.

Add 1/4 of the sauce from the Crock Pot and give a good mix.

On a baking sheet / jelly roll pan (make sure it has edges), add the shredded chicken and top with another 1/4 cup of the sauce and add to top rack of the oven.

Broil until it starts getting crispy, about 5 minutes. Remove from oven, top with another 1/4 cup of the sauce and give a gentle mix. Broil again for another 5 minutes until chicken is crispy.

Remove chicken from oven and assemble the tacos. Lay out tortillas, spread with some sour cream, add the chicken carnitas, and then top with Pico de. Gallo and guacamole. Serve with the lime wedges and hot sauce if desired.
Nutrition
Calories:
560
kcal
|
Carbohydrates:
27
g
|
Protein:
31
g
|
Fat:
37
g
|
Saturated Fat:
9
g
|
Polyunsaturated Fat:
7
g
|
Monounsaturated Fat:
17
g
|
Trans Fat:
1
g
|
Cholesterol:
167
mg
|
Sodium:
475
mg
|
Potassium:
611
mg
|
Fiber:
4
g
|
Sugar:
5
g
|
Vitamin A:
850
IU
|
Vitamin C:
29
mg
|
Calcium:
83
mg
|
Iron:
3
mg