Lunch or dinner in a hurry, and healthy, too! Our 15 Minute Black Bean and Spinach Burritos are one of our go-to quick, easy, well-rounded, and delicious meals. Everything you love about a black bean, cheesy vegetarian burrito, plus some added greens!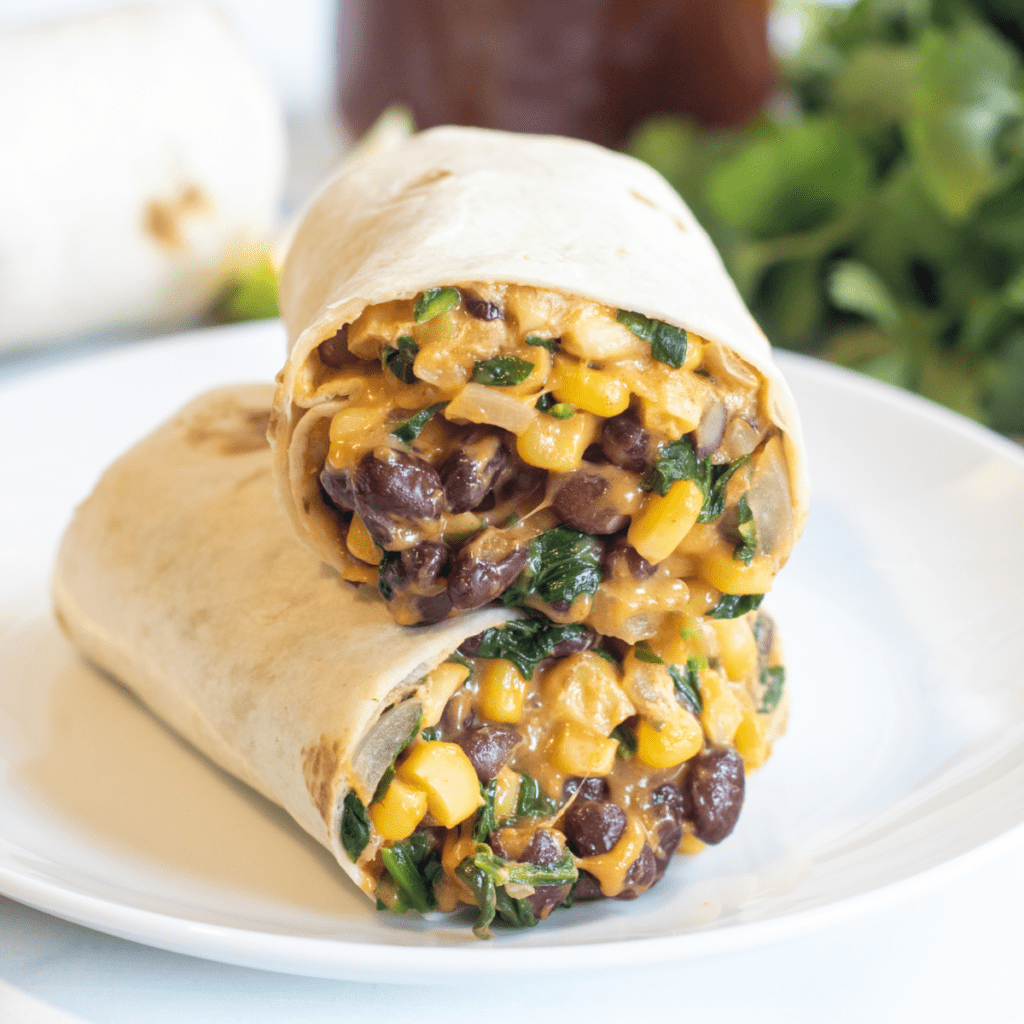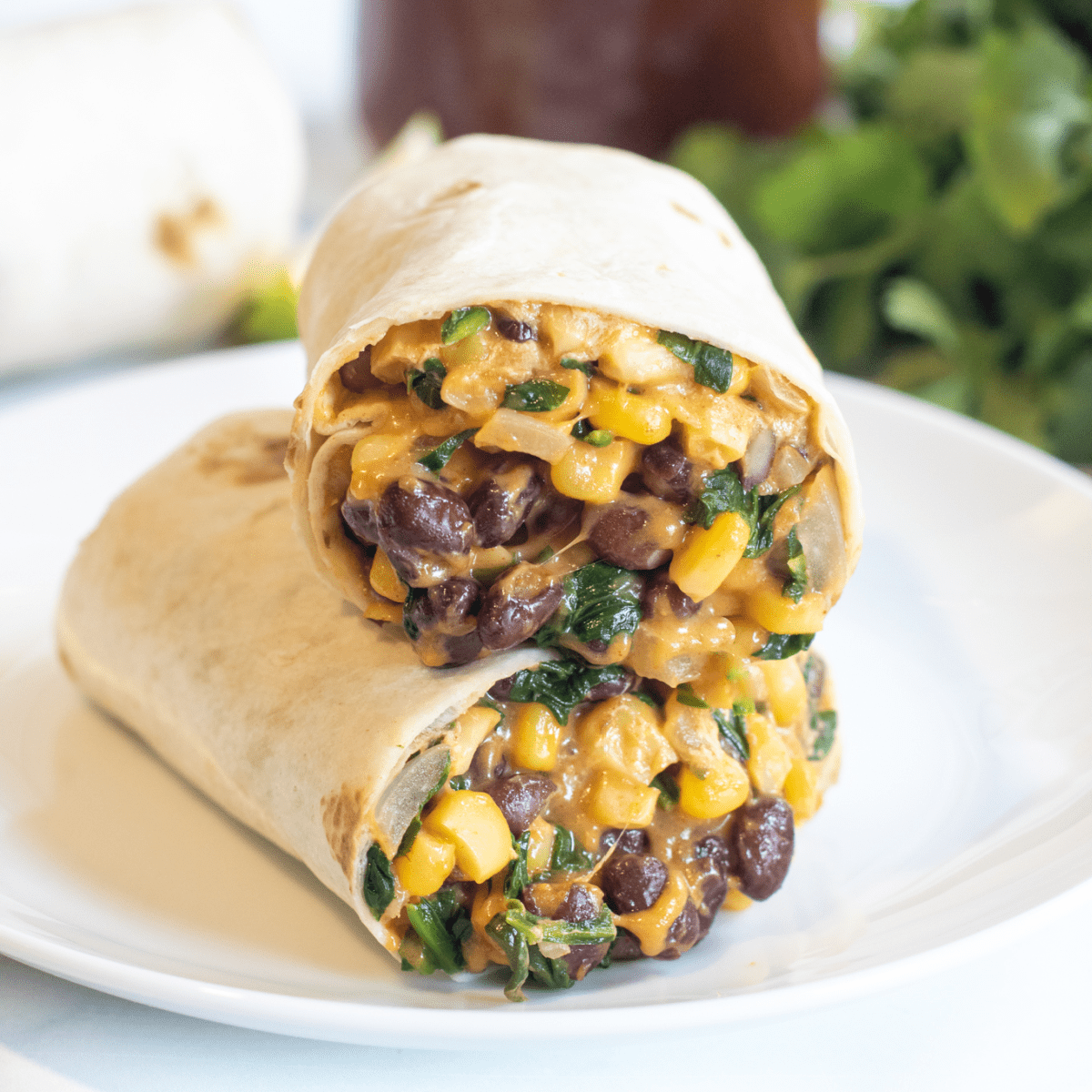 I can't believe it's taken me this long to finally share this, because these 15 Minute Black Bean and Spinach Burritos have been a staple in our burrito loving house for a long time! Whenever I need a quick, well balanced lunch that I know the girls'll devour, this is it. Protein packed black beans, sweet corn, with plenty of melty cheese all wrapped up in a soft flour tortilla for a vegetarian burrito that has some bonus nutrition!
Ingredients Needed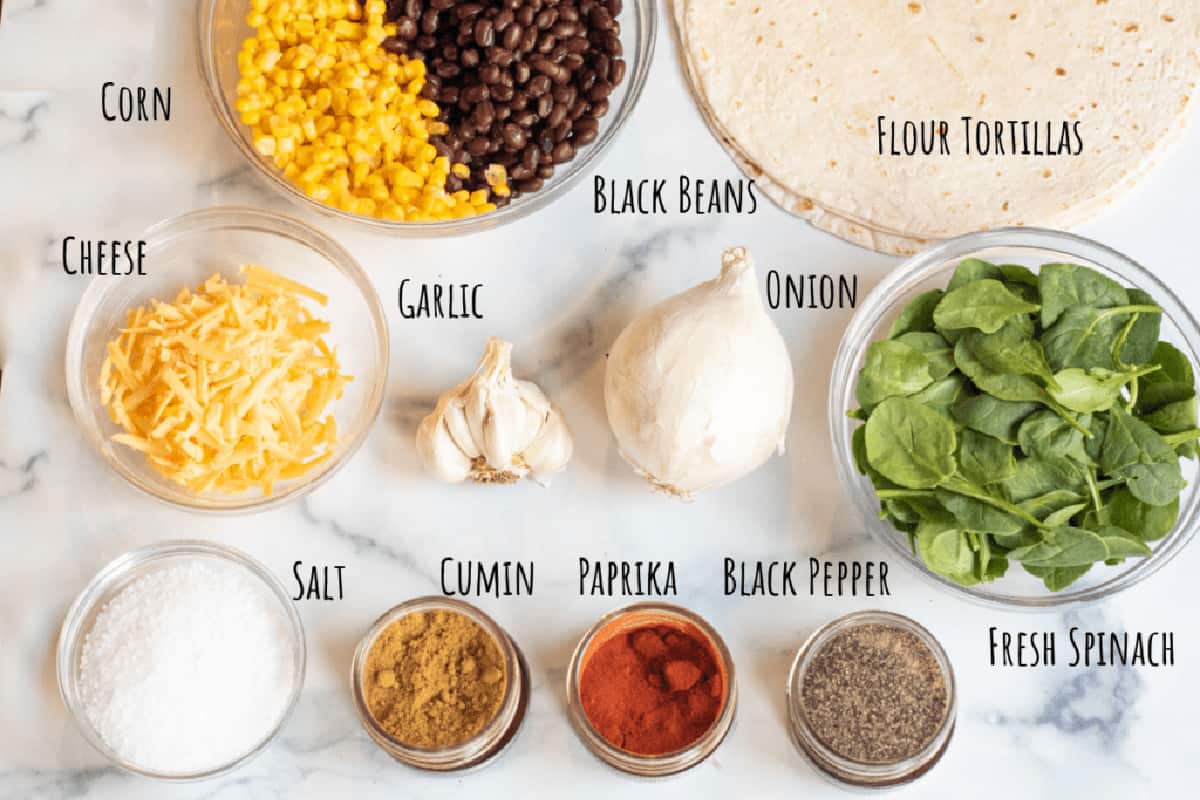 Flour Tortillas - Have you made your own yet? For these, burritos we love to make them in large tortilla shells, but you could definitely make them in smaller ones, too.
Black Beans - We always have at least canned beans around, unless we're on it for meal prep and have a batch of cooked black beans from dried beans ready to go.
Corn - The corn adds just the right touch of sweetness. You can use and either canned, frozen, or when it's in season, fresh!
Spinach - It's probably the guarenteed fresh produce we always have in our fridge because it's my favorite green to sneak into dishes.
Garlic and Onion - Staples in our cooking.
Spices - For these burritos we love a little cumin, paprika, salt, and pepper.
Cheese - Our favorites for this are Tillamooks Extra Sharp Cheddar, or a Mexican style blend with some Colby and Monterey Jack, too.
Step-by-Step Instructions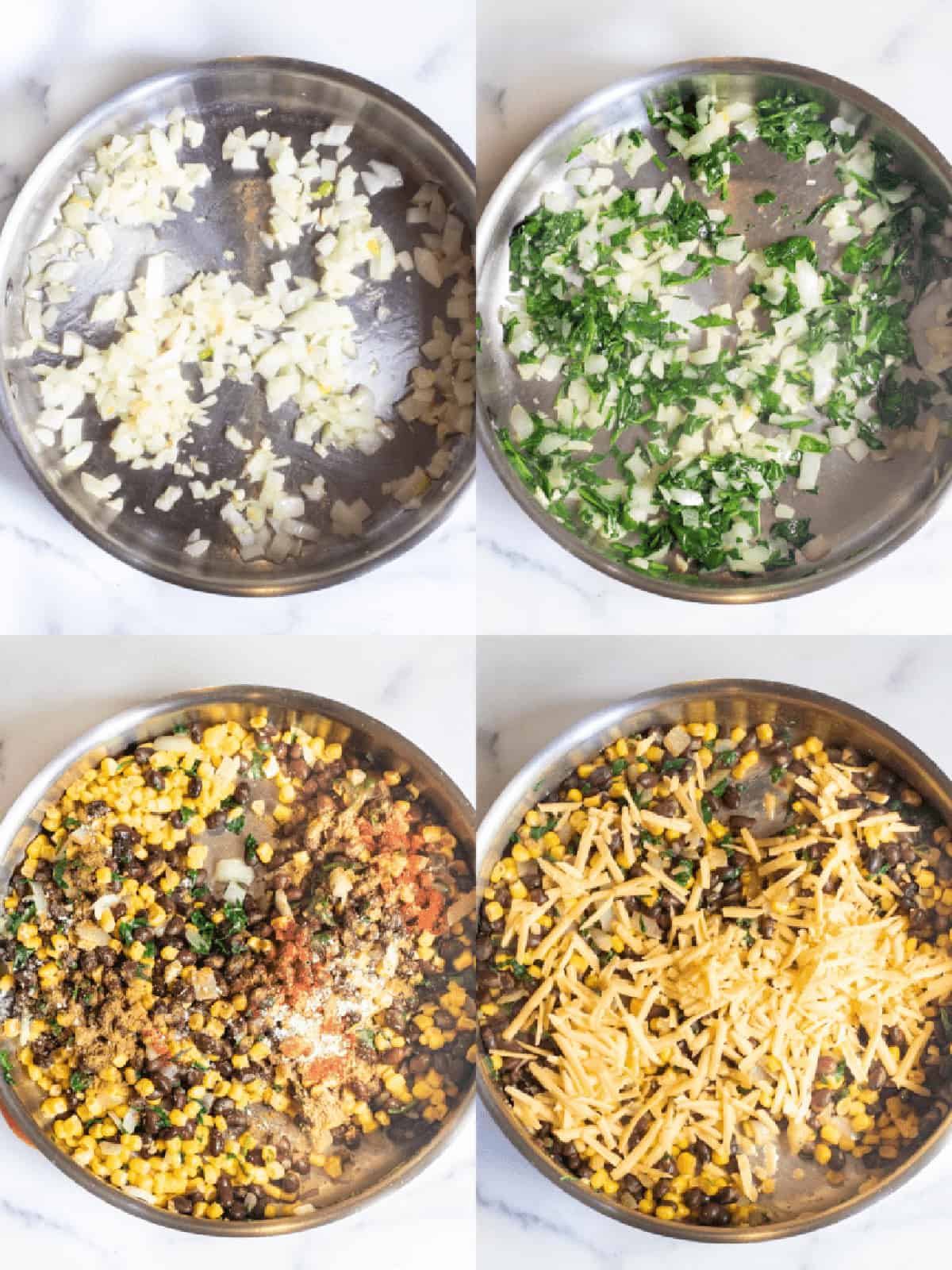 15 minutes, did I mention that? That means lunch or dinner fast, and in just one pan!
Saute the Filling
That's it! The filling for these black bean vegetarian burritos cook up fast with just a saute of the garlic and onion, spinach, then beans, corn, spices, and finally the cheeeeeeeeessssee.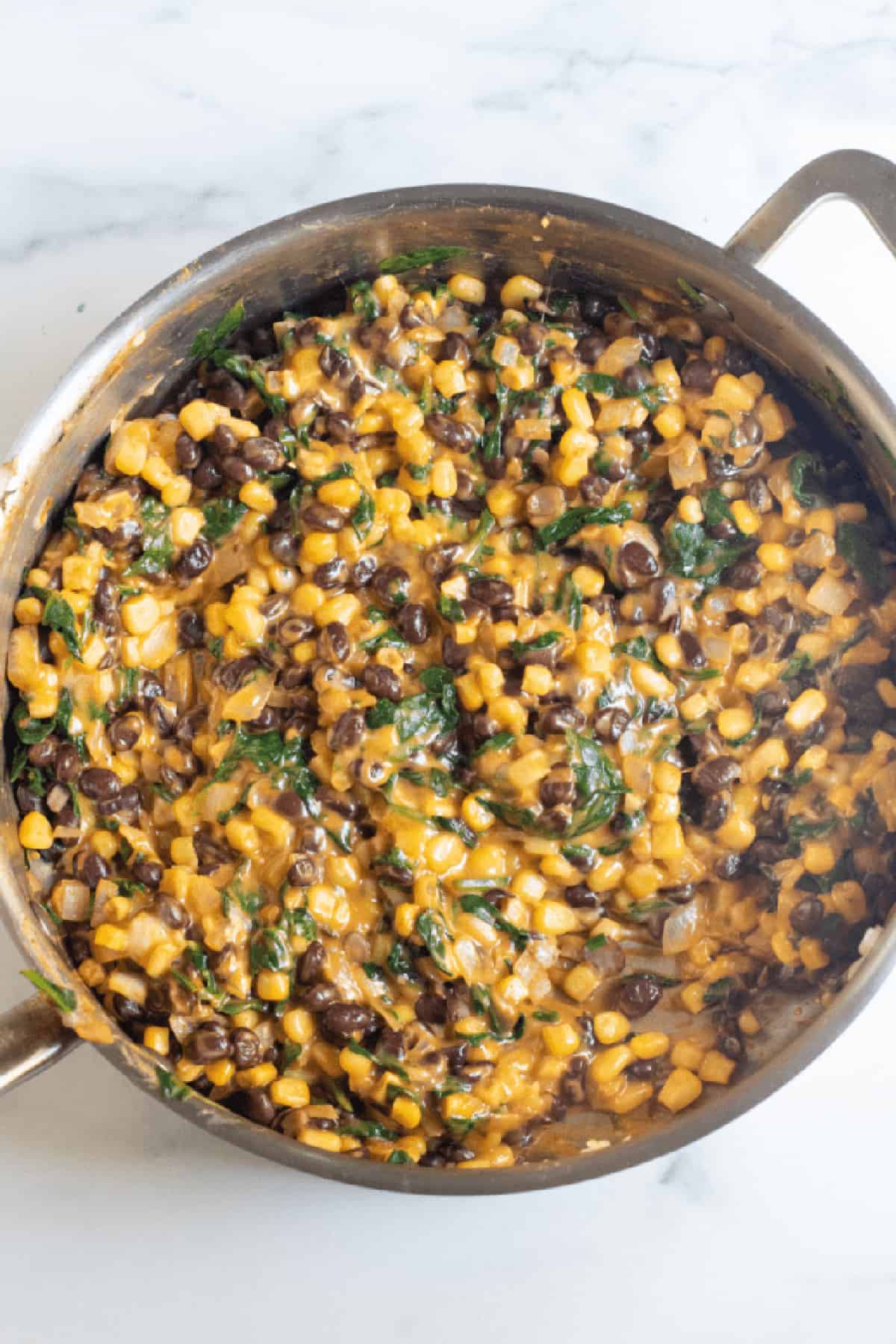 Cheesy Goodness
Have I just eaten this delicious cheesy mixture straight out of the pan? Yes. Yes I have. How could you not, right? Now it's time to wrap!
How to Wrap a Burrito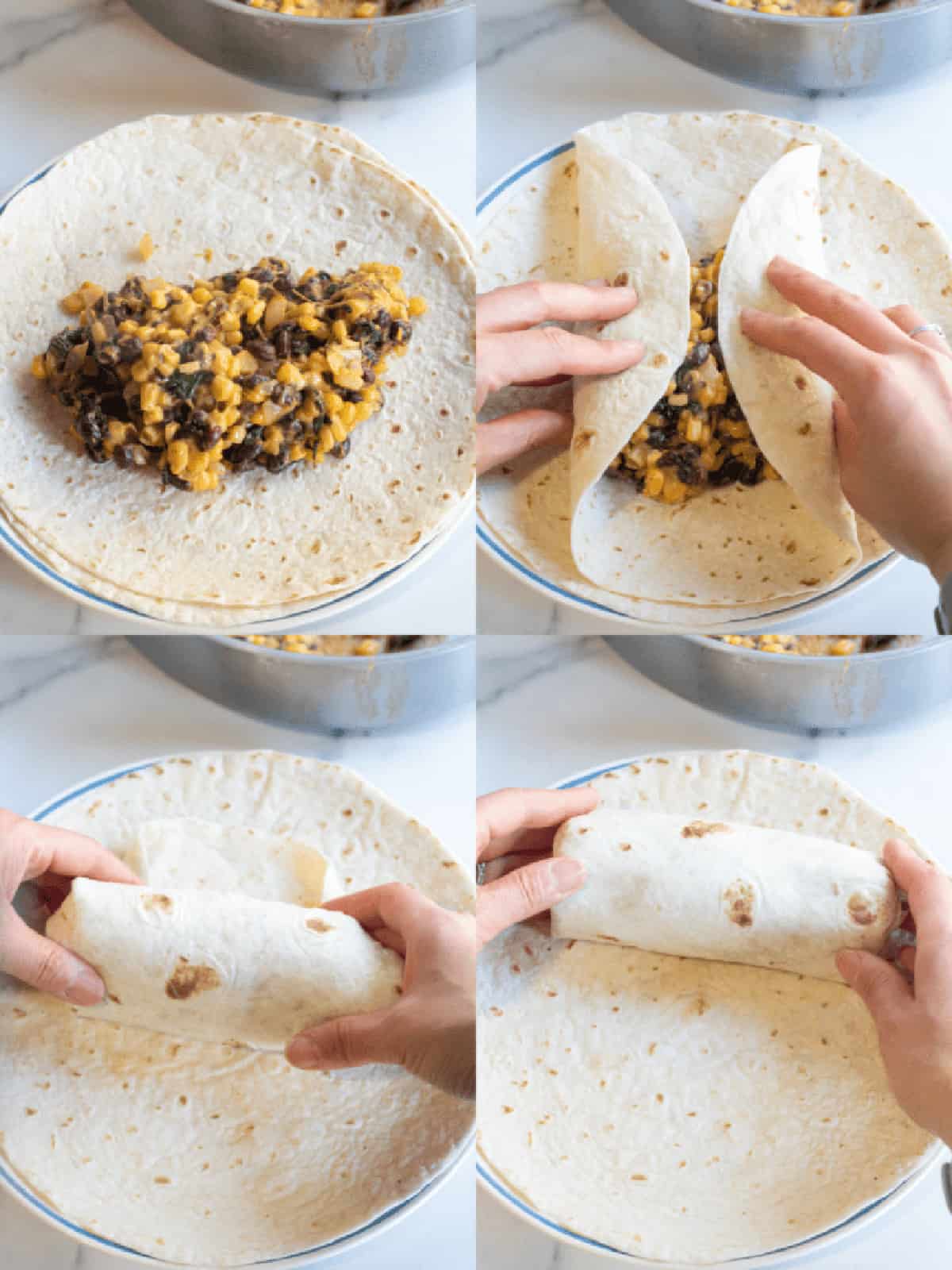 Soften your Tortillas
One of the most important parts of successful burrito rolling is having a nice soft, pliable tortilla. To ensure this, steam your tortillas in either a steamer basket or in the microwave with a damp paper towel.
Add your filling to the center.
We love these cheesy black bean burritos stuffed as the girls like to share one.
First, fold up each side.
Grab each side of the burrito and gently fold them in over the top of your filling.
Fold up the bottom.
Keep those sides down and then fold up the bottom of the tortilla, so that it comes just over the filling.
Tuck it under the filling.
Keep those edges down and then gently tuck the bottom of the tortilla under the filling.
Finish with a tight roll.
With that bottom part of the tortilla tucked under, give the rest a tight roll, keeping those edges in.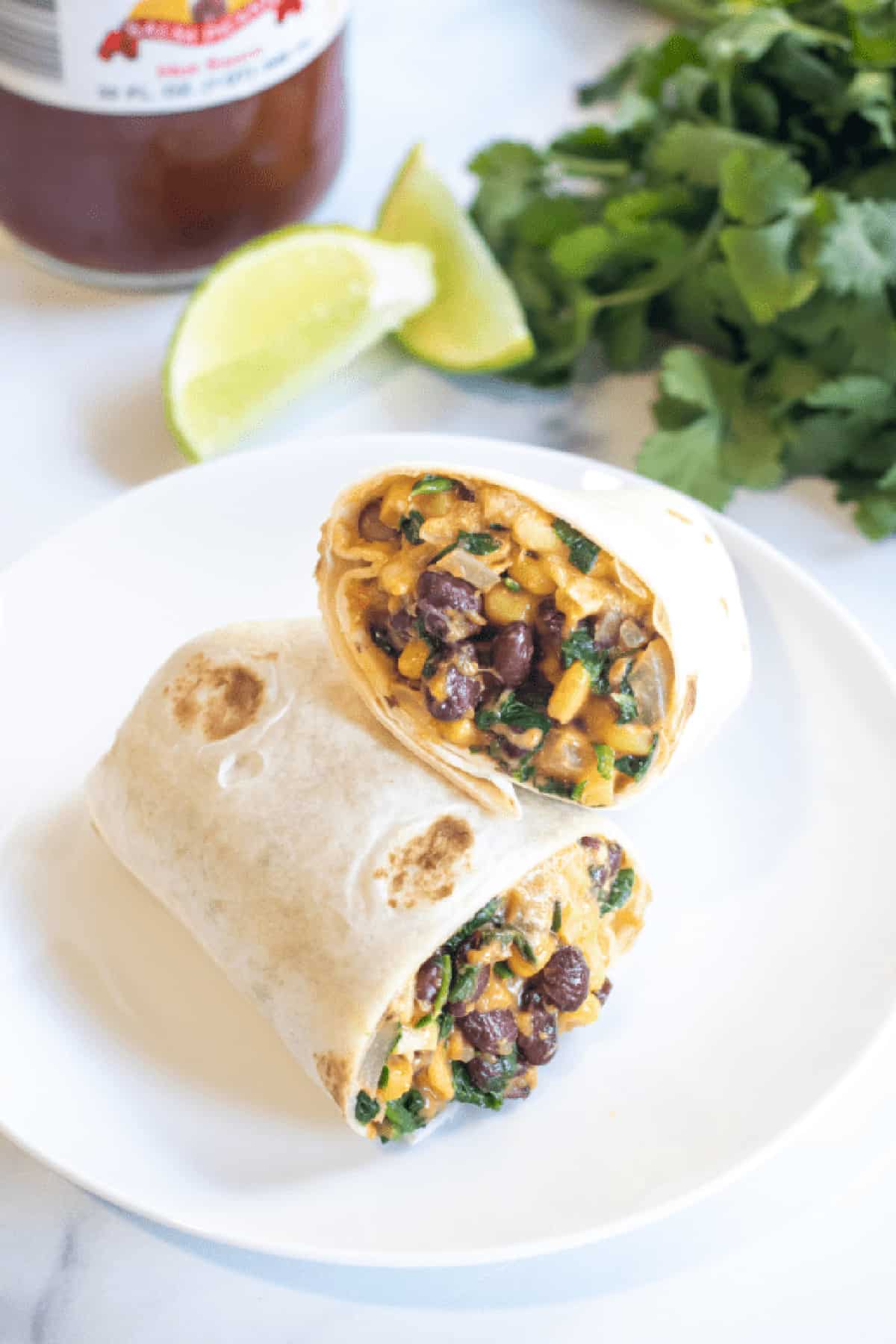 Wrapped and ready to go, 15 Minute Black Bean and Spinach Burritos! Add a little fresh lime and your favorite hot sauce and boom. An easy, fast, delicious vegetarian cheesy burrito!
I hope you enjoy these bean burritos as much as we do!
Other Mexican-Inspired Meals
Other Recipes with Snuck in Spinach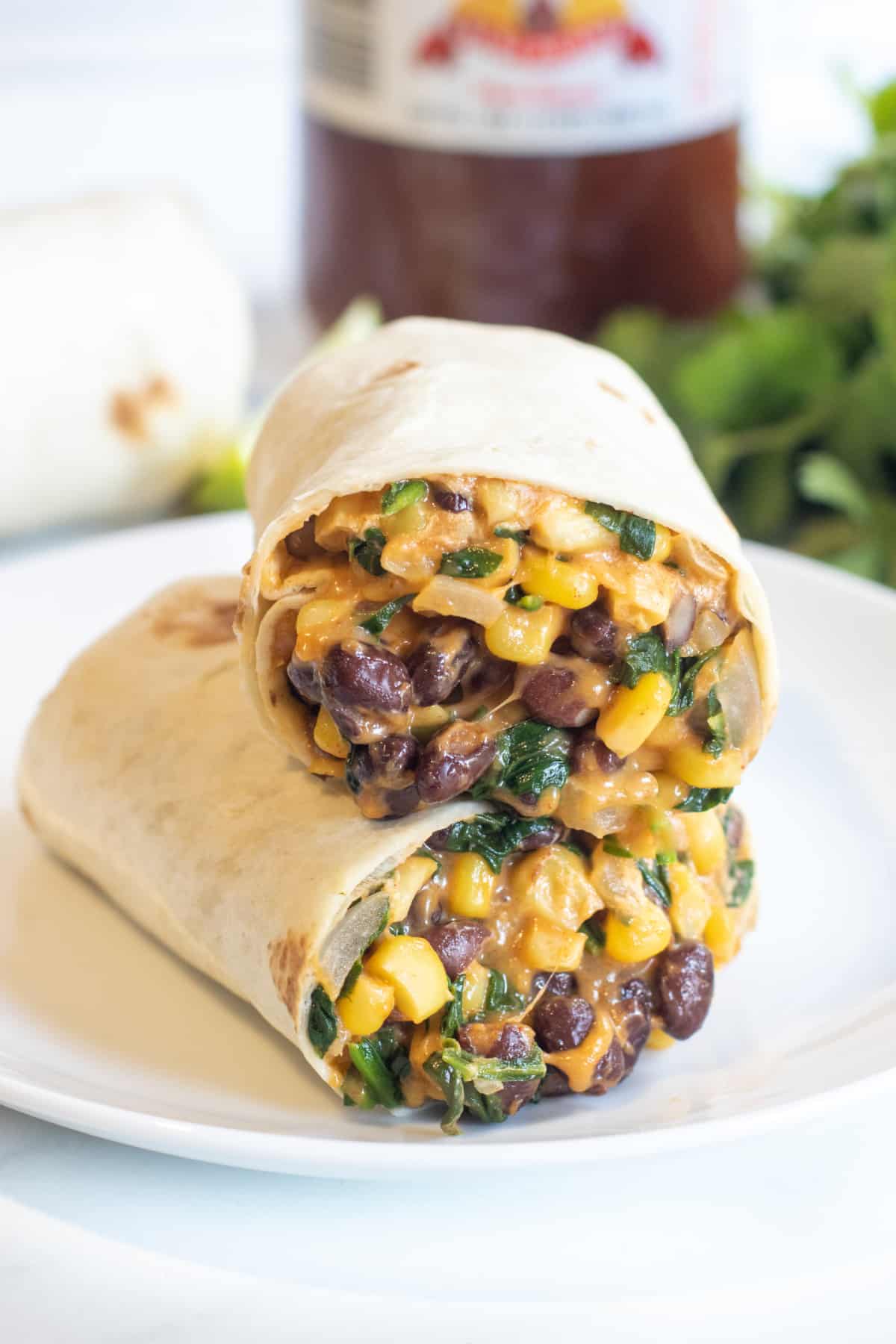 Enjoy! As always, if you make this recipe or any of my others, I love to hear what you think! Leave a comment below, email me, or you can find me on Facebook, Instagram, and Pinterest!
If you want to see more, be sure to sign up for my 5 Easy Ways to Start Cooking From Scratch!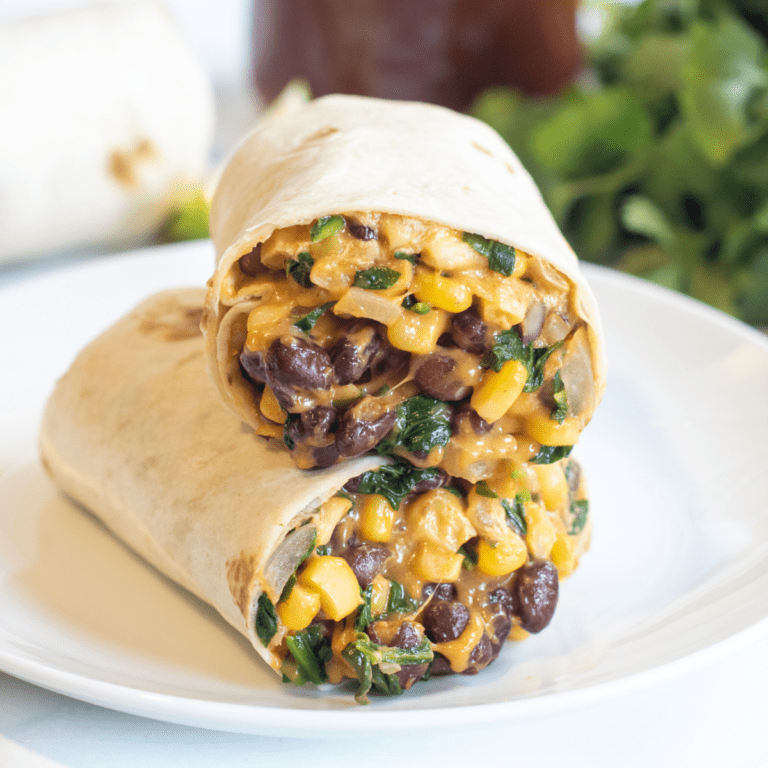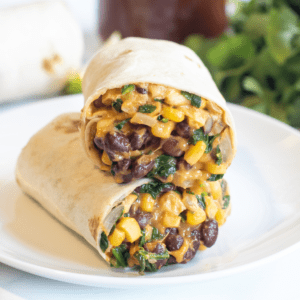 15 Minute Black Bean and Spinach Burritos
A cheesy well rounded vegetarian black bean burrito!
Print
Pin
Rate
Servings:
2
Large burritos
Ingredients
1

tablespoon

olive oil

2

cloves

garlic

minced

1

cup

onion

diced

1 1/2

cups

black beans

or 1 can drained

1 1/2

cups

corn

or 1 can drained

1 1/2

cups

spinach

packed, approximately 2-3 oz

1 1/4 - 1 1/2

cups

finely shredded cheese

cheddar, or pepper jack, monterey jack, or a mixture of any

1

teaspoon

paprika

1

teaspoon

cumin

1/2

teaspoon

kosher salt

1/8

teaspoon

ground black pepper

2

large

flour tortillas
Instructions
Heat olive oil in saute pan over medium. Add garlic and onion and saute for 1-2 minutes .

Give the spinach a quick chop and add to pan and saute, another 1-2 minutes.

Add black beans and corn and stir and saute for another 5-6 minutes.

Turn heat down to medium low and add paprika, cumin, salt, and pepper and mix well. Top with cheese, and stir to combine and melt cheese.

Meanwhile, add flour tortillas to a plate. Dampen a paper towels and place one on top of each tortilla. Microwave for 20 seconds to steam and soften tortillas.

Place one tortilla on another plate or cutting board. Add two to three large scoops of filling to the center of the tortilla shell.

Wrap the burrito by folding in each side of the tortilla over the filling toward the center. With sides folded, bring the bottom of the tortilla up over the filling and tuck it under the filling. Make sure your sides stay folded in. Gently roll the rest of the burrito, keeping those folded sides on the top of the remaining shell down and tightly wrap the rest of the burrito.

Serve with hot sauce, lime juice, salsa verde, or any of your other favorite burrito condiments!
Notes
Serving Size: Nutritional value is approximate for 2 very large burritos.
Meal Prep / Freezing
These burritos are perfect for meal prepping and freezing! To prep ahead and freeze, prep filling but don't add the cheese yet. Let the filling cool to at least room temperature and then add shredded cheese before adding to the burrito shell. Then wrap tightly, wrap in plastic wrap and then aluminum foil. Freeze for up to 2-3 months.
Reheat Frozen Burritos
Microwave: Unwrap and cook for 6-7 minutes on each side until the burrito is fully thawed. Optional, finish in a skillet for 3-4 minutes for a crispy shell.
Oven: In a 400 degree oven, unwrap burrito and place it on a baking sheet and heat in the oven for 45 minutes.
Substitutions
Corn: Use frozen, fresh, or canned. If using frozen, add them right to the pan and saute until corn is hot.
Onion: Use your favorite, yellow or red are also good in this recipe.
Spinach: Use frozen spinach by thawing the frozen spinach thoroughly before using it and then wring it out in a clean cloth towel to remove all of the excess moisture. Substitute about 1/2 a 10 oz package of frozen.
Cheese: Use cheddar or a mixture of your favorite Mexican-style cheeses. Measure out 1 1/4 cup of it finely shredded or make sure the thicker shred is packed when measuring.
Spices: Use your favorites! Add a kick with some cayenne or chili powder.
Flour Tortillas: Make them gluten-free by using your favorite gluten-free tortilla brand.
Protein: These are GREAT to add some leftover protein! Add leftover chicken, pork, or beef when adding the beans and corn.
Nutrition
Calories:
483
kcal
|
Carbohydrates:
80
g
|
Protein:
20
g
|
Fat:
12
g
|
Saturated Fat:
2
g
|
Polyunsaturated Fat:
3
g
|
Monounsaturated Fat:
6
g
|
Sodium:
829
mg
|
Potassium:
1044
mg
|
Fiber:
17
g
|
Sugar:
10
g
|
Vitamin A:
2929
IU
|
Vitamin C:
20
mg
|
Calcium:
141
mg
|
Iron:
6
mg