This Cast Iron Skillet Lasagna From Scratch is pure comfort food but made with homemade pasta, a homemade sauce, and homemade ricotta cheese. It's cheesy, easy to assemble, and will soon be one of your family's favorites!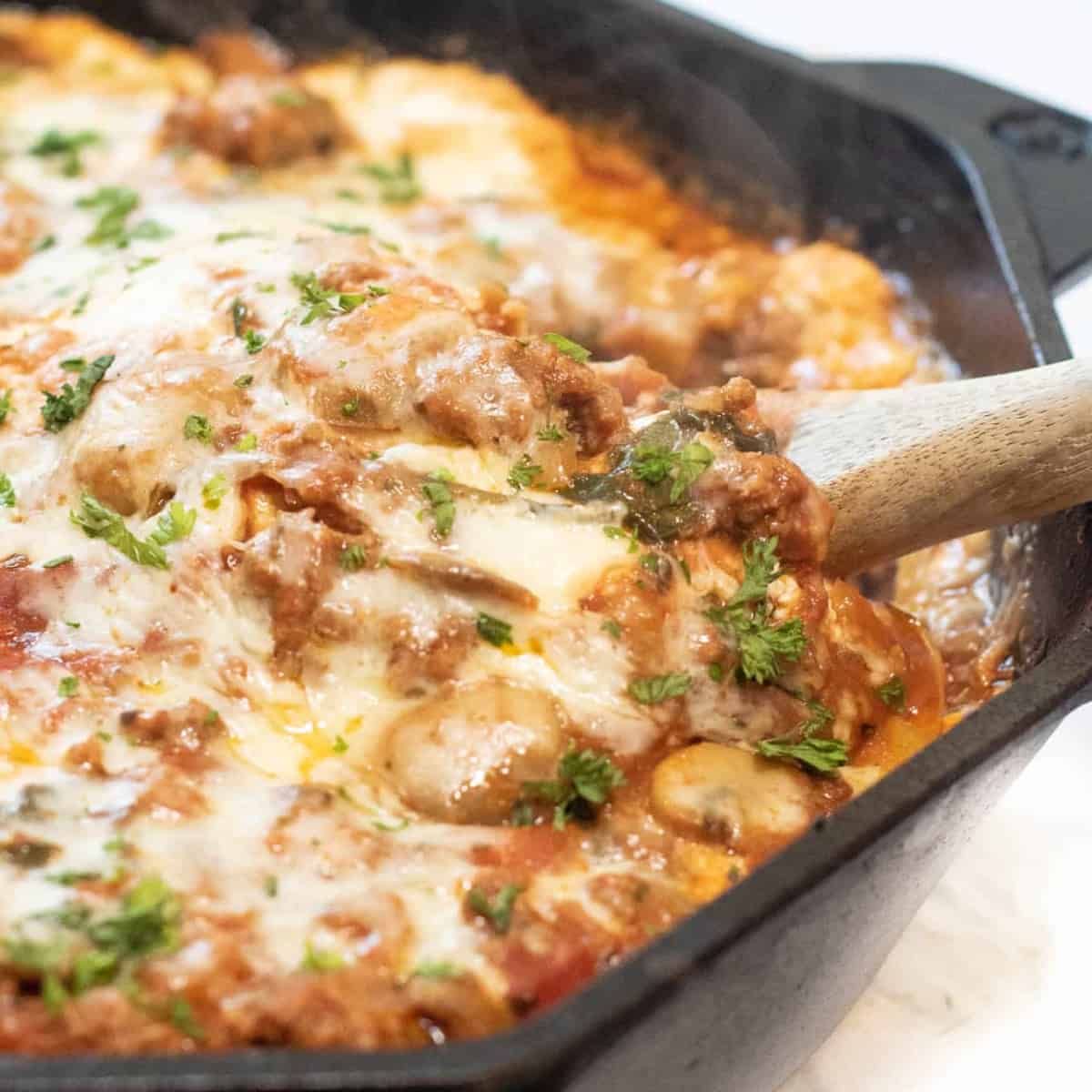 Is there anything more comforting than a dreamy cheesy lasagna? Nope. When you add pasta with a meaty mushroom packed tomato sauce and lots of cheese, it is the comfiest. This Cast Iron Skillet Lasagna from scratch is the absolute epitome of that! Plus, it's all made in one skillet!
Ingredients Needed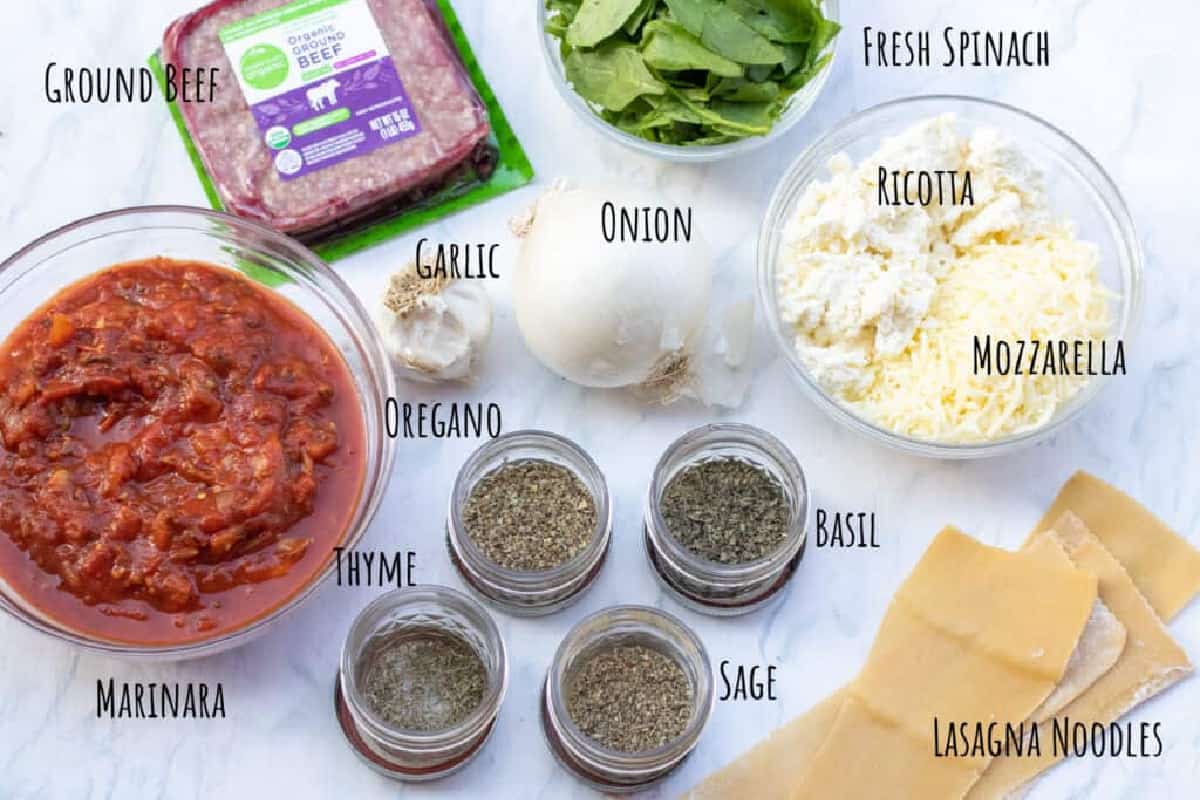 Classic lasagna ingredients and flavors, but with some SFS from scratch love!
Ground Beef - We prefer a 90% lean for this recipe but you can also use a 80% or 85%, it'll just mean more draining of the fat after the beef is cooked.
Marinara - We love our Homemade Mushroom Marinara for this recipe but your favorite marinara or tomato sauce would also be great.
Cheese - A mixture of mozzarella and Ricotta cheese, made even better with a fresh made

Ricotta Cheese From Scratch

!
Onion and Garlic - Staples in our recipes.
Lasagna noodles -

Fresh Pasta

(easily) shaped into lasagna noodles!
Fresh Spinach - I love to "sneak" this in for some added protein, calcium, magnesium, and iron!
Herbs - Dried oregano, thyme, basil, and sage. You can also of course use fresh, instead! Just see the recipe notes for the conversion.
Cast Iron Skillet - Another key piece of this recipe. We absolutely adore this local Portland, OR made, incredible cast iron from Finex. It's an investment, and honestly if you have your grandmother's cast iron that's been in the family for generations, then I'm jealous. But if not and you're in the market for a new (incredible) cast iron, this is an amazing one!
An investment again, for sure. So here's another that's also great and more affordable.
Step-by-Step Instructions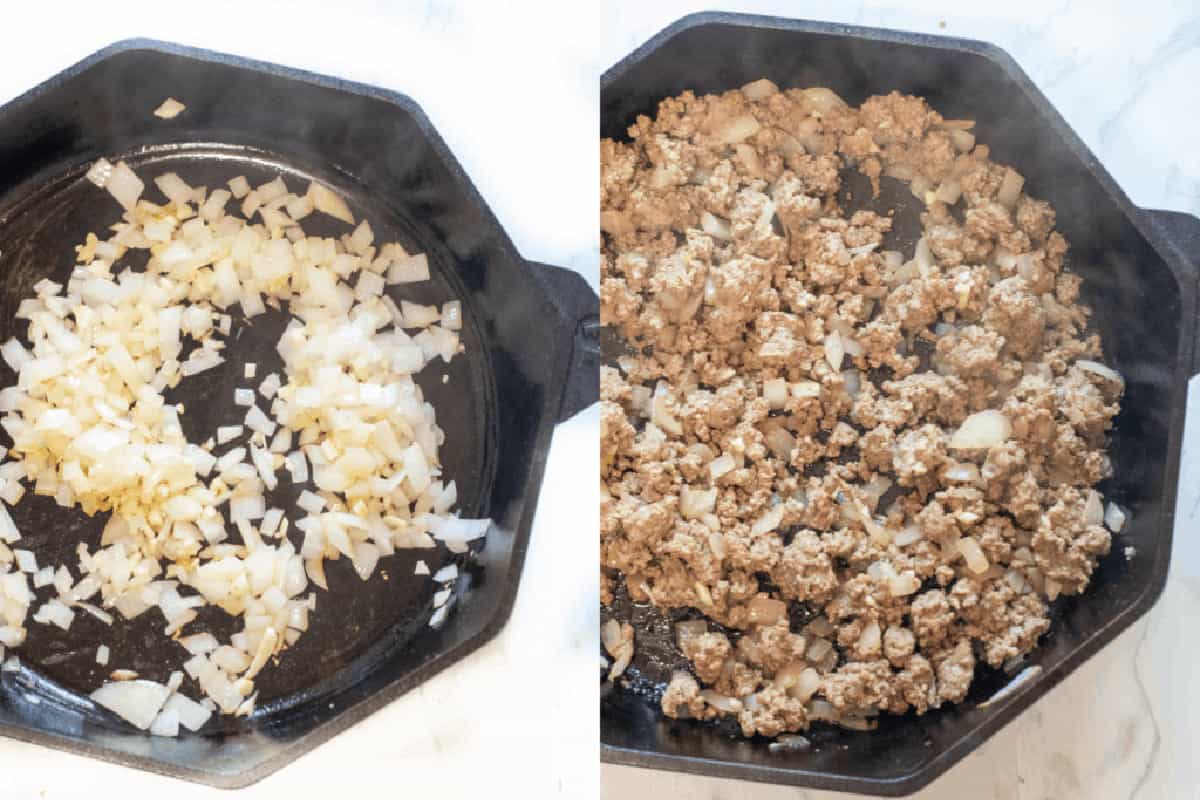 Step 1: Sauté garlic and onion in your cast iron skillet and then add the ground beef. Once cooked, drain the excess fat.
Tip: Dependent upon the fat percentage of the beef you use, you will want to drain most of the fat from your cast iron skillet.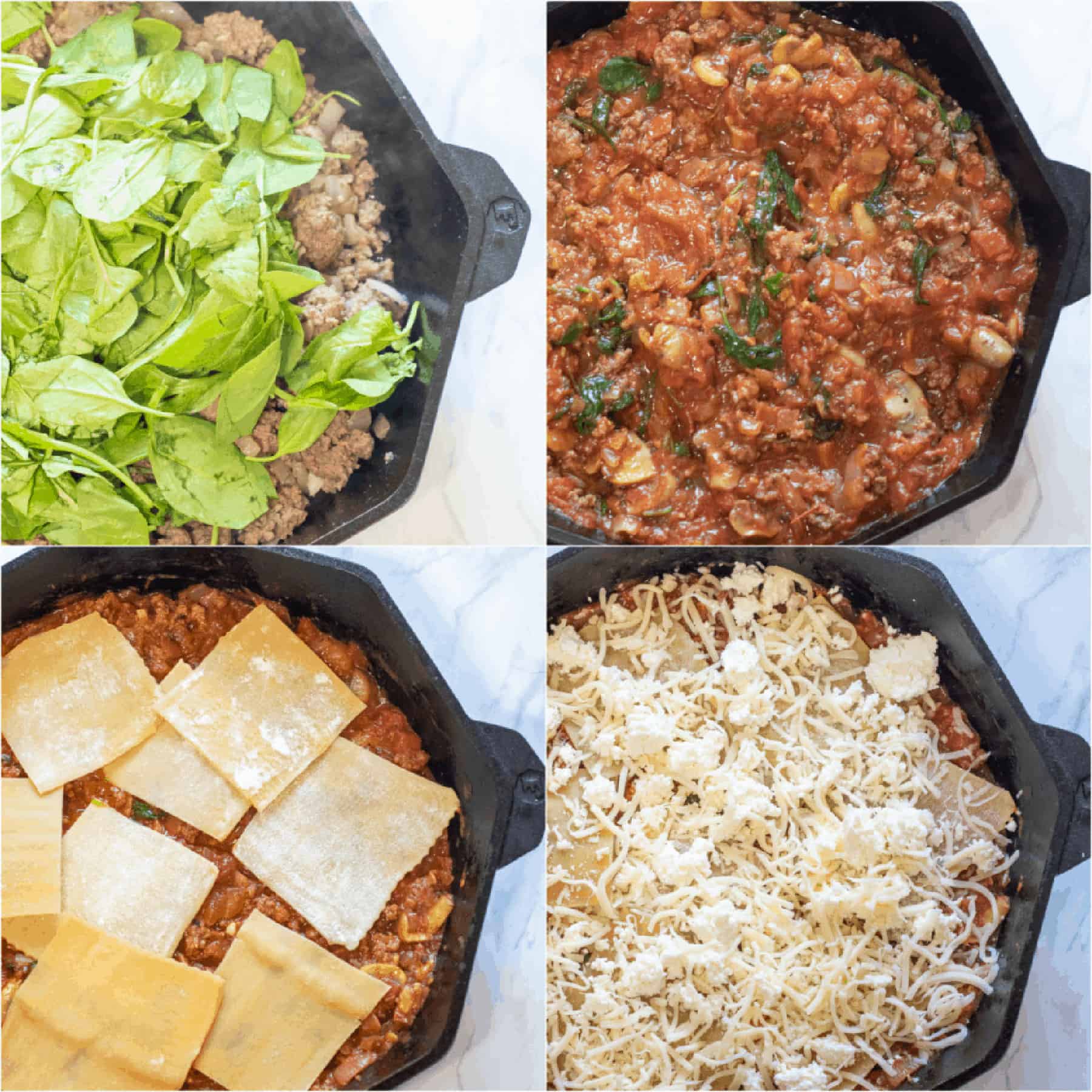 Step 2: Add fresh spinach and cook until wilted and then add you marinara of choice with your dried herbs.
Step 3: Remove 2/3 of the marinara sauce and add to a large bowl and then add lasagna noodle pieces.
Step 4: Top with 1/2 of the cheese.
Step 5: Repeat with sauce, noodles, and the rest of the cheese mixture.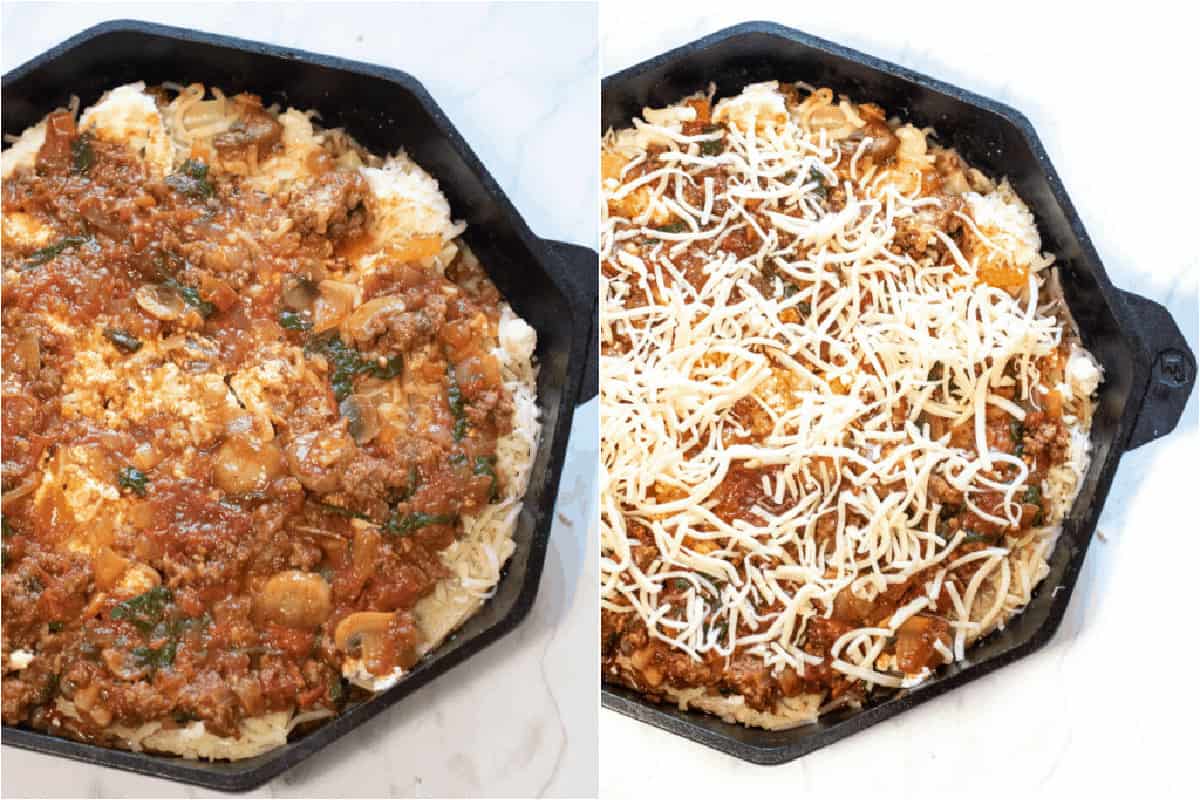 Step 6: Top with the last of the spinach marinara before topping with the last of the mozzarella cheese.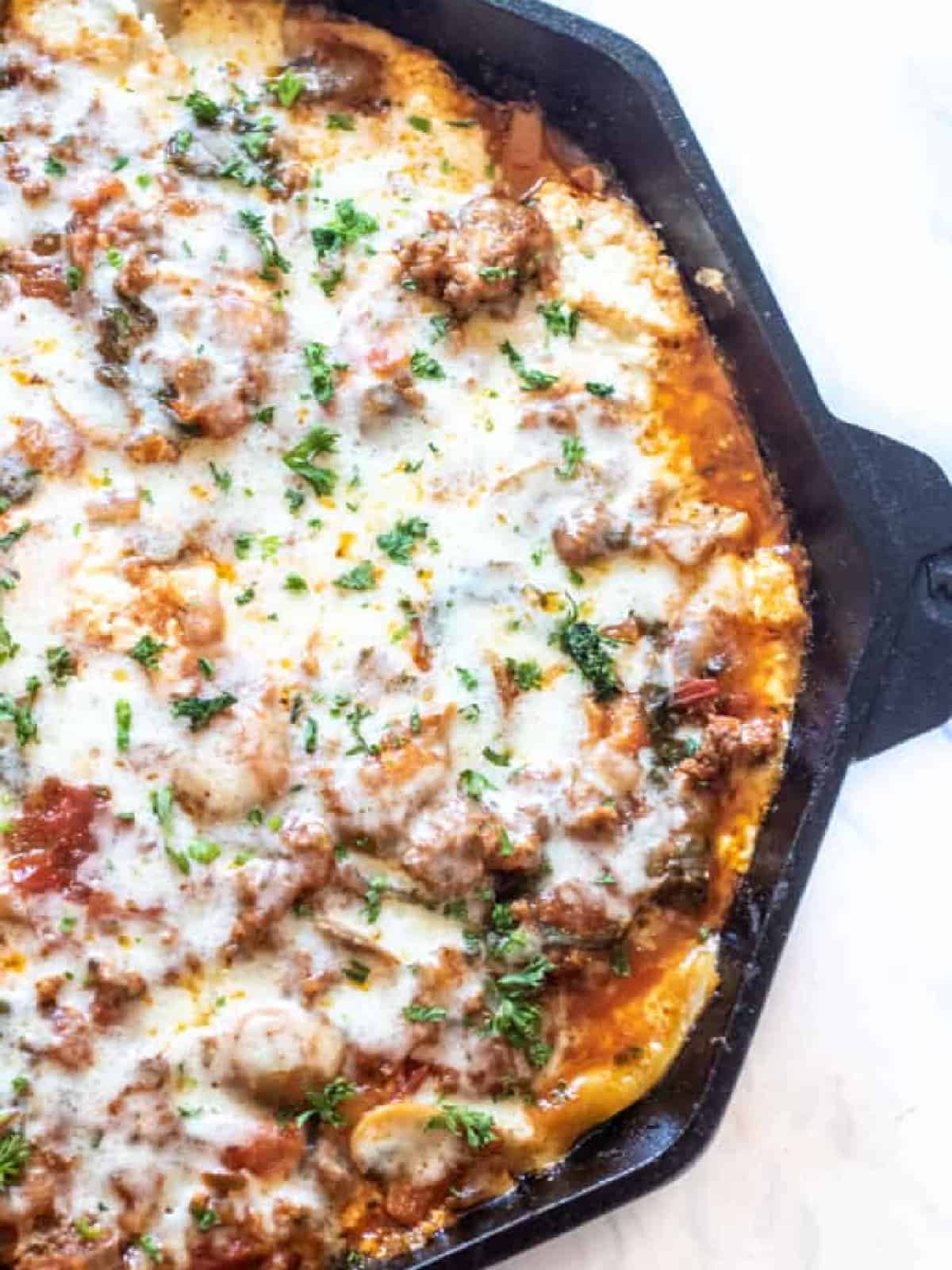 Step 7: Baketo perfection!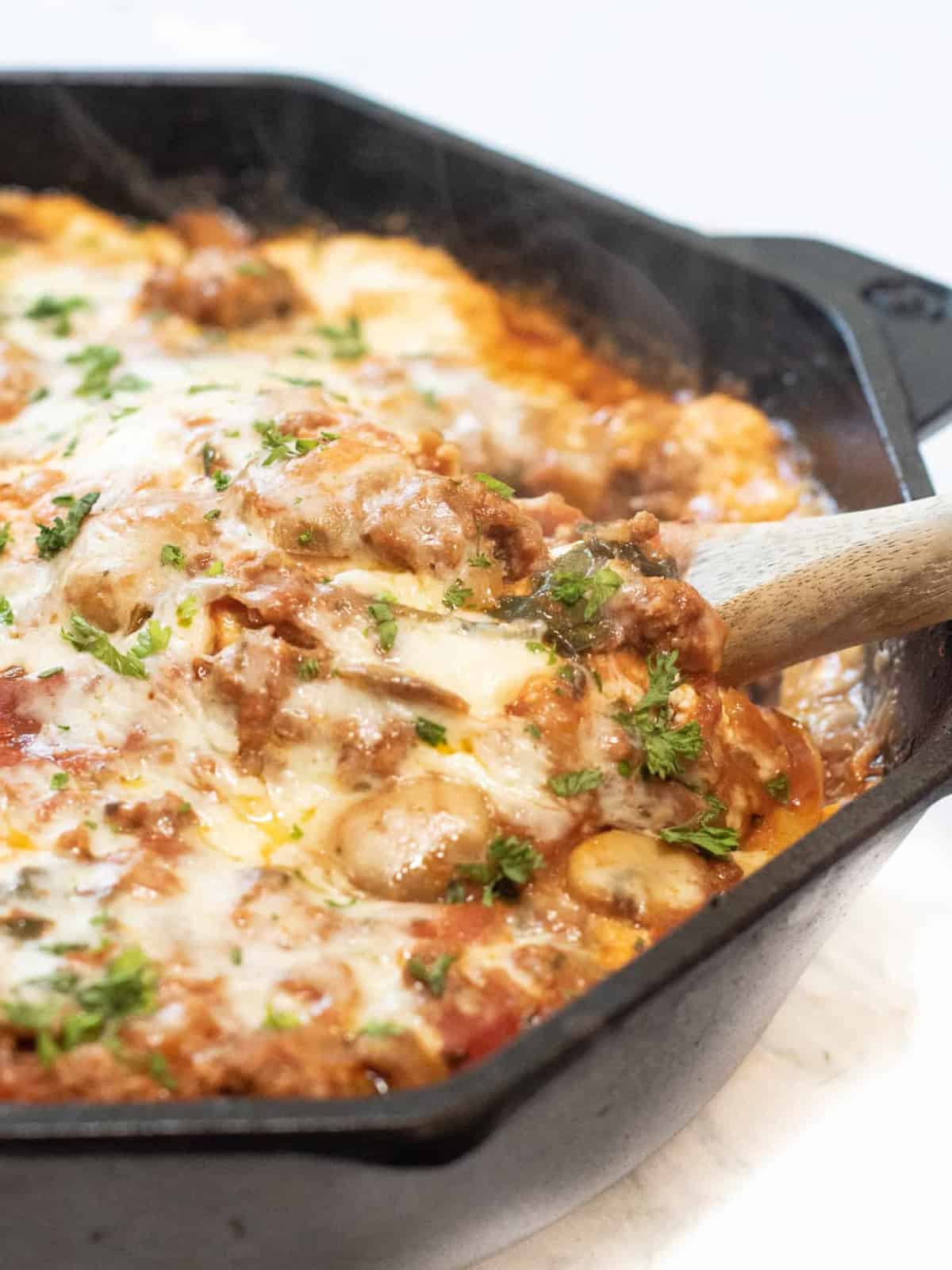 Ooey, gooey, easy cheesy perfectiooooooon. This lasagna is hands down, one of our favorites. We made this multiple times in the past month and my whole family devours it. With that added spinach, and our super mushroom packed marinara, I happily give my kiddos another serving!
Easy Substitutions
You can easily make this your own, too!
Make it Meatless by leaving out the ground beef and swap in your favorite veggies!
Make it Sausage lasagna by substituting ground sausage for the ground beef.
Make it Cheesier by adding even more mozzarella to your mixture or Parmesan Cheese or even sub all/some of the ricotta for cottage cheese.
Use your Favorite Sauce with added herbs or cheeses or veggies.
Add Some Heat by adding some red pepper flakes.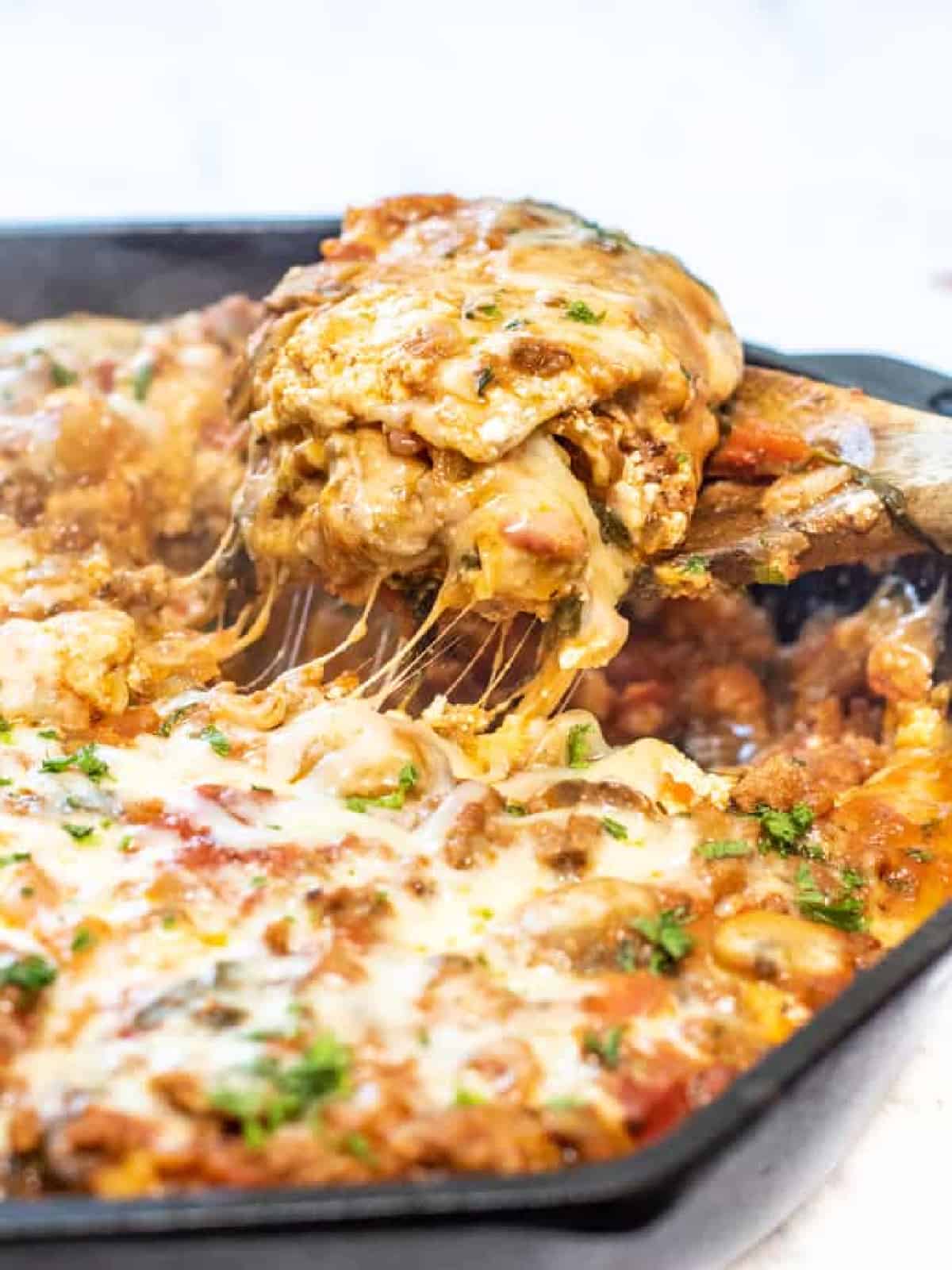 Welcome to comfort food season, friends! Break out those cozy clothes and warm up with some of our most comforting pasta dishes, soups, and sweets.
Enjoy! As always, if you make this recipe or any of my others, I love to hear what you think! Leave a comment below, email me, or you can find me on Facebook, Instagram, and Pinterest!
If you want to see more, be sure to sign up for my 5 Easy Ways to Start Cooking From Scratch!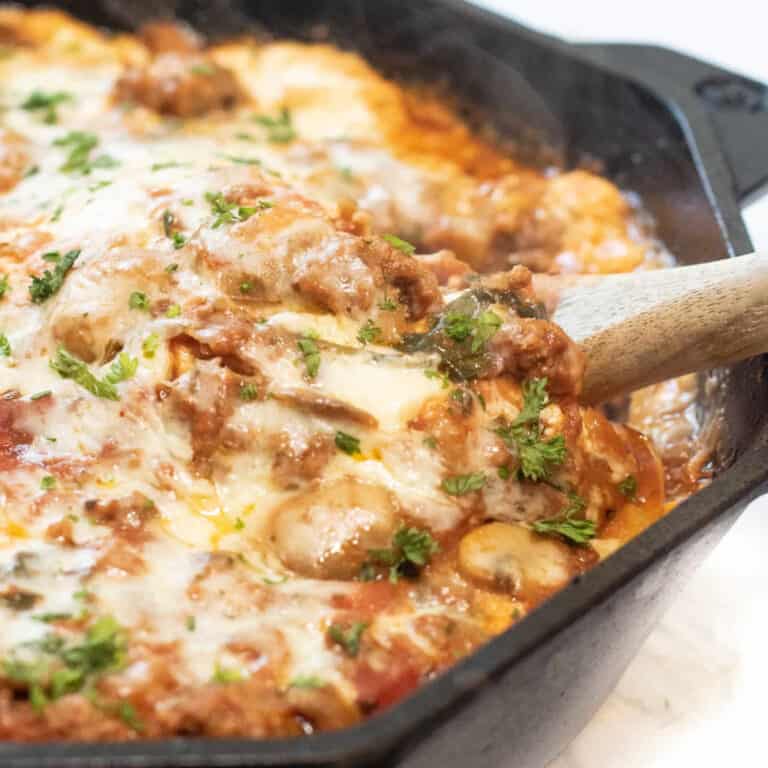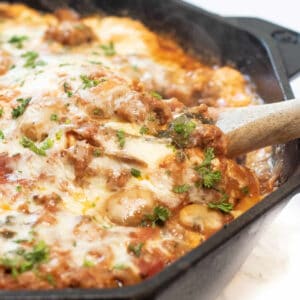 Cast Iron Skillet Lasagna From Scratch
This Cast Iron Skillet Lasagna From Scratch is pure comfort food but made with homemade pasta, a homemade sauce, and homemade ricotta cheese. It's cheesy, easy to assemble, and will soon be one of your family's favorites!
Print
Pin
Rate
Ingredients
1

lb

ground beef

1-2

tablespoon

olive oil

1/2

white onion, diced

about 1 cup

3

cloves

garlic, minced

2

cups

packed baby spinach

3

cups

Mushroom Marinara Sauce

or your other favorite marinara or 25 oz jar of pasta sauce

1

cup

ricotta cheese

2 1/2

cups

mozzarella cheese, divided

8

pieces

lasagna noodles, cut into thirds

1/4

teaspoon

dried oregano

1/4

teaspoon

dried sage

1/4

teaspoon

dried thyme

1/4

teaspoon

dried basil

Fresh basil or parsley for garnish

(optional)
Instructions
Pre-heat oven to 400 degrees.

Heat oil in a cast iron skillet, or other 12 inch skillet, to medium. Add onion and garlic and sauté for 3-5 minutes until lightly browned.

Add ground beef and crumble with wooden spoon as it cooks for about 5 minutes until it's no longer pink.

Drain about 1/2 of the grease and then add spinach and cook for another 1-2 minutes, stirring constantly until spinach is wilted.

Add sauce, mix well, add dried herbs and mix and let simmer for 5-7 minutes.

Meanwhile, add ricotta and 2 cups of mozzarella cheese to a small bowl and mix.

Remove about 2/3 of the sauce from pan and add to a bowl, leaving about a 1/3 of it in the skillet.

Add a layer of lasagna pieces then spread about 1/2 of the cheese over the noodles and top with 1/2 of the sauce in the bowl. Add another layer of lasagna pieces, the rest of the cheese, and then the rest of the sauce. Top with the 1/2 cup of remaining mozzarella cheese.

Cover cast iron with lid or with aluminum foil and bake for 30-35 minutes.

Top with fresh parsley or basil and serve and enjoy!
Notes
Use herbs to your taste, dependent upon the sauce that you use. Add more for a more basic sauce, or less if your sauce is already very well seasoned.
Sub fresh herbs for dried by using about 1 teaspoon of chopped fresh for the 1/4 teaspoon of dried.
Sub cottage cheese for ricotta, or a mixture of the two. Add in Parmesan Cheese to the final mozzarella topping, if you'd like.
Add more cheese for an even cheesier lasagna.
Make it vegetarian by omitting the ground beef and adding in your favorite veggies.
Nutrition
Calories:
460
kcal
|
Carbohydrates:
13
g
|
Protein:
32
g
|
Fat:
31
g
|
Saturated Fat:
15
g
|
Cholesterol:
100
mg
|
Sodium:
1043
mg
|
Potassium:
773
mg
|
Fiber:
3
g
|
Sugar:
6
g
|
Vitamin A:
1935
IU
|
Vitamin C:
13
mg
|
Calcium:
486
mg
|
Iron:
4
mg