It's your favorite Mexican street corn on the cob, but cut into much less messy, grabbable, fun, Mexican Corn Ribs! Grilled and spiced then topped with cotija cheese and fresh cilantro, these vegetarian and gluten-free corn "riblets" are the perfect way to use that fresh summer corn!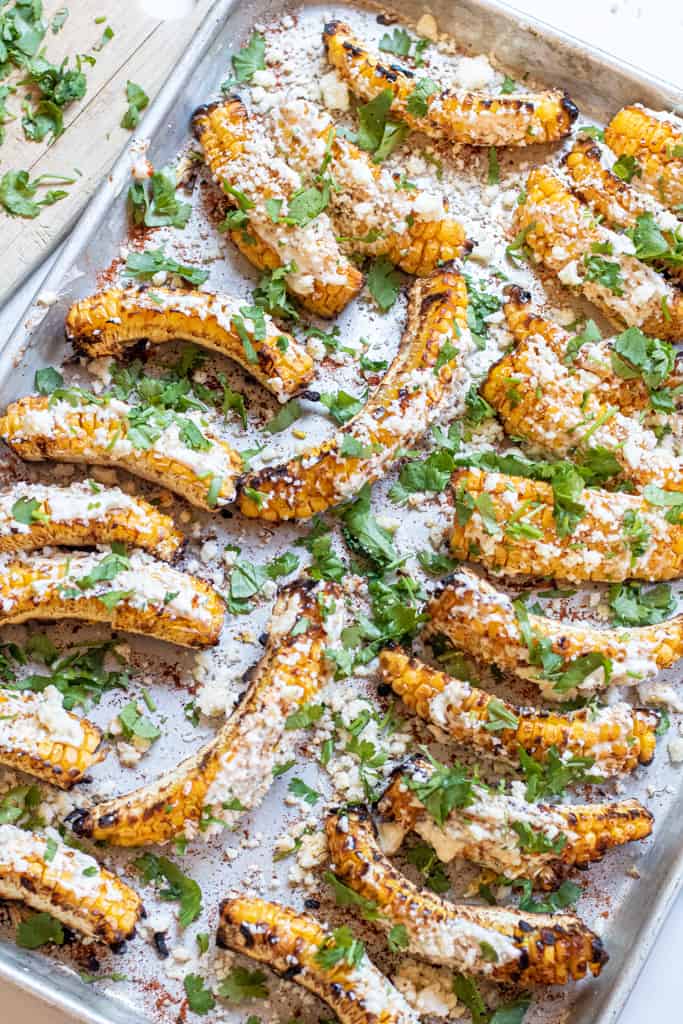 Have you gotten on this Tic Tok trend, yet? While I'm not typically the trendy type, I have to say, I am here for this corn ribs thing. Especially these grilled to perfection coated in spices, slathered with cream, and topped with plenty of fresh cotija cheese, Mexican Corn Ribs, thing!
What are Corn Ribs?
Corn ribs are pieces of corn, cut into quarters or eighths, that are then grilled, baked, or fried. When these little corn "riblets" are cooked, they curl up a bit, giving them the appearance of traditional ribs. Plus, because of the size, they're everything you want from cob straight off the cob, but with way less mess.
Also, they're super fast to cook and can be a delightful vehicle for tons of flavors, spices, and sauces. Ours are inspired by our Mexican Street Corn Salad, but you could also slather 'em with some of our favorite BBQ Sauce From Scratch, too!
How to Cut Corn Ribs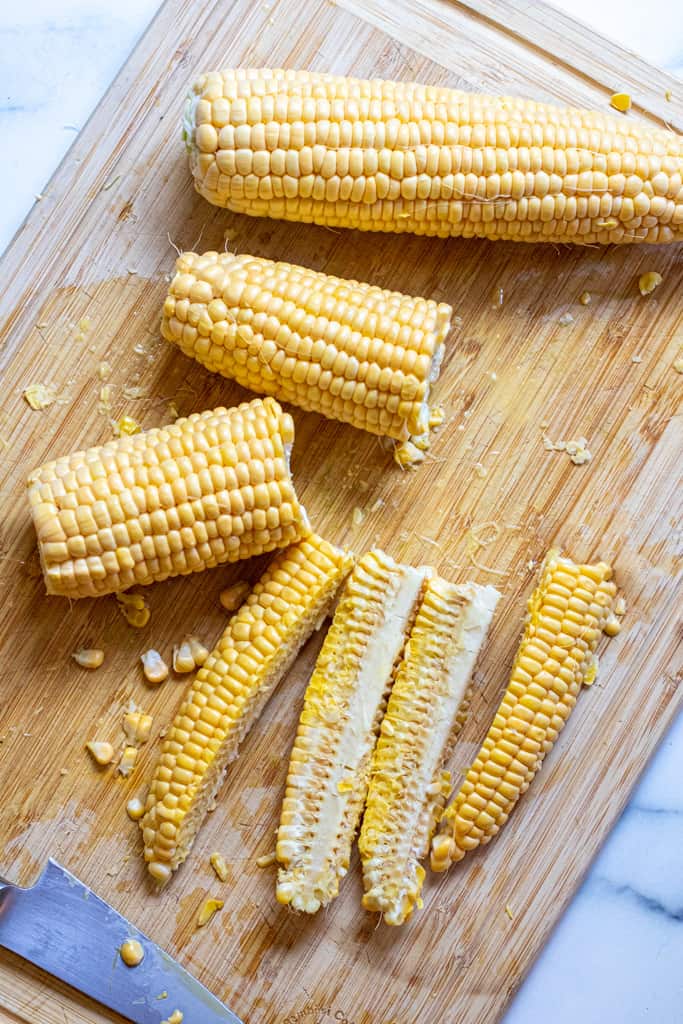 While these Mexican Corn Ribs are a fun and fast grilled size, cutting the corn is definitely the hardest part.
There are few things that will help make this an easier, safer process.
Be sure to have a sharp knife. This goes with all cooking, but especially when you're trying to cut through the center of an ear of corn. Using a dull knife is actually much more dangerous than a sharp one because you have to apply more pressure which will increase the chance of you slipping with it (and a lot of force behind it!).
Halve the ears first. While I've seen a lot of the ribs in full quarters of the ears, we prefer eighths because they're even more bite size for kiddos, but also because it's much easier to slice a half of an ear over a full ear. During our recipe testing, we found that a lot of the time, cutting the full ears in half would result in part of ear to break off of the full half anyway.
Trim the end. Cut just enough of the bottom end of the ears off (cut just above the end of the ear) so that you have a flat edge to be able to stand it up on to cut the halves. This also removes the extra fiberous (read harder to cut) end.
Use a gentle rock with the knife to cut. When you make your cuts, apply the pressure downward into the ear and then rock your knife gently back and forth to cut through . This will make it an easier and safer cut.
Keep the core! Don't cut the kernals off of the core, you need that core as the "bone" of the "rib."
Most important: BE SAFE. Cutting through corn ears can take a little work. #1 if you don't feel safe doing it, simple. Don't! You can grill the ears of corn and make some full-eared Mexican Street Corn with this recipe, too.
Ingredients Needed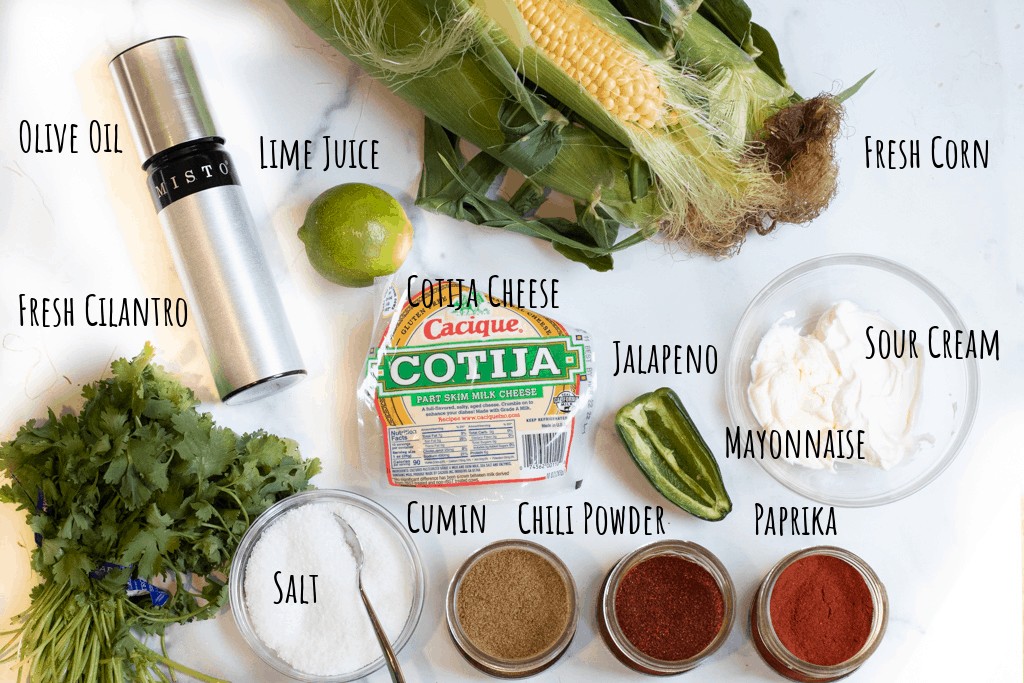 Fresh Corn on the Cob - As long as it's on the cob, it'll work. But the fresher the better and more in season, the more flavorful!
Oil - To coat the corn so that your spice mixture sticks. To do this you can either use a brush to coat, or we love our Misto!
Spices - Cumin, Chili Powder, Paprika, and Salt.
Mayonnaise and Sour Cream - This is the cream to slather on once the ribs are cooked and is what will make the cheese stick. Have you made your own Mayonnaise, yet?
Jalapeno and Lime Juice - Mixed into the mayo and sour cream for added flavor.
Fresh Cilantro - To finish with!
Fast and Easy to Make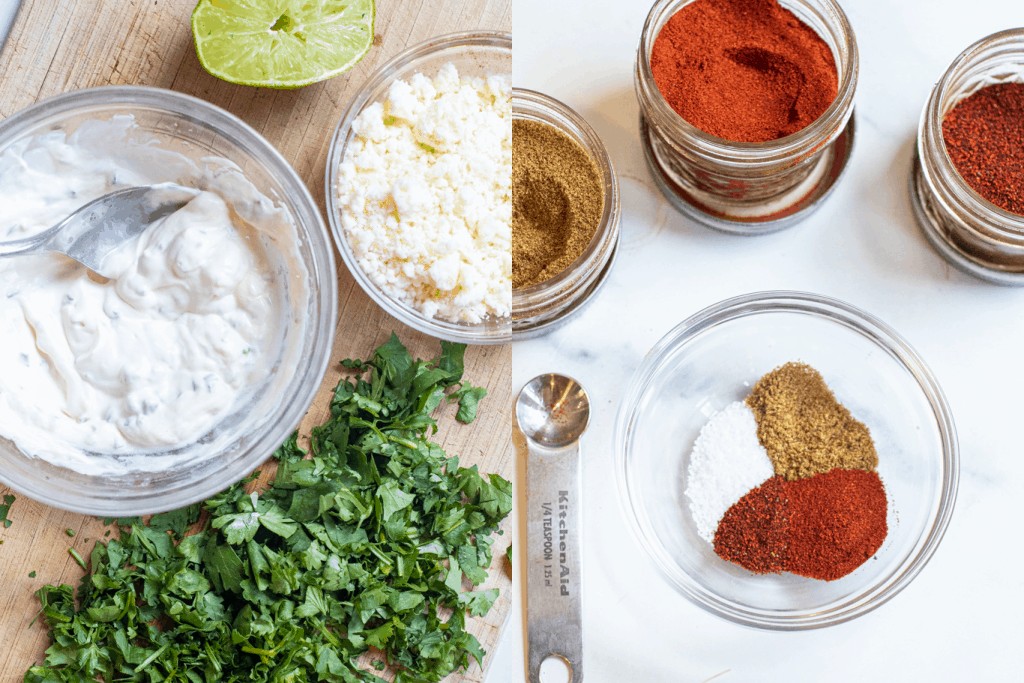 Two key parts of the flavor of these Mexican corn "riblets" are the spices coated on the corn before grilling and the cream and cheese to top after.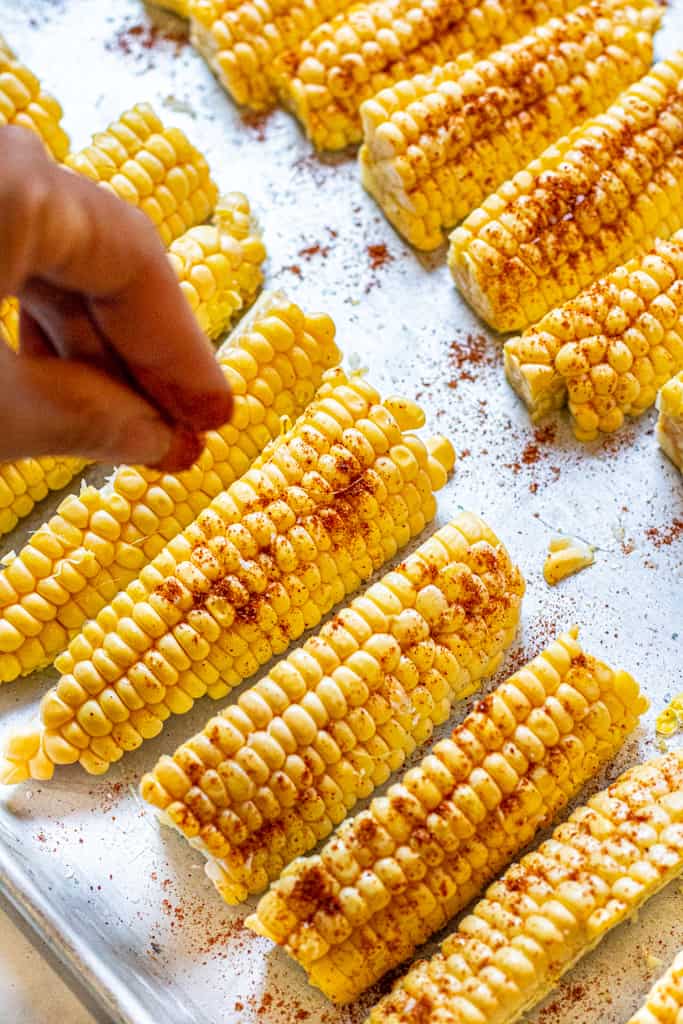 The great part of this spice blend is that it's totally customizable. Like it hotter? Add a little more chili powder. Milder? More paprika.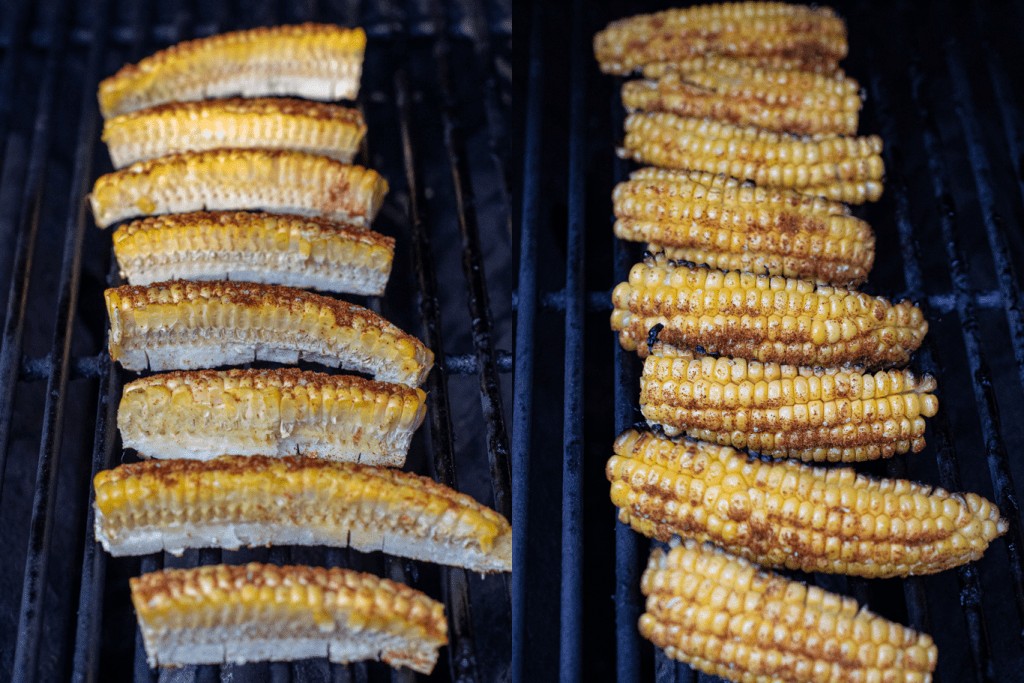 On to the grill these little spiced corn ribs go! As they cook, they'll start to curl a bit, to give them that "rib" like look!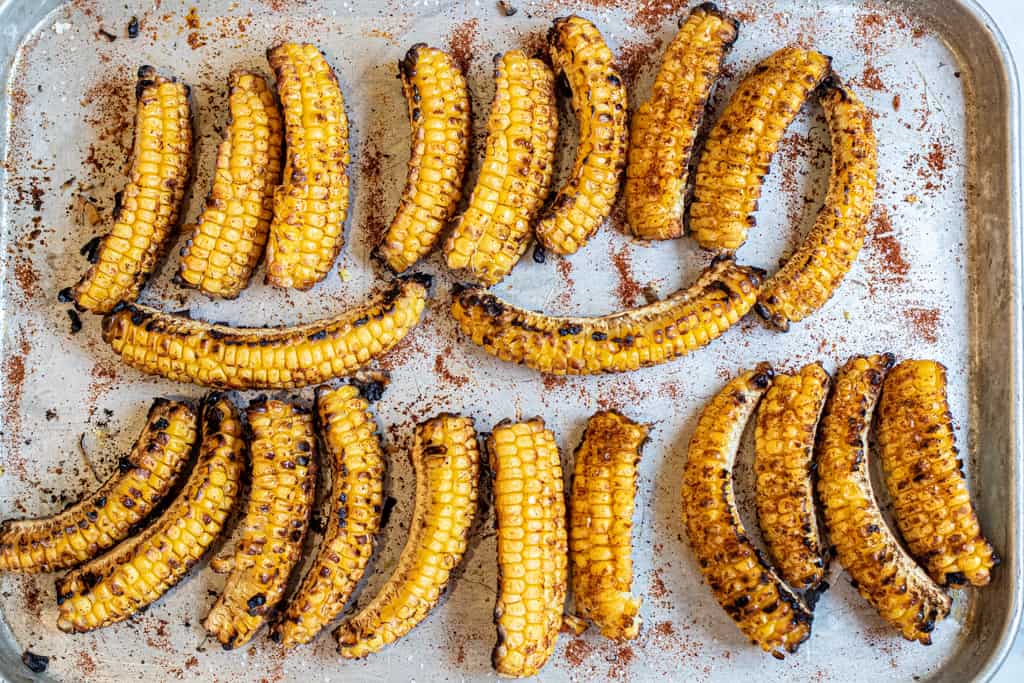 Once cooked, they're ready for the cream.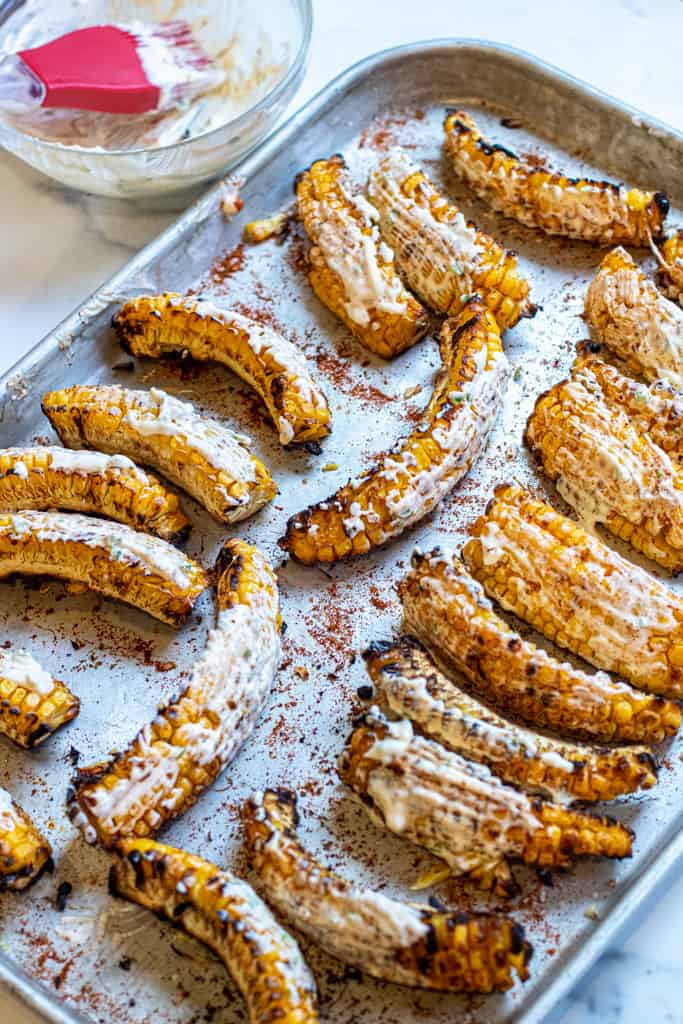 Once these little corn riblets are grilled to tender perfection (only about 15 minutes), and then they're ready for your mayonnaise, sour cream, lime juice, jalapeno cream.
Using a silicone brush for this will make your life a lot easier!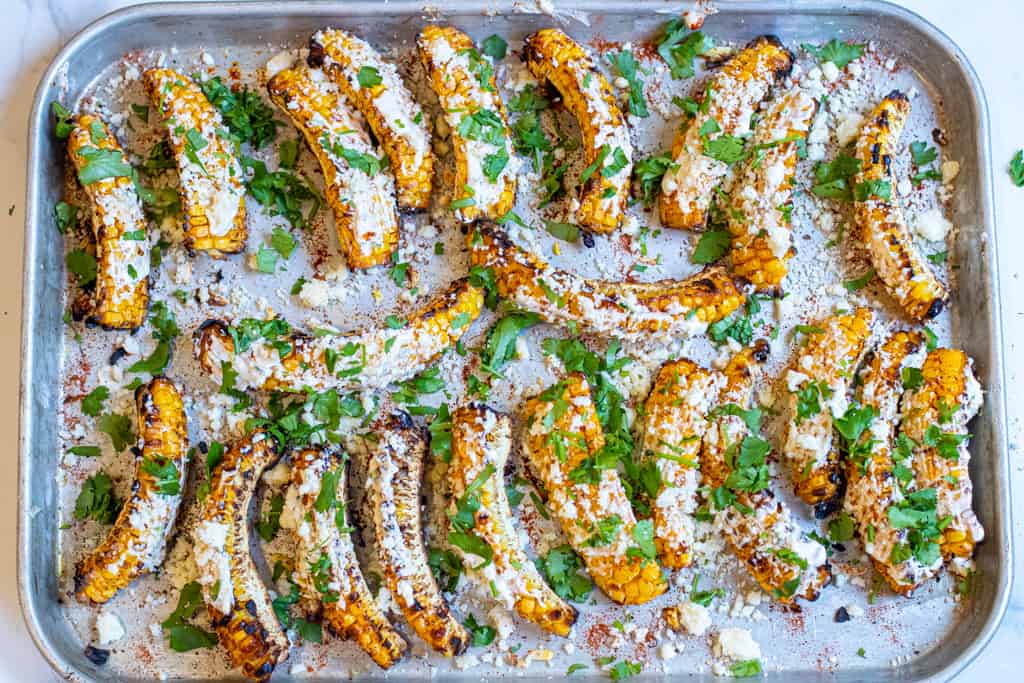 Top with cheese and fresh cilantro, and done!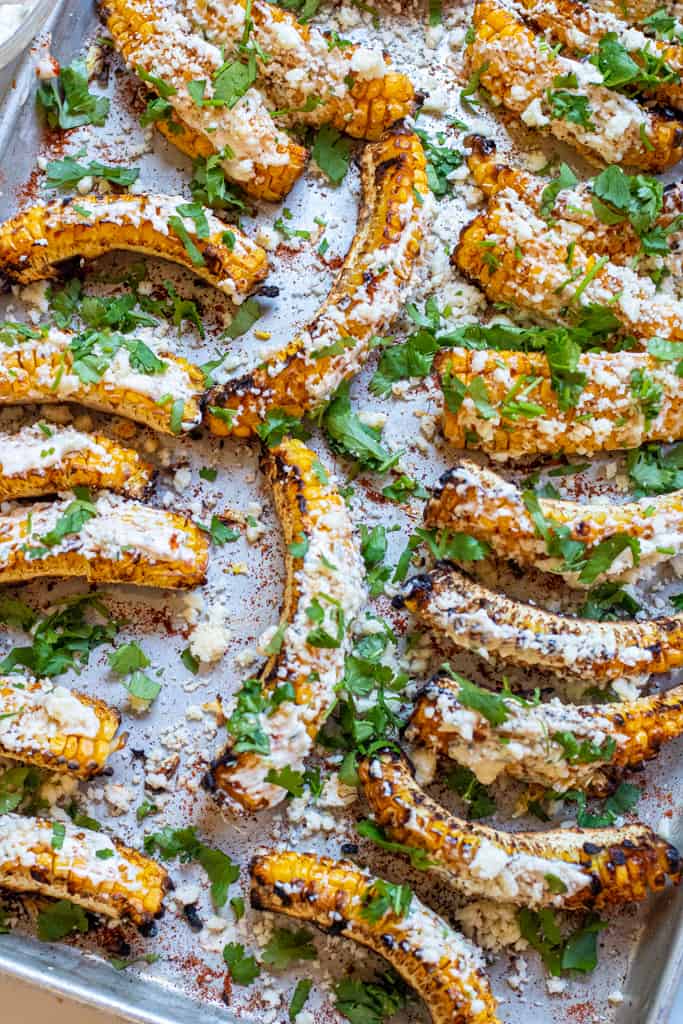 Perfectly grabbable. Perfectly spiced. Creamy and cheesy. Mexican Corn Ribs for your new favorite summer corn side dish!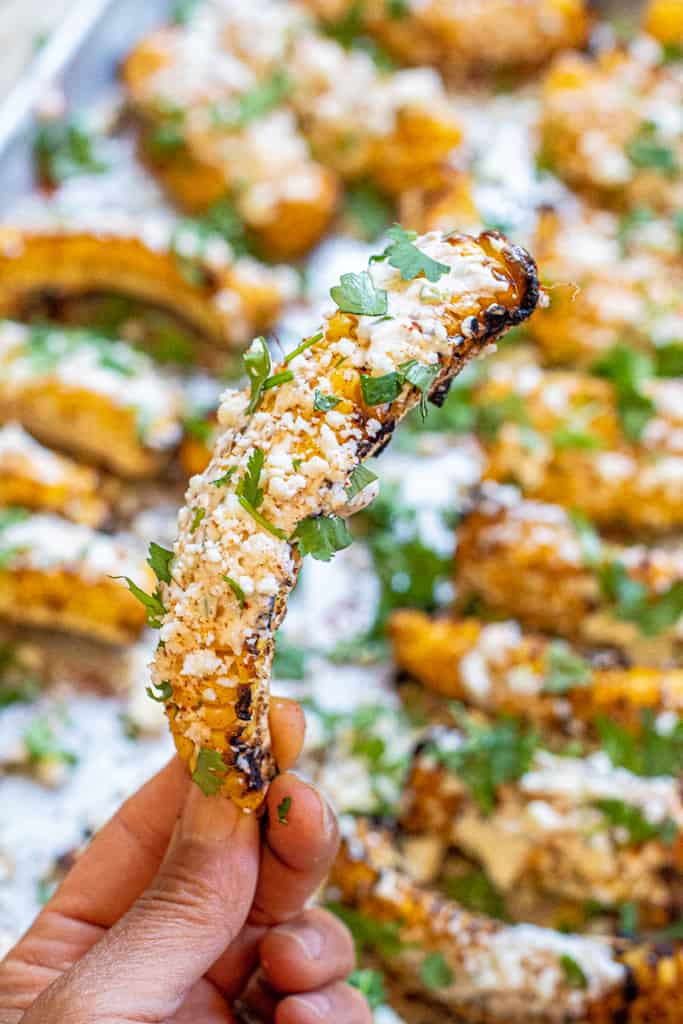 A curled little corn riblet, coated with cream and cheese, grilled to perfection!
My husband and my girls absolutely loved these little corn riblets! So much flavor and so much fun to eat!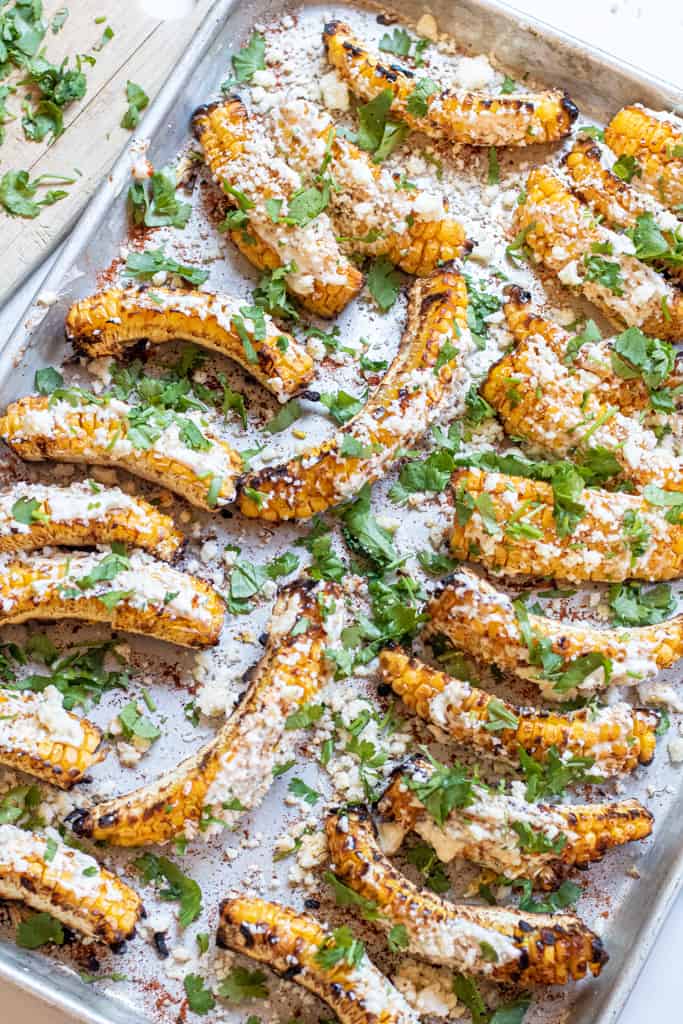 Enjoy! As always, if you make this recipe or any of my others, I love to hear what you think! Leave a comment below, email me, or you can find me on Facebook, Instagram, and Pinterest!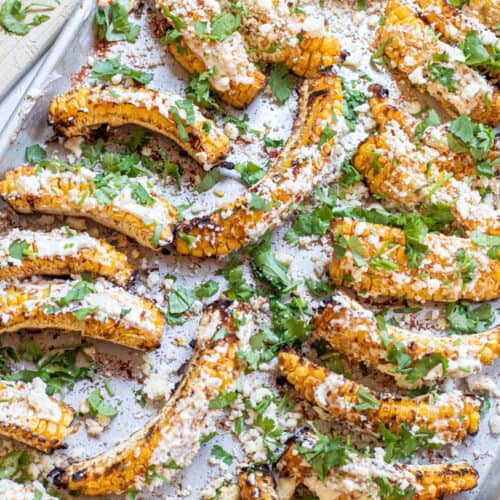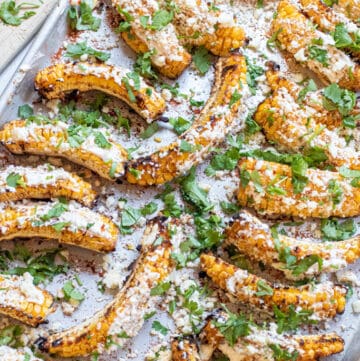 Ingredients
3

ears

fresh corn

2

tablespoons

mayonnaise

2

tablespoons

sour cream

1

tablespoon

fresh jalapeno

minced

juice

from 1/2 lime

1/2

teaspoon

cumin

1/2

teaspoon

paprika

1/4

teaspoon

chili powder

1/4

teaspoon

salt

1/2

cup

cotija cheese

crumbled

1/3

cup

fresh cilantro

diced
Instructions
Prep Corn Ribs
Clean corn ears from husks.

With a sharp chef's knife, cut off the ends of the corn, cutting just above the top of the stem.

Use your knife to score corn ear in the middle, and the use your hands to gently break ears in half.

Stand the ears halves up on the cut end on the cutting board. Use your knife to gently apply pressure to the core, and rock the knife back and forth to slowly cut through the center of the core, rocking the knife back and forth to cut through the whole half, holding the corn steady.

Place the half core down on the cutting board, and use your knife to gently cut in half again, thorugh the kernals.
Spices and Sauces
Once your ears are prepped and while your grill heats, mix youre spices in a small bowl.

In a medium sized bowl, add mayonnise, sour cream, lime juice, and jalapeno and mix well.
Cook the "Ribs"
Line ribs on a tray and spray (or brush) each rib with oil.

Sprinkle on some of the seasoning to each rib.

Add ribs to grill, cut side down. Close lid and cook for about 8 minutes.

Open, flip ribs to other cut side and cook for another 6-8 minutes.
Finish Ribs
Transfer the ribs back to the tray.

Brush on cream mixture, sprinkle with cheese, and top with fresh cilantro.
Notes
Nutritional value is per riblet.
Substitutions:
No cotija? No problem. Unseasoned feta is great, too!
Spices:
Customizable to your taste! Add more chili for more heat. When using fresh to dried, remember 1 tablespoon of fresh = 1 teaspoon of dried.
Storing:
Store in an airtight container in the fridge for up to 3 days.
Nutrition
Calories:
28
kcal
|
Carbohydrates:
2
g
|
Protein:
1
g
|
Fat:
2
g
|
Saturated Fat:
1
g
|
Polyunsaturated Fat:
1
g
|
Monounsaturated Fat:
1
g
|
Trans Fat:
1
g
|
Cholesterol:
4
mg
|
Sodium:
70
mg
|
Potassium:
39
mg
|
Fiber:
1
g
|
Sugar:
1
g
|
Vitamin A:
90
IU
|
Vitamin C:
2
mg
|
Calcium:
18
mg
|
Iron:
1
mg