All the flavor of a Chicken Enchilada but with the ease of a Crock Pot and wrapped in a taco. These Crock Pot Chicken Enchilada Tacos are our new favorite taco night dinner!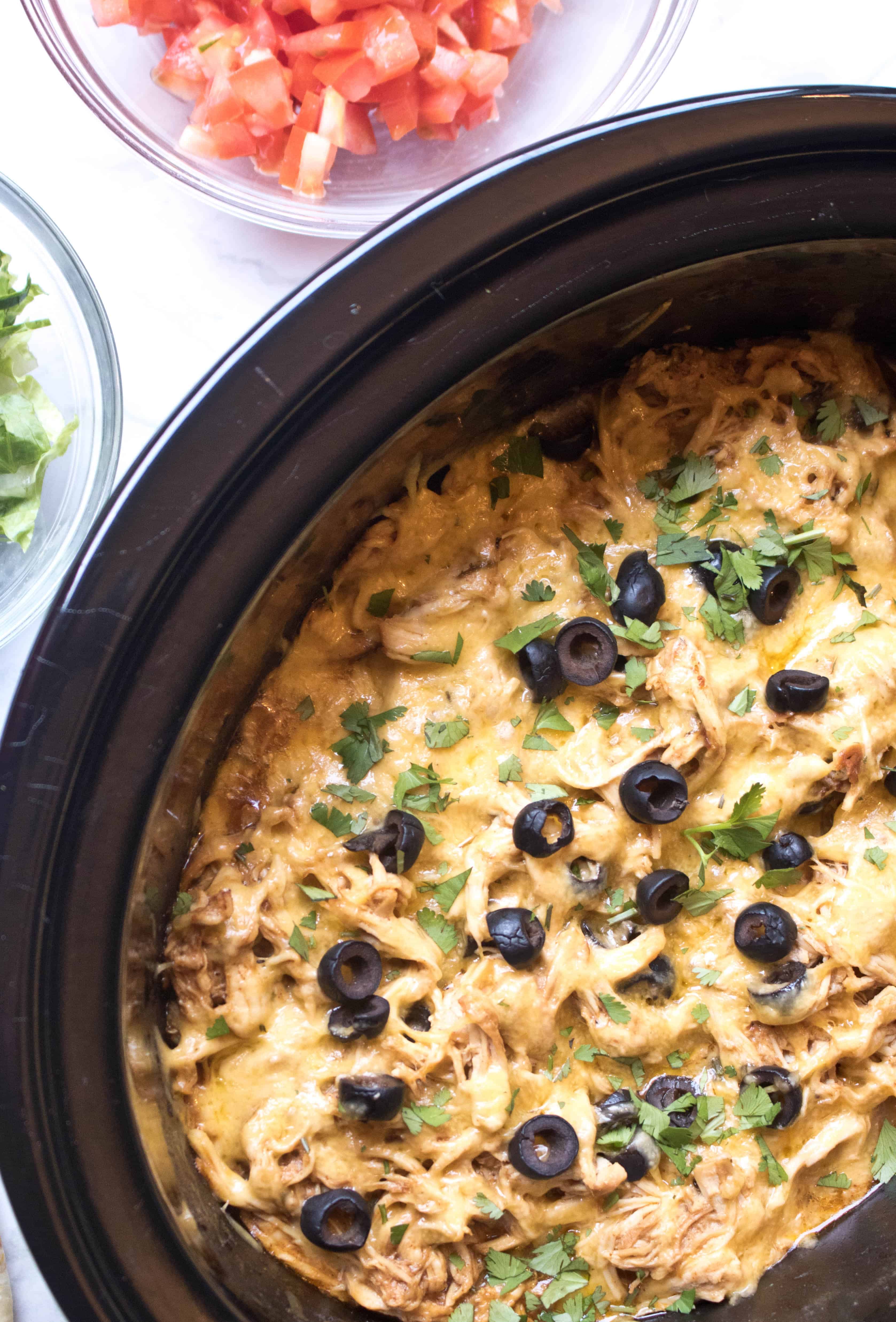 Ahhh appetite. It's so nice to see you again. It's been a brutal winter and it doesn't help that I work in healthcare and am in and out of hospitals and nursing facilities all week. Three of which ended up being put on quarantine for outbreaks of the flu or various nasty stomach viruses. So no wonder I've had two bad respiratory viruses and two stomach viruses this winter. The latter resulting in a diet that resembled the boiled chicken, rice, and yogurt diet we feed our dog when he's sick. So when I was finally feeling normal enough again for real food, I (and the baby) wanted it all. Like enchiladas. And tacos. Being the hungry preggo I am, made "both": Crock Pot Chicken Enchilada Tacos!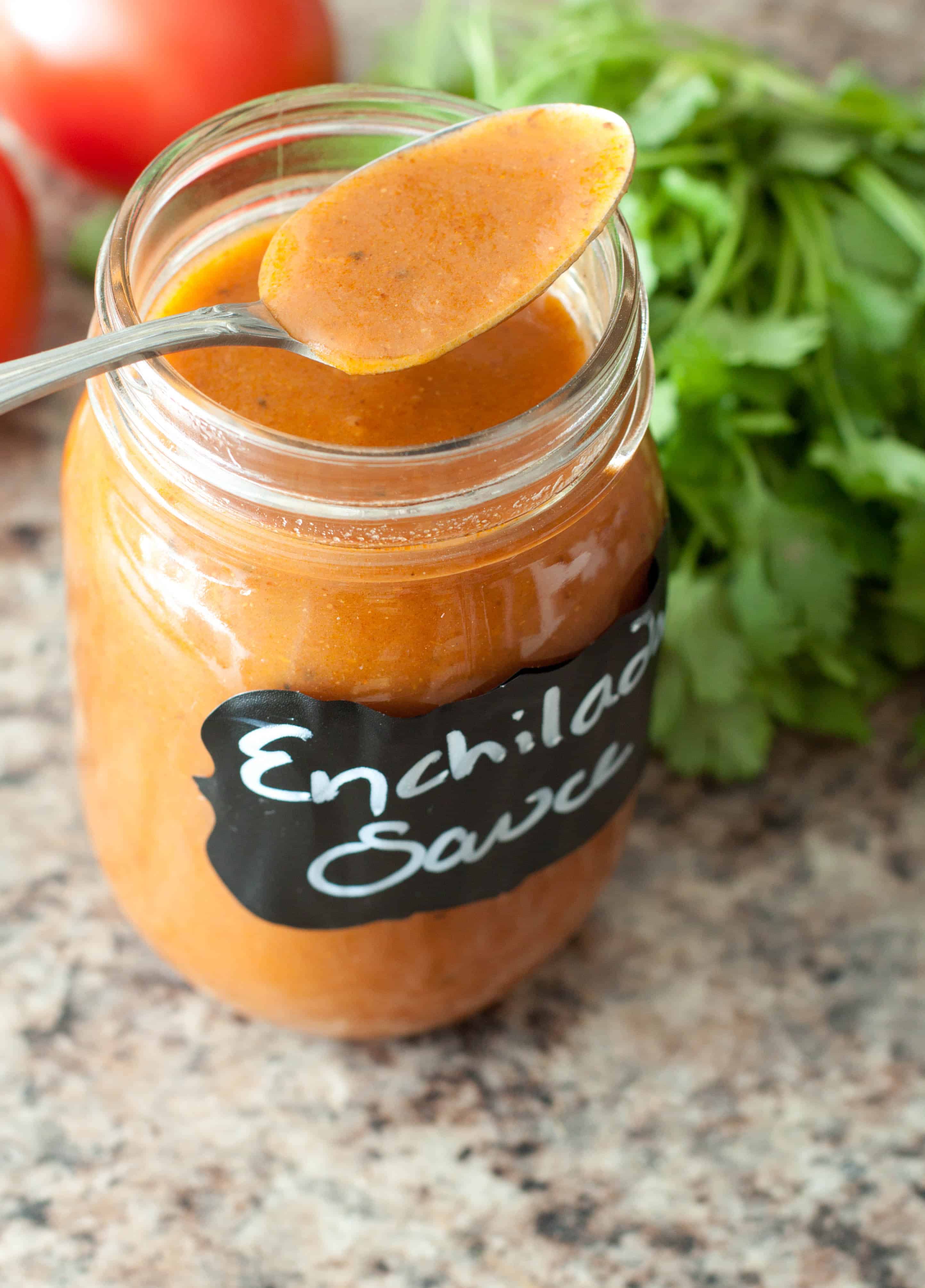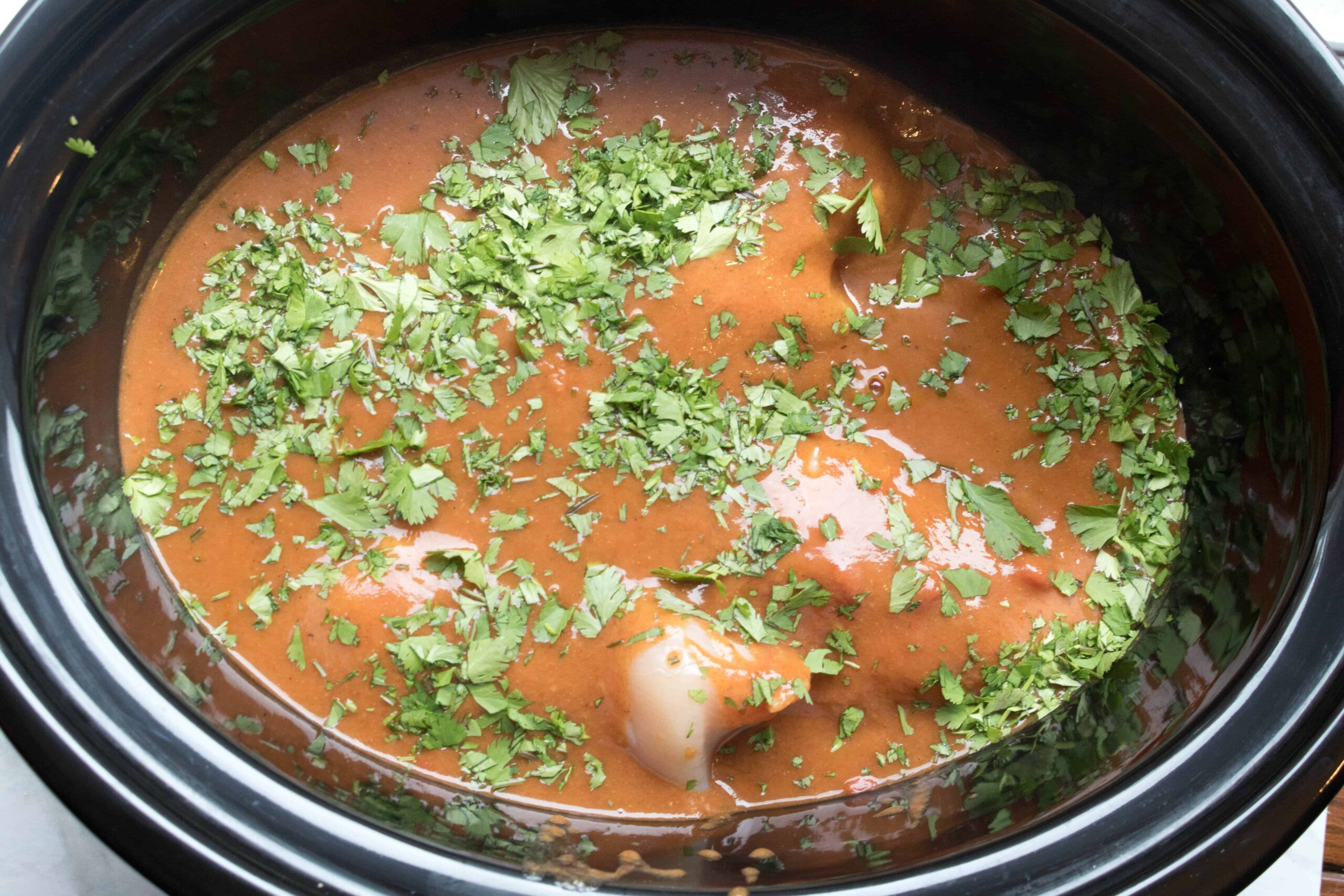 Oh Crock Pot, how I love thee. Especially for those increasingly busy weeknights. Even better, I could prep this meal over the weekend by whipping up some of our super fast and easy Enchilada Sauce From Scratch ! Prep being the whopping 10 minutes it takes to make this delicious from scratch sauce, totally easy enough to throw together the night before! Then in the morning before work it was just a matter of tossing chicken breasts in the Crock Pot with the fresh, homemade sauce! And some cilantro. Because fresh cilantro makes everything better. Left to do it's thang all day while we worked and our house smelled amazing when we got home.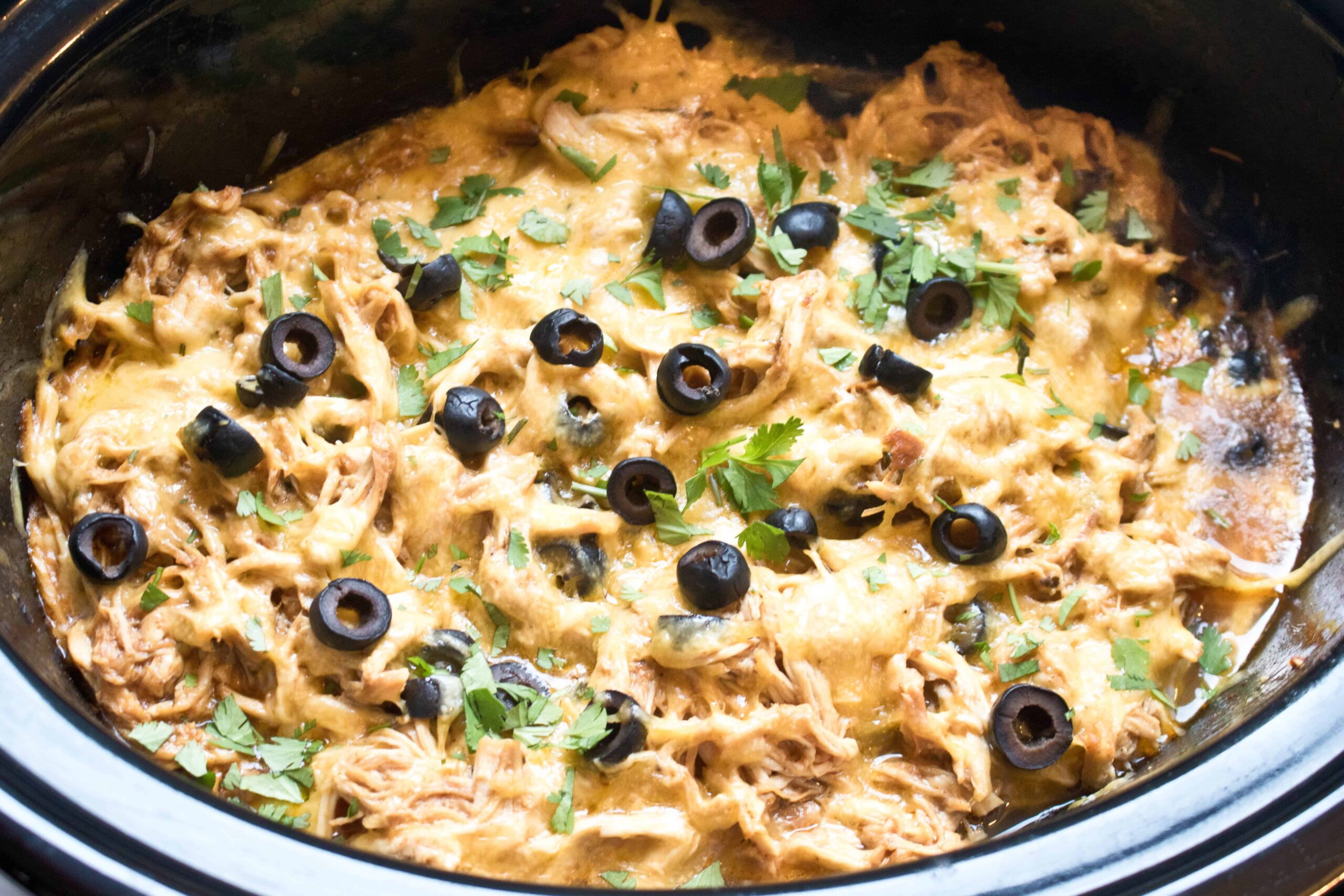 A quick shred of the chicken breasts in the enchilada sauce and topped with cheddar cheese, sliced black olives, and another 20ish minutes in the Crock Pot to melt (or because I'm a hungry anxious preggo I put it under the broiler in the oven to melt the cheese faster!) and boom.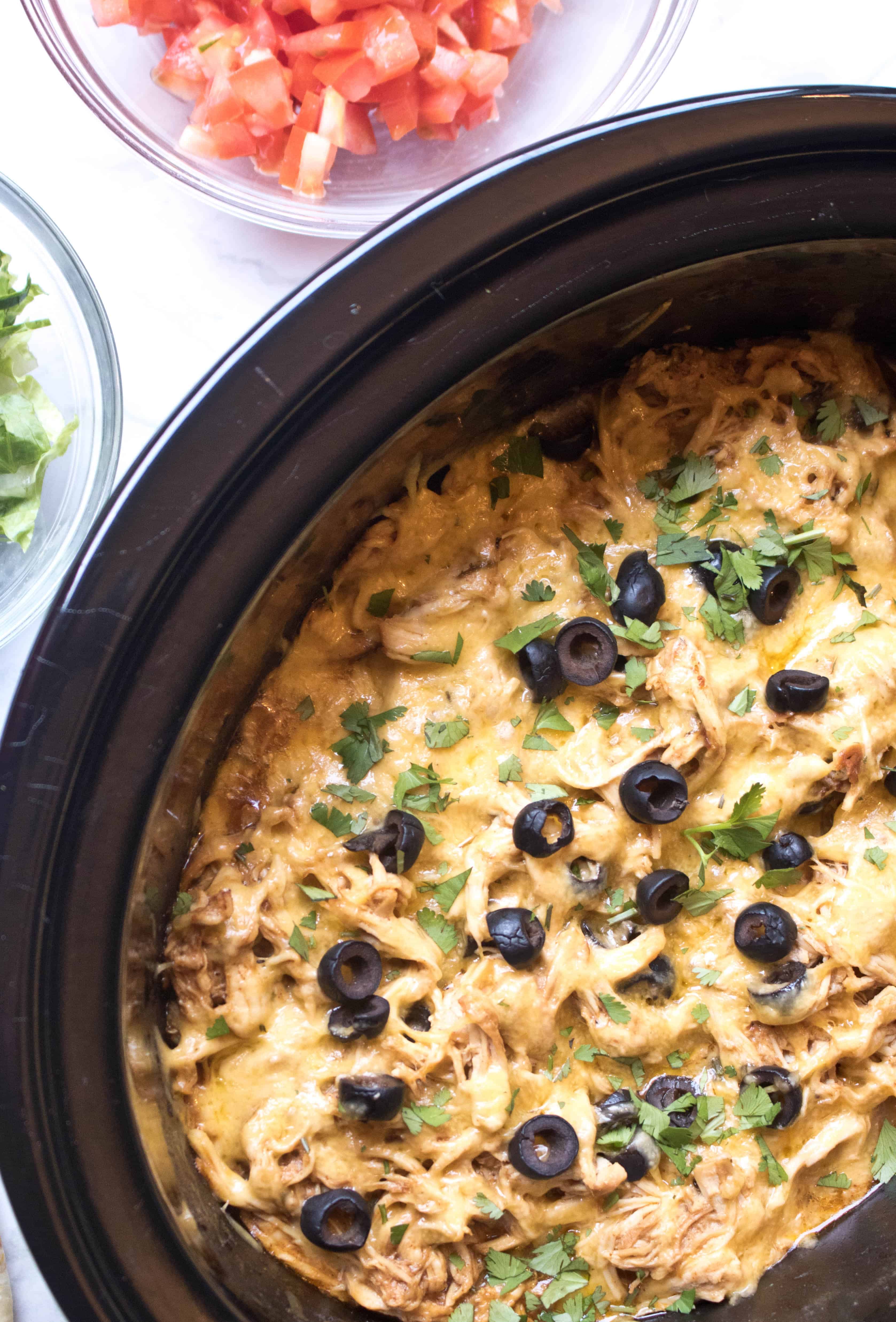 All the deliciousness of chicken enchiladas, ready for some tacos!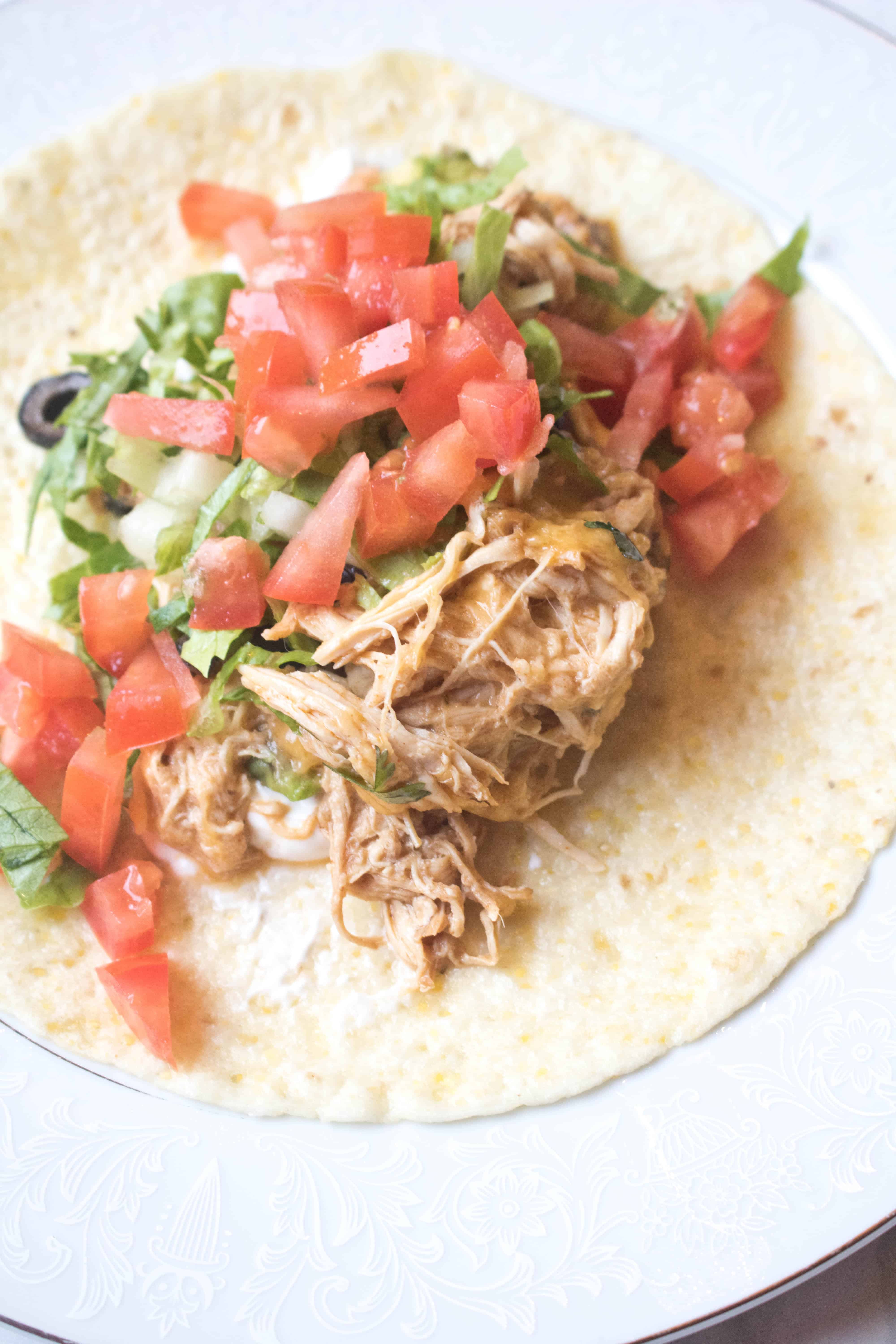 Put on a lightly steamed tortilla (homemade flour or corn tortillas- or we're really liking these lately) and you'll have a Taco to make Tuesday proud and that'll also ease the craziness of the weeknight! We'll be making these often; maybe every week if my husband gets his way 😉
Enjoy!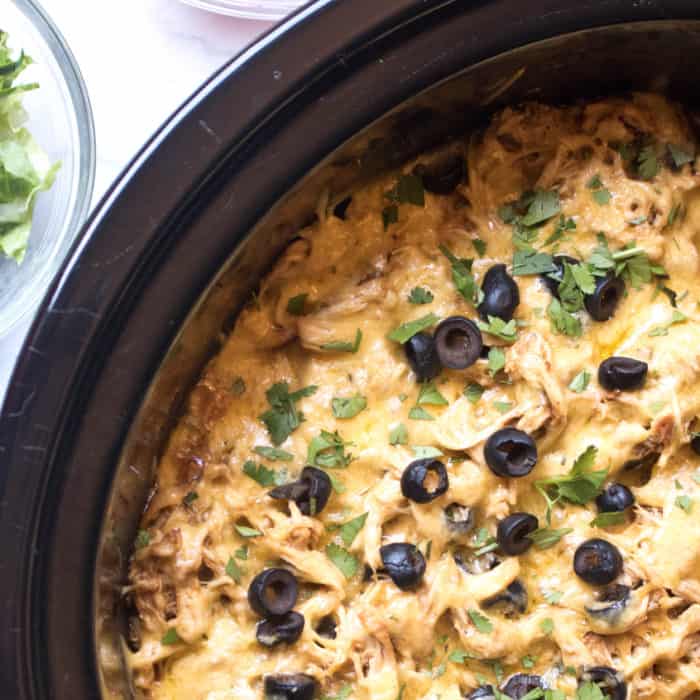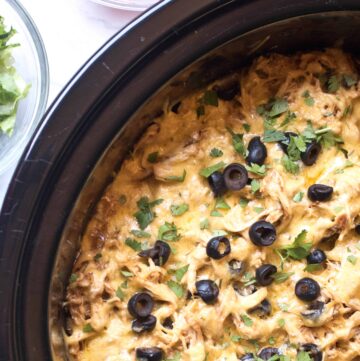 Crock Pot Chicken Enchilada Tacos!
All the flavor of a Chicken Enchilada but with the ease of a Crock Pot and wrapped in a taco!

Print
Pin
Rate
Ingredients
4

Boneless, skinless chicken breasts

2

cups

Enchilada Sauce

Make it yourself! https://www.servedfromscratch.com/enchilada-sauce-from-scratch/

2

tbsp

fresh cilantro, minced

1/4

tsp

kosher salt

Probably not needed if using store bought enchilada sauce – to taste

12

oz

sliced black olives

1 1/2

cup

shredded cheddar cheese (mild or sharp)

more fresh cilantro
Instructions
Add chicken breasts to the Crock Pot. Pour over you Homemade (or favorite) Enchilada Sauce. Cook on low for 6-8 hrs.

Shred chicken and mix well with sauce in Crock Pot. Sprinkle in 1/2 cup of cheddar cheese and 1/2 the olives and mix. Top with the remaining cheddar cheese and olives. Turn Crock Pot to high and cook for another 20 minutes or until the cheese is all melted. Or, turn you oven to broil and put whole Crock Pot stoneware in oven to melt cheese – but keep an eye on it so it doesn't burn. Sprinkle with remaining fresh cilantro.

Serve on your favorite taco shells with sour cream, fresh avocado, shredded lettuce, diced tomatoes, and hot sauce and enjoy!