I love themed dinner parties. And I especially love it when other people host them. Our good friends, soon to be married, Charles and Alicia had us and another couple over for a Vegan Mexican themed dinner. So we decided on build your own tacos with all the (vegan friendly) fixings. Which at first sounds like "uhh what?" but there were so many delicious salsas, and sauteed veggies, beans, and an imitation chorizo made of soy (which was actually quite tasty), that we didn't even miss meat or cheese. Plus we went through at least half a dozen bottles of wine. 😉
We'd made flour tortillas before, but I wanted to try another recipe that I found, which ended up being waaayy better and will now be our go to recipe!
I doubled the recipe to make about 30 tortillas because I was also bringing tortilla chips from scratch and my girl Stephanie @ the Cozy Cook's Guacamole!
Unlike our last flour tortillas, these were sooo much softer and pliable. Perfect for a taco bar!
After I made all of the tortillas, I set aside the 12 that were the roundest, softest, and prettiest. Then I cut the rest up into triangles to fry up into chips!
After a little bath in hot vegetable oil...
...from scratch tortilla chips!!
Then a super easy but incredibly delicious guacamole and we were ready for a dinner party! Oh and these'll also be a great (late) addition to Angie's Fiesta Friday, especially since she's gone vegetarian for the week! 😉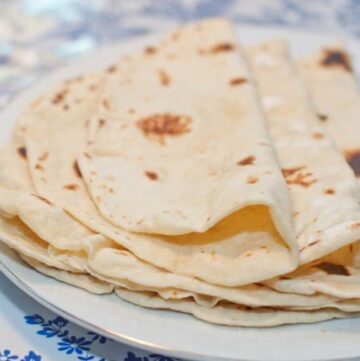 Ingredients
3

cups

of flour

1

teaspoon

of salt

1

teaspoon

of baking powder

1/3

cup

of vegetable oil

1

cup

of warm water
Instructions
Combine flour, salt and baking powder in the bowl of a stand mixer. With the dough hook attached mix dry ingredients until well combined. Add oil and water with mixer running at a medium speed. Mix for 1 minute, stopping occasionally to scrape the sides of the bowl. After about 1 minute, or when mixture comes together and begins to form a ball, decrease mixing speed to low. Continue to mix for 1 minute or until dough is smooth.

Transfer from mixing bowl to a well-floured work surface. Divide dough in half, then in half again. Continue until you have 16 fairly equal portions. Form each piece into a ball and flatten with the palm of your hand as much as possible. If dough is sticky, use a bit more flour. Cover flattened balls of dough with a clean kitchen towel and allow to rest for 15 minutes before proceeding.

After rest period, heat a large pan over medium-high heat. Roll each dough piece into a rough circle, about 6-7 inches in diameter, keep work surface and rolling pin lightly floured. Don't stack uncooked tortillas on top of each other or they will get soggy.

When pan is very hot, place one dough circle into pan and allow to cook about 1 minute or until bottom surface is lightly browned in places and starting to bubble a bit. If tortilla is browning too fast, reduced heat a bit. If it's taking longer than a minute to see golden brown spots on underside of tortillas, increase heat a bit. Flip to other side and cook for about 30 seconds. You want the tortilla to be soft but have small golden brown spots on surface. Remove from pan with tongs and stack on a plate till all tortillas are cooked. Allow to cool completely if not using right away, When cool, tortillas can be placed in a large zippered bag or plastic container. They will keep well at at room temperature for 24 hours or can be frozen indefinitely.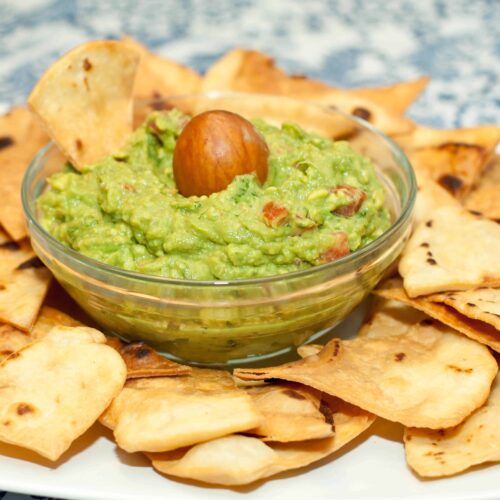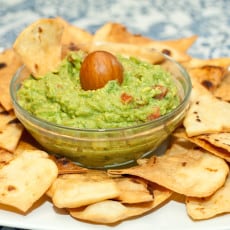 Instructions
Cut tortillas into triangles and heat a shallow pan with about an inch of vegetable oil.

When oil is hot, gently drop in tortilla triangles and fry for about 90 seconds on one side the flip for another 30 seconds on other side. Gently remove with a metal slotted spoon or fork and place onto a paper towel lined plate.

Continue with the rest of the triangles, lining each row of chips with a paper towel to collect all the excess oil.

Serve with your favorite dip/salsa/or guacamole!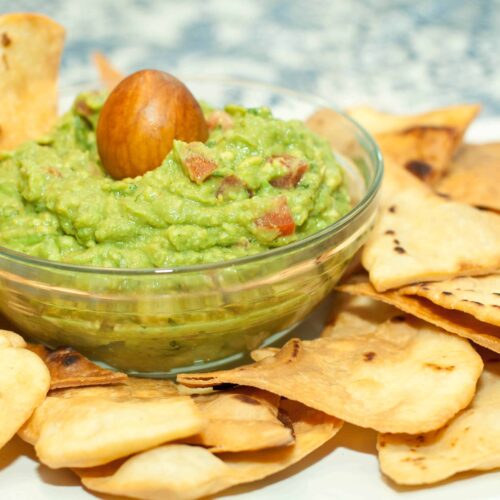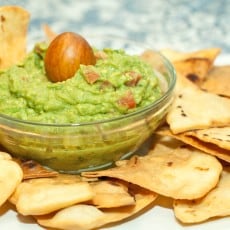 Ingredients
3

ripe Haas avocados

2

tablespoons

lime juice

½

teaspoon

cumin

½

teaspoon

cayenne pepper

½

teaspoon

salt

1

teaspoon

minced garlic

½

cup

diced tomatoes

2

tablespoons

fresh cilantro

finely chopped
Instructions
Slice the avocados in half and scoop out the middle, setting the pits to the side (Do not discard them). Add the lime juice and mash the avocados up a bit, mixing in the lime juice in as you do so. Gradually add the cumin, cayenne, and salt as you continue to mix

Once it has reached nearly the desired texture you like, delicately mix in the tomatoes, (which should be thoroughly drained of excess moisture), garlic, cilantro, onion, and Chile pepper.

Scoop guacamole into the serving container you place to use and pack it down. Add the pits back (which helps to keep the vibrant green color) and place saran-wrap directly on top of the packed guacamole to lock out as much air as you can.

Refrigerate for approximately 30 minutes. This not only allows the guacamole to be served chilled but allows the flavors to blend so that it is ultra-flavorful!

Remove from the fridge and serve with tortilla chips!