No boring salads here! Take your simple green salad and kick it up a notch by adding some grill marks and some garlic and cheese! Our Grilled Romaine is a delicious summer side that's easy to make and so much more fun to serve.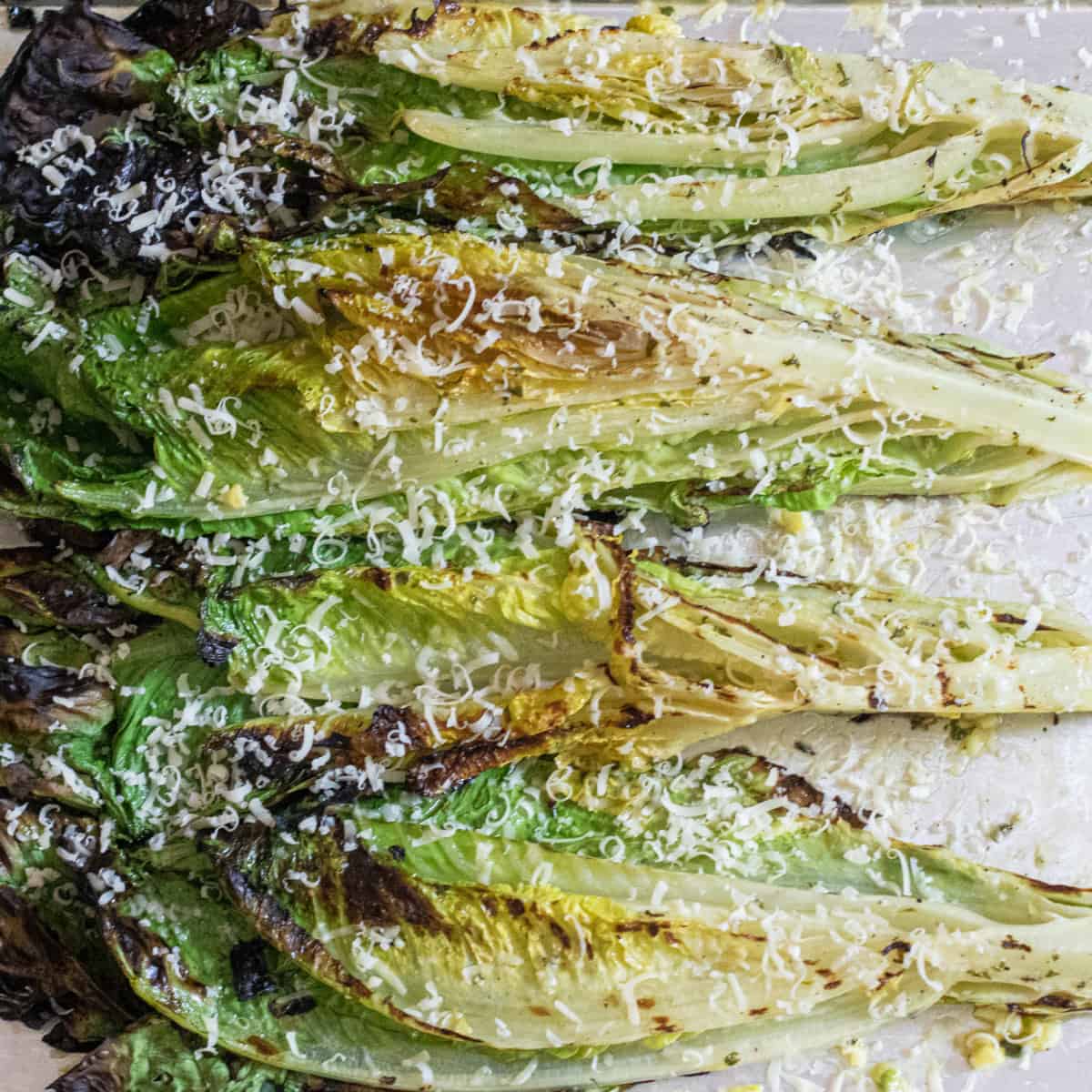 Ahh Summer. Isn't everything better with grill marks when the sun is out and the temperature is up? We just love putting as much as we can on our grill, including our salad! This Grilled Romaine is a simple green salad packed with garlic and Parmesan and that undeniable flavor you can only get from a hot grill. When you want to serve a salad at your next cookout but don't have a lot of ingredients, this grilled salad is it, and trust me, you won't be disappointed!
Ingredients Needed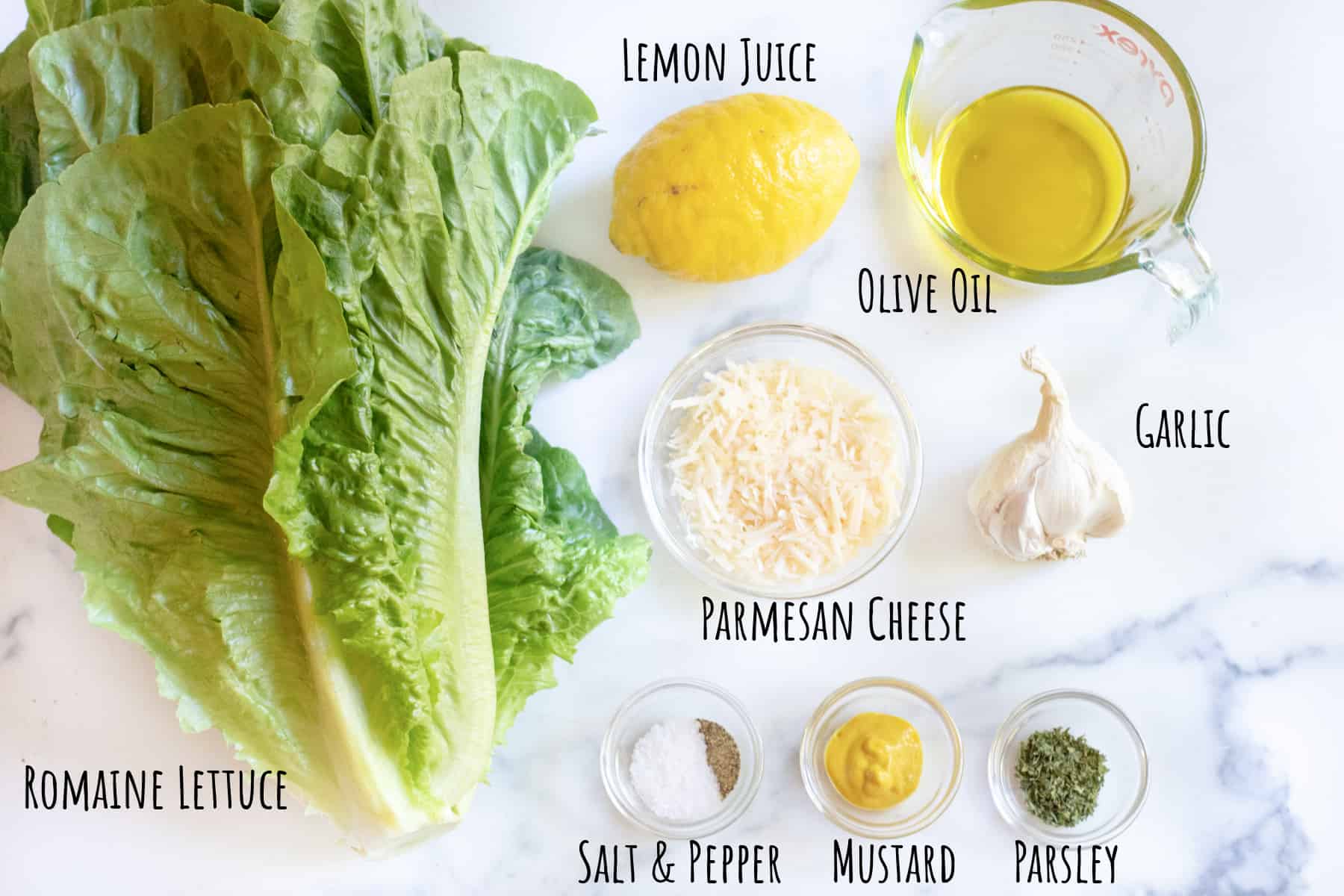 Romaine Lettuce - Crisp and with enough structure to be able to hold up to the high heat of the grill.
Parmesan Cheese - We love this hard nutty cheese for this easy grilled salad, but you could use another hard cheese like romano or asiago.
Garlic - Fresh is our preferred, but you can of course use either powdered or pre-minced.
Olive Oil - As for all vinaigrettes, this is when you want to take out your good, high-quality olive oil.
Lemon Juice - The acid for the vinaigrette, and of course lemon compliments all of the other flavors in this grilled romaine.
Mustard - This is the emulsifier of the vinaigrette that adds so much flavor. You can use a regular yellow mustard or a Dijon.
Salt, Pepper, and Parsley - To season and add an herbal touch to tie it all together. Fresh or dried is great.
Create Vinaigrette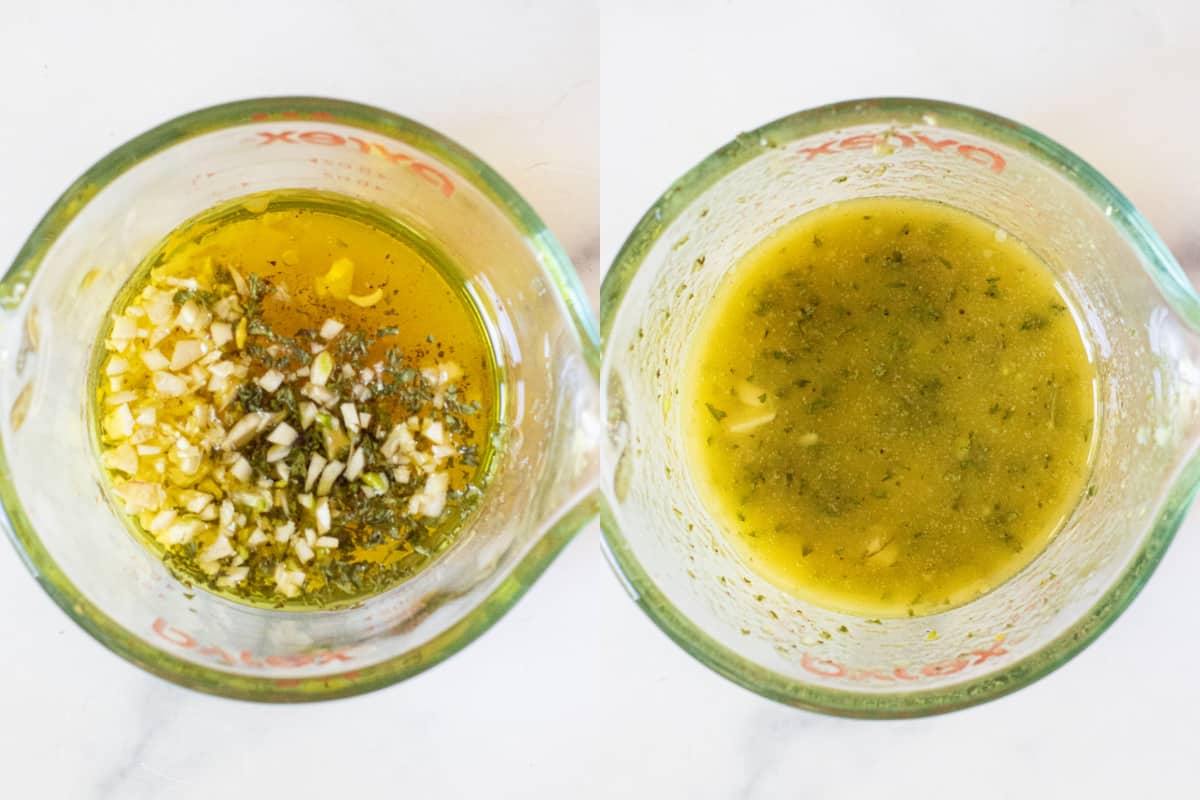 As with most of our vinaigrettes, this one is light, bright, fresh, and oh-so-easy to make. Just add it all to a Pyrex with a pour spout and then give it all a good whisk.
Cut the Romaine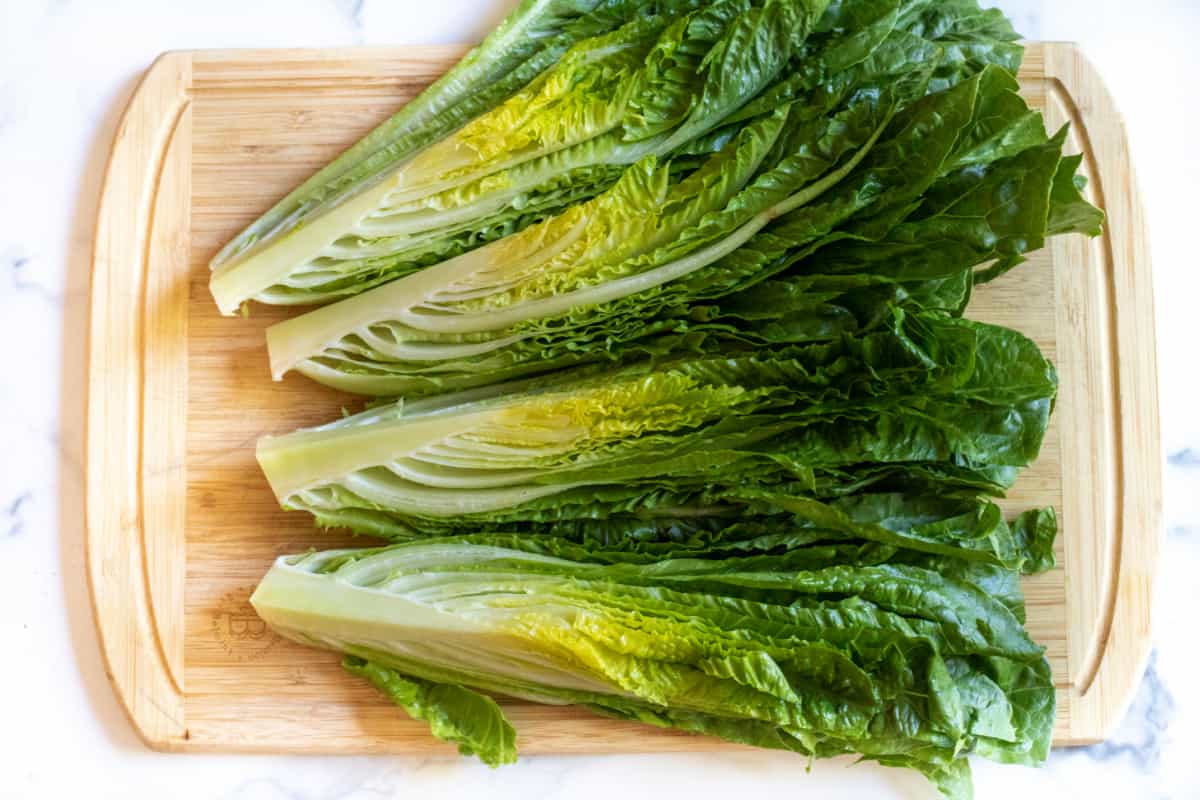 Now to make sure that your washed romaine pieces stay intact, just cut a small part of the bottom off, but be sure to keep a majority of it on. That way when you slice it in quarters, they'll stay together.
Dress and Grill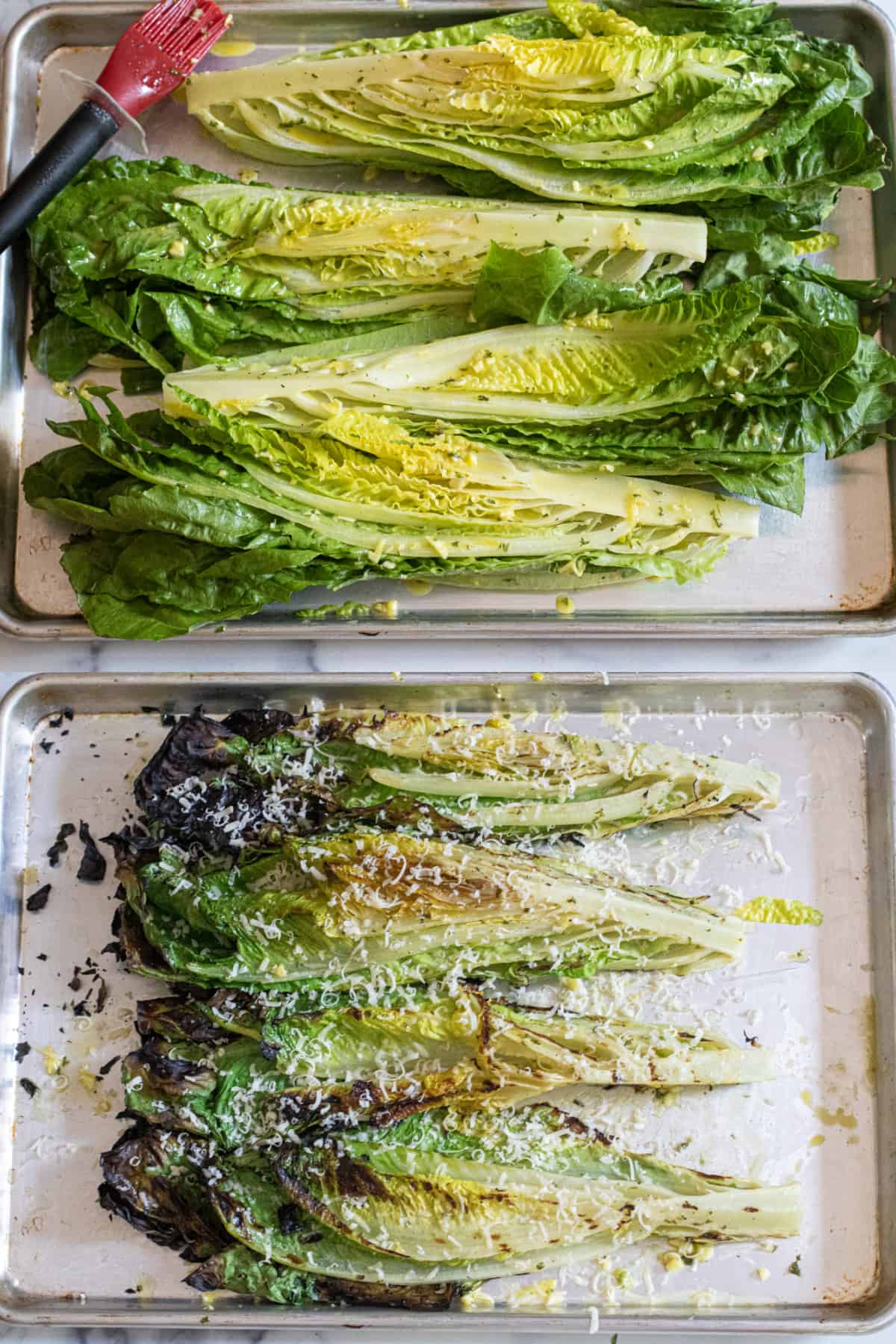 Once your romaine and vinaigrette are ready, now use a silicone brush and generously brush that garlic-packed vinaigrette over your romaine before adding it to your preheated grill.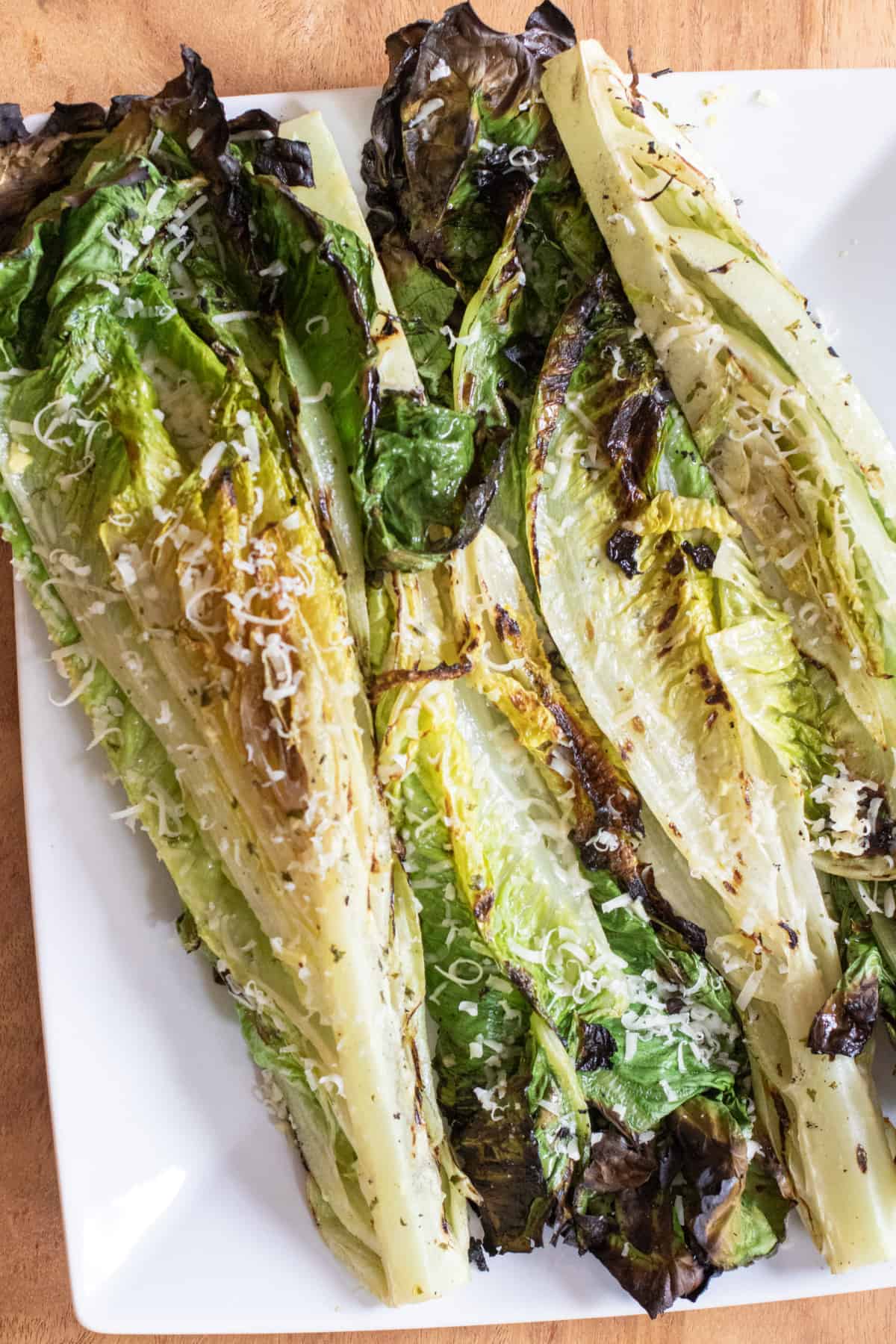 Finish it with some Parmesan cheese while it's still hot (or not to keep it vegan), and you'll have a delicious and easy Grilled Romaine! A delicious grilled mix of some crispy romaine leaves with warm tender centers and so much garlic and parmesan flavor for an elevated but super simple grilled salad.
Recipe Tips
Brush in between the leaves
To get the most amount of flavor in the whole romaine quarter, gently lift those romaine leaves and use your brush to get that garlic-packed vinaigrette inside the leaves.
Do I need to oil grill grates?
As long as you brush the outside of the romaine quarters enough, you won't need to oil your grill grates. There's plenty of vinaigrette, don't be stingy with it - really slather it on!
Watch the char
If your grill is heated fully on high, then this grilled salad will cook fast! You want some char on the leaves, that adds flavor, but you don't want a plate of char. Check after the first minute for too much charring, flip once you see some on the ends. The romaine will become tender fast, you just want to make sure you heat it all of the way through and get some of those tasty grill marks on it.
Finish with Parmesan
Have that Parmesan ready to finish the romaine quarters with it right after they come off of the grill so it melts. You don't want to add it before grilling because you'll just lose it in your grill. Or leave it off entirely for a vegan option!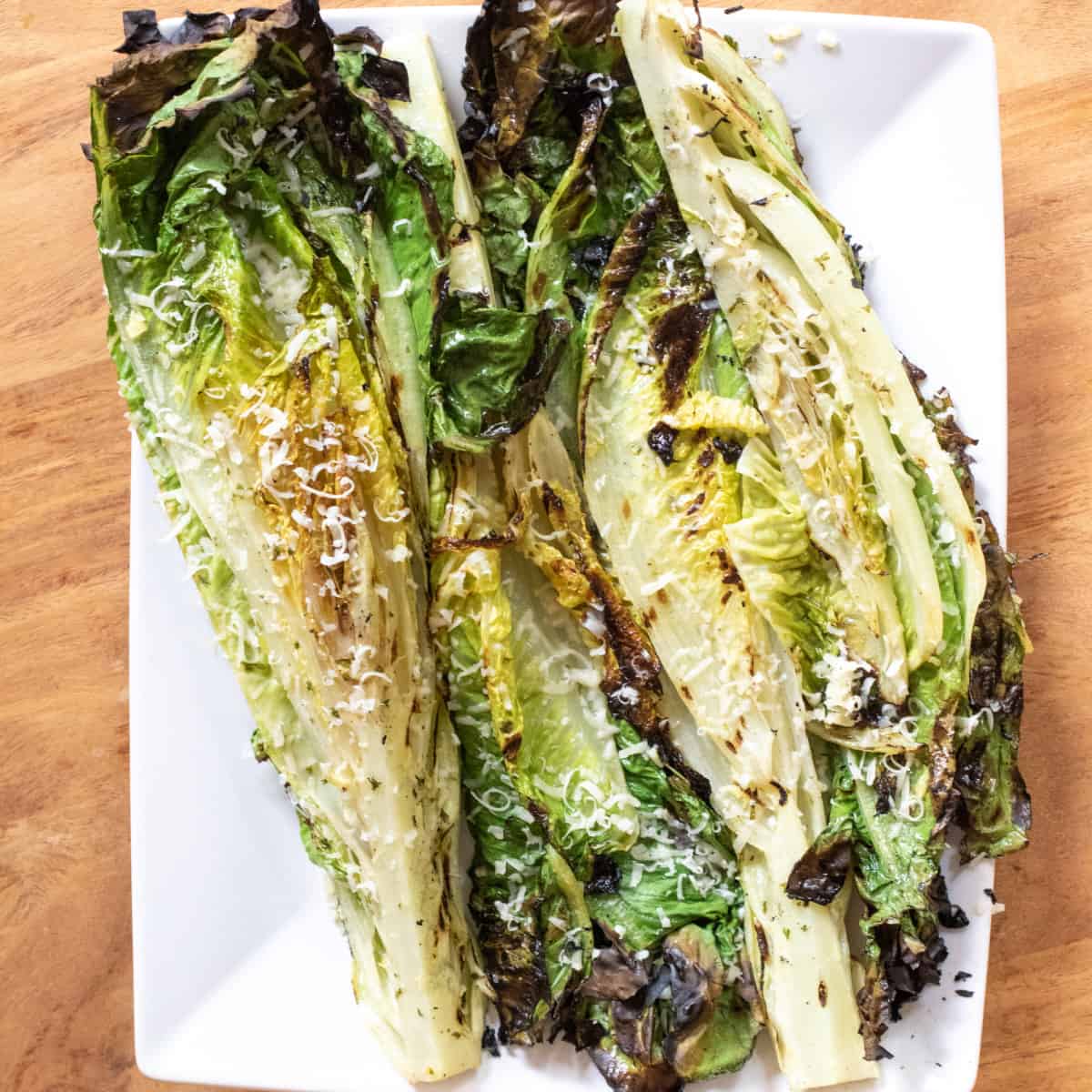 For those of you who like grill marks on your food, this Grilled Romaine is for you!!
You Also Might Like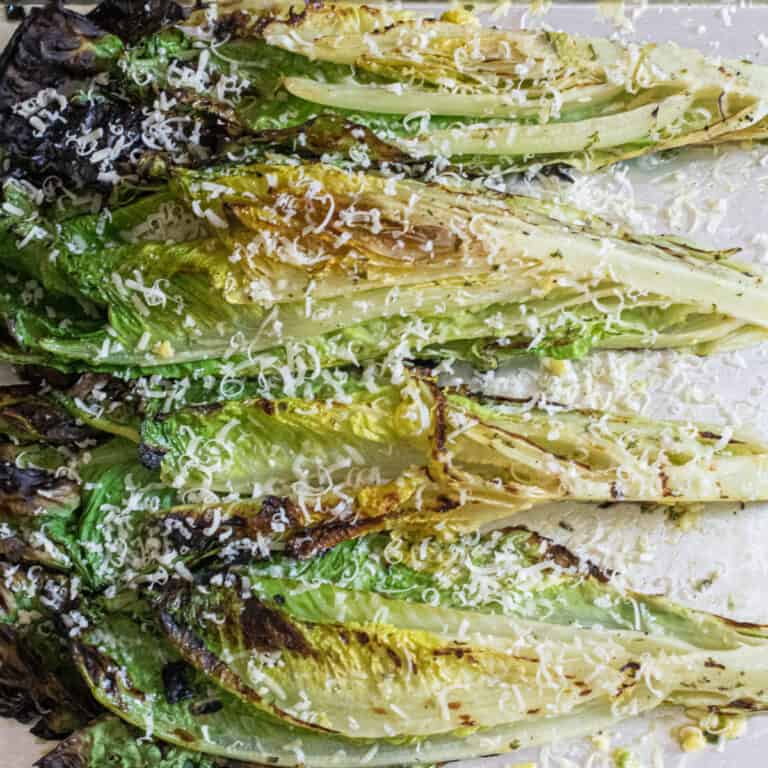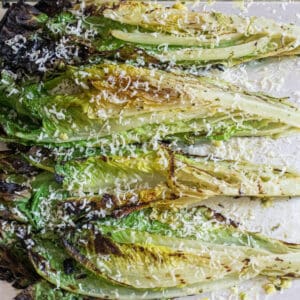 Equipment
Spouted Pyrex or small bowl

large rimmed baking sheet
Ingredients
1

head

Romaine lettuce

1/3

cup

Parmesan cheese

shredded
Garlic Vinaigrette
4

cloves

garlic

minced

1/4

cup

olive oil

1/4

cup

lemon juice

1

teaspoon

parsley

1

teaspoon

mustard

yellow or dijon for some kick

1

teaspoon

salt

1/4

teaspoon

ground black pepper
Instructions
Preheat Grill: Preheat grill to high.

Prep Vinaigrette: Add all vinaigrette ingredients to a small bowl or Pyrex and whisk.

Prep Romaine: Wash the whole head of romaine lettuce by either running it under cold water to rinse the leaves or submerge it in a large bowl of cold water and wash the leaves. Shake off the excess water and let dry thoroughly.

Cut the very end off of the bottom of the head of romaine, leaving most of it. Cut the romaine in half, then each half in half so that you have quarters, all still connected to the core so that the leaves remain on each quarter. Discard any loose leaves.

Dress Romaine: Place romaine on a large baking sheet, cut side down, and use a silicone brush to generously brush the outside of the leaves with vinaigrette. Flip the romaine quarters over and then brush the cut side, be sure to get in between the leaves.

Grill: Put romaine quarters on the grill with the cut sides down. Close the grill and check after 2 -1/2 minutes, once leaves have started to char, turn and grill for another 1 1/2 - 2 minutes.

Serve: Remove from grill and place on baking sheet cut side up and immediately sprinkle with Parmesan cheese in leaves and on top so that the cheese melts. Serve warm.
Notes
Substitutions
Romaine: This is really the best lettuce to grill because of its structure and ability to hold up to the heat of the grill.
Mustard: A plain yellow is great to help emulsify the vinaigrette, or if you want a little added kick, use a Dijon!
Parmesan Cheese: Finish with your favorite hard cheese like a Romano or Asiago, or leave it off entirely to keep this recipe vegan - or use vegan cheese.
Grill Tips
Be generous with the vinaigrette on both sides of your lettuce. If you do that, you won't need to oil your grates. Be sure to get it in the leaves, too!
Check for charring after the first minute, turn down the grill a little if needed if it's charring too fast. It doesn't take long to impart the desired smoky flavor onto the lettuce, flip once you have some char which can take as little as 90 seconds to 2 1/2 minutes.
Have the Parmesan cheese ready to finish with when the lettuce comes right off the grill!
Nutrition
Calories:
188
kcal
|
Carbohydrates:
8
g
|
Protein:
5
g
|
Fat:
16
g
|
Saturated Fat:
3
g
|
Polyunsaturated Fat:
2
g
|
Monounsaturated Fat:
11
g
|
Cholesterol:
6
mg
|
Sodium:
742
mg
|
Potassium:
426
mg
|
Fiber:
3
g
|
Sugar:
2
g
|
Vitamin A:
13701
IU
|
Vitamin C:
13
mg
|
Calcium:
159
mg
|
Iron:
2
mg