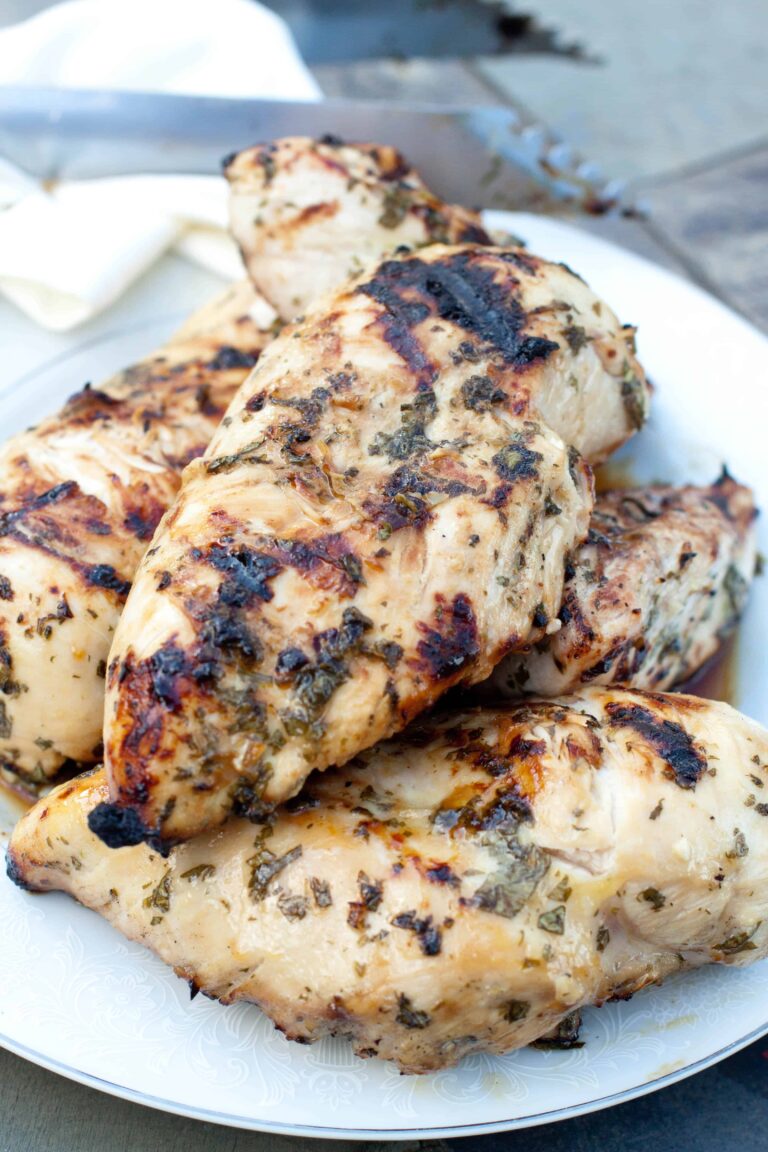 Ditch the bottle and make your own marinade. This Grilled Cilantro Lime Chicken is fresh, flavorful, and from scratch!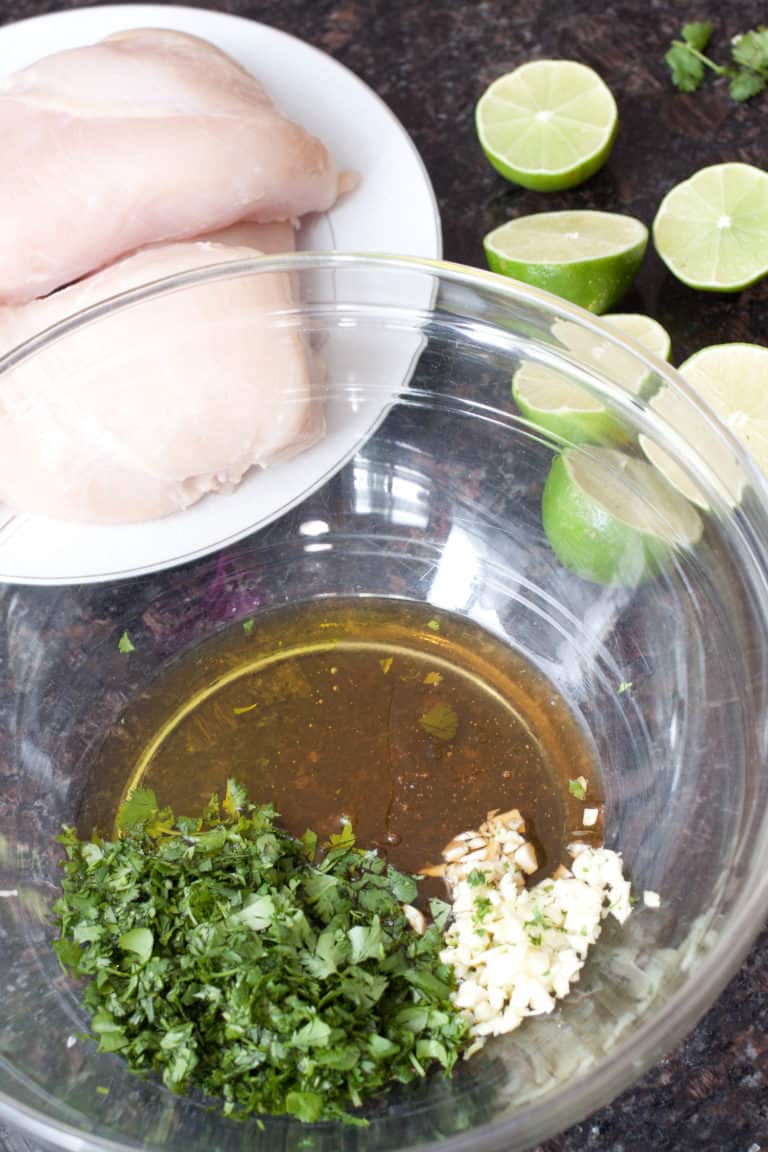 Summerrrrrr! I know you're out there. We saw a glimmer of it in May, but lately it's been cool and drizzly and much more Spring like than summer. No matter, in this household there is no grilling "season." You'll find my husband next to the grill in the snow, sleet, rain, wind, hurricane, tornado, tsunami, zombie apocalypse… Man loves his grill. And I love giving him all the things to grill, like this new Grilled Cilantro Lime Chicken!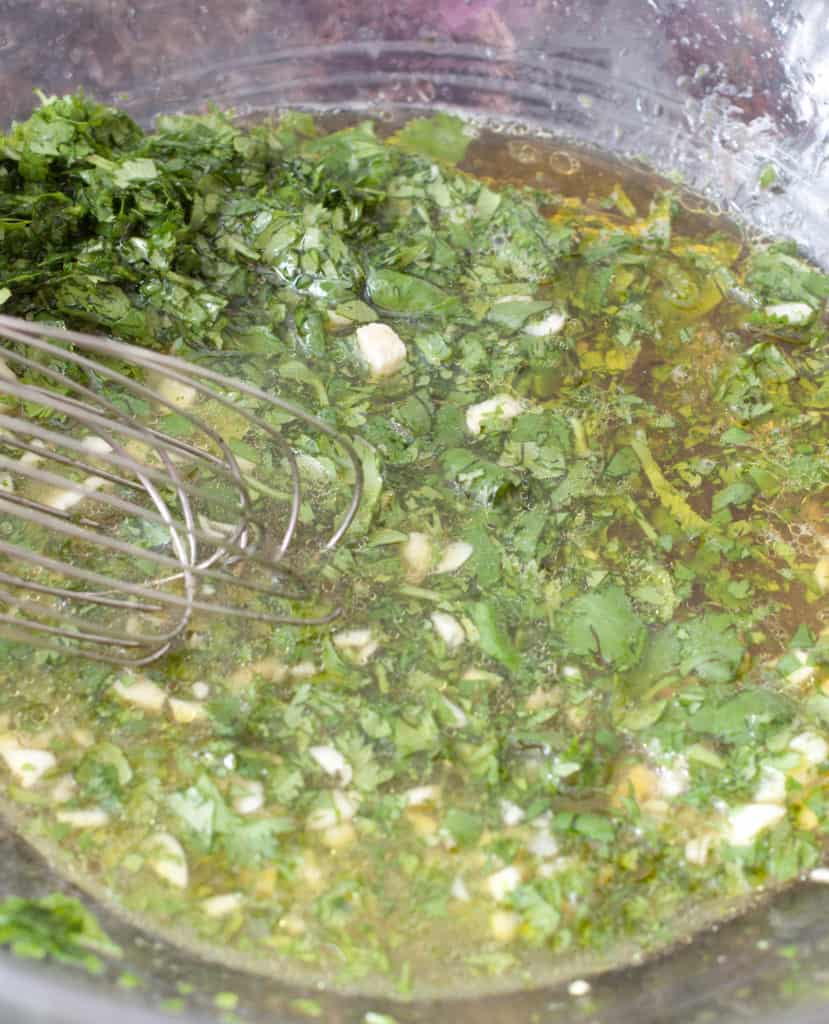 By now, you all know that this household is all about fresh. Oh, there was a time when those pre-made bottled marinades were on my weekly shopping list. They're so easy, I know! But making your own, from scratch, fresh marinade is also so easy. And you're not getting high fructose corn syrup, xanthan Gum, sodium benzoate and a whole host of other preservatives. You know what's in this marinade? Olive oil, honey, fresh cilantro, fresh garlic, salt. Remember those Breyers ice cream commercials with the little kiddos reading the ingredients of their ice cream vs. the ingredients of their competitors? Every time I make something from scratch, I think of a little one reading the ingredient list of what I've just made – hey, maybe you'll hear M in some upcoming recipe videos doing just that! 😉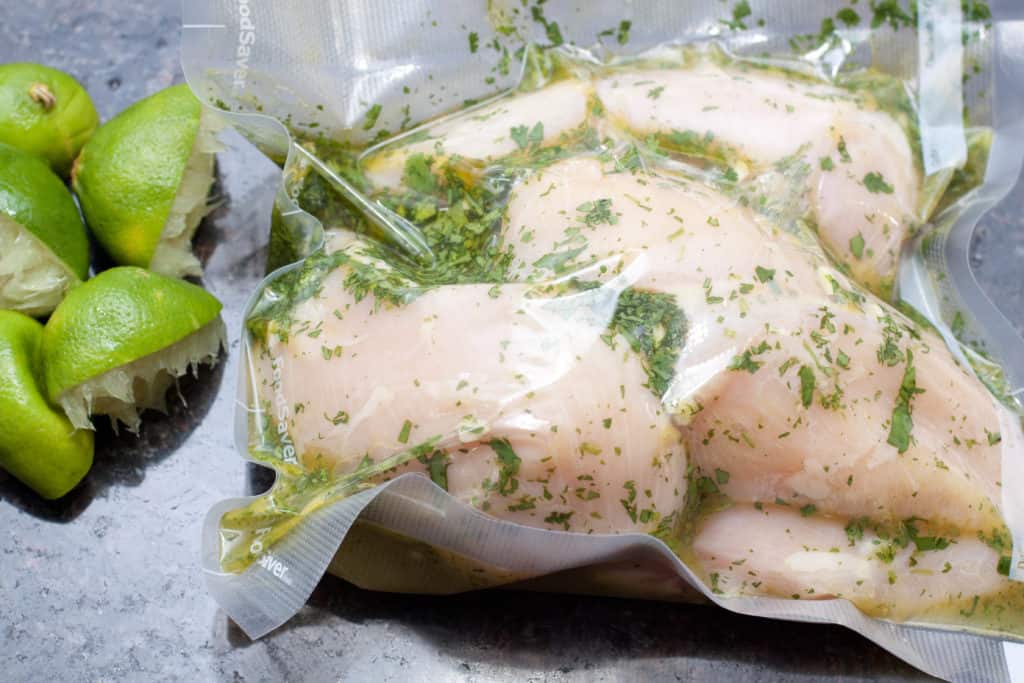 So much fresh cilantro deliciousness! Of course, as long as you like cilantro? Cilantrophobes, read no further!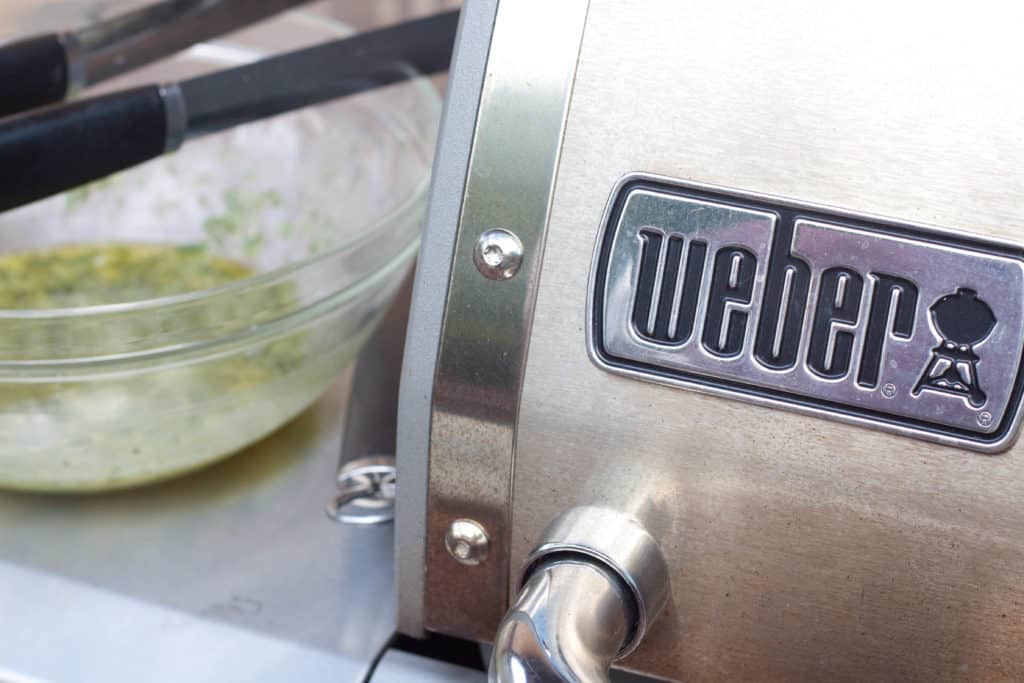 Next, marinate! We received an amazing Food Saver for Christmas from my mom which has been sooo awesome to not only store homemade stock, soup, and meats, but also to marinate! I left this to marinate overnight but it could be left for a couple of days or even frozen! Currently, we have a bunch of Cornell Chicken in the freezer just waiting for the grill!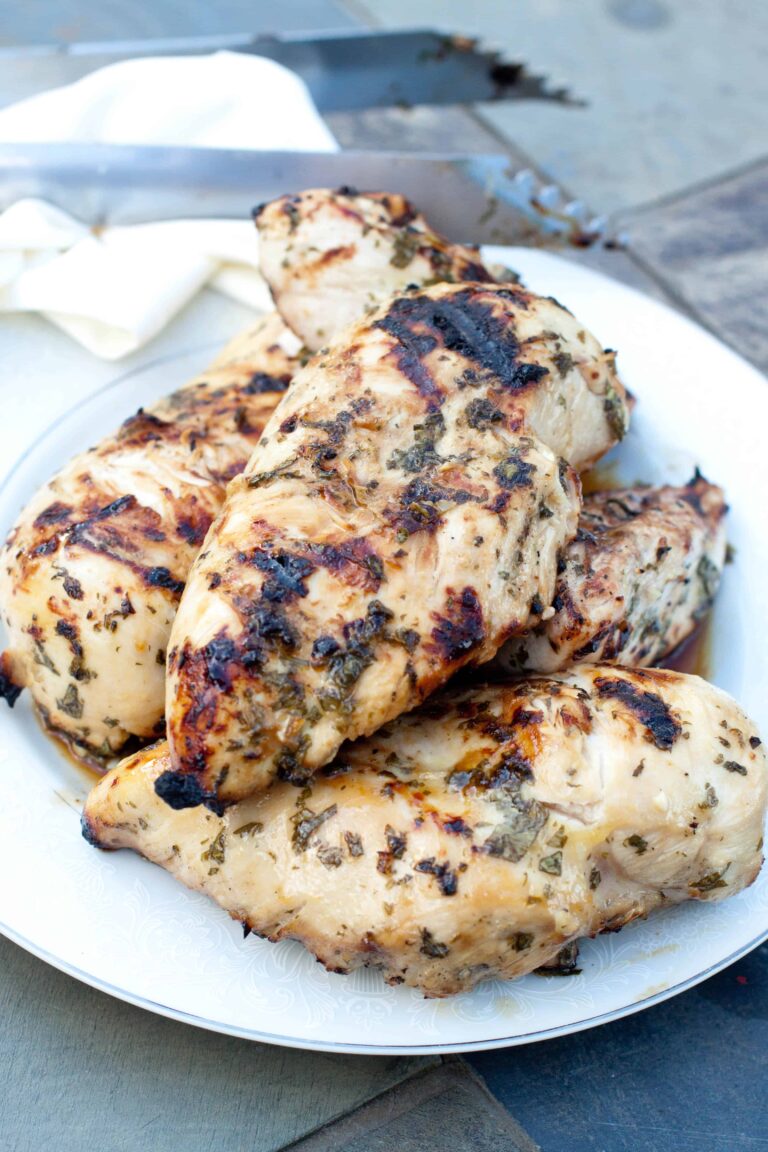 Speaking of grill… we are in love with this bad boy (a new house treat for us!) Nothing like a stainless steel Weber!
Grilled to juicy perfection! This was sooo flavorful and perfect to just pull out of the fridge when we got home from work and toss on the grill. Paired with some 10 minute Garlic Kale and we had a super healthy, easy, dinner ready in about 20 minutes. I thought that our Mediterranean Grilled Chicken was my favorite marinade, but this Grilled Cilantro Lime Chicken may be a new favorite!
Check out all of the other grilled goodies we'll have our on summer grilling menu here, and also don't forget to follow me on Facebook, Instagram, and Pinterest!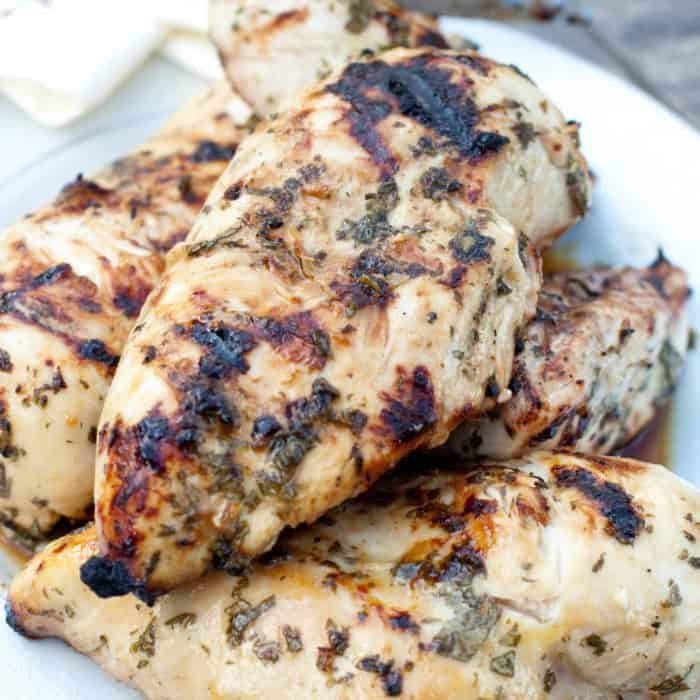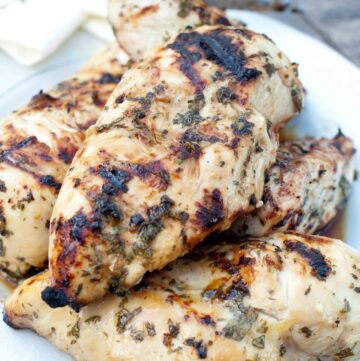 Grilled Cilantro Lime Chicken
Ditch the bottle and make your own marinade. This Grilled Cilantro Lime Chicken is fresh, flavorful, and from scratch!
Print
Pin
Rate
Ingredients
4

large chicken breasts

6

tablespoons

olive oil

2 1/2

tablespoons

raw honey

4

large garlic cloves

minced

1

large bunch fresh cilantro

minced

The juice from 3 large limes

2

teaspoons

salt to season chicken
Instructions
Generously salt both sides of the chicken breasts and place in a large zip lock bag or food saver bag.

In a medium bowl, mix the remaining ingredients.

Add mixture to the bag with the chicken and carefully move around the chicken in the bag to ensure they are all coated with the marinade.

Remove as much air as possible from the bag, seal, and marinate for at least 2 days and up to 2 days.

Grill for about 5-7 minutes on each side, until internal temp is 165 degrees F or juices run clear.

Serve immediately and enjoy!