This Enchilada Skillet Pasta is like eating your favorite beef enchiladas but in pasta! It's loaded with flavor and cheese making it a delicious, easy, comfort food at its finest!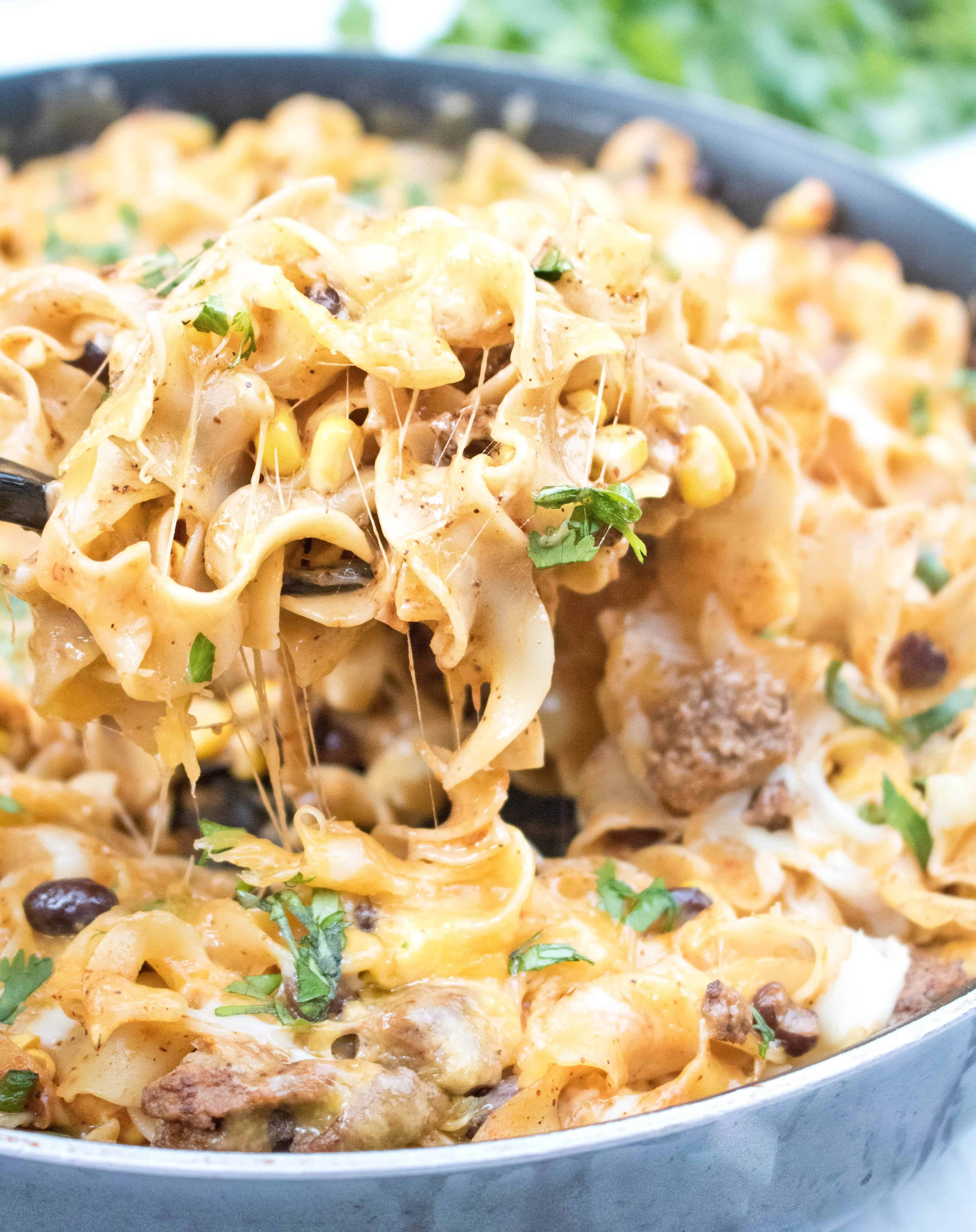 Hi! Well, we survived traveling cross country with a 2-year-old and a (now) 8 week old! Although we came home to an empty fridge and sooo much unpacking, un-winding, and time zone adjusting to do. Which meant for dinner I needed easy and comforting. Welcome, this Enchilada Skillet Pasta!
Ingredients Needed: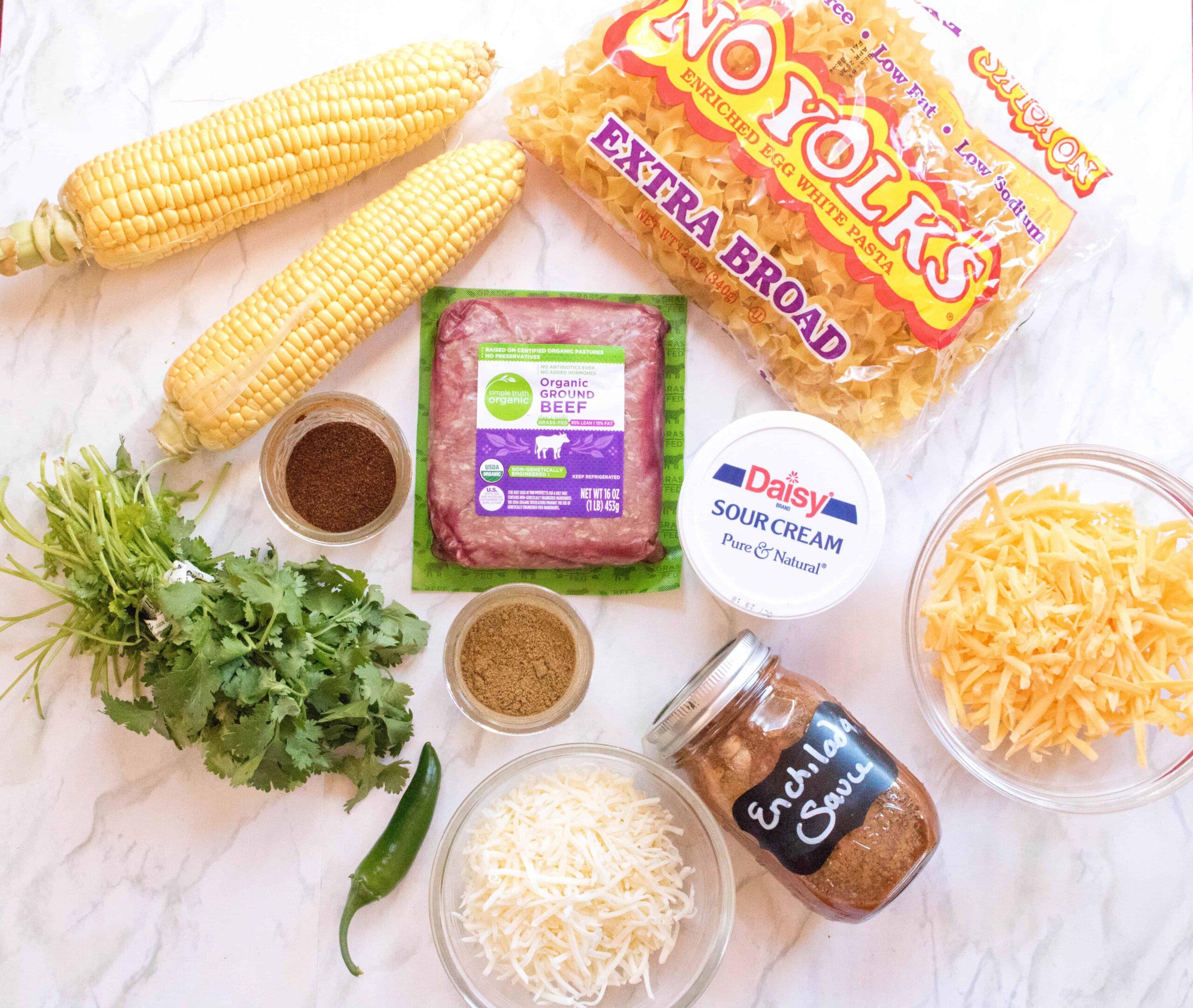 This Enchilada Skillet Pasta is so easy, cheesy, and comforting with super easy ingredients.
Ground beef - We prefer leaner like 90%
Sour Cream - No sour cream? No problem - you could also use plain yogurt.
Corn - We prefer fresh corn on the cob. You can also use canned or frozen.
Fresh jalapeno - Adjust to your own taste. We like a little heat so we use a whole one but you could also use just half.
Cilantro - Fresh is best!
Shredded cheese: We prefer cheddar and mozzarella for this but you could also use a Mexican blend or just cheddar.
Black beans - (not pictured because, well, I forgot ha) - Canned or dried and soaked.
Spices - Ground cumin and ground chili powder
Egg noodles - I prefer egg noodles but this would also work with an elbow macaroni or even a penne.

Enchilada Sauce From Scratch

- The best part!
Using Canned vs. Dry Beans
We prefer to use as few canned goods as possible here at SFS, but can totally respect and understand when it just makes more sense. When it comes to beans unless you're prepared with a nice batch of cooked black beans already in your fridge, then using dried beans will add at least an hour of cooking time to this recipe. But if you want to cut out that can, I love it. Here's how to do it.
Conversion from dry to canned: A heaping 1/2 cup of dry beans will equal about 1 15 oz can. In general, dry beans will grow 3x their size once cooked.
To Soak or Not to Soak: Soaking the beans means adding the dry beans to a bowl, covering them with water, and then letting them soak overnight and then draining and rinsing before cooking. I always used to soak beans, and then I read this article on Serious Eats that really changed my mind about the need to do it. It's really a cost/benefit analysis, dependent upon what you want / the time you have.
Pros of the Soak:
You'll save yourself about 20 minutes of cook time for just a couple of minutes of overnight prep.
You'll have a thinner "gravy" from the beans.
Cons of the Soak:
You have to remember to do it! If you didn't plan the day before and remember you need the beans for the next day, then you wont have time for your overnight (or 8 hrs before in the am for dinner) soak.
Less flavor! Pre-soaked beans actually do make a difference on the flavor. Cooking them straight dry will maintain more flavor in your beans.
Cooking Dry Beans. To do this, give your beans a quick rinse and then add to a pot of water with at least 4x the amount of water to beans - enough so that the beans are well covered with water in your pot. Then cover your pot, bring it to a boil over high heat, and then turn the heat down and let the beans simmer. This can take anywhere from 1 hr to 1 1/2 hours, dependent upon a lot of factors (from the age of your beans to the amount of minerals in your water!). But once they're soft, then they're ready to use for your recipe.
Pros of Cooking Dry Beans:
Prep. Rinse and toss in a pot - that's it. No need to plan ahead.
Flavor! Definitely much more flavor is maintained using this method.
Cons of Cooking Dry Beans
Time? Question mark because it really depends on what time's more valuable to you. It's more on the stove cooking time, but it's less over all time.
A thicker "gravy" when they're done cooking. This could be a pro dependent upon what you're going for. But if you're using it for a recipe like this that doesn't require any of that thick starchy gravy, then it could be a con.
Again, it's all really up to you! Got a can? Great. Got some dried beans? Perfect. Either is great for this recipe.
Bean Safety: Be sure to never consume raw beans as they contain a toxin called phytohaemagglutinin which can make you sick if beans are not soaked and rinsed or fully cooked.
Step-by-Step Instructions: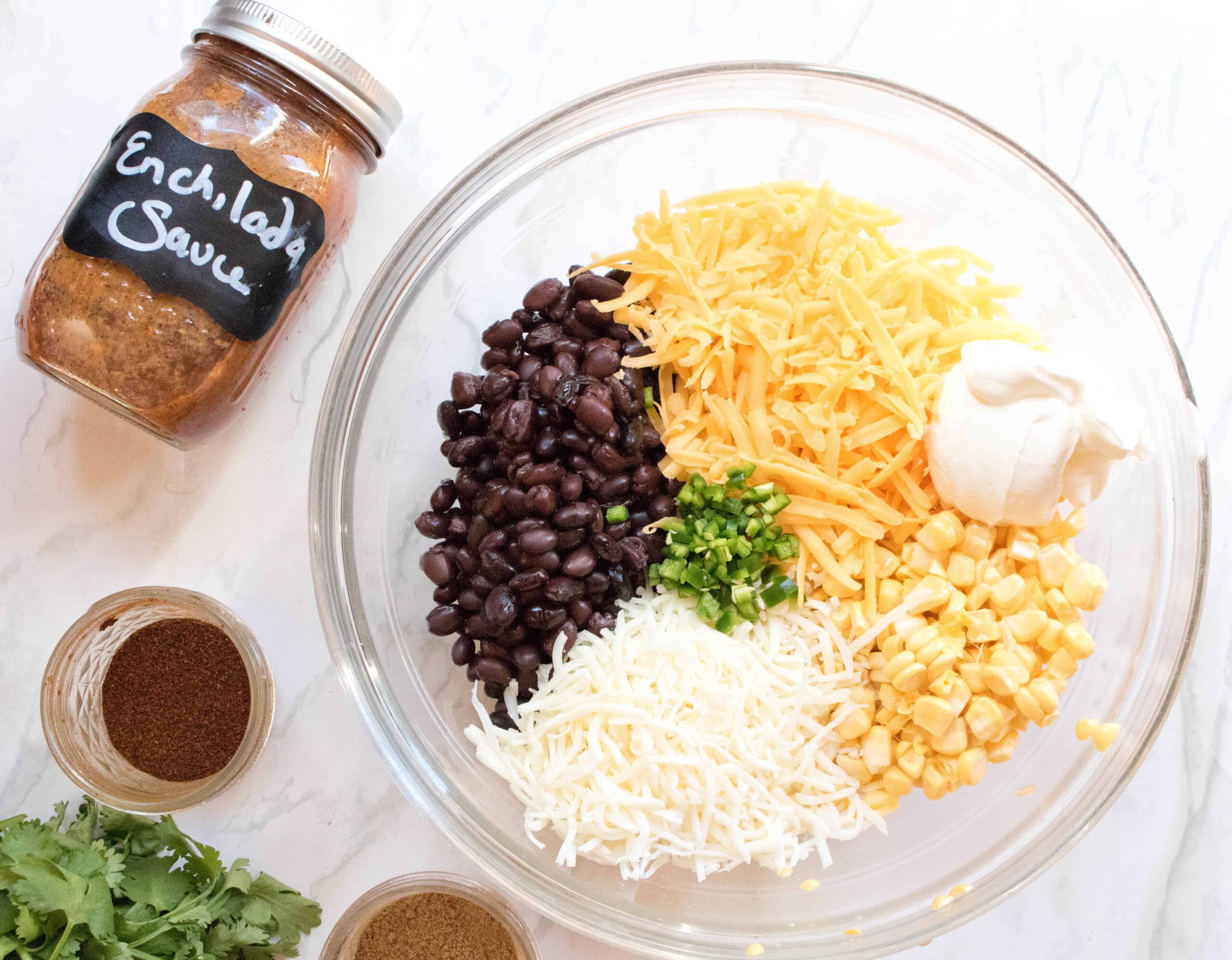 Step 1: A quick cook of the ground beef with some chili powder and cumin.
Tip: Be sure to break it up as it cooks in your pan into first large pieces first, let it cook, and then break it up into smaller pieces. When it's in the smaller pieces is when you add your spices.
Step 2: While the beef cooks, cook the noodles to al dente.
Tip: This time will depend on what kind of noodle you're using, so follow the instructions on the box. OR if you've made your own noodles (swoon) then fresh homemade pasta then to cook al dente is much less time, usually only about 2 minutes.
Step 3: Then just throw almost everything else in a big bowl with the enchilada sauce and add the pasta.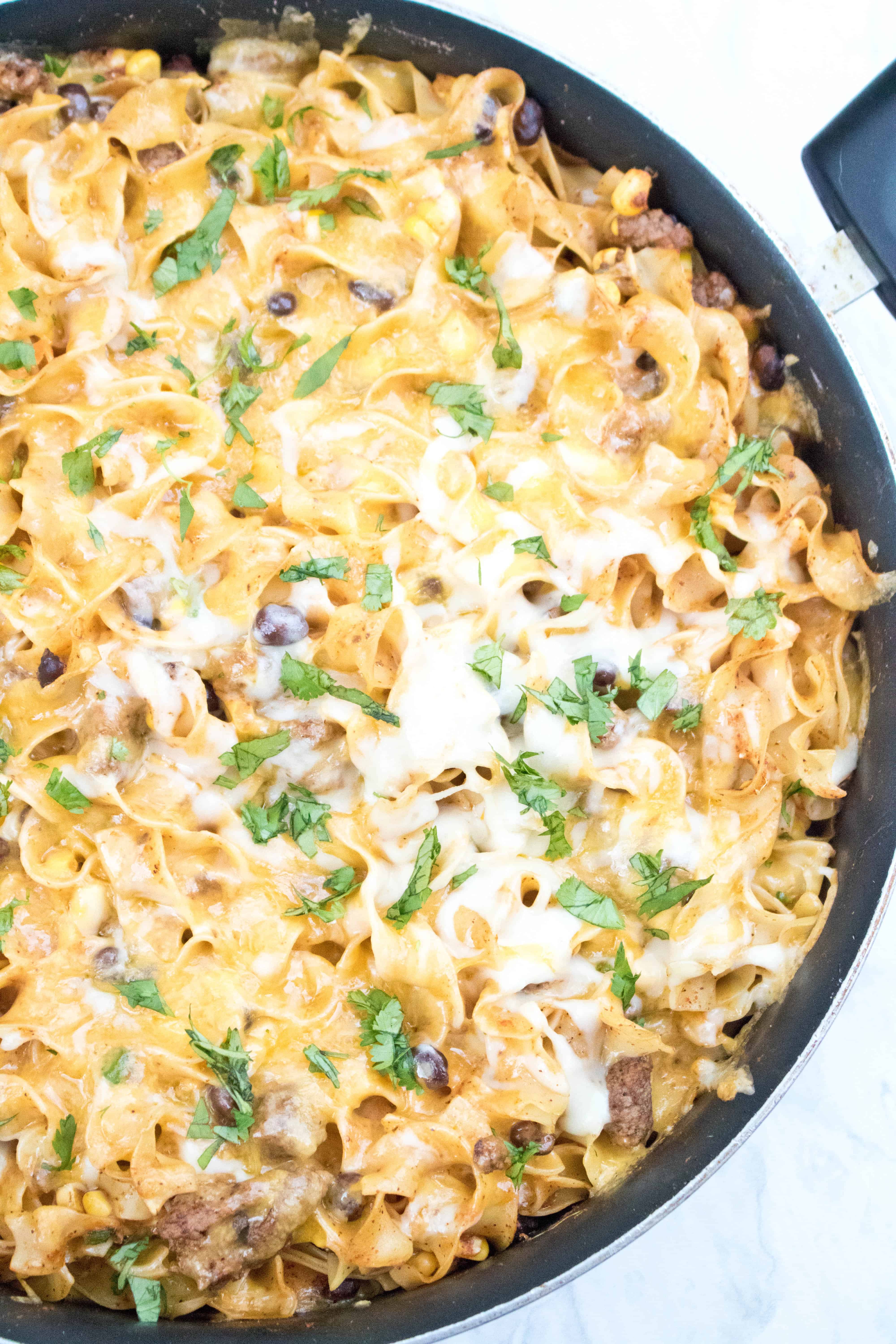 Step 4: Finally, add that bowl of fresh goodness to the beef in your pan, mix well, top with the rest (most of) the cheese.
Step 5: Bake in the oven until all of the cheese is melted gooey deliciousness.
Tip: Baking in the oven is optional. You could just add all of the cheese at once and mix it in your sauté pan to let it all melt.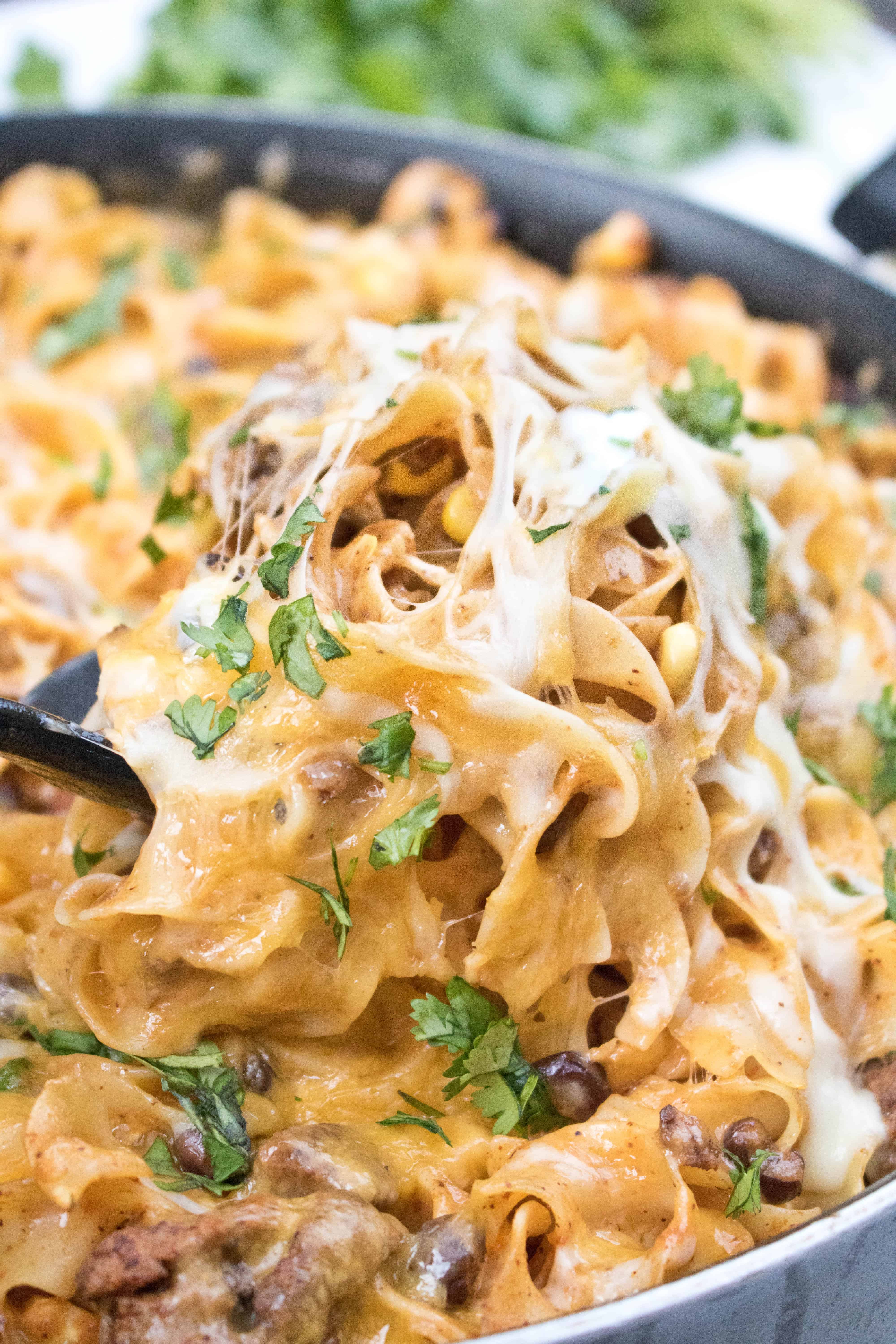 Ooey gooey cheesy pasta goodness!

It's basically a big ol' skillet of cheesy comforting pasta that has all the flavors of delicious enchiladas! Top it with the fresh cilantro and/or your favorite hot sauce and you're in business. I mean what's not to love? Pasta? Love. Enchiladas? Love. Fast and easy? Requirement, these days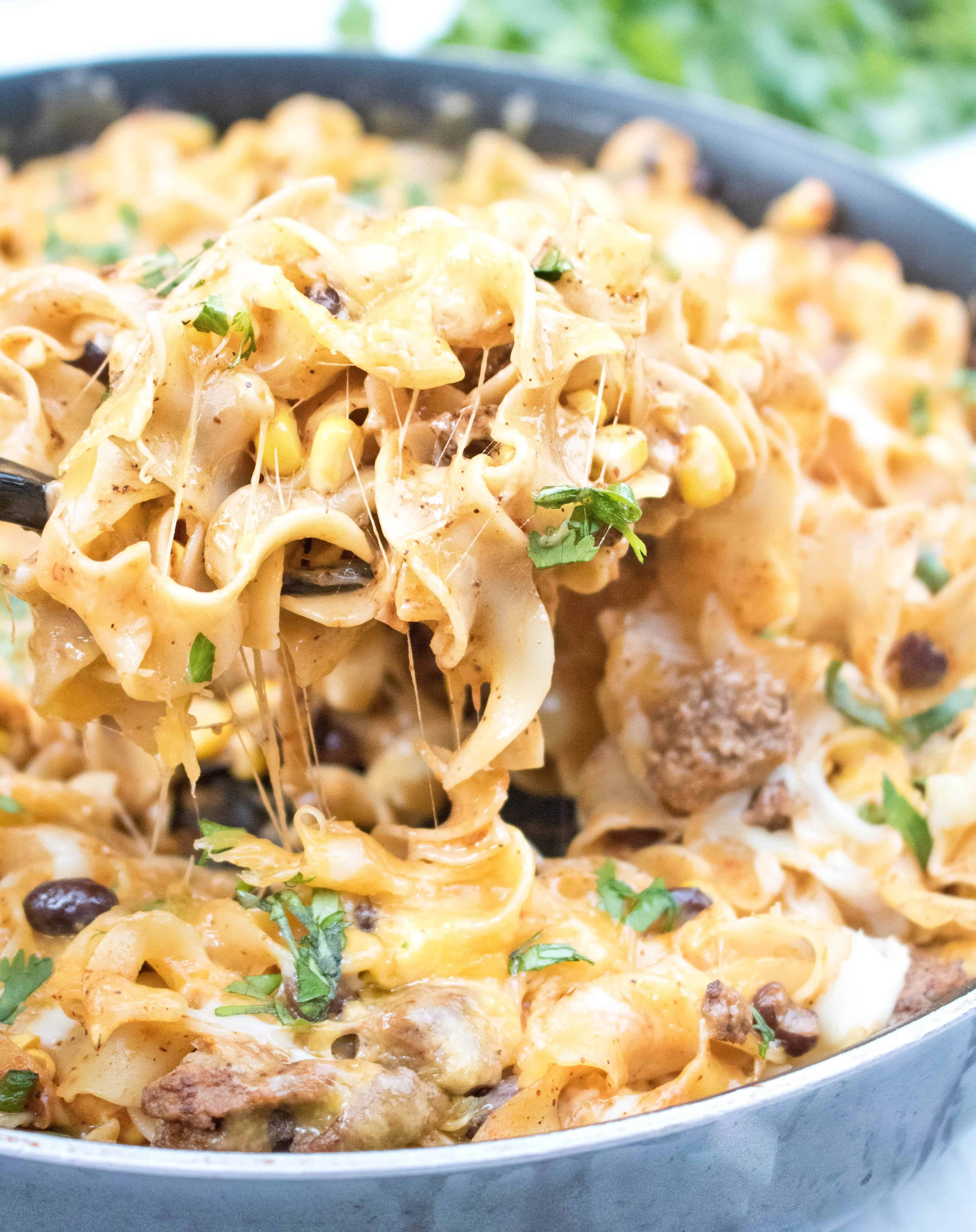 This is so good that my husband may have come home after a quick trip to the grocery store with multiple bags of egg noodles so we would be sure to have them on hand anytime we needed them. I'll take that as a good sign!
Other Mexican Inspired Dishes
15 Minute Black Bean and Spinach Burritos
Crock Pot Chicken Enchilada Tacos
Mexican Street Corn Chicken Tacos
Crock Pot Chicken Carnitas Tacos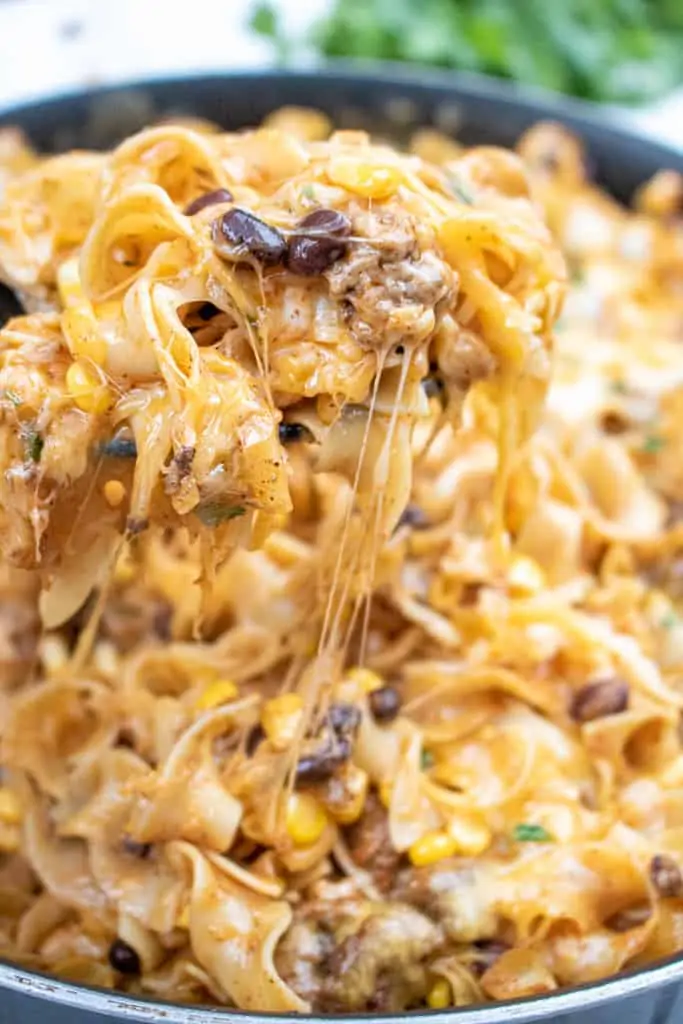 FAQs
Can I use a different noodle?
Of course! We like it with egg noodles the best, but we've also made it with elbow macaroni and penne.
Can I substitute a different meat?
Definitely! Chicken or sausage is great in this. Just cook that meat until it's fully cooked and then follow the rest of the instructions the same.
Can I use dried beans?
Sure can! See my notes above about canned vs. dried or instructions on each in the recipe card.
Do I have to bake it in the oven?
Nope! You can also just add everything to the pan, lower the heat, and cover with a lid to let the cheese melt.
Enjoy! If you try this recipe, please be sure to share them with me on Facebook, Instagram, Pinterest, and Twitter!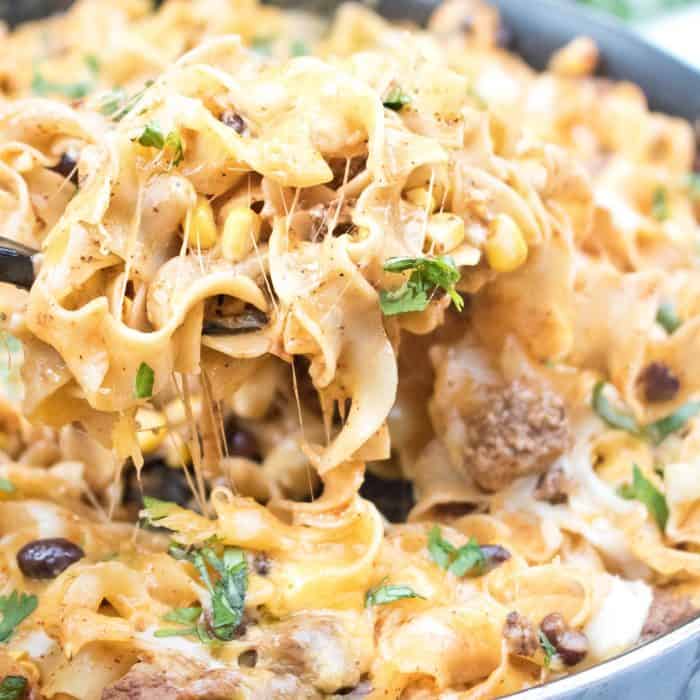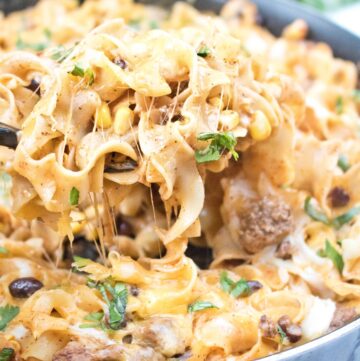 Enchilada Skillet Pasta
This Enchilada Skillet Pasta is loaded with flavor and cheese making it a delicious, easy and comfort food at it's finest!
Print
Pin
Rate
Ingredients
1

lb

ground beef*

1/2

tablespoon

olive oil

12 oz

wide egg noodles

one package

2

ears

fresh corn from the cob

or 1.5 cups canned or frozen

1/4

cup

sour cream

1

15 oz can

black beans, rinsed and drained**

2 1/2

cups

sharp or medium cheddar cheese, shredded

1

cup

mozzarella cheese, shredded

2

cups

Enchilada sauce

1 batch of homemade sauce

1 - 2

tablespoons

fresh jalapeno, diced

3/4

teaspoon

cumin

1

teaspoon

chili powder

1/4

teaspoon

kosher salt

1/4

teaspoon

fresh ground pepper

fresh cilantro, diced
Instructions
In large pot, cook pasta according to package until al dente. Drain and rinse.

Pre-heat oven to 350 degrees.

Meanwhile, heat olive oil in large skillet over medium heat and add ground beef. Break up beef into large pieces, let cook, and then break up into smaller pieces and add cumin, chili powder, salt, and pepper and mix well. Continue until ground beef is browned. Total about 7 minutes. Drain grease from pan if necessary / preferred.

In a large bowl add black beans, corn, jalapeno (to taste - the more you add to more kick you'll get!) sour cream, 1/2 cup of mozzarella and 1/2 cup of cheddar cheese. Add pasta and then pour in enchilada sauce and mix well.

Add mixture to skillet and mix well. Add remaining 1/2 cup of mozzarella and 2 cups of cheddar cheese on top and put in oven until cheese has fully melted***. Approximately 5-10 minutes.

Top with fresh cilantro and serve!
Notes
*Ground Beef:

I use 85% or 90% lean. If using lower, you may want to drain fat from pan before adding other ingredients.
** Black Beans: You can either use canned or dry. If using dry, you can cook them directly without soaking, or you can soak.
Soak and then Cook: Add 1/2 cup of dry black beans to a bowl and cover with water. 8 hrs later, rinse the beans and add to a pot with fresh water. Heat on high until beans boil, then lower temperature and let simmer for about 45-60 minutes until softened. This time will vary dependent upon the age of your beans and your water. Use filtered water if you have hard water.
Cook right away: Add 1/2 cup of dry black beans to pot and cover with water. Heat on high until beans boil, then lower temperature and let simmer for about 60-90 minutes until softened. This time will vary dependent upon the age of your beans and your water. Use filtered water if you have hard water.
*** You can also add all of the cheese, turn pan to low, and then cover to let the cheese melt.
Nutrition
Calories:
503
kcal
|
Carbohydrates:
9
g
|
Protein:
31
g
|
Fat:
38
g
|
Saturated Fat:
19
g
|
Cholesterol:
123
mg
|
Sodium:
1264
mg
|
Potassium:
303
mg
|
Fiber:
2
g
|
Sugar:
6
g
|
Vitamin A:
1371
IU
|
Vitamin C:
10
mg
|
Calcium:
460
mg
|
Iron:
3
mg