This Enchilada Skillet Pasta is loaded with flavor and cheese making it a delicious, easy and comfort food at it's finest!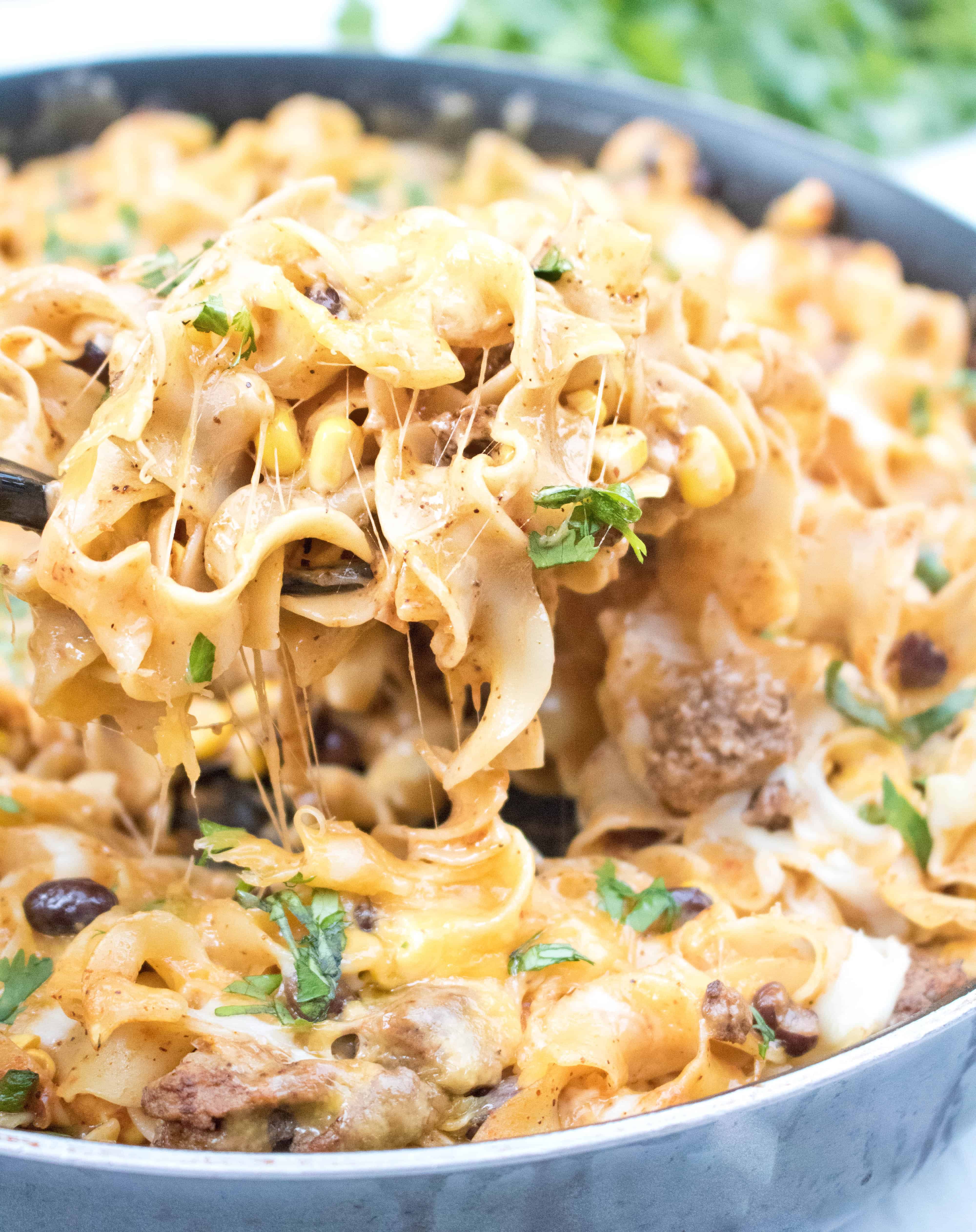 Hi! Well, we survived travelling cross country with a 2 year old and a (now) 8 week old! It solidified the fact that somehow we won the kiddo lottery as both handled two loonngg travel days incredibly. We definitely have future little jetsetters in the making! It was such a lovely trip to Virginia celebrating my youngest brother-in-law's wedding and finally getting to meet and stay with another brother-in-law and sister-in-law I hadn't met yet. But man, it's always good to be home. Except for the fact that we came home to an empty fridge and sooo much unpacking, un-winding, and time zone adjusting to do. Which meant for dinner I needed easy and comforting since I'd been up at 4 am multiple days with a 2 year old who was still operating on East coast time. Welcome this Enchilada Skillet Pasta!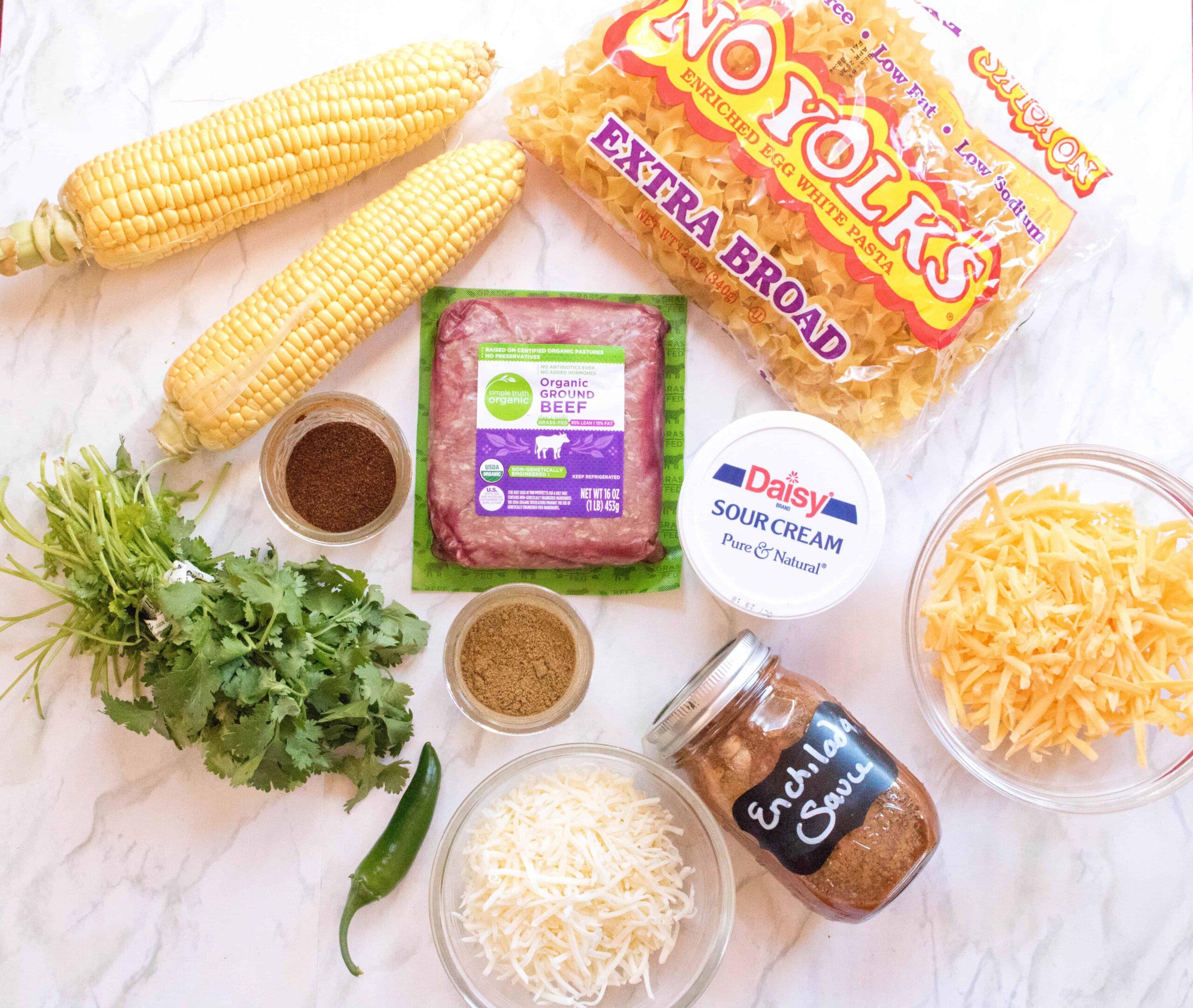 This Enchilada Skillet Pasta is so easy, cheesy, and comforting. Plus, it's just another way to use our Enchilada Sauce From Scratch! Between our Crock Pot Chicken Enchilada Tacos and now this recipe, I'm pretty much going to be making a big batch of the Enchilada Sauce every week to make sure I always have it on hand.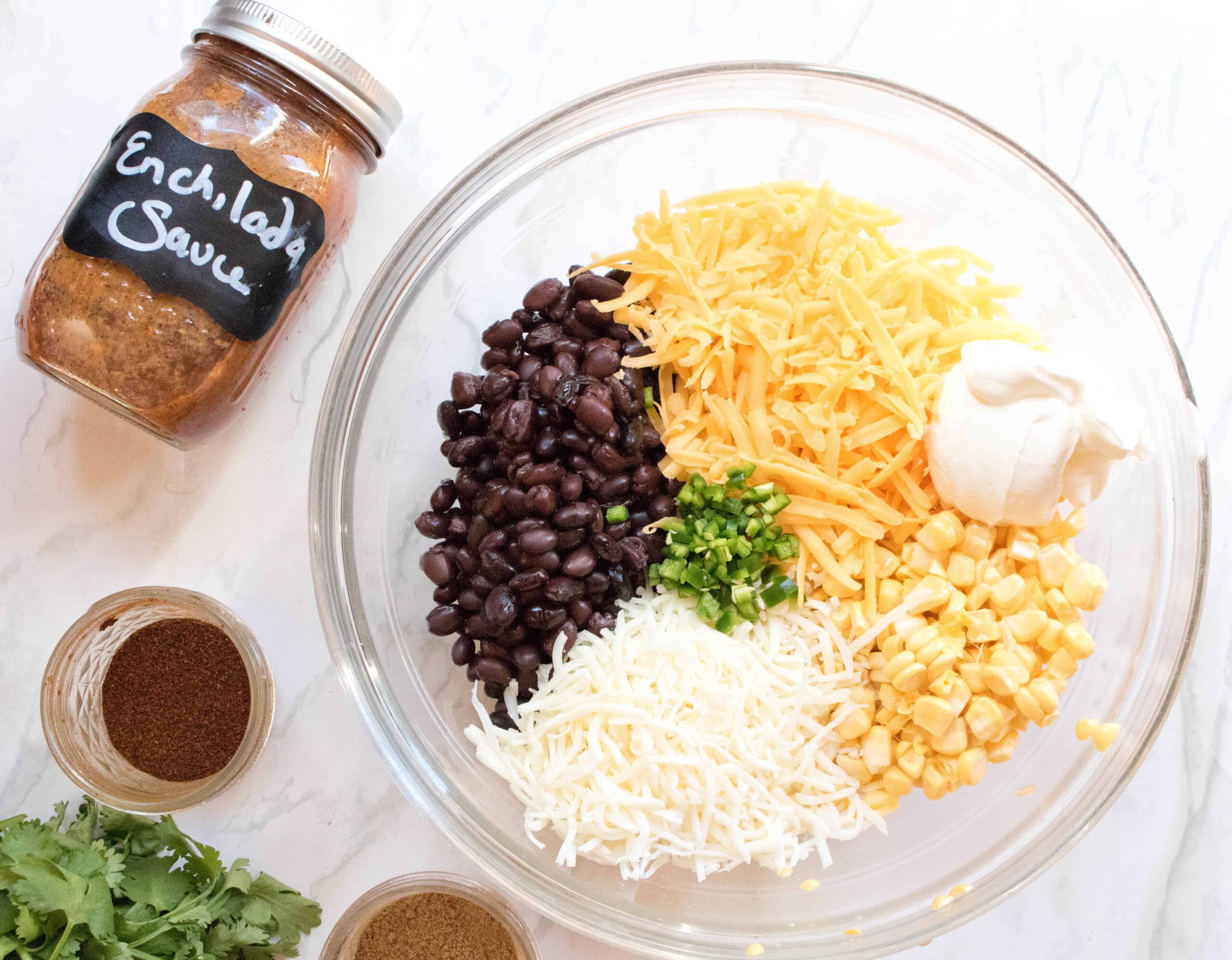 Just a quick cook of the ground beef with some chili powder and cumin, cook the noodles to al dente, and then just throw most everything else in a big bowl with the enchilada sauce and pasta. I forgot the black beans in the previous photo because, well, up at 4 am multiple days… 'nuff said. 😉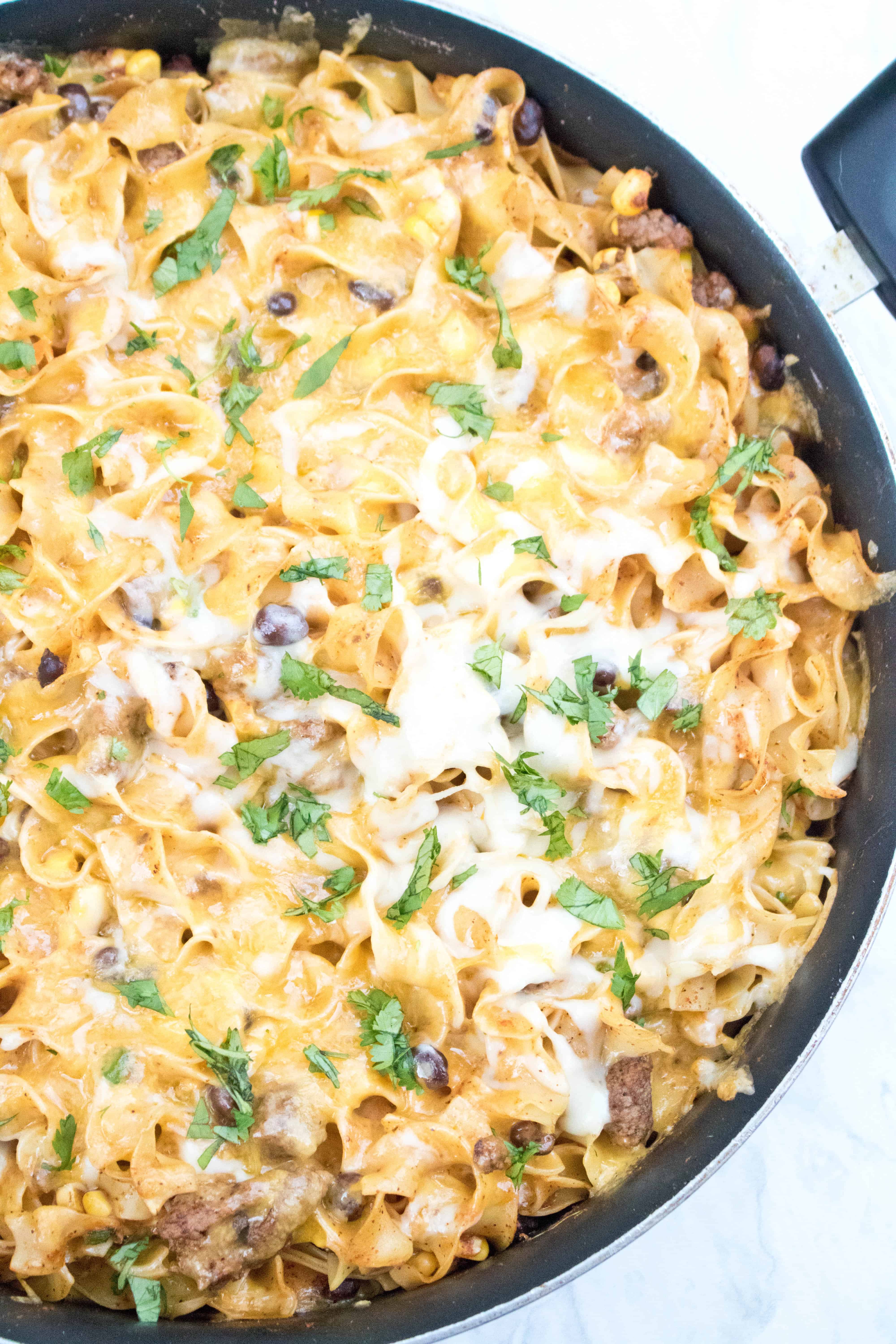 Then it's just add that bowl of fresh goodness to the beef, mix well, top with the rest (most of) the cheese and put in the oven until all of the cheese is melted ooey deliciousness.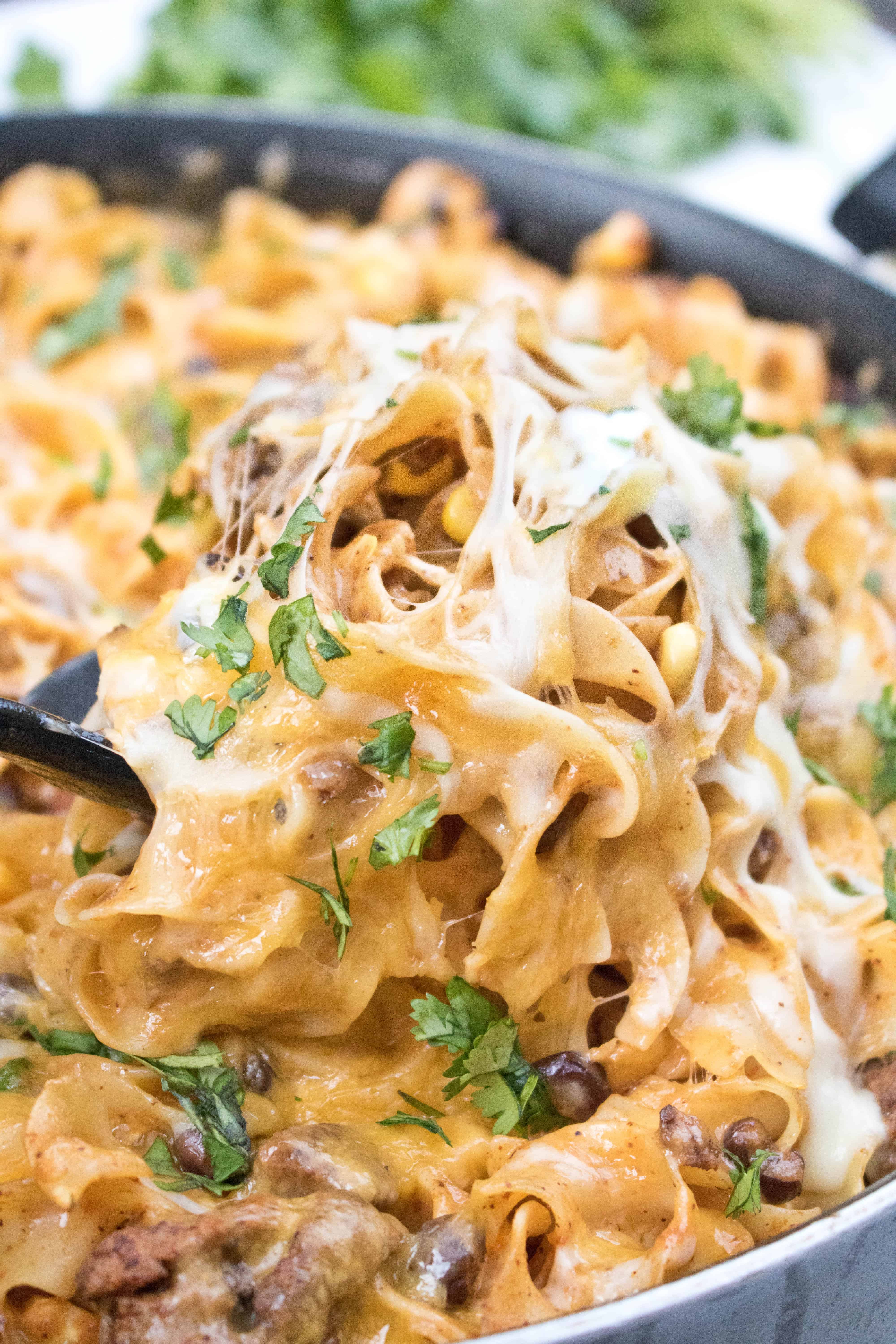 When it's done you have a big ol' skillet of cheesy comforting pasta that has all the flavors of delicious enchiladas! Top it with fresh cilantro and or your favorite hot sauce and you're in business.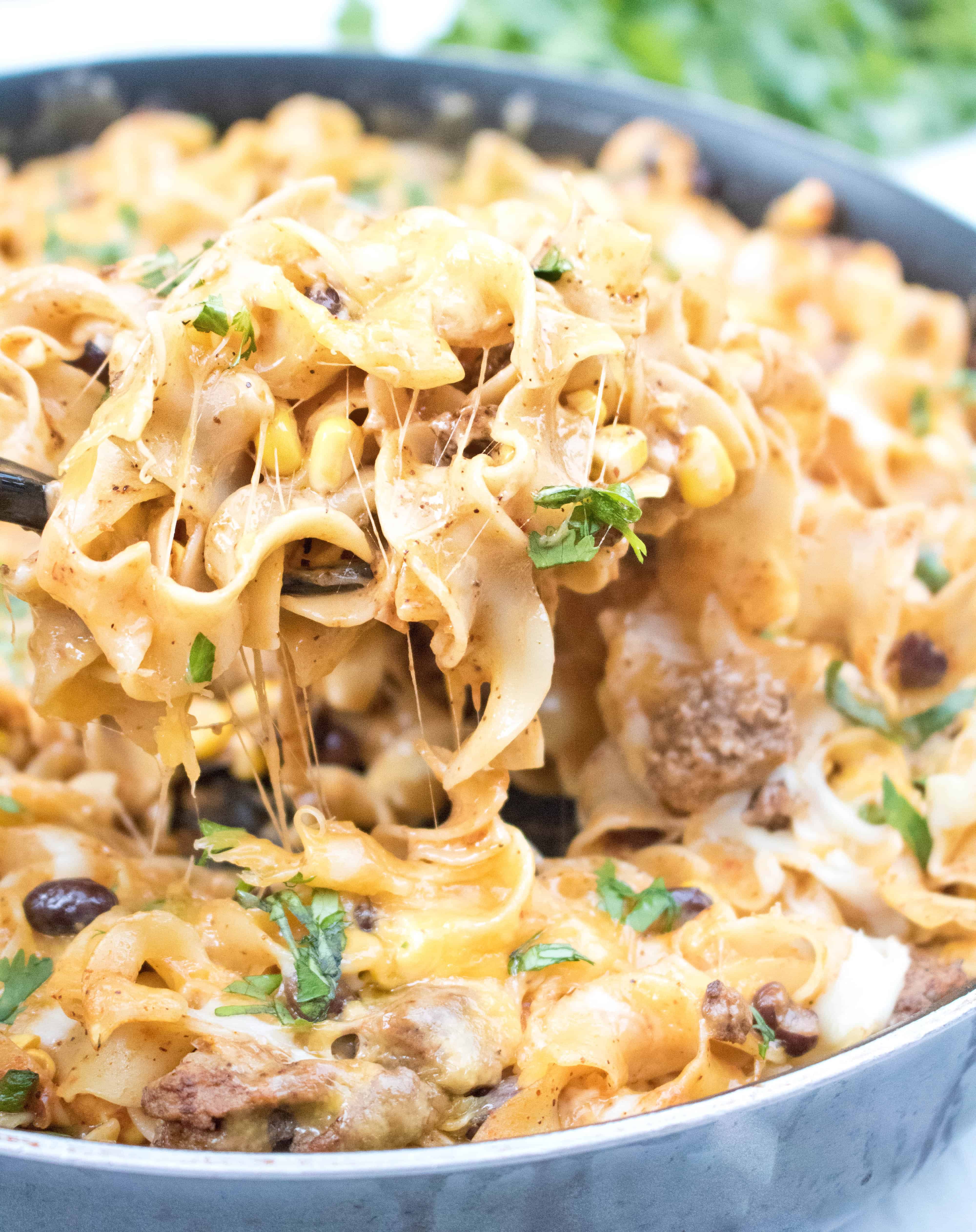 I mean what's not the love? Pasta? Love. Enchiladas? Love. Fast and easy? Required.
This is so good that my husband may have come home after a quick trip to the grocery store with multiple bags of egg noodles so we would be sure to have them on hand anytime we needed them. I'll take that as a good sign! Also, if you're feeling super ambitious, you can also make your own egg noodles from scratch! We did years ago B.C. (before children) and before I really knew what I was doing with a camera… It's a labor of love, but they're fun if you have the time!
Enjoy! If you try this recipe, please be sure to share them with me on Facebook, Instagram, Pinterest, and Twitter!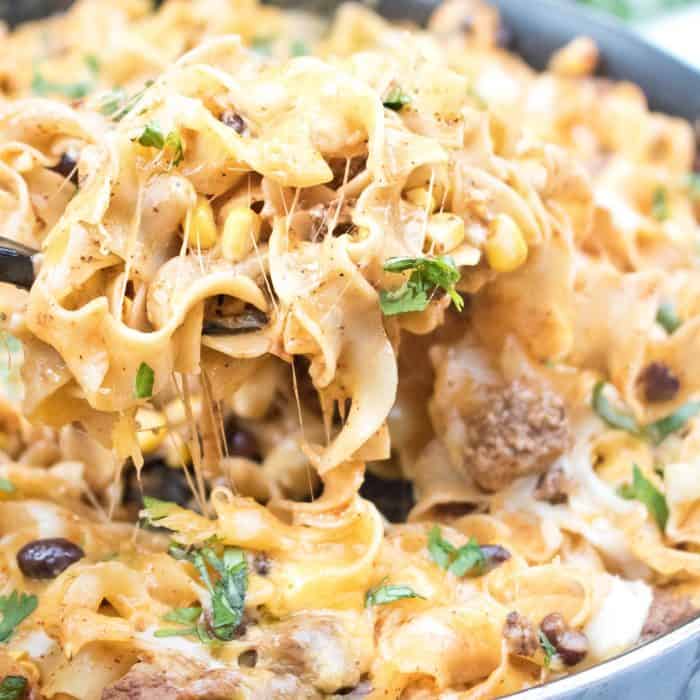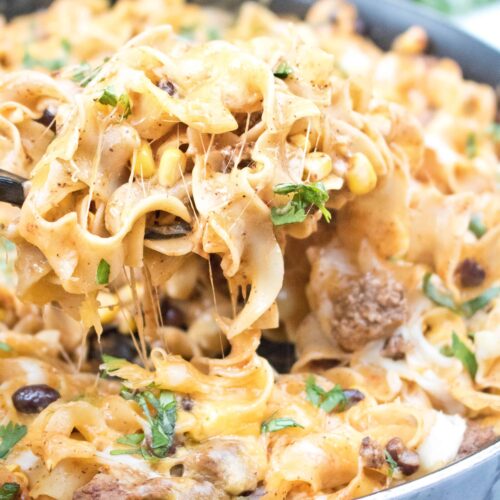 Enchilada Skillet Pasta
This Enchilada Skillet Pasta is loaded with flavor and cheese making it a delicious, easy and comfort food at it's finest!
Print
Pin
Rate
Ingredients
1

lb

ground beef

I use 85% or 90% lean. If using lower, you may want to drain fat from pan before adding other ingredients.

12 oz

wide egg noodles

one package

2

ears

fresh corn from the cob

or 1.5 cups canned or frozen

1/4

cup

sour cream

1

15 oz can

black beans, rinsed and drained

2 1/2

cups

cheddar cheese, shredded

I prefer sharp

1

cup

mozzarella cheese, shredded

2

cups

Enchilada sauce

1 batch of homemade sauce

1

tablespoon

fresh jalapeno, diced

1/2

teaspoon

cumin

1

teaspoon

chili powder

1/4

teaspoon

kosher salt

1/4

teaspoon

fresh ground pepper

fresh cilantro, diced

1/2

tablespoon

olive oil
Instructions
Cook pasta according to package until al dente. Drain and rinse.

Pre-heat oven to 350 degrees.

Meanwhile, heat olive oil in large skillet over medium heat and brown ground beef for approximately 5 minutes, stirring and crumbling beef. Add cumin, chili powder, salt, and pepper and mix well. Drain grease from pan if necessary / preferred.

In a large bowl add black beans, corn, jalapeno, sour cream, 1/4 cup of mozzarella and 1/2 cup of cheddar cheese. Add pasta and then pour in enchilada sauce and mix well.

Add mixture to skillet and mix well. Add remaining 3/4 cup of mozzarella and 2 cups of cheddar cheese on top and put in oven until cheese has fully melted. Approximately 5-10 minutes.

Top with fresh cilantro and serve!