Everything you love about crispy tacos but in an easy-to-eat little cup! Our crispy Turkey Taco Cups are flavorful turkey tacos but served in fun crunchy little cups for the perfect hand-held little appetizer or a new twist on tacos!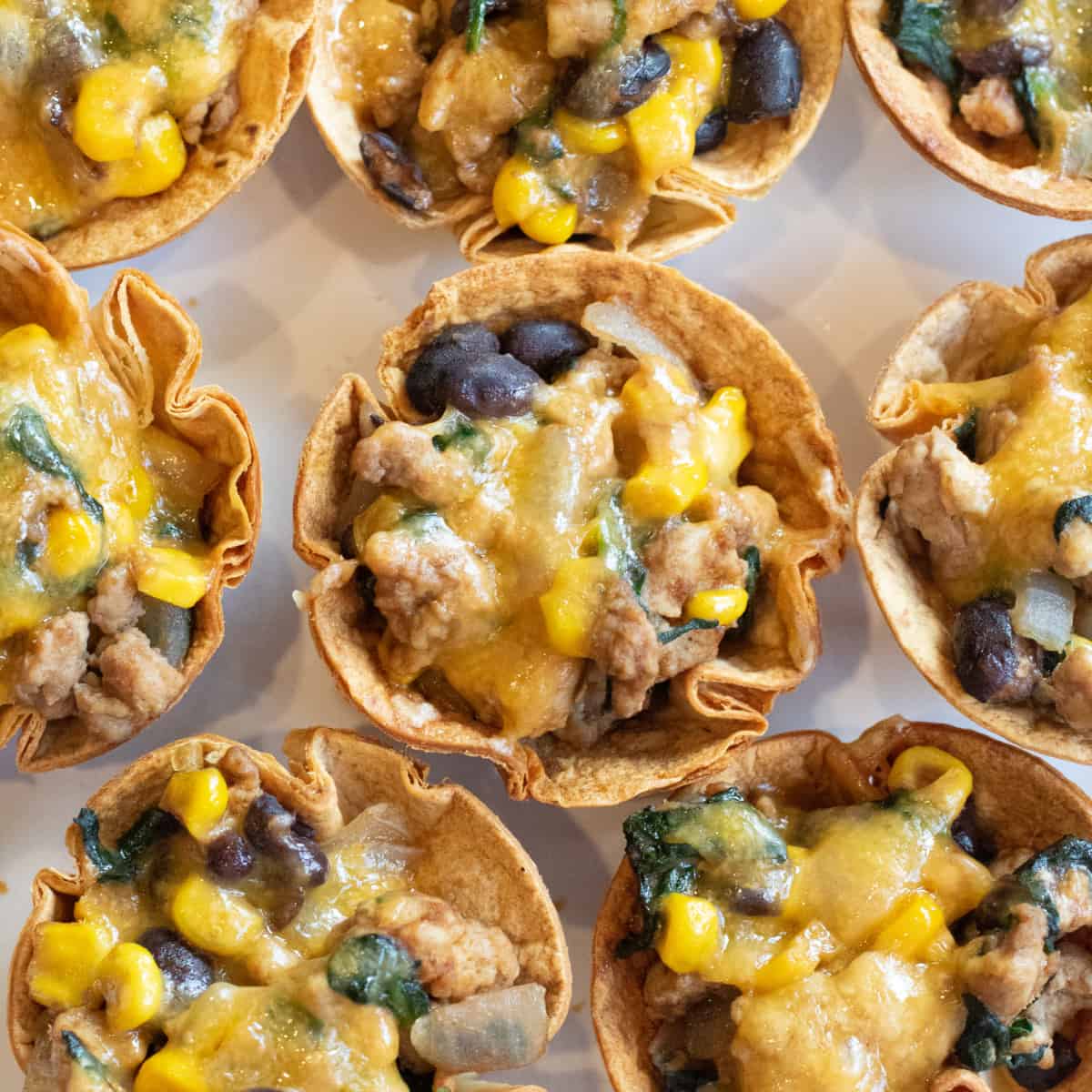 Here's a fun one, friends! Our new crispy Turkey Taco Cups are one of my kids' favorite new recipes for Taco Tuesday and basically any day that ends in Y! Handheld, crunchy, and packed full of flavorful turkey, black beans, corn, and of course some SFS signature added nutrition from some fresh spinach, these little crispy taco cups are so easy to make, ready fast, and also endlessly customizable!
Ingredients Needed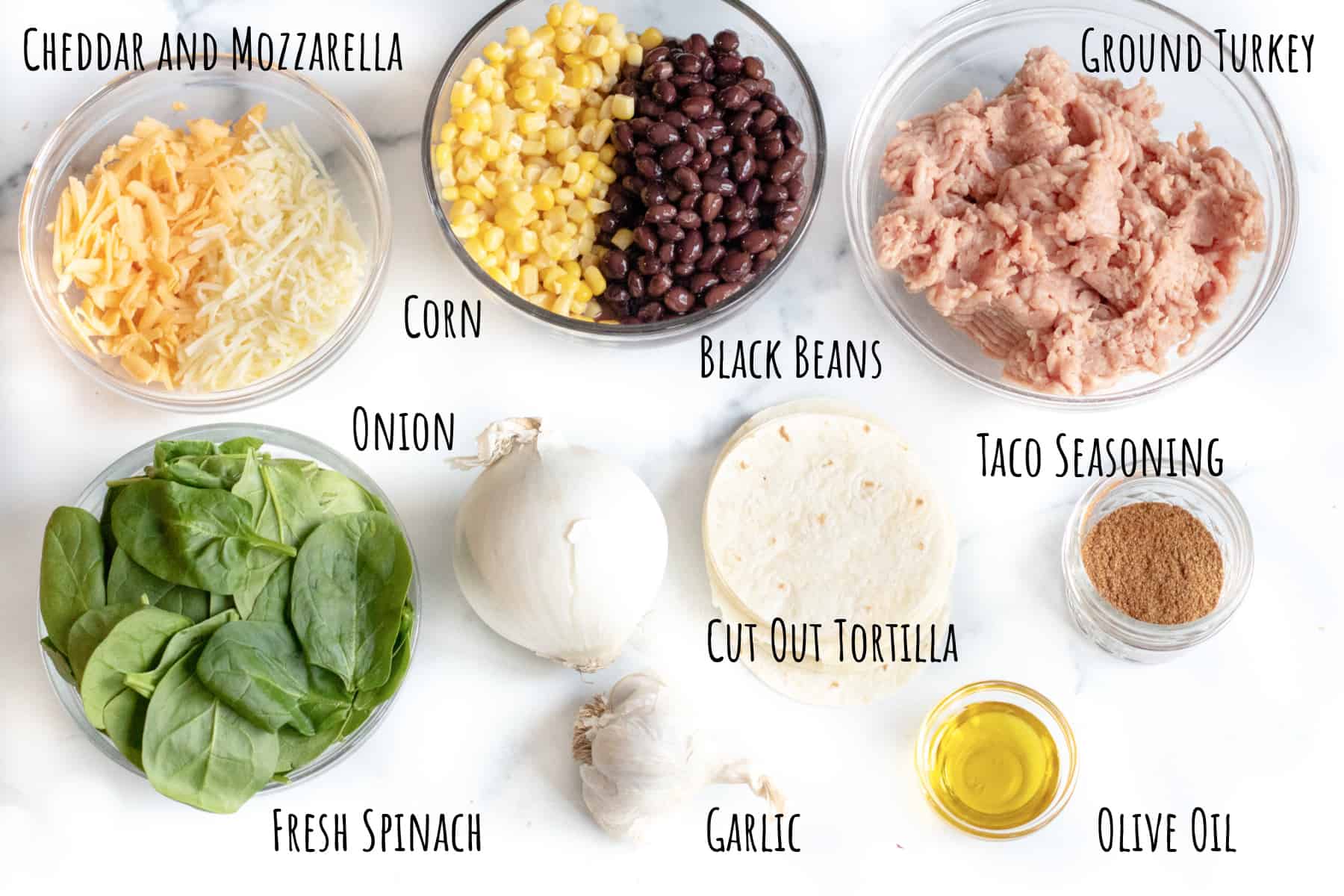 Ground Turkey - We love to make these with leaner ground turkey, but of course, you can use your favorite protein, or even just omit the meat and make these taco cups vegetarian!
Black Beans and Corn - We love adding beans and corn to our tacos, but if they're not your thing, you can definitely omit them and just use turkey (or another meat!) and your favorite taco toppings.
Garlic and Onion - Staples for any of our savory recipes!
Fresh Spinach - Anyone who's been around here for a while knows that this is our favorite addition to pack in more nutrition!
Taco Seasoning - Use your favorite, or add some more from scratch flair by making your own!
Cheddar and Mozzarella Cheese - Or any combination of your favorite taco cheeses!
Cut out Flour Tortillas - Go the extra mile by making your own flour tortillas!
Fast and Easy to Make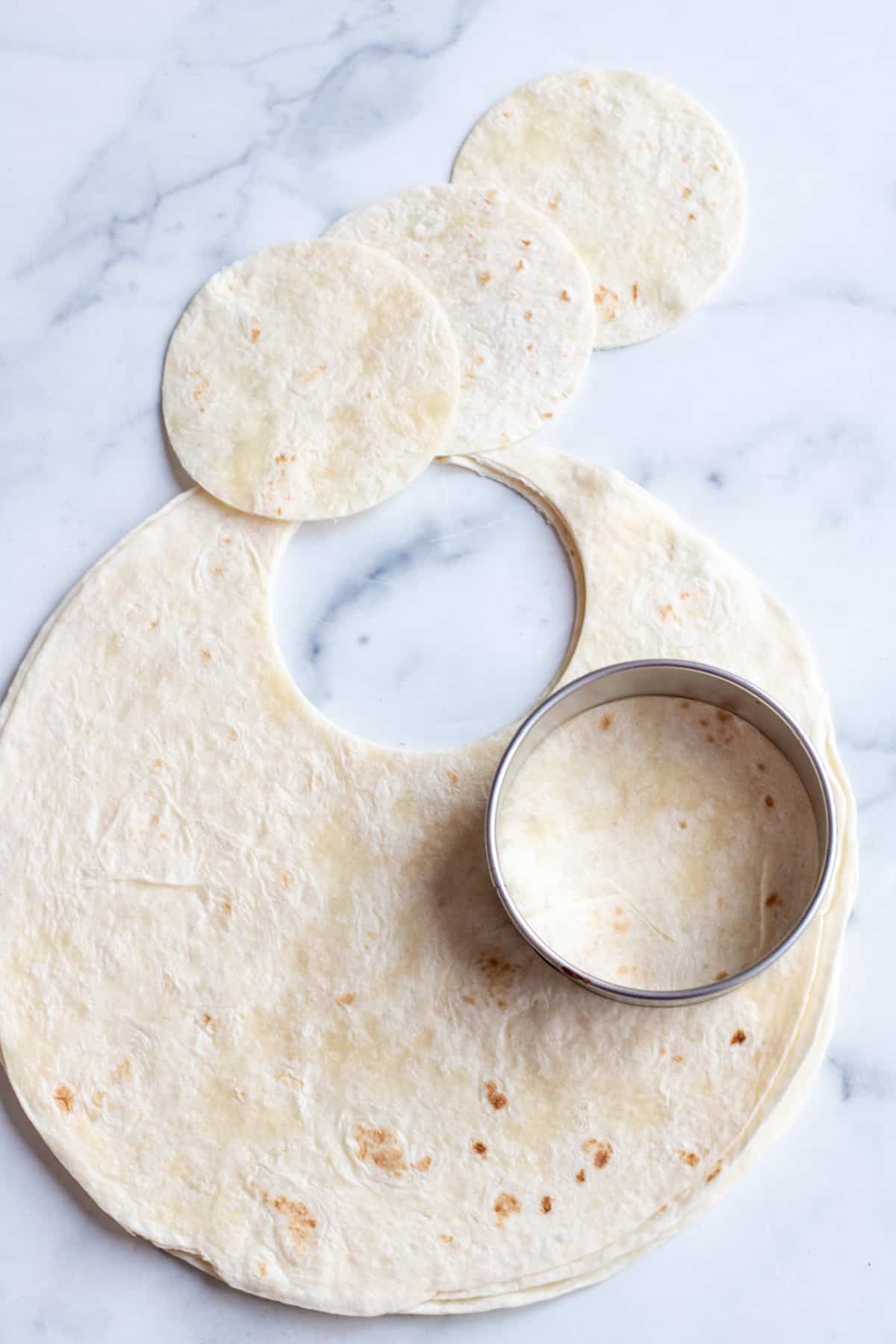 Cutout and Prebake the Tortillas
The first step to these little Turkey Taco Cups is to make the cups! This is easily done with some circle cutters like these which can cut 4 - 4.5 inch rounds out of large flour tortillas.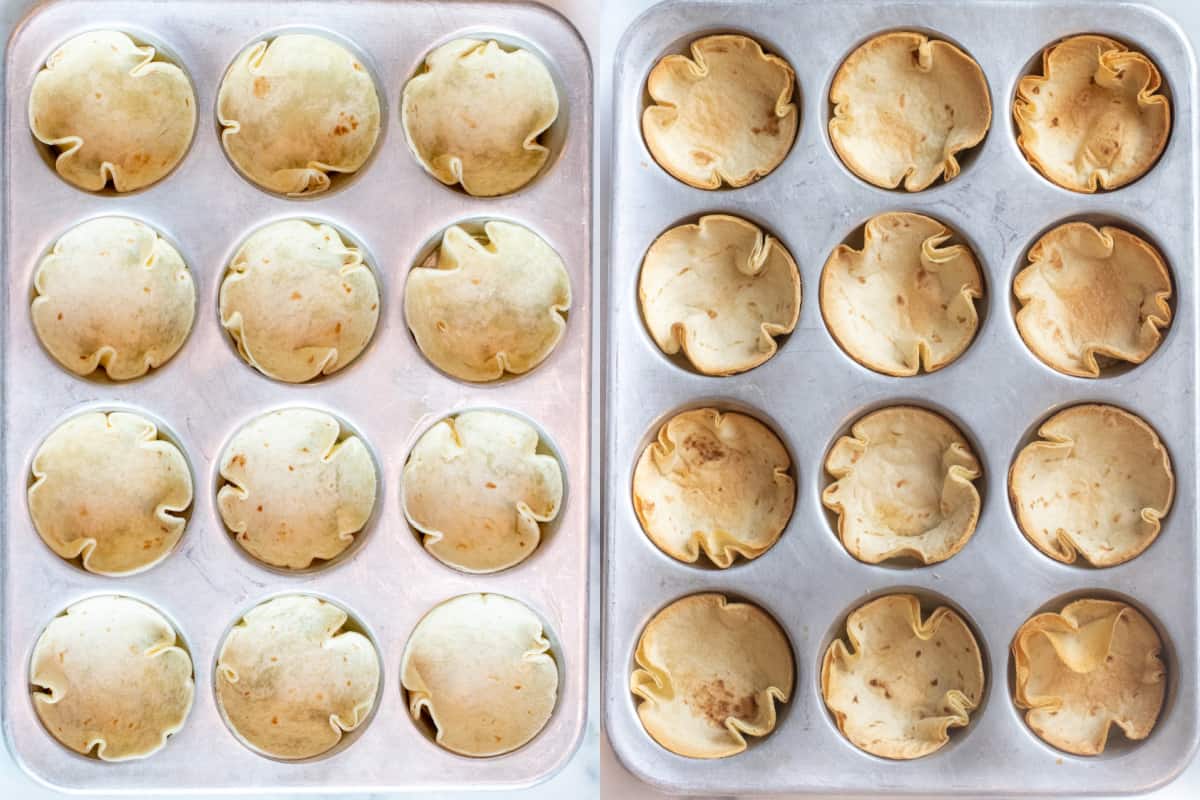 Then line your greased muffin pan with the cutouts and give them a prebake. This is key to keeping your taco cups crispy because it will ensure that they stay crunchy even after you add all of your delicious fillings.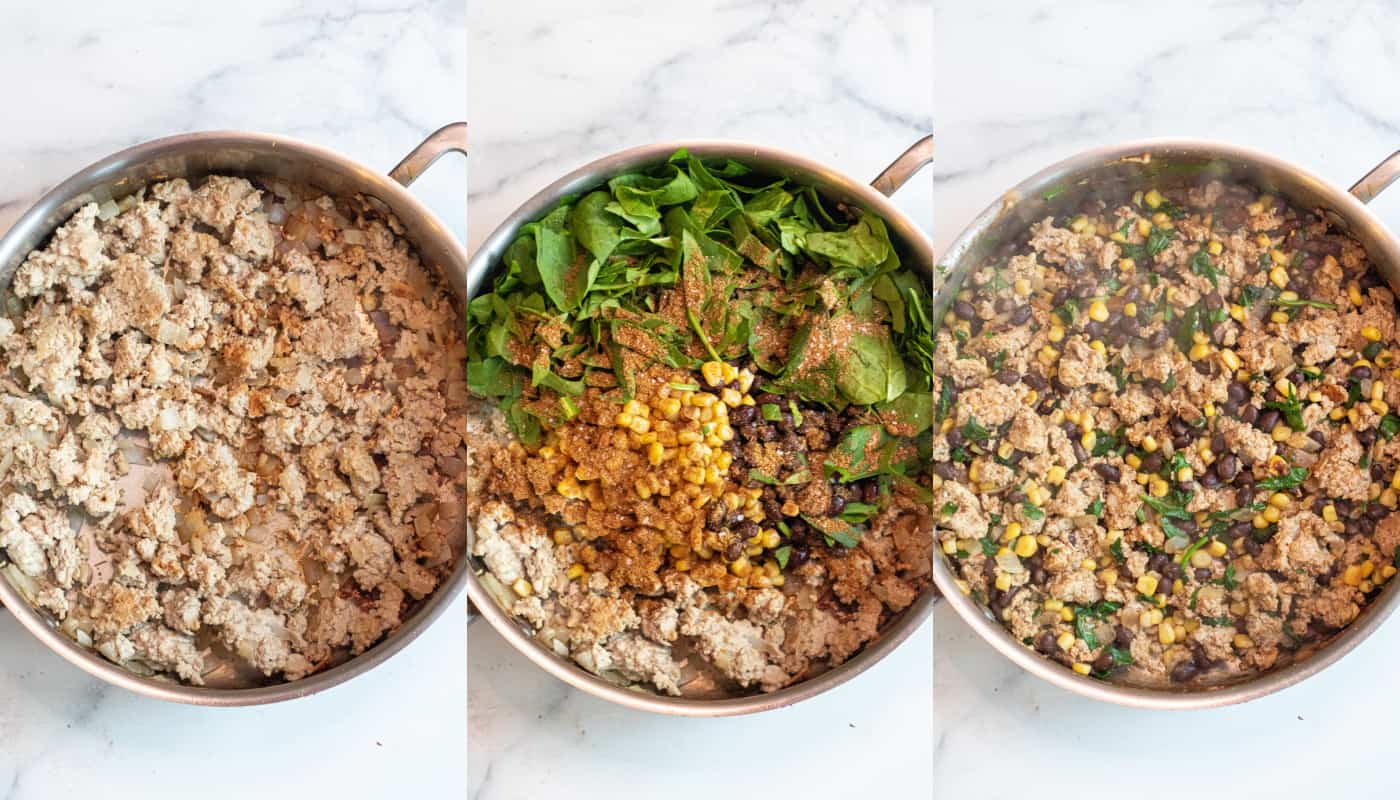 Create the Filling
While those cup shells are prebaking, make your turkey taco filling by sauteeing up some onion and garlic with turkey and adding the corn, beans, spinach, and your favorite taco seasoning!
As you know from our 15 Minute Black Bean and Spinach Burritos, we love sneaking in a little added nutrition with our black beans!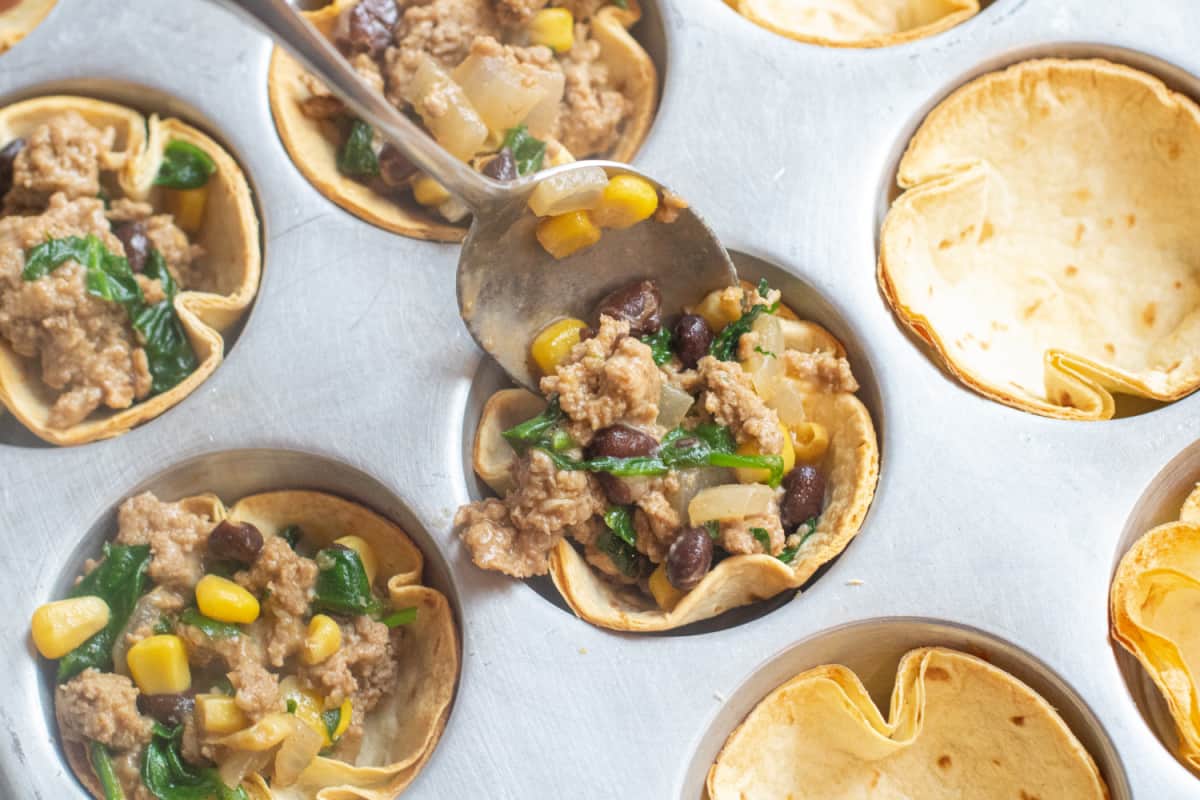 At about the time your taco cup shells will have crisped up, your turkey filling will be ready to stuff your little cups with.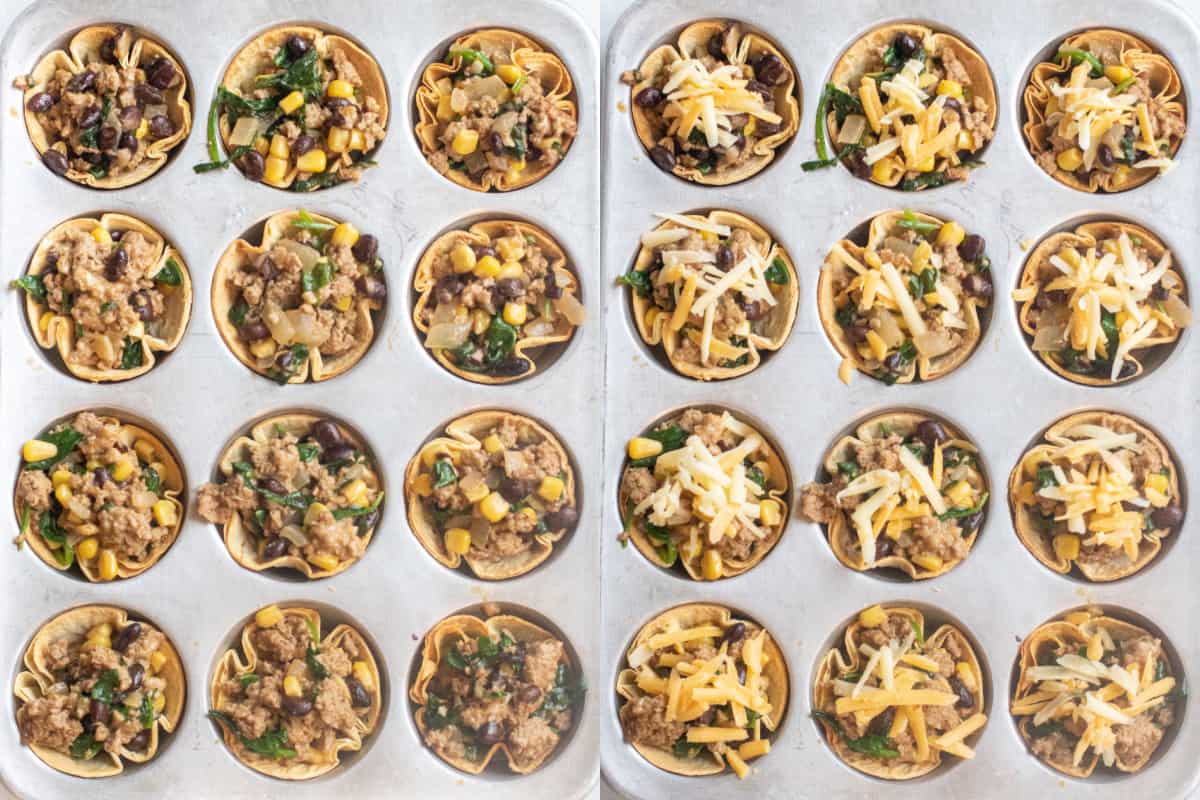 Fill cups and top with cheese
Generously fill all of your taco cups and then top with your filling and the cheese!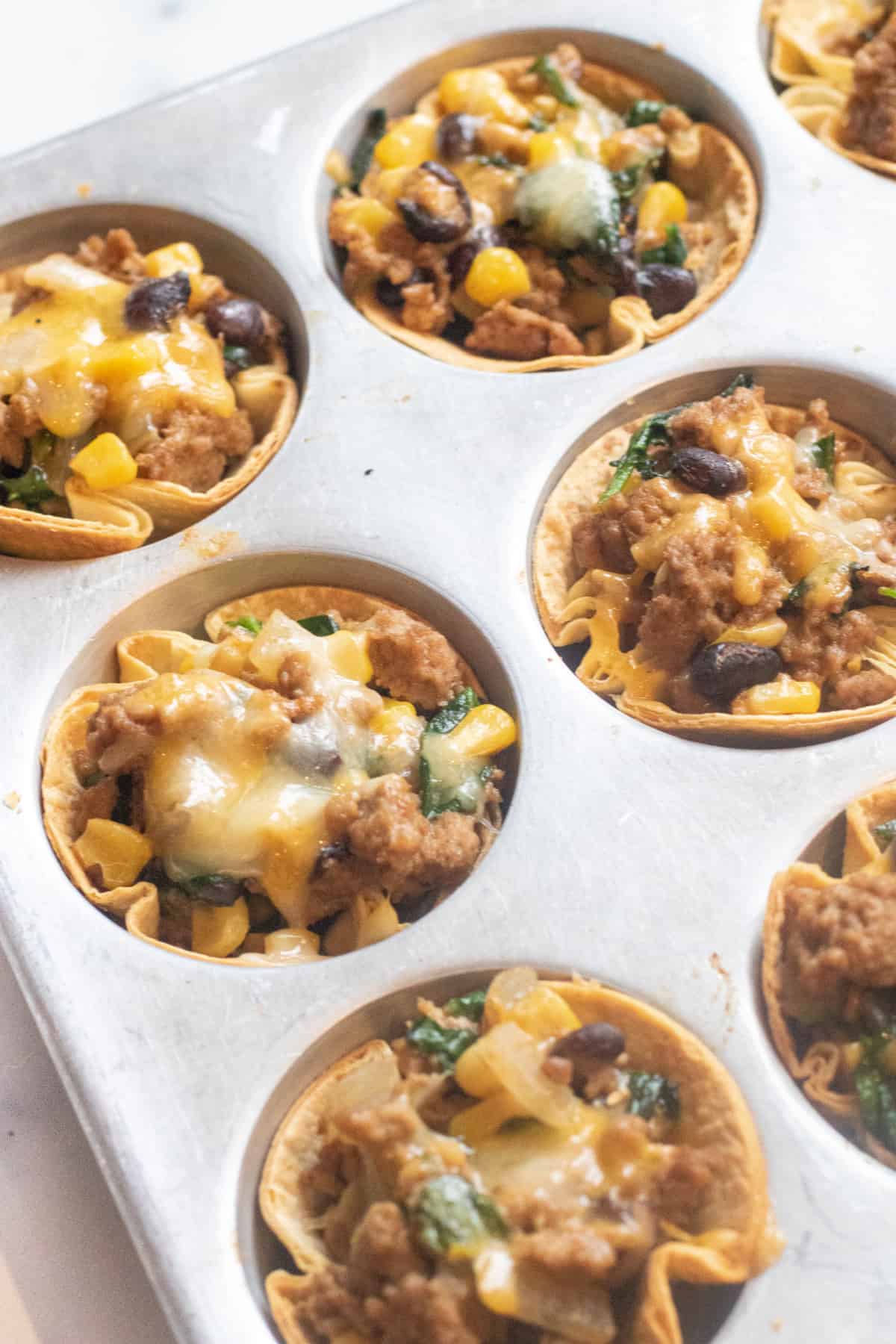 Baked for just a few more minutes until the cheese is melted and done!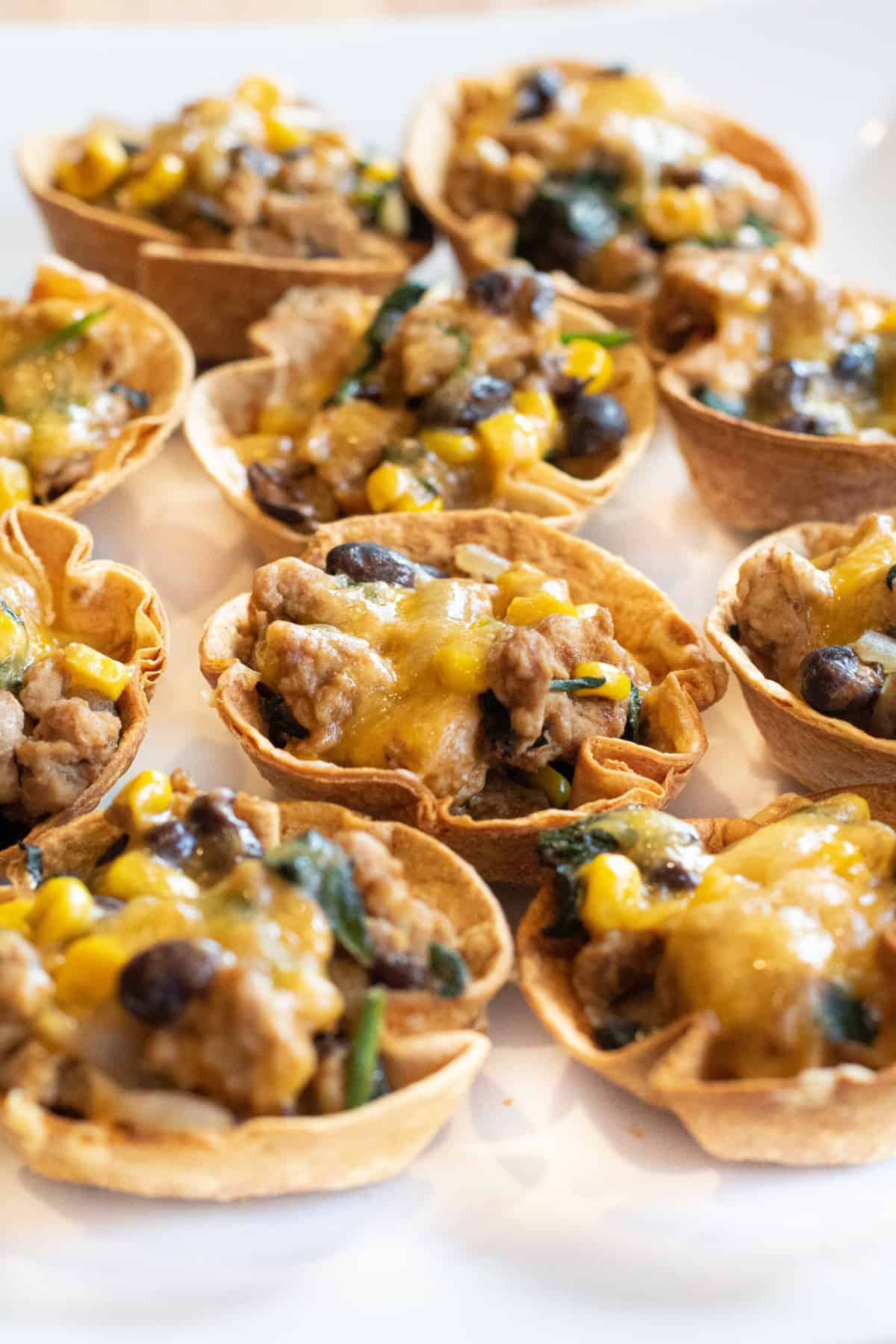 Turkey Taco Cups! Such crispy delicious little bites.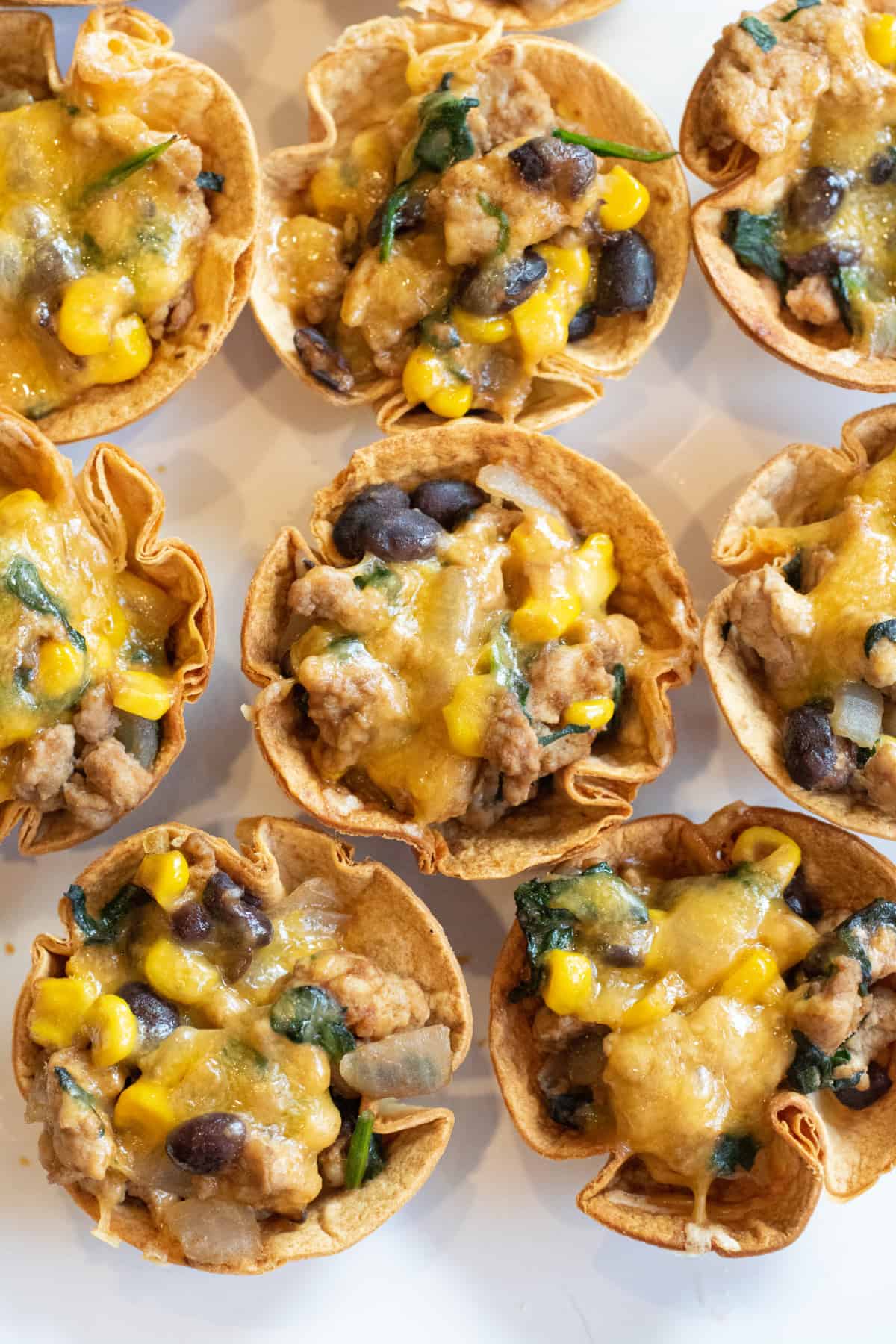 Customizable
What we love most about these little crispy taco cups is that they are endlessly customizable. Swap the turkey for beef. Omit the corn. Add in some bell peppers and diced chicken for a more fajita style cup.
Recipe Tips
Do I have to prebake the cups?
If you want them crispy, YES. When you don't prebake them the cups get soggy on the bottom when you add the filling. Plus, it's the same amount of time to prebake then it takes to cook the filling, so it doesn't add any extra time at all.
Prep in Advance
You can prep these a little in advance, but really these are best served freshly baked. You can prebake the cups a few hours ahead of time and then fill them with the filling and give the final bake when you're ready to serve. Although if you prep the filling too far in advance and store it in the fridge, then you may have to bake it all longer to heat all of the ways through.
Customize!
Swap in your favorite protein, veggies, and any of your other taco-filling favorites like ground beef, chicken, bell peppers, sweet potato, and lettuce!
Add your favorite toppings!
Top your taco cups with some guacamole, pico de gallo, sour cream, and any of your other taco-topping favorites!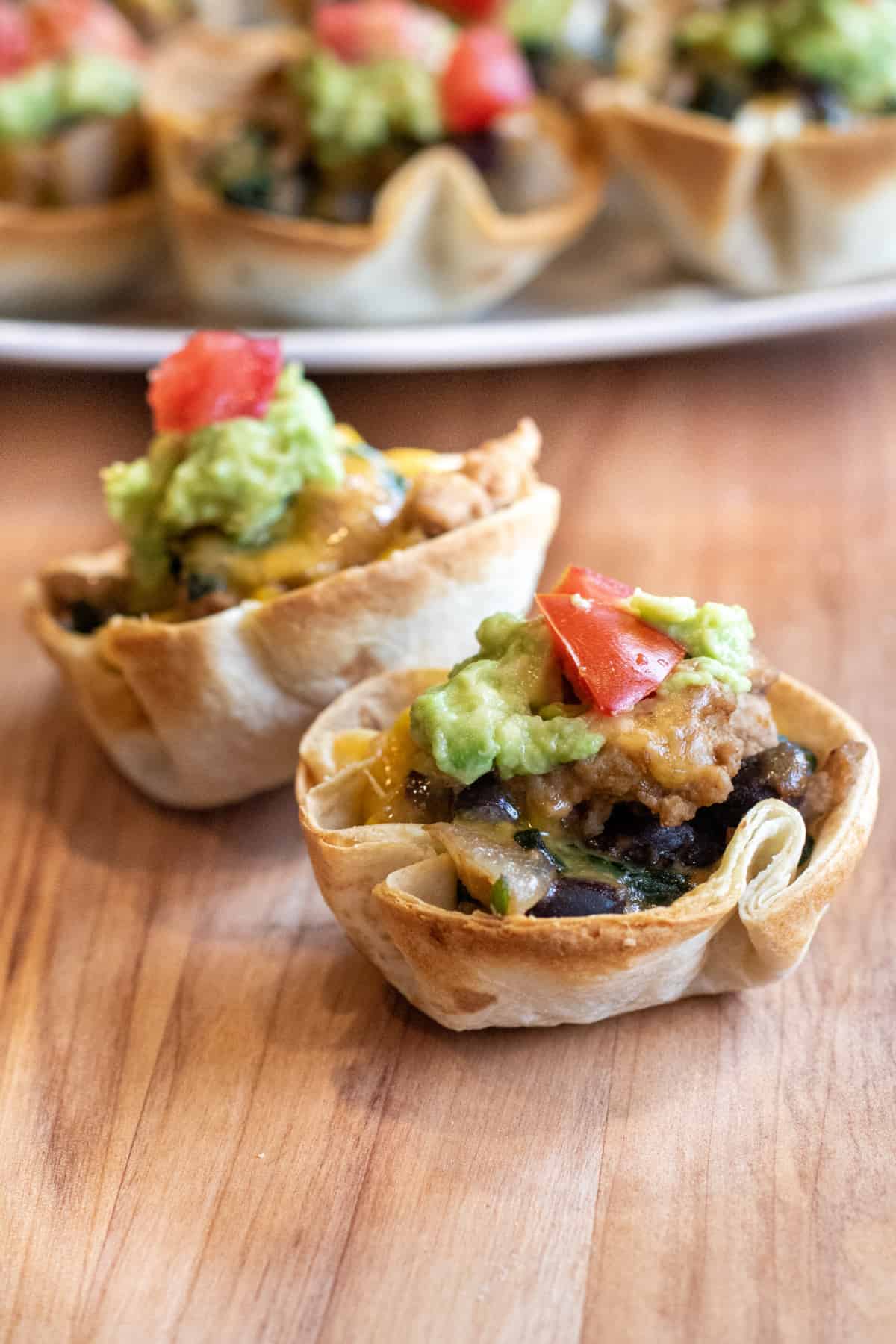 How adorable are these little crispy Turkey Taco Cups? We love ours topped with some fresh guac and pico, or just diced tomatoes. But again, one of the best parts of this recipe is that the possibilities are endless!
Enjoy! As always, if you make this recipe or any of my others, I love to hear what you think! Leave a comment below, email me, or you can find me on Facebook, Instagram, and Pinterest!
If you want to see more, be sure to sign up for my 5 Easy Ways to Start Cooking From Scratch!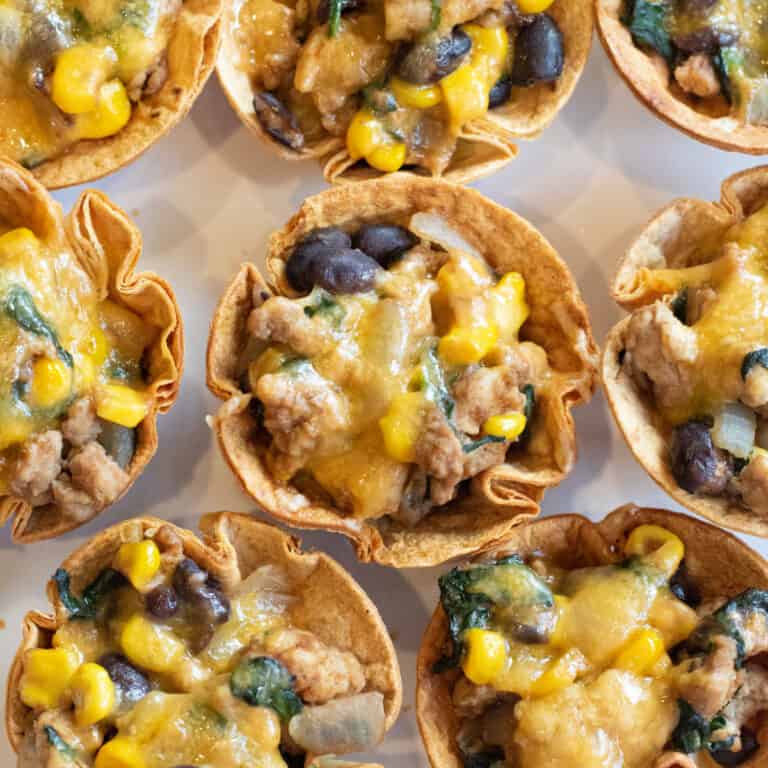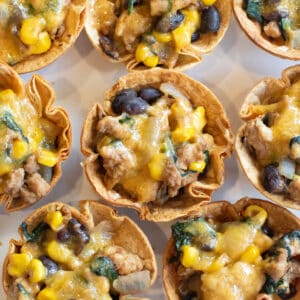 Ingredients
1

lb

ground turkey

1

tablespoon

olive oil

2

cloves

garlic

1/2

white onion

diced, about 1 cup

1

cup

corn

1

cup

black beans

2

cups

fresh spinach

2 oz (optional)

1

tablespoon

taco seasoning

3/4

cup

mozzarella cheese

shredded

3/4

cup

cheddar cheese

shredded

6

large

flour tortillas

burrito sized

cooking spray or more oil to grease muffin tin
Instructions
Preheat Preheat oven to 350 degrees F.

Create Tortilla Cutouts Stack 3 tortillas evenly on top of one another and use a 4 or 4 1/2 inch circle cutter to cut out 4 circles in the 3 stacked tortillas to get 12 circles. Repeat with the remaining 3 tortillas.

Prebake Cups Use a misto or other cooking spray to lightly grease the muffin tin and then gently press cutout circles into the muffin tin filling the bottom of the tin. Prebake in the oven for 10-15 minutes until the edges of the cutouts are nicely browned. Use two muffin tins or bake 12 at a time. Keep oven on at 350 degrees.

Cook Filling Heat olive oil in a large saute pan over medium. Add onion and garlic and saute for 1-2 minutes until onions are translucent. Add ground turkey to the pan and saute for 10 minutes, breaking up the turkey as it cooks and stirring often.

Add corn, beans, spinach, and taco seasoning and stir and saute for 5 minutes or until turkey is fully cooked through.

Add 1/2 of the cheese to the turkey mixture and mix well letting the cheese melt.

Fill Taco Cups Remove prebaked taco cups from the oven and fill cups with turkey filling. Sprinkle some cheese on top of each cup.

Bake Return the muffin tin to the oven and bake for 5 minutes until the cheese is melted.
Notes
This recipe is easily halved to make just 12 taco cups, or 1 muffin tin. Although that's never enough for my family of 4.
Substitutions
Turkey: Use any of your favorite proteins! Diced chicken, ground beef, or even tofu.
Taco Seasoning: Our favorite to use is our homemade taco seasoning, but you can of course use your favorite!
Cheese: Use any of your favorite taco cheeses!
Beans, corn, and spinach: All optional, of course. You can make these cups with just turkey or meat or make them vegetarian by just using beans and corn.
Cutting out the tortilla rounds
If you use the large burrito-sized flour tortillas and get as close to the edge as possible with your cutter, you should be able to cut 4 rounds out of a tortilla. Reuse the extra tortilla pieces by cutting them into strips and giving them a quick fry as a crunchy tortilla topping for our Chicken Enchilada Soup!
Nutrition
Calories:
92
kcal
|
Carbohydrates:
7
g
|
Protein:
8
g
|
Fat:
4
g
|
Saturated Fat:
2
g
|
Polyunsaturated Fat:
0.5
g
|
Monounsaturated Fat:
1
g
|
Trans Fat:
0.003
g
|
Cholesterol:
17
mg
|
Sodium:
121
mg
|
Potassium:
128
mg
|
Fiber:
1
g
|
Sugar:
1
g
|
Vitamin A:
325
IU
|
Vitamin C:
1
mg
|
Calcium:
60
mg
|
Iron:
1
mg