Making your own Homemade Potato Chips from scratch is easier than you think and so rewarding. It may take a little bit of time, but once you know how to make your own potato chips, you'll know it's worth the extra work!
Next, try our Homemade Salt and Vinegar Chips!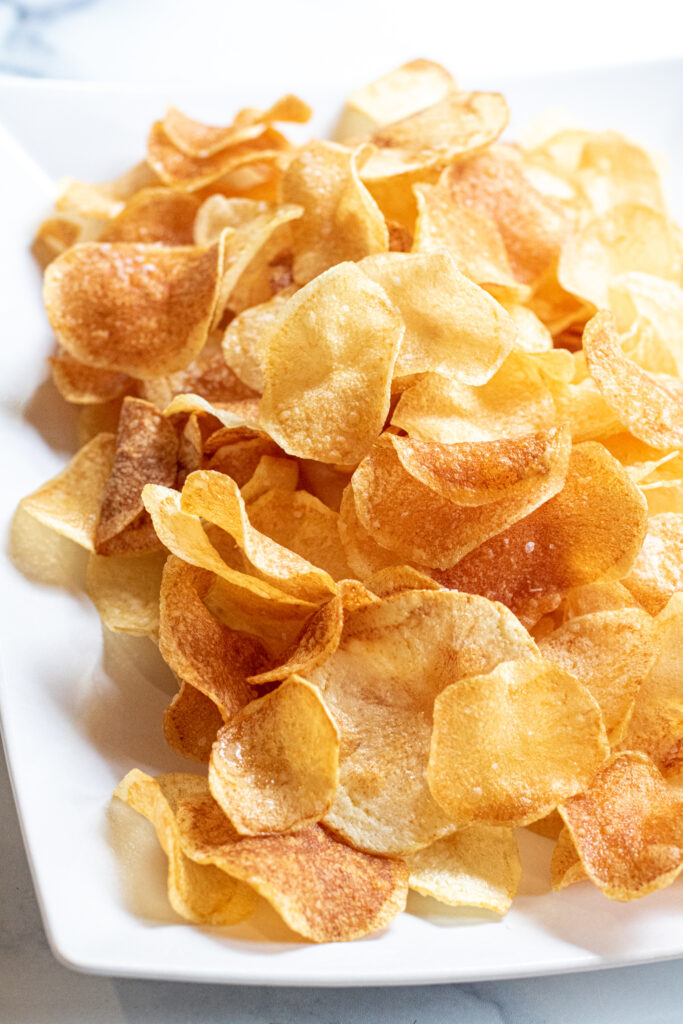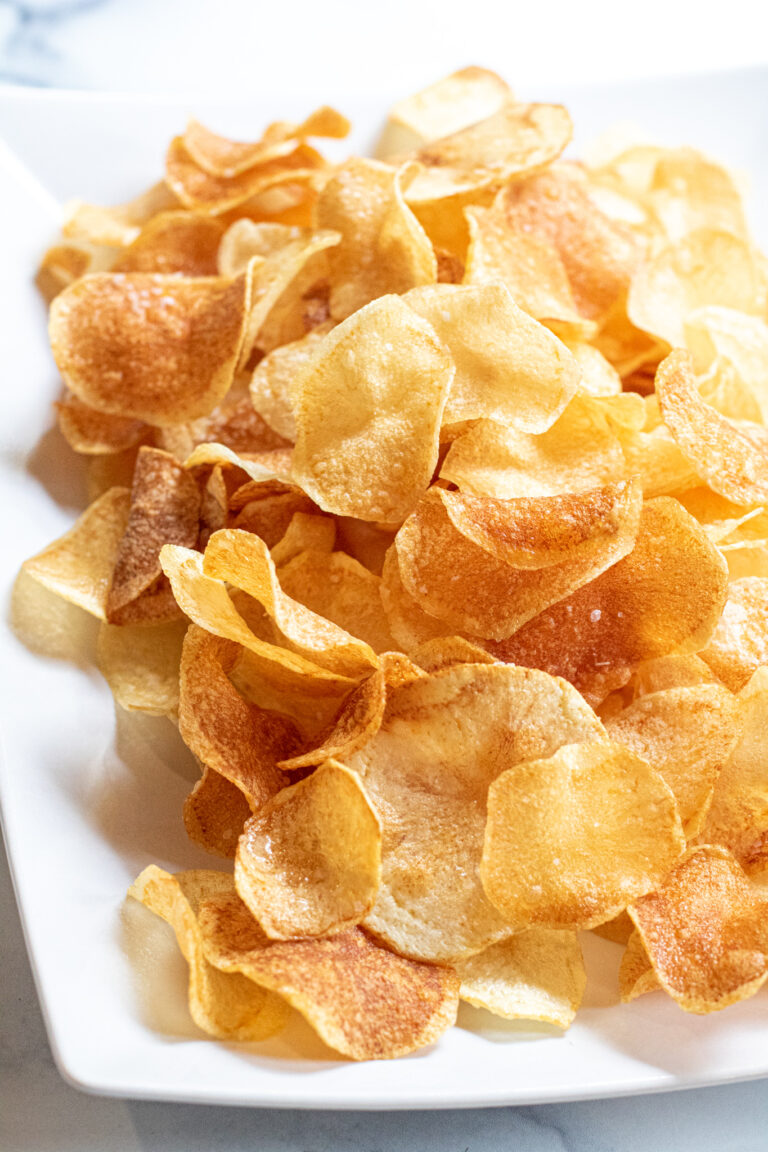 Crispy. Salty. Heaven. Is there anything better than the crunch of freshly fried Homemade Potato Chips?? I'll easily say "no thank you," to ice cream, chocolate, or any other sweet. But offer me a potato chip? Yes, please; always yes. And then if you walk away and leave me with that bag/bowl... Well, be warned when you return there may not be any chips left.
I'll be honest, making your own potato chips from scratch does take a lot longer than opening a bag. However, I will also be honest in saying that it's 100% worth the time and that homemade potato chips are the absolute best chips!
Ingredients Needed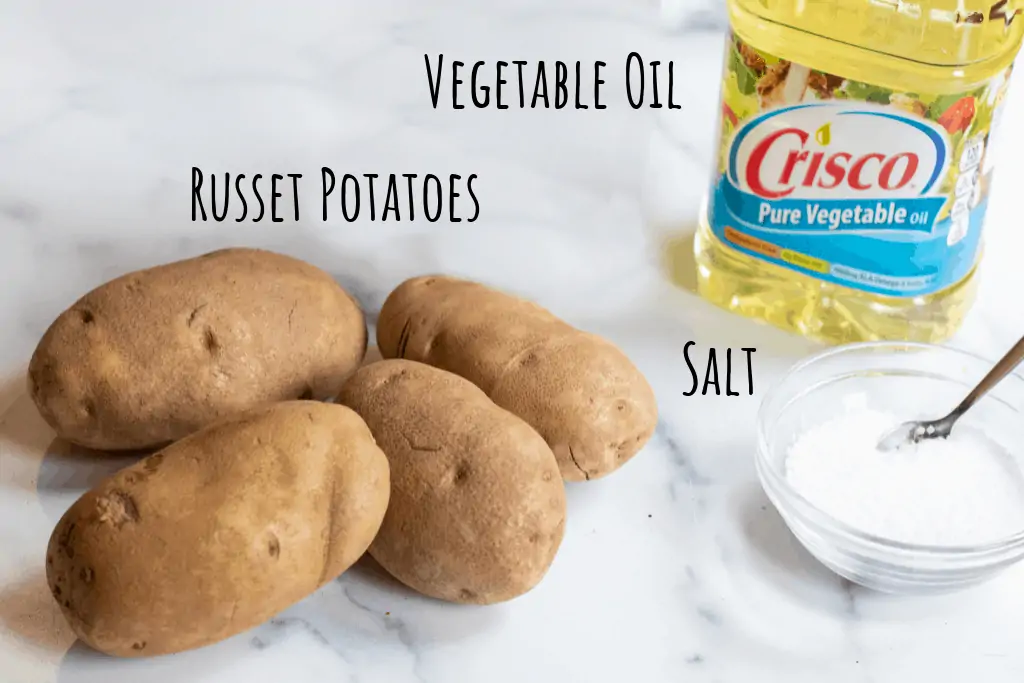 Three. Tres. Tre. Trios. 세. Drei. ثلاثة. Trzy. 三. I'll continue to say it in every language if I need to, to be able to emphasis that homemade chips only require three simple ingredients: Potatoes, Oil (for frying), and salt!
Best Potatoes for Chips
The best potatoes to use for homemade chips are Russets or another starchy potato-like Idahos or Sweet Potatoes. These potatoes are high in starch and low in moisture. Plus, they crisp up and change color when fried to that nice brown color that you want in a crispy potato chip!
Potatoes that don't work right for homemade chips are waxy potatoes like Red Bliss or Fingerlings. They're lower in starch and higher in moisture and they hold their shape when cooked, which is why they're perfect for potato salads, but not necessarily what you want in your potato chips.
Step-by-Step Instructions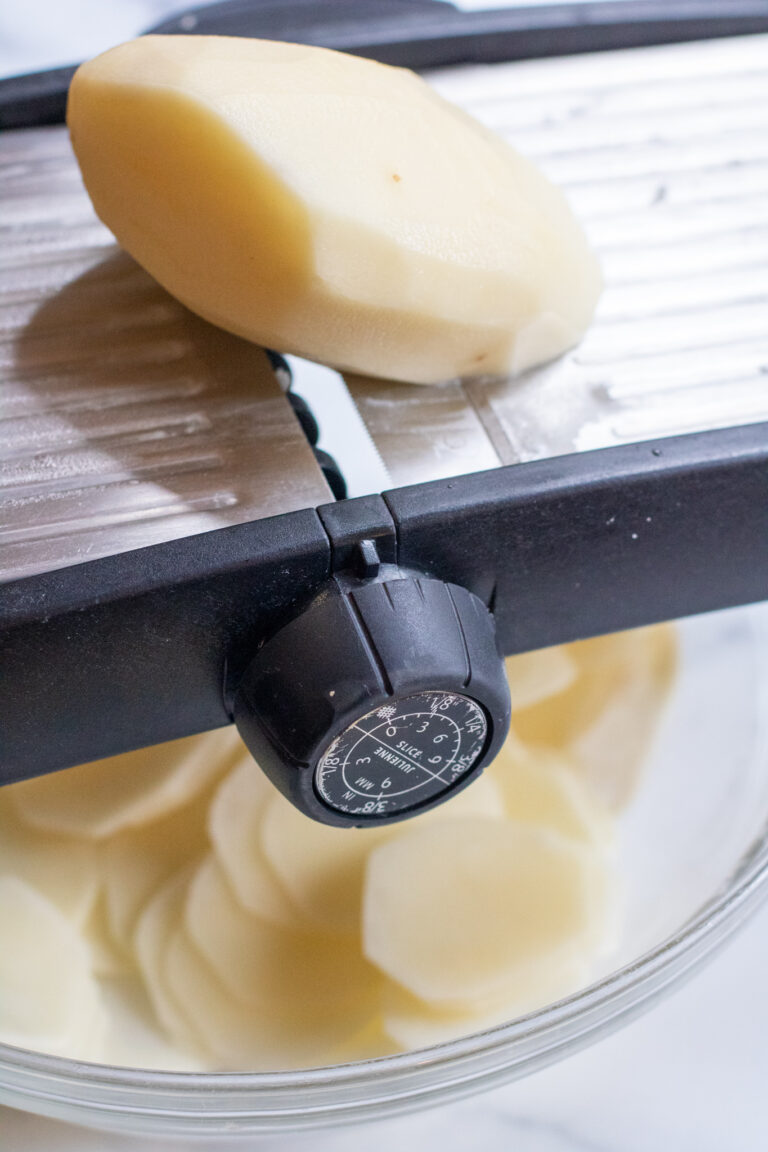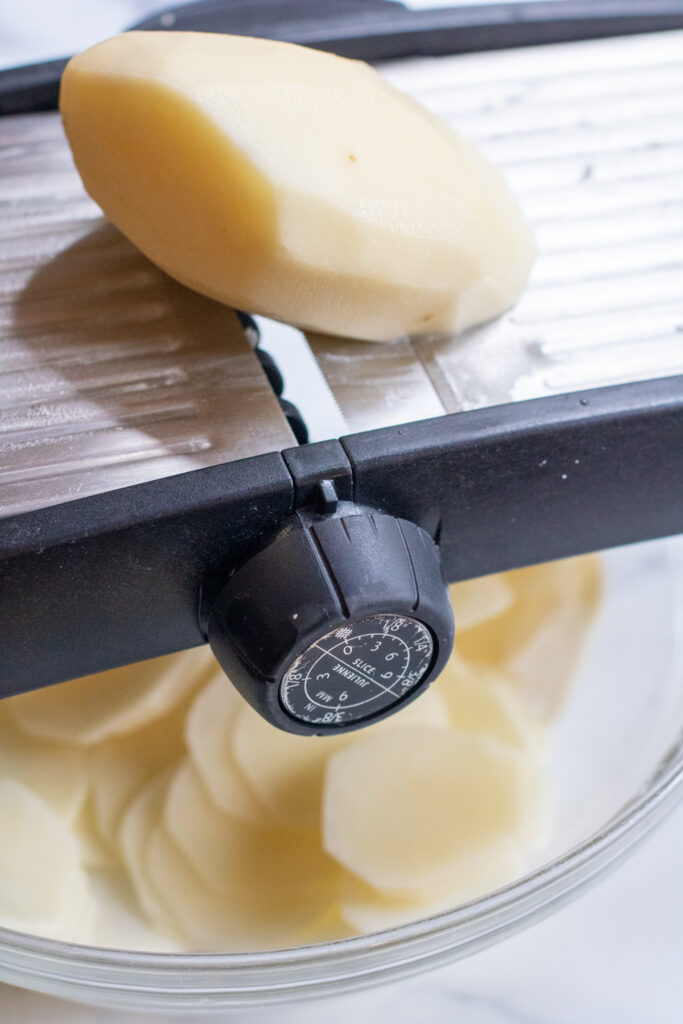 Step 1: Get a mandoline and then slice your potatoes super thin!
Ok seriously, one of my favorite kitchen tools is a mandoline. They're really not terribly expensive, you can get one for $40 here and trust me, you won't regret it. Not only can you make zoodles, but then you can also crinkle cut for bread and butter pickles!
For these homemade chips, I prefer them as thin as possible - the very first notch on the setting which is about 1/16 of an inch thick, but you could also go as thick as 1/8 of an inch, too. Both sizes make deliciously crispy chips!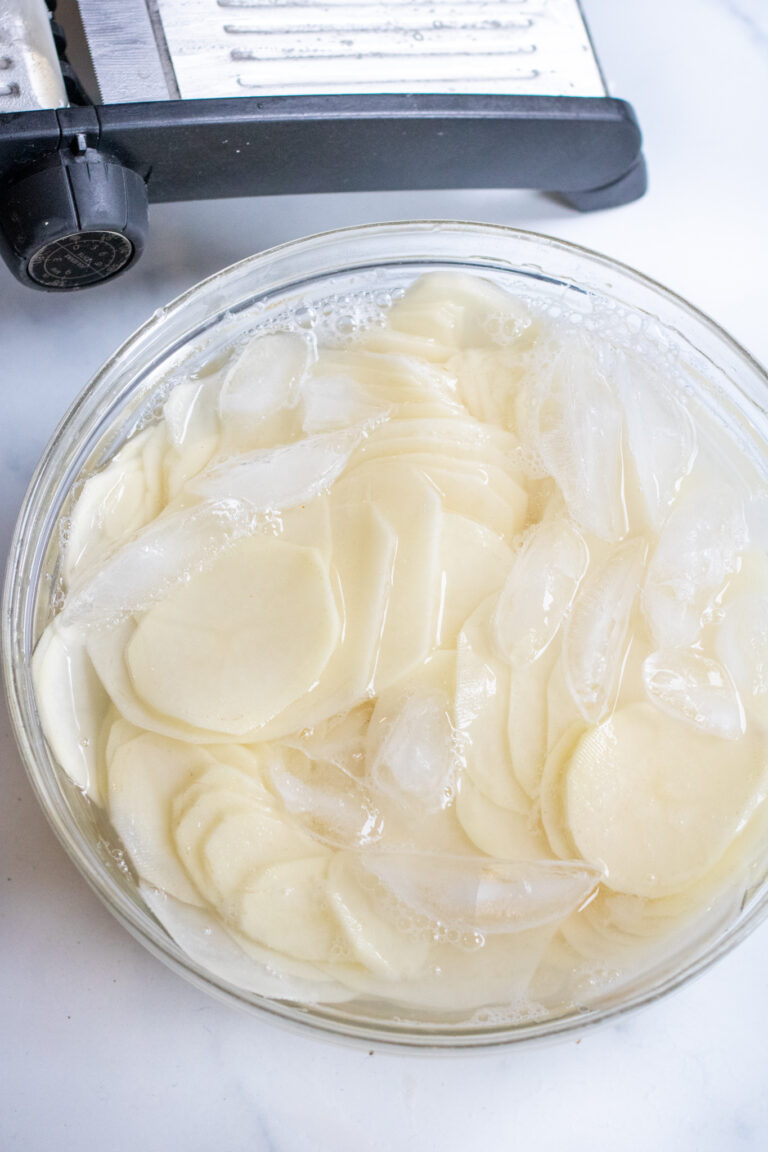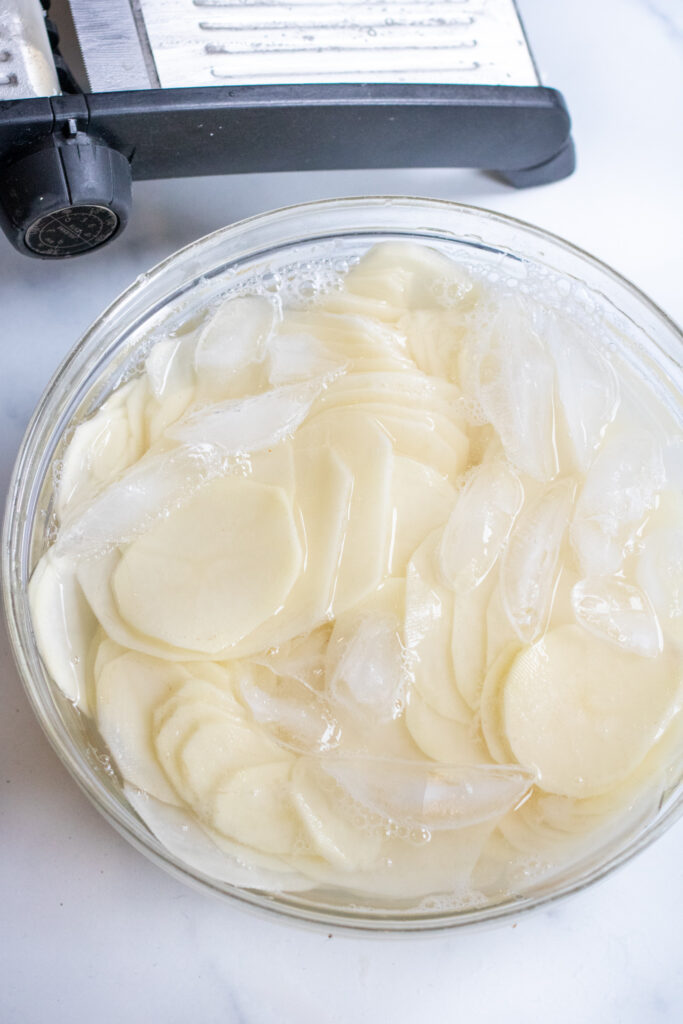 Step 2: Soak the potatoes in an ice bath.
This is a very important step to ensure that you have the crispiest potato chips! By soaking the potato slices in ice-cold water, not only does it pull out the excess starches but it also helps the cells seal up which results in a crispier chip. This will also aid in preventing the potatoes from sticking together so that when you fry them, you will get individual homemade chips and not chip lumps.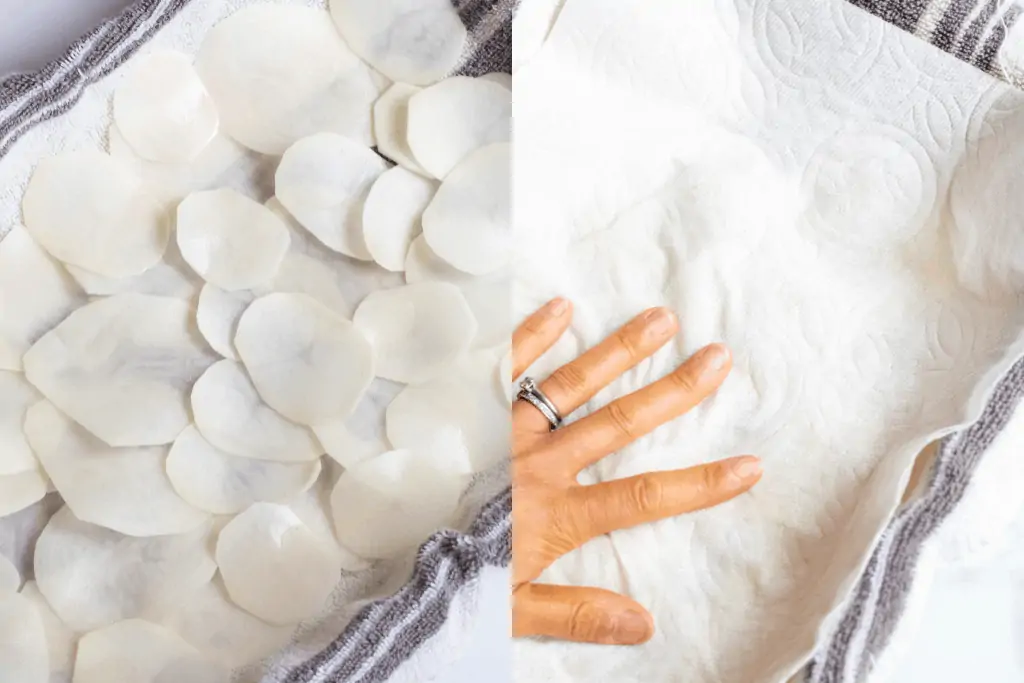 Step 3: Also key to ultimate Homemade Potato Chip crispiness - drain the potatoes and pat dry.
By removing all of the moisture from the potatoes, this is what will truly ensure that your chips'll be super crispy! To do this:
Line a large casserole dish with a terry cloth kitchen towel
Add a layer of potatoes.
Use a paper towel to pat the potatoes dry.
Add those potatoes to a bowl and repeat with the rest of the potatoes.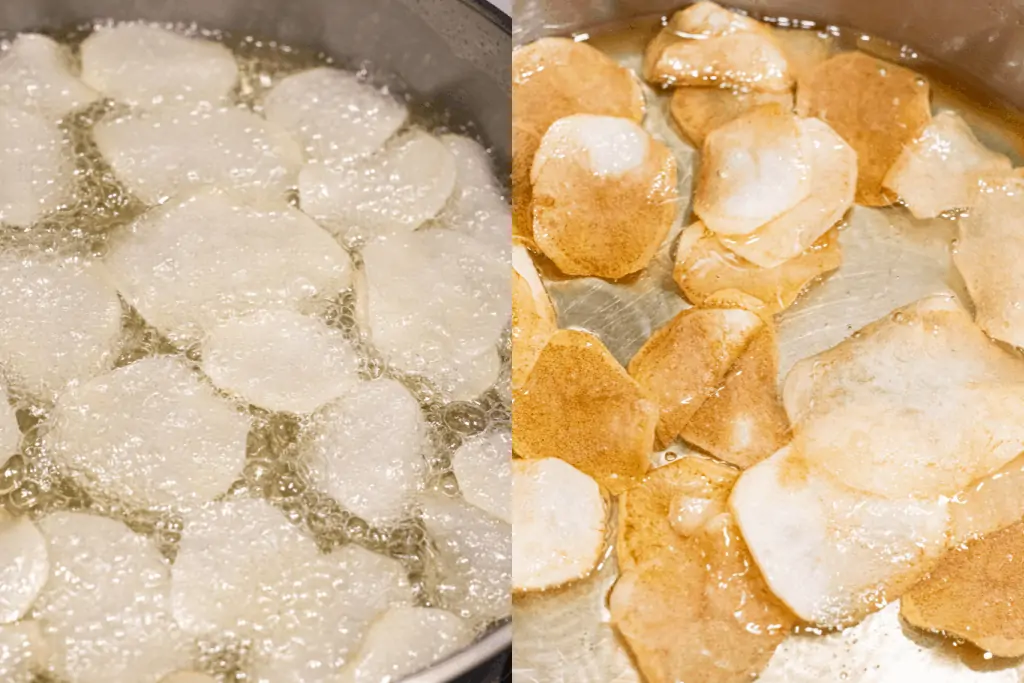 Step 4: Fry in hot oil.
Be sure to get your oil to about 350-365 degrees (we love our Instant-Read Thermometer for this), and then add a batch of potato slices to the pan to cook, stirring them frequently.
Use a slotted spoon to move those chips around and then remove them from the pan and drain on a paper towel-lined plate to drain the excess oil.
No instant-read thermometer? No problem! A great way to test to see when your oil is at temp that I learned from Cuisine at Home is that you can drop a little cube of bread into the oil and then set a timer to see how long it takes to turn golden brown. If it takes 50 - 60 seconds, then your oil is at the right temp, 350 - 365 degrees! If it takes longer than 60, then your oil still needs to heat up a little, and if it takes only 40–50 seconds, then the oil is 365 to 380 degrees.
Love "Folded Chips"?
Me too! There's something about that fold in a crispy chip - it's double the crisp in one bite; they're usually the ones I pick first from a plate!
One of the best things about making your own chips, want more folded chips? No problem! You can MAKE THEM!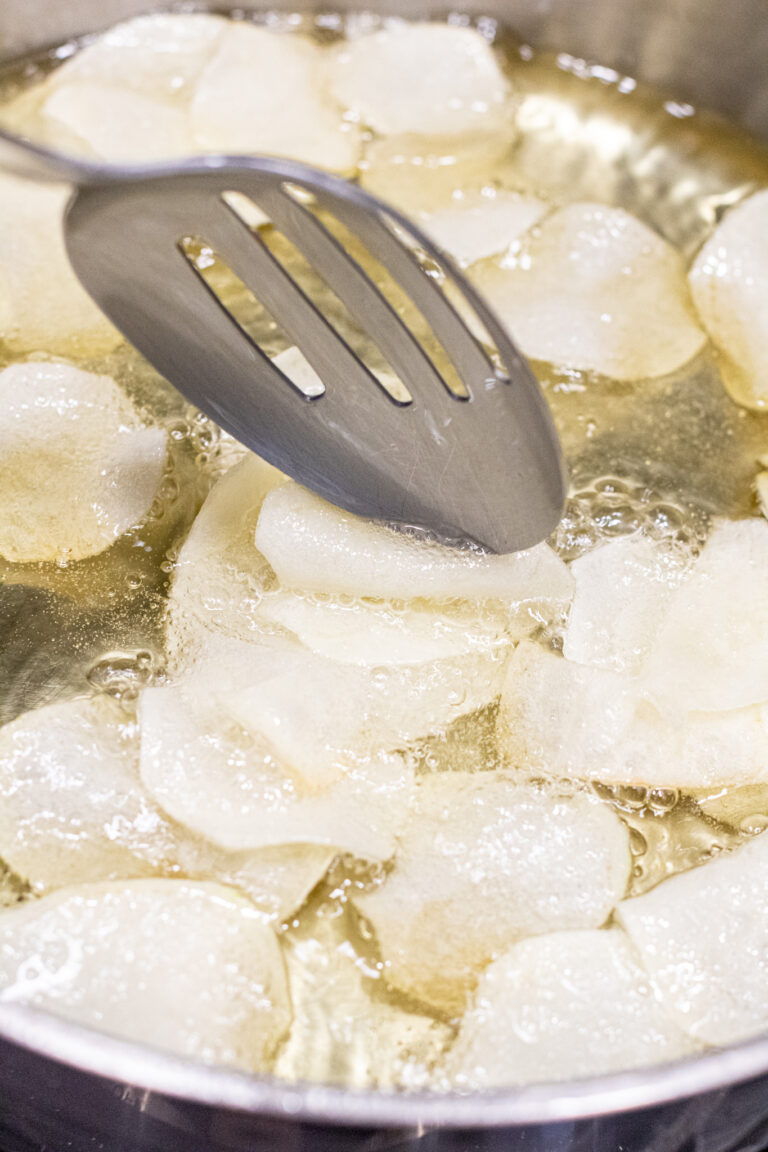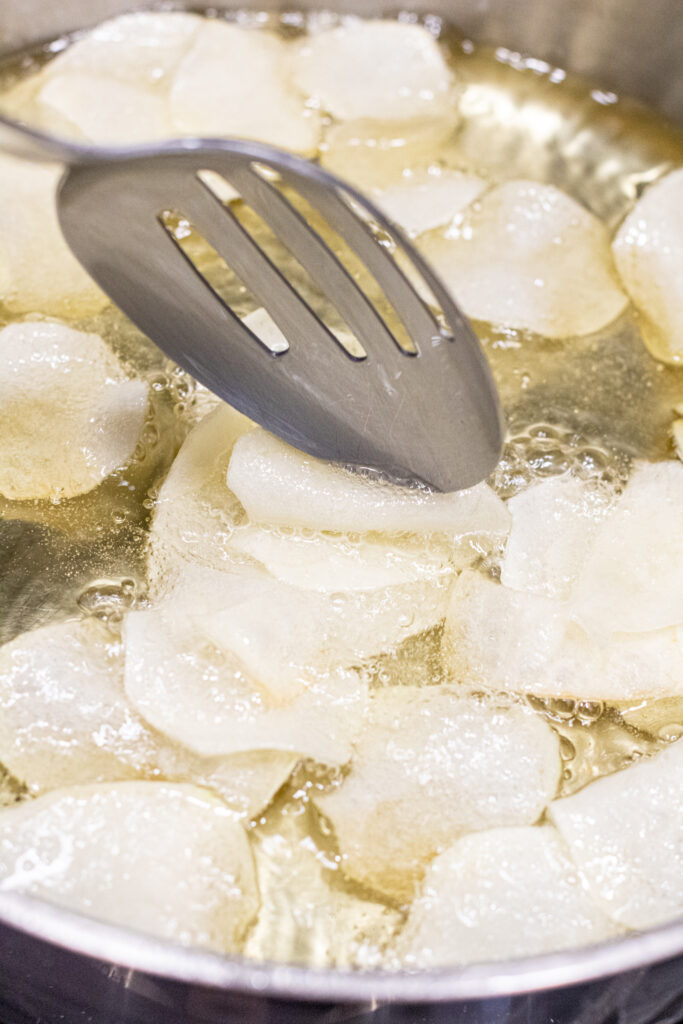 When you make your own Homemade Potato Chips, while they fry, you can use your slotted spoon to fold over some of the chips and hold them for a few seconds to create more of those coveted folded chips!
Step 5: No matter what you do with them, (fold or leave flat), after a few minutes and they begin to brown, remove them from the hot oil and let drain on a paper towel-lined plate, in a single layer, and then sprinkle with salt.
Single Layer: This is SO important to keep the crispiness of the homemade chips. You need to keep them in a single layer in order to maintain the crispiness. If you pile them on top of one another, you will create soggy chips. And soggy chips = non-crunchy chips which = sad chips.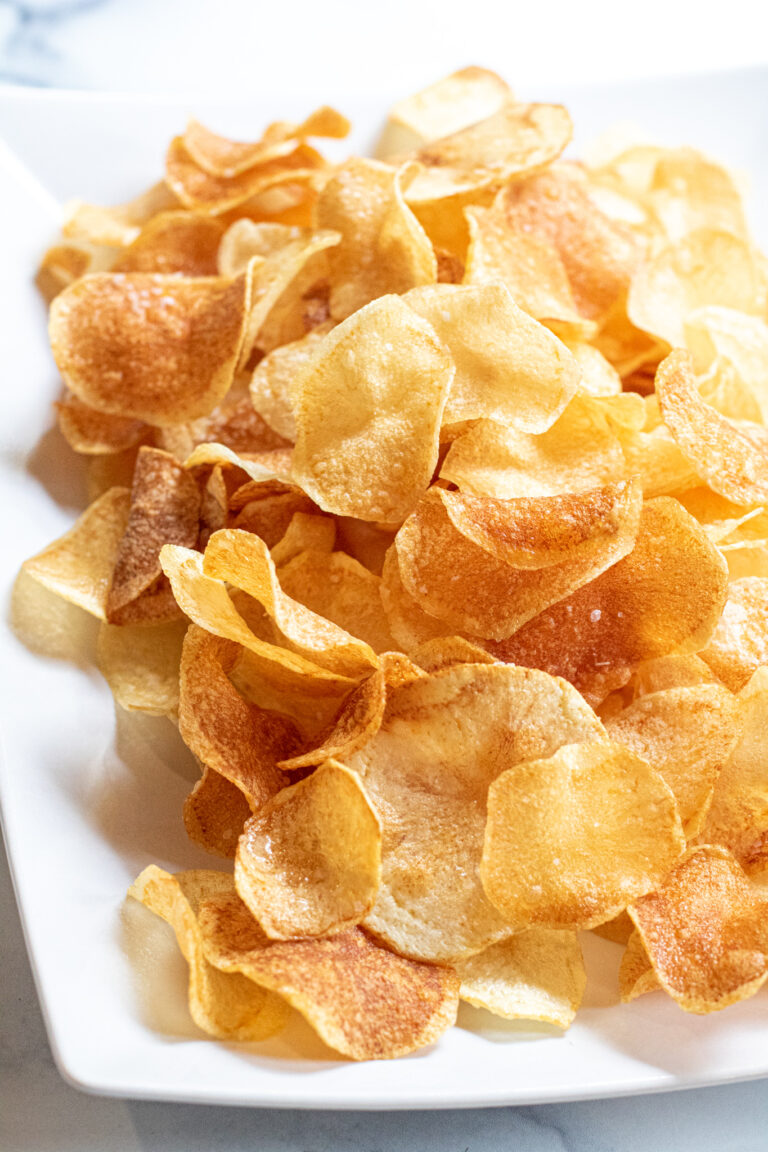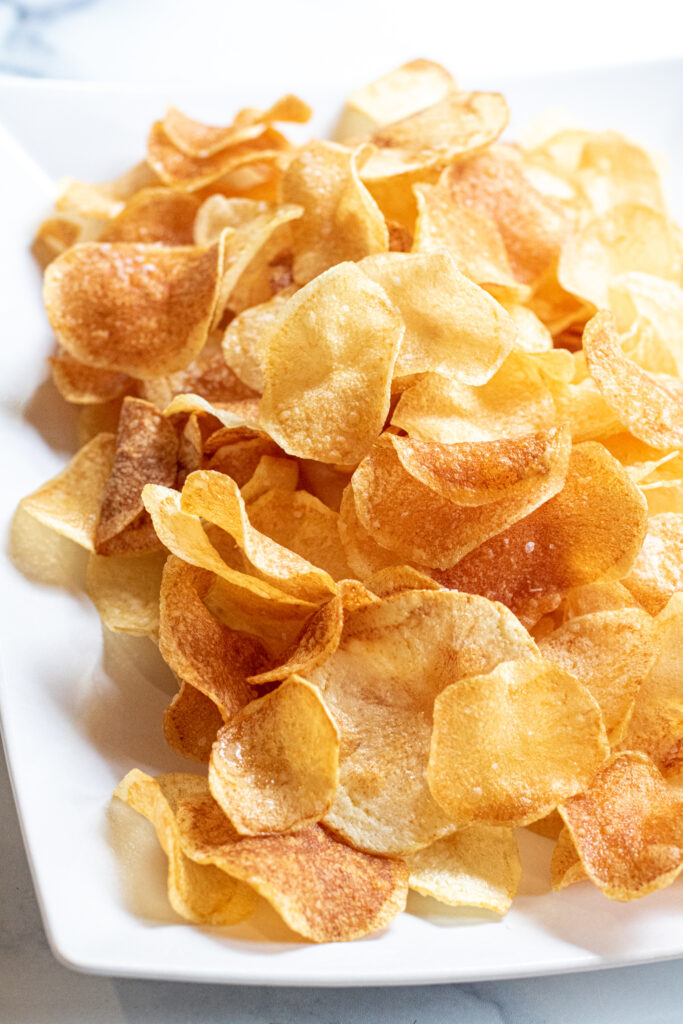 Fully cooled and done!!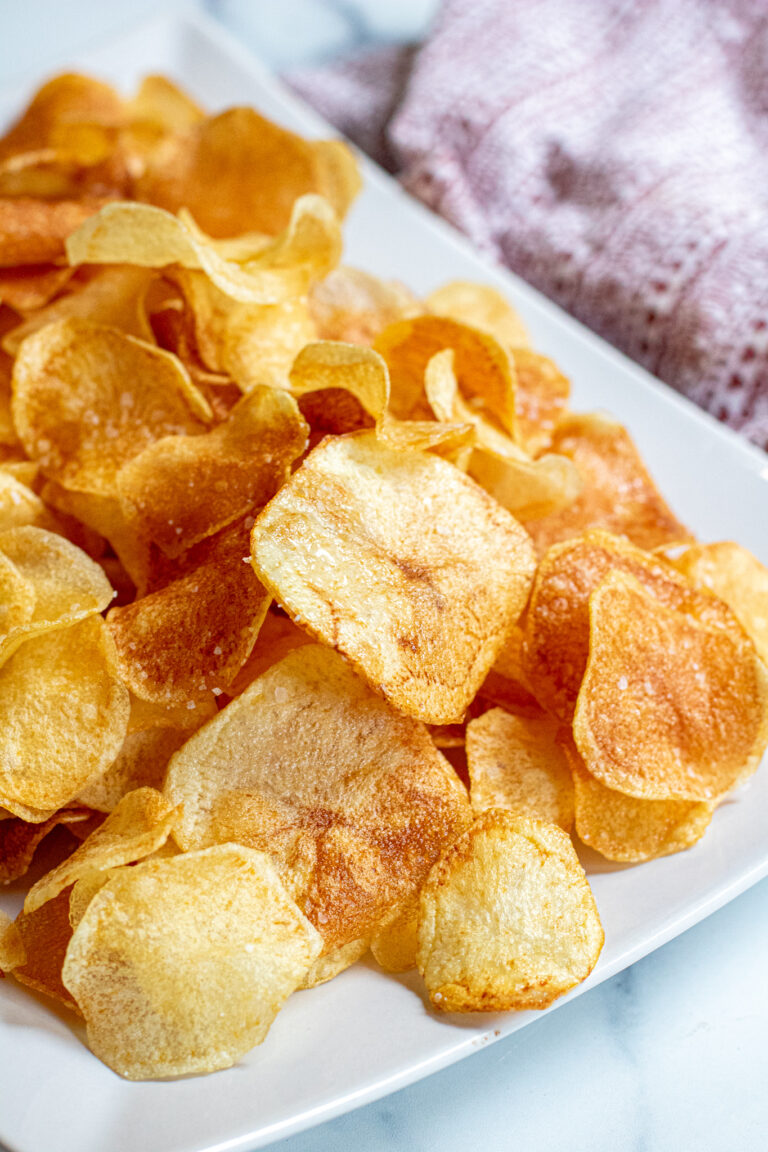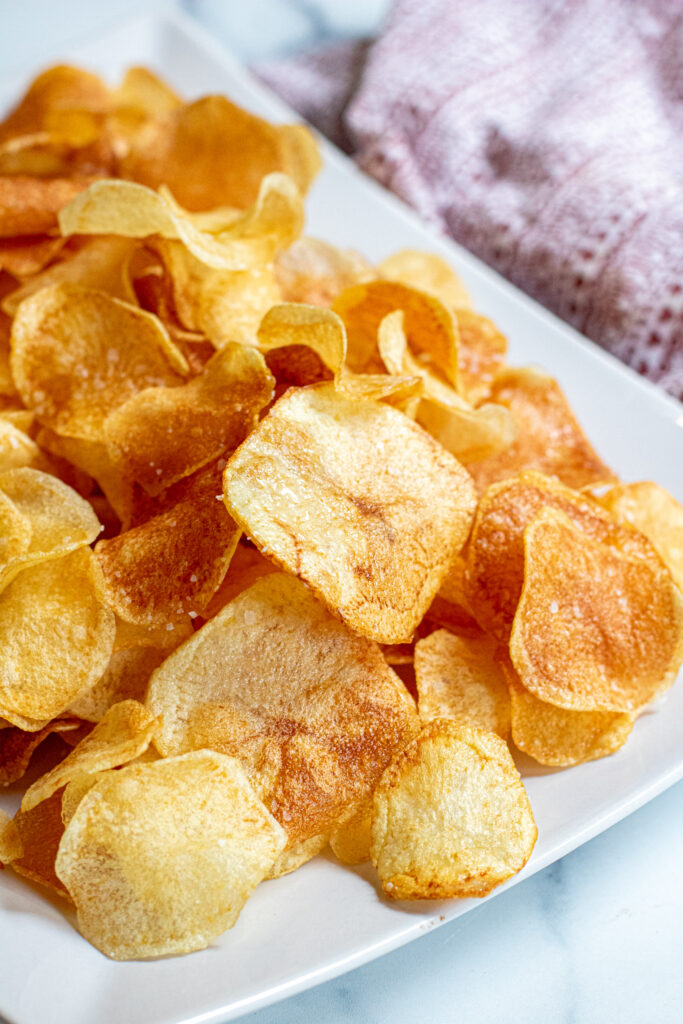 Can't you almost hear that salty crisp from these? Trust me, it's there!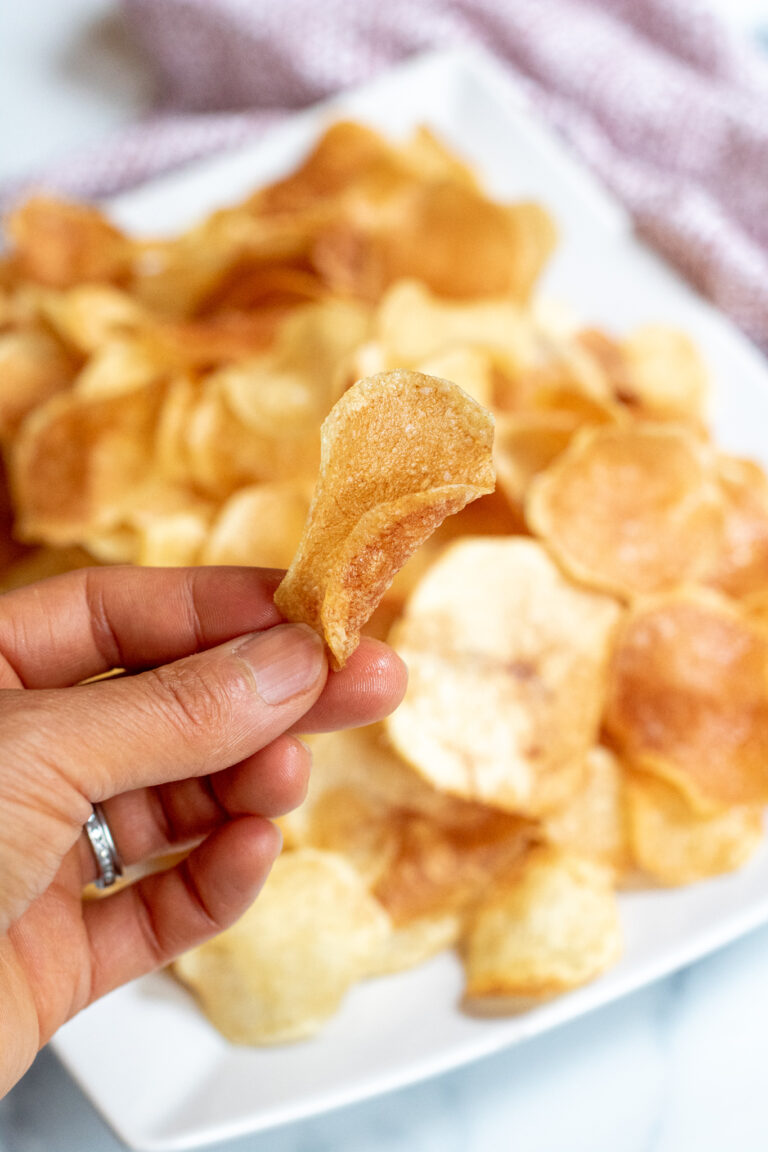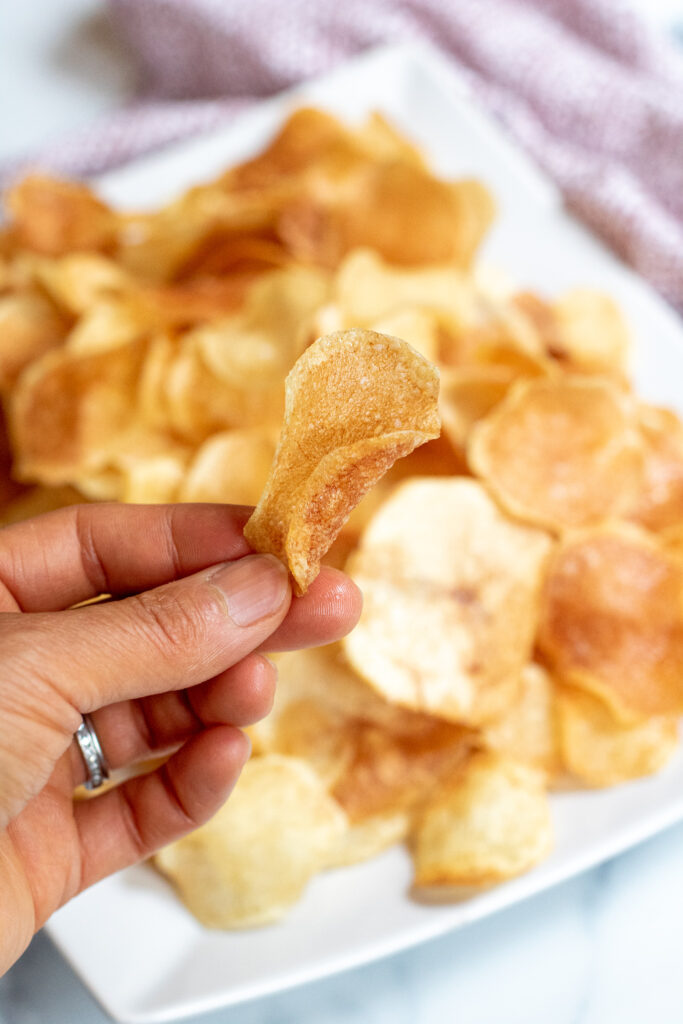 And those folded ones? Definitely my favorite!
Our Other Favorite Crispy Snacks
FAQs
Can I bake them instead?
The short answer is yes. However, they wont get the same crispiness as a nice fry will give them, plus you won't get the folded chips. You still need to use oil, but it is less. If baking instead, see recipe notes.
Do I have to soak them?
Yes, this is key to preventing them from burning because it's what removes the surface starch which will cause the potatoes to brown (and burn) more quickly. It also helps make a crispier chip!
Why are my chips soggy?
Could be a couple of things. #1. They weren't dried well after the soak in water. #2. After frying, they weren't cooled in a single layer. If they're piled all on top of one another on a cooling rack or plate, they will become soggy. #3. They didn't completely cool before they were stored.
Can I season them with more than just salt?
Of course! Just do so right after they've come out of the oil for maximum flavor. We also like to use garlic powder, onion powder, celery salt, or black pepper.
Enjoy! As always, if you make this recipe or any of my others, I love to hear what you think! Leave a comment below, email me, or you can find me on Facebook, Instagram, and Pinterest!
If you want to see more, be sure to sign up for my 5 Easy Ways to Start Cooking From Scratch!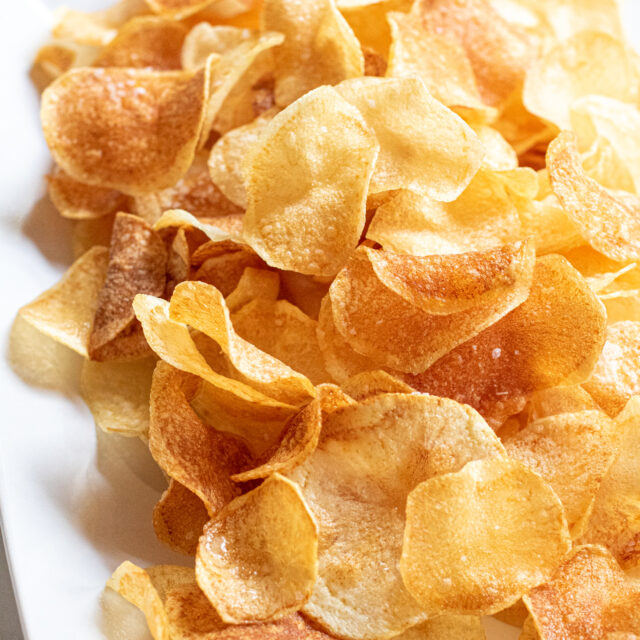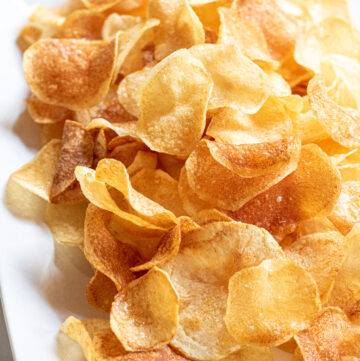 Homemade Potato Chips
Make your own super crispy, homemade potato chips!
Print
Pin
Rate
Servings:
5
2 oz servings
Ingredients
2

lbs

Russet potatoes

3

cups

vegetable or canola oil

1-2

tablespoons

salt
Instructions
Peel potatoes and use a mandoline at one of it's thinnest setting, 1/16 - 1/8 of an inch, and slice potatoes.

Add all of the potato slices to a large bowl, add water so that it just covers all slices. Add a handful of ice cubes to pull out the surface starch. Let sit for 30 mintues.

Meanwhile, line a large casserole dish with a clean terry cloth (or other absorbant) kitchen towel.

After 30 minutes, rinse potato slices in a colander and shake as much of the water out as you can. Then line a single layer of potatoes on the cloth-lined dish. Use either another clean absorbant cloth or paper towels to pat the top of the potato slices dry. Remove the dry slices from towel and add to a bowl or plate for frying. Repeat with the rest of the slices.

Heat oil in a large deep skillet to about oil reaches 350 to 365 degrees.

Working in batches, add potato slices to hot oil - one layer - and cook for 3-4 minutes stirring consistently with a slotted spoon until they begin to brown.

Once browned, remove chips and add to a paper towel lined cooling rack or plate and sprinkle with salt. Be sure to let them cool in a single layer to ensure that they do not become soggy as they cool.

Let completely cool before storing in an airtight container - if they last that long!
Notes
Bake
Follow all instructions for preparing the potatoes and then pre-heat the oven to 450 degrees. Spray baking sheet with cooking oil. Add dried potato slices to a large bowl and add 1 - 2 tablespoons of olive oil, salt, and toss to coat. Line baking sheets with a single layer of chips and bake for 10-12 minutes. Allow chips to cool completely.
Nutrition
Calories:
331
kcal
|
Carbohydrates:
33
g
|
Protein:
4
g
|
Fat:
22
g
|
Saturated Fat:
18
g
|
Sodium:
1404
mg
|
Potassium:
757
mg
|
Fiber:
2
g
|
Sugar:
1
g
|
Vitamin A:
2
IU
|
Vitamin C:
10
mg
|
Calcium:
24
mg
|
Iron:
2
mg