Fresh dill and some tangy vinegar make this German Dill Potato Salad a bright, fresh summer potato salad that's vegan, gluten free, and perfect for all outdoor gatherings!

Ahhh how is it the end of August already?! Every year it seems like it takes longer and longer for summer to arrive, but then it flies faster and faster just the same. Thank goodness for fast easy sides like this German Dill Potato Salad for those outdoor BBQs and gatherings!
It has been a crrazzzyyy summer (err… flashback to every post I've ever written in the summer and you'll probably read the same thing). Ok so every summer is crazy, yes. But this summer in addition to wanting to cram in all the summer fun we can, it's our first summer in our house, the first summer little M can explore as a bipedal, AND I just left the job I've had for 6 years to lean in to a new incredibly exciting career with the Department of Human Services. And, oddly enough, it was one that just kind of landed in my lap. Ok, not kind of at all actually. I'd been working with the incredible Kimberly Dawson of Revolution Life & Business Design and she helped me liberate who I am, what I stand for, what I'm seeking in life and then *poof* this job that I once dismissed years ago as being something unattainable for me, it appeared. As in they called me to interview for it. Coincidence? Noooppee. I could go on and on about how much the work I've done with Kim has improved quite literally, all areas of my life. But instead I'll just say that if you're feeling a bit in a rut, unsettled, or want to take your business / career to the next level, I couldn't even begin to recommend her compassionate insightful wisdom enoguh.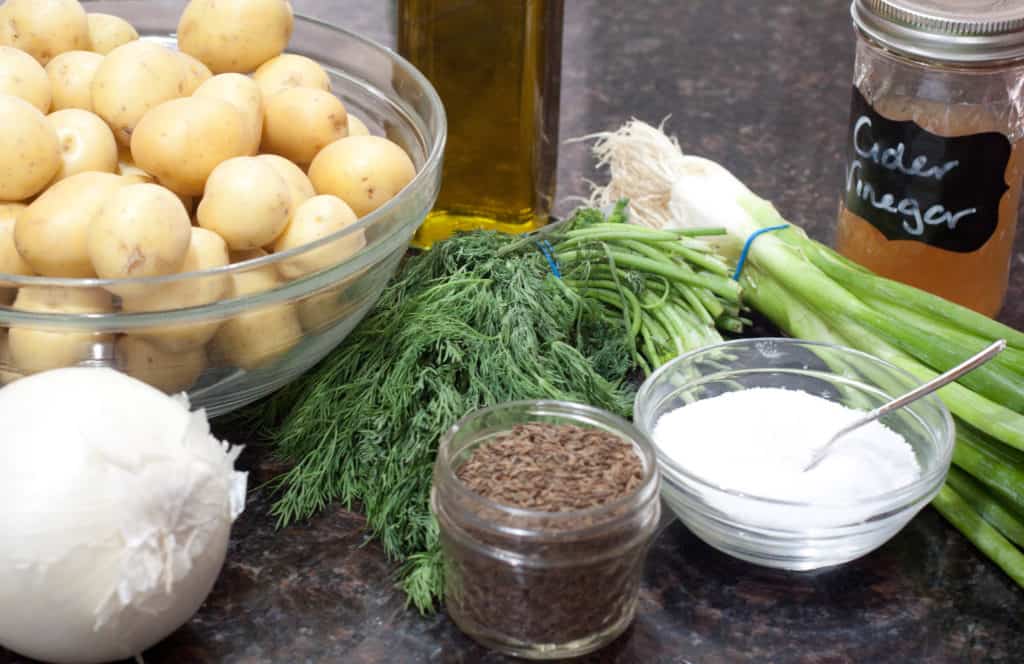 Ok ok, baacckk to this super easy and tasty side dish by Bon Appetit. Because now, more than ever, easy is going to have to be the #1 ingredient in our meals while I get settled into this new job and learn the 8,995,205,102 acronyms that that government is obsessed with using. So far I've gotten down CM3, T&D, ADVSD, and DHS. And those are just descriptors describing my title. >face palm<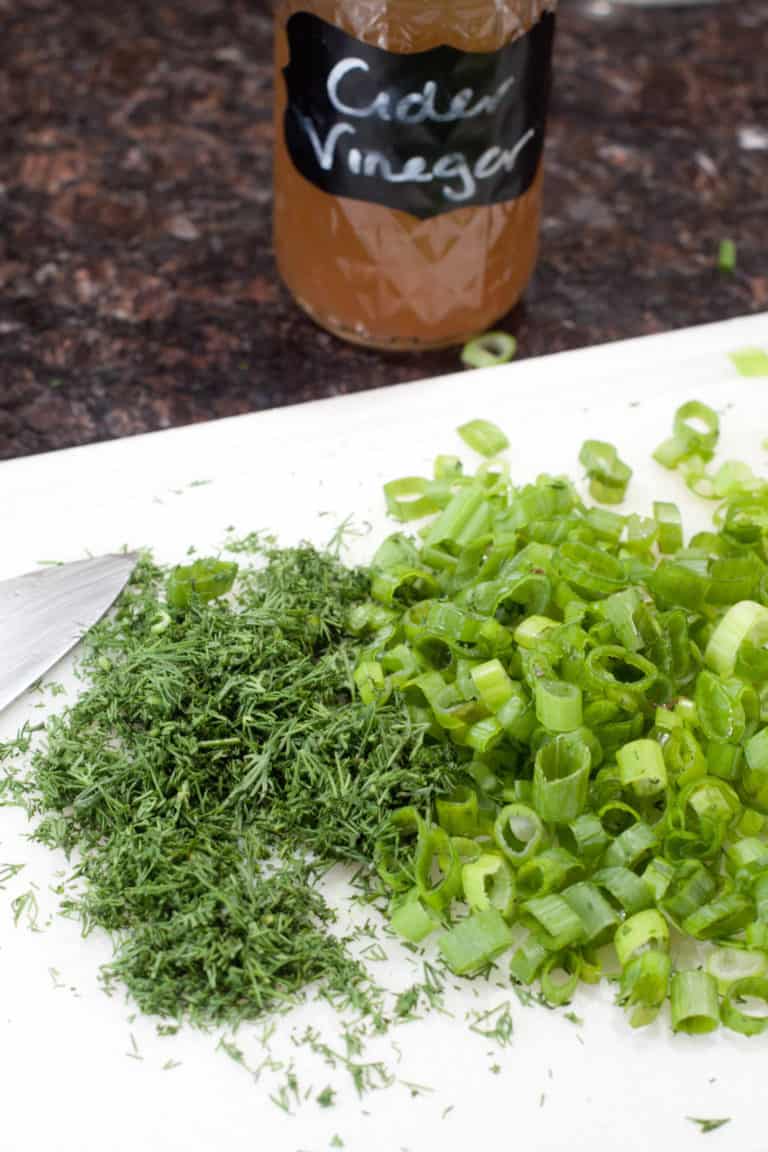 So as anyone who's read this blog knows, in this household we believe that From Scratch DOES NOT have to mean Labor Intensive. But is does mean Fresh and this salad is no exception. It's full of fresh dill and scallions.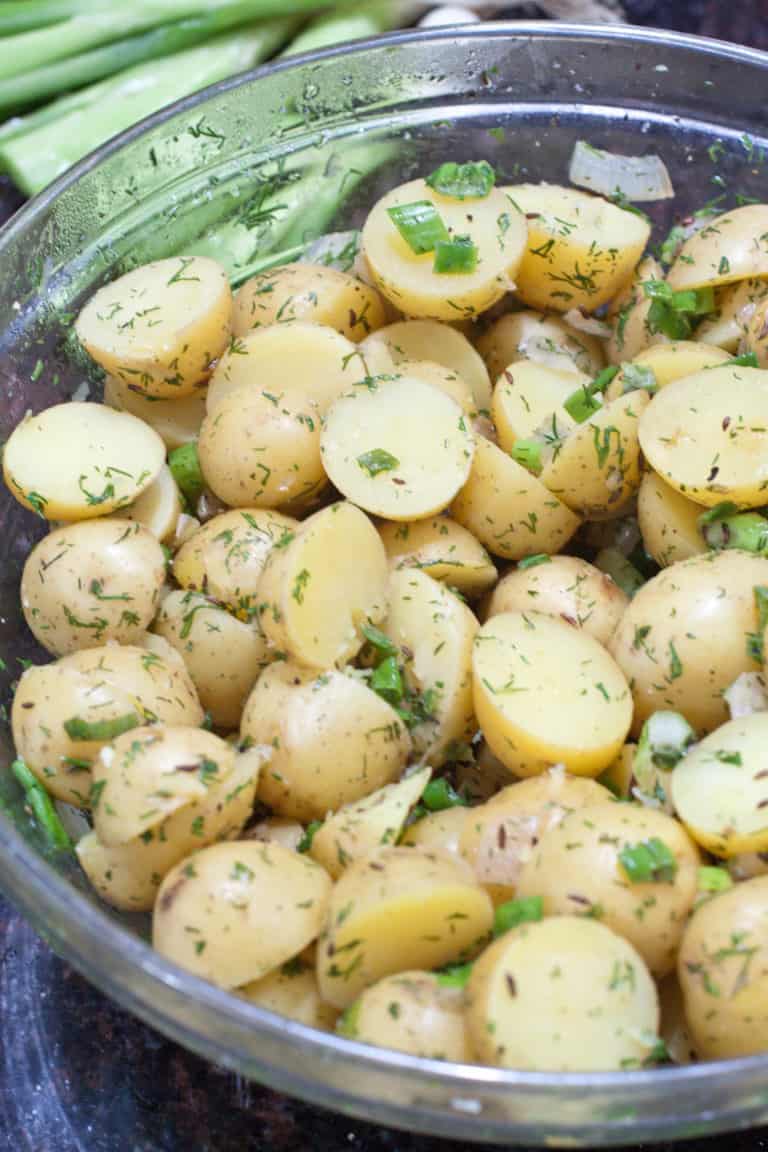 And did I mention how easy it is? Oh I did? Yea well lemme just drive that home again. Boil potatoes. Saute onions, toast (if you feel like it, it not it'll still be delicious) some caraway seeds, chop fresh dill and scallions and mix it together with some apple cider vinegar. Done. Easy, fast AND let me just clue you in on a little secret. The combination of all that fresh dill and the caraway seeds makes this potato salad taste far fancier than it was to make. Impress your friends at those final summer BBQs in while you can – oh and it just happens to be crowd pleasingly vegan and gluten free, too!
Don't forget to follow me on Facebook, Instagram, and Pinterest to see how I'll be continuing to try to make new things From Scratch even with a brand new job and a toddler at home!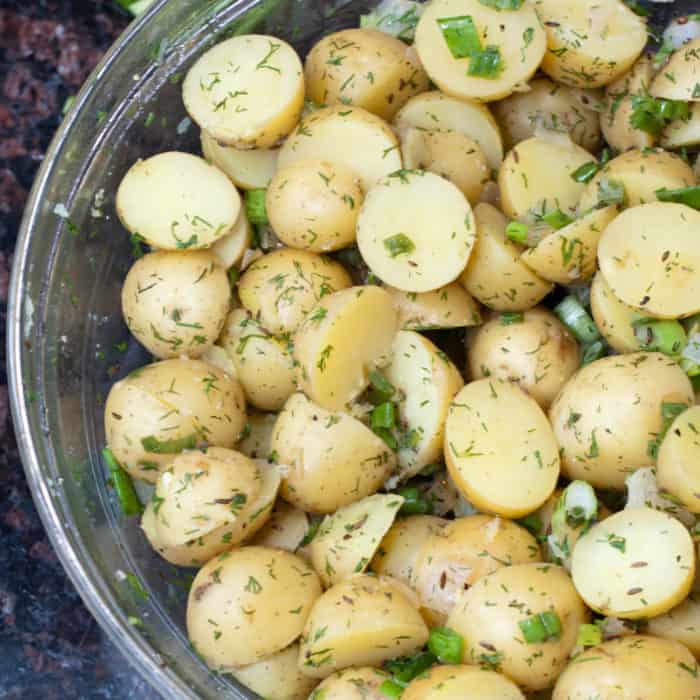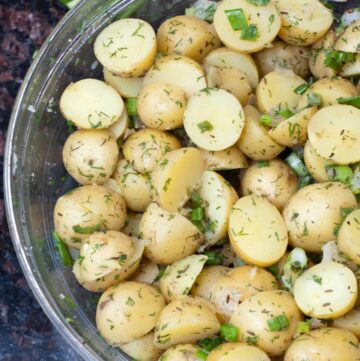 German Dill Potato Salad
Fresh dill and some tangy vinegar make this German Dill Potato Salad a bright, fresh summer potato salad that's vegan, gluten free, and perfect for all outdoor gatherings!
Print
Pin
Rate
Ingredients
2

lbs

small yellow potatoes

halved

2

tablespoons

of fresh dill

chopped

4

scallions

chopped

1/2

white onion

chopped

1/4

cup

olive oil

1/4

cup

apple cider vinegar

1

teaspoon

caraway seeds

toasted

kosher salt and fresh ground black pepper
Instructions
In a large pot of salted water, bring the potatoes to a boil and cook until tender. Drain and set aside.

Meanwhile, heat oil in a medium skillet over medium-high heat. Add onion and season with salt and pepper. Cook, stirring often, until soft, about 5 minutes. Remove from heat and then add vinegar.

Add mixture to potatoes, add scallions, dill, and caraway seeds and stir well. Season with salt and pepper to taste.