This easy Asian Cucumber Salad recipe is the perfect way to use those garden fresh cucumbers! It comes together in minutes, is healthy, light, and requires only a few ingredients. It is a summer side salad that will complement almost any summer menu!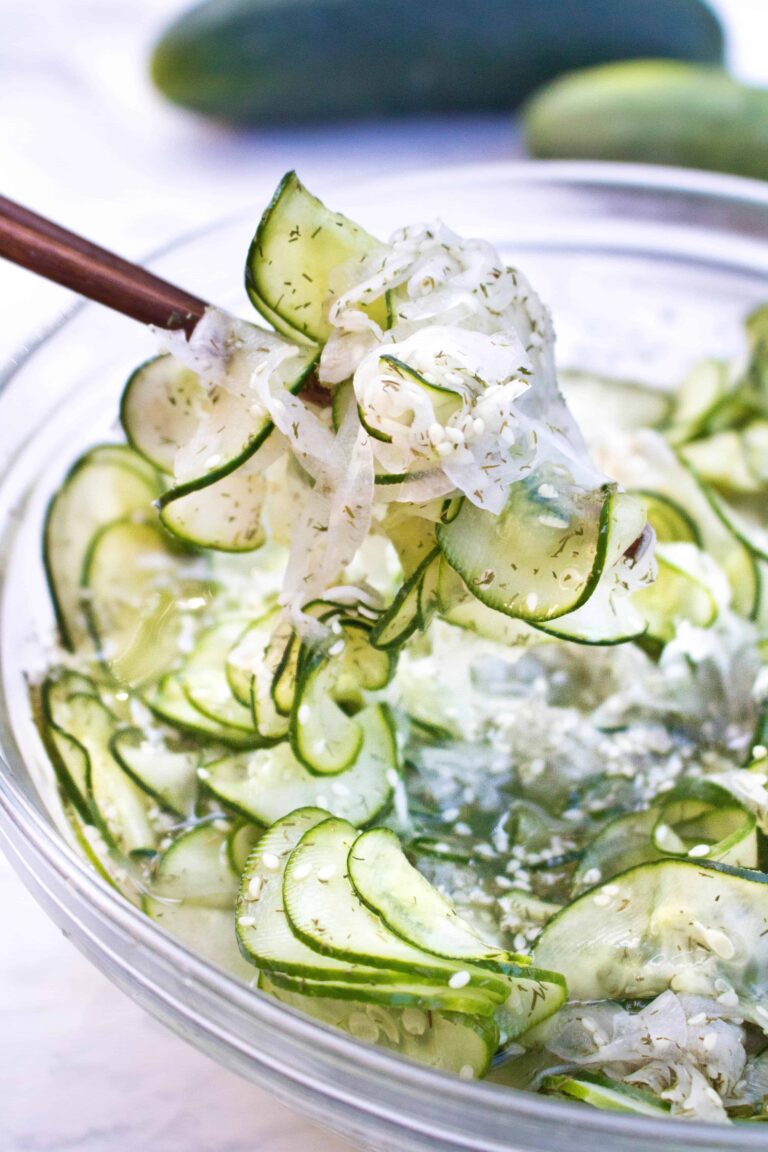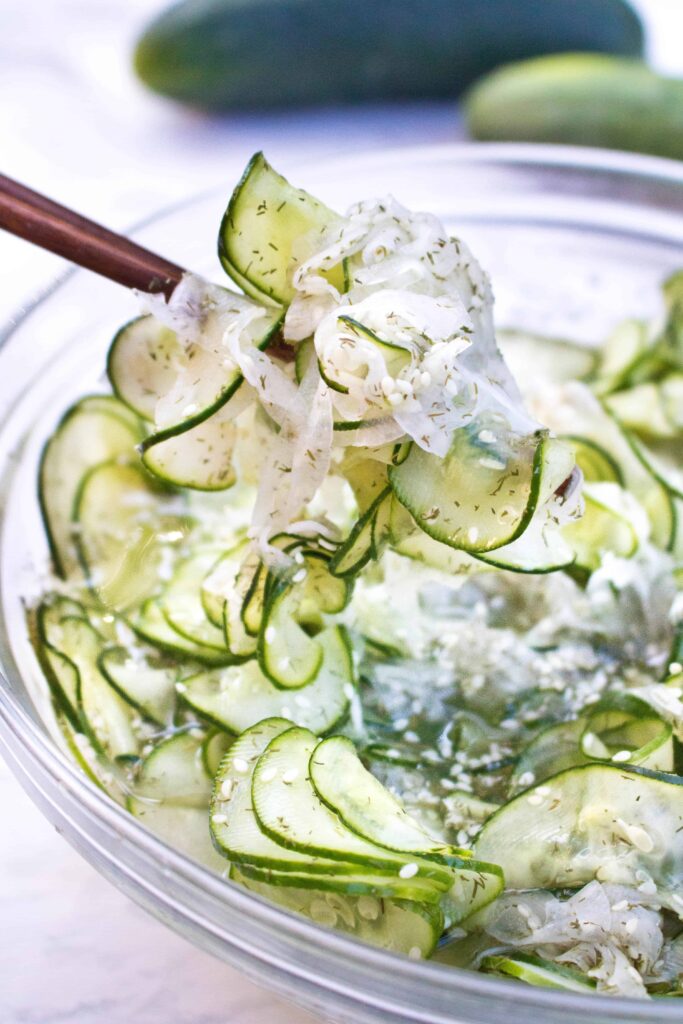 Oh, cucumbers. I love you so. Even more now with this Asian Cucumber Salad recipe. Our cucumber plants are doing so well this year that we are swimming in fresh cucumbers, which is perfect for this light, healthy, and fresh cucumber lovers salad!
Ingredients Needed: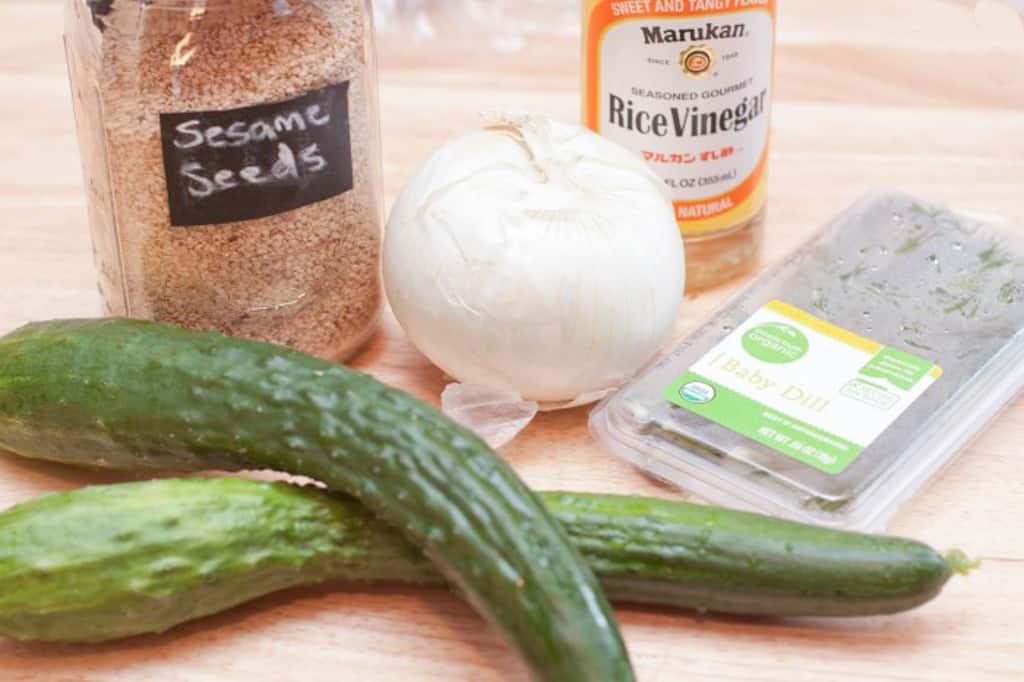 Cucumbers - We prefer Japanese, English, or Kirby cucumbers for this cucumber salad recipe.
Onion - White is our preferred although a sweet yellow would also work!
Sesame Seeds - Toasted to really bring out their flavor!
Seasoned Rice Vinegar - You want to make sure it's labeled "seasoned" because this rice vinegar is flavored with a little salt and sugar vs. a regular rice vinegar.
Fresh Dill - You can use dried, too but fresh is definitely preferred. See recipe notes.
How to Make Asian Cucumber Salad
This cucumber salad comes together super fast, especially if you have handy dandy mandolin to do all of the supppperrr thin slicing for you! Then it's easy as 1, 2, 3:
Slice cucumbers and onions (the thinner the better!)
Sweat cucumbers.
Toast your sesame seeds (be careful they don't burn!)
Combine the cucumbers and onions with the rest of the ingredients, chill, and serve!
Do I Really Need a Mandolin?
No, it's not 100% necessary, but it'll make everything a lot faster and it'll ensure super thin and even slices. Plus, it's a really handy tool to have around, we use this one all of the time:
Plus, then you can use it to zoodle your zucchini! Which means you can make these Garlic Parmesan Zoodles or Shrimp Zoodle Scampi.
It also means nice thin apple crisps for one of my favorite snacks, Homemade Potato Chips and you can get the signature crinkle-cut for some Bread and Butter Pickles!
Do I Have to Sweat the Cucumbers?
Sweating the cucumbers, even just for 30 minutes, will help them to release the excess water.
If you're short on time, don't sweat it - literally! I sometimes make this salad without sweating/draining the cucumbers and it is still delicious - although it will add water to your dish, which means the rice vinegar is diluted a little.
I would definitely suggest doing it if you're going to bring this Asian Cucumber Salad as a side dish for a get-together (removing the excess water does help the salad keep longer), but if you just want a super simple, flavorful quick lunch, then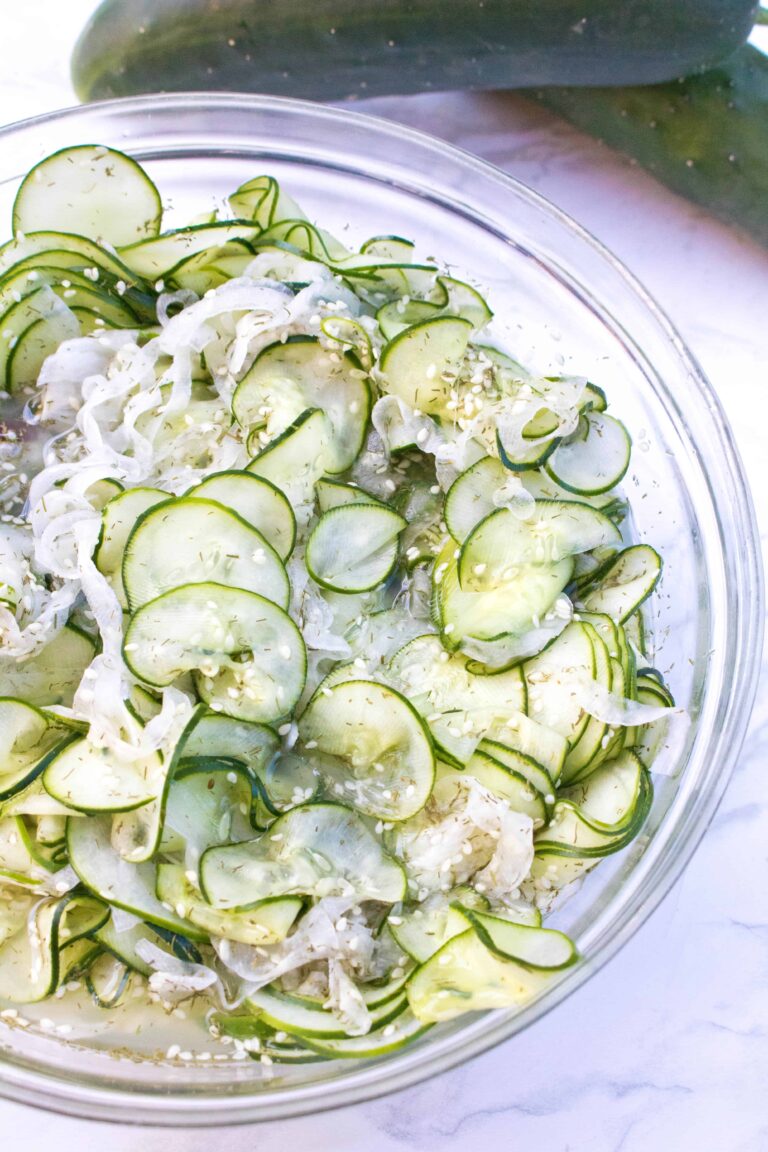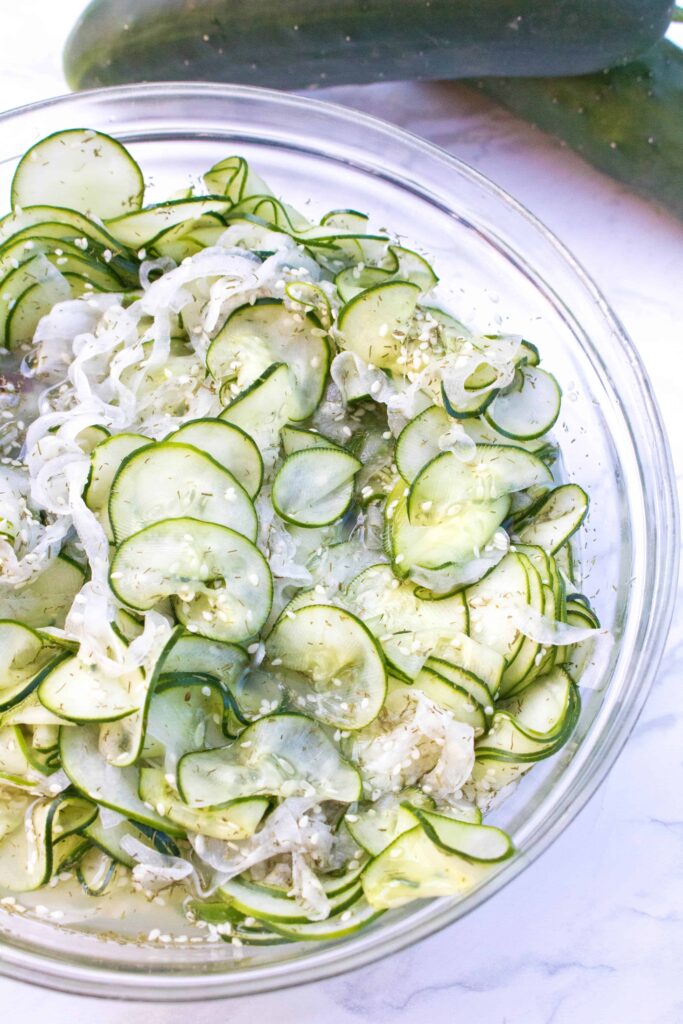 SO fresh. SO simple. SO easy to make. This Asian Cucumber Salad recipe is perfect for your summer cucumbers or just some good clean, healthy eating. We make this all of the time as a side to some of our favorite Asian Inspired dishes and for a quick and easy lunch!
FAQs
What Cucumbers Should I Use?
I personally prefer to use English, Japanese, or Kirby because they are the crunchiest. The standard cucumbers that you get in the grocery store are typically American Slicing. They're a little less firm, have a slightly higher water content, and often a kind of waxy coating, which is why they're best for recipes that require peeled cucumbers. I would avoid using a thicker cucumber with bigger seeds like Lemon or Burpless cucumbers for this recipe.
Should I peel them?
It depends on the cucumber you use, but I usually just give a good scrub with some water and then slice with the skin on. Just make sure you get all those prickly little spines off of the skin first, especially if you're using a variety like Kirby.
Do I have to Toast the Sesame Seeds?
You don't have to, but it brings out their nutty flavor more and it makes them crunchier. Plus, it changes their nutritional value and actually brings out more calcium! But totally optional - it's still delicious without them toasted.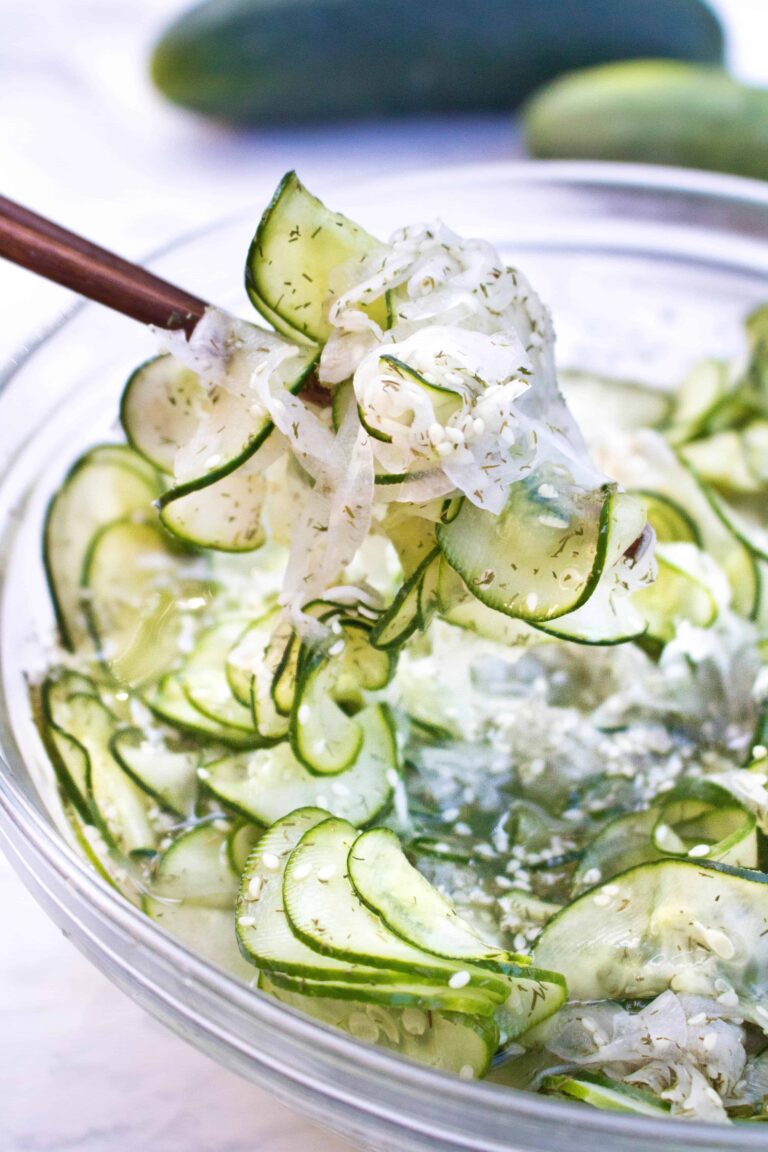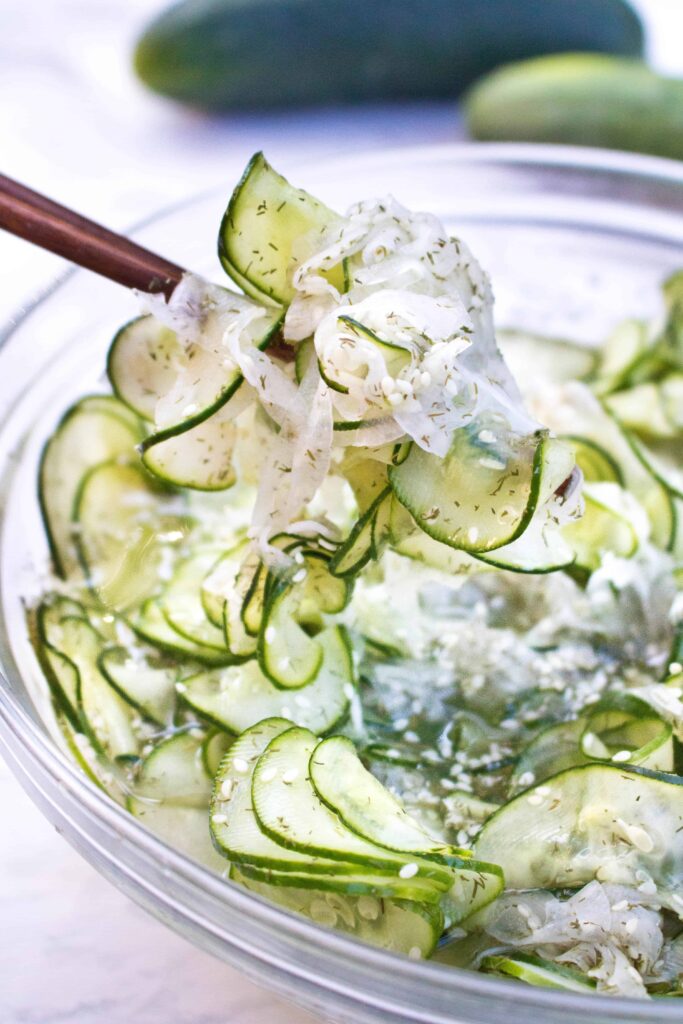 Other Great Cucumber Recipes:
Israeli Couscous Cucumber Salad
Enjoy all of those fresh summer cucumbers, friends!
Have you made this Asian Cucumber Salad with some of your fresh or farmer's market cucumbers? I'd love to hear about it! Follow me on Facebook, Pinterest, and Instagram to share your Served From Scratch creations!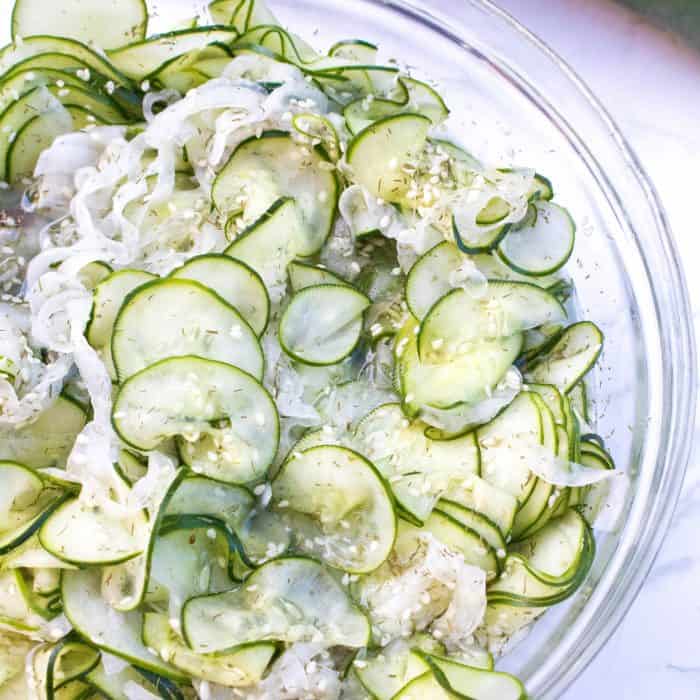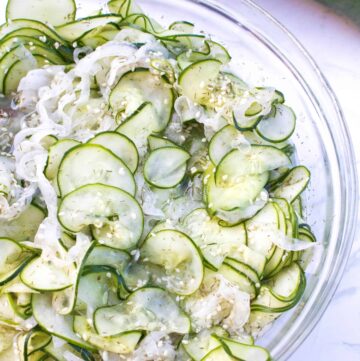 Asian Cucumber Salad
Garden fresh cucumbers sliced incredibly thin with white onion make this Asian Cucumber Salad incredibly light and refreshing!

Print
Pin
Rate
Ingredients
2

large cucumbers

English or Japanese

2

teaspoons

kosher salt

1/4

white or vidalia onion

sliced in very thin half rounds

1

tablespoon

sesame seeds

toasted, optional

1/3

cup

seasoned rice wine vinegar

1

tablespoon

fresh dill, minced
Instructions
Slice cucumbers as thin as possible (with mandoline or by hand). Place a colander either in a clean sink or over a bowl. Layer the cucumbers in a single(ish) layer in the colander and sprinkle with salt. Repeat until all cucumbers are salted. Let sweat for at least 30 minutes or up to 60 minutes to release excess liquid.

Once cucumbers have drained, heat a small saute pan over medium heat. Add sesame seeds and toast for 1 -2 minutes stirring constantly so they don't burn. This step is optional.

Shake off excess water. Add cucumbers and thinly sliced onions to a bowl. Add rice wine vinegar, dill, and sesame seeds. Mix well. Cover and refrigerate for at least 10-15 minutes.

Serve and enjoy!
Notes
Substitutions
Cucumbers: English and Japanese Cucumbers work best for this recipe but you can't find them, use a regular cucumber but peel because the skin is much tougher.
Onion: Yellow onions work well, too.
Dill: Substitute 1 teaspoon of dried for the 1 tablespoon of fresh.
Sweat the Cucumbers: This step is not required, but it will help reduce the amount of water released from the cucumbers into the salad, which can dilute the flavors.
A mandoline is not required but it will help!
Nutrition
Serving:
4
g
|
Calories:
41
kcal
|
Carbohydrates:
7
g
|
Protein:
1
g
|
Fat:
1
g
|
Saturated Fat:
1
g
|
Sodium:
731
mg
|
Potassium:
240
mg
|
Fiber:
1
g
|
Sugar:
3
g
|
Vitamin A:
158
IU
|
Vitamin C:
5
mg
|
Calcium:
44
mg
|
Iron:
1
mg