This post may contain affiliate links. Read my disclosure policy.
Garden fresh cucumbers sliced incredibly thin with white onion make this Asian Cucumber Salad incredibly light and refreshing!
Oh, cucumbers. I love you so. Even more now with this Asian Cucumber Salad. Our cucumber plants are doing so well this year, I'm pulling at least one a day! Heaven. I grew up snacking on raw cucumbers and tomatoes from our garden. My first apartment after high school when I was 18 started in the summer after graduation and I remember the first time I went to the grocery store to go shopping for myself, all by myself like the 'adult' that I thought that I was, I was appalled at how expensive produce was. AND how terrible it tasted. I had been so spoiled my entire life growing up with my dads huge gardens where I could prance down there, grab some tomatoes, cucumbers, or whatever other veggies I wanted whenever I wanted them. So anytime I visited my parents, I was sure to take a care package of fresh veggies home with me. Since then, I've moved so much, lived in so many little apartments, or have just been way too busy to have a garden. This year though I am soooo excited that not only were we able to have a garden, but we have one that's doing so well!

Since I still had a bunch of pickles, last night I decided to make one of my favorite go-to, super fast, super easy, and really healthy salads, an Asian Cucumber Salad.
Even better, we finally have a mandolin! My studly husband got me this bad boy for our anniversary. To which he said, "I know some people may balk at me buying you kitchen appliances (I got a sweet point and shoot thermometer too for cheese making!), but I know my wife," And he does. I love this mandolin so much; I can't believe I went so long without one!
If you don't have a mandolin you can just slice the cucumbers super thin. Then I just added some super thinly sliced onion, minced dill, toasted sesame seeds, salt, and rice wine vinegar.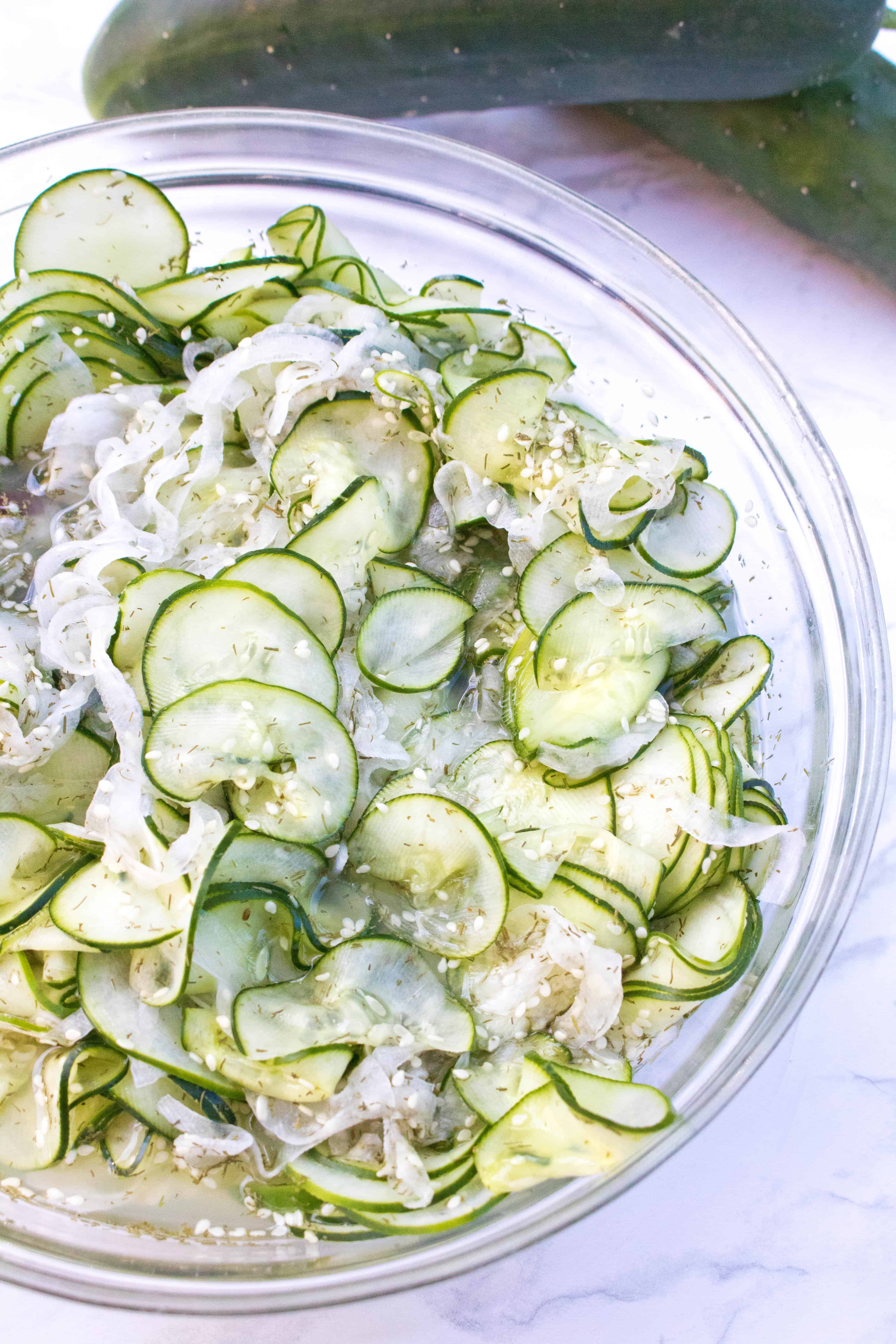 A good mix and 20-30 minutes to marinade in the fridge and we had a wonderfully flavorful and healthy side salad for dinner! I also took leftovers to work with me for lunch which allowed even more marinade time.I love love love this Asian Cucumber Salad. So summery, so fresh and light, and you can beat a salad made from home grown cucumbers!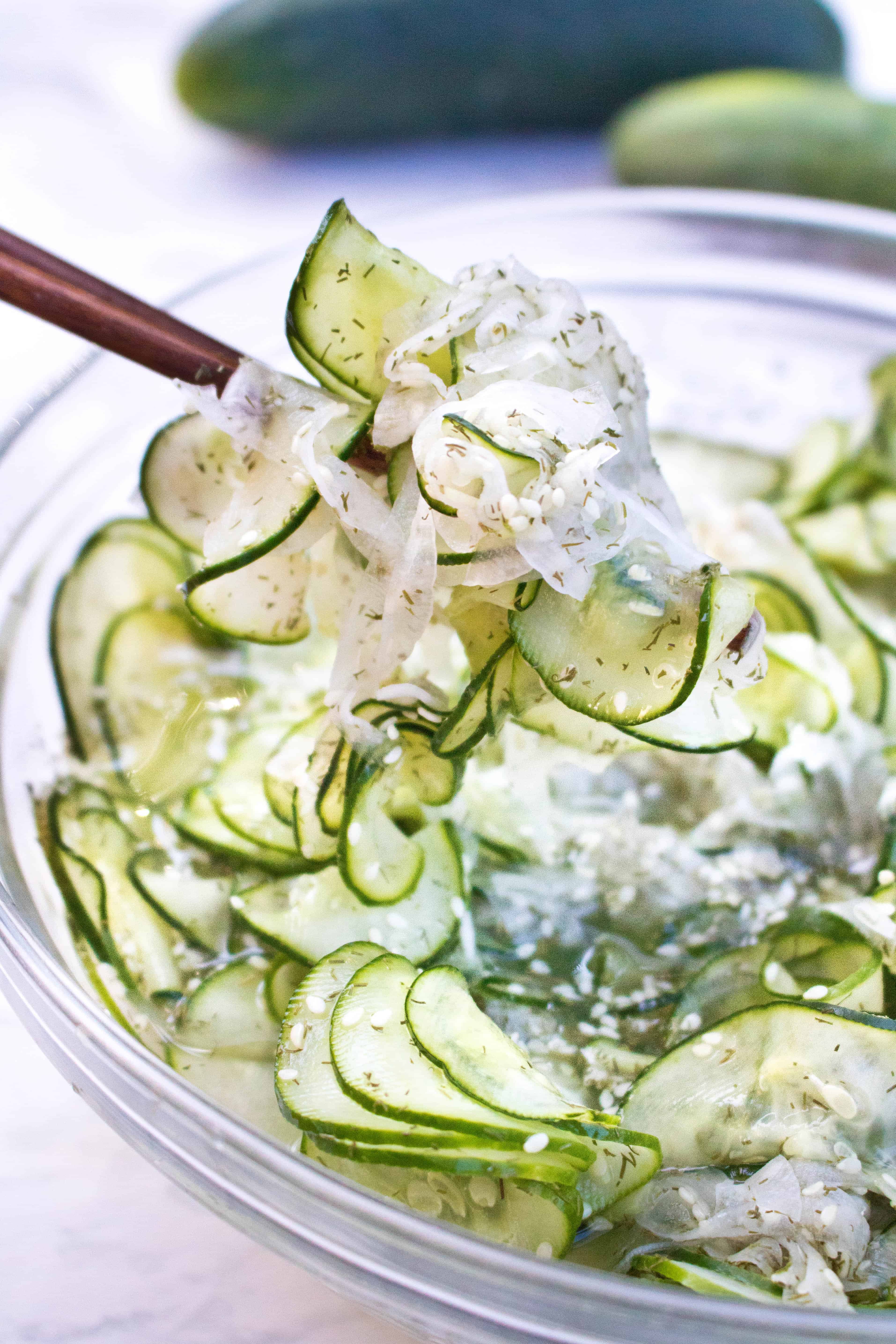 I make this salad non-stop in the summer, every year and it gets better each time! Or maybe my cucumbers get better every year. Either way, this recipe is a summer staple in our house.
Have you made this salad with some of your fresh or farmer's market cucumbers? I'd love to hear about it! Follow me on Facebook, Pinterest, and Instagram to share your Served From Scratch creations!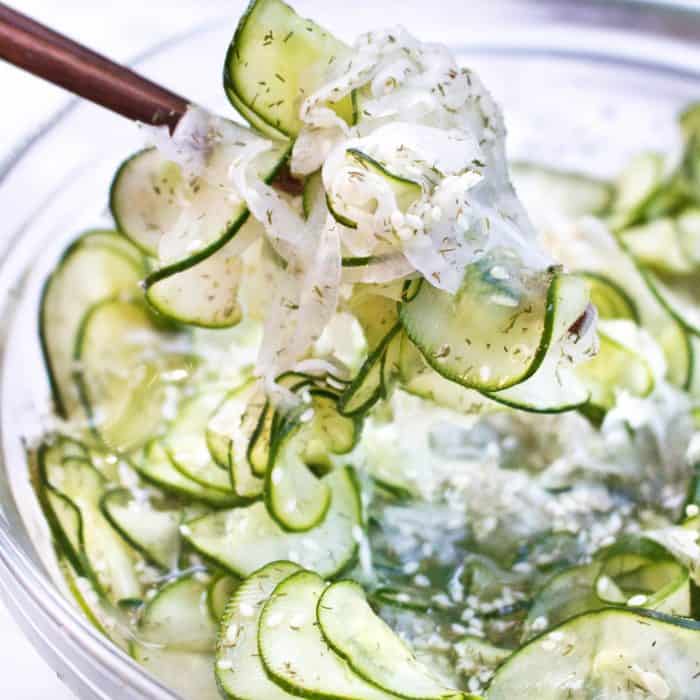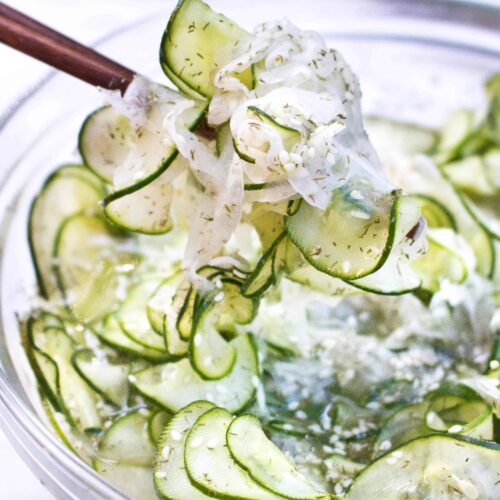 Asian Cucumber Salad
Garden fresh cucumbers sliced incredibly thin with white onion make this Asian Cucumber Salad incredibly light and refreshing!

Print
Pin
Rate
Ingredients
2-3

large English or Japanese Cucumbers

1/4

sweet onion

1

tablespoon

toasted sesame seeds

1/3

cup

seasoned rice wine vinegar

1

tablespoon

fresh dill, minced

3/4

teaspoon

kosher salt
Instructions
Slice cucumbers and onions as thin as possible (with mandolin or by hand). Add to bowl with dill, salt, sesame seeds, and rice wine vinegar. Mix well. Cover and refrigerate for at least 20 minutes.

Serve and enjoy!