Watching carbs? Then make "Zoodles" with some fresh zucchini for this healthy, fast, and easy Shrimp Zoodle Scampi!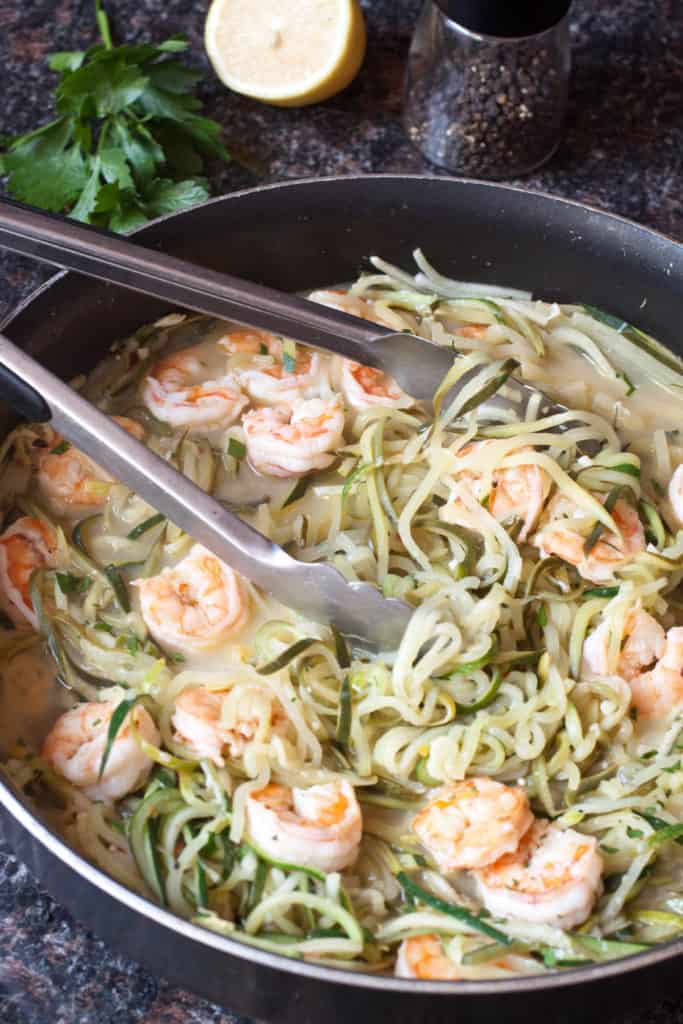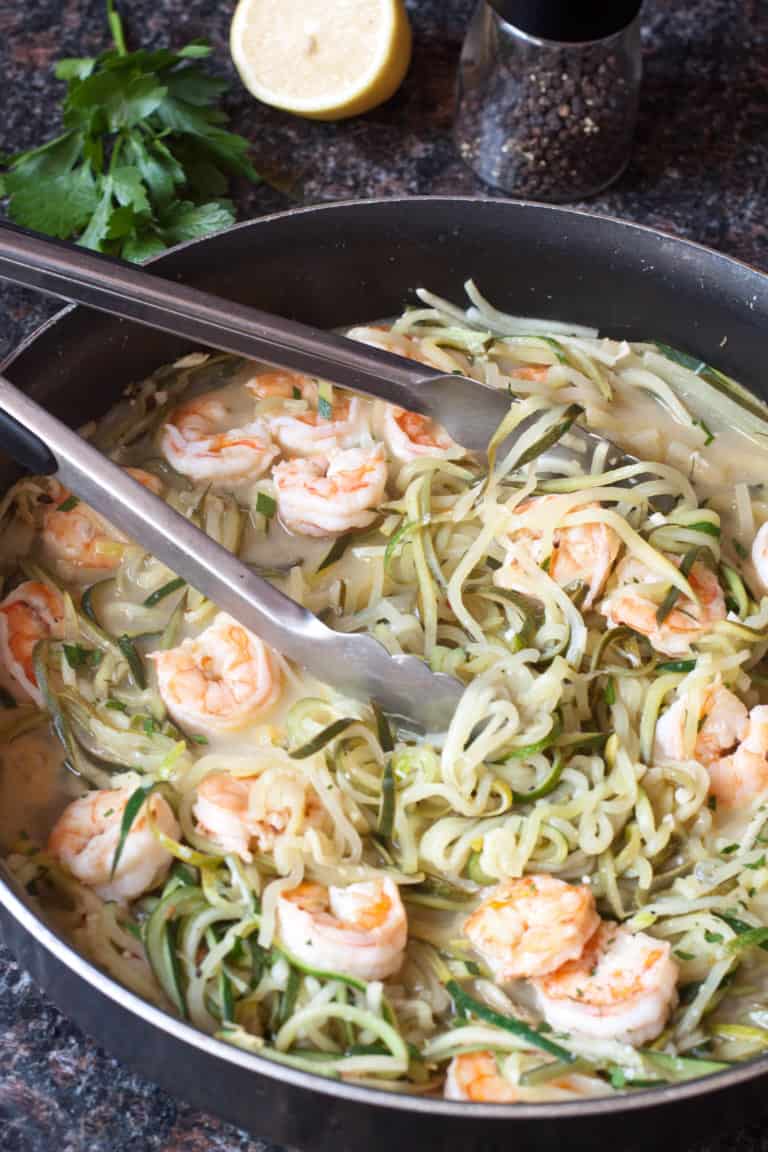 You guys. I have an incredibly embarrassing confession to make. I have been wanting to make "Zoodles," or zucchini noodles, for soooooo long. Like we're talking years. YEARS. But I haven't wanted to buy / store yet another kitchen gadet - a spiralizer. So for years, YEARS, I have deprived myself from the wonderous amazing deliciousness that is a zucchini noodle because of this reason. Annnndd it turns out a gift from my studly husband for 1st wedding anniversary FOUR years ago (can I again emphasize the YEARS), a mandolin, CAN ZOODLE MY ZUCCHINIS. >face palm<Needless to say, this discovery was both exciting and oh-my-god-I'm-an-idtiot inducing. However, I'm trying to let go and not dwell on all of the YEARS of zoodles I've lost, and I'm determined to make up for this terrible terrible oversight. Therefore, I've made this Shrimp Zoodle Scampi four times in the past month. Once for every precious year missed... Cue my husband's eye rolling at what he "affectionately" calls my flare for the dramatics. 😉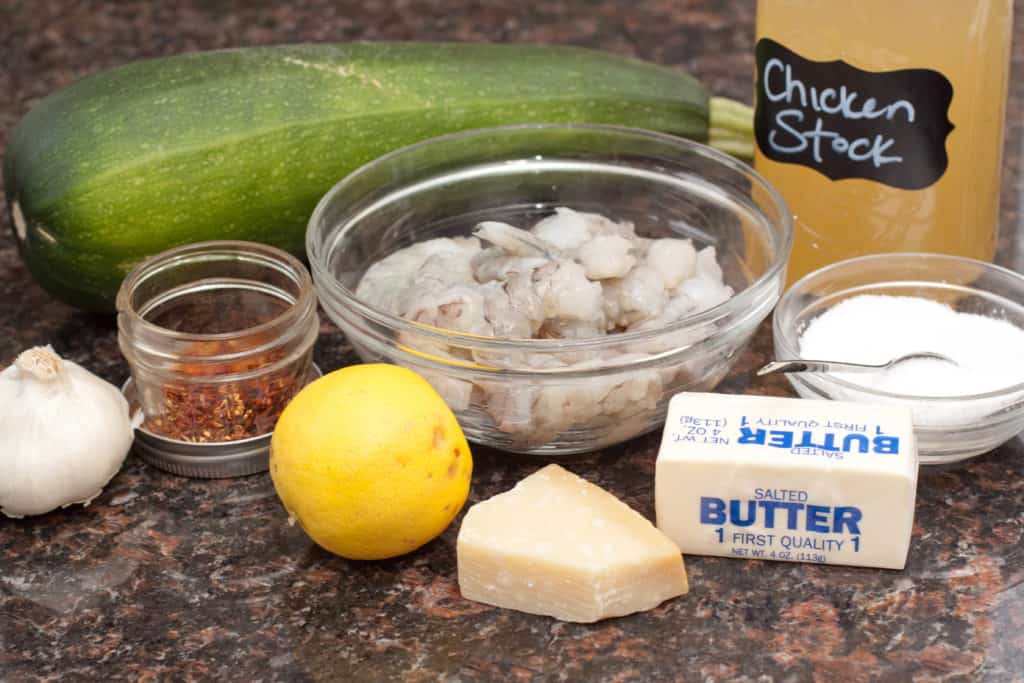 Did I mention how easy this Shrimp Zoodle Scampi is? It's adapted from one of Damn Delicious' recipes and I llooovveee it. Once a week love it. Plus we get to use our abundance of fresh zucchini from our garden and some of our (clarified) Chicken Stock From Scratch.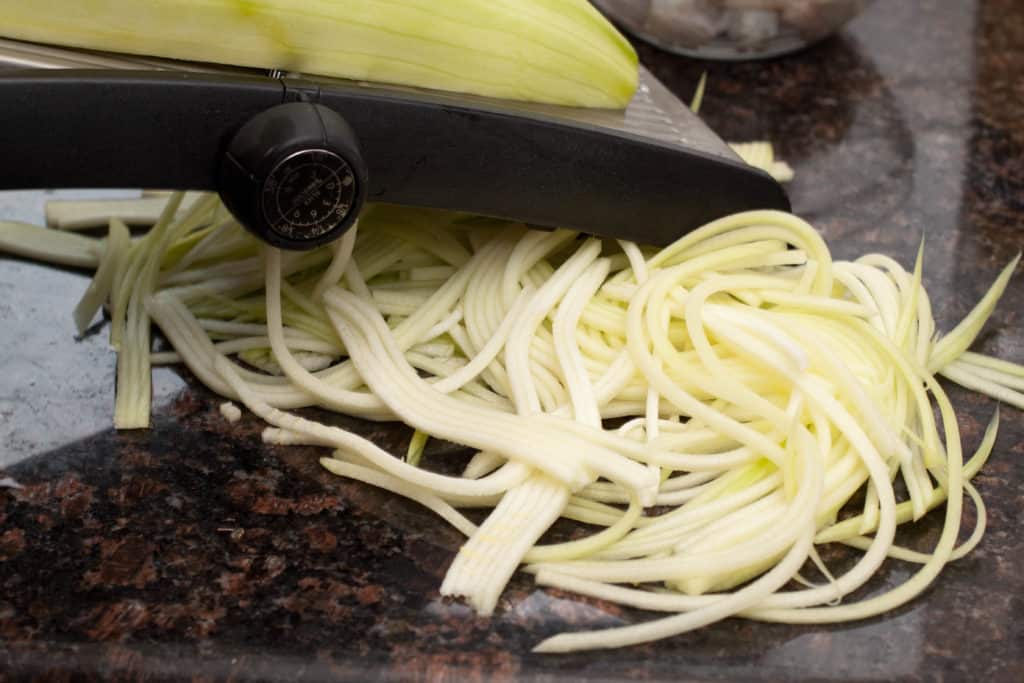 And here's our lovely mandolin doing it's zoodle thing. Seriously how I didn't know it could do this... I'm still in shock. So this picture shows some peeled zucchini being zoodled. Don't peel it, there's no need. Plus, it makes the dish look a terribly unappealing bland dull yellow color. Well, actually, it just looks like it's regular pasta.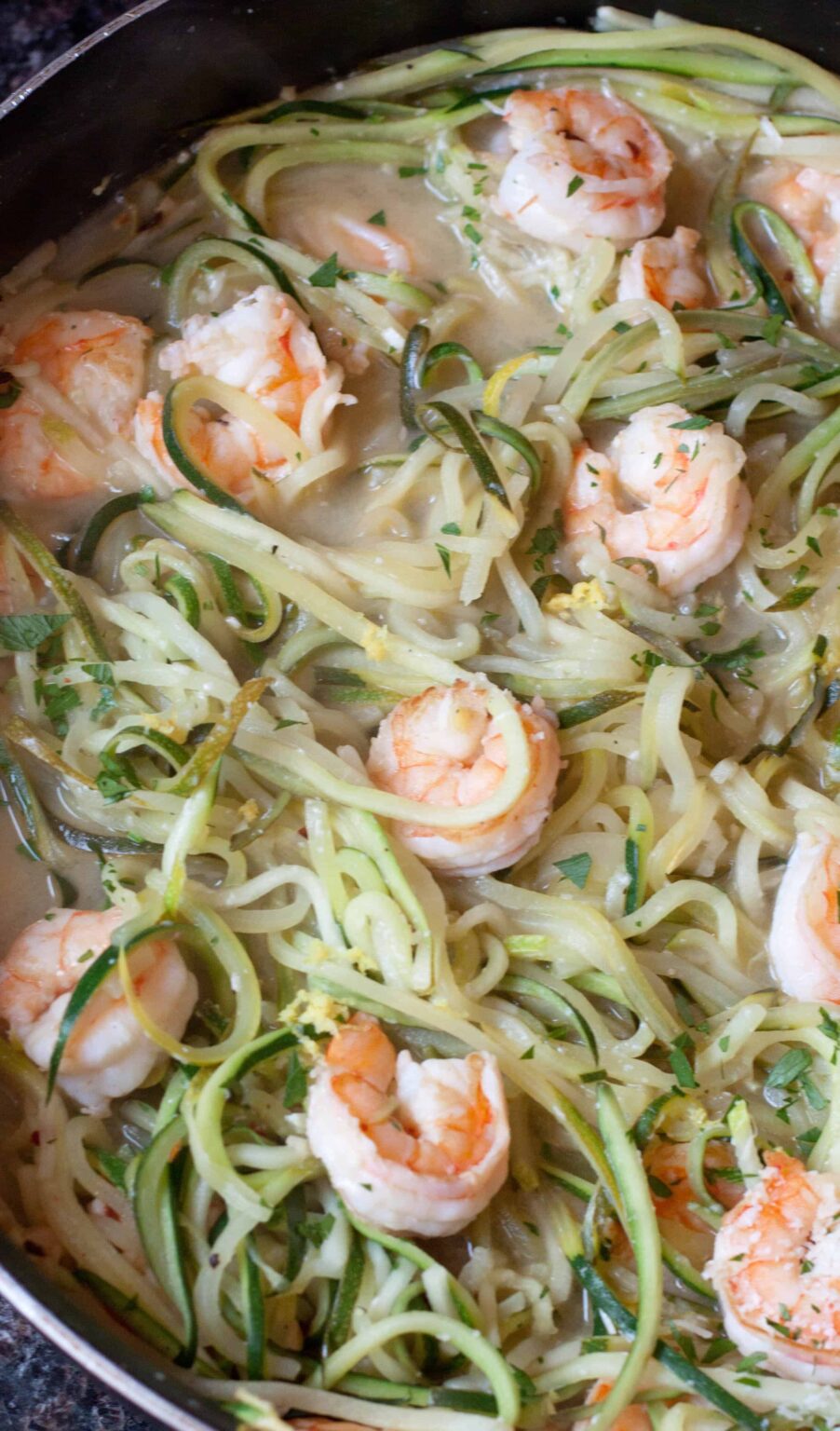 So I know you hear "it's so easy!" all of the time. So let me put it this way: I can make this dish for dinner with a 15 month old AND after I've worked a long day at a brand new job where I'm learning a crap ton of new things and basically a whole new language in the form of medical coding amidst meeting with clients who range from 29 year olds with Hodgkin's Disease to someone who's had their foot amputated because they're unable to manage their own diabetes. It's that easy.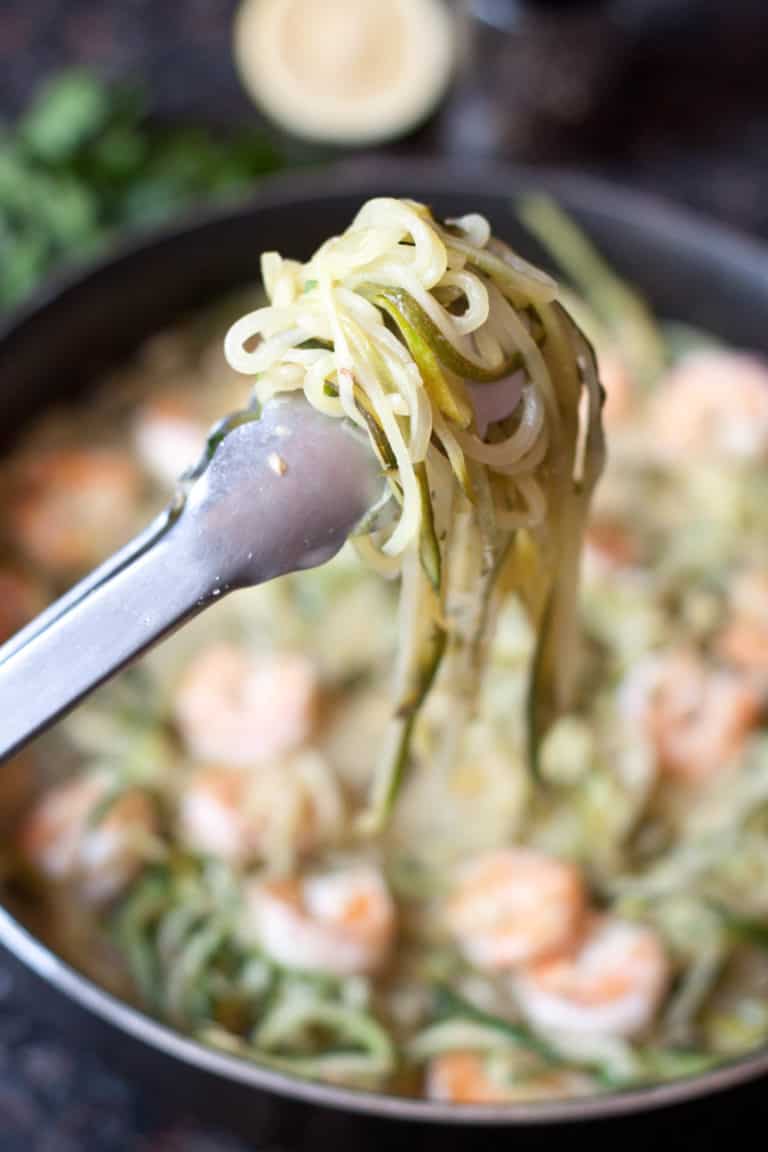 And can we talk about how amazingly noodle-esq zucchini can be?! I'm telling you, without the skin of the zucchini on this, I could have taken this photo and passed it off for being pasta.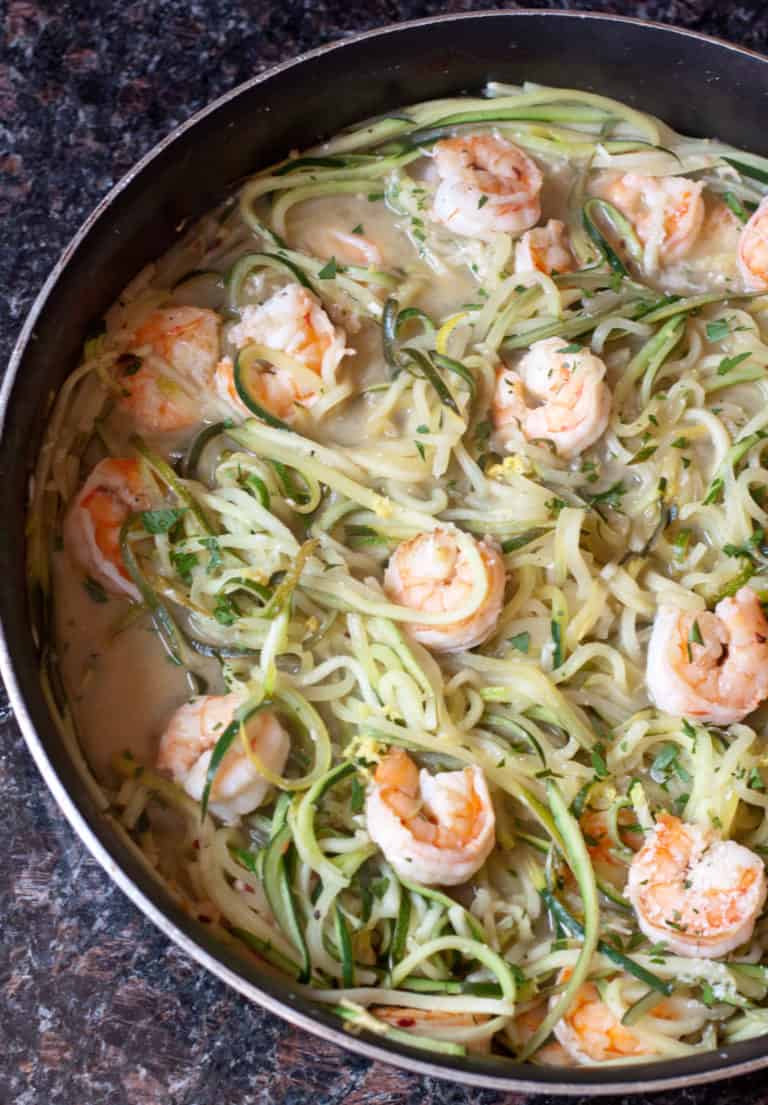 So if you've been avoiding zoodles for the same reason as I was, do yourself a HUGE favor and just get yourself and mandolin. Because then you can make Bread and Butter Pickles, Asian Cucumber Salad, and this Shrimp Zoodle Scampi. You wont regret it, I promise.
Enjoy! While you're at it, don't forget to follow me on Facebook, Instagram, and Pinterest and share with me when you make any of my recipes!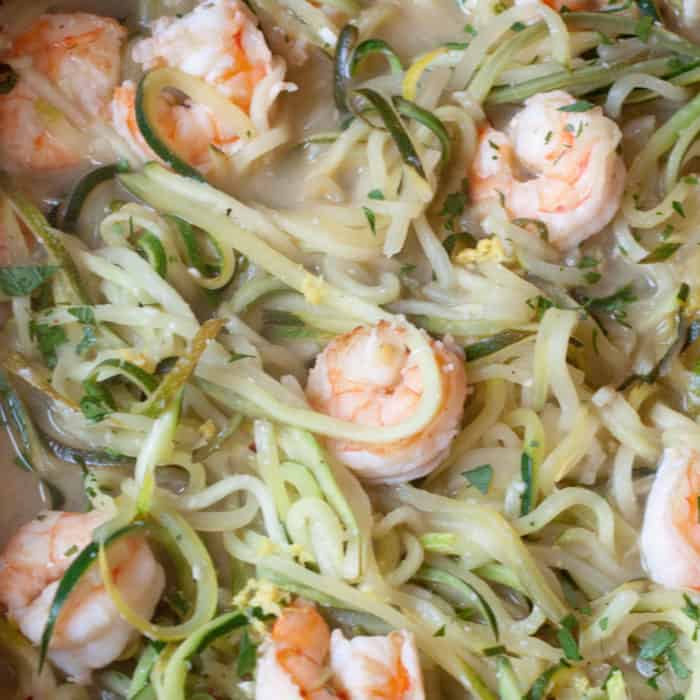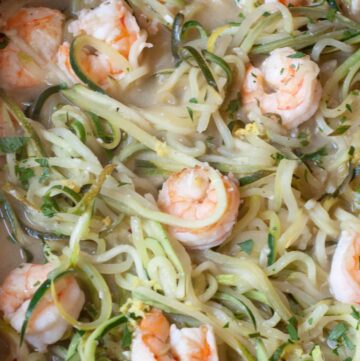 Shrimp Zoodle Scampi
Watching carbs? Then make "Zoodles" with some fresh zucchini for this healthy, fast, and easy Shrimp Zoodle Scampi!
Print
Pin
Rate
Ingredients
8

loosely packed cups of zoodles

approximately 3 1/2 lbs of zucchinis in zoodles - excluding the center with seeds

1

lb

shrimp

deveined and shelled

1

tablespoon

salted butter

4

cloves

garlic

minced

1/3

cup

chicken stock*

Juice from 1 lemon

1/4 -1/2

teaspoon

kosher salt

to taste

1/4-1/2

teaspoon

red pepper flakes

Fresh ground pepper to taste

3

tablespoons

fresh ground Parmesan cheese

2

tablespoons

fresh parsley

1

teaspoon

lemon zest
Instructions
In a large skillet, melt butter or medium high heat and add garlic. Mix and as it begins to brown add shrimp. Cook shrimp 1 minute and then flip to other side. Add red pepper flakes.

Add chicken stock and lemon juice and bring to a simmer. Season with salt and pepper.

Add zoodles and stir so it is well combined. Continue to stir until zoodles are soft and tender, approximately 3-5 minutes.

Add Parmesan cheese and mix well.

Garnish with parsley and lemon zest. Serve immediately.