Crispy Homemade Onion Rings are the perfect appetizer or accompaniment to any burger or sandwich!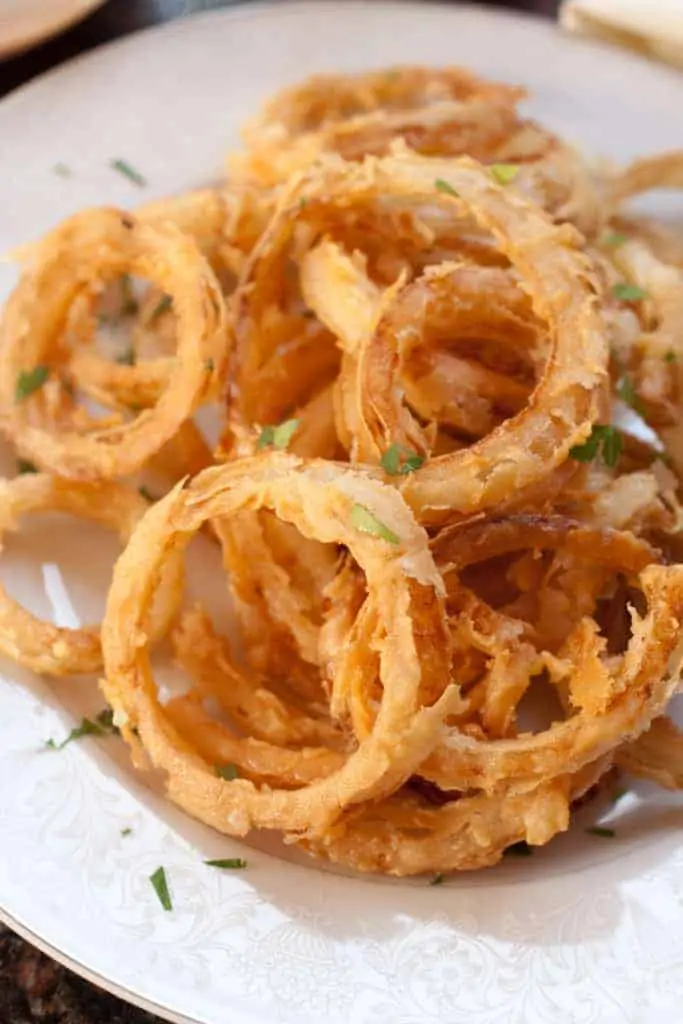 In this household we eat really a well and balanced diet and we don't eat a ton of foods with refined sugar and sweets, mainly because I have a salt tooth vs. a sweet tooth. So because of that, there are a couple of things that I am completely weak to. And by weak I mean inevitable face stuffing will occur. Those two weaknesses: #1 Tater Tots. #2: These Homemade Onion Rings.
Now we love a good French Fry, don't get me wrong. But if given a choice, what crispy, crunchy side do we want with our burgers? What salty oniony snacky do we want while watching some football? The winner will always be onion rings.

Ingredients Needed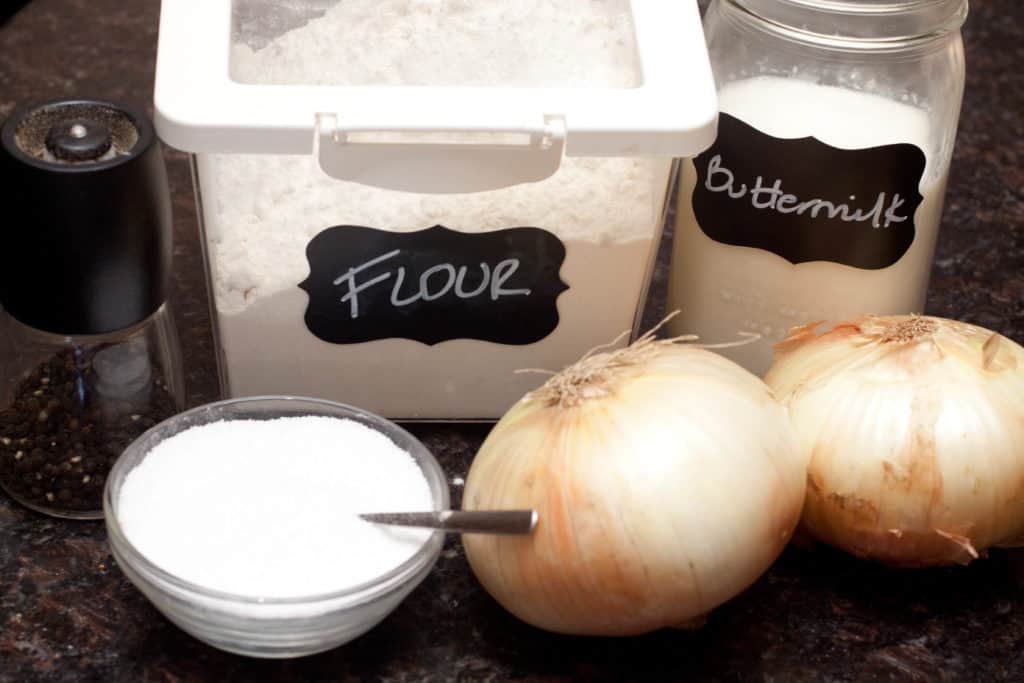 We love that for these guys we usually always have everything on hand:
All purpose flour - You could also use bread flour if your in a pinch and that's all you have. Or if you happen to have it, rice flour works great too! It's what's usually used for tempura batter, but you'll get a thinner crust.
Onions - For this we prefer big yellow onions, like Walla Walla Sweet Onions. White onions would work great too, but I definitely wouldn't recommend using red onions.
Buttermilk - No buttermilk? No problem! Did you know you can make your own?!
Salt and Pepper
Oil for Frying - You want to make sure to use a higher smoke point oil like vegetable or canola oil, but also have a neutral flavor. If you use another oil with a high smoke point like sesame, corn, or coconut, those are going to flavor your onion rings.
Step-by-Step Instructions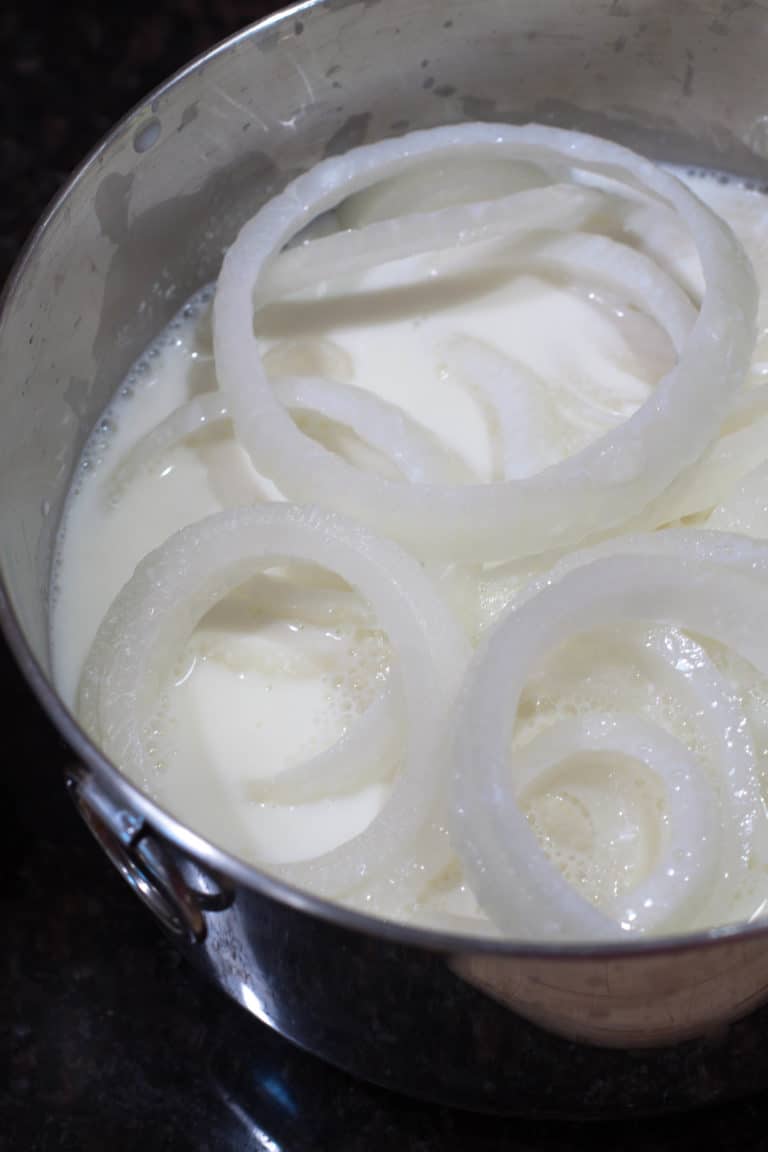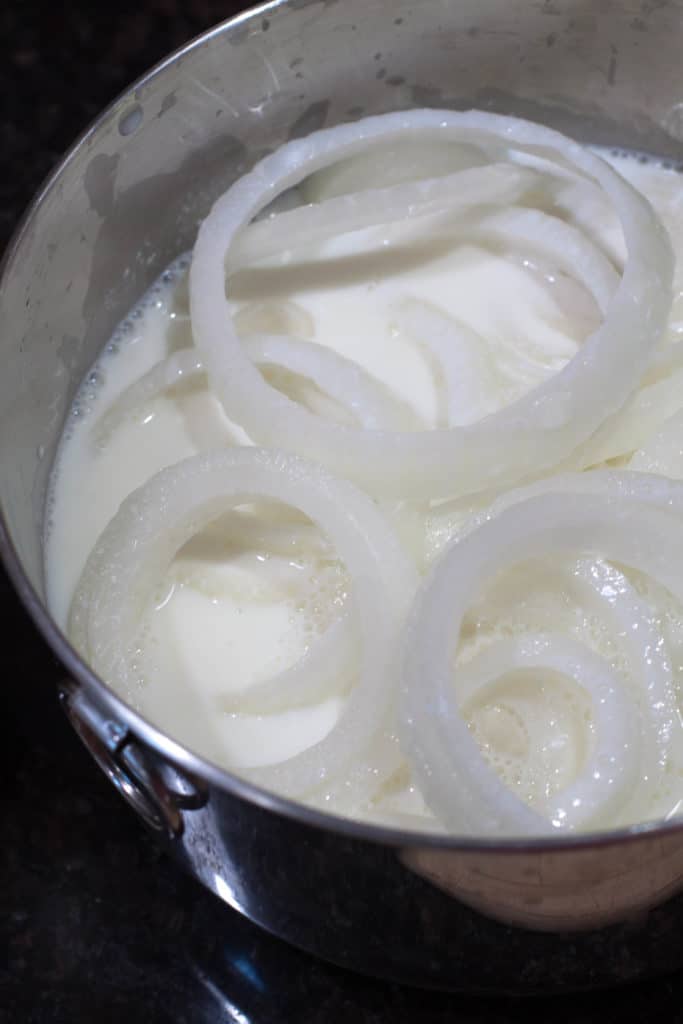 Step 1: Slice your onions and then let them soak in the buttermilk for about an hour. This is important because this is what helps allow the coating to stick to the onions!
Step 2: Prep your oil in a deep pot or dutch oven by adding oil about 3 inches deep and heat over medium / medium high until it's 360 degrees.
Tip: We love our instant read thermometer for checking the oil temp, but you can also check by using the end of a wooden spoon. Dip it into the oil, and if the oil bubbles around it, your oil is ready!
Step 3: Add your flour to a shallow dish or plate and dredge your soaked onions through it and drop 'em in hot oil to fry.
Tip: You'll definitely want to do this in batches because you don't want to overcrowd the pot.
Step 4: On a paper towel lined plate, remove fried rings and finish with all of the remaining onions.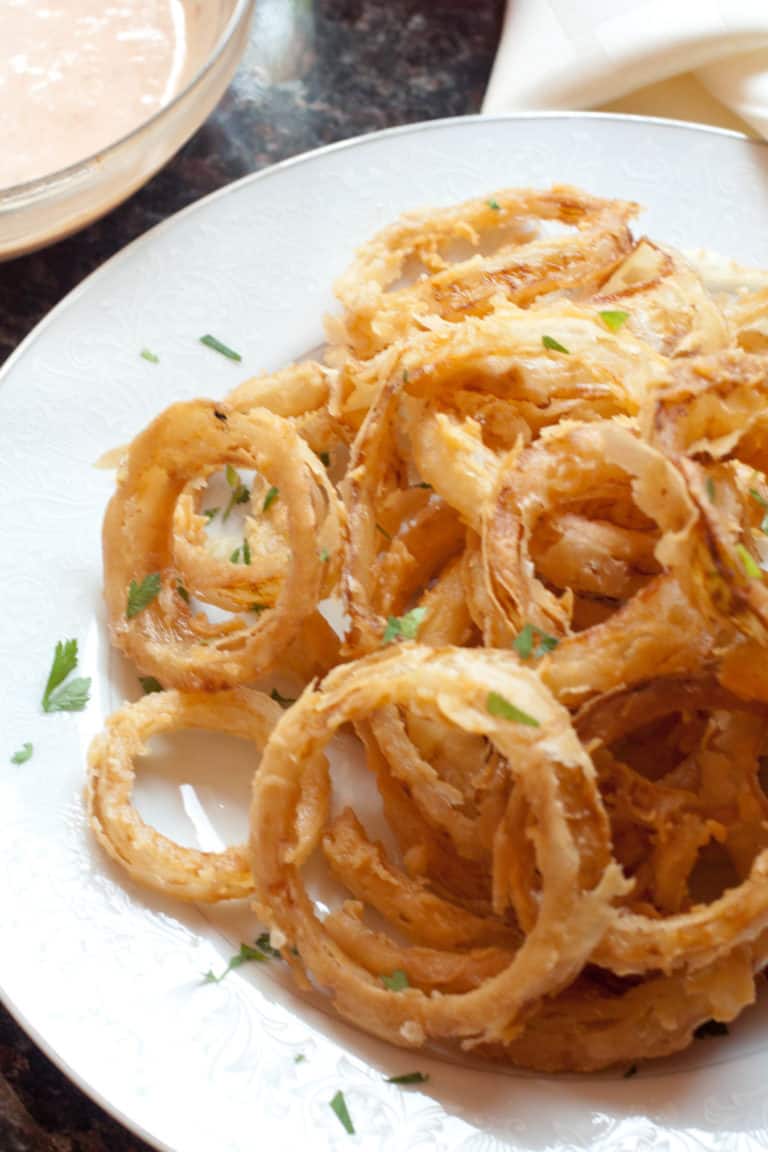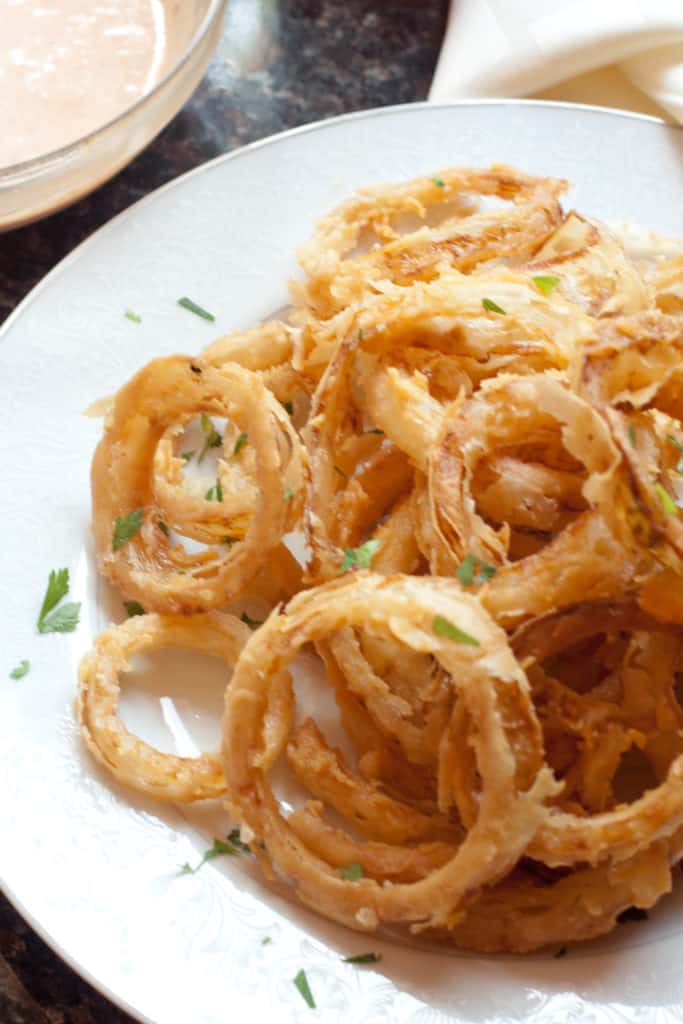 Fried to crispy perfection!
Our Favorite Dipping Sauces!
Now that you have your perfect crispy Homemade Onion Rings, what are you dipping 'em in? Here are some of our favorite homemade condiments and dipping sauces.
Fry Sauce From Scratch - A mayo / ketchup dipping sauce love child!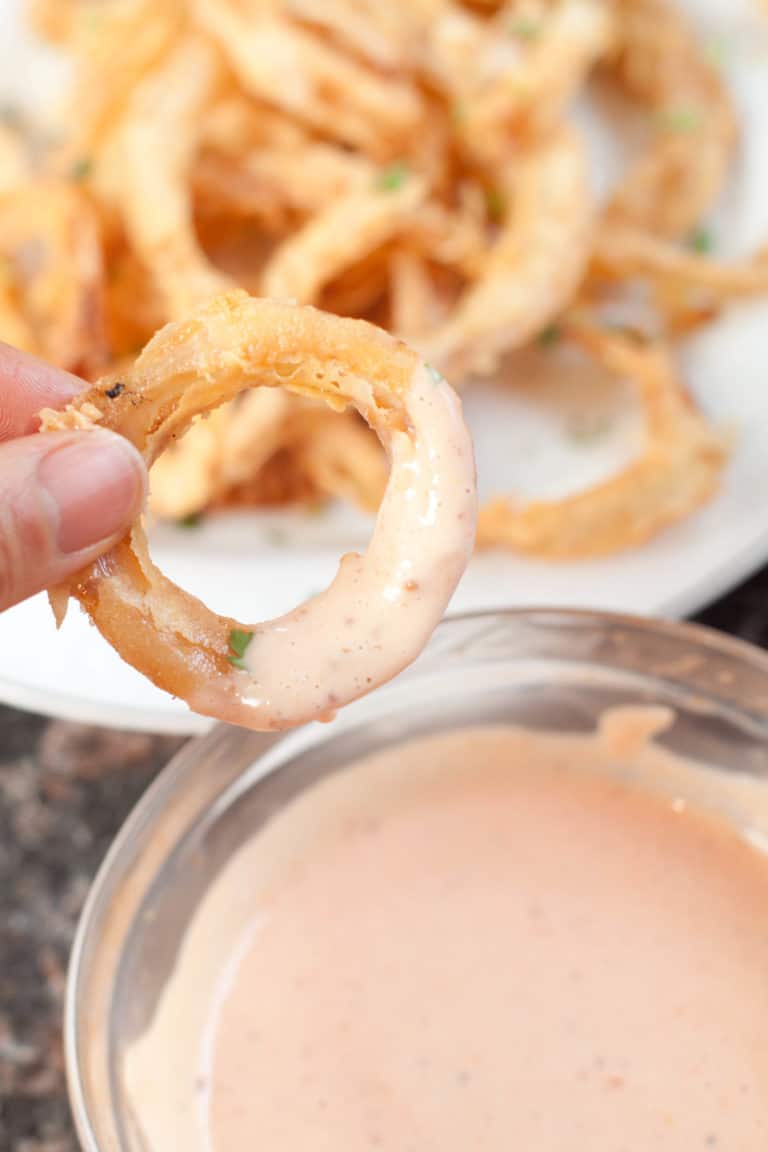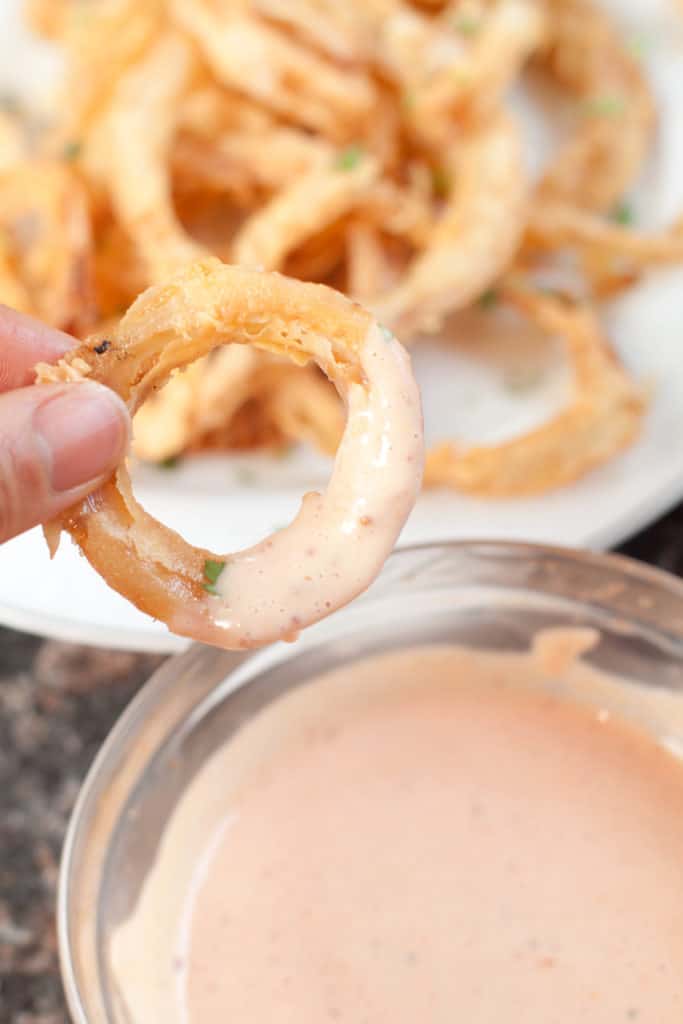 Our personally favorite is our Fry Sauce!
Ahhh Homemade Onion Rings. There's something even more satisfying about a treat that's made from scratch, you know? Yes, it takes more time and more effort, but I liken it to when you grow your own vegetables. Is there anything better than eating a fresh off the vine tomato that you grew yourself? Nope. Well, except for a freshly fried from scratch onion ring dunked in a from scratch fry sauce!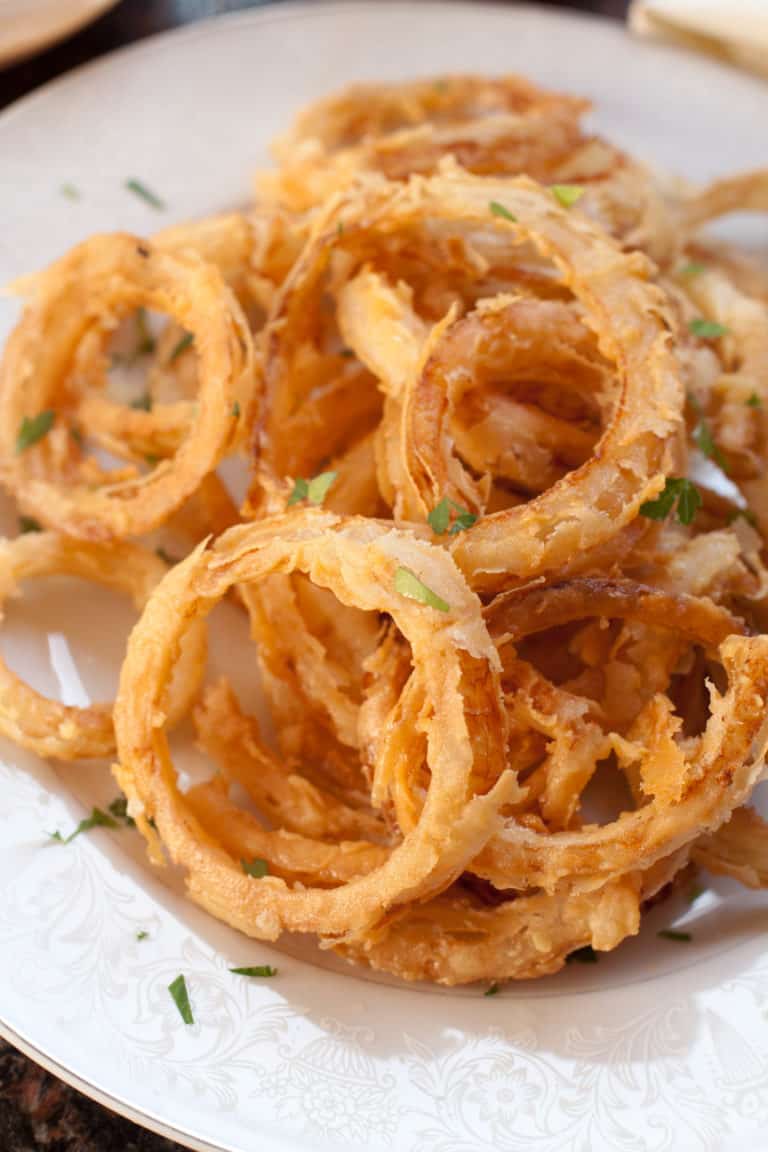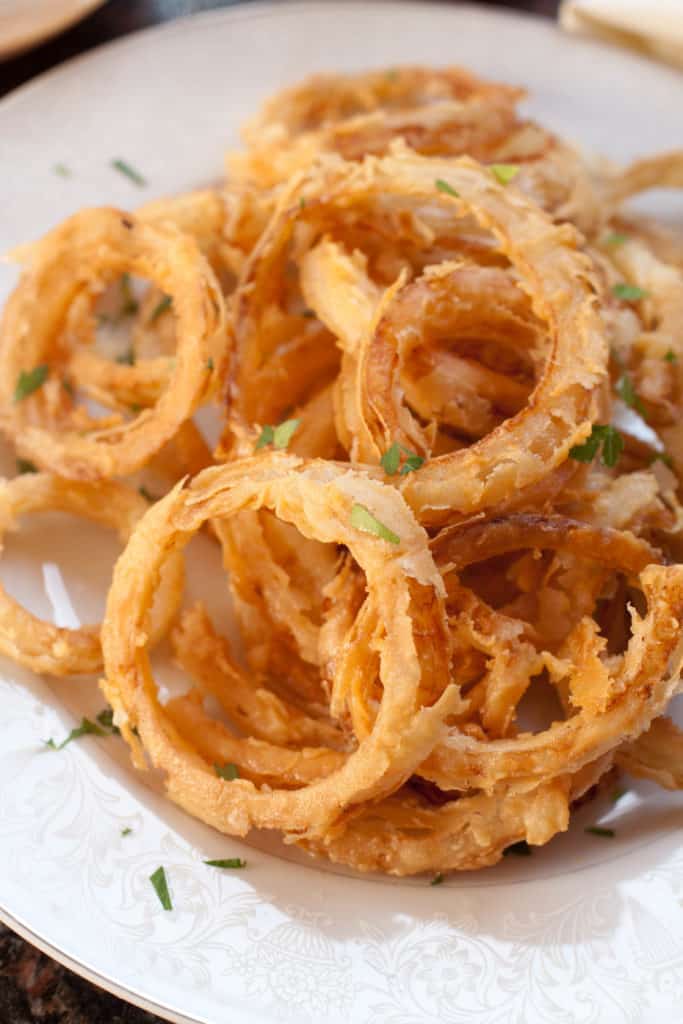 I might have eaten all of these onion rings for dinner. With a beer. It's been a long week - and really, if you think about it, it had everything I needed, right? Vegetables and carbs - I'm good! Plus, with all of the salads and other healthy snacks we make, Homemade Onion Rings for dinner every once in awhile is finnneee. Balance, friends. Balance.
Enjoy! As always, if you make this recipe or any of my others, I love to hear what you think! Leave a comment below, email me, or you can find me on Facebook, Instagram, and Pinterest!
If you want to see more, be sure to sign up for my 5 Easy Ways to Start Cooking From Scratch!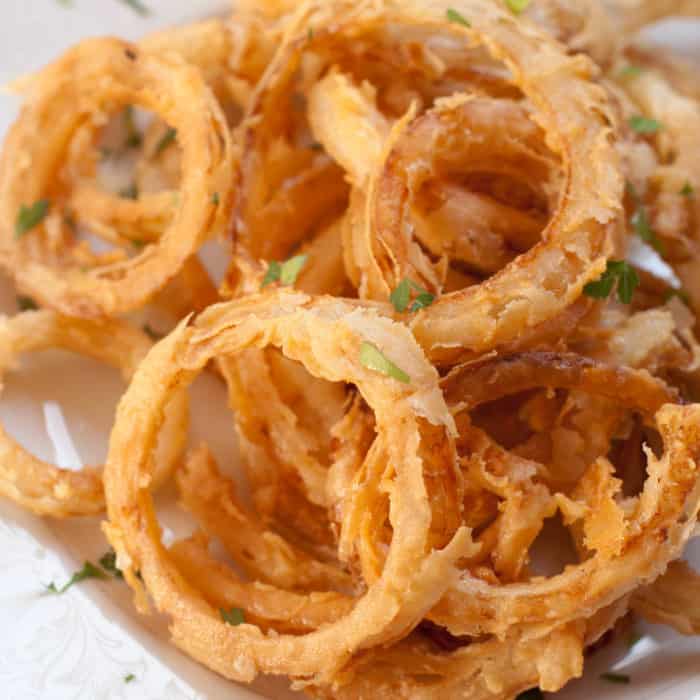 Homemade Onion Rings
Crispy Homemade Onion Rings are the perfect appetizer or accompaniment to any burger or sandwich!
Print
Pin
Rate
Ingredients
2

Sweet onions

2

Cups

Buttermilk*

2

cup

all purpose flour

1

tablespoon

kosher salt

1/2

teaspoon

of fresh ground pepper

Vegetable oil or canola oil for frying
Instructions
Slice onions 1/2 - 1 inch thick and separate the rings.

Add buttermilk to a bowl and add rings. Cover and store in fridge for at least an hour.

In a dutch oven or a large pot add approximately 3 inches deep with oil. Heat to 360 degrees or if you don't have a thermometer, just dip in the handle of a wooden spoon. When the oil bubbles around the handle, it's ready.

Mix flour with salt and pepper in a wide shallow bowl or plate.

With tongs, dredge rings in flour ensuring they are well coated (you can double coat if you want extra batter by dipping back in buttermilk and dredging again) and then add to dutch oven. Be sure to not over crowd rings - fry in batches for 2-3 minutes until rings begin to golden. Watch closely that they do not burn! They'll go from done to burnt quickly.

Remove from oil with tongs, shaking off excess oil and cool on a paper towel lined plate.

Serve immediately with Fry Sauce or Ketchup!
Notes
Make your own Buttermilk! http://www.servedfromscratch.com/5-minute-homemade-buttermilk/
Make your own Fry Sauce or Ketchup! http://www.servedfromscratch.com/fry-sauce-from-scratch/
http://www.servedfromscratch.com/5-minute-homemade-ketchup/