Skip the freezer aisle and instead with just a couple of easy ingredients you can make your own Tater Tots From Scratch right at home!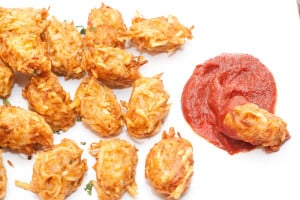 I have a confession to make: I. Love. Tater Tots. I do. And I'm ashamed to say it's been a secret love, but there all the same. McMenamins Cajun tots? Love. Blitz's Tat-chos? Double love. Two bars that I otherwise don't really care for, I will still go to just for the tots. I know, it's terrible and I'm so embarrassed to admit it, but I just can't help myself. They're just crispy, greasy, potato heaven. Hi, my name is Tracy and I am secret tater tot lover. There, I've said it. But it's ok, because now, ooohh now, we can make Tater Tots From Scratch at home!! (uh oh)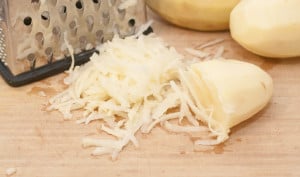 Who knew that the delightful little pillows of crispy potato were so easy?! I just shredded some potatoes,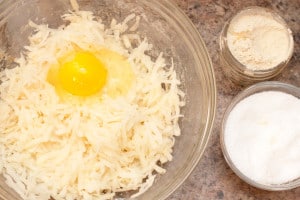 then, like a hash, I lined a couple of towels with the shredded potatoes and squeezed out the moisture to ensure super crispy tots. Then, the addition of an egg as a binder,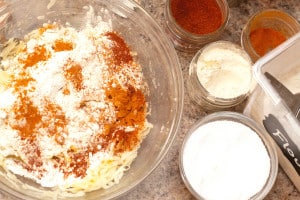 a little bit of flour, paprika, cayenne, garlic powder, and salt all mixed well,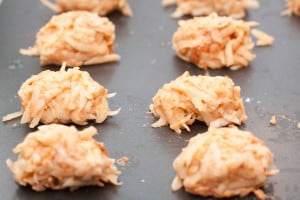 and formed into little 'tot' shapes.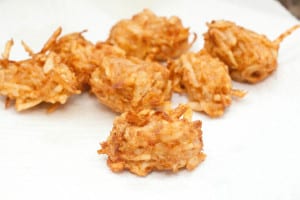 Annndd then the best part. Fried in a pot of oil until perfectly crispy.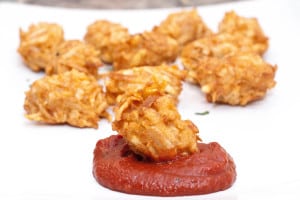 Even better, we had just made some homemade ketchup which made a perfect Tot dipping sauce.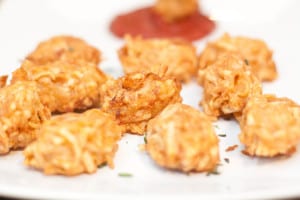 Don't you just want to nuzzle into the middle of this plate of deliciousness?! I might have.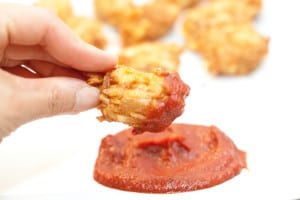 Yeess. My Tater Tot love has finally been justified with a From Scratch version! And my workouts will probably have to increase exponentially to make it up for. Worth it!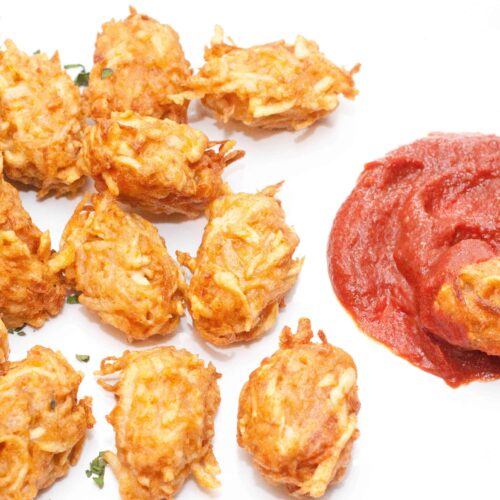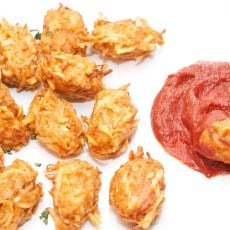 Ingredients
3

large russet potatoes

peeled

1

egg

1/2

cup

of flour

1 - 2

teaspoon

of kosher salt

1

teaspoon

of paprika

1

teaspoon

of cayenne

1/2

teaspoon

of garlic powder

1/2

teaspoon

of fresh ground pepper

Vegetable or Canola Oil for frying
Instructions
Fill a small sauce pan with oil halfway. Heat oil to 375 degrees.

With a grater, shred the potatoes.

Line the potatoes on a paper towel or clean kitchen towel. Squeeze out excess moisture.

Transfer potatoes to a bowl, add salt, and mix. Add egg and mix well. Then add flour and other spices and mix until everything is evenly incorporated.

Form potatoes into tot shapes

Fry in oil until crispy.

Cool on a paper towel lined plate and serve with your favorite condiment!

Notes

These guys are a little on the spicy side, but the best part of making them from scratch is that you can control what flavors you want! Add some oregano or thyme for a more savory tot or get crazy and add some nutritional yeast for a 'cheesy' tot!