Why buy it in the bottle when you can have your own 5 Minute Homemade Ketchup that you can tailor to your own specific taste?
5 Minute Homemade Ketchup that's made (almost) from scratch, is there anything easier?  Not really.
I say nearly from scratch because this is if you have pre-made tomato paste.  Tomato paste from Scratch takes quite a bit of time, and honestly, it's one of the  few things I will opt to buy over making.  Why? 'Cause it takes forever.  And I had the unfortunate experience of buying 25 lbs of tomatoes, spending an entire weekend in my kitchen making paste, to only get about a pint and a half from it >grumble<.  So now, more times than not, I opt to buy it.  Buuuttt even though I don't make it every time I use it, the important thing to me is that I understand how it's made.  Plus, a can of organic tomato paste has just two ingredients in it, the tomato paste, and citric acid.  I'm totally OK with that.But ketchup, well most ketchup has high fructose corn syrup, so we make our own.  We've made it before totally from scratch, but let me tell you it did not take 5 minutes.  Which was OK since it was fun to make, but on a busy weeknight when I have a serious hankering for some French Fries but don't want to do much cooking other than slice potatoes and throw them in the oven, this 5 Minute Homemade Ketchup makes me very happy.
It starts with just some apple cider vinegar (or white, or a mixture of water and vinegar, totally depends on your personal taste)
and then loads of spices…

…mix and you're done. 
5 minutes.  But I think I spent most of that time finding the spices I wanted.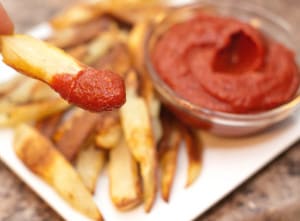 With some super simple homemade fries, French Fry craving thwarted.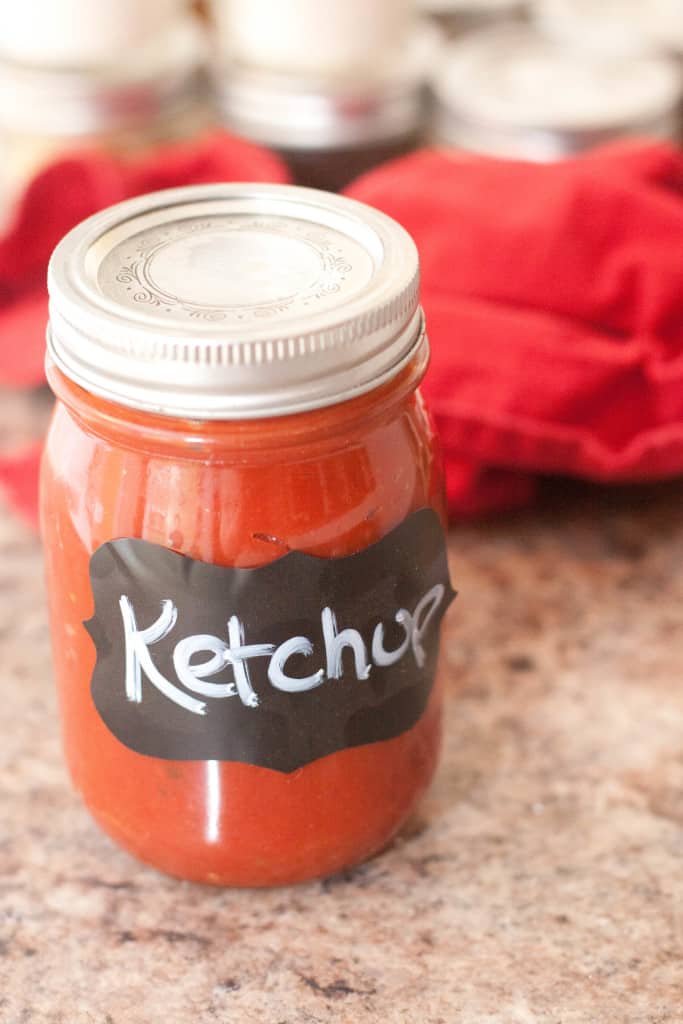 Plus, now we have some 5 Minute Homemade Ketchup in the fridge!  Kept in an airtight container, it'll last about a month.  Then it'll be ready for some Homemade BBQ Sauce, to top on burgers, or for my next French Fry craving!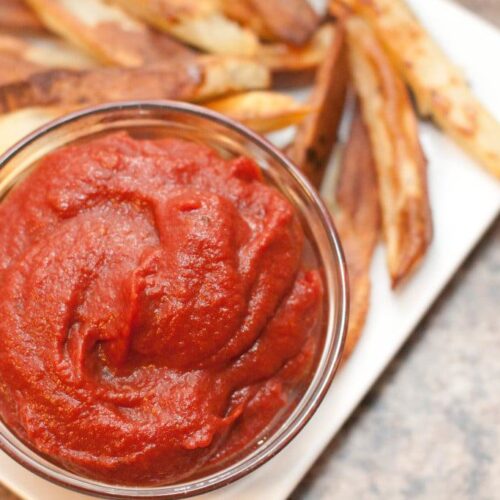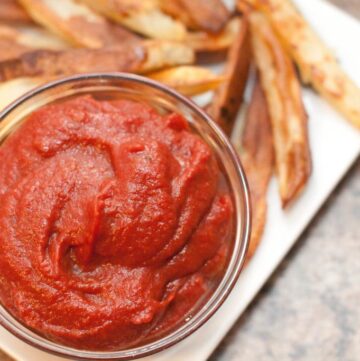 5 Minute Homemade Ketchup
Why buy it in the bottle when you can have your own 5 Minute Homemade Ketchup that you can tailor to your own specific taste?
Print
Pin
Rate
Ingredients
10-12

oz.

of tomato paste

1/8 - 1/3

cup

of apple cider vinegar or white vinegar

add 1/8 cup first - the full 1/3 makes a tangier ketchup (which we like). If you want more tang, add a little more at a time. White vinegar can also be used.

1

tablespoon

of sugar

1/2

teaspoon

salt

1/4

teaspoon

black pepper

1/2

teaspoon

mustard powder

1/2

teaspoon

dried oregano

1/2

teaspoon

cayenne

1/2

teaspoon

onion powder

1/2

teaspoon

of garlic powder

1/4

teaspoon

celery salt

pinch

of ground all spice
Instructions
In a large bowl add tomato paste.

Pour in vinegar and mix well.

Add the rest of ingredients and mix well.

Taste and add additional spices if desired.

Use as a side or condiment and store the rest in an airtight container in the fridge for a month.
Notes
I used apple cider vinegar because we like a tangier ketchup. You can use white vinegar also or even cut the vinegar with some water. Also, this made for a thicker ketchup. If you like a loose ketchup, add another 1/4 cup of liquid. The spices can be altered for taste. Add more sugar for a sweeter ketchup. Add more cayenne for a spicier ketchup. It's totally up to you!