Learn how to make your own Homemade Yellow Mustard! Our recipe for yellow mustard only takes a few simple ingredients and a little time and you'll have your own jar of this spicy classic condiment ready for all of your mustard needs!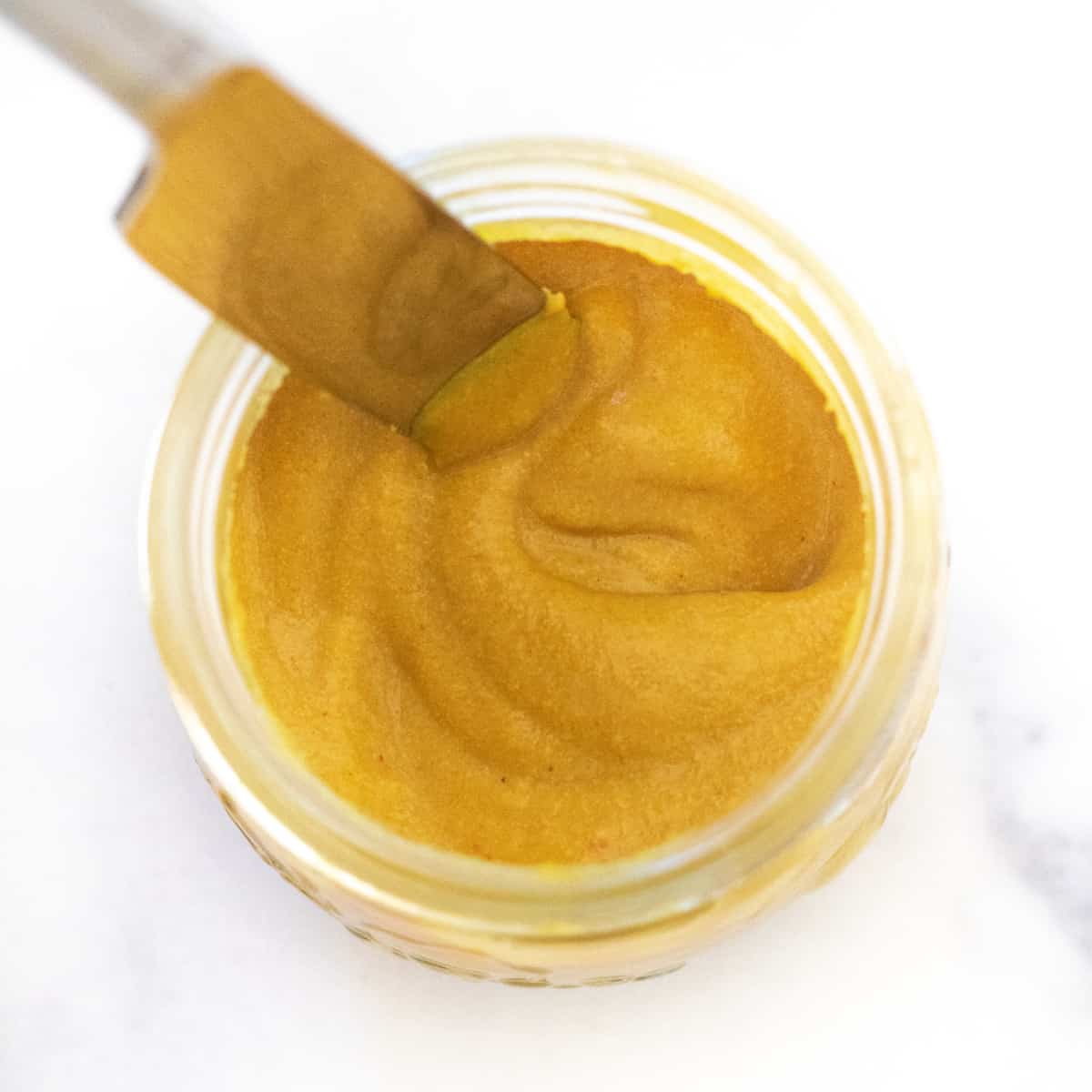 Finally! It's here, our Homemade Yellow Mustard! While we've been loving our Dijon Mustard From Scratch for a while now, a recipe for yellow mustard has taken a bit longer to figure out. While it seems simple, in order to get the right balance of mustard flavor without it being way too bitter and hot, it took quite a bit of testing, but finally, we have it dialed in! So get ready to knock off another condiment from your shopping list and replace it with a made-from-scratch version!
Ingredients Needed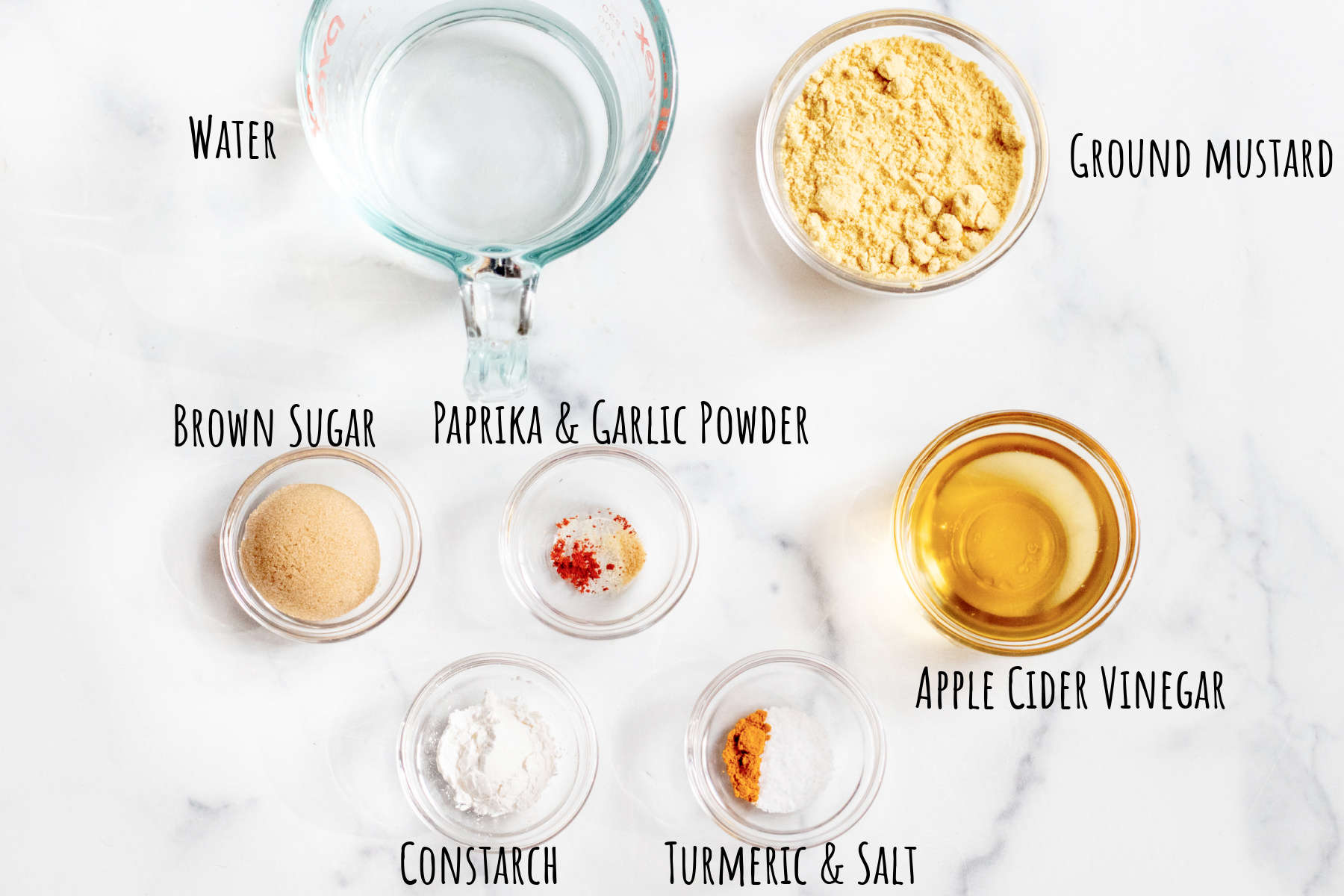 Mustard Powder - Unlike our Dijon recipe which uses mustard seeds, for this yellow mustard, all you need is some ground mustard powder.
Apple Cider Vinegar - This helps balance the mustard powder with some acidity. We prefer apple cider vinegar because it's a little bit sweeter, but you can definitely use white vinegar, too.
Turmeric, Salt, Paprika, Garlic Powder - The subtle seasonings that are classic to yellow mustard!
Brown Sugar - Now this is where mustard purists will be upset, but we have found that in order to get a mustard that's ready now and that doesn't need to settle or rest for a week+ for the super pungent flavors to mellow, just a little bit of sugar is all you need! But this is totally optional.
Cornstarch Slurry - This will help thicken the mustard faster without having to cook it down longer to thicken.
Easy to Make
Just as most homemade condiments are, this Homemade Yellow Mustard is actually surprisingly easy to make! Add it all to a pot, bring it to a boil, and then turn it down and let it simmer until it thickens.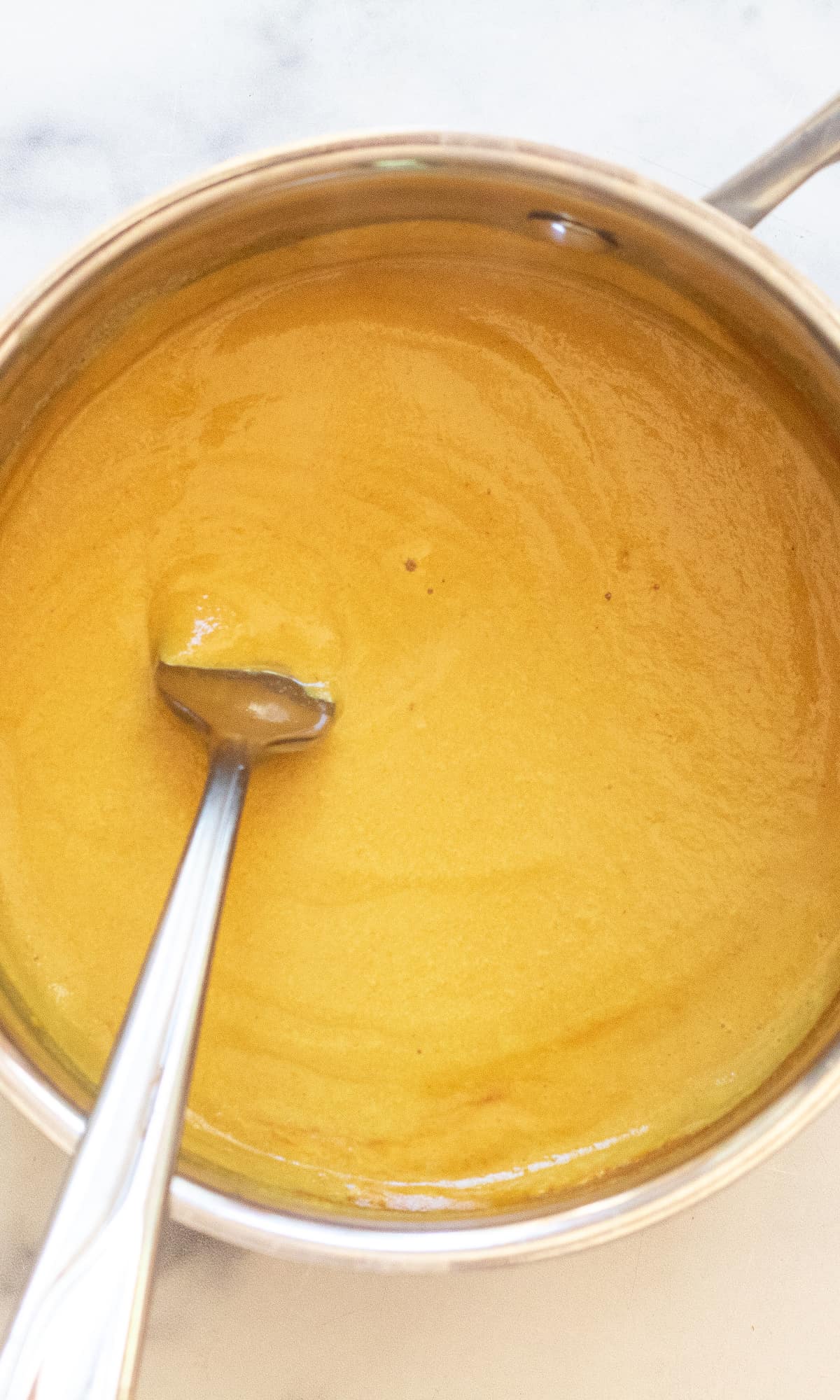 And thanks to the cornstarch slurry, that won't take too long.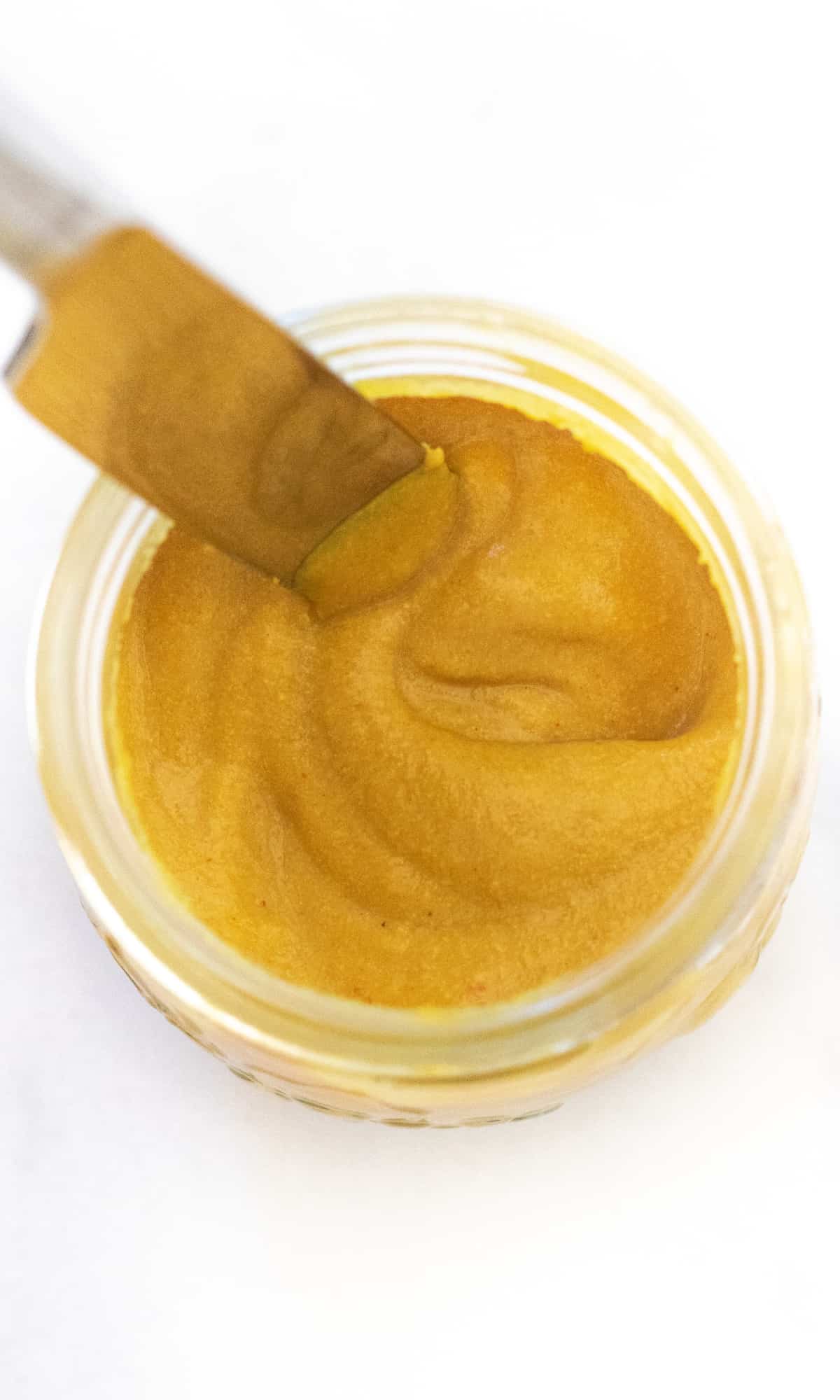 When you're done, a creamy Homemade Yellow Mustard!
Recipe Tips
Be sure to use a non-reactive pot
This means it's best to use a stainless steel, glass, or ceramic pot. Stay away from Aluminum, cast iron, and copper pots because these will react with the acidity of the vinegar.
Sugar is totally optional
While many may balk at the idea of adding sugar to mustard, we find that if you want to make a mustard that's ready to eat now and not overwhelmingly bitter, then adding some sugar will help temper that bitterness. Otherwise, it will start to mellow after the first week that it is made.
Do I have to use cornstarch?
Nope! You can cook it longer to cook it down and thicken it, although the cornstarch does not affect the flavor and it will help thicken the homemade yellow mustard much faster.
You Also Might Like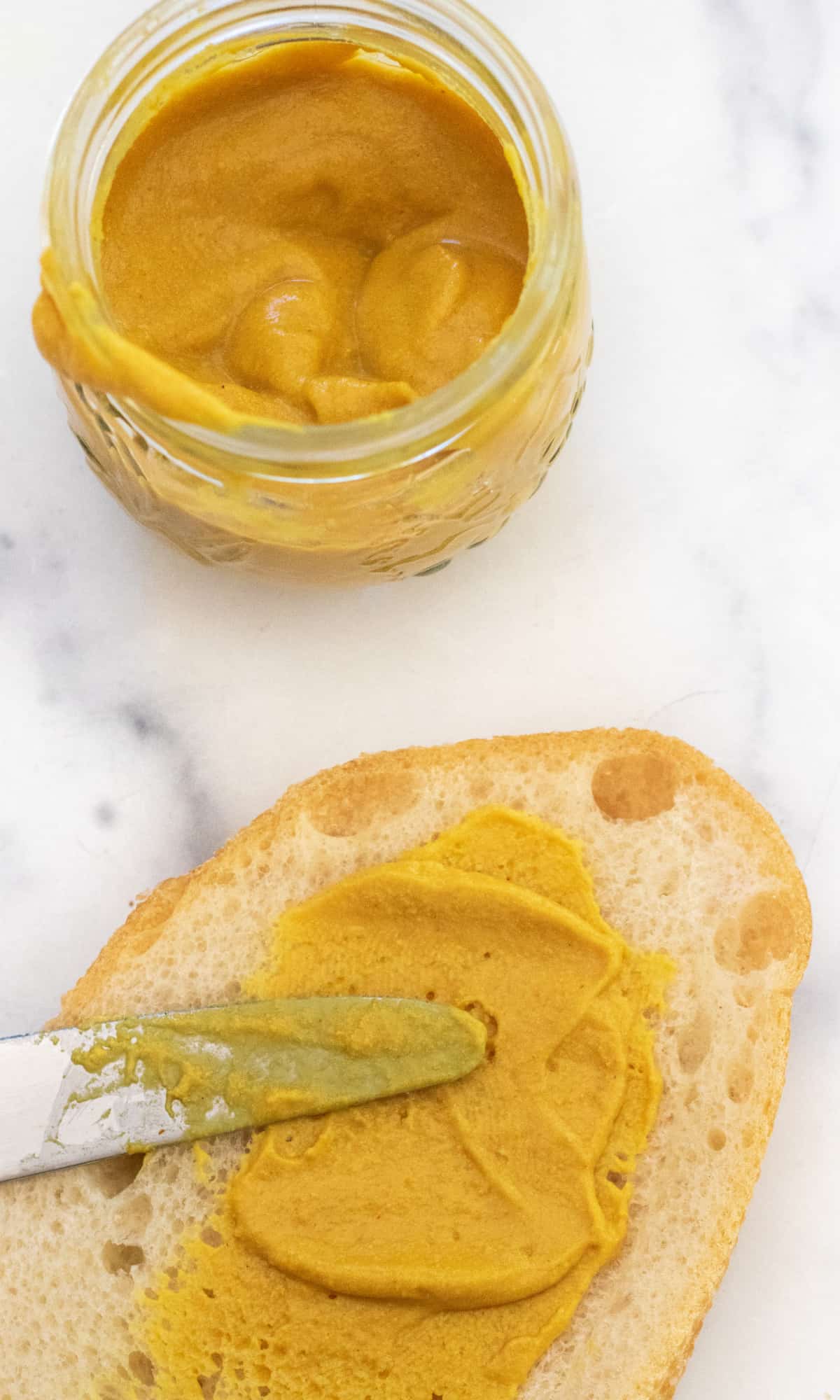 So get those sandwiches ready for this tangy Homemade Yellow Mustard from scratch!
Enjoy! As always, if you make this recipe or any of my others, I love to hear what you think! Leave a comment below, email me, or you can find me on Facebook, Instagram, and Pinterest!
If you want to see more, be sure to sign up for my 5 Easy Ways to Start Cooking From Scratch!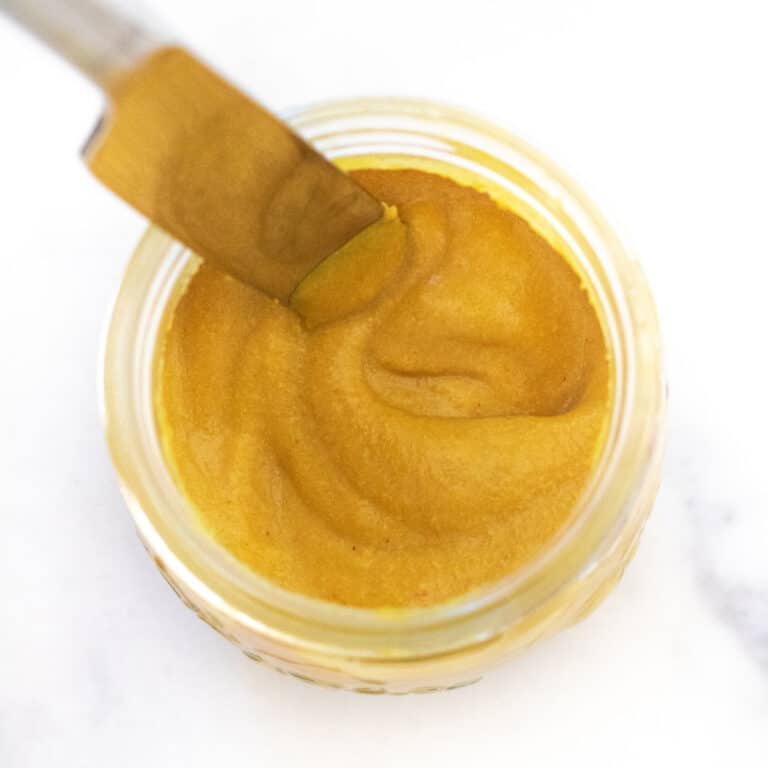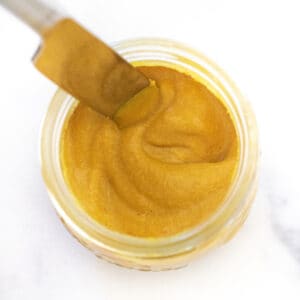 Ingredients
1/3

cup

mustard powder

1.15 oz or 32 g

1/4

cup

apple cider vinegar

1/2

cup

water

1/4

teaspoon

salt

1/8

teaspoon

turmeric

pinch

garlic

pinch

paprika

1

tablespoon

brown sugar

15 g

1

teaspoon

cornstarch

1

teaspooin

water

for cornstarch slurry
Instructions
Make cornstarch slurry: Add cornstarch and 1 teaspoon of water to a small bowl and mix to create a slurry. Set aside

Cook Down Mustard: Add all ingredients to a small pot and heat over medium. Whisk so all of the ingredients are combined/dissolved.

Lower heat to medium-low and let simmer for 20-25 minutes until the mustard has thickened and cooked down to a thickness of your liking.

Store: Remove from heat and add to a jar. Store in the fridge for up to 3 months.
Notes
Yield
This recipe yields about 5.25 oz. Which is about equivalent to 21 little mustard packets.
Substitutions
Vinegar: While we prefer apple cider vinegar, you can also use white vinegar.
Sugar: The sugar is optional, but it really does cut the bitterness of the mustard to be able to use it immediately. You can use brown or white.
Nutrition
Calories:
13
kcal
|
Carbohydrates:
1
g
|
Protein:
1
g
|
Fat:
1
g
|
Saturated Fat:
0.04
g
|
Polyunsaturated Fat:
0.2
g
|
Monounsaturated Fat:
0.4
g
|
Sodium:
29
mg
|
Potassium:
18
mg
|
Fiber:
0.2
g
|
Sugar:
1
g
|
Vitamin A:
1
IU
|
Vitamin C:
0.1
mg
|
Calcium:
6
mg
|
Iron:
0.2
mg