Skip the can! Our Easy Homemade Pumpkin Puree is made from fresh pumpkins and tastes so much better than store-bought. With just a little bit of time, you can add some from scratch pumpkin puree to all of your favorite fall pumpkin recipes!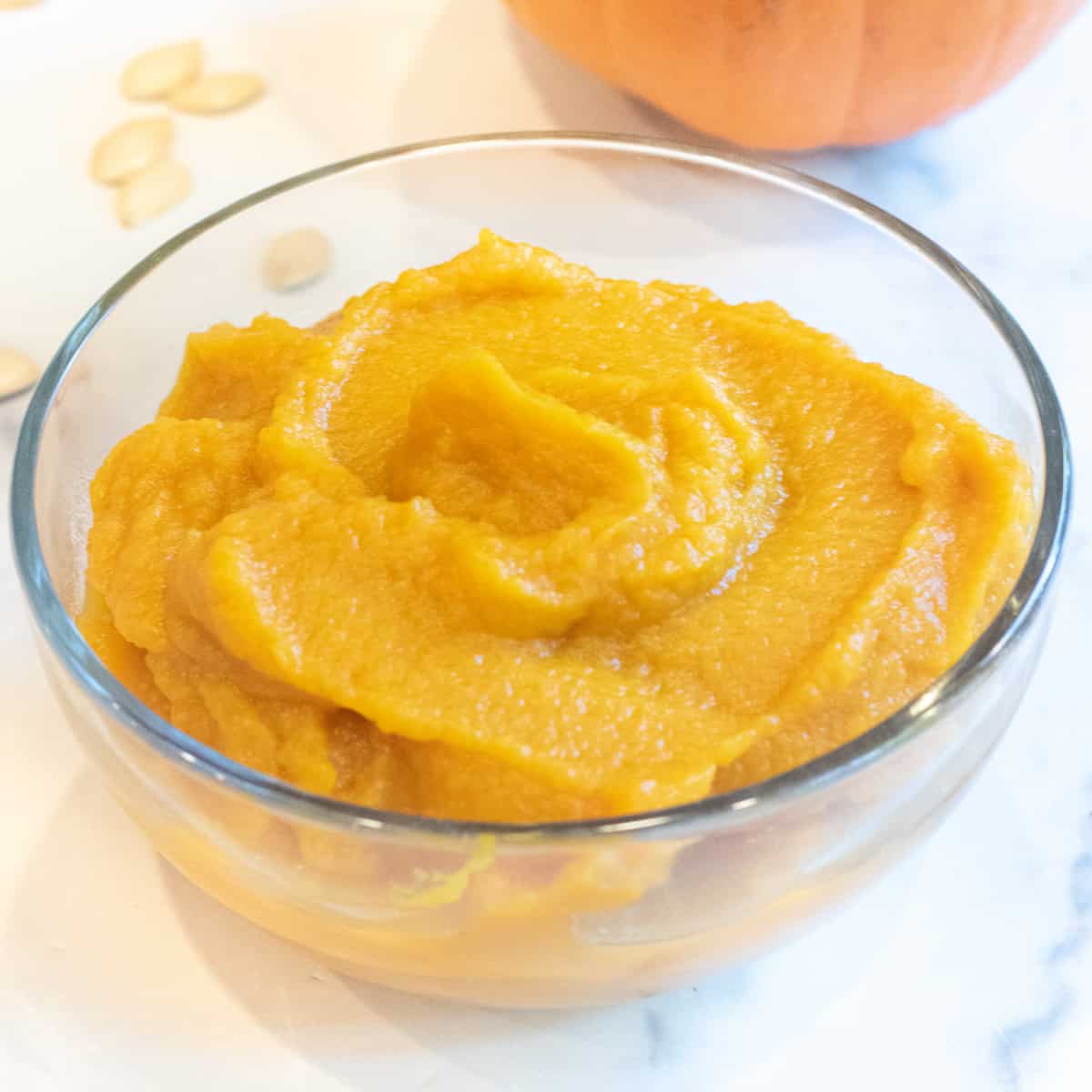 Welcome November and pumpkin season! While we say goodbye to Halloween and hellllloooo to all things Thanksgiving, let's talk about one of the most popular cans sold in the stores this time of year - that is so much better from scratch! Our Easy Homemade Pumpkin Puree made from fresh pumpkin is incredibly simple to make and will add so much freshness to all of your pumpkin puree recipes!
Ingredients Needed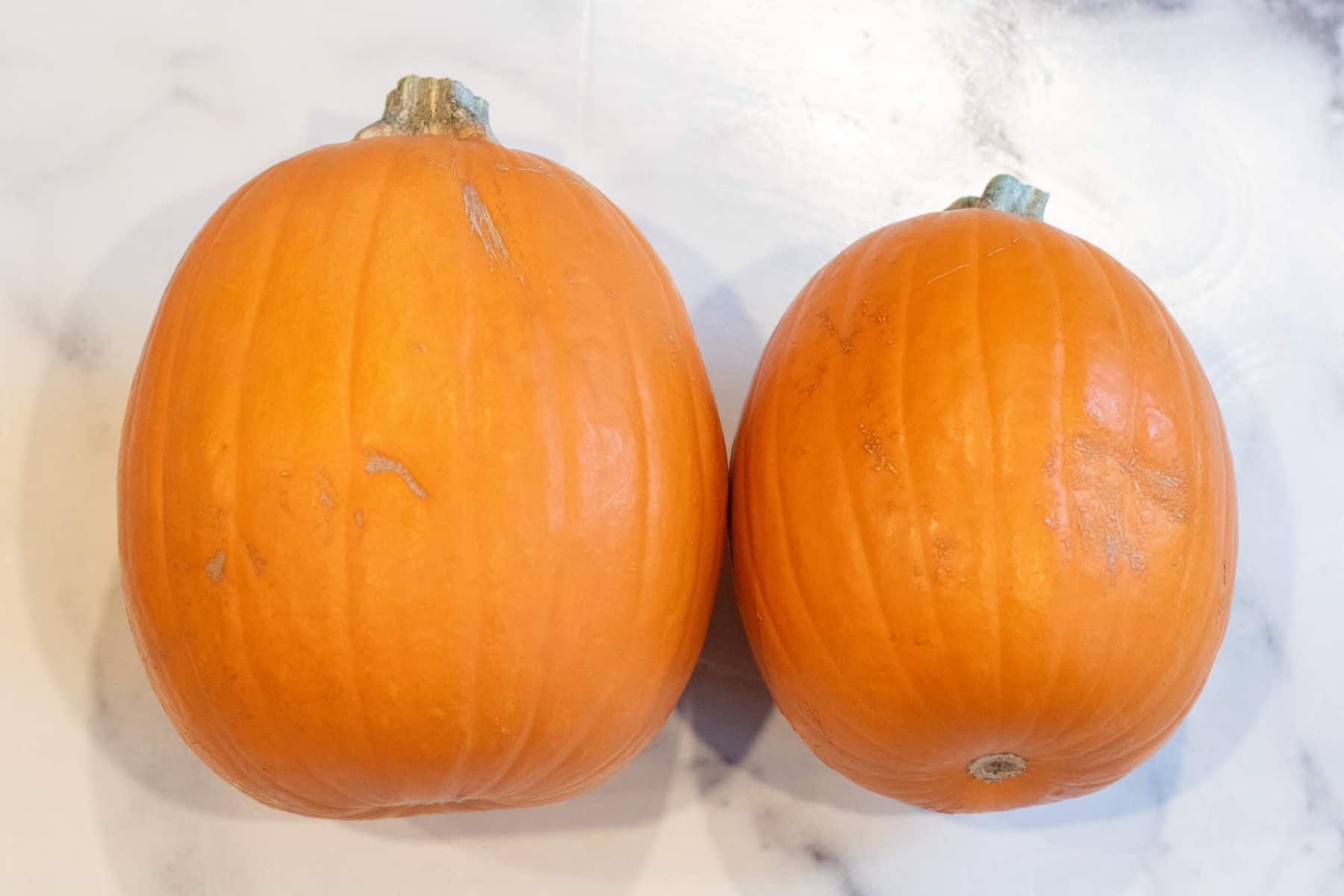 Or should I say ingredient, singular? Pumpkins! That's it! However, you do need to be sure you're buying the right pumpkins to make homemade pumpkin puree.
Pumpkins to Use for Pumpkin Puree
The best pumpkins to use are baking pumpkins. These are going to be smaller and are typically labeled as such in the grocery store. You might also see them labeled as "pie pumpkin" or "sugar pumpkin." Those big pumpkins at the pumpkin patch? Those aren't going to have the same delicious flavor, they're really grown for decoration. If you're at a pumpkin patch or a farm, just ask if they have any baking or pie pumpkins, they'll steer you towards the right pumpkins!
Prep the Pumpkins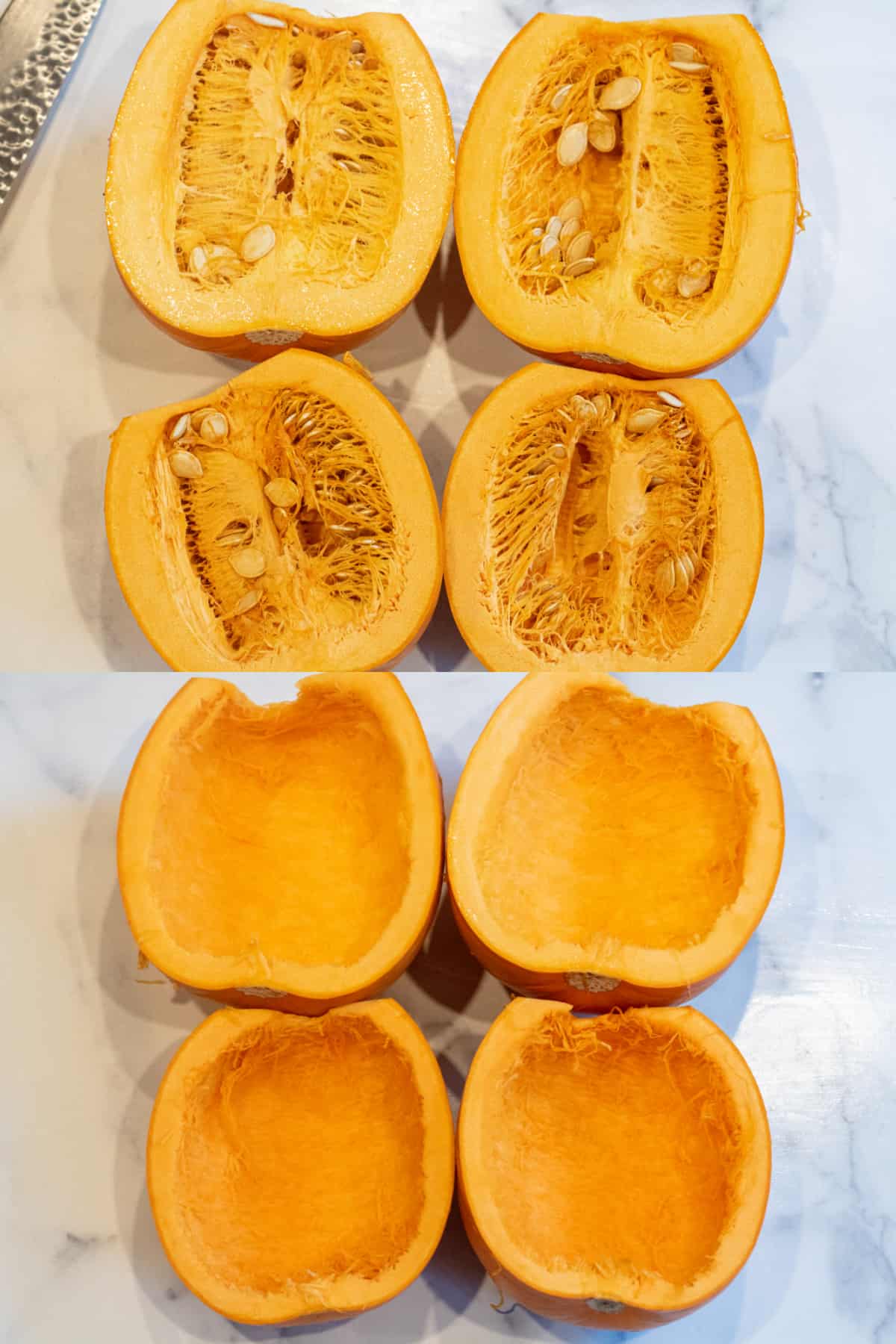 Safely cut those pumpkins in half, and then scoop out all of those seeds and as much of the stringy pulp as you can. Don't worry about getting all of the fibrous strands out, just get as much as you can / feel like taking them out. They are of course totally fine to eat!
Don't discard those seeds! You can put those pumpkin seeds to delicious use, too by roasting them!
Roast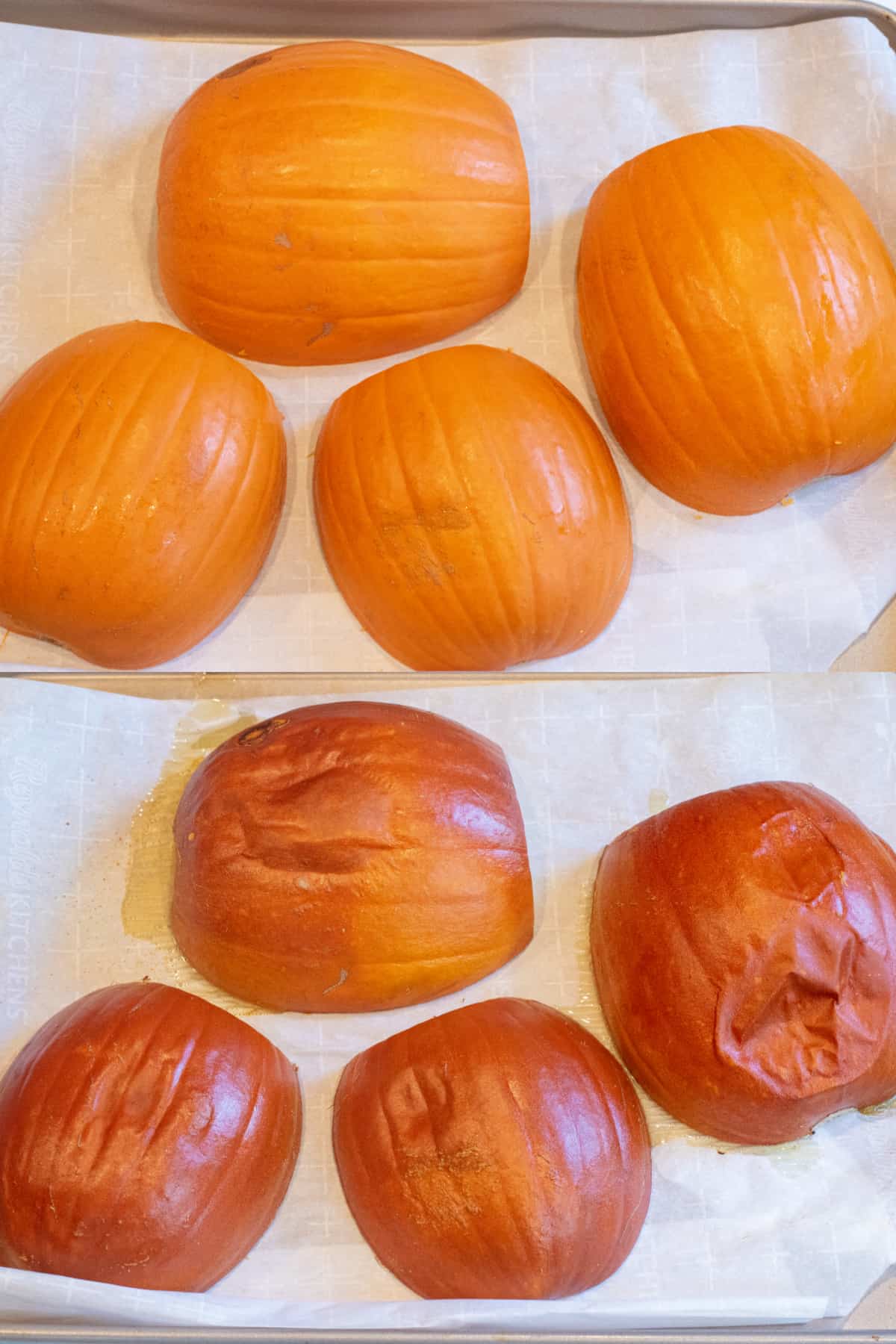 Add those pumpkin halves to a parchment paper line baking tray and pop it in the oven to roast until the flesh is nice and tender.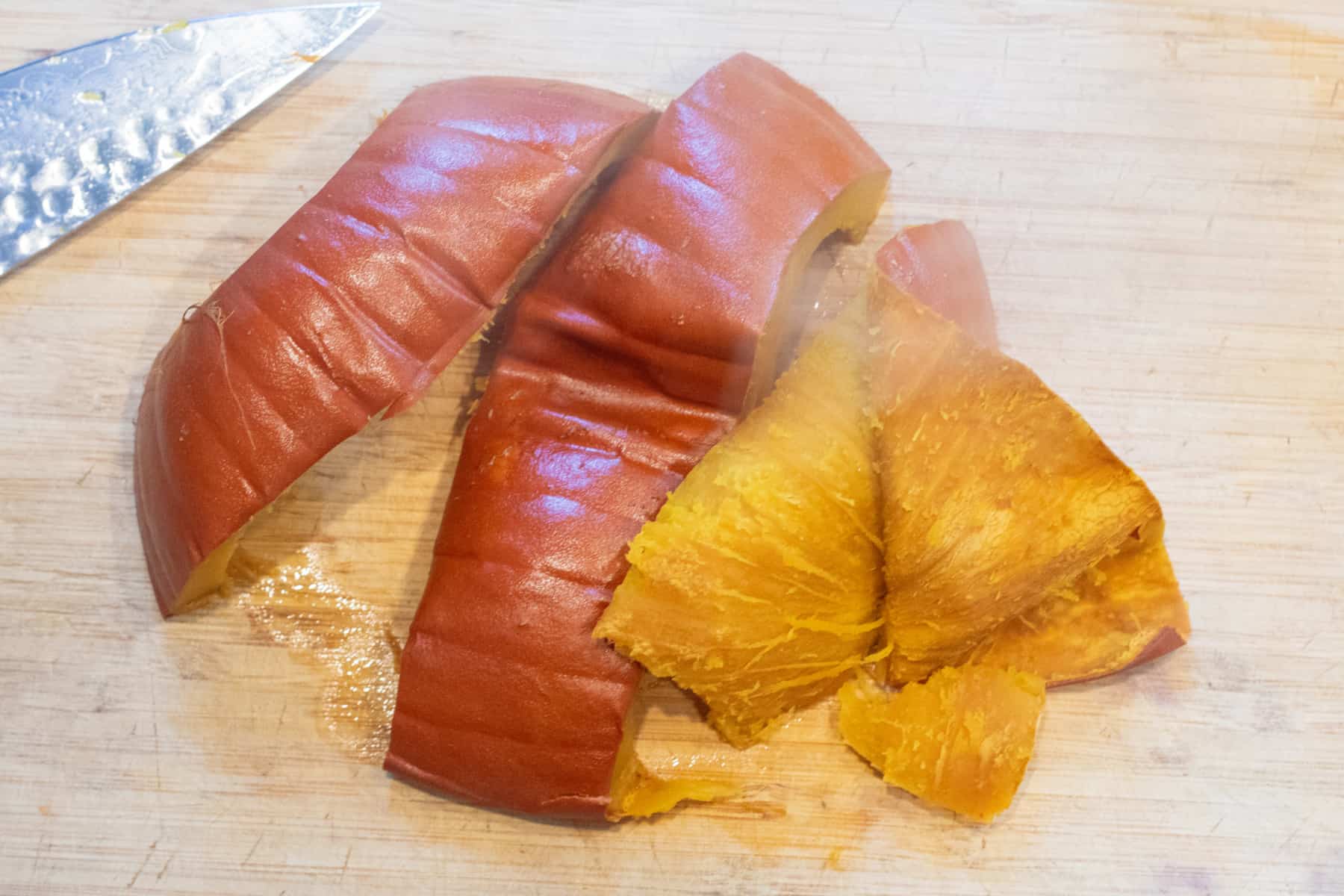 Once roasted, the skin of the pumpkin should pull off nicely.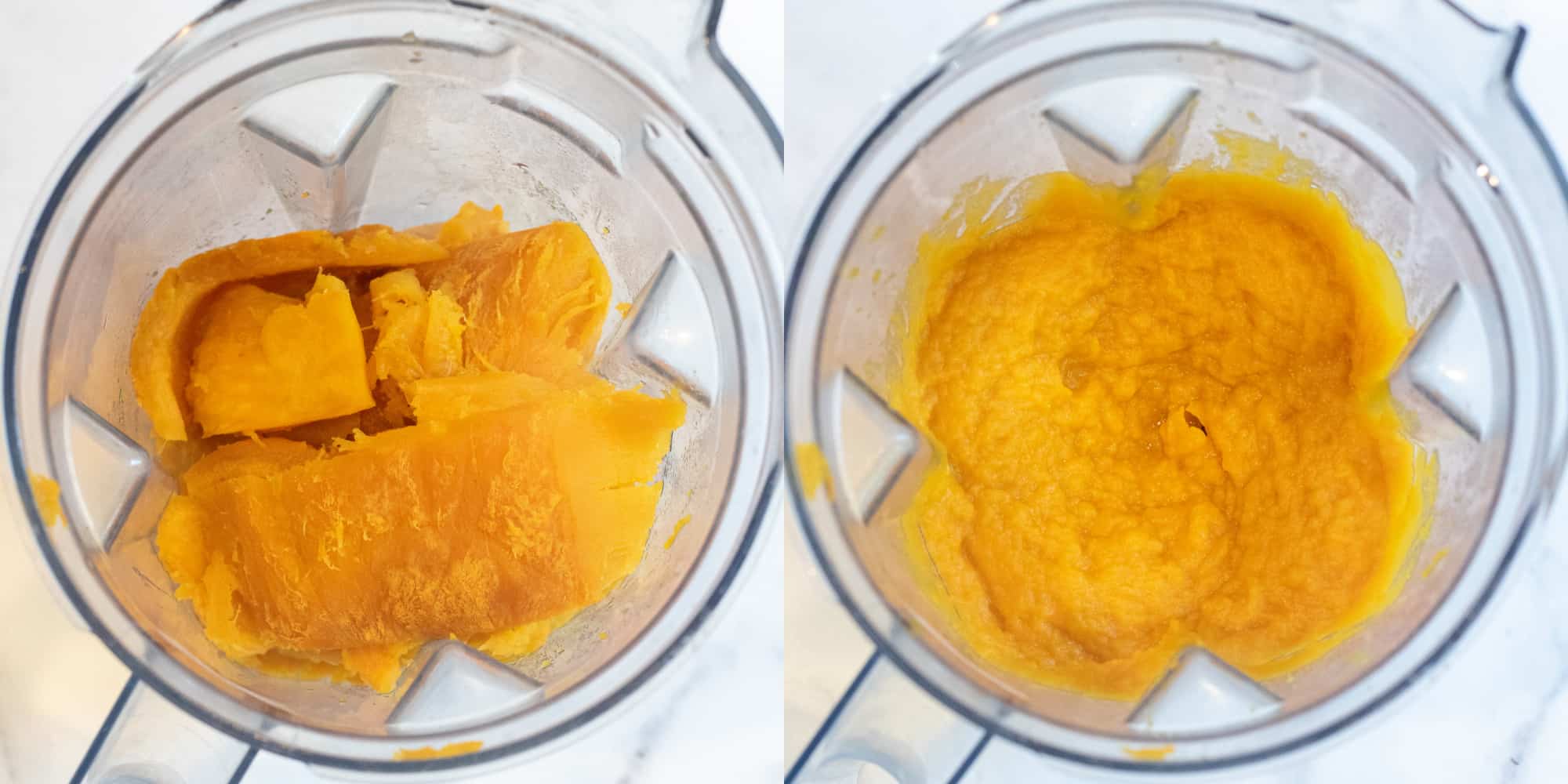 Then it's ready for the blender! Use your high-powered blender, or food processor, and blend it all up until it's creamy.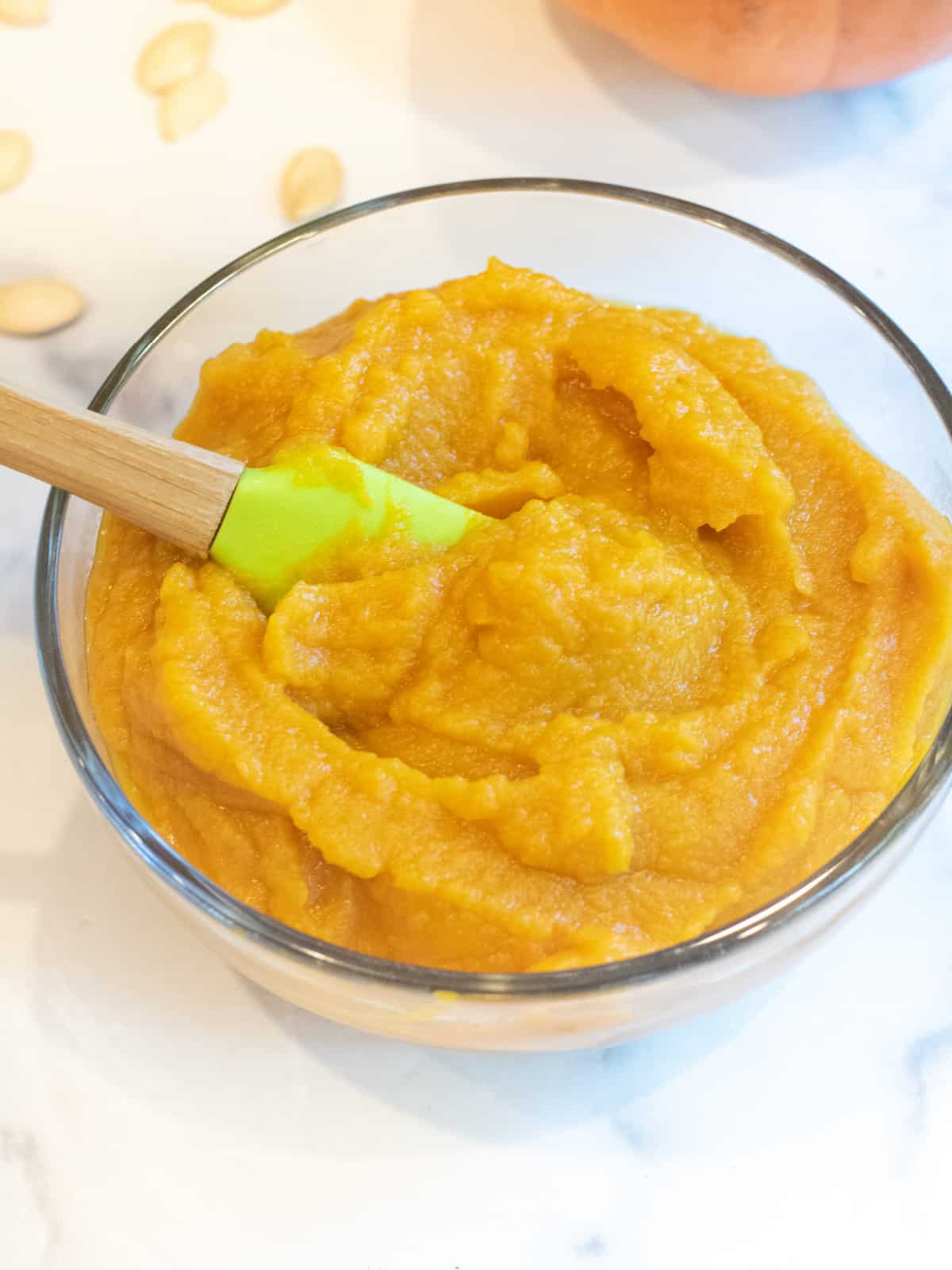 And done! Easy Homemade Pumpkin Puree; so easy to make and made with just one ingredient - all you need for pumpkin puree - fresh pumpkin!
Recipe Tips
Use the right pumpkin
Be sure to avoid decorative pumpkins or Jack o Lantern pumpkins and use baking or pie-specific pumpkins from your grocery store or local farm.
How to safely cut pumpkins
Use a sharp knife and first cut the top of the pumpkin off. Then you can sit it flat on your cutting board so you can safetly cut the pumpkin down the middle.
Cleaning pumpkins
Use a spoon to scrape out the seeds and fibrous threads from the inside of the pumpkin. Here's where you can use your pumpkin carving tools and use the serrated-edged scraper or a grapefruit scooper.
Peeling roasted pumpkins
When the pumpkins are roasted and the flesh is tender, you should be able to pull away the skin from the flesh pretty easily. Slice the halves into large pieces and then pull away the skin. If it doesn't pull cleanly or easily, then use the back of a knife to scrape the flesh away from the skin.
Add water?
While you may be tempted to add water to the roasted pumpkins before blending, there's really no need. The pumpkins themselves contain enough moisture to be able to blend well without the addition of any liquids. However, if for some reason it's really not blending well, you can add a little bit, a teaspoon at a time. But then if your final puree seems a bit watery, you may need to use a cheesecloth to strain it out.
How long does homemade pumpkin puree last?
You can store this fresh pumpkin puree in the fridge for up to a week and in the freezer for up to 3 months.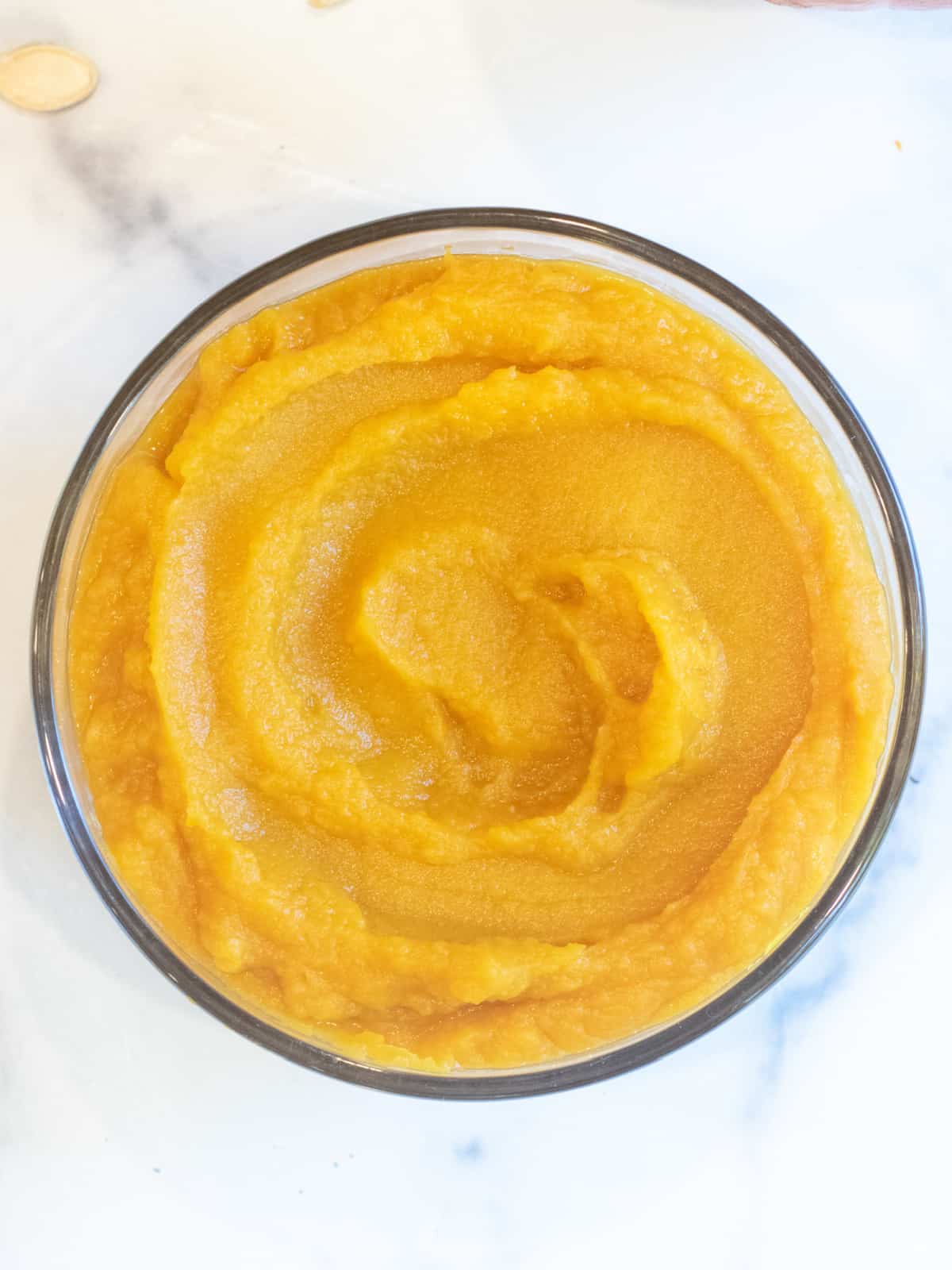 So creamy and 100% fresh pumpkin. Perfect to add to all of your favorite pumpkin recipes!
Other Canned Goods Replacements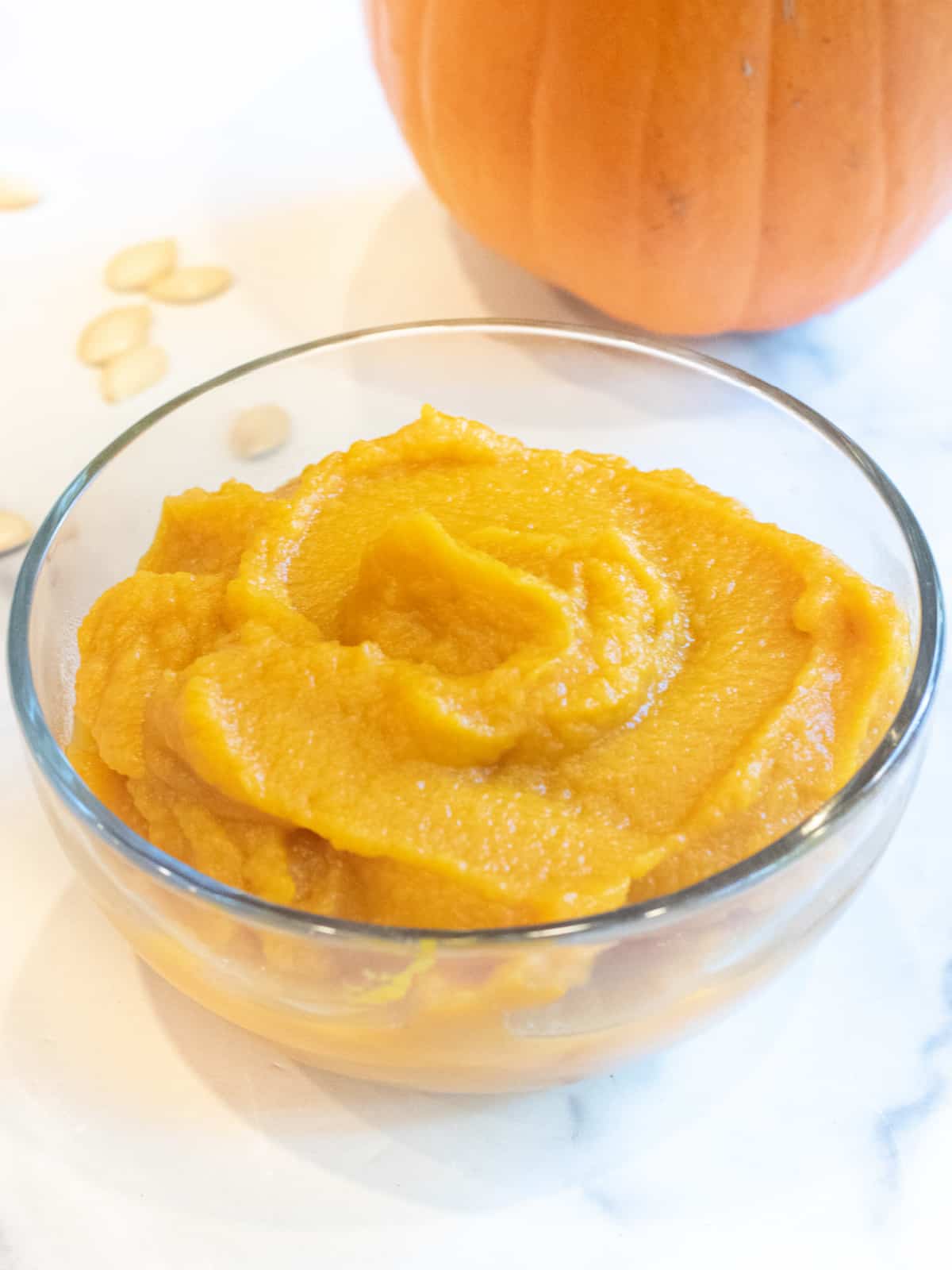 Bring on all of the holiday baking, friends! I can't wait to share all of the fresh pumpkin puree recipes we have planned for this month!
Enjoy! As always, if you make this recipe or any of my others, I love to hear what you think! Leave a comment below, email me, or you can find me on Facebook, Instagram, and Pinterest!
If you want to see more, be sure to sign up for my 5 Easy Ways to Start Cooking From Scratch!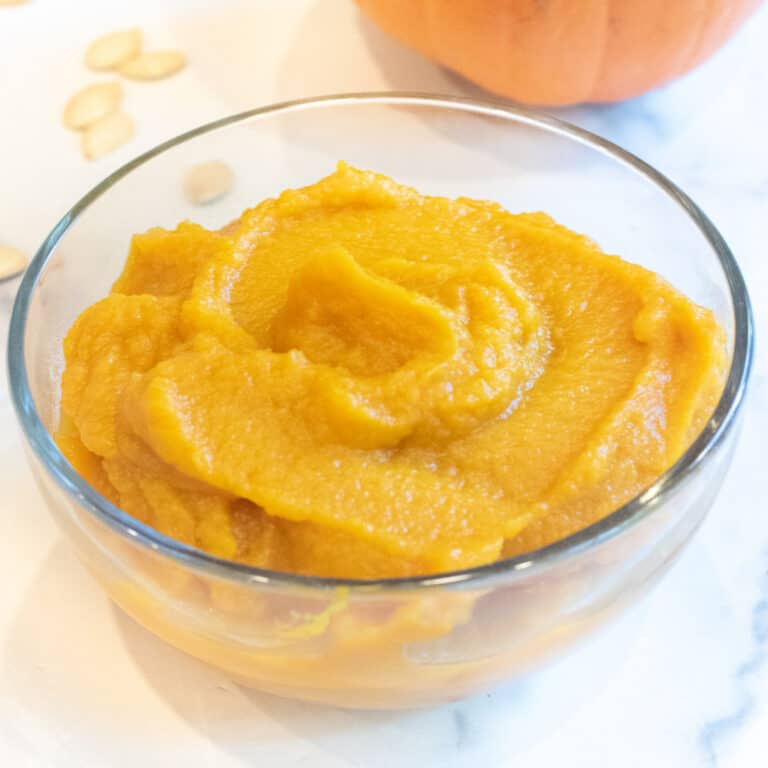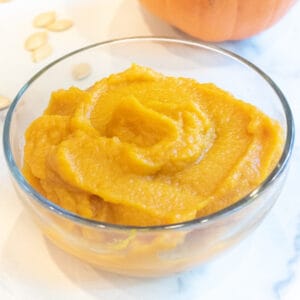 Easy Homemade Pumpkin Puree
Skip the can and make your own fresh pumpkin puree at home!
Print
Pin
Rate
Equipment
or blender or food processor
Instructions
Preheat oven: Preheat oven to 350 degrees F and line a baking tray with parchment paper (optional, but it makes clean up a breeze).

Prep Pumpkins: With a sharp knife, cut off the stem of the pumpkins and then place top side down on a cutting board so that they sit flat. Carefully cut the pumpkins in half.

With a serrated-edged spoon or scraping tool, clean out the seeds and the fibrous threads out of the pumpkin halves. Clean as much as you can, but leaving some of the threads is fine.

Roast: Place the pumpkin halves cut side down on the parchment paper lined baking tray and roast in the oven for 45 minutes.

Peel: Transfer halves to a cutting board and cut them into thirds. Gently peel away the skin from the flesh of the pumpkin, or use the back of a knife to scrape the flesh from the skin and add the flesh to a high-powered blender or food processor.

Blend: Blend all of the roasted pumpkin pieces until creamy. You may need to scrape down the edges or use a pusher to ensure that it all gets blended.

If the pumpkin is very dry and not blending, add one teaspoon of water at a time to add moisture to blend.

Let cool and then use in place of canned pumpkin for your favorite pumpkin recipes, or store in the fridge or freeze for later use.
Notes
Storage
Fridge: Store in an airtight container in the fridge for up to 1 week.
Freezer: Let cool and then store in freezer-safe ziplock bags, removing all of the air from the bag before sealing. Freeze for up to 3 months.
Yield
You should be able to get about 24 oz (1 1/2 lbs, or about 3 cups) of pumpkin puree from about 4 lbs 6 oz of baking pumpkins.
Nutrition
Calories:
29
kcal
|
Carbohydrates:
7
g
|
Protein:
1
g
|
Fat:
0.1
g
|
Saturated Fat:
0.1
g
|
Polyunsaturated Fat:
0.01
g
|
Monounsaturated Fat:
0.01
g
|
Sodium:
1
mg
|
Potassium:
385
mg
|
Fiber:
1
g
|
Sugar:
3
g
|
Vitamin A:
9648
IU
|
Vitamin C:
10
mg
|
Calcium:
24
mg
|
Iron:
1
mg